Frijoles de la Olla, or Mexican-style beans cooked in a pot, are healthy, hearty, and budget-friendly. Packed with plant-based protein and fiber, these beans only require four ingredients and a couple hours of hands-off cooking. Even though the stovetop version is already pretty effortless, you can also make this in an Instant Pot to speed it up.
This is one of the few recipes that I think tastes better without any oil, so it's suitable for any low-fat or whole-foods plant-based diet. Mash into refried beans, roll into burritos, throw onto a burrito bowl, or pair with Wild Rice Blend for a nutritionally complete meal.
Why This Recipe Works
I tested this recipe for Mexican beans 11 times before publishing, trying different beans, spices, cooking methods, and ingredient ratios, to come up with something that is both simple and easy to cook. And here's why you will love these frijoles as much as I do:
Soaking the beans in salted water overnight results in beans that are creamy and soft, but retain their shape (no split or ragged-looking beans here). Plus it cuts down on cooking time → easy way to reduce your carbon footprint and energy bill!
It's as easy as throwing everything into a pot and walking away. I used to avoid cooking beans on the stove because they would foam over and make a mess. But I've developed a technique to prevent the beans from foaming up—and it doesn't involve oil or watching over your beans like a hawk. Aside from the first ten minutes or so, you don't really have to check on your beans at all.
Only four ingredients—and that's including water and salt. Not only is it healthy, it's budget-friendly too. Beans are some of the best bang for your buck when it comes to cheap and healthy meals.
History & Origins
Frijoles de la Olla (literally "beans from the pot") is a hearty and ancient dish that dates back to pre-Columbian times. After all, beans are native to Central and South America. This is the birthplace of the common bean (Phaseolus vulgaris), which includes beans like pinto beans and black beans, as well as Mexican beans like bayo and mayocoba.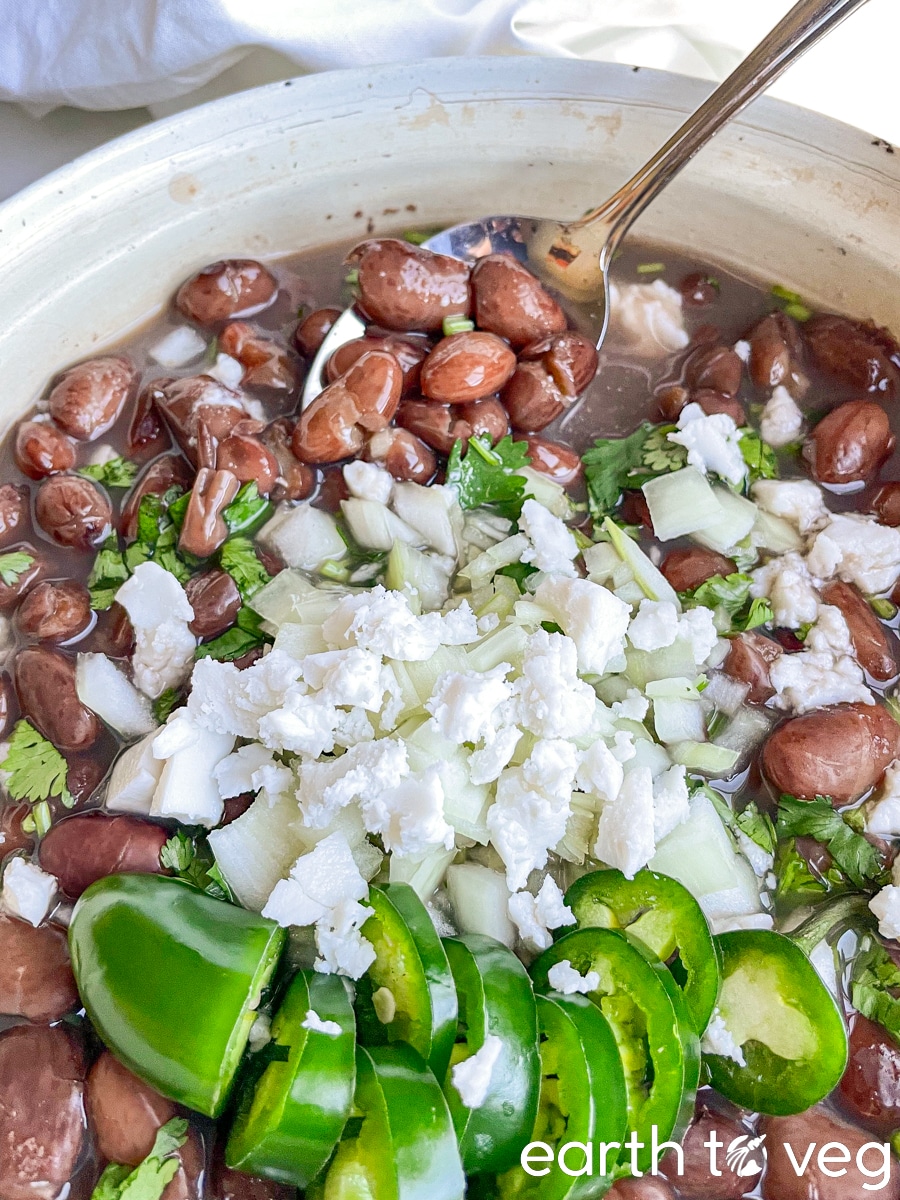 Indigenous people in what is now Mexico used clay pots to cook their beans over open fires. Over time, different bean varieties were cultivated, and more variations of the dish evolved.
This version of frijoles de la olla is super simple and is not too far off from what the pre-Columbian populations were cooking thousands of years ago. Try it with any type of medium-sized bean—pinto beans, kidney beans, black beans, pink beans, bayo beans—they all work. My personal favourite is the romano bean (aka cranberry bean).
What You'll Need
This recipe for Frijoles de la Olla is naturally gluten-free, oil-free, and whole-foods plant-based. And that's because it only contains four ingredients:
Beans: My favourite for this recipe is the cranberry bean, but bayo beans and mayocoba beans are the most popular choices in Mexico. You will need 2 cups of dried beans for this recipe.
I like to cook the beans without any oil for a simple and nutritious meal. You can always add oil at the end of cooking if you wish, but I actually prefer the taste of these beans without added oil. Try it both ways and see if you agree!
Garlic powder: You can play around with the spices, but I like to keep it simple. I sometimes also add a spoonful of dried epazote if I remember to. (Some people swear by this herb to reduce gas and bloating when eating beans, but I just like the flavour. Can be found online.)
Salt: The salt is added in two stages—first to the soaking water, and then more during cooking. Very important to getting the right texture and flavour of the beans, so don't overlook it or cut back!
Water: Pay attention to the amount of water called for in the recipe. It will be different depending on if you use the Instant Pot or the stove method. The water is perfectly calibrated to be just enough to cook the beans and leave enough savoury broth to enjoy along with the beans.
For a full list of ingredients and quantities, refer to the recipe card at the bottom of this post.
Flavour Variations
Add 1/2 tsp onion powder
Add a bay leaf
Add 1 tbsp dried epazote (I love this one, not only does it add an earthy, herbaceous flavour to Mexican beans, it also helps reduce gas and bloating if you have that issue with beans!)
Add 1 tsp smoked paprika powder
Step-by-Step Process
The following instructions are for soaked beans on the stovetop, which is my preferred method for cooking beans. If you are using an Instant Pot, or want to skip the soaking, check out the directions in the Recipe Card.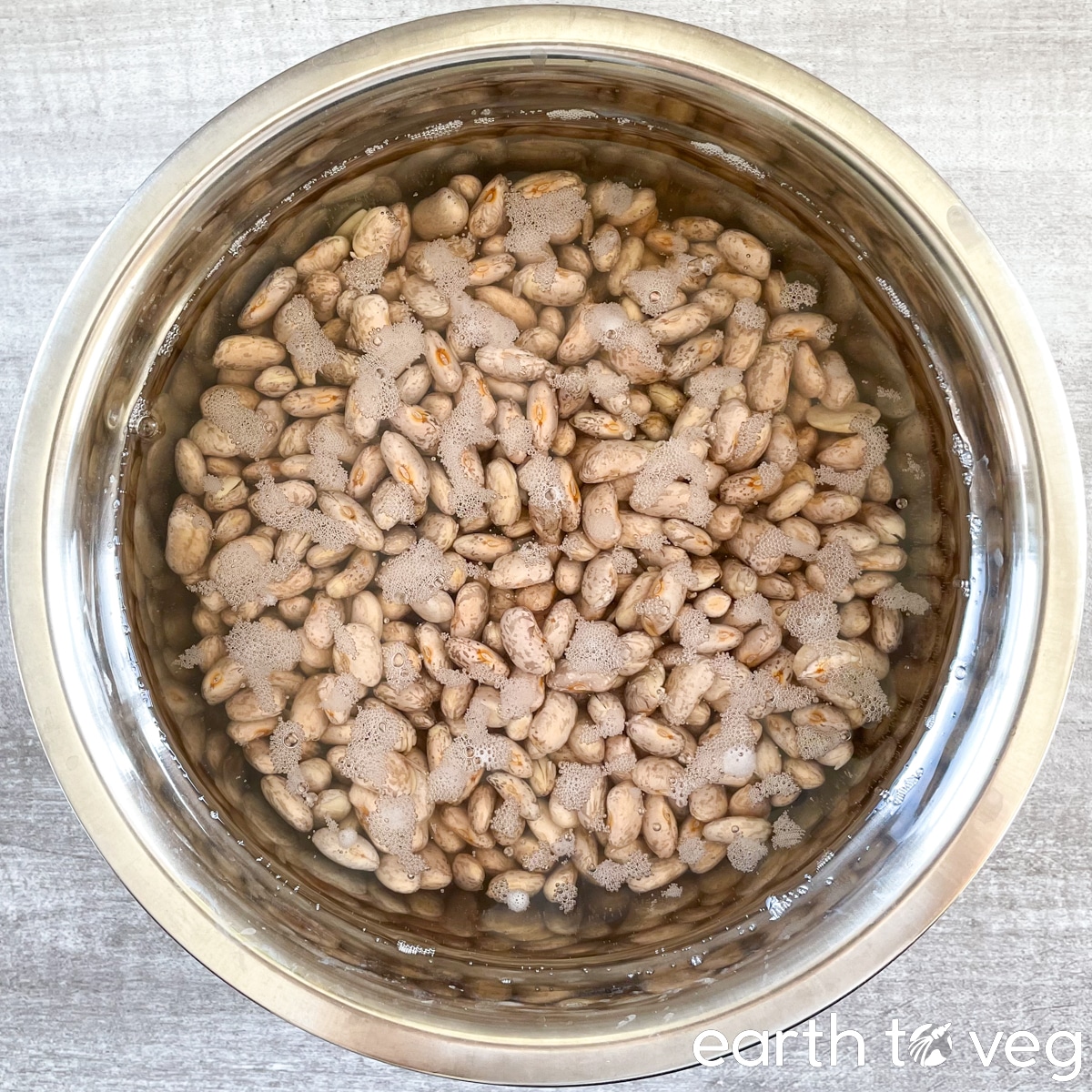 Step 1: Soak dried beans overnight in salted water. This step is optional, but it produces beans with a superior texture: creamy yet not falling apart. Plus it cuts down on cooking time → easy way to reduce your carbon footprint and energy bill!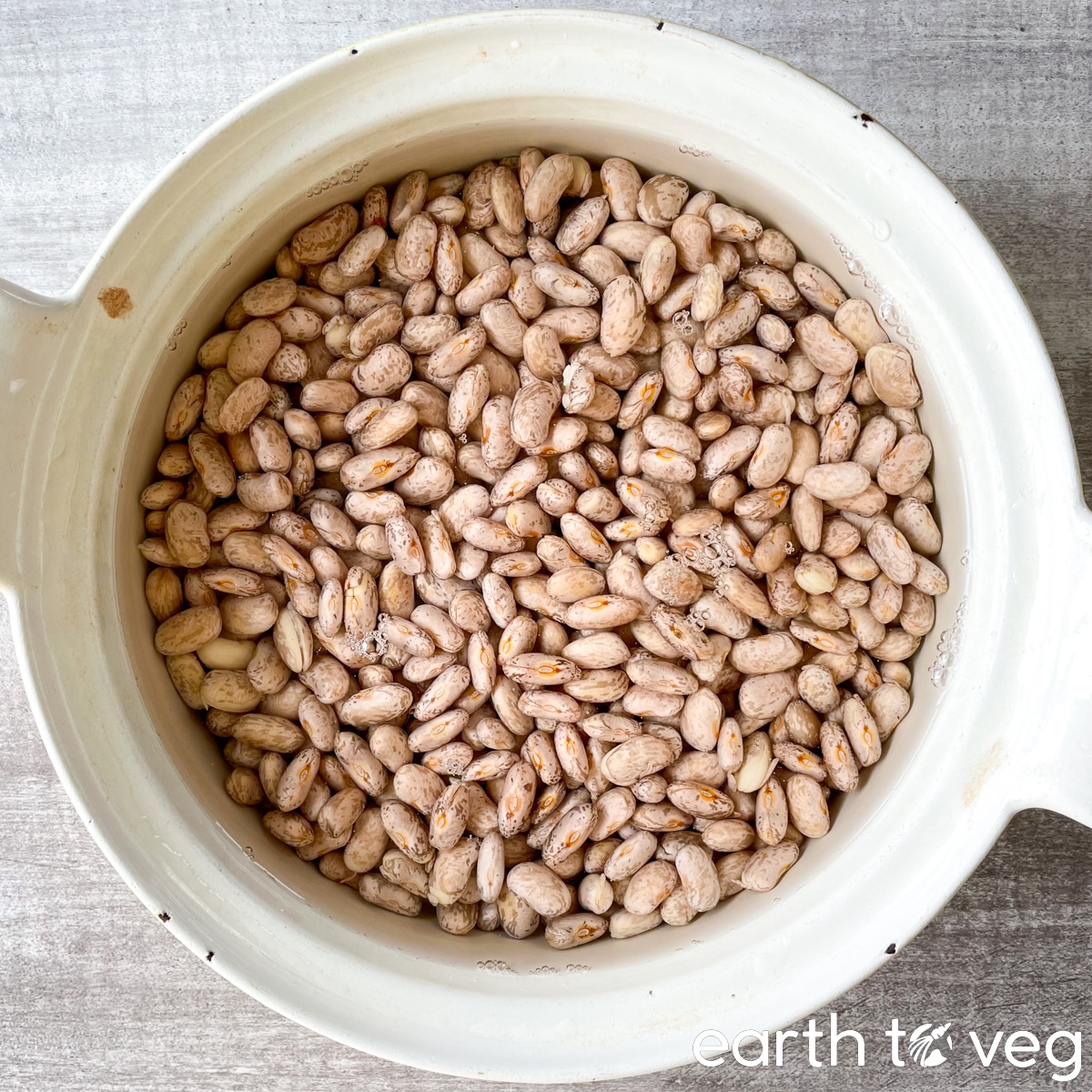 Step 2: Rinse and drain the beans. Transfer them to a heavy-bottomed vessel like a bean pot or Dutch oven. (Using a heavy bottom pot ensures thorough cooking for long periods of time without scorching the bottom.) Pour in the water.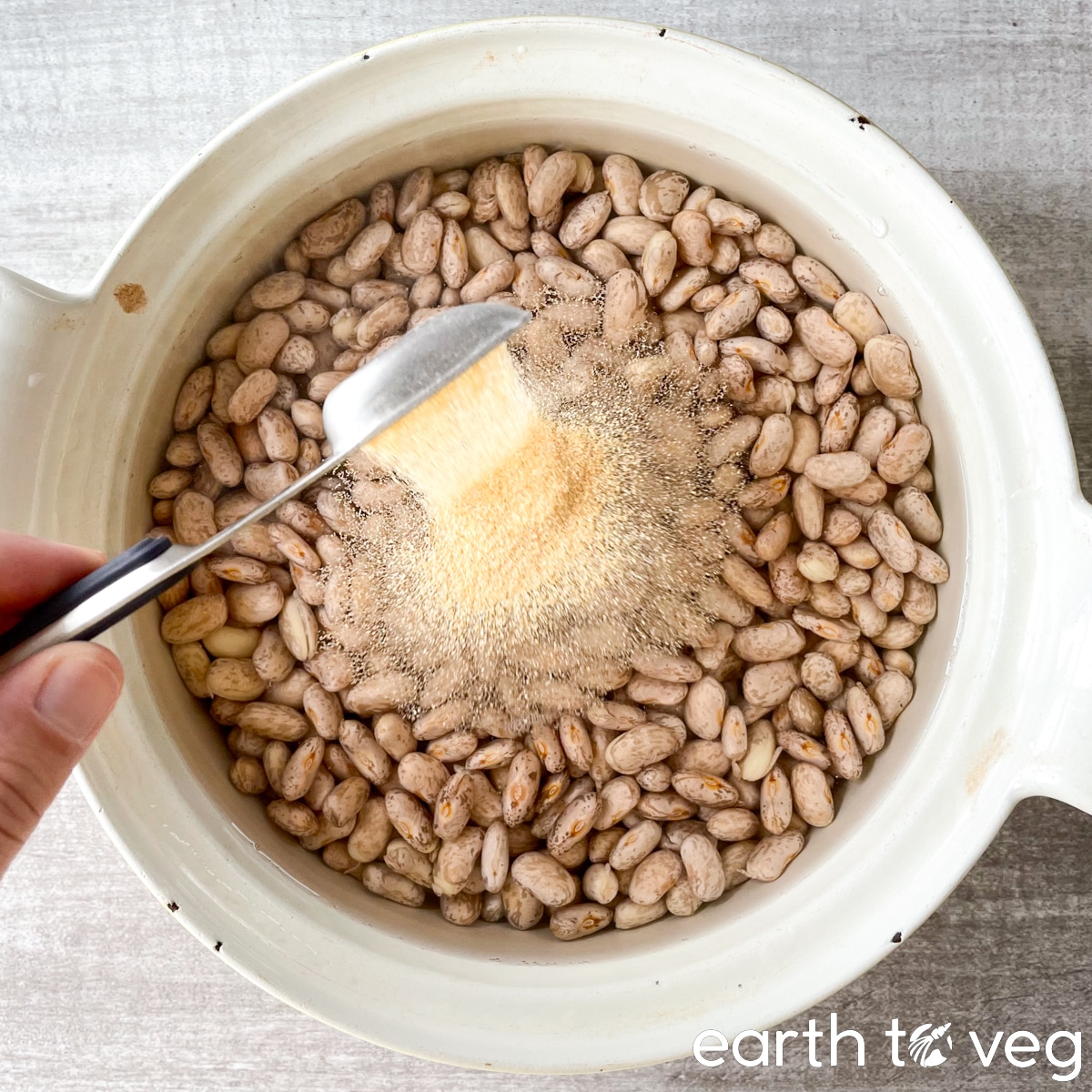 Step 3: Add salt, garlic powder and other seasonings, and cover. Set the pot on medium-high heat and bring to a boil (10–15 minutes).
Step 4: Once the beans reach a rolling boil, remove the lid and stir down the foam. Turn the heat down to medium-low, and cover again.
Note: Different beans take different lengths of time to cook, and the older your beans, the longer they take as well. For example, soaked mayocoba beans only take about an hour to cook, while soaked cranberry beans take as long as two hours.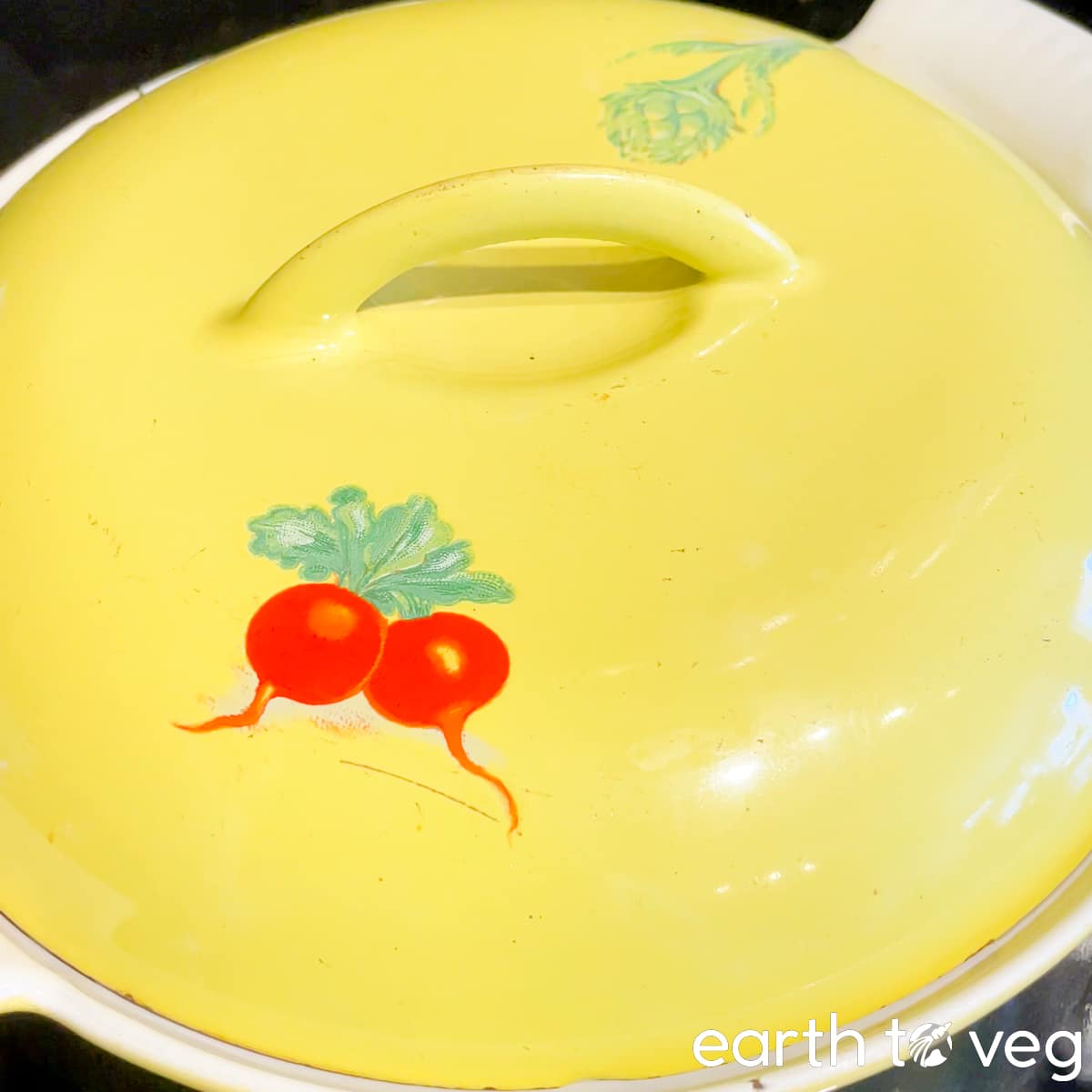 Step 5: For the first 10 minutes of boiling, check the beans a few times to stir down any foam and ensure the heat is maintained at a bare simmer. After 10 minutes, things will settle down and you won't have to come back until they're done cooking.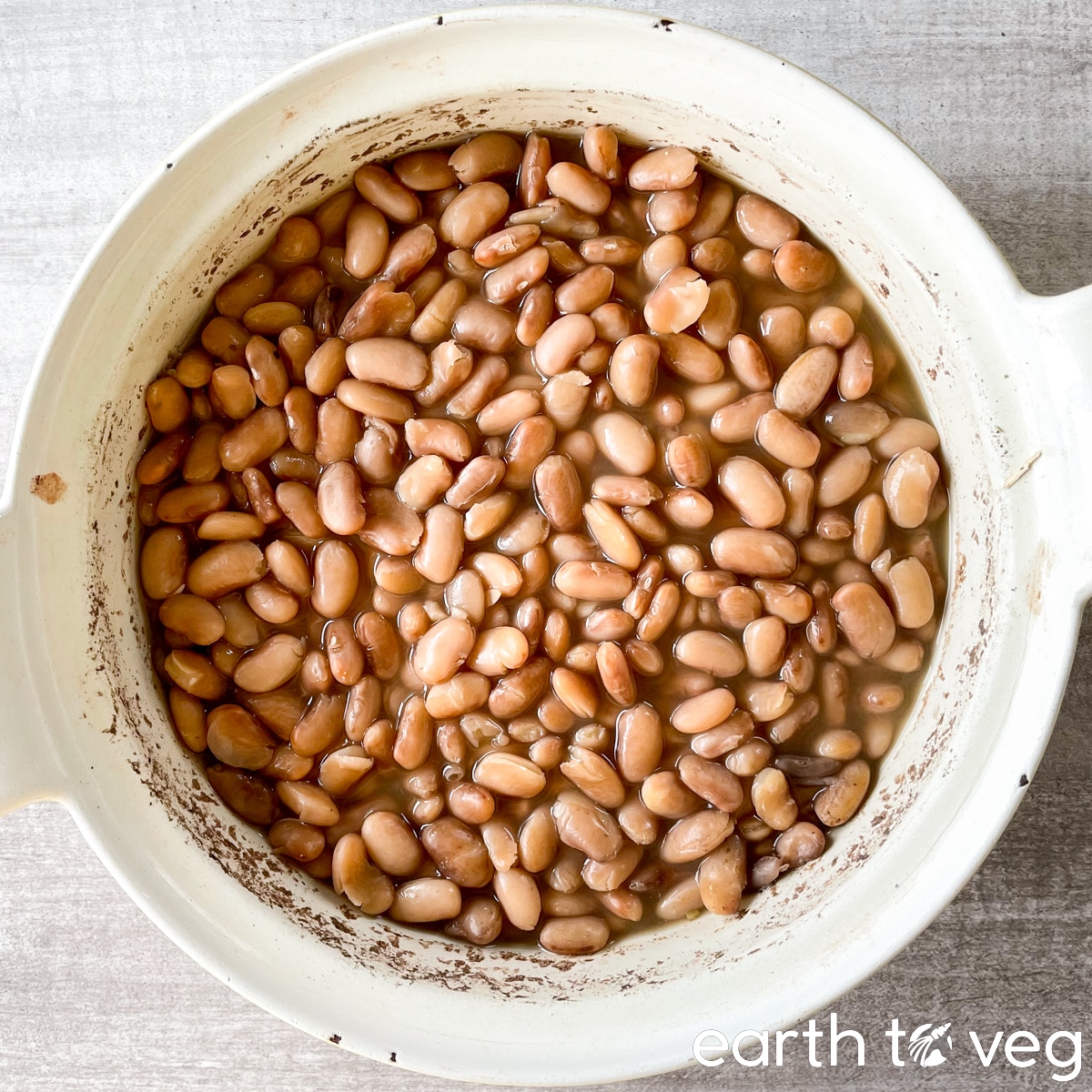 Step 6: Cook the beans for 1–2 hours depending on your preferred level of doneness. Note that the beans will continue stewing for around 10–20 minutes in the residual heat, even after you turn off the stove.
That's it. I know, it really is that easy. The key is to maintain a slow simmer throughout cooking. If the heat is too high, the beans may boil over and make a mess; if it's too low, it will take ages to cook through. The first time you make it, you will have to play around with the heat setting on your stove to make sure the beans are gently bubbling. After that, it's all smooth sailing.
You can cook the beans for longer if you like them really soft. This batch below was simmered for 3 hours and the beans were pretty much falling apart. Perfect for making refried beans!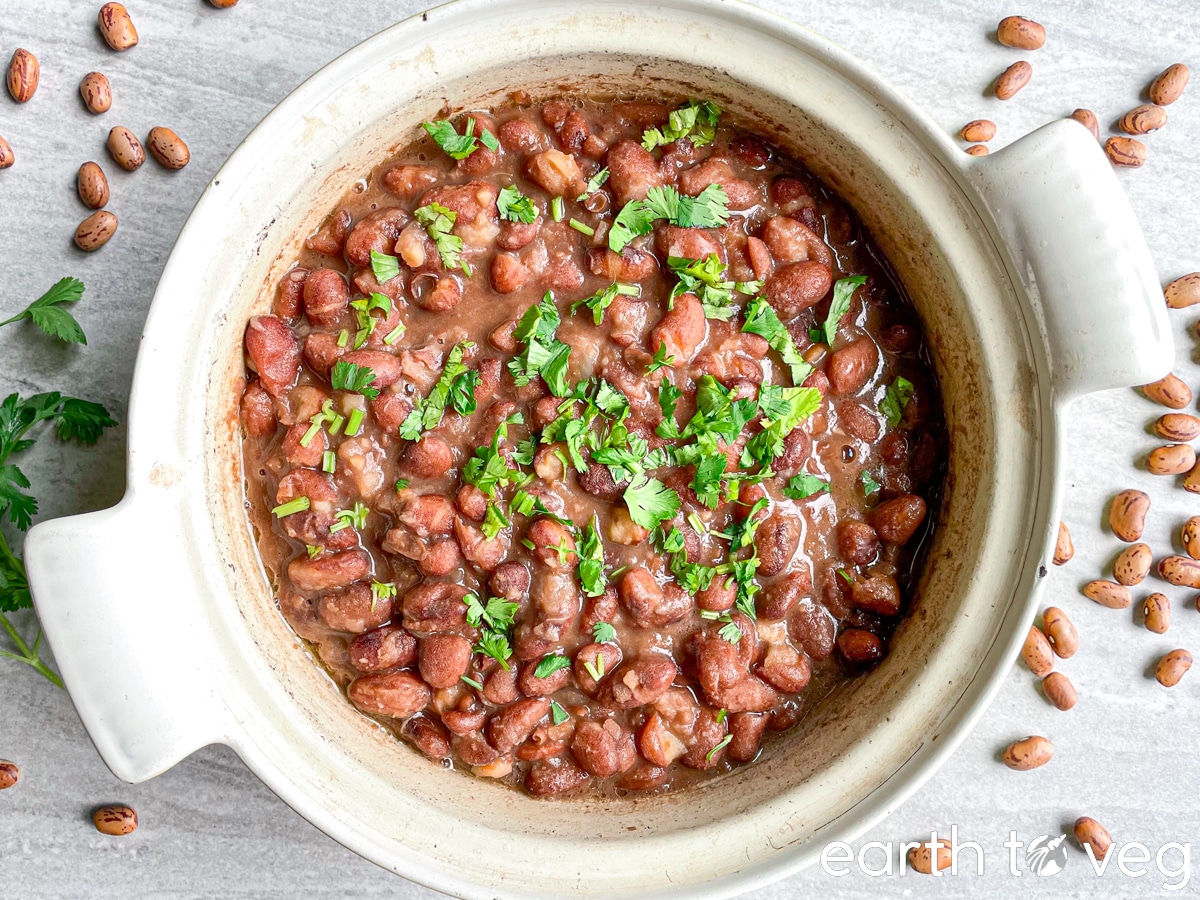 Interested in more Dutch oven recipes? Try these recipes for Vegan Hutspot, Mămăligă, or Stuffed Bitter Melon Soup.
Make Ahead & Storage Tips
Fridge: I like to store these Mexican-style beans right in the pot I cooked them in. (Unless it's made from metal—cooked beans should not be stored in metal.) I let the pot of beans cool down to room temperature, then chuck the whole thing in the fridge. Then it's easy to scoop out portions to reheat, whenever needed. They will last for about five days this way.
Freezer: Frijoles freeze very well! You can freeze any leftover beans in an airtight non-metal container for up to 6 months.
Check out the Meal Prep category for more meal prep friendly recipes.
Recipe FAQs
What is frijoles de la olla made of?
Frijoles de la olla, which is Spanish for "pot beans," is a traditional Mexican dish made of simple ingredients. The recipe typically calls for dried beans, water, salt, and garlic. The beans used can vary depending on personal preference, but common choices include pinto, black, or kidney beans. My personal favourite to use is cranberry beans.
Should beans be natural or quick release Instant Pot?
Both have their pros and cons. Quick releasing beans in the Instant Pot tends to result in more burst and blown-out beans. You can mitigate this by allowing the pressure to natural release fully, but that can take upwards of 40 minutes so it isn't much quicker than cooking over the stove. Of course, if you're mashing the beans for refried beans or blending them into soup, it doesn't really matter if your beans are broken up, so the Instant Pot is a big timesaver in this case!
What are the most popular beans in Mexico?
Some of the most commonly used Mexican beans are pinto, black, bayo, and mayocoba beans. The popularity of each bean varies between different regions within Mexico. Pinto beans, bayo beans, and mayocoba beans star in traditional dishes like frijoles de la olla and refried beans, while black beans are enjoyed in dishes like black bean soup and bean salads.
What is the most common bean dish in Mexico?
One of the everyday staples is "frijoles de la olla" (pot beans), which are dried beans cooked over slow heat. Another common bean dish is "frijoles refritos" or refried beans, which are made by cooking and mashing cooked beans with spices, lard or oil, and sometimes onions and garlic. Other popular bean dishes in Mexico include "frijoles charros" (cowboy beans), and "frijoles negros" (black beans).
Are refried beans the same as frijoles?
Refried beans (frijoles refritos) are a Mexican dish of mashed bean that are often served as a side dish or as a filling for burritos, tacos, and enchiladas. Frijoles, on the other hand, just means "beans" in Spanish and can refer to any type of beans, including refried beans. So, while refried beans are a type of frijoles, not all frijoles are refried beans. Typically the word "frijoles" used by itself refers to "frijoles de la olla," which is beans cooked simply in a pot.
More Mexican-Inspired Recipes
Recipe Card
Did you make this recipe? Please consider leaving a rating below to let me know how you liked it.
You can also take a picture and tag me on Instagram @earthtoveg, I will shout you out in my Stories!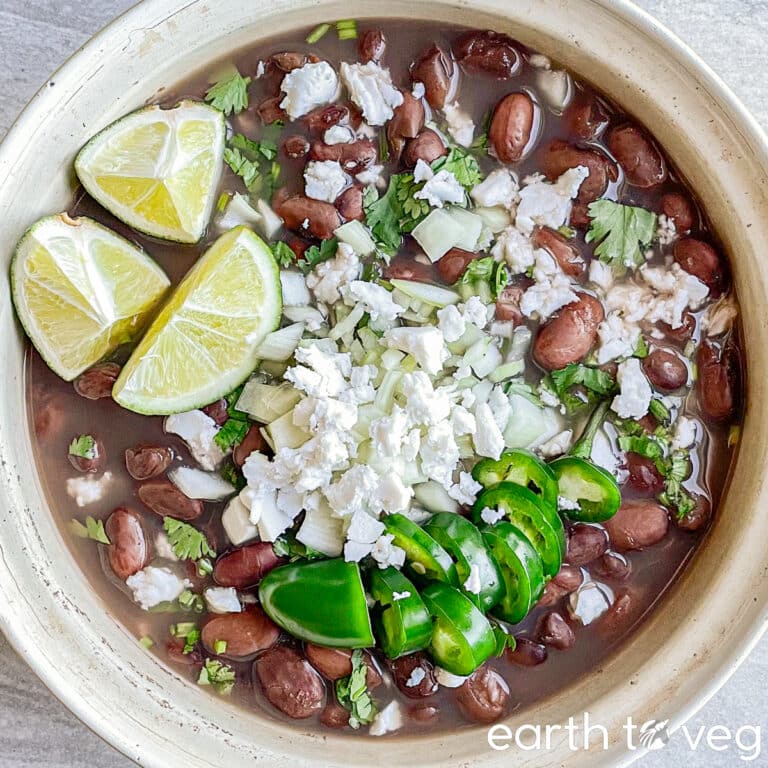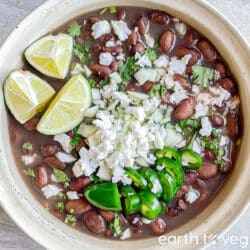 Mexican Beans (Frijoles de la Olla)
Nothing is easier or more filling than a simmering pot of Mexican beans. Frijoles de la Olla is a cheap, no-fuss whole food recipe. Use pinto, mayocoba, or whatever beans you've got!
Print Recipe
Use Imperial/Metric buttons below to toggle between volume vs weight measurements. I recommend weighing out your ingredients for best results.
Ingredients
2

cups

dried beans

preferably pinto, bayo, mayocoba, or cranberry beans; see Note 1

1

tbsp

salt

divided into 2 tsp for soaking + 1 tsp for cooking

1

tsp

garlic powder

9

cups

water

divided into 6 cups for soaking + 3 cups for cooking; see Note 2
Instructions
Soak 2 cups of dried beans in 6 cups of water and 2 tsp of salt, for at least 12 hours or overnight. (I strongly recommend taking the time to soak, but if you are in a hurry, see Note 4 for a no-soak method.)

Drain and rinse the soaked beans. Transfer to a heavy-bottomed pot. Pour in 3 cups water, 1 tsp salt, and 1 tsp garlic powder. (See Note 3 for Instant Pot instructions.)

Cover the pot. Set it on medium-high heat until the contents come to a boil, around 10–15 minutes.

Once a rolling boil is reached, remove the lid and stir down the foam. Turn the heat down to medium-low, and cover again.

Check the beans frequently during the first 10 minutes to stir down any foam and ensure the heat is maintained at a bare simmer; after the initial 10 minutes they'll settle down and you won't have to check on them again until they're done cooking.

Cook the beans for 1–2 hours until they are softened to your liking. This will depend on the variety and age of your beans.
Notes
Pinto beans are one of the most common beans that are traditionally used for frijoles de la olla. Other popular varieties are bayo beans, mayocoba beans, and cranberry/romano beans which all work.
You can also add additional 1 cup of water during cooking for soupier beans (and trust me, that bean broth is delicious).
To make this recipe in an Instant Pot: Follow Steps 1 and 2 to soak and drain the beans. Then add the beans and the rest of the ingredients to the Instant Pot, only adding 2 cups of water instead of 3 cups. Cook using the Pressure Cook setting for 5 minutes on High Pressure. Let the pressure release naturally for 10 minutes before quick-releasing the remaining pressure.
To make this recipe without soaking beans:

For no-soak beans on the stove, double the cooking time and increase the amount of water by 2 cups.
For no-soak beans in the Instant Pot, add 10 minutes to the cooking time, increase water by 1 cup, and let the pressure fully naturally release.
Nutrition
Calories:
218
kcal
|
Carbohydrates:
40
g
|
Protein:
15
g
|
Fat:
1
g
|
Saturated Fat:
0.1
g
|
Polyunsaturated Fat:
0.4
g
|
Monounsaturated Fat:
0.1
g
|
Sodium:
5491
mg
|
Potassium:
878
mg
|
Fiber:
10
g
|
Sugar:
1
g
|
Vitamin C:
3
mg
|
Calcium:
2646
mg
|
Iron:
4
mg
SEND FOOD PICS 📸
Tag @earthtoveg or leave a comment below if you tried this recipe. It makes my day. 😊