ORIGINS: Stuffing things that shouldn't be in burritos into burrito shapes has been trendy for a while now (see: sushirritos, ice cream burritos). But I can say my late-night idea of using leftover Thai red curry as burrito filling is entirely my own epiphany!
Leftover Curry Burrito
I got tired of microwaving my leftovers for the third day in a row, so I used it as filling for a curry burrito instead. The result was surprisingly tasty!
Print Recipe
Use Imperial/Metric buttons below to toggle between volume vs weight measurements. I recommend weighing out your ingredients for best results.
Ingredients
1

flour tortilla

1

cup

Thai red curry for filling

see Notes for recipe

2

tsp

TVP (5 g) or 2 tbsp leftover rice (25 g)

*optional; only if curry is thin
Instructions
Simmer the curry it in a saucepan on low heat for 5–10 minutes to allow to thicken. If it's really runny and thin, add a tiny amount of TVP or leftover rice while simmering; this absorbs excess moisture.

The filling is thick enough when you can't see any liquid accumulating at the bottom of the pan. (See photo in Notes for reference.) Scoop the curry into the center of the tortilla.

Roll the burrito and press it into a pan or grill on low heat. (Although not strictly necessary, cooking the sides of the burrito help it to hold its shape when you cut or bite into it. Plus, a toasted tortilla is just tastier.) When browned on all sides it's ready to eat!
SEND FOOD PICS 📸
Tag @earthtoveg or leave a comment below if you tried this recipe. It makes my day. 😊
Recipe Notes
I used this red curry recipe for the filling. You can use any other curry as well, as long as there are no large chunks of food. Just make sure the consistency looks close to this before rolling it up in the tortilla: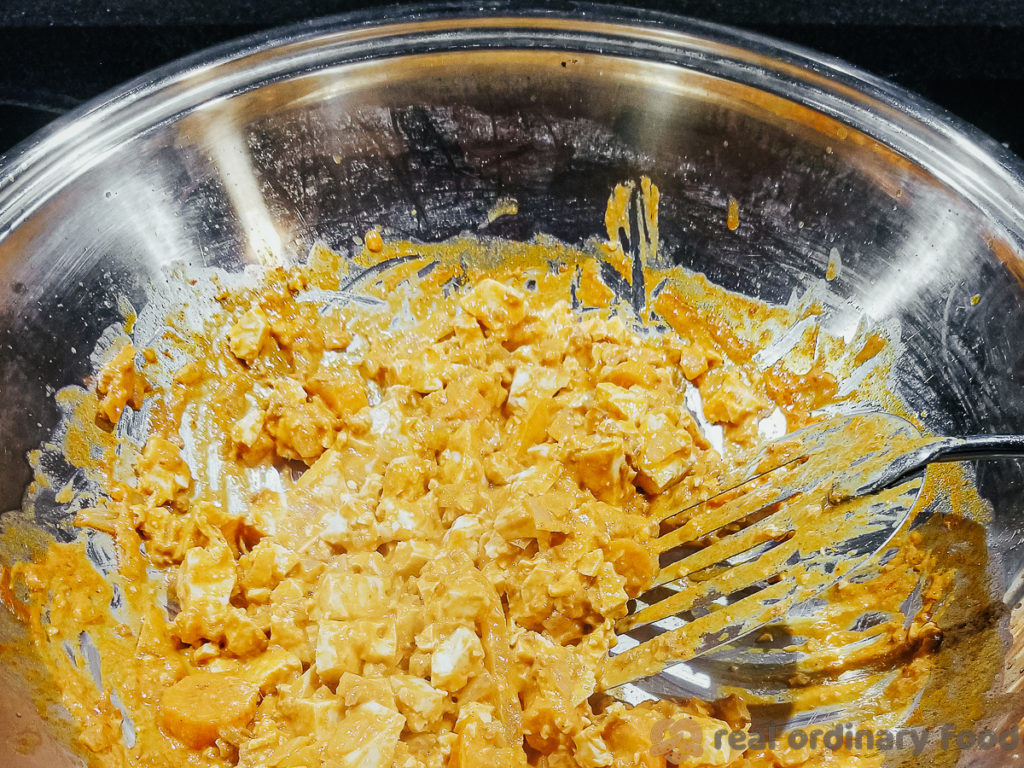 The way I am used to wrapping burritos is to bring the bottom up first, then do the sides. But everyone else seems to fold it like this, which makes me think that must be the correct way.
Also, you know, I spent years thinking burritos were difficult to roll properly and that I must be stuffing them too full. But since then, I've realized that they just need to be toasted. (Or grilled, or sandwich-pressed, or whatever.) Once you crisp up the sides, the burrito will be so much easier to slice through. Plus, you'll be at less risk of squishing the filling away at every bite.
Dressing Up Your Curry Burrito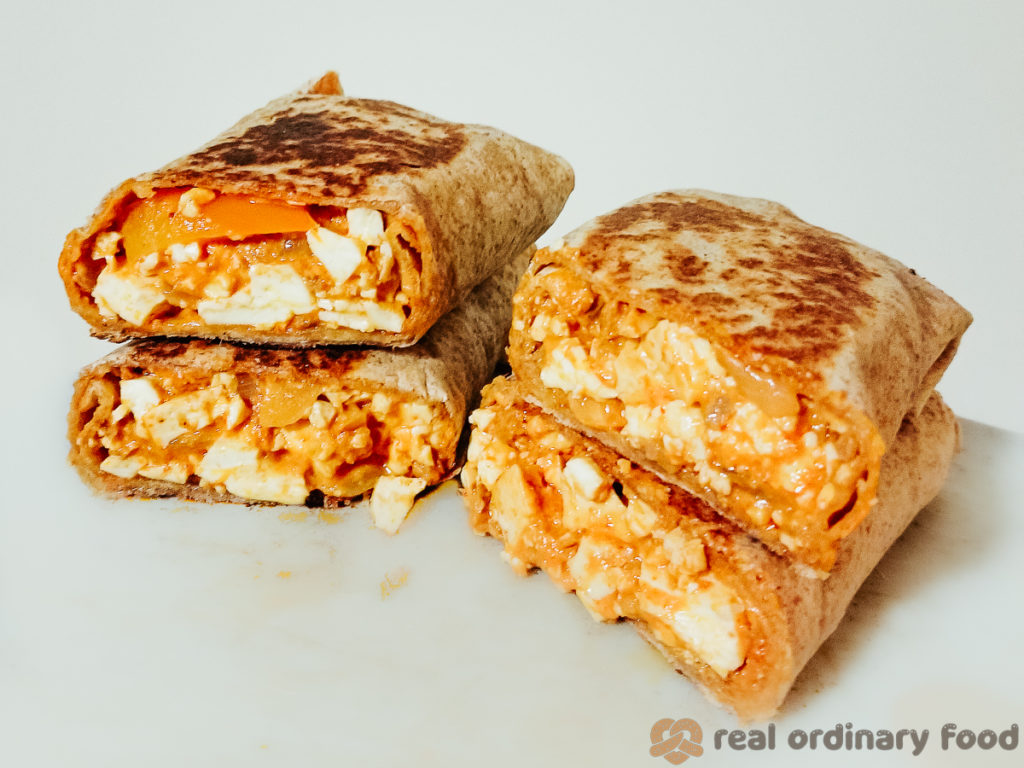 Yeah, I'm aware the photos for this recipe are kinda /r/shittyfoodporn material, but this is the best I can do at 11 pm with my kitchen light. You'll just have to trust me that it tastes pretty good. That said, I was thinking about ways to doctor it up a bit, and I feel like next time I would sprinkle in some chopped cilantro just before rolling, or maybe even a bit of lettuce. Yeah, some kinda fresh green veggie would be nice here.
However, as a cleaning-out-the-leftovers meal these were great on their own. A fun change from eating Thai curry over rice for three straight days.