Deep-fried tofu (炸豆腐, not be confused with 渣豆腐) is a popular ingredient in Chinese cooking. Pan-Fried Soft Tofu is a healthier version that uses less oil; this results in a light, crunchy battered shell paired with a silky smooth interior. Pan-fried tofu makes a delicious, high-protein accompaniment to any Asian-inspired meal.
Step-by-Step Process
I recommend using soft or silken tofu for this recipe, but in a pinch you can also use a medium-firmness tofu. While silken tofu is my favourite, medium-firm is also great because the pieces are still juicy but they aren't as fragile. If the only thing you have is extra-firm and super-firm tofu… the texture of this recipe will not come out the same. Save your firm tofu for dishes like Thai Red Curry, Scrambled "Eggs", or Jajangmyeon, where they really excel.
For a full list of ingredients and quantities, refer to the recipe card at the bottom of this post.
Step 1: Gently remove tofu from packaging and slice into 1/2-inch thick pieces.
Step 2: Mix cornstarch, garlic powder, and salt in a bowl. Coat each tofu on both sides.
Note: Silken tofu is very fragile. Handle the tofu pieces carefully to avoid crumbling and breaking them apart.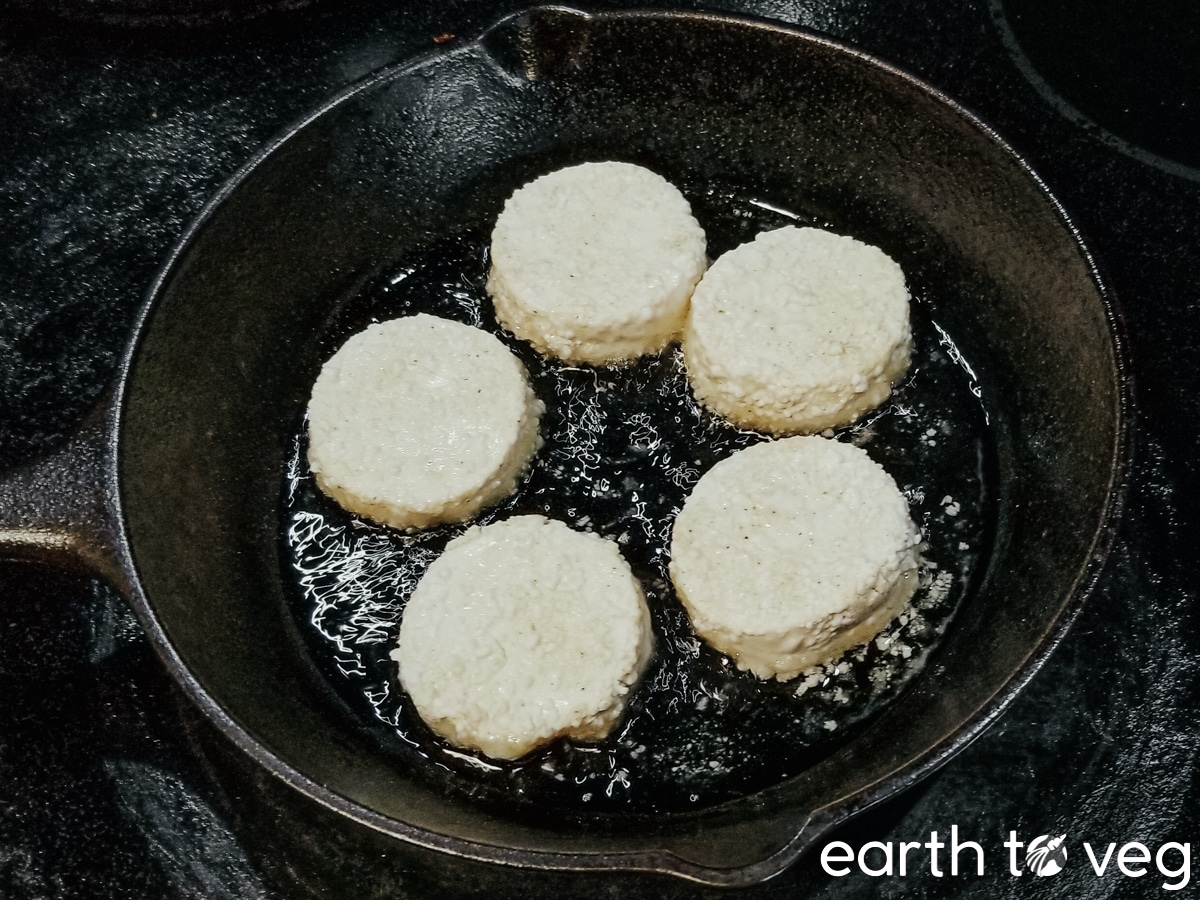 Step 3: Heat oil in a skillet on medium-high heat. Once one side is browned, use a thin metal spatula to flip it onto the other side. If your pan isn't big enough to fry all the tofu at once, do it in batches. Don't overcrowd the pan.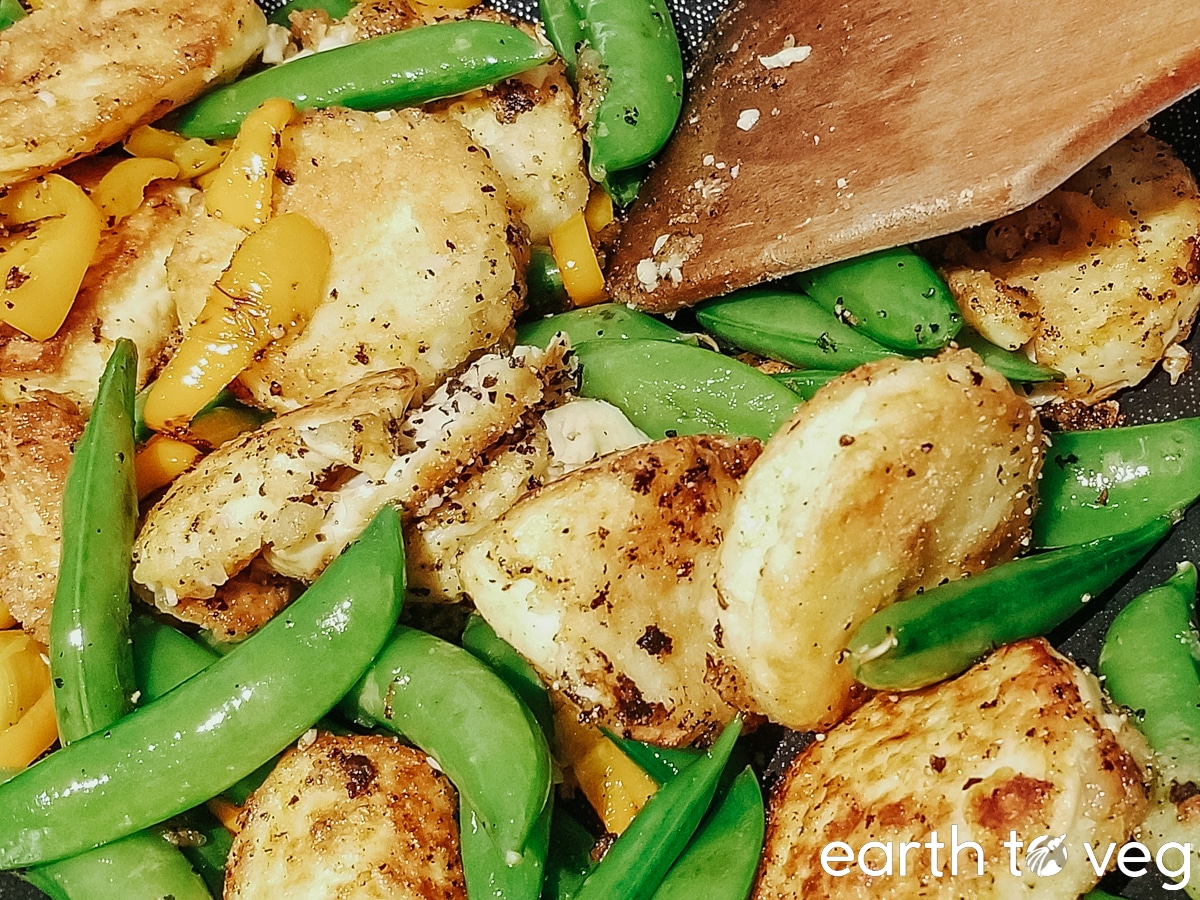 Step 4: Once tofu is browned on both sides, you can either throw in some veggies and stir fry a little bit until veggies are cooked, or just serve the tofu on its own. Plate the tofu and drizzle some soy sauce over top.
Pan-Fried Tofu 3 Ways
As someone who has been a devoted fan of soy in all forms from age 3 to present, I like to think I'm something of a connoisseur. And this way of preparing tofu is one of my faves. It's easy to make and requires only the most basic of ingredients. Unlike most recipes for fried food, the batter is very simple. It consists of just one ingredient: cornstarch (with discretionary salt and seasoning). That means less mess, no need for multiple bowls, and a fast cleanup.
Another great thing about a basic recipe like this is that it works as a topping over just about any bowl. The three suggestions below are a good starting point. As you learn about which veggie combinations you prefer, you can start developing your own flavour combos. For example, this recipe works beautifully as a substitute for the vegan fried "egg" in this bok choy bowl.
The quantity of portions for the recipe above depends on how you are serving this. It serves 1 if planning to eat as the main attraction with some side veggies, and up to 4 if you are planning to serve the tofu as just one of many toppings on a meal. But, as I said, I love tofu, so I usually choose the first option myself. 😊
Spicy Crunchy Soft Tofu over Rice
This one is the simplest variation. I got the recipe from a Facebook group. It adds a bit of extra spice and flavour to the basic version. Follow the instructions above as written. While tofu is cooking, use the bowl you just used to coat the tofu and mix the remaining cornstarch together with 1/2 tsp white pepper, 2 thai chili peppers, 2 cloves minced garlic, and the chopped white portion from a scallion stalk. (The leftover cornstarch, once fried, adds additional crönch to the meal.)
When tofu is browned on both sides, move the tofu to the edges of the wok and add this spice mixture to the centre. Saute quickly for about a minute or until it starting to brown and smell fragrant. Transfer tofu to a plate of cooked rice and top with the spice mixture. Add a splash of dark soy sauce and top with chopped scallion, if desired.
Tofu with Bok Choy over Spicy Noodles
Note: I used Lotus Foods brown rice noodles from Costco, you can use any kind of Asian-style wheat noodles or even angel hair pasta.
Use 3 to 4 heads of baby bok choy per person. As the tofu cooks, you can weigh out your noodles (50–75 g per person) and wash your bok choy, separating each leaf. Optional: you can also add a handful of oyster mushrooms to each serving (50 g).
When both sides of the tofu are brown, transfer them to a plate and add noodles to the now-empty wok. Pour in enough water to cover the noodles and boil until they are almost done. Add the bok choy and mushrooms, then turn down the heat and simmer for a few minutes. You can tell the veggies are cooked when the bok choy leaves turn a vibrant green. Drain and transfer to bowls. Top with pan-fried tofu and a handful of scallions + sesame seeds.
Crunchy Tofu with Pepper and Snap Peas
When tofu is done frying, add one small sliced bell pepper and a handful of snap peas (or snow peas), along with any remaining cornstarch in the bowl you used to coat the tofu. Toss (gently! to avoid breaking up the tofu) with a spatula to cook the veggies.
Sprinkle with some salt & pepper or drizzle with soy sauce.
More Soft Tofu Recipes
Hiyayakko (Japanese cold tofu with soy sauce and scallions)
Vegan Pandan Kaya (where tofu replaces eggs for a veganized version of the classic Southeast Asian dessert spread)
Sundubu Jjigae (hot and spicy Korean stew topped with jiggly soft tofu)
Recipe Card
Did you make this recipe? Please consider leaving a rating below to let me know how you liked it.
You can also take a picture and tag me on Instagram @earthtoveg, I will shout you out in my Stories!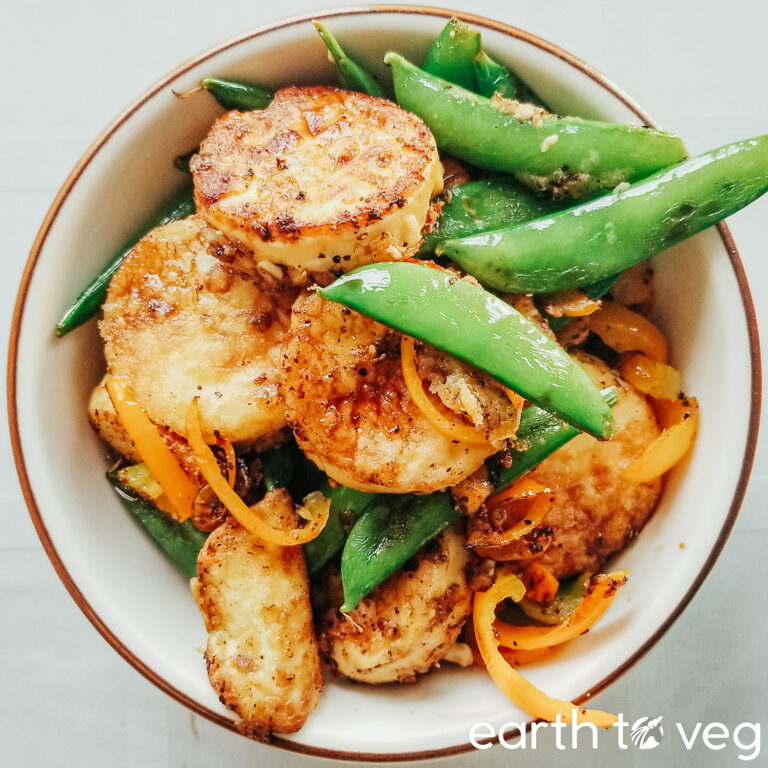 Pan-Fried Soft Tofu
For a quick, vegan, protein-packed dinner with tons of savoury flavour, I choose pan fried tofu. It uses the most basic ingredients and goes well with anything.
Print Recipe
Use Imperial/Metric buttons below to toggle between volume vs weight measurements. I recommend weighing out your ingredients for best results.
Equipment
Medium to large skillet

Metal spatula

((I recommend using a fish spatula))
Ingredients
1

tube

silken tofu or soft tofu

see Note 1

¼

cup

cornstarch or tapioca starch (arrowroot)

1

tsp

garlic powder

*optional

½

tsp

kosher salt or 1/4 tsp fine salt

2

tbsp

cooking oil

use one with a high smoking point like avocado oil

1

tbsp

soy sauce
Instructions
Drain the tofu and pat dry thoroughly with a kitchen towel. Gently slice into 1-inch thick pieces.

Mix cornstarch, garlic powder, and salt together in a bowl. Add tofu pieces to this bowl one by one and coat each side in cornstarch. (Add more cornstarch as needed.)

Add oil to a wok or skillet on medium-high heat. If you have a laser thermometer, the pan should read 400 °F. Add tofu in a single layer; they should start sizzling instantly. Fry in batches if you have to (replenish the oil if it gets absorbed).

Flip the tofu as they brown on the bottom until all sides are crispy and golden, being careful not to break them apart. Once they're done, transfer them to a plate or bowl.
Notes
I love using the variety of silken or soft tofu that comes in a tube. If you're vegan, just pay attention to the label because many of these tubes contain egg tofu instead of regular silken tofu. If you can't find the tofu that comes in tubes, no worries. You can use any type of plain tofu. I prefer a medium tofu or softer because I love biting into a crunchy tofu with crispy breading on the outside and juicy softness on the inside. While silken tofu is my favourite, medium-firm is also great because the pieces are still juicy but aren't as fragile as soft or silken.
Nutrition
Calories:
519
kcal
|
Carbohydrates:
39
g
|
Protein:
17
g
|
Fat:
33
g
|
Saturated Fat:
3
g
|
Polyunsaturated Fat:
12
g
|
Monounsaturated Fat:
17
g
|
Trans Fat:
0.1
g
|
Sodium:
1633
mg
|
Potassium:
609
mg
|
Fiber:
1
g
|
Sugar:
4
g
|
Vitamin C:
0.04
mg
|
Calcium:
99
mg
|
Iron:
3
mg
SEND FOOD PICS 📸
Tag @earthtoveg or leave a comment below if you tried this recipe. It makes my day. 😊