Alfalfa is one of the most ancient plants in the world. With numerous health benefits, it is known as "green gold" for its high nutrient content. Alfalfa Sprouts are now so popular you can buy them in supermarkets, but they're cheaper to grow at home. Don't worry, you don't need any gardening skills; just patience and time. In less than a week, you'll be able to enjoy your very own freshly grown alfalfa sprouts, at a fraction of the store's price. Sprinkle them on a bowl of Kısır Salad, throw them in a skillet of Vegan Scrambled Eggs, pack them into sandwiches and power bowls… or read on for more ideas!
Humble Origins
Alfalfa was first cultivated in ancient Mesopotamia (modern-day Iran). In fact, the plant's scientific name is Medicago sativa, which comes from the Latin name of an ancient Iranian kingdom called Media. The people of Media were some of the first to grow alfalfa in 5th century BC. So how did it get its modern name? The word alfalfa comes from a Persian word aspoasti which means "horse fodder." That's right, alfalfa was originally used as food for horses, and still is even to this day. It's even nicknamed the Queen of Forages because to this day, it's the most widely grown crops in the world!
Another name for alfalfa that is used in Europe is lucerne. One theory of its origin comes from Lake Lucerne in Switzerland, where some of the first alfalfa was grown in Europe. Another theory is that it was named after lapis lazuli, a type of precious stone with a blue colour that matches the colour of alfalfa flowers.
While it is still used mainly as livestock feed, humans have been growing alfalfa sprouts in Asia as a traditional food since ancient times. Thousands of years ago, doctors recognized the healing potential of sprouts. In the past few decades, alfalfa sprouts have enjoyed a resurgence in the global food scene. You can now find alfalfa sprouts on salads, in grocery stores, and at restaurants everywhere you look.
For an interesting read on the rise and fall (and rise again) of alfalfa through the ages, check out this article published in American Scientist magazine.
Home Gardening
When I was a kid, my mom sprouted mung beans in a teapot that we kept on the kitchen counter. (Very nutritious. But they smell like death!!!) And back then I hated the stuff. They tasted like straight up grass, and they smelled, well, like death. But every year I somehow find myself becoming more and more like my mom, and last year was when I started sprouting greens myself. However, I didn't go with mung beans. I chose to grow alfalfa sprouts, because I had tried alfalfa on top of salads and burgers before and really enjoyed the taste. Luckily, they don't smell so bad either.
Something about sprouting my own food just makes me feel so, I dunno, self-sustaining. Which is far from the truth because I'm a horrible gardener, but the success of this alfalfa sprout recipe has boosted my confidence! This upcoming spring I want to go a step further and try planting some other staple vegetables in the backyard. Will keep you updated on how that turns out, but for now, gonna keep riding my alfalfa sprouts high.
Where to Find Alfalfa Seeds in Canada
First, I had to figure out where to buy alfalfa seeds here in Canada. Finding alfalfa seeds is certainly not as easy as finding fresh alfalfa sprouts in a grocery store.
Alfalfa is mainly cultivated for feeding horses and cows. So few retailers carry the seeds for individual consumers. But with a little Googling, I was able to find some alfalfa without too much trouble in Waterloo. Although I am not sure about local options in other cities, I have provided some vendors below that offer shipping so you will be able to buy seeds no matter where you are in Canada. (None are affiliate links.)
Ontario
You can find alfalfa seeds in most Ontario Seed Company locations. Their price is the most affordable I've seen so far. You may have to ask the staff to help: when I visited the Uptown Waterloo OSC store, an employee had to get it for me because it was stored behind the counter. I guess it's not a commonly-asked for product.
I like purchasing from OSC because the alfalfa seeds are sold in bulk. They scoop it right out of this huge bag and sell it to you by weight. And considering you only need a spoonful of seeds for a whole jar of sprouts, a little will last a long time.
All the sprouts featured in the photos on this post were sprouted from OSC alfalfa seeds!
Nationwide
All of the options below sell seeds in small, reasonable quantities and can deliver across Canada:
If you'd like to support a small business in your city I'd suggest doing a Google for "[your city] seed store" and look around on their website for alfalfa or give them a call to check.
How to Use Alfalfa Sprouts
Alfalfa sprouts can be versatile in dishes as their taste is relatively mild. I've been enjoying my sprouts in salads or on sandwiches. Even cooking them into stews and curries. These are three meals I had recently:
"Fried Egg" Power Bowl
First, I steamed some baby bok choy. Then I fried up five vegan eggs using Isa Chandra's recipe for fried tofu eggs. (See, this is one of the perks they don't tell you about eating vegan: you can destroy five eggs in one sitting and not give a shit about dietary cholesterol.) Finally, I added a handful of alfalfa sprouts and drizzled dark soy sauce over everything.
If you don't have the ingredients or time for making the vegan fried eggs, try topping the bowl with this easy Pan-Fried Soft Tofu recipe instead.
Chickpea Salad Sandwich
This recipe is my modified version of a recipe from the Plant Based And Loving It Facebook group posted by member Mollie.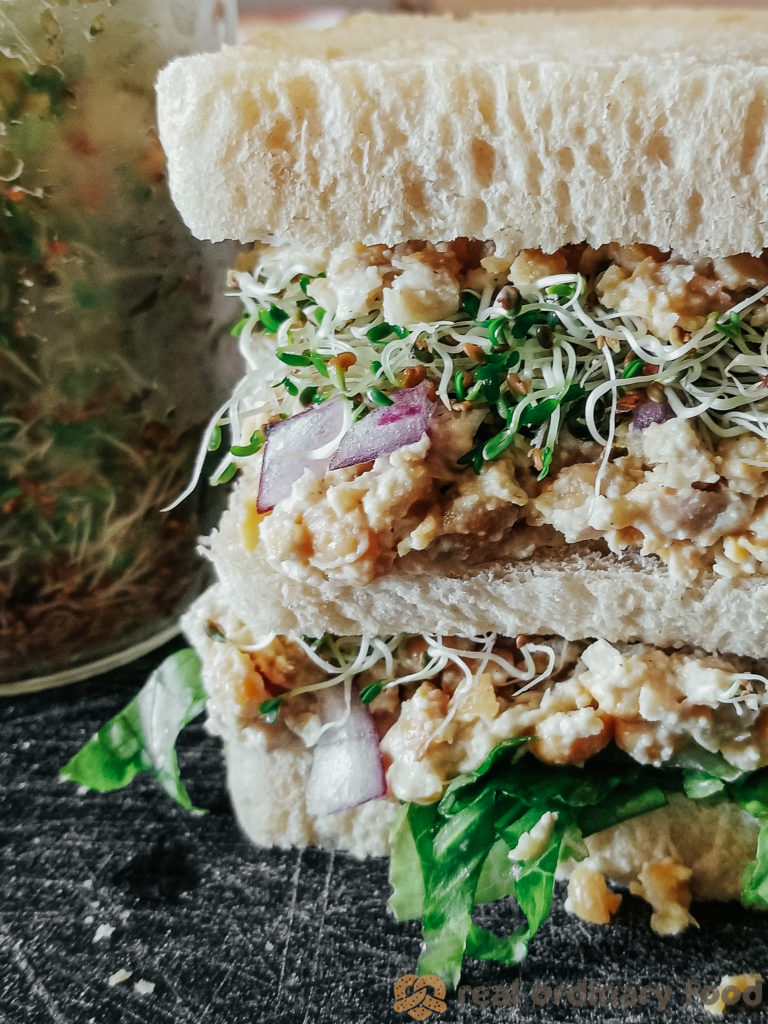 For an absolutely massive triple decker chickpea salad sandwich, mix together the following ingredients for the filling:
1 cup cooked chickpeas, mashed (using canned beans? Check out the Beans Conversion Calculator to convert your measurements)
1/4 small red onion
1/2 stalk celery
1 tbsp relish
1/4 cup vegan mayo (see my homemade recipe here)
1 tbsp dijon mustard or whole-grain mustard
1/2 tsp garlic powder
1 tsp onion powder
1/2 tsp kosher salt (halve the amount if using table salt)
1/2 tsp black salt or kala namak
1 tsp black pepper
juice of 1/2 lemon
I squished the filling between three slices of homemade sandwich bread.
Tofu Thai Curry Bowl
I was reheating some Thai Red Curry that I'd prepped the day before, and I experimented with mixing 1/4 cup of alfalfa sprouts into the curry portion. It was pretty good! Added some volume to the curry without changing the flavour too much. And finally, I topped it with another fried tofu egg.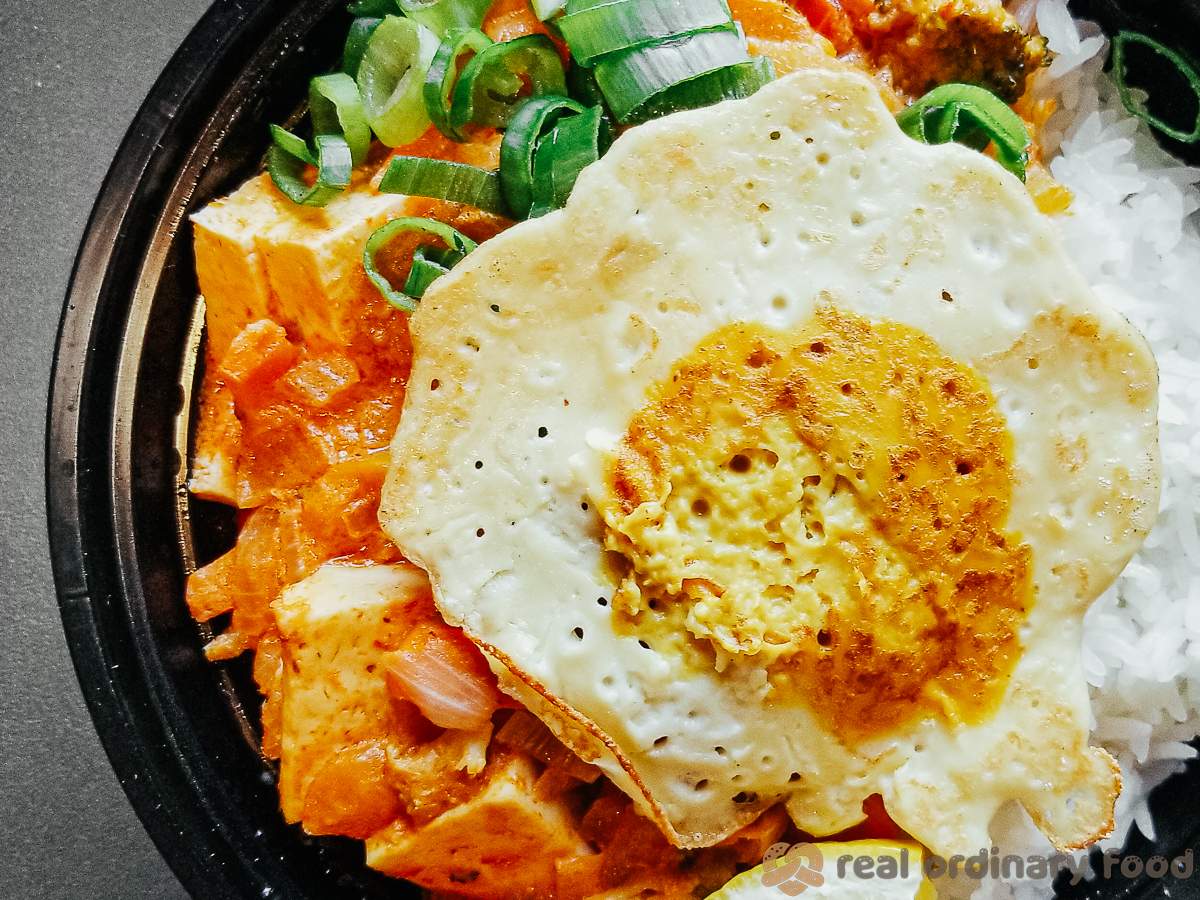 Safety Measures
What's with soaking the seeds in vinegar? This step helps get rid of bacteria, which can grow on contaminated seeds and cause food poisoning. According to the US FDA, "sprouts are especially vulnerable to pathogens given the warm, moist and nutrient-rich conditions needed to grow them." Soaking in vinegar for 15 minutes and skimming off floating debris is recommended to get rid of most pathogens. This is why it's also important to use clean, sanitized hands and equipment every time you handle the sprouts.
Rinsing frequently is another safety measure for dealing with bacteria. Twice a day is the minimum, but if you are able to, three times is even better.
The US CDC cautions children, seniors, pregnant women, and anyone with weakened immune systems against eating raw sprouts and recommends cooking the sprouts thoroughly. As someone who is not part of any of the categories above I enjoy eating most of my alfalfa sprouts raw. Use your own judgment.
Once the alfalfa sprouts are ready, keep them in the fridge. They stay good for about two weeks if you rinse them with cold water every couple of days.
Recipe Card
Did you make this recipe? Please consider leaving a rating below to let me know how you liked it.
You can also take a picture and tag me on Instagram @earthtoveg, I will shout you out in my Stories!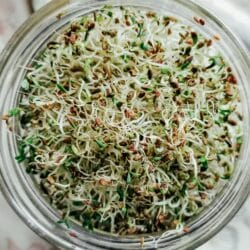 How to Grow Alfalfa Sprouts in a Jar
Servings:
2
cups (33g each)
All you need for growing alfalfa sprouts safely and cheaply are water, seeds, and vinegar (for sanitizing). Enjoy freshly grown sprouts in five days, start to finish.
Print Recipe
Use Imperial/Metric buttons below to toggle between volume vs weight measurements. I recommend weighing out your ingredients for best results.
Equipment
Muslin or cheesecloth
Ingredients
1

tbsp

alfalfa seeds

2

tbsp

white vinegar

see "Safety Measures"

running water
Instructions
Vinegar Wash (15 minutes)
Add alfalfa seeds and vinegar to a clean bowl. Make sure all the seeds are covered. Let soak for 15 minutes.

Skim off anything floating on the surface of the water.

Pour off the vinegar and rinse the seeds for a full minute under running water.
Soak (12 hours)
Add seeds to a clean mason jar along with enough water to cover the seeds four times over. Make sure all seeds are submerged in the water.

Cover jar with a clean muslin cloth or a few layers of cheesecloth (see Note 1 if you don't have either), and secure in place with an elastic band.

Leave overnight, then pour off most of the water and rinse the seeds for a minute under running water. Drain off as much water as you can (see Note 2).
Sprout (4–5 days)
Set the jar tilted sideways, with a slight angle downwards, in a shallow bowl. (I use an empty takeout container for this.) Allow the seeds to spread out along the length of the mason jar. Inverting the jar allows excess water to gradually drain out through the cloth.

Leave the jar setup in a sunny spot, but not in direct sunlight (see Note 3).

2–3 times a day, pour off the water, and rinse them in cold water. (See "Safety Measures.") Drain off as much water as possible then return jar to the inverted position.

Repeat these steps for 4–5 days total. The sprouts are best to eat once they've sprouted little green leaves. Refrigerate if not using immediately and re-rinse with cold water every two days.
Notes
If you don't have muslin or cheesecloth, you can use any thin cotton fabric. You can also order special-purpose sprouting lids online. But I like using a piece of cloth because it works perfectly fine and why buy another single-purpose tool.
When draining and rinsing the seeds, you'll want to remove the cloth to allow the water to drain faster. Be careful not to pour out the seeds. When you've poured off most of the water, just replace the cloth and elastic, and the inverted position will take care of draining the remaining water.
Although sprouts need sunlight, they should not be exposed to the sun directly as they will get too hot. I kept my jar of sprouts on a windowsill that never got any direct sunshine. You can also leave it on the kitchen counter.
Nutrition
Calories:
10
kcal
|
Carbohydrates:
1
g
|
Protein:
1
g
|
Fat:
0.2
g
|
Saturated Fat:
0.03
g
|
Polyunsaturated Fat:
0.1
g
|
Monounsaturated Fat:
0.02
g
|
Sodium:
2
mg
|
Potassium:
26
mg
|
Fiber:
1
g
|
Sugar:
0.1
g
|
Vitamin A:
51
IU
|
Vitamin C:
3
mg
|
Calcium:
11
mg
|
Iron:
0.3
mg
SEND FOOD PICS 📸
Tag @earthtoveg or leave a comment below if you tried this recipe. It makes my day. 😊