Salat Olivye (салат Оливье), also called Russian Salad or Olivier Salad, first appeared in Moscow, Russia in the 1860's. Known as comfort food to many Russians, variations on this dish are now served around the world as a Christmas and New Year tradition. Pair with a hearty bowl of Vegan Borscht for a super Slavic holiday meal!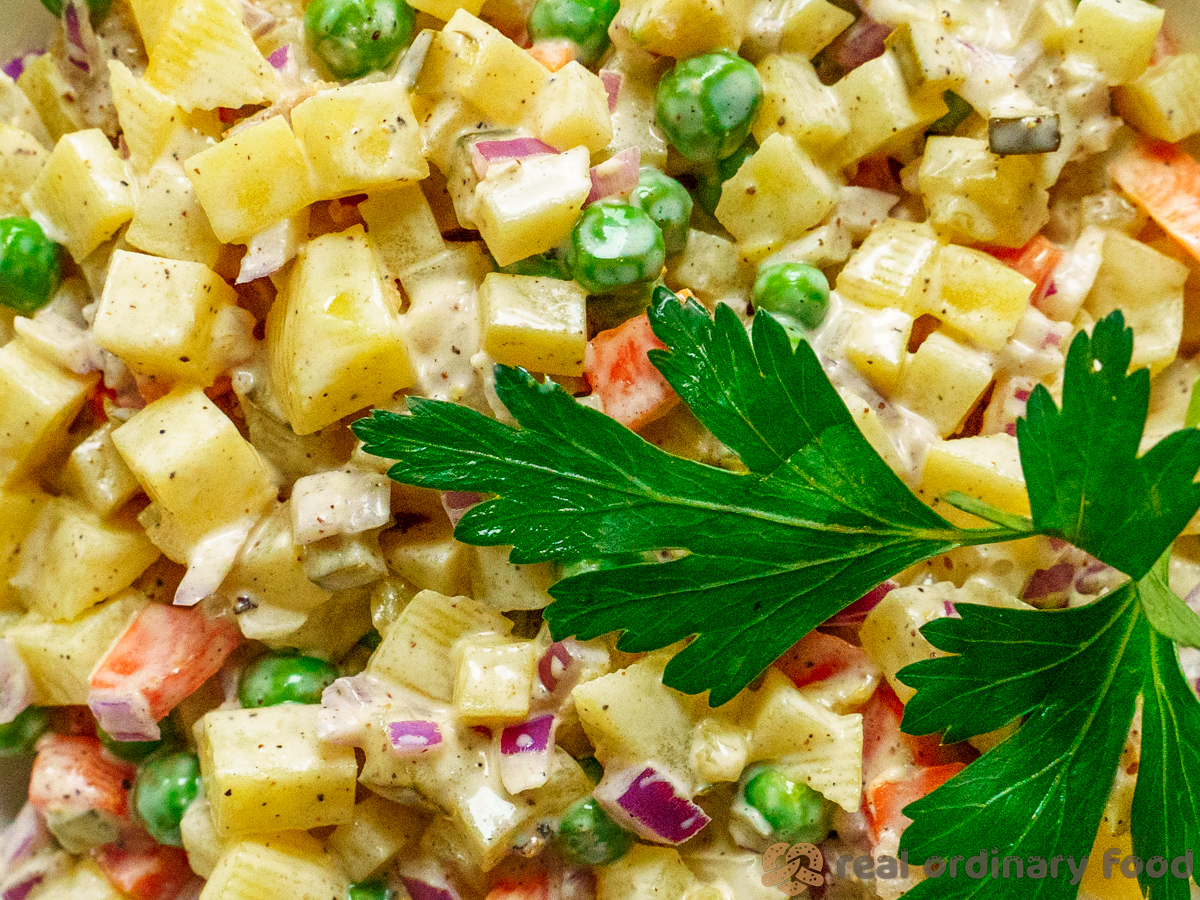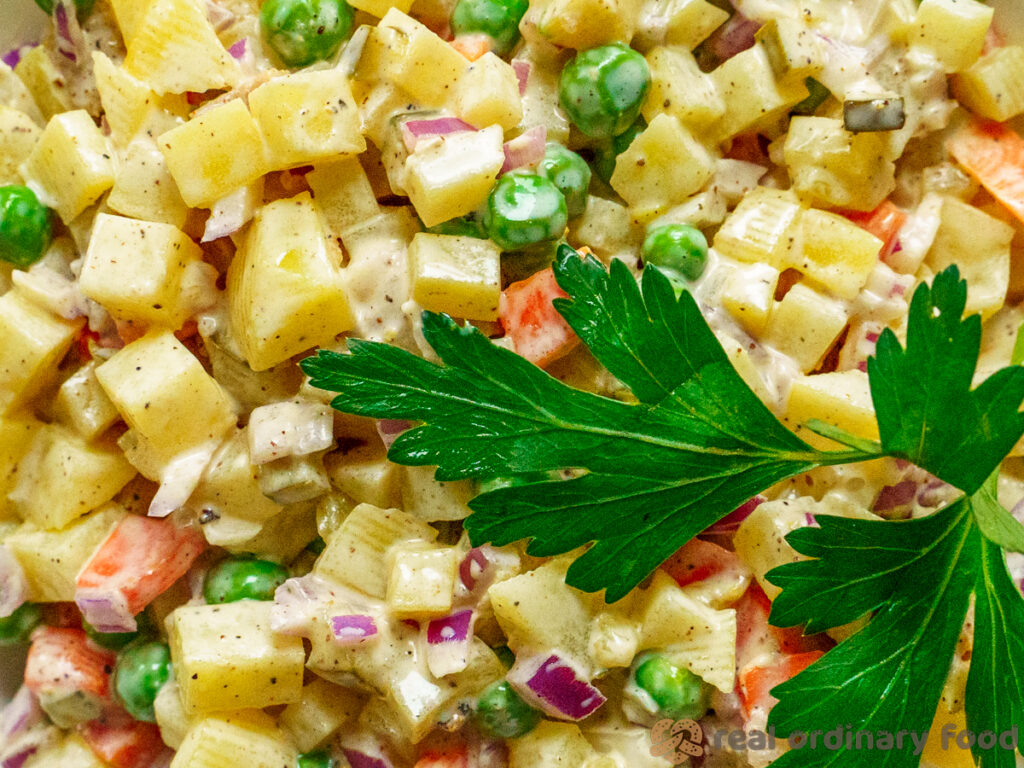 The Global Journey of Russian Salad
I first learned of Olivier when this post came up on my Reddit feed, which features the traditional Russian version. But this salad has taken root all over the world. Each country seems to put their own spin on the dish too; however, typically they all contain meat or eggs.
In Iran, Salad Olivieh usually contains chicken instead of the Russian bologna. In Spain, it's common for Ensaladilla Rusa to contain tuna. A Polish variant called Salatka Warszawska (Warsaw Salad) features beets and beans.
These may seem like bastardizations, but in fact even the most popular version in Russia today is vastly different from the original recipe served at Olivier's fancy Moscow restaurant in the 19th century.
It is said that the celebrated Frenchman invented not a salad but a dish called a "mayonnaise of game" that required boiled hazel grouse and partridge filets to be sliced and plated with cubes of aspic made from the broth. Boiled lobster tails in a sauce Provençal were elegantly arranged alongside, and in the center was a mound of potatoes and pickled gherkins decorated with slices of hard-boiled egg. This last was, incidentally, not to be eaten but enhanced the plating, as a garnish. But when the chef watched some Russian ignoramus mixing everything together and bolting it all down, he was horrified. So the next day, to signal his scorn, he demonstratively combined all the ingredients and doused them liberally with mayonnaise.

Anna Kushkova, At the Center of the Table: The Rise and Fall of the Olivier Salad (btw, if you're interested in food history, I recommend reading this article, it's full of interesting facts)
And thus… it seems like Olivier salad was fated to be adulterated from the day it was created. So a veganized Olivie is just another addition to this tradition!
Merry Christmas, Eat Olivie!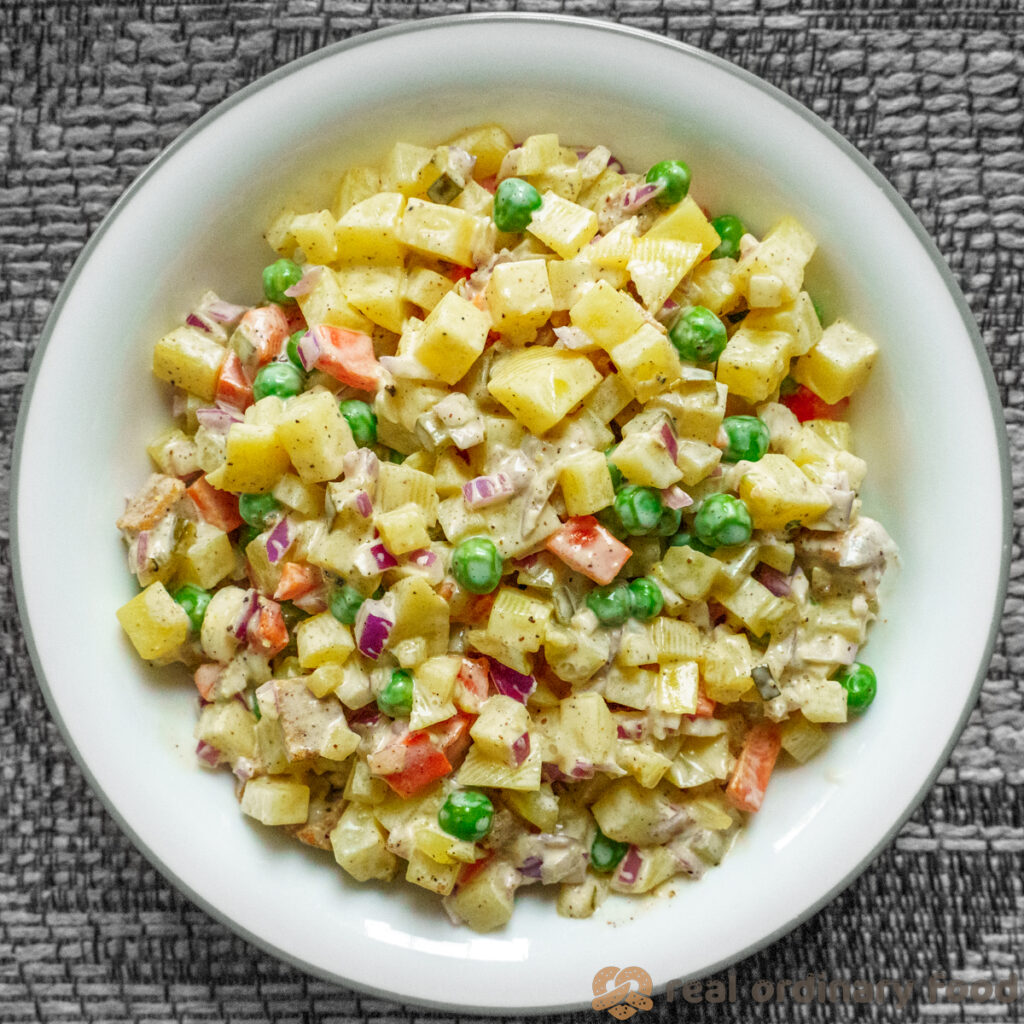 If you thought this wasn't a Christmas post, you thought wrong! The simple salad Olivier is a staple of many Christmas dinner tables around the world. In fact, depending on the country, you can expect to find this dish served at Christmas or New Year's or both. From Russia, where this dish originated (at the hands of a Belgian-French chef), to Serbia to Venezuela, it's a part of Christmas celebrations. Talk about a dish that unites the world.
All this doesn't mean that vegan Olivier salad isn't edible year-round, though. The first time I made this was in the middle of summer, July, and it made a great cold lunch.
Salad for Salad Haters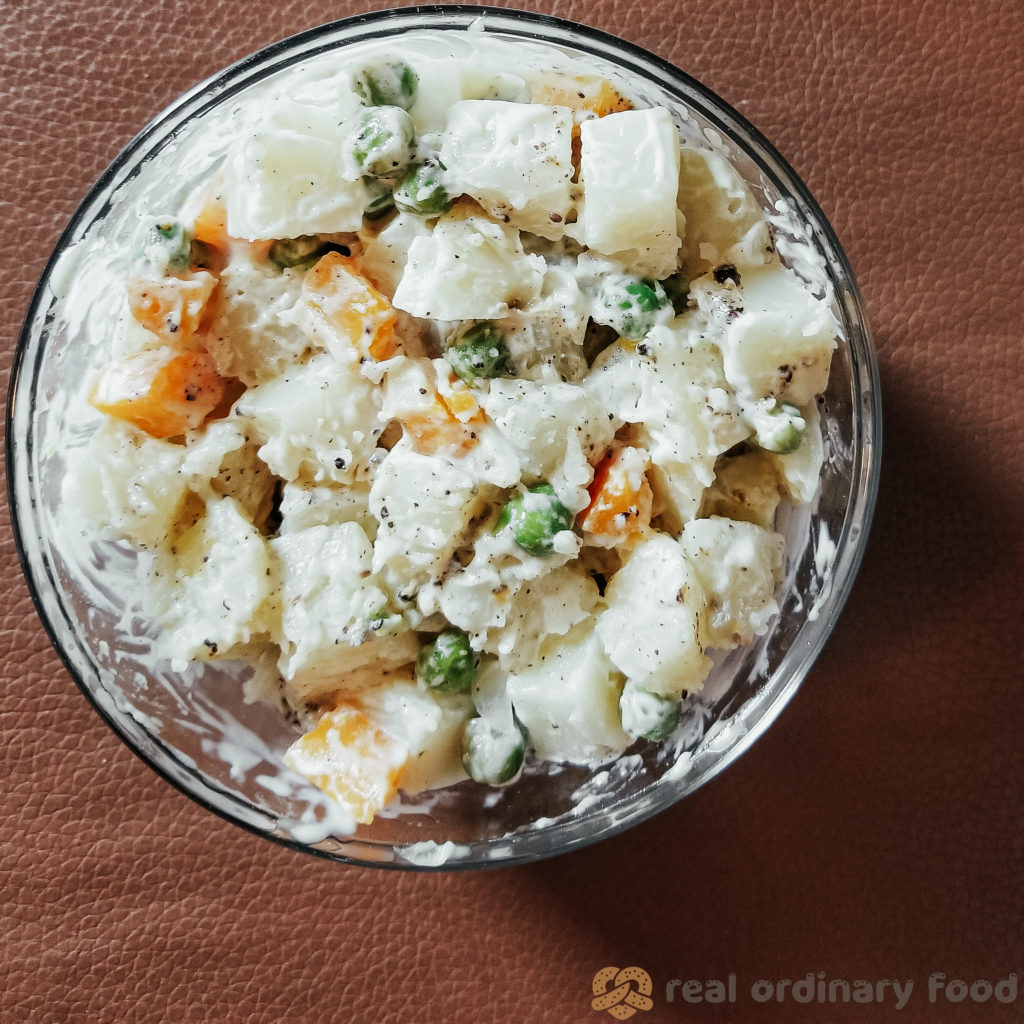 If you follow my posts closely, you'll notice there's a serious lack of salads on this blog. There, I said it: I like veggies but I hate most salads. I dislike the taste of many raw greens. Spinach? Love it cooked, hate it raw. Same thing with kale, watercress, cabbage… Even stuff like lettuce and cucumber, I can enjoy them raw but I prefer eating the cooked versions. Also, most salad dressings and vinaigrettes are too acidic for my taste.
The first time I made a version of this salad, I wasn't expecting much. But Olivie surprised me. There aren't any pesky leafy greens. The potatoes, peas, and carrots are hearty. It isn't as acidic as many other potato salads, but the relish/pickles add just the right amount of sweet and sour. It's just a bowl of creamy, carby goodness.
Vegan Mayonnaise
For the vegan mayonnaise which is essential to this recipe, you can obviously use store-bought vegenaise for the easiest option. For a homemade low-fat version, I like this recipe—the consistency is closer to salad dressing than mayo, but it's delicious and works perfectly in this salad.
My favourite vegan mayo, though, is this one cribbed from Facebook:
Add 3 tbsp aquafaba (chickpea liquid), 2 tsp mustard, 1/2 tsp salt, 1 tsp kala namak (black salt), 2 tbsp red wine vinegar, 1 tbsp extra virgin olive oil to a blender. Make sure all the ingredients are cold. (I stick the blender jar + ingredients into the freezer for half an hour.)
Start blending and slowly drizzle in 130 g neutral oil (I used grapeseed). If your blender doesn't have a hole at the top to pour oil through, add the oil in quarters at a time.
The mixture will emulsify into a creamy mayo quickly, under half a minute. If it looks thin, add another 1/4 cup of oil.
Vegan Sausage
Russian Olivier salad is traditionally made with diced beef or Докторская колбоса ("doctor's sausage," kind of a bologna-lite). People around the world generally make it with whatever meat they have on hand. For a vegan-friendly substitute, you have many options:
Many Asian supermarkets carry a "veggie soy roll," a frozen vegetarian "ham" that I personally think comes closest to mimicking a mild porky taste. I've seen several different brands but they all seem to come in the form of a giant tube. Look for it at Asian supermarkets. I've seen it at T&T as well as in the frozen aisle of my local independent Asian grocer.
You can also use another ham or hot dog substitute of your choice, like storebought Yves veggie dogs or Tofurky bologna-style deli slices.
Try making your own seitan sausage! My favourite homemade sausage to use in this recipe is the veganized "kielbasa" (Polish hot dog).
If you'd prefer not to use a faux meat alternative, feel free to omit this ingredient altogether. It won't quite be as traditional of an Oliver salad but will still be delicious.
More Salad Recipes
Recipe FAQs
How many calories are in an Olivier salad?
The number of calories can vary depending on the recipe and the ingredients used. However, a typical serving of Olivier salad made with potatoes, carrots, peas, pickles, veggie ham, and mayonnaise can contain around 300-400 calories per serving. One generous bowl of the Olivier salad made from this recipe contains 330 cal.
Can you freeze Salad Olivier?
It's not recommended to freeze Salad Olivier because the vegetables in the salad will become waterlogged and mushy. Freezing and thawing the mayonnaise can also cause it to split. Olivier salad is best consumed soon after preparation to ensure optimal flavor and texture. If you need to store Salad Olivier, it is recommended to refrigerate it in an airtight container for up to 3-4 days instead of freezing.
Is Russian salad healthy?
The healthiness of Russian salad (aka Olivier salad) depends on its ingredients. Typically, an Olivier salad includes nutritious ingredients like potatoes, carrots, peas, and pickles, all of which are healthy on their own. However, the salad is traditionally dressed with mayonnaise, which can be high in calories and saturated fat. This recipe certainly has less mayonnaise than a restaurant-style version of the salad, but as with any dish, portion control is important to avoid excessive caloric intake.
Where does Olivier salad come from?
Olivier salad comes out of 1860's Russia, which is why it's also known as Russian salad. The salad was invented by a French-Belgian chef named Lucien Olivier, who owned a popular restaurant in Moscow. However, variations of Olivier salad can now be found in many parts of the world, including other Eastern European countries, Central Asia, and the Middle East. Today, Olivier salad is a popular dish served during holidays and special occasions in Russia and other parts of the world.
Is Olivier salad Russian or French?
Both! The inventor of Olivier salad was a French-Belgian chef born in Moscow, who served the salad at his Moscow restaurant. While this salad has some French influence due to the background of its creator, it is commonly considered a Russian dish and has become an integral part of Russian cuisine. Variations of Olivier salad can also be found in other countries, but its origin is firmly rooted in Russia.
Recipe Card
Did you make this recipe? Please consider leaving a rating below to let me know how you liked it.
You can also take a picture and tag me on Instagram @earthtoveg, I will shout you out in my Stories!
Vegan Olivier Salad (салат Оливье, Salat Olivye)
Servings:
2
side servings
Dec 24 may be too late to post a Christmas recipe… but here's one anyway. Olivier salad, originally from Russia, is now a holiday tradition in many countries.
Print Recipe
Use Imperial/Metric buttons below to toggle between volume vs weight measurements. I recommend weighing out your ingredients for best results.
Equipment
Instant Pot or stovetop stock pot
Ingredients
2

medium potatoes, diced

⅓

cup

green peas

1

small carrot, diced

¼

onion, diced

1

tsp

mustard

2

tbsp

relish or diced pickles

3

tbsp

vegan mayonnaise

⅓

cup

veggie soy roll or vegan sausage, diced

¼

tsp

fine salt or

1/2

tsp kosher salt

½

tsp

ground black pepper
Instructions
Boil the diced potatoes, peas, and carrots until tender, around 5 minutes on the stovetop. (Or throw them all into an Instant Pot steamer basket with a cup of cold water and use the Steam setting at High Pressure for 1 minute, quick release.)

Mix all the ingredients together, chill until cold, then enjoy.
Notes
For a more traditional Olivier salad, dice your potatoes, carrot, and onion really really small. Sometimes I keep the potatoes in larger chunks, which gives a different texture to the dish (more like a typical American potato salad).
Nutrition
Calories:
330
kcal
|
Carbohydrates:
34
g
|
Protein:
10
g
|
Fat:
17
g
|
Saturated Fat:
2
g
|
Polyunsaturated Fat:
1
g
|
Monounsaturated Fat:
1
g
|
Sodium:
665
mg
|
Potassium:
759
mg
|
Fiber:
7
g
|
Sugar:
5
g
|
Vitamin A:
4403
IU
|
Vitamin C:
38
mg
|
Calcium:
47
mg
|
Iron:
7
mg
SEND FOOD PICS 📸
Tag @earthtoveg or leave a comment below if you tried this recipe. It makes my day. 😊