Chinese Cucumber Bean Curd Salad is based on a dish from my childhood. The traditional (non-vegetarian) recipe consists of julienned cucumbers, sliced tofu sheets, thinly-sliced beef, mixed with a umamiful dressing of garlic, soy sauce and chili oil. For this version, I've left out the beef but it is still flavourful and highly refreshing.
Why Make This Salad?
As mentioned above, this is a dish I've been eating since childhood, but it usually contained meat. Feeling nostalgic recently, I tried making the vegan version simply by taking out the beef and turns out it still tastes fantastic. The beancurd strips / soybean zeroodles provide a chewy, proteinaceous texture and the maggi sauce brings on the umami with no need for any animal products.
In fact, my boyfriend, whom I have never known in five years to willingly eat a salad, enjoyed this and ate it almost every day for lunch for a whole summer! Of course, the Lao Gan Ma chili crisp has to take a lot of credit here—put that stuff on ANYTHING and it'll taste amazing.
What You'll Need
This simple hot-weather salad uses minimal ingredients so you can make this even when it's too hot to spend much time in the kitchen:
Bean Curd Strips (you can find these in the refrigerated or frozen sections of most Asian supermarkets). Alternatively, you can use a bean pasta like Zeroodle, Liviva, etc. They have a similar chew and texture and have the advantage of being shelf-stable because they're dry. Mung bean spaghetti is pictured in the above photo, but I've also had success with edamame spaghetti and soybean spaghetti.
Cucumber. Use an English cucumber which are best for eating raw, instead of field cucumbers or slicing cucumbers, which have thicker, tough skin.
Garlic. You can add more garlic than specified, if you want. When I make this for Kevin who is a garlic fiend, I double the amount.
Soy Sauce or Maggi Liquid Seasoning.
Chili Crisp (such as Lao Gan Ma brand).
Some optional Toppings include: shichimi togarashi, sesame seeds, cilantro, and scallion.
Step-by-Step Process
Step 1: Boil the bean curd or Zeroodles, then rinse in cold water and drain.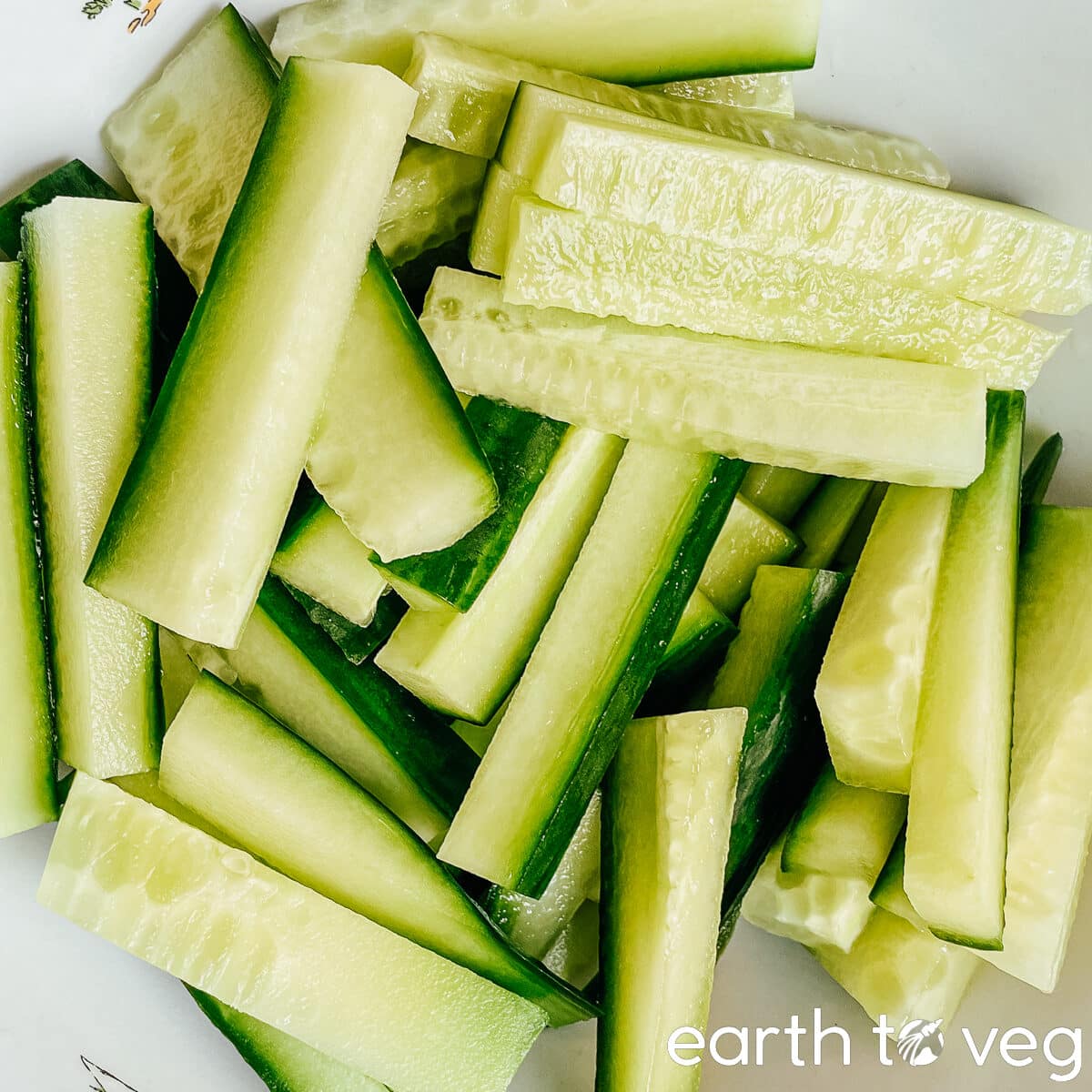 Step 2 (Option 1): Thinly slice up the cucumbers into 2-inch long strips.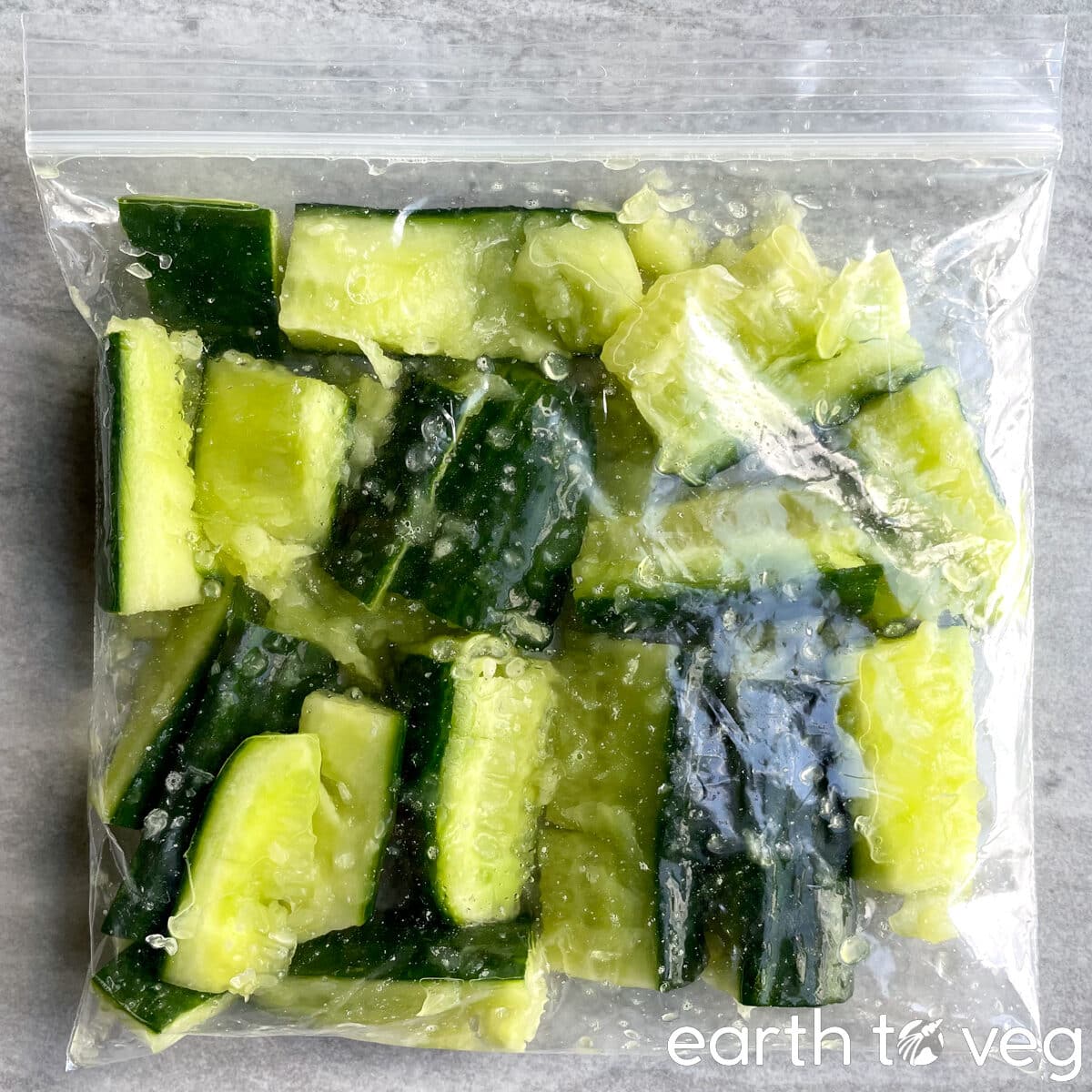 Step 2 (Option 2): Alternatively, you can put roughly-chopped cucumber pieces into a ziploc bag and smash them.
Step 3: Add the sliced or smashed cucumbers to a salad bowl together with the boiled bean curd.
Did you know: Smashing cucumbers is a popular Chinese technique for preparing cucumbers. It breaks open the cucumber skin and helps it absorb lots of flavour. And it's quicker than slicing, too. 🙂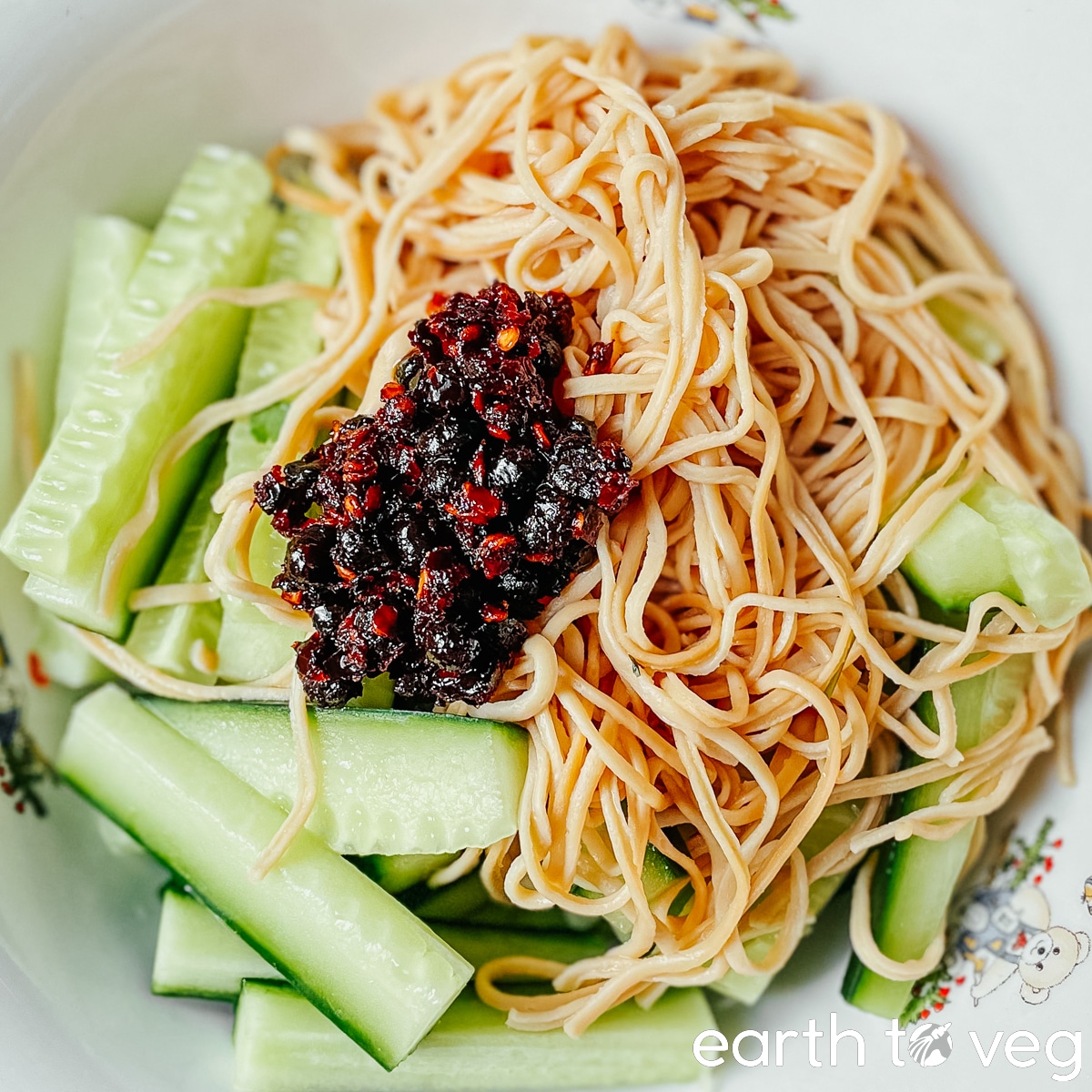 Step 4: Add chili crisp.
Step 5: Add crushed garlic.
Step 6 (Optional): Sprinkle on shichimi togarashi to taste.
Step 7 (Optional): Add chopped cilantro, scallions, and sesame seeds. Give it a good mix and serve cold!
Ingredient FAQs
A note on the chili sauce: as mentioned, the chili crisp is important for the spicy-savoury flavour here, but a chili oil can work too. You can use Lao Gan Ma, which is the most widely available and my favourite, or any other brand. I've probably used three or four different brands of chili crisp at this point and they all do the job, though I find myself returning to Lao Gan Ma.
Maggi or soy sauce?
In the past, I've always made cucumber bean curd salad with soy sauce. I never tried maggi sauce until a month or so ago when my mom turned me onto it. It's a super flavourful sauce that looks exactly the same as soy sauce, but IMO tastes even better. Maggi is slightly less acidic than soy sauce and works really well in this recipe. I imagine that most people are more likely to have soy sauce than maggi in their pantry, but if you do have maggi, definitely give it a go in this recipe.
What's shichimi togarashi?
It's a Japanese spice mix. I've yet to find an Asian-style recipe that a sprinkle of shichimi togarashi doesn't work on. I buy mine from Silk Road Spice Merchant (Canada-wide shipping!!). If you don't have any, that's fine too. The base ingredients (garlic, chili crisp, soy sauce) provide enough flavour already, which is why I noted that the toppings are optional.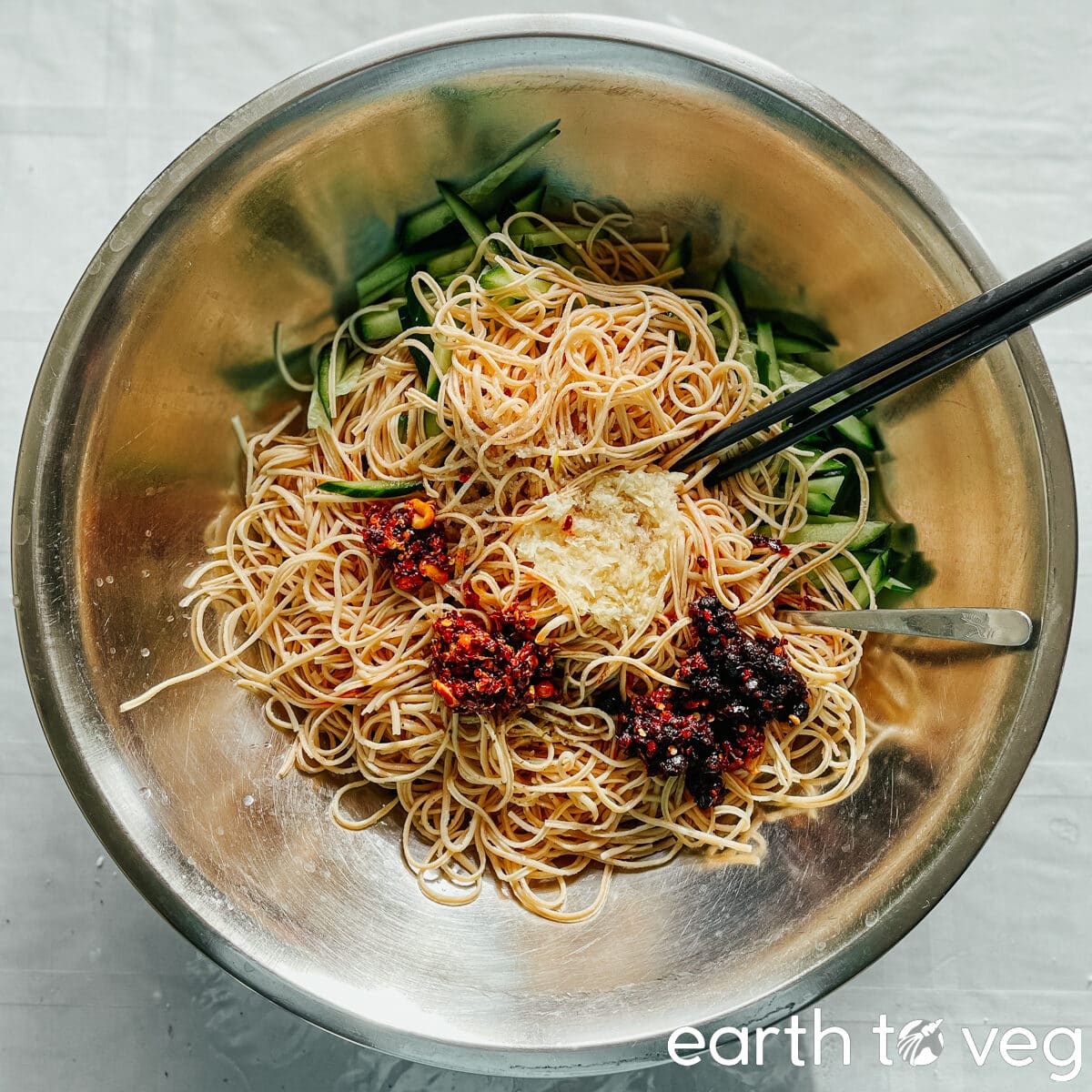 More Salad Recipes
I'll be honest, there aren't a whole lot of salad recipes on this site because we in this household are quite salad-resistant. Not only do I not make many salads, but finding one that's good enough to post is even more rare. However, here are two that I made and quite enjoyed recently:
Vegan Olivier Salad, aka Russian Salad! It's a totally different type of salad from this one: potatoey, tangy, and creamy. But go and give it a shot if you'd like a twist from regular old potato salad recipes.
Kısır Salad, a Turkish recipe with bulgur and tons of fresh herbs.
Hiyayakko, Japanese cold tofu salad. Might not fit the Western preconception of salad, but it brings on the cold and refreshing flavours all the same.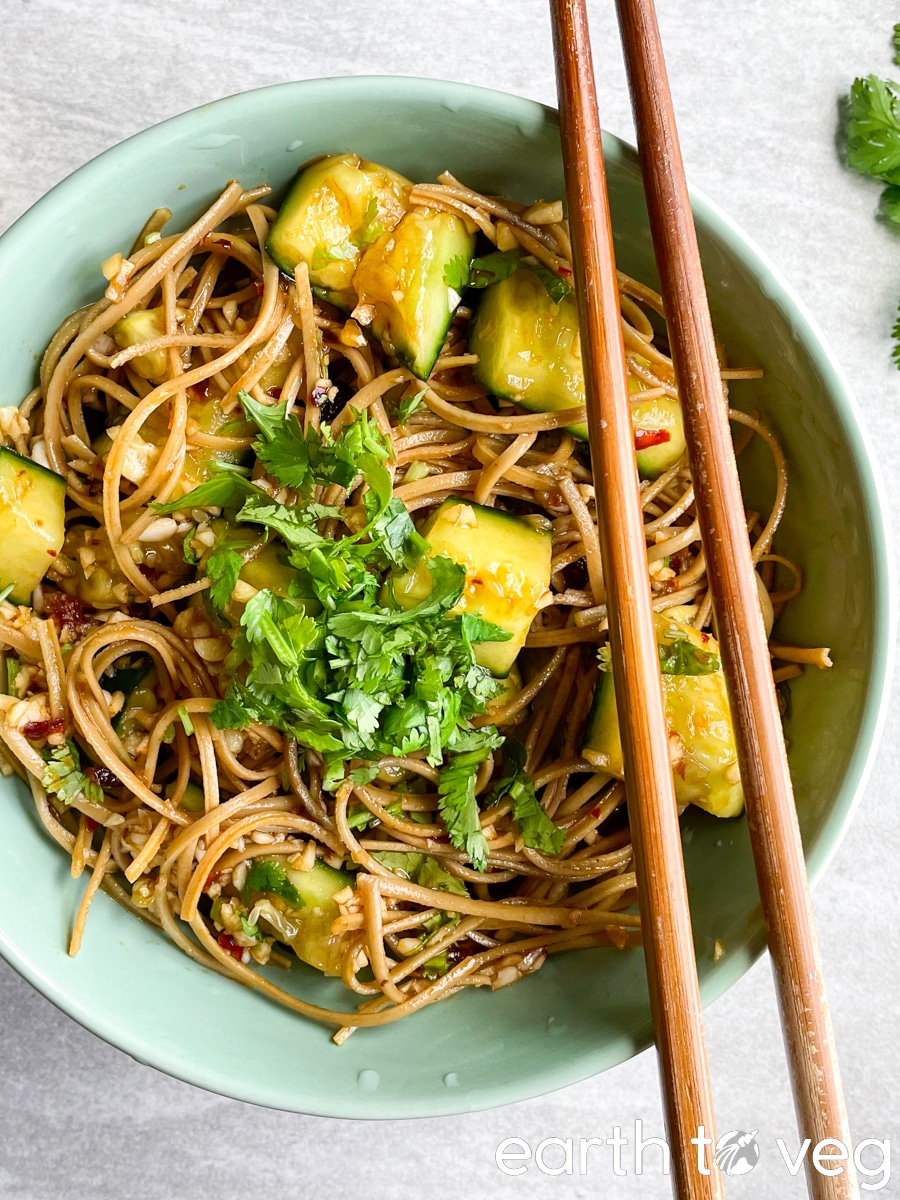 Recipe Card
Did you make this recipe? Please consider leaving a rating below to let me know how you liked it.
You can also take a picture and tag me on Instagram @earthtoveg, I will shout you out in my Stories!
Spicy Cucumber Bean Curd Salad
Spicy, garlicky cucumber bean curd salad is a classic Chinese cold dish. The bean curd in this refreshing, high-protein vegan recipe can be subbed by Zeroodles.
Print Recipe
Use Imperial/Metric buttons below to toggle between volume vs weight measurements. I recommend weighing out your ingredients for best results.
Ingredients
Salad Base
3

oz

bean curd strips

*can sub with 45g dried bean spaghetti (eg. Zeroodles pasta)

½

English cucumber

see Note 1

3

cloves

garlic

1–2

tbsp

chili crisp or chili oil

1

tbsp

soy sauce or maggi sauce
Optional Toppings
1

tsp

shichimi togarashi

1

tsp

sesame seeds

2

tbsp

finely chopped cilantro

2

tbsp

finely chopped scallion
Instructions
Boil the bean curd strips or soybean spaghetti for 2 minutes, then drain. (No need to rinse.) Alternatively, you can place them with 1 cup of water into an Instant Pot and set on high pressure for 0 minutes, followed by Quick Release.

(Skip this step if you're using pre-sliced bean curd strips or spaghetti.) Slice the cooled bean curd sheets into ½- to ¼-inch wide strips. Add to a salad bowl.

Slice the cucumber into ½-inch thick pieces. Add to the salad bowl.

Pound garlic into a rough mash using a pestle and mortar. Alternatively, you can use a garlic press or just mince it up really fine, but I find mortar and pestle to be the quickest and easiest option.

Add garlic, chili crisp, and soy sauce to the bowl. Mix everything together.

Add any toppings if you wish!
Notes
Instead of cucumber, I've also made this salad with lettuce and spinach. (I prefer to blanch them first because I like the cooked versions better than raw in this dish.)
Nutrition
Calories:
341
kcal
|
Carbohydrates:
45
g
|
Protein:
14
g
|
Fat:
14
g
|
Saturated Fat:
2
g
|
Polyunsaturated Fat:
2
g
|
Monounsaturated Fat:
9
g
|
Sodium:
881
mg
|
Potassium:
473
mg
|
Fiber:
5
g
|
Sugar:
8
g
|
Vitamin A:
989
IU
|
Vitamin C:
21
mg
|
Calcium:
179
mg
|
Iron:
4
mg
SEND FOOD PICS 📸
Tag @earthtoveg or leave a comment below if you tried this recipe. It makes my day. 😊