Borani banjan is a popular Afghan side dish that stars eggplant as the central ingredient. The history of borani starts in Iran, where it's enjoyed as a cold starter dish. But unlike its Persian ancestor, this Afghan version is nice and warm, perfect for winter. Best of all, it's naturally vegan-friendly: no modifications are needed from the traditional recipe.
What You'll Need
Eggplants are the key ingredient in this recipe. However, the type you use doesn't matter. You can choose any type of eggplant for this recipe: Italian, Chinese, Japanese, etc. Baby eggplants are just as good as large ones. Just make sure you have roughly 1 lb or 1½ lbs.
Tomatoes are just as important as the eggplant because they make up the gravy that coats every delicious bite. This recipe uses whole tomato for the gravy, and also adds some tomato paste to boost the savoury flavour. However, you can leave out the tomato paste in a pinch.
Garlic and ginger are integral to Asian cuisine, and Afghan food is no exception. Make sure to mash the ginger really fine, because you don't want to taste bits of ginger in the finished casserole.
Spice Mixture
Paprika can be swapped out for cayenne for an even spicier dish.
Red pepper flakes (chili flakes) can be substituted with more paprika for a milder version.
Cumin is non-optional here. It's an essential spice for so many Afghan recipes.
Black cardamom can be omitted if you don't have it. I haven't tried this recipe with green cardamom yet, I'm not sure if it'll work because the flavours are quite different. But if you want to give it a shot please leave a comment and let me know how it turned out!
Turmeric
Salt
Black pepper
If you like more spice in your dishes, you can add another 1/2 tsp of red pepper flakes. Alternatively, sprinkle 1 tsp of Mesmerize Spices Fire Salt over the casserole after baking.
Toppings
Finally, it's customary to serve borani banjan with cilantro and yogurt (make sure to use a plain, unsweetened variety. I like the Silk and Maison Riviera brands). They help to cut the richness of the gravy. You can either toss the toppings on top (like I did) or mix them together and serve them on the side like a dip. (Don't worry if you don't have one or both of these, though. The casserole tastes good on its own too.)
Step-by-Step Process
How to Serve
Borani banjan is traditionally served with a stuffed Afghan flatbread called bolani, but I've found it makes a wonderful meal eaten with Kabuli palaw (Afghan rice), a wild rice pilaf, or even plain basmati rice.
Below is a restaurant version of borani banjan that I ate at East Is East in Vancouver. (In the bowl on the right, just above the roti):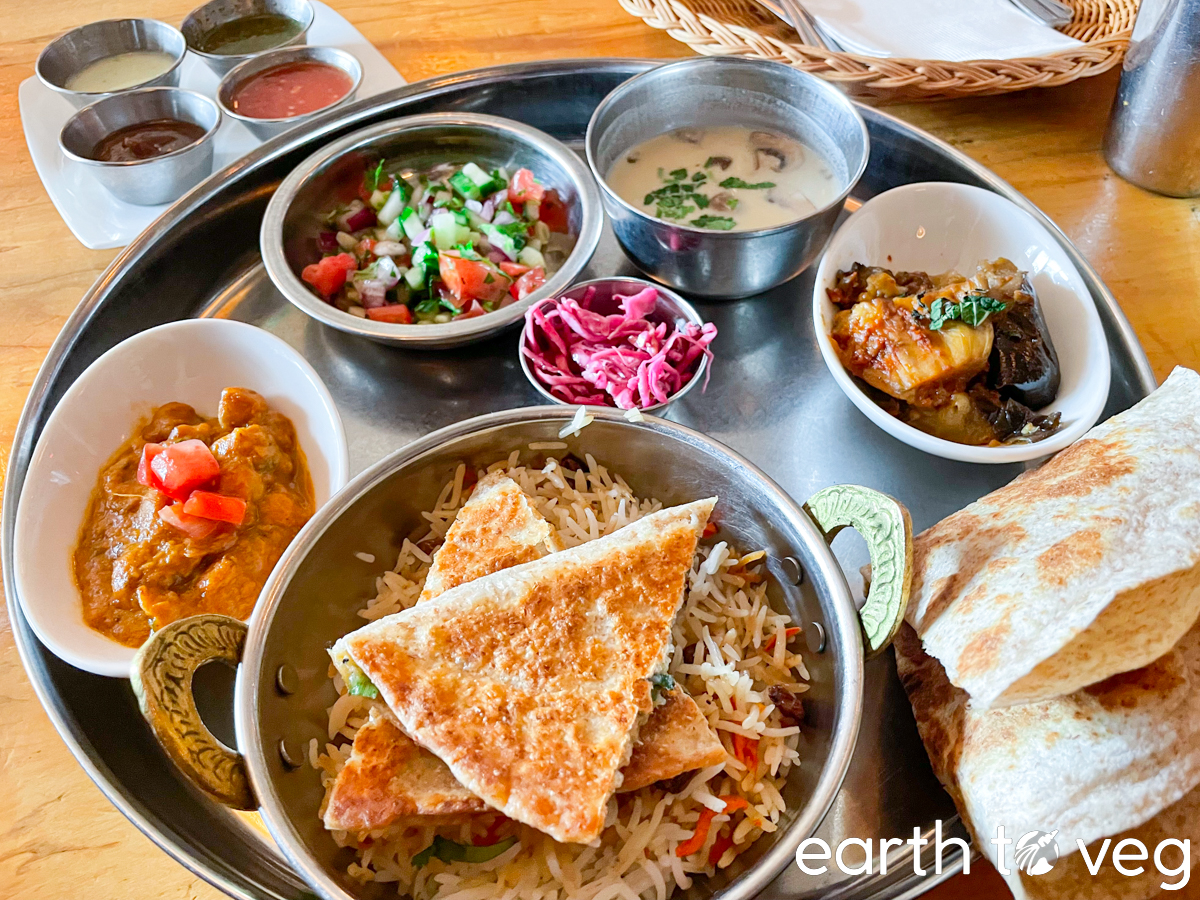 Deep-Fried vs Roasted Eggplant
I learned about borani banjan while reading the Afghan Culture Unveiled blog, where Katie and Humaira call it "luscious layered eggplant." And that's exactly the word to describe it. This eggplant is lush lushhhh baby. It's so melt in your mouth tender, with plenty of oil to add flavour but not enough to feel greasy. Yes, 1/2 cup of oil seems like a lot but you won't feel like it after eating!
The thing is, the traditional method of cooking this dish calls for deep-frying the eggplants. But eggplant soaks up oil like crazy, and even if you drain the pieces on paper towels they still retain a lot of oil. I tried the deep-fry method and although the texture was lovely, it just felt a little too greasy after a couple of bites, especially because the tomato gravy contains plenty of oil too. So I tested roasting instead, and the eggplant slices still turned out velvety soft, using only a fraction of the fat. (I do recommend adding the full amount of oil given in the recipe, though: that's key for the luscious mouthfeel.)
Recipe Card
Borani Banjan (بورانی بادمجان), Afghan Eggplant Casserole
Borani banjan is an Afghan eggplant dish baked with spicy tomato gravy. This naturally vegan-friendly recipe makes for a comforting, aromatic winter casserole.
Print Recipe
Ingredients
Roasted Eggplants
½

cup

vegetable oil, divided into 5 tbsp and 3 tbsp

60 g + 40 g

1

large eggplant

1–1½ lbs or 450–650 g

½

tsp

salt or 1 tsp kosher salt

3 g
Tomato Gravy
1

head

garlic

50 g; can sub garlic paste if you're lazy

½

inch piece

ginger

5 g; can sub ginger paste if you're lazy

1

tbsp

tomato paste

18 g *optional

½

tsp

paprika

½

tsp

red pepper flakes

1

tsp

ground cumin

1

black cardamom pod, ground into powder

*optional

1

tsp

turmeric

½

tsp

fine salt or 1 tsp kosher salt

3 g

½

tsp

ground black pepper

1

large tomato

500 g; can sub canned diced tomatoes
Toppings
½

cup

fresh cilantro

15 g

½

cup

plain vegan yogurt

120 g
Instructions
Roast the Eggplants
Rinse and slice the eggplant into 1-cm (1/3-inch) thick pieces.

Lay each slice side by side on lined baking sheets. (We'll be roasting the eggplants, although the traditional method is to deep-fry them.)

Drizzle 5 tbsp of oil over the eggplants (no need to flip them) and sprinkle with 1/2 tsp salt. Roast in an oven at 425 °F for 25–35 minutes or until golden brown.
Prep Tomato Gravy
Meanwhile, crush or chop the tomato and gather the spices (paprika, red pepper flakes, cumin, ground black cardamom, turmeric, salt, black pepper).

Crush the garlic into a rough paste; reserve half for mixing into the yogurt (step 17). I use a mortar and pestle but a garlic press works too.

Crush ginger and mix it into the garlic, along with tomato paste.

Heat 3 tbsp of oil in a saucepan on medium-low heat. (If you have a laser thermometer, it should be around 300 °F.)

Add the garlic-ginger-tomato paste and gently fry (temper) for a few minutes or until fragrant.

Add all the spices and temper for another 30 seconds.

Pour in the chopped tomatoes and mix thoroughly with the spices. Cover with a lid and simmer for 15 minutes, stirring occasionally.
Assemble and Bake
When eggplants are roasted to a golden-brown colour, remove them from the oven. Keep oven on.

Arrange a layer of eggplant at the bottom of a small casserole dish.

Cover with a layer of tomato sauce.

Continuing alternating the eggplant and tomato sauce until you reach your last layer of eggplant. Top with a layer of cilantro (reserve some for garnish if you'd like), then cover with the remaining tomato sauce.

Cover the casserole either with an oven-safe lid or with a tight wrap of aluminum oil, then bake in the oven for 25 minutes at 425 °F.

Meanwhile, mix together the yogurt with the remaining garlic.

Remove casserole from oven and let stand 5 minutes before uncovering and serving. Top with yogurt and sprinkle with any remaining cilantro.
Nutrition
Nutrition, Cost, and Emissions Information
Each plate of borani banjan is 294 cal, costs $1.12, and releases 894 gCO2e of carbon emissions into the atmosphere.
Calculation for full recipe as written (4 servings):
Feel free to contact me for sources on the nutritional and carbon emissions information presented here. Note that I am not a nutritionist and guidelines on this page are provided for informational purposes only.