ORIGINS: Fruit butter begins with apple butter, which originated in Europe and was popularized in America by German settlers as a way to preserve the harvest. I've been using the same method for making a variety of butters, including rhubarb butter and now passion fruit butter, to extend the lives of these delicious fruits and enjoy them all year round.
Passion Fruit Butter (Stove or Slow Cooker)
Made from just one ingredient, passionfruit, this is a truly TANGY fruit butter for those of you who love that sour sensation. The seeds also add a lovely crunch.
Print Recipe
Use Imperial/Metric buttons below to toggle between volume vs weight measurements. I recommend weighing out your ingredients for best results.
Ingredients
¾

lb

passion fruit pulp or puree

350 g; see Note 1

½ to 1

cup

sugar

100–200 g *optional; see Note 2
Instructions
Add passion fruit puree to a small saucepan on a stove set to the lowest heat setting (see Notes for slow cooker option).

Leave on low heat, uncovered, for 1–1 1⁄2 hours. Stir occasionally with a wooden spoon or spatula, then for the last half hour start stirring more often, every few minutes or so, to make sure nothing sticks or burns. (This depends on your stove. If it runs hotter you should check on it more frequently.)

If using sugar (optional), stir it in towards the last half hour of cooking.
Nutrition
SEND FOOD PICS 📸
Tag @earthtoveg or leave a comment below if you tried this recipe. It makes my day. 😊
Recipe Notes
I recommend using frozen passion fruit cubes for the most convenient and cheapest option, but you can also use fresh passion fruit.
Without sugar, passion fruit butter is very sour, but tastes so good and fresh on things like toast, scones, and also in baked goods when you want to add a tart flavour. If you prefer a more mellow taste closer to a typical jam, please add some sweetener.
This recipe can also be done in a slow cooker or Instant Pot! Just follow the instructions in my Rhubarb Butter recipe, but start checking and stirring occasionally at 2 hours into the slow cook instead of 6.
This recipe can be doubled or even tripled, but the cooking time will also lengthen, so use the pictures below as a guide for when the passion fruit butter is thickened enough. I wouldn't recommend starting with less than half a pound of pulp, because you will end up with a truly tiny amount of butter and is it even worth the dishes at that point? (For reference, 3⁄4 lb of passion fruit puree turned into just 130 g—a little more than 1⁄4 lb—of passion fruit butter. A little goes a long way, though. Because of how acidic it is, you only need a very thin layer for spreading on things.)
Step-by-Step Process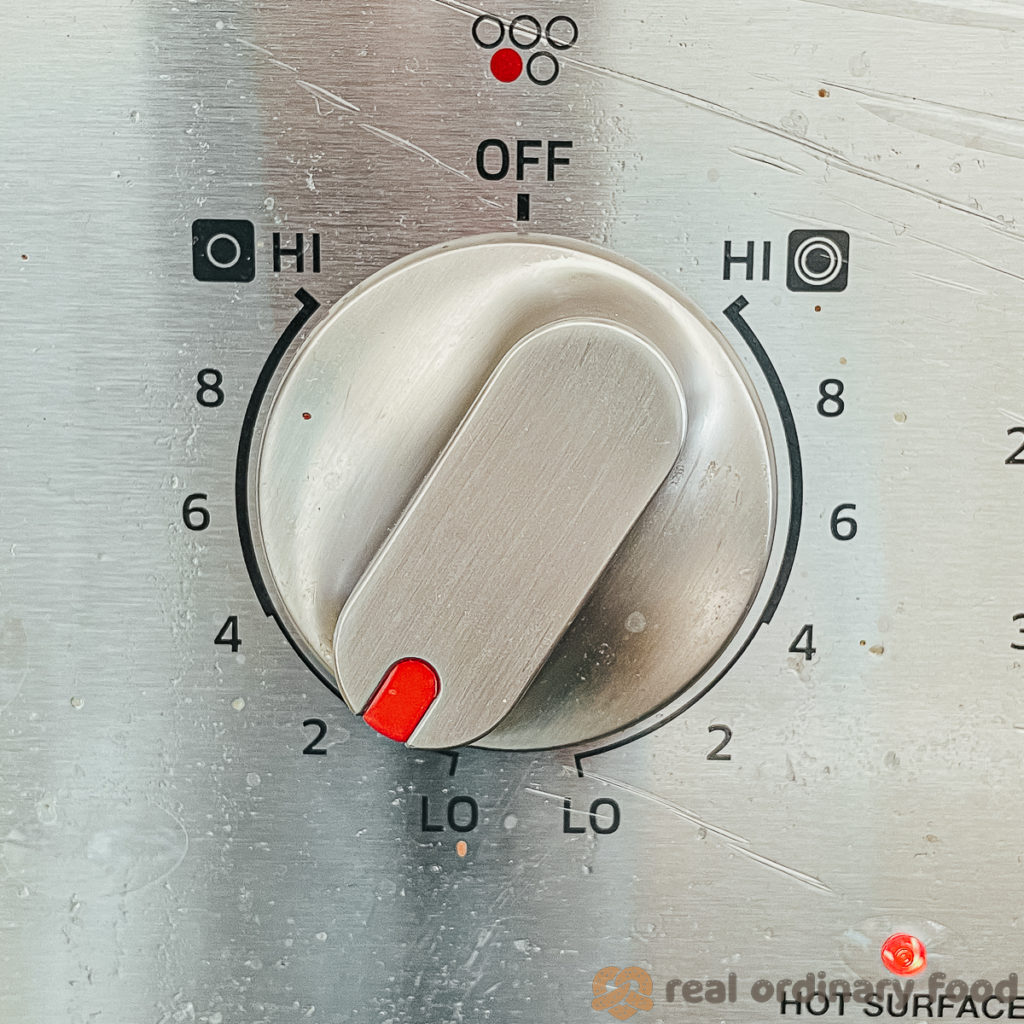 Nutrition, Cost, and Emissions Information
1 oz (about 1½ tbsp) of passion fruit butter is 85 cal, costs $1.64, and releases 150 gCO2e of carbon emissions into the atmosphere.
Calculation for full recipe as written (4 oz):
Feel free to contact me for sources on the nutritional and carbon emissions information presented here. Note that I am not a nutritionist and guidelines on this page are provided for informational purposes only.