Haskap berries, also known as honeyberries, are one of those rare fruits that love cold weather. These juicy gems are tart and quick to overripen, making them a perfect choice for mashing into jam. Make a jar this summer with just three ingredients and enjoy your homemade Haskap Jam all year long. Slather it on Soda Bread or swirl it into Haskap Yogurt; the options are jam-azingly endless (I'll show myself out).
Why This Recipe Works
No pectin: Pectin is used to set fruit jam into a thick gel texture. Many jam recipes call for liquid pectin or pectin powder, but this can be hard to find in grocery stores. And really, it's not necessary for this recipe because haskap berries contain enough natural pectin to set on their own.
Three ingredients: You only need haskap berries, white granulated sugar, and some kind of acid (lemon juice or citric acid). So simple and much cheaper than any haskap jam you could find at the farmer's market.
Traditional recipe: This is jam made the old-fashioned way, with no added thickeners like chia seeds, gelatin, or cornstarch. All you need is sugar, acid, and patience. Expect to stand over the stove for 30 minutes to thicken your jam to the right consistency, and then wait overnight for the jam to cool and set. But the divine taste is absolutely worth it.
What You'll Need
A few important notes on some of the ingredients used in this Haskap Jam:
Haskap berries: Haskap goes by many names, including blue honeysuckle, sweetberry honeysuckle, fly honeysuckle, and honeyberry. Its common name of haskap comes from the name given by the Ainu Indigenous people who live in Hokkaido, Japan, where varieties of these berries flourish. In fact, native populations in Russia, Japan, and China have been using the haskap berry for centuries. Haskap berries are plentiful during the early summer here in Alberta and you can visit U-pick farms to pick your own at just a few dollars per pound.
How to tell if your honeyberries are ripe? Here's a few indicators: The outer skin should be a deep, vibrant blue or purple color. Avoid berries that are mostly green. Gently squeeze a few berries between your fingers. Ripe haskap berries should have a firm yet slightly soft texture. They should give a little under pressure without being too mushy or overly firm.
White sugar: Sugar is not just for taste: it's also necessary to help the jam set. As I discuss below, your jam must reach a certain gelling temperature in order to set, and sugar plays an important role in getting to that temperature. White granulated sugar provides a neutral taste and doesn't take away from the flavour of the haskap.
Lemon juice: You need a source of acid to activate the pectin. Bottled lemon juice is preferred by jam-makers for its consistency. Natural lemon juice may be more or less acidic depending on the fruit, so use 1.5× the amount given in the recipe, just in case. Another option I like is citric acid, which you can buy as a powder. This stuff is very concentrated so you'll only need a very small amount.
For a full list of ingredients and quantities, refer to the recipe card at the bottom of this post.
Variations + Substitutions
Use a different berry: The ingredient ratios and techniques in this jam recipe can be applied to most berries, which naturally contain enough pectin and don't need any extra pectin. Berries that work with this recipe include: strawberries, blueberries, gooseberries, raspberries, blackberries, cranberries, currants, and lingonberries.
Add chia seeds: If you're feeling impatient and don't want to spend 30 minutes over the stove, you can stir in 2 tablespoons of chia seeds at the beginning of cooking. This will cut your cooking time in half as the chia seeds will help thicken the jam.
Step-by-Step Process
Step 1: Add haskap berries and sugar to a non-reactive pot.
Step 2: Turn the stove on to medium heat.
Tip: Use a non-reactive pot like stainless steel, enamel-lined cast iron, or pyroceram (Corning Ware). Other materials like copper, bare cast iron, and aluminum are considered "reactive" and the acid in the jam will slowly eat at the lining of the pot. They will transfer a metallic taste into your jam. 🤮
Step 3: As the pot heats up, mash the haskap berries to help them release their juices and dissolve the sugar. But don't worry if the berries are still mostly whole at this stage; they will break down on their own as they continue to cook.
Step 4: Stir continuously for around 30 minutes. Towards the end of cooking, test the jam with a food thermometer. Take it off the heat when it reaches the gelling temperature. See chart below for the temperature to aim for, depending on your altitude.
Step 5: Stir in lemon juice or citric acid powder. This helps your haskap jam to set.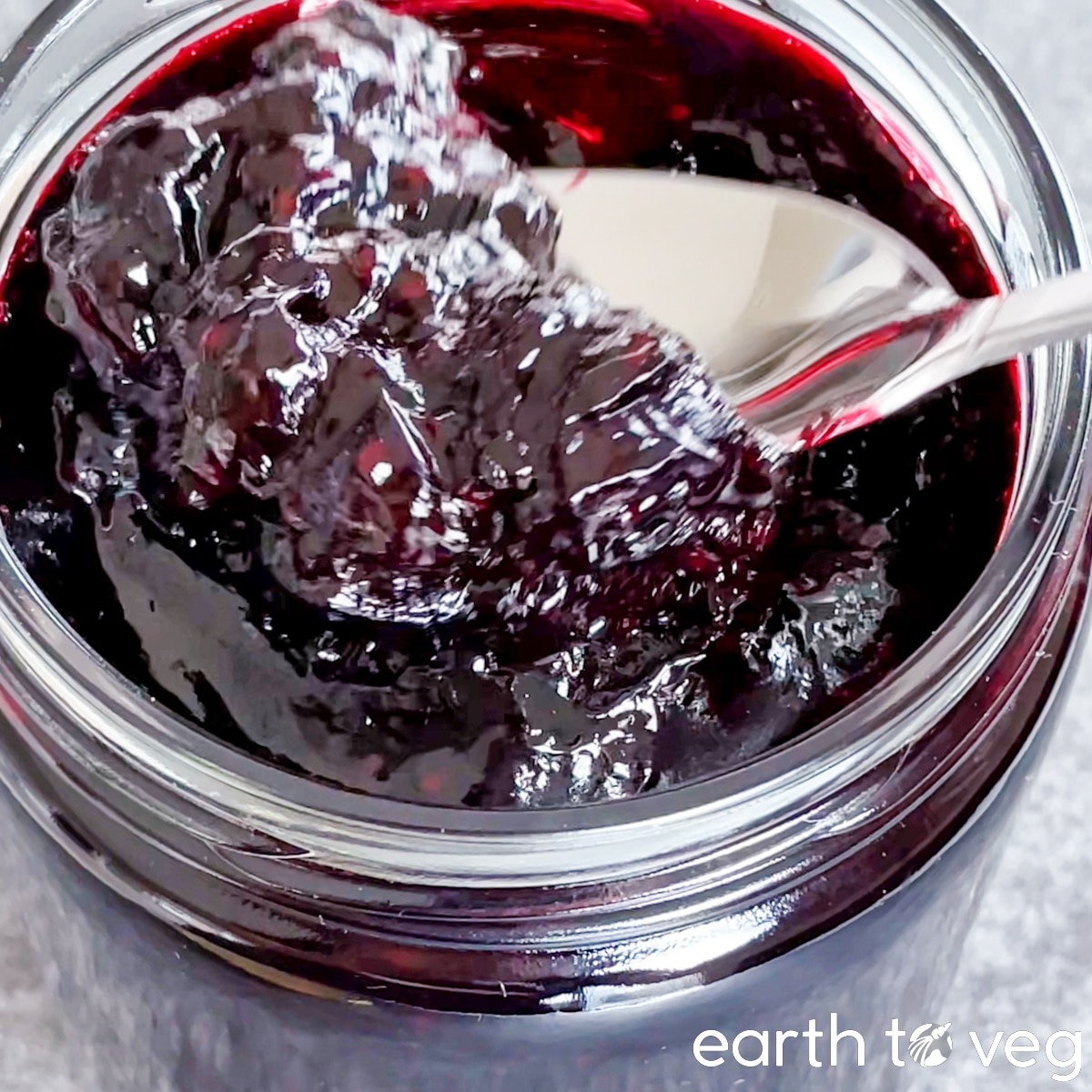 Step 6: When the jam stops bubbling, transfer it into glass jars. Cool fully before using.
If you want more detailed visuals, check out the How to Make Haskap Jam video below or on my YouTube Channel.
Jam Gelling Temperature Altitude Chart
As more water evaporates during the cooking process, the temperature of your jam will increase until it reaches the gelling temperature. The gelling temperature indicates that enough water has evaporated from the fruit juices to 1) strengthen the pectin network to the point where it turns the mixture into a spreadable gel, and 2) to concentrate the sugar enough to prevent spoilage. If you don't reach this temperature, your jam may turn out runny.
Tip: An instant-read thermometer comes in very handy when making jam! I own a Lavatools Javelin thermometer because it has a wide temperature range, so it doubles as a regular food thermometer and a candy thermometer. However, you can also use the Spoon Test to check the doneness of your jam, if you don't have a thermometer.
As altitude increases, the temperature required to boil and evaporate water decreases. If you live in a high-altitude area, you may notice that your water never boils at 212 °F (100 °C), in fact it starts boiling a few degrees below that. Therefore, you don't need to reach as high of a temperature before the gelling point is reached.
The below chart is based on information from The National Center for Food Preservation. Round down your current altitude to the nearest 500 ft to determine the target temperature for your location.
| Altitude | Gelling temperature |
| --- | --- |
| Sea level | 220 °F (105 °C) |
| 500 ft (153 m) | 219 °F (104 °C) |
| 1,000 ft (305 m) | 218 °F (103 °C) |
| 1,500 ft (457 m) | 217 °F (103 °C) |
| 2,000 ft (610 m) | 216 °F (102 °C) |
| 2,500 ft (762 m) | 215 °F (102 °C) |
| 3,000 ft (914 m) | 214 °F (101 °C) |
| 3,500 ft (1,067 m) | 213 °F (101 °C) |
| 4,000 ft (1,219 m) | 212 °F (100 °C) |
| 4,500 ft (1,372 m) | 211 °F (100 °C) |
| 5,000 ft (1524 m) | 211 °F (99 °C) |
| 5,500 ft (1,676 m) | 210 °F (99 °C) |
| 6,000 ft (1,829 m) | 209 °F (98 °C) |
For example, here in Calgary our elevation is around 3,500 ft above sea level, so I would aim for a temperature of 213 °F for my jam before I take it off the heat.
Make Ahead & Storage Tips
Canned: Properly sterilized and home-canned haskap jam will last up to one year. Please refer to this informative guide on Making Jams and Jellies for safe canning techniques.
Refrigerator: Because this haskap jam is made in the traditional way, cooked with the full amount of sugar, the sugar acts as a preservative. Haskap jam lasts for 1 month in the fridge.
Freezer: You can freeze honeyberry jam for up to 1 year.
Recipe FAQs
What does haskap jam taste like?
The taste of haskap jam can vary depending on the specific variety of haskap berries used, but generally, haskap jam offers a blend of sweet and tangy notes. The sweetness is reminiscent of blueberries but with a stronger floral component. At the same time, the tanginess provides a pleasant, refreshing zing that adds complexity and contrasts nicely with the sweet flavour. The exact taste can also vary between different batches of haskap jam, depending on the ripeness and variety of the berries used. It's important not to overcook the jam and destroy the delicate floral, berry flavour of the fruit.
Why are my haskap berries sour?
The most likely reason is your haskap berries are not fully ripe. Haskap berries should be harvested when the outer skin is a deep blue or purple color and the berry feels plump and slightly soft under your fingers. Avoid berries that are mostly green as these have not yet had time to develop their natural sugars, resulting in a sour taste. Also note that haskap berries do have a natural tartness, which is part of their unique flavor profile. And many varieties of haskap exist, some being more sour than others. Don't expect them to be as sweet as their similar-looking friends, blueberries.
Are honeyberries high in pectin?
Honeyberries, also known as haskap berries, do contain some pectin, the levels are not as high as in some other fruits traditionally used for making jams, such as apples or citrus fruits. It's also worth noting that the natural pectin content in honeyberries can vary, and some varieties have higher pectin levels than others. You should follow a specific honeyberry jam recipe to ensure your jam reaches the desired consistency and doesn't end up too runny.
What can you do with honeyberries?
Honeyberries, also known as haskap berries, are versatile fruits that can be used in various culinary creations. You can use them in similar ways as blueberries, for example for fresh snacking; incorporating into your favorite baked goods, such as muffins, pies, tarts, or pastry fillings; making homemade honeyberry jam or preserves (good way to store your summer haskap harvest for longer); or blending into smoothies.
What to Serve with Haskap Jam
Recipes Using Haskap Jam
The following are recipes that use jam where you can easily substitute with haskap jam:
Recipe Card
Did you make this recipe? Please consider leaving a rating below to let me know how you liked it.
You can also take a picture and tag me on Instagram @earthtoveg, I will shout you out in my Stories!
Traditional Haskap Jam (Honeyberry Jam)
Haskap berries, sugar, and lemon juice are all you need to make a sweet and tart haskap jam. No added pectin required for this special Canadian summer treat!
Print Recipe
Use Imperial/Metric buttons below to toggle between volume vs weight measurements. I recommend weighing out your ingredients for best results.
Ingredients
1

lb

haskap berries aka honeyberries

½

lb

white sugar

2

tbsp

lemon juice

*can sub with

1/2

tsp citric acid; see Note 2
Instructions
Add

1

lb of haskap berries and

1/2

lb of sugar to a non-reactive pot.

Turn the stove on to medium heat. As the pot heats up, mash the berries and sugar together until the sugar melts into the berries. Don't worry if the berries are still mostly whole at this stage; they will break down on their own as they continue to cook.

Stir continuously for around 30 minutes; towards the end of cooking, test the jam with a food thermometer. Take it off the heat when the thermometer reaches the gelling temperature (see Note 3).

Stir in

2

tbsp of lemon juice or

1/2

tsp citric acid powder. When the jam stops bubbling, transfer it into glass jars. You may either can it for longer storage or just keep it in the refrigerator for up to a month.

Let cool fully before using.
Notes
Pot: Use a non-reactive pot to avoid the taste of metal transferring into your jam. Other materials like copper, bare cast iron, and aluminum are considered "reactive" and the acid in the jam will eat away at the lining of the pot, giving a tinny flavour.
Acid: Use 2 tbsp of bottled lemon juice, 3 tbsp of natural lemon juice, or 1/2 tsp of citric acid powder for 1 pound of fruit.
Temperature: The gelling temperature is the temperature your jam needs to reach before you take it off the heat, and it depends on your altitude. Refer to the gelling temperature chart to see what temperature you should use at your location.
Nutrition
Calories:
556
kcal
|
Carbohydrates:
142
g
|
Protein:
1
g
|
Fat:
2
g
|
Saturated Fat:
0.1
g
|
Polyunsaturated Fat:
1
g
|
Monounsaturated Fat:
0.2
g
|
Sodium:
4
mg
|
Potassium:
140
mg
|
Fiber:
6
g
|
Sugar:
133
g
|
Vitamin A:
105
IU
|
Vitamin C:
11
mg
|
Calcium:
20
mg
|
Iron:
0.5
mg
SEND FOOD PICS 📸
Tag @earthtoveg or leave a comment below if you tried this recipe. It makes my day. 😊