ORIGINS: Perok comes from the Armenian diaspora in Iran, and bears similarities to the pirog pastry popular in many Eastern European countries. The original family recipe comes from Redditor /u/flyGERTIfly. This is the veganized version.
Vegan Armenian Perok Cake
This veganized Armenian perok cake, which looks like a pie and tastes like a buttery pound cake, with a sticky layer of jam, has won approval from everyone who's eaten it.
Ingredients
3/4

cup

vegan butter or margarine

170 g; see Note 1

1

cup

brown or white sugar

200 g

1

cup

vegan yogurt

240 g; see Note 2

1

tsp

vanilla extract

5 g

3

cups

all purpose flour

390 g

2

tsp

baking powder

8 g

1/2

tsp

fine salt or 3/4 tsp kosher salt

3 g

1

cup

apricot jam or any other jam

240 g; see "Choose Your Jam" section below
Instructions
Cream vegan butter and sugar together in a bowl using an electric mixer for about a minute or until smooth and pale in colour.

Add yogurt and vanilla extract and beat for half a minute.

Add flour, baking powder, and salt, and mix on low speed for another half minute or until just incorporated.

Reserve roughly 1 cup (250 g) of the batter. Spoon the rest of the batter into one 9- or 10-inch cake pan, or three mini loaf pans.

Gently smooth using the back of a spoon to create a fairly even surface, then spread the jam onto the batter.

For the reserved cup of batter, you can either drop it by the spoonful onto the jam if you're lazy, or shape into strips and lay them at least an inch apart in a lattice pattern. The batter is very soft so you won't be able to form perfect pie-like lattice strips, which is fine. Just roll roughly rope-like strands.

Bake at 350 °F for 45 minutes on the center rack (see Note 3).

Optional: brush a thin layer of jam on top of the dough parts of the cake to create a shiny "egg wash" finish.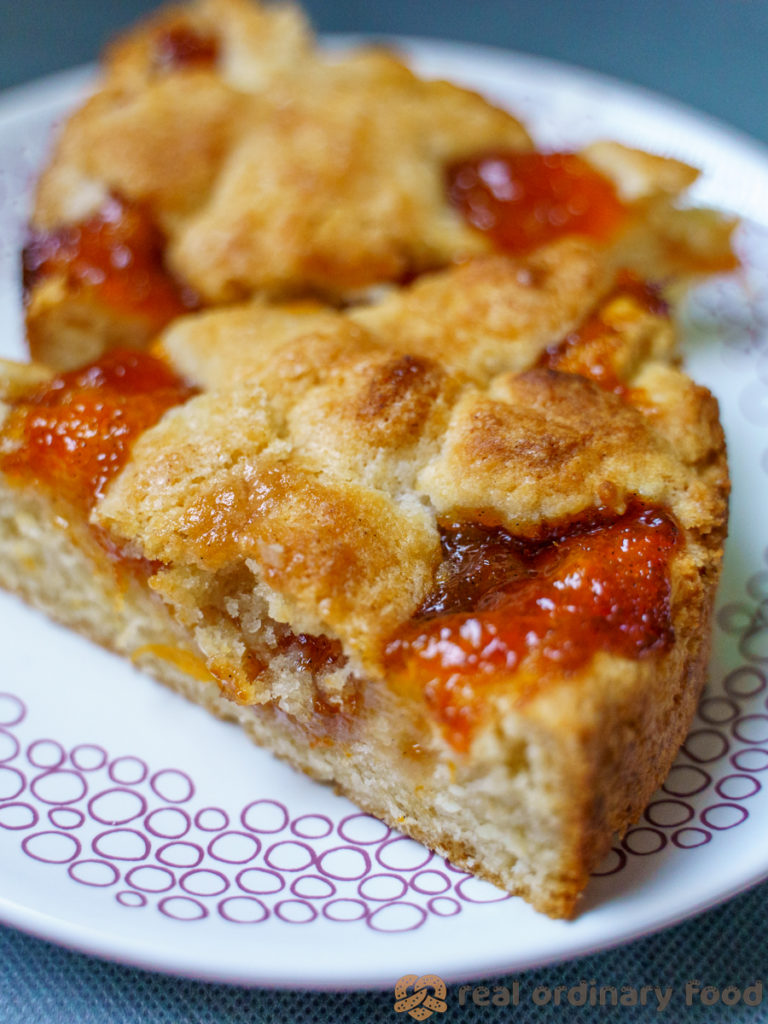 Recipe Notes
I have tested Becel Plant-Based Bricks, Becel Vegan Margarine, and Miyoko's Cultured Vegan Butter for this recipe. All three worked well, but the cake with the softest crumb was the one made with Becel Vegan. It also happens to be the cheapest, so that worked out nicely. 🙂
Regarding the yogurt, I have tested Silk Plain Soy Yogurt, Maison Riviera Coconut Delight, and Maison Riviera Oat Based Vegan Delight. We didn't find a difference between any of these three vegan yogurts.
I use an oven thermometer to ensure that the temperature is maintained at 350 °F. Your oven may run hotter or cooler so if you don't have a thermometer, go by the colour of the top of the cake: if it looks lightly golden, it's good to go. If it browns well before the 45 minute mark then it's too hot; turn the oven off and put a piece of aluminum foil on top of the cake to cover it and prevent further browning, then allow it to reach 40 minutes of total baking before taking it out.
Choose Your Jam
While apricot jam is the traditional option for perok, I've baked it several times with other jams and preserves (including my homemade passion fruit butter). This is a great recipe for using up any half-empty jam jars you have in the refrigerator. You can mix and match with whatever leftover jams or jellies you have until you get roughly a cupful.
Since summer is coming up, I'm looking forward to making a bunch of homemade jams to stuff into this gorgeous cake. What's your favourite jam flavour for making pastries?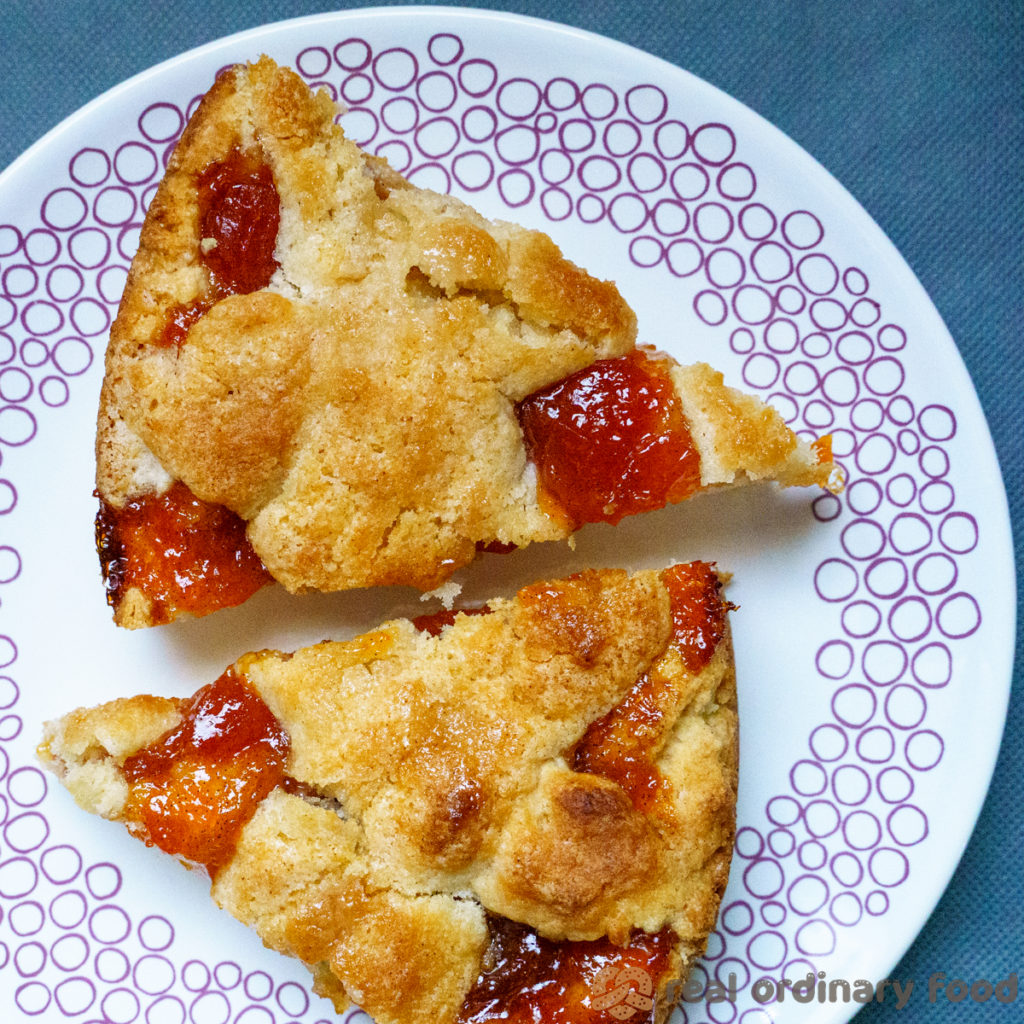 I'm also excited to report that this recipe has officially been approved by my boyfriend. Kevin, who turns up his nose at most of the things I bake because they're "too healthy," loved this vegan perok cake. I think it's because there is really not one ingredient here that I consider very healthy (except, I guess, the yogurt?). Yup, no getting around it, that's the secret to this cake's deliciousness: flour, sugar, and butter. It's so good!
Nutrition, Cost, and Emissions Information
Each slice of vegan perok is 532 cal, costs $0.85, and releases 407 gCO2e of carbon emissions into the atmosphere.
Calculation for full recipe as written (8 servings):
Feel free to contact me for sources on the nutritional and carbon emissions information presented here. Note that I am not a nutritionist and guidelines on this page are provided for informational purposes only.