Did you know many flowers and their roots are edible? Lily bulbs (百合) are native to China and are a popular Asian ingredient, particularly in soups or stir fries. Here's a simple way to prepare them, in a veggie stir fry coated with a delicious garlic glaze, that brings out the unique flavour of these bulbs.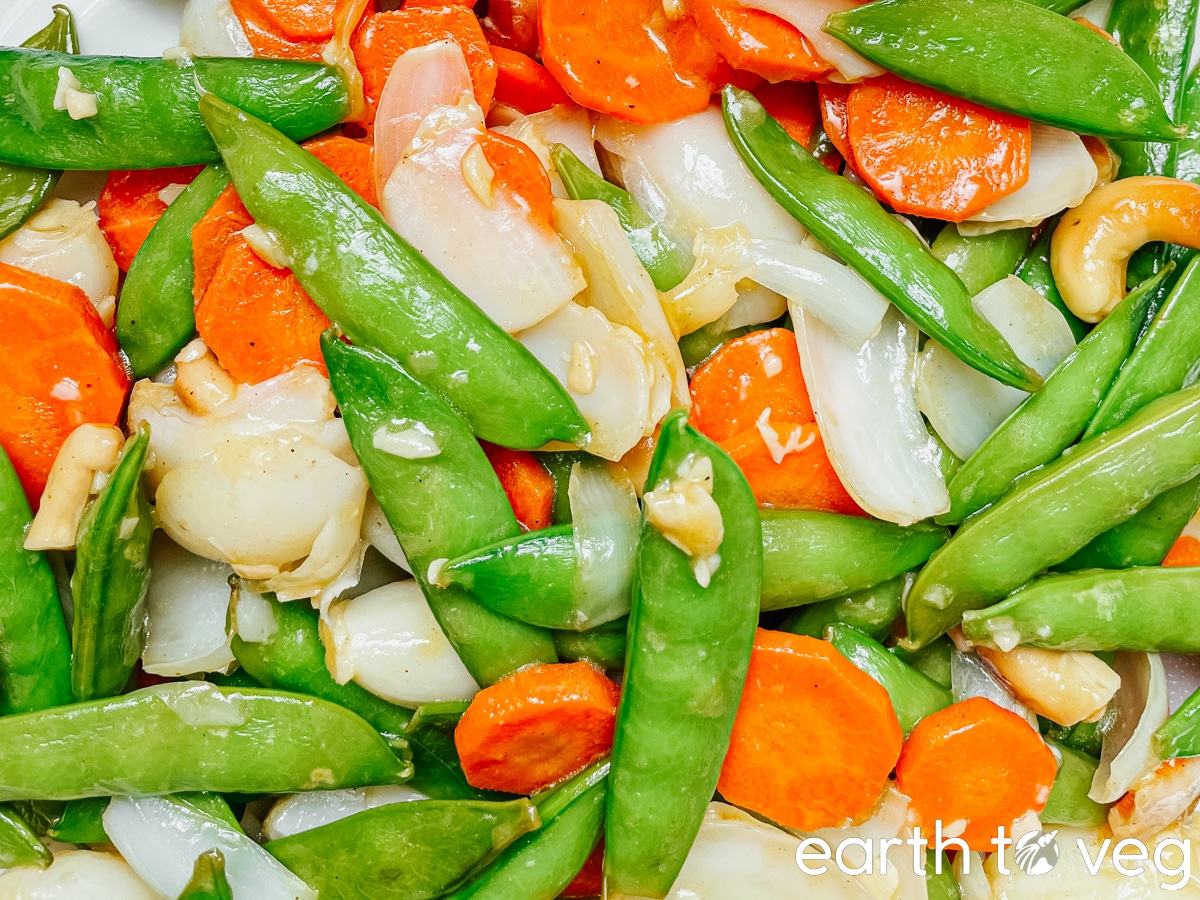 Chinese Glaze
The garlic glaze used in this recipe is one of the classic Chinese stir fry sauces. It's a great all-purpose sauce for stir-frying veggies. Feel free to use it on any other vegetables you have lying around, especially those that have a bit of crunch.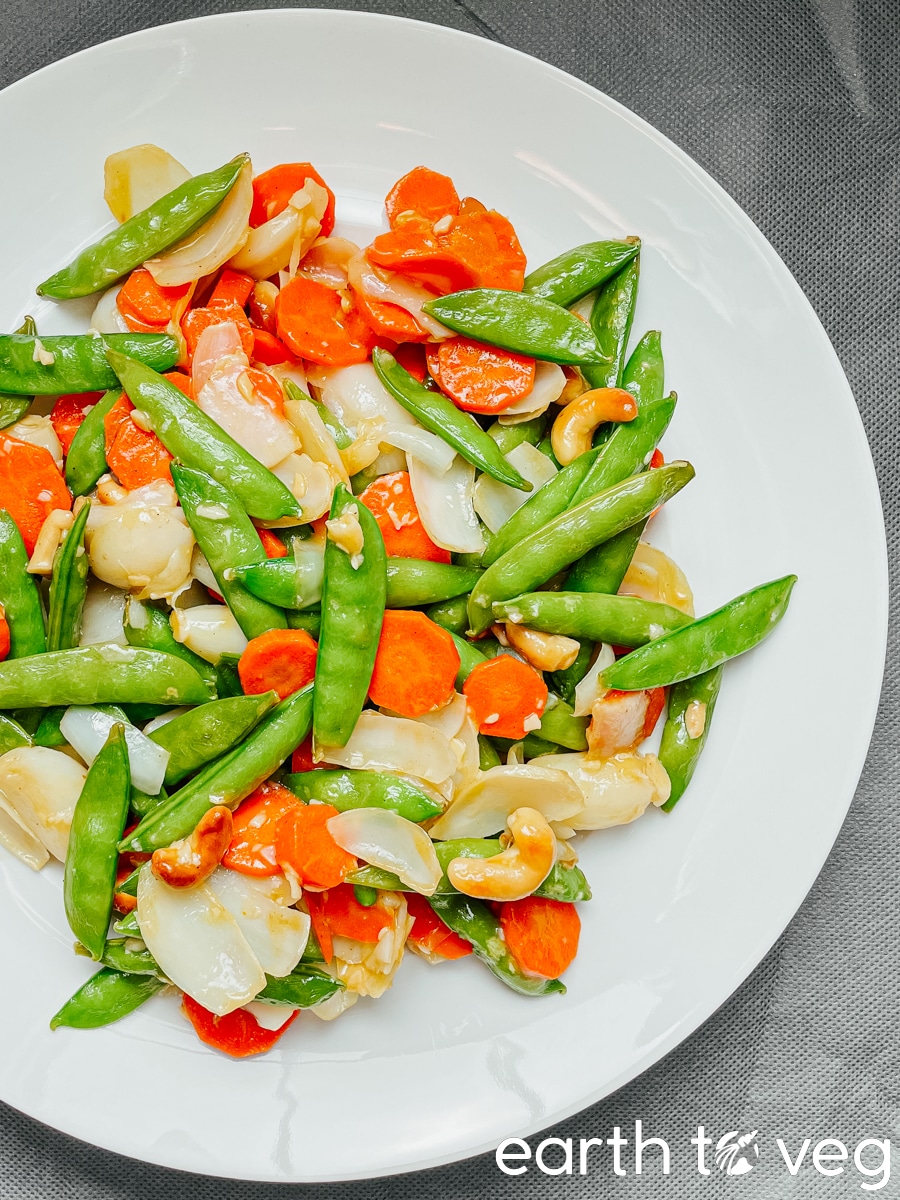 Types of Lily Bulbs
There are three "formats" of lily bulbs and you should be able to find at least one in a larger Asian supermarket:
Whole: I haven't seen whole fresh lily bulbs for sale anywhere here in my city. (Umm maybe at a gardening center?? jk!) If you are able to find whole lily bulbs for this recipe, you can see this video for cleaning and prepping instructions.
Prepackaged: The lily bulbs I can buy are the prepackaged ones that have already been separated and washed so you can skip the tedious process of cleaning them. I simply give them a rinse and they're ready to go.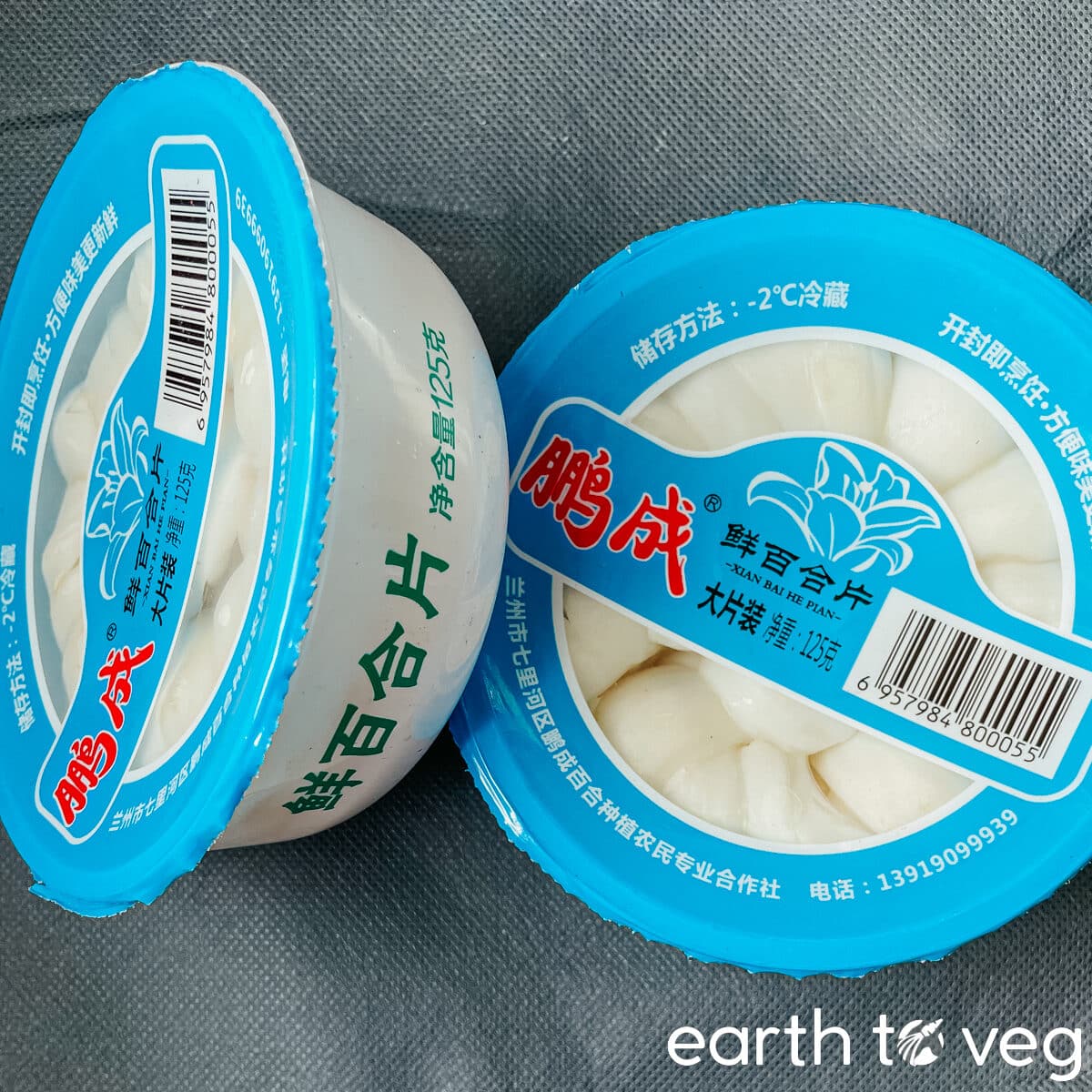 Dried: These may be the most accessible option, however they're also my least favourite because they tend to be sold for medicinal purposes, and taste more bitter than the fresh varieties intended for cooking. They can be rehydrated as follows: 1/2 cup (30 g) of dried lily bulbs becomes 3/4 cups (70 g) after soaking in water overnight.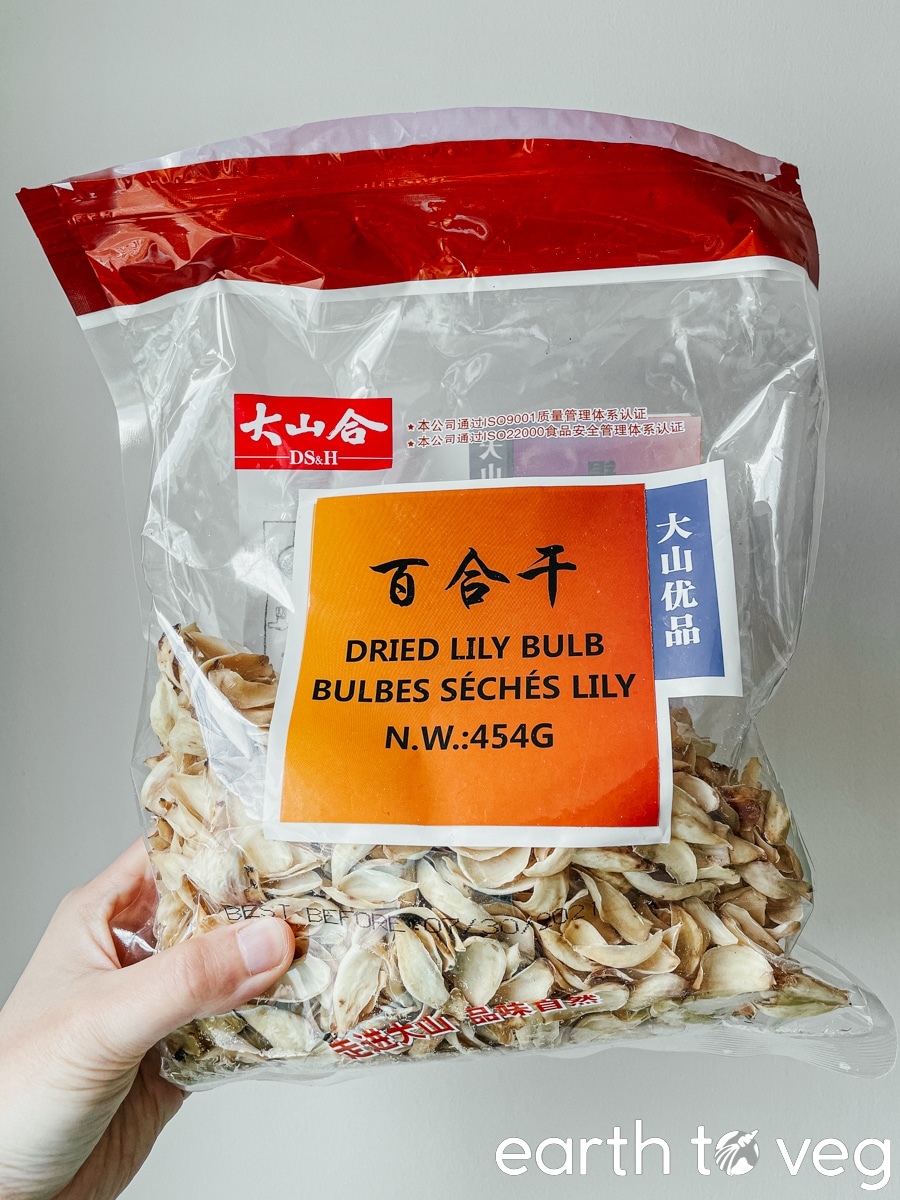 Step-by-Step Process
FAQ
What do lily bulbs taste like?
A bit similar to a softer, starchier water chestnut, imo. Once you taste it, you'll be like, that's exactly how I expected a lily bulb to taste. It has a flowery taste which many people enjoy, but I actually find it a bit off-putting. That's why I prefer cooking it with a garlic glaze as in this recipe because I can enjoy that starchy texture with only a hint of the "lily fragrance."
Are other flower bulbs edible/can they be subbed for lily bulbs?
Afaik only lily bulbs are used in Chinese cooking, and I know that tulip bulbs, for example, can be poisonous. So don't try to sub other bulbs for lily bulbs; better to leave them out entirely and still end up with a nice snow pea and carrot stir fry.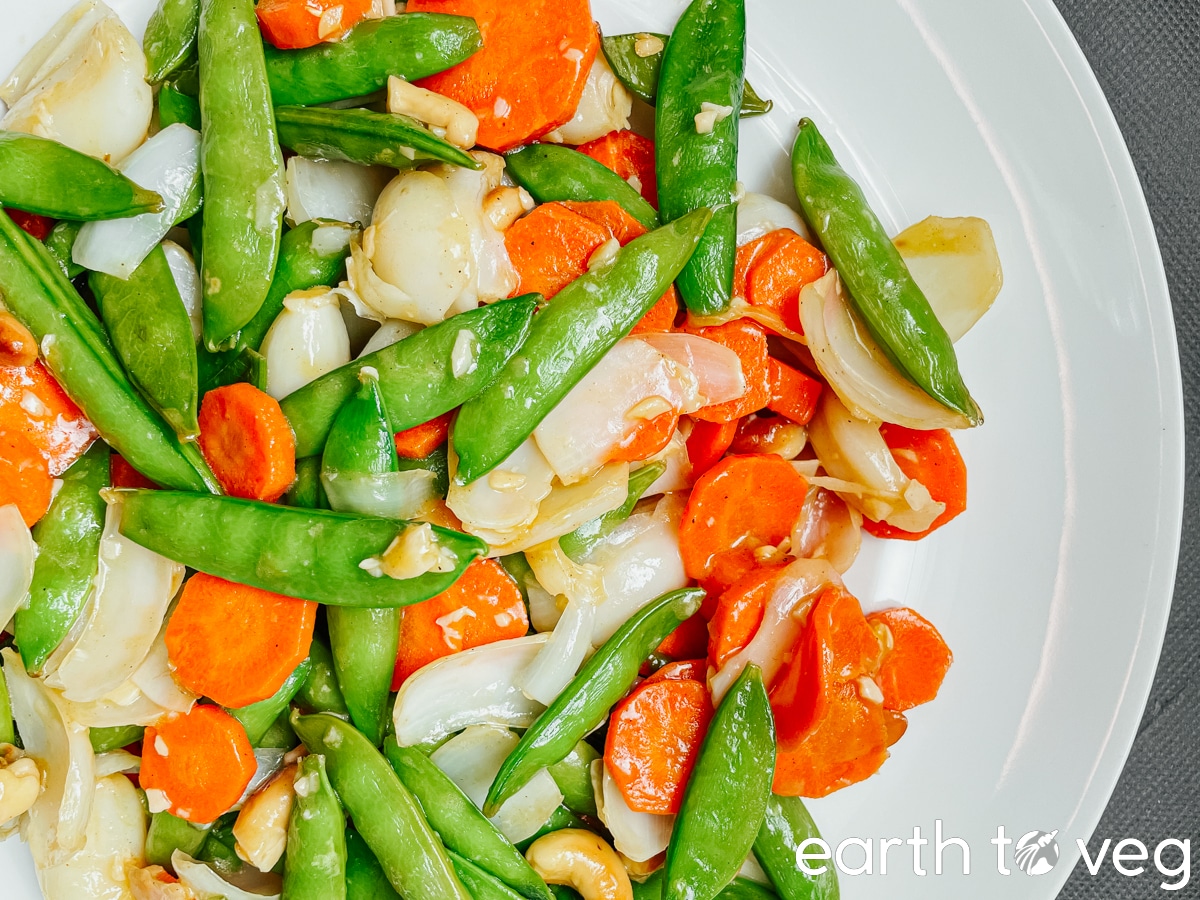 Recipe Card
Lily Bulb Stir Fry with Cashew & Snow Pea (百合腰果炒荷兰豆)
Lily bulbs (百合) are cooked with cashews in a variety of Chinese stir fries; this vegan recipe adds snow peas and carrots for a deliciously crunchy side dish.
Print Recipe
Ingredients
Stir Fry
Garlic Glaze
3

cloves

garlic, minced

15 g

1

tbsp

shaoxing wine or mirin

15 g

1

tbsp

water

15 g

½

tsp

fine salt or 3/4 tsp kosher salt

3 g

½

tsp

ground white pepper

1 g *can sub black pepper

1

scant tsp

cornstarch

2 g
Instructions
Mix together the ingredients for garlic glaze and set aside until step 5.

Bring 3 cups of water to a boil in a wok. Add the lily bulbs, snow peas, and carrot. Blanch for two minutes, then drain and run under cold water. Set aside until step 4.

Return the wok to high heat, and add the oil followed by the cashews and ginger.

Stir fry for 15 seconds, then add the blanched veggies. Turn the heat down to medium and stir fry until any excess water has been evaporated (2–3 minutes).

Give the garlic glaze a quick mix to stir up any cornstarch that has settled, then pour it onto the vegetables. Continue stirring until the glaze has thickened, then remove from heat.

Discard the ginger slices and serve.
Nutrition
Recipe Notes
Peanut is an okay substitute in place of cashew. Sometimes I like to do a mix of both.
I typically buy the prepackaged fresh bulbs for this recipe but you can also use whole bulbs or dried ones. See the "Types of Lily Bulbs" section for more info.
Nutrition, Cost, and Emissions Information
Each serving of lily bulb stir fry is 231 cal, costs $2.41, and releases 418 gCO2e of carbon emissions into the atmosphere.
Calculation for full recipe as written (2 servings):
Feel free to contact me for sources on the nutritional and carbon emissions information presented here. Note that I am not a nutritionist and guidelines on this page are provided for informational purposes only.
More Cashew Recipes
Try your hand at roasting your own cashews (customizeable with your favourite spice blend!).