These crispy Indian Chickpea Fritters are similar to falafel, but have their origins in South Asian cuisine. They have many names, from Ambode to Paruppu Vadai to Masala Vada. Seasoned with flavourful spices, they're a perfect snack to make for a picnic, party, potluck, or just a nibble between meals. Naturally vegan, gluten-free, and high protein to boot!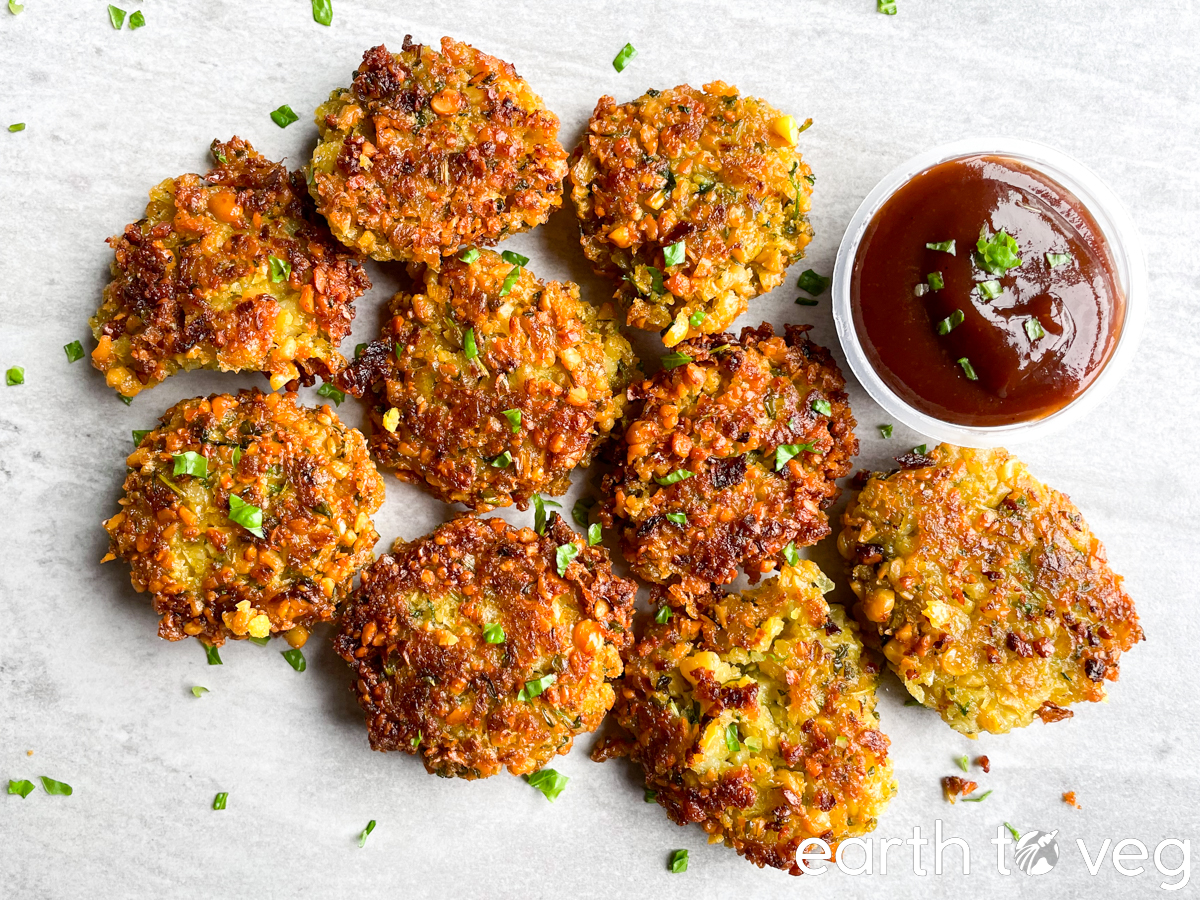 History & Origins
Paruppu vadai hails from southern India. Depending on where you are, you may also see other names for this snack:
Aamai vadai
Ambode
Chattambade
Chana dal vada
Masala vada
Parippu vada
Traditionally, ambode referred to fritters made with split chickpeas (like this recipe) while paruppu vada was made with yellow split peas, and masala vada was made with pigeon peas. These days, however, all are pretty much used interchangeably.
Dosai and vadai have a hoary two thousand year history in Tamil country.

K. T. Achaya, A Historical Dictionary of Indian Food
What is Vada?
So you may have noticed many of these fritters are named "vada."
Vada (வடை in Tamil) encompasses a large family of fried snacks in South Indian cuisine. They're made with a starchy base, such as beans, lentils, or potatoes, then seasoned with flavourful spices and herbs before being fried. Baked and air fried versions are also becoming popular for health reasons. Vada are usually considered side dishes and can also be eaten as finger food.
Flavourful, addictive, crispy… do we need another reason to love vada?! I'll give you one more: most are naturally vegan-friendly, using all plant-based ingredients. Including this paruppu vadai recipe that I'll be sharing today.
Experiment Results
I've experimented a bit with different soaking times for the split chickpeas, different cooking methods, and different spice blends. Here are some of the takeaways that helped develop my ambode recipe:
| Trial | Method | Findings |
| --- | --- | --- |
| 1 | Soaked split chickpeas overnight (12 hours). Used whole uncooked rice grains instead of rice flour. Pan-fried. | A little crumbly, but didn't fall apart in the pan. Delicious with red pepper jelly but the hard bits of rice weren't great. |
| 2 | Soaked split chickpeas for 2 hours. Used oat flour instead of rice flour. Pan-fried. | Tasted delicious. The larger pieces of chana were nice and crunchy but not too firm. The flatter ones were super fragile and tended to fall apart when I picked them up. |
| 3 | Soaked chickpeas overnight (12 hours). Slightly overblended. Pan-fried. | Had to add extra 3 tbsp rice flour because the mixture was too wet. I don't think I drained the chickpeas enough. |
| 4 | Baked at 425 °F for 25 min with 1/4 cup oil drizzled over top, flipping halfway. | Tasted so good! Crispy outside, soft inside, both of my parents approved. |
| 5 | Soaked chickpeas for only 1.5 hours. Used dried ginger and dried chili flakes. Baked half and fried half. | The whole dals were a bit too crunchy for my taste in the baked version. |
| 6 | Soaked chickpeas for 8 hours. Tried baking half with no oil, and waffling the other half in mini waffle iron with oil spray. | Both the baked fritters and the waffles were a bit dry, although taste was on point. The waffles also freeze well; I froze and defrosted them in the toaster two months later. |
What You'll Need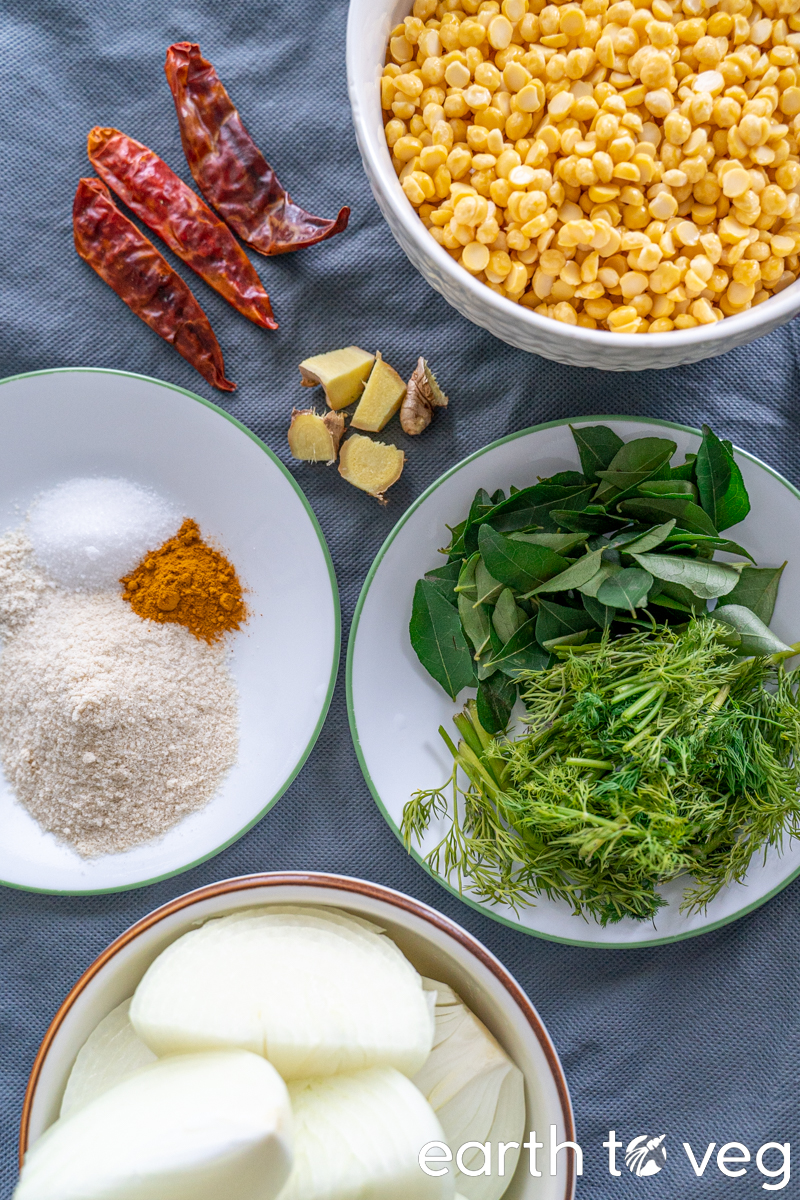 Dried split chickpeas, known in Hindi as chana dal (चना दाल), are the central ingredient of the dish. If you can't find split chickpeas, I suspect you could use whole chickpeas as well, but they may not blend as evenly due to their larger size. They'll also require a longer soaking time than the split peas.
Rice flour is used to absorb some moisture and firm up the mixture so you can form it into balls. You can substitute with oat flour in a pinch.
For the herbs, we'll be using fresh cilantro, curry leaves, and dill. If you only have dried curry leaves, that's fine too! See Flavour Variations for other substitutions and ways to switch it up.
Paruppu vadai are heavy on the onion, so we're using a lot for this recipe.
You'll also want to add a little ginger. I prefer using fresh ginger, but dried ground ginger works in a pinch.
Dried kashmiri chili peppers are the traditional choice for adding heat to paruppu vadai. However, I've tried this recipe using Italian chili flakes (you know, the kind you sprinkle on pizza) and they were a great substitute.
Asafoetida is a spice mainly used in Indian cuisine (though it was popular in Ancient Rome as well!) to add a pungent onion-garlic aroma to food. I sourced mine from the Silk Road Spice Merchant, but if you don't have access to this ingredient, feel free to substitute garlic powder or just leave it out.
Finally, let's round out the seasonings with salt and turmeric. I don't need to explain these two, you know what they are. 🙂
Regardless of whether you fry, bake, or waffle these chickpea fritters, you'll want to use some oil. I experimented with oil-free baked ambodes and they turned out a little dry and not as enticingly flavourful. Personally, the oil is worth the calories for me. I recommend an oil with a high smoke point, such as grapeseed oil or sunflower seed oil.
Step-by-Step Process
Start with soaking the chickpeas for at least two hours.
Next, roughly chop up the onions and herbs. My method for making ambode is pretty low effort, we will leave the hard work of mixing the batter to the blender. So no need to dice anything up finely.
Once the chickpeas are soaked, give them a good rinse and drain. (Make sure you drain thoroughly, because too much liquid will make the ambode mixture too loose and difficult to handle.)
Add all of the ingredients (except the oil) to a blender or food processor. I've done it with both, so whatever works for you. Blend it on low speed until ingredients are very finely chopped, but with some whole chickpea chunks still visible. If you overblend, you'll turn all the chickpeas into a paste and lose some of the crunchy texture, but don't worry, the recipe will still turn out nicely.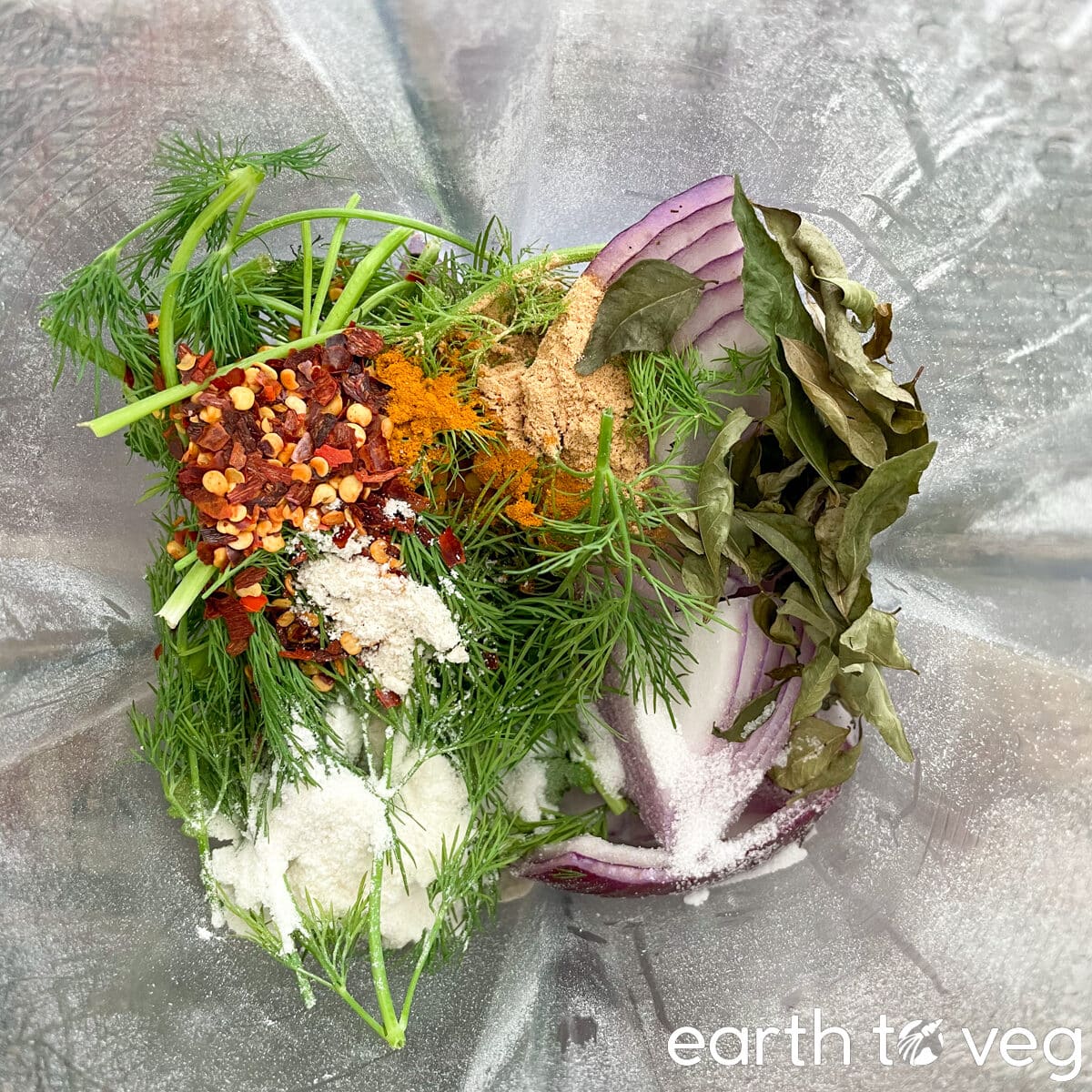 Turn off the blender. Scoop up the mixture and shape it into small balls, each a bit smaller than a ping pong ball. Pat them between your palms into half-inch thick patties.
For the traditional deep-frying option: heat up half an inch of oil in a skillet over medium heat. This might depend on your stove but I keep my stove on at the exact center of the dial for the entire process, and it's the perfect temperature for frying these vada. If you have a laser thermometer, the oil should read around 350 °F (175 °C); it will drop down to 300 °F (150 °C) when you add the fritters.
Carefully place each ambode patty into the oil. After around 3 minutes, or until the bottom side is golden brown, flip and fry until the other side is the same colour. Add more oil for subsequent batches as needed. I ended up using 3/4 cups (150g) of oil to cook all the fritters.
For baking option: Place the vada onto baking sheets. Drizzle 1/4 cup oil over top. Bake at 425 °F for 25 minutes, flipping halfway.
For waffling option: Spray a waffle iron generously with oil and cook the masala vada until golden-brown. I have a mini waffle iron, so I can only cook one vada at a time. If you have a full-sized iron, you can waffle four vada simultaneously.
Troubleshooting
Is your mixture too wet? Several factors can cause this:
The chana dal were not drained thoroughly.
The chana dal are not sufficiently blended. We don't want the mixture to be super smooth, but enough of the chickpeas should be pureed such that they can hold everything together.
Too much onion. Onions are very juicy and release a lot of water. (This is why I give weight measurements for this recipe, to ensure you use the perfect amount of each ingredient.)
How to fix? Simply add more rice flour, 2 tbsp at a time, until the mixture is just firm enough to mold into balls. Don't add too much or it will make the vada dry and crumbly.
Conversely, if your mixture is too crumbly, blend it a bit more. The mashed chickpeas act as the binder holding everything together. That said, there should still be whole chickpea chunks visible. This is not like a falafel where the entire mixture is one homogenous consistency. Masala vada batter is chunky AF. Part of the joy of eating these fritters is experiencing different textures—soft, crispy, crunchy—all in one bite!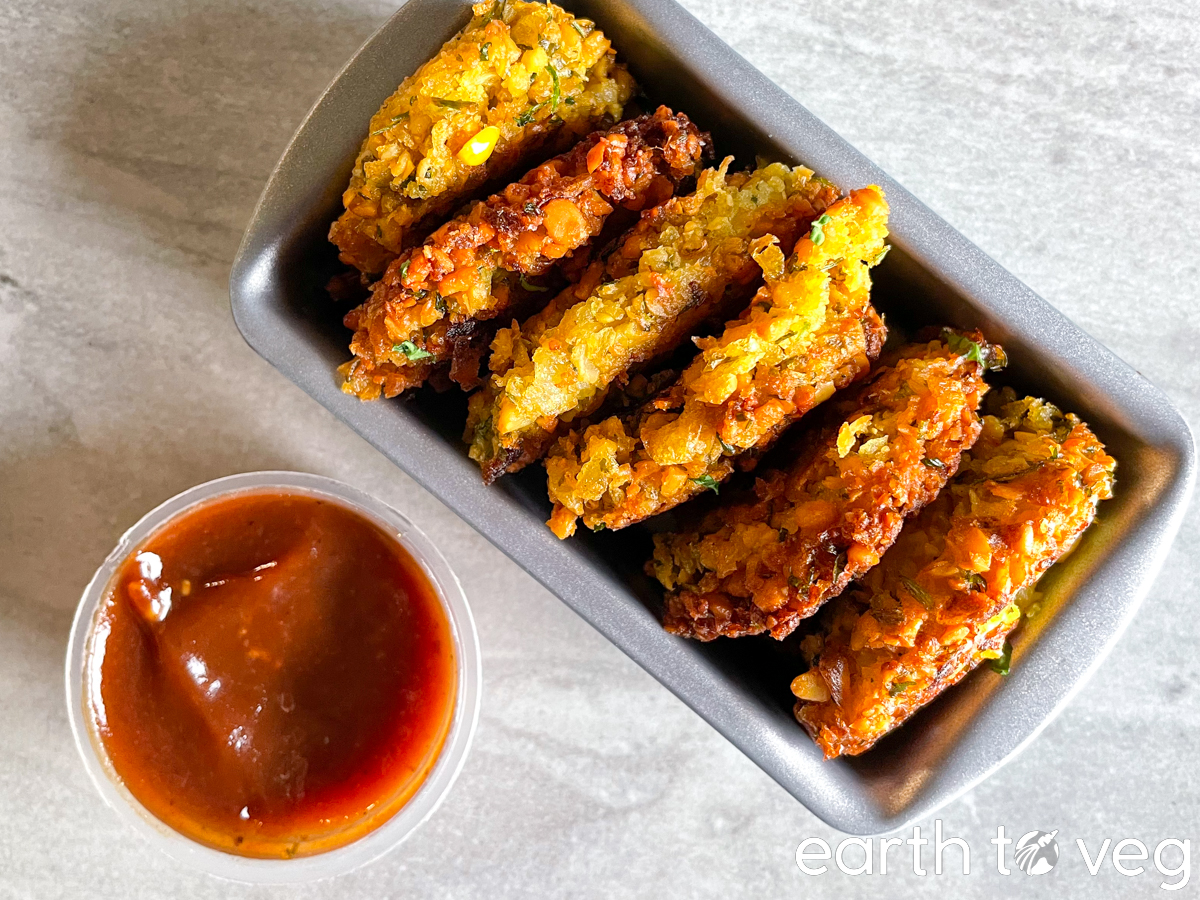 Make Ahead & Storage Tips
Refrigerate paruppu vada in an airtight container for up to five days.
Alternatively paruppu vada can be frozen for several months in a tightly sealed container or ziploc bag.
They taste best if you reheat them, either in an oven or toaster oven, for a few minutes at 350 °F to crisp them back up.
Flavour Variations
The beauty of paruppu vada is that there are endless flavour variations. Here are a few to try:
Leave out the dill and use double the cilantro. Or if you have that cilantro-soap gene, leave out the cilantro and only use dill.
Swap out some of the herbs for mint.
Add 1/2 tsp ground spices such as cumin, cinnamon, fennel, etc.
Use fresh chili peppers instead of dried ones. Skip the chili altogether for a mild version.
Try experimenting with different spice combinations to make this recipe your own. If you made a change to this recipe and loved it, please let me know!
Recipe FAQs
What is Parippu Vada made of?
Parippu Vada is a popular South Indian snack, particularly in Kerala, made from chana dal (split chickpeas) and a blend of spices. To prepare it, soak chana dal, grind it coarsely, and mix it with finely chopped onions, green chilies, ginger, curry leaves, asafoetida, and salt. Deep-fry small patties of this mixture until they are golden brown and crispy. Drain excess oil on paper towels and serve the Parippu Vada hot with coconut chutney or tea. This crunchy fritter is a beloved South Indian snack celebrated for its distinctive flavors.
What is Paruppu Vada in English?
The word parippu or paruppu means "lentil" in Malayalam and Tamil respectively. Vada is a common Indian food that comes in either fritters or dumplings. So paruppu vada can basically be translated to "lentil fritters."
Is Dal Vada healthy?
Dal Vada can be a relatively healthy snack due to its high protein and fiber content, primarily derived from lentils. However, it's typically deep-fried, which can add excess calories and unhealthy fats. Portion control is essential, as overconsumption can lead to excess calorie intake. Additionally, the condiments and accompaniments served with Dal Vada can affect its overall nutritional profile. To make it healthier, consider alternative cooking methods like baking or air frying, which use less oil. Enjoying Dal Vada in moderation as part of a balanced diet is key to maintaining a healthy lifestyle.
More Finger Food Recipes
Recipe Card
Did you make this recipe? Please consider leaving a rating below to let me know how you liked it.
You can also take a picture and tag me on Instagram @earthtoveg, I will shout you out in my Stories!
How to Make Paruppu Vadai in a Blender
Servings:
4
servings (5 fritters each)
Cost:
$1.09 for 5 fritters
These crispy vegan chickpea fritters are an Indian street snack called ambode or paruppu vadai. The batter is mixed in a blender or food processor. So easy!
Print Recipe
Use Imperial/Metric buttons below to toggle between volume vs weight measurements. I recommend weighing out your ingredients for best results.
Equipment
Blender or food processor

Oven and baking sheets

(for baked version)

Dutch oven or high-sided skillet

(for fried version)
Ingredients
1

cup

dried chickpeas, preferably split chickpeas aka chana dal

½

cup

fresh dill, roughly chopped

¼

cup

fresh cilantro, roughly chopped

½

cup

fresh curry leaves

*optional

1

large onion, quartered

1

inch

piece ginger or 2 tsp dried ground ginger

3

dried Kashmiri chili peppers or 2 tsp chili flakes

add more if you like it hot

3

tbsp

rice flour

1

tsp

fine salt or 1/2 tbsp kosher salt

½

tsp

asafoetida

*can sub with garlic powder

½

tsp

turmeric

grapeseed oil or sunflower oil

1

cup for deep frying or

1/4

cup for baking
Instructions
Soak the split chickpeas. For baked vada, soak them for at least 8 hours; for fried vada, 2 hours of soaking is enough. (You may need to soak longer if using whole chickpeas.)

Add all the ingredients except oil to a blender or food processor. Blend on low speed until ingredients are very finely chopped, but with some whole chickpea chunks still visible. (If you overblend, you'll lose some of the chunky texture but the recipe will still turn out nicely).

Form the mixture into balls slightly smaller than a ping pong ball. Gently pat them between your palms into patties around 1/2-inch thick.
Frying Instructions
Heat 1/2 inch of oil in a skillet over medium heat. If you have a laser thermometer, the oil should read around 350 °F (175 °C); it will drop down to 300 °F (150 °C) when you add the fritters.

Place the vada into the skillet. Fry for 3 minutes on each side, or until golden brown on both sides. Add more oil for subsequent batches as needed. I ended up using

3/4

cups (

150

g) of oil to cook all the fritters.
Baking Instructions
Place vada onto baking sheets and use your hand to flatten each to 1/2 inch thick. Drizzle

1/4

cup oil over top.

Bake at 425 °F for 25 minutes, flipping halfway.
Waffling Instructions
Spray waffle iron generously with oil and cook the vada until golden-brown.

Serve with hot ketchup, spicy chutney, or red pepper jelly!
Nutrition
Calories:
357
kcal
|
Carbohydrates:
45
g
|
Protein:
11
g
|
Fat:
16
g
|
Saturated Fat:
2
g
|
Polyunsaturated Fat:
2
g
|
Monounsaturated Fat:
11
g
|
Sodium:
601
mg
|
Potassium:
606
mg
|
Fiber:
11
g
|
Sugar:
9
g
|
Vitamin A:
560
IU
|
Vitamin C:
61
mg
|
Calcium:
93
mg
|
Iron:
4
mg
SEND FOOD PICS 📸
Tag @earthtoveg or leave a comment below if you tried this recipe. It makes my day. 😊