As a recovering bubble tea addict who used to buy boba every day, making my favourite drink at home has been surprisingly cheap and easy. This Taro Milk Tea does not use any artificial powders or hard-to-find ingredients. The creamy earthy flavour comes from using Taro Paste made with real taro root. Add tapioca pearls to make it a true Taro Boba experience.
History & Origins
Bubble tea is the result of mixing two existing desserts in Taiwan: naicha (sweetened milk tea) and fen yuan (chewy tapioca balls).
Although milk tea has existed for centuries throughout Europe and Asia, bubble tea has only been around since the 1980's. As such, it is a uniquely Taiwanese invention. It came about when Lin Hsiu-hui, the employee of a Taiwanese tea company, combined fen yuan with iced tea, creating an instant hit.
From Taiwan, the "bubble tea craze" spread to China and Hong Kong, then around the world. Anywhere there is a Chinese or Taiwanese diaspora, you can find a thriving boba shop.
Some other names for bubble tea include:
BBT (abbreviation of bubble tea)
珍珠奶茶 or zhēnzhū nǎichá (pearl milk tea)
QQ drink ("Q" is Taiwanese slang for something with a chewy or bouncy texture. See also: Q Tofu)
What You'll Need
The ingredients for homemade taro milk tea are simple. The base recipe makes a version that's close to what you'll find in bubble tea cafés, but there's room for endless customization. You can mix and match between different types of tea, milks, and toppings.
Tea Leaves
You can use any tea leaves of your choice, although black tea is the most traditional if you're looking to replicate that shop-bought flavour. Other Chinese tea varieties like green tea, oolong, or jasmine are good alternatives.
Either tea bags or loose tea leaves will work. 1 tea bag contains 1 to 1½ tsp of tea leaves. You'll need 2 tea bags or roughly 1 tbsp of tea leaves per 1 cup of water to brew a concentrated tea that will still shine through even when mixed with other ingredients.
Fresh Taro vs Taro Powder
Many BBT shops use taro powder to make their taro boba, but some use fresh taro as well. Generally, if you see "fresh taro" in the name of the tea, it will be made with real taro cubes. Otherwise, it's made from powder.
Most places use powder to make bubble tea and reserve the real stuff for taro milk (a similar drink, but typically does not contain any pearls or tea). Two boba chains that use the real stuff in their taro bubble tea are Truedan (also called Jenjudan) and Yi Fang Taiwan Fruit Tea.
For this recipe, we are using taro paste which is made from fresh taro root. You may be able to find it at an Asian supermarket. However, I prefer making it at home using this Taro Paste Recipe ("thin" consistency version). All you need are taro root, coconut milk, sugar, and a couple drops of purple food colouring. Much simpler than the storebought taro pastes with their dozens of ingredients! You can make this a few days ahead of time and store it in the fridge until ready to use.
Milk
Many bubble tea shops use milk powder to concoct their drinks. However, some use fresh milk as well, and more and more chains are offering dairy-free options like soy milk. The beauty of making bubble tea at home is you can choose your favourite milk. The creamier the better.
I like to use Homemade Soy Milk, but for my non-dairy folks who are missing that authentic milk tea taste, I recommend trying the NotMilk brand of vegan milks. They're not paying me to say this, I promise, I just think they are so close to mimicking the taste of real milk it's insane.
Bubble Tea Toppings
The most common topping is the tapioca pearl, aka boba. The pearls come in different colours and sizes, but large black pearls are the most common. The black colour comes from mixing brown sugar or caramel into the tapioca. Dried pearls can be purchased from larger Asian groceries, like T&T Supermarket, or ordered online. All you need to do is boil them per the package instructions.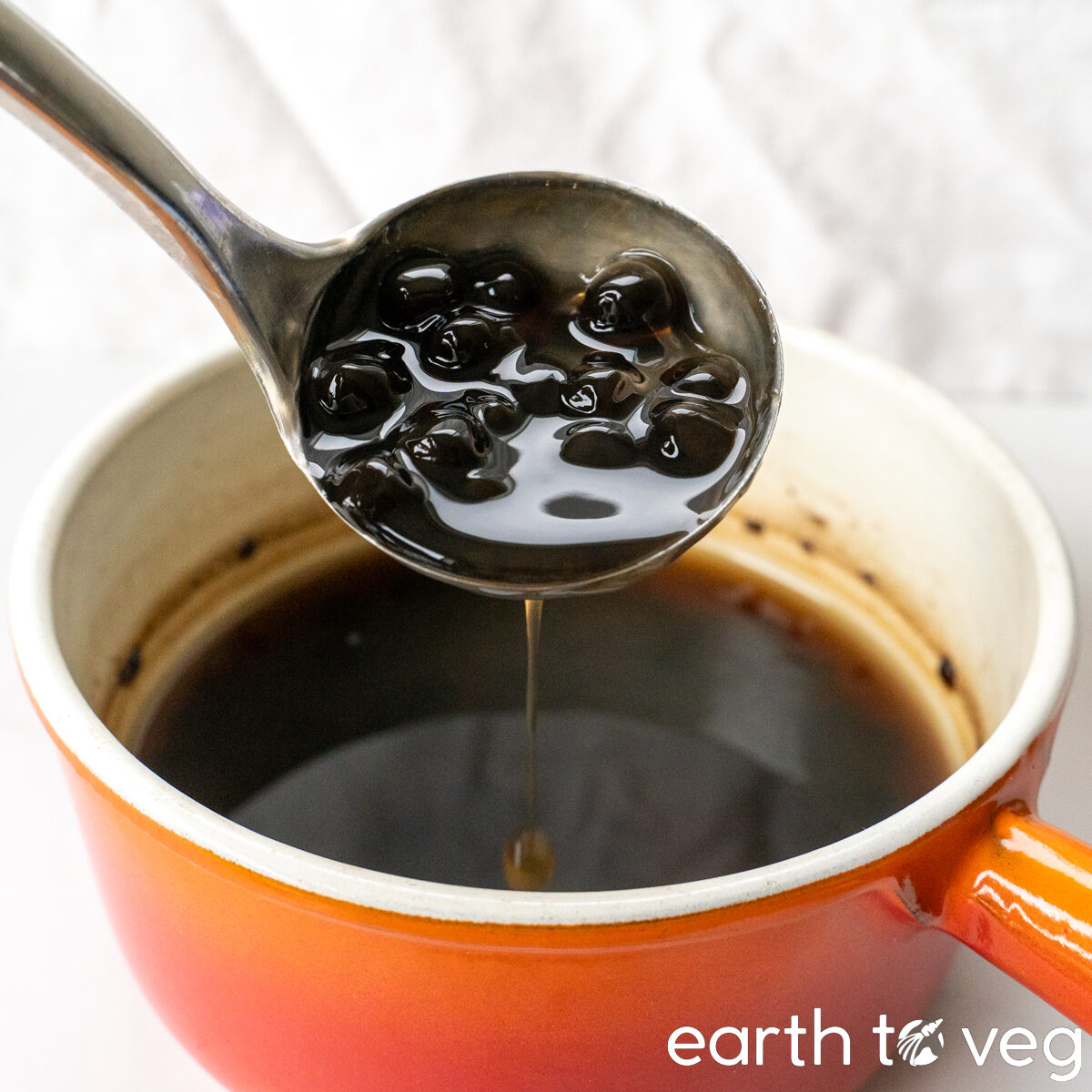 The word boba is an Anglicized version of the Chinese word paopao, which means "bubble." This is because the tapioca pearls look like bubbles bouncing around in the drink.
Other popular bubble tea toppings include:
Sago
Grass jelly
Pudding
Nata de coco (coconut gel)
Popping boba
Aloe jelly
Basil seeds
Coffee jelly
Red bean paste
Step-by-Step Process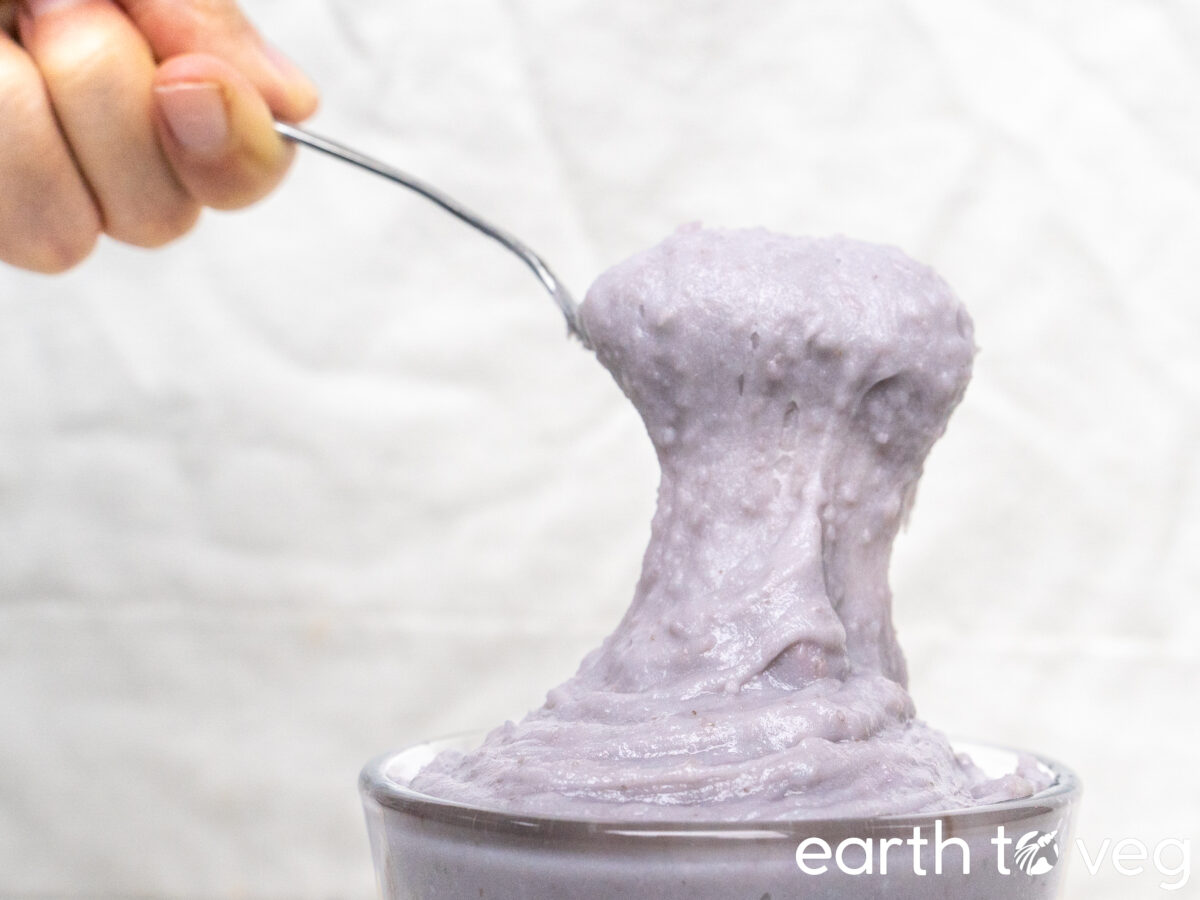 Step 1: Start by preparing your taro paste (thin consistency).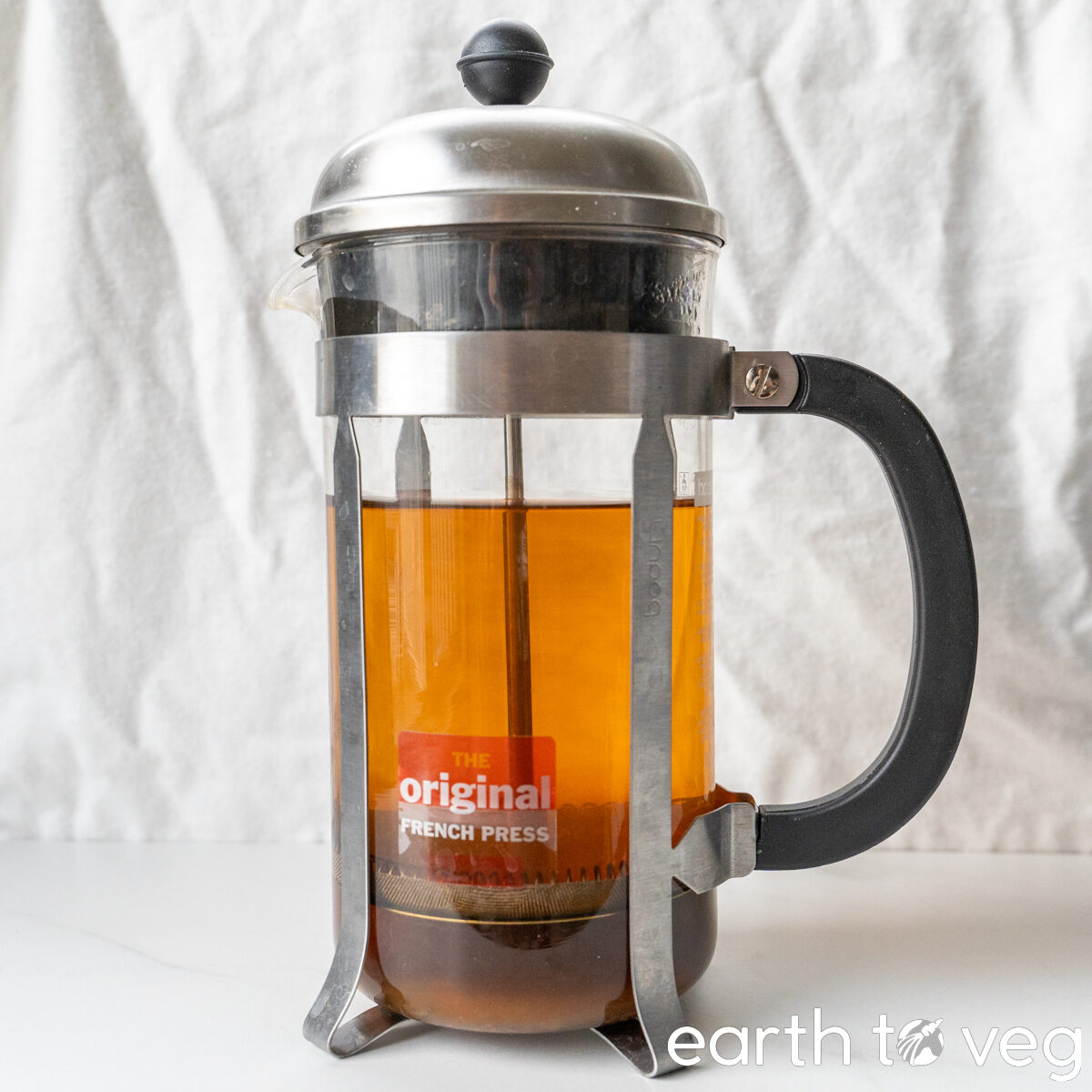 Step 2: The cooked taro will take some time to cool, so in the meantime, brew the tea and let it steep to room temperature.
Step 3: Blend together the taro paste, milk, and tea, until the mixture is super smooth. Leave it in the fridge to chill, or alternatively add some ice cubes when you're ready to serve.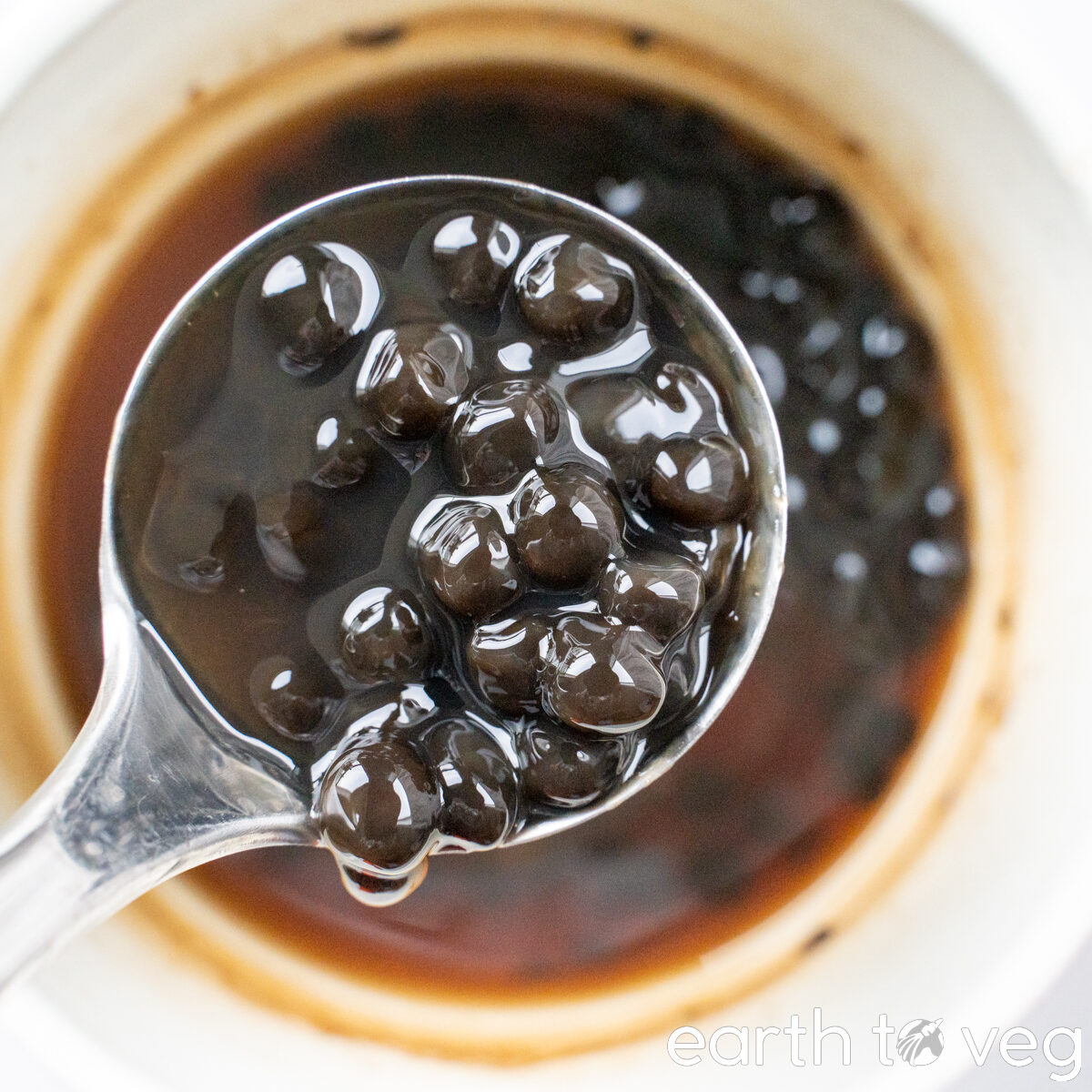 Step 4: Cook the tapioca pearls following package instructions. Rinse them with cold water when done to rinse off some of the gooey excess starch and to cool them down.
Step 5: Scoop the tapioca pearls into a tall glass, then top up with ice cubes and taro milk tea. Make sure to use a straw that's thick enough to slurp up the pearls.
Make Ahead & Storage Tips
Make Ahead: The tea can be brewed one day ahead of time and refrigerated once cooled. Taro paste can be made one week ahead of time.
Fridge: Once the bubble tea base (tea, milk, taro paste) is blended, it can be stored in the fridge for up to three days.
I don't recommend pre-making tapioca pearls because they tend to stick together into a blob as they sit. Also, if you've ever stored a bubble tea in the fridge overnight, you'll know that the pearls become hard and lose their chewy texture. So I would recommend cooking pearls within the day you want to use them.
Diet Substitutions
If you're following a specific diet or need to be aware of allergies, here are a few ways you can modify this recipe:
Sugar-free: One advantage of making taro milk tea at home is being able to make it healthier. You can replace the sugar entirely with a sweetener of your choice (I tend to use granulated stevia or monkfruit).
Dairy-free, vegan: I usually use soy milk in this taro boba. But if you crave the taste of real milk tea, try NotMilk or NextMilk. The bubble teas I made with these two plant-based milk brands are incredibly close to the real thing.
Gluten-free: No substitutions needed for this one. The taro milk tea base is completely gluten-free. Tapioca pearls are made from tapioca starch, from the cassava plant, which is also gluten-free, but make sure to check the ingredients label for cross-contamination warnings.
If you made this recipe with a successful substitution, please let me know! Post a comment describing what you did so I can add it to this section and help future readers. (Leave your name blank if you don't want to be credited.)
For more summer drink recipes, make some Licuados (Mexican Banana Smoothies) or Peach Smoothies.
Recipe Card
Did you make this recipe? Please consider leaving a rating below to let me know how you liked it.
You can also take a picture and tag me on Instagram @earthtoveg, I will shout you out in my Stories!
Taro Bubble Tea (Taro Boba)
Servings:
1
tall glass (24oz)
No powders or artificial flavours in this sweet, creamy taro bubble tea. Learn how to make the classic Taiwanese taro boba beverage using homemade taro paste.
Print Recipe
Use Imperial/Metric buttons below to toggle between volume vs weight measurements. I recommend weighing out your ingredients for best results.
Ingredients
1

tbsp

dried tea leaves or 2 tea bags

1

cup

boiling hot water

1

cup

Homemade Taro Paste

255g

1

cup

milk of your choice

I use Homemade Soy Milk

few drops purple food colouring

*optional

½

cup

tapioca pearls

80g *optional
Instructions
Pour one cup of boiling water over the tea leaves. Cover and let steep until it cools to room temperature (see Note 1).

Pour brewed tea, taro paste, and milk into a blender. Blend it all together on high speed until super smooth. Add food colouring as needed if you wish to achieve the classic purple taro boba colour.

Cook tapioca pearls per package instructions, rinsing with cold water once fully cooked.

Add the pearls to the bottom of a tall glass. Toss in some ice cubes (optional) and pour in the blended taro milk tea mixture. Enjoy!
Notes
Don't worry about the tea becoming bitter with the long steeping time. Since the tea gets diluted with the milk and taro, we want it to be brewed very strong. I've tested this recipe with several types of tea and haven't experienced a bitter taste in my milk tea.
Without additional sweeteners, this recipe is similar to a 30% sweetness level at BBT shops. You can add more sugar to taste (I like to use stevia sweetener), 1 tbsp at a time.
Nutrition
Calories:
709
kcal
|
Carbohydrates:
135
g
|
Protein:
12
g
|
Fat:
15
g
|
Saturated Fat:
10
g
|
Polyunsaturated Fat:
3
g
|
Monounsaturated Fat:
2
g
|
Sodium:
42
mg
|
Potassium:
1668
mg
|
Fiber:
10
g
|
Sugar:
44
g
|
Vitamin A:
143
IU
|
Vitamin C:
9
mg
|
Calcium:
169
mg
|
Iron:
8
mg
SEND FOOD PICS 📸
Tag @earthtoveg or leave a comment below if you tried this recipe. It makes my day. 😊