Mahalabia was originally a Persian dessert which was popularized by Arabs in the Middle Ages, and is now enjoyed in Syria, Turkey, Israel, and many other countries. As a result, you may see it spelled many ways: muhallebi in Turkish, mahallabi or muhallabiyyat (مهلبية) in Arabic, malabi (מלבי) in Hebrew, and mahalepi (μαχαλλεπί) in Cypriot Greek. It also goes by the name bahaṭṭa. This elegant dessert takes just three ingredients at its simplest, and it's easy to make vegan too.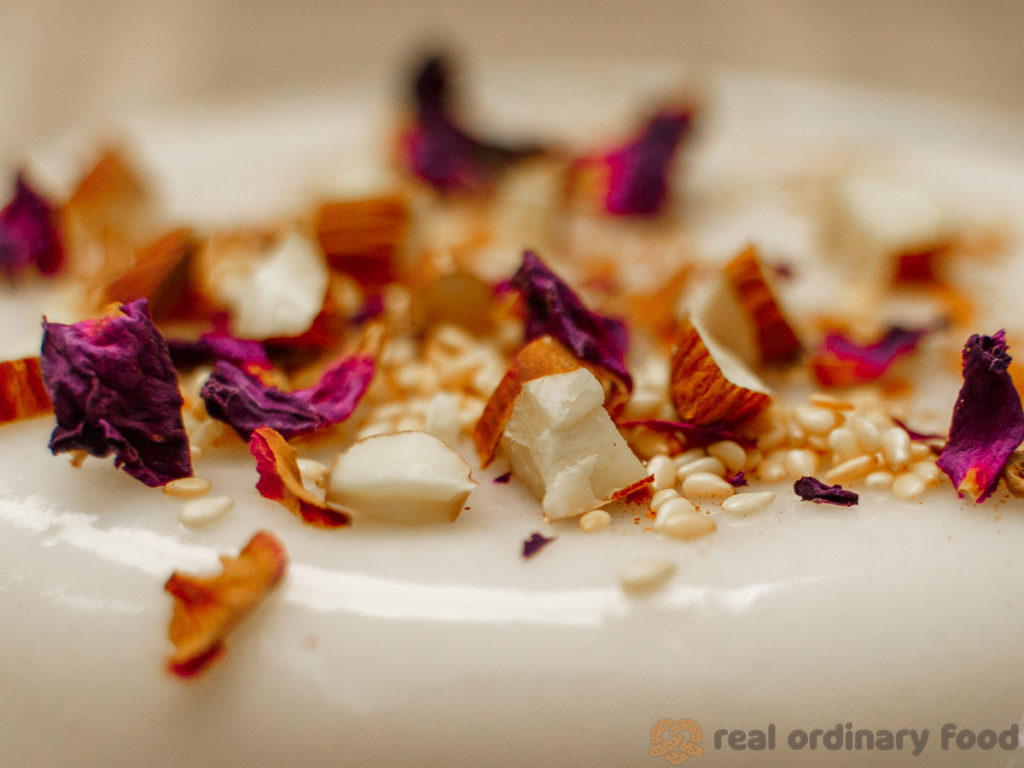 The Medieval Roots of Almond Milk
Since almond milk is fashionable and trendy these days, it's natural to think of it as a 21st century millennial sort of thing. But it actually has a very long and international history. Almond milk was used as far back as the 13th century in the Levant, where almonds are native plants.
Almond milk was also popular among upper-class Christians in Europe. According to Charles Perry in the book Medieval Arab Cookery, it was a "luxurious, high-status food that could be indulged in during Lent," which by the Middle Ages prohibited consumption of cow's milk.
Given the almond's origins in Iran and its use in so many medieval Arab and European recipes, almond milk is my plant-based milk of choice for this muhallebi recipe! I also think it's very apropos that many almond milks are made with Spanish almonds. As we'll see below, Spain was a part of the Arab Caliphate at the time this recipe was invented, and one of the oldest muhallabiyya recipes even comes from a Spanish author.
History of Muhallebi
The origins of muhallebi or mahalabia go all the way back to the 7th century, a tumultous time in the world of the Eastern Mediterranean. The Persians, who had been the reigning power in much of the region for centuries, were on the decline, and would soon be replaced by the first of a series of caliphates (Islamic empires) that would dominate the Middle East, parts of Southern Europe, and North Africa, for centuries. One of the areas under Arab Muslim rule was Spain, and it's from here that we get the origin story of muhallebi.
According to an old Islamic cookbook from Andalusia, Spain, muhallabiyya was first presented by a 7th-century Persian cook to an Arab general. The general's name was Muhallab, and yeah, you can imagine that he must've really liked the dish to name it after himself.
From there, the popularity of muhallebi only spread, until the first formal recipe was written down in the world's oldest surviving Arab cookbook, Kitab al-Ṭabīḫ. This book, authored by Ibn Sayyar al-Warraq and dating back to the 10th century, contains five recipes for different types of muhallebi! The most basic version is the one I modelled my recipe on. As you can see below, I didn't have to make many adjustments for our modern day version.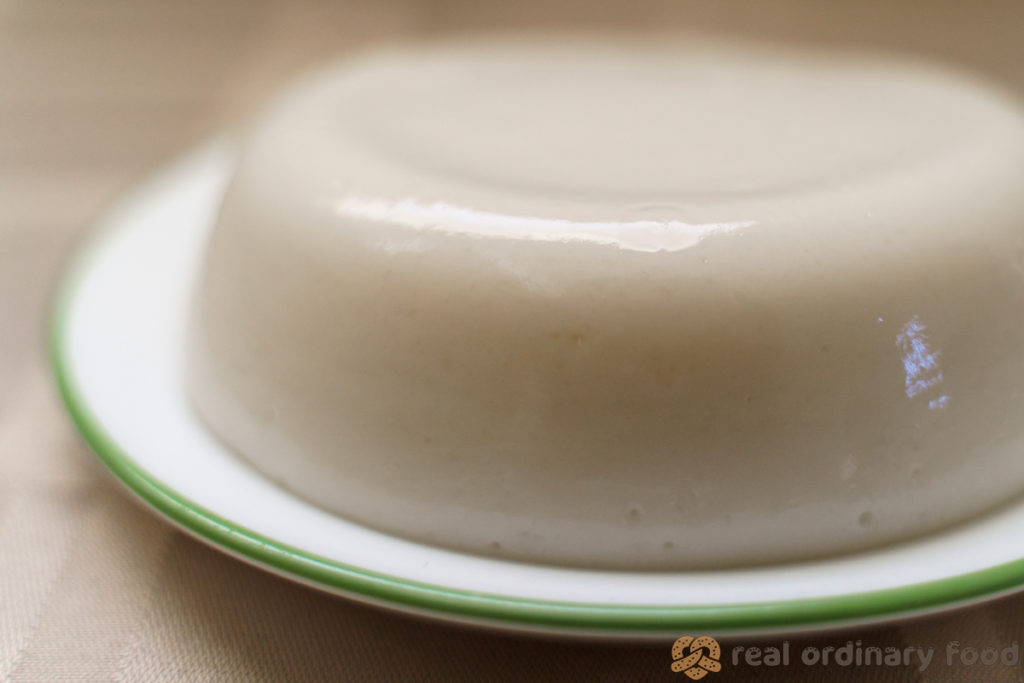 The 10th-Century Recipe
Here's the earliest-recorded recipe for muhallabiyya, from al-Warraq's 10th-century book. The English translation is from Annals of the Caliphs' Kitchens: Ibn Sayyār Al-Warrāq's Tenth-century Baghdadi Cookbook, translated by Nawal Nasrallah.
Wash the rice at night and put it in a new piece of cloth. In the following morning, crush the rice into fine powder like flour. For each 10 ratls of milk, use 1½ ratls of rice flour. Put warm milk in a pot and bring it to a boil. Sprinkle the rice flour on the milk the way you do with flour, stirring all the time. Let the pot cook on medium heat until rice is cooked. Pour on it walnut oil or fresh clarified butter. If pudding comes out thick, add more milk as needed. When it is finished cooking, sprinkled it with tabarzad (white cane) sugar. If you prefer the pudding white, keep it as it is. If you prefer it yellow, add some saffron.

Ibn Sayyār Al-Warrāq
Note: ratl (رطل) is a unit of measurement for weight that is equal to a little more than 1 lb.
I tested this recipe out, following the directions exactly, except I used macadamia milk instead of milk and olive oil instead of walnut oil. It went okay, but there were two issues:
Sprinkling the rice flour directly onto the boiling milk resulted in lumps that were hard to get rid of entirely
Sprinkling the sugar on top of the finished pudding caused a hard crust to form as the sugar dissolved into the oil then hardened. The result was very bland. The sugar failed to penetrate through the pudding, and the texture of the hard, gritty sugar crust was off-putting.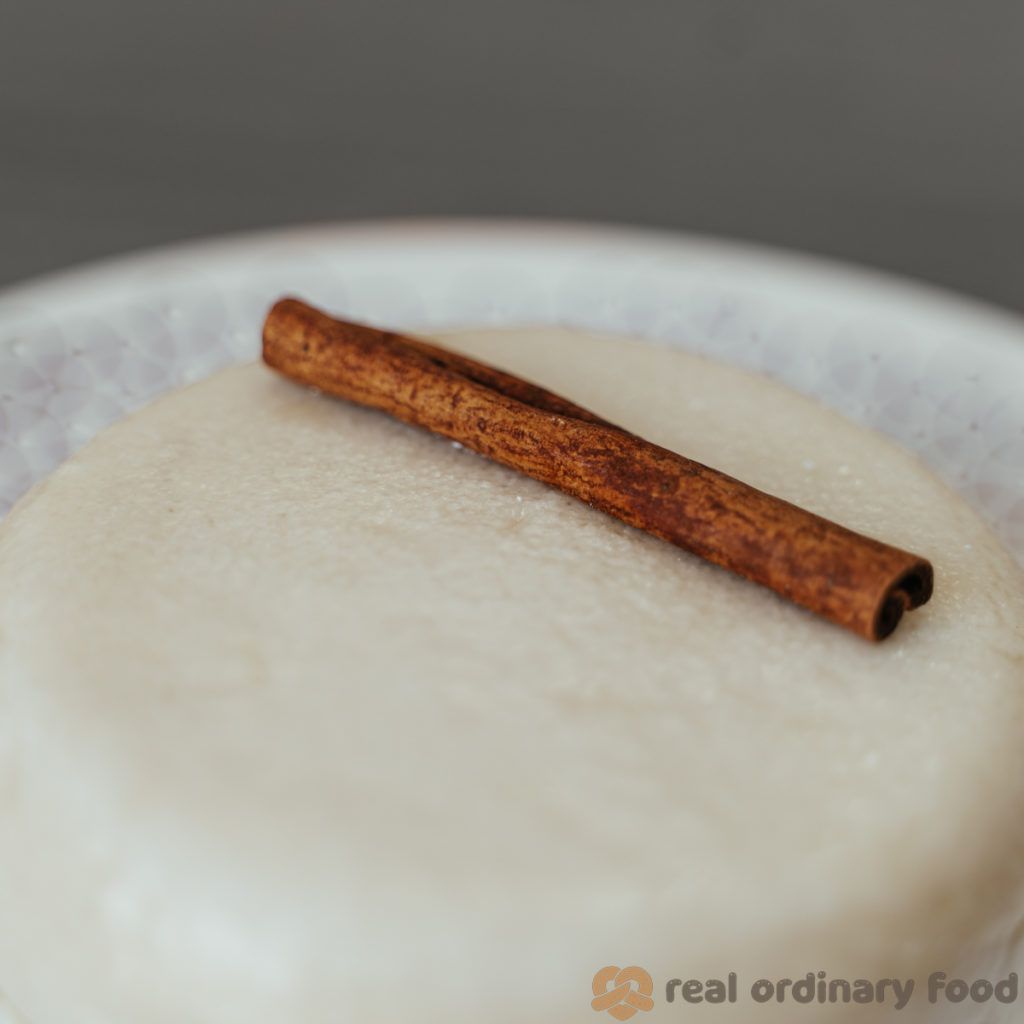 As a result of those two problems, I made some modifications to the original, which you'll see reflected in the Recipe Card.
A 13th-Century Recipe
Remember the Persian cook who so impressed General Muhallab with the first ever muhallabiyya? Well, according to our 13th-century Andalusian author, this is his recipe (translation by Charles Perry):
Take four ratls of fat lamb, cut it up and put it in a pot and pour in four ûqiyas of oil, two dirhams of salt, a piece of Chinese cinnamon, galingale, chopped onion and a sufficient amount of camphor; cook it until it is almost done; then take from the fire, take out the meat and put it in a receptacle. Take lamb fat and cut it with a knife as you cut vegetables; then take a clean pot and put a strip of fat in the bottom; afterwards put over it another strip of cooked meat and another of thin flatbread cut up and made into tharida and don't stop doing this — a layer of meat, a layer of fat, a layer of thin flatbread — until you are finished; then pour on it enough fresh milk to cover the thin flatbread, and add to it enough ground sugar for its sweetness to appear in all. Then take 20 eggs and beat them until they are mixed. Put them in the pot on top of the meat and bread and keep tipping it from side to side and moisten it until all the milk has spread throughout the contents. When the milk appears on top, put it in a hot clay oven (tannur) and cover it, and leave it until it is done. Then take it out and turn it onto a pretty vessel and serve it.

Anonymous Andalusian author
Yeahh you lost me at lamb fat. But hey, supposedly this is the dish that started it all. Any brave souls want to give this a try?
Another 13th-Century Recipe
One last old recipe for you guys. These are the instructions for muhallabīya from another famous 13th-century cookbook. This book is also confusingly called Kitab al-Ṭabīḫ (no connection to the 10th-century version) and was written by Muhammad bin Hasan al-Baghdadi. English translation was done by A.J. Arberry in the book Medieval Arab Cookery.
Boil fat meat after cutting it into middling pieces and frying it lightly in dissolved oil as usual. When cooked, add more water, and leave on the boil for an hour, putting in as required salt, dry coriander, mastic, and sticks of cinnamon. When the meat is cooked, pour in lukewarm water to make a broth as required, by the used quantity of rice. When the water boils, throw in the rice, washed, as required, colour with saffron, and sweeten with syrup or sugar to taste. Leave over the fire sā'a (a while) to settle: then remove.

Muhammad bin Hasan al-Baghdadi
As usual, the cooking times given in old recipes are to be taken with a pinch of salt. Not only do modern stoves and pans cook hotter and faster than those of our ancestors, but also according to Charles Perry, who revised Arberry's translations, "medieval cooks were not clock-watchers. In virtually every case, [sā'a] simply means 'a while'."
It is interesting that the two 13th-century recipes, with their inclusion of meat and savoury spices, are so different from the 10th-century recipe. However, the type of muhallebi enjoyed today is much closer to that 10th-century version!
Muhallebi and Its Cousins
Since the birth of mahalabia, there have been numerous variations on top of its basic ingredients of rice, sugar, and milk. In Annals of the Caliphs' Kitchens, Nawal Nasrallah notes that there were varieties made with eggs, with itriya (noodles), and of course, as we've seen earlier, even with meat.
But as strange as it may seem to include meat in a sweet dessert, it seems to have been quite popular during medieval times—in both the Middle East and Europe. The European blancmange is pretty much the same thing as muhallebi, and medieval versions often called for chicken as an ingredient.
These sweet meat puddings even have a modern cousin, tavuk göğsü, which is made with chicken breast and still enjoyed in Turkey to this day. And then there's kazandibi, which is the same pudding but cooked longer to achieve a deeply caramelized outer layer (think Basque cheesecake levels of burnt). Muhallebi is similar to another Turkish pudding, keşkül, which is made with almond flour and milk (and I'm sure almond milk would be a wonderful substitute for a vegan version).
This dish has also become popular in Israel, where it is known as malabi. There, cornstarch is more common than rice flour as the thickener. Vanilla and rosewater are common flavours and it is usually served covered with a layer of sweet syrup.
Cornstarch is also frequently used in Cyprus' version of the dessert, mahalepi (μαχαλλεπί). After setting, it is dunked in a sweet rose-flavoured syrup called triantafyllo (τριαντάφυλλο) just before serving.
Finally, a similar recipe called harīsa kānūniyya ia also given in al-Warraq's 10th-century cookbook, and it uses wheat instead of rice. And yes, I am going to post a harīsa recipe too. But for now, why not enjoy this more popular version made with rice!
Recipe Card
Did you make this recipe? Please consider leaving a rating below to let me know how you liked it.
You can also take a picture and tag me on Instagram @earthtoveg, I will shout you out in my Stories!
Vegan Muhallebi (Mahalabia)
Muhallebi, a smooth and silky rice pudding with just three ingredients, was invented by a 7th-century Persian cook. This very old recipe still tastes wonderful today. (Based on 10th-century instructions from Arab writer Ibn Sayyar al-Warraq, the earliest muhallebi recipe recorded. Check out what the original version of muhallebi looks like here.)
Print Recipe
Use Imperial/Metric buttons below to toggle between volume vs weight measurements. I recommend weighing out your ingredients for best results.
Equipment
Small saucepan or pot

Flexible spatula
Ingredients
Mahalabia
¼

cup

white rice

or equivalent weight of rice flour (around 1/3 cup)

2

cups

milk of your choice

see Note 1

¼

cup

sugar

½

tsp

vanilla extract, rosewater, or orange blossom water

*optional
Optional Toppings
Ground cinnamon

Ground cardamom

Roughly chopped nuts and seeds

pistachio, almonds, sesame

Sugar syrup

Rose jam

Shaved or shredded coconut

Dried fruit

raisins, diced apricots
Instructions
If using whole rice, grind the rice into a fine flour. (You can use a high-powered blender like Vitamix or Blendtec for this.)

Mix rice flour and 1 cup of almond milk together until smooth and no lumps remain. Also stir in vanilla extract if using.

Pour the remaining cup of almond milk into a small saucepan on high heat. Bring to a simmer.

While stirring constantly, slowly drizzle in the rice-milk mixture.

Turn the heat down to low and add the sugar. Continue to stir. The mixture will begin to thicken within minutes.

When the mixture reaches the consistency as pictured below, pour into a glass bowl or mold. (Simmer for a few minutes longer for a thicker pudding.)

Set in the fridge for at least 12 hours before serving. You can either unmold it onto a plate or eat it directly from the bowl.
Notes
I've tried this with a couple of different plant-based milks, from Soy Milk to macadamia to almond. While all of them have worked well, almond milk in particular makes a perfect base for muhallebi: rich, smooth, with a subtle almond flour. The history of almond milk in Middle Eastern cooking goes wayyy back, so using almond milk here is quite appropriate!
Nutrition
Calories:
292
kcal
|
Carbohydrates:
52
g
|
Protein:
10
g
|
Fat:
4
g
|
Saturated Fat:
1
g
|
Polyunsaturated Fat:
3
g
|
Monounsaturated Fat:
1
g
|
Sodium:
2
mg
|
Potassium:
435
mg
|
Fiber:
2
g
|
Sugar:
27
g
|
Vitamin A:
5
IU
|
Vitamin C:
1
mg
|
Calcium:
69
mg
|
Iron:
4
mg
SEND FOOD PICS 📸
Tag @earthtoveg or leave a comment below if you tried this recipe. It makes my day. 😊