Rich and hearty Kotosoupa Avgolemono is the Greeks' answer to chicken noodle soup. Naturally thickened with rice (or orzo pasta) and topped with fresh dill and lemon, it's perfect for a cold winter day. This Vegan Avgolemono Soup is just like the real thing—velvety on the tongue, nourishing for the soul—but without any of the animal products. If you make it the traditional way, with rice instead of orzo, it's gluten-free as well!
History & Origins
Avgolemono (kοτόσουπα αβγολέμονο) is the name for both a soup and a sauce.
As a sauce, it is a key component of many other Greek dishes, like magiritsa (Easter soup). There is also a tradition of serving avgolemono with keftedes (meatballs). As a soup, this lemony rice soup is considered the perfect antidote for days when you feel a little under the weather.
Avgolemono soup is what a Greek mother or grandmother would make for a sick family member. Marks credits the fond memories summoned by a spoonful with part of the soup's healing powers. "Any food that is spiritually comforting helps the immune system," he says.

Mary Margaret Chappell, The Soup Cure (Vegetarian Times)
Avgolemono is now firmly a Greek dish, but its origins lie in Medieval Spain's Sephardic Jewish population. In The Book of Jewish Food, cultural anthropologist Claudia Roden writes about agristada, an egg-lemon sauce, and sopa de huevos y limon, an egg-lemon soup, both of which were forerunners to Greek avgolemono.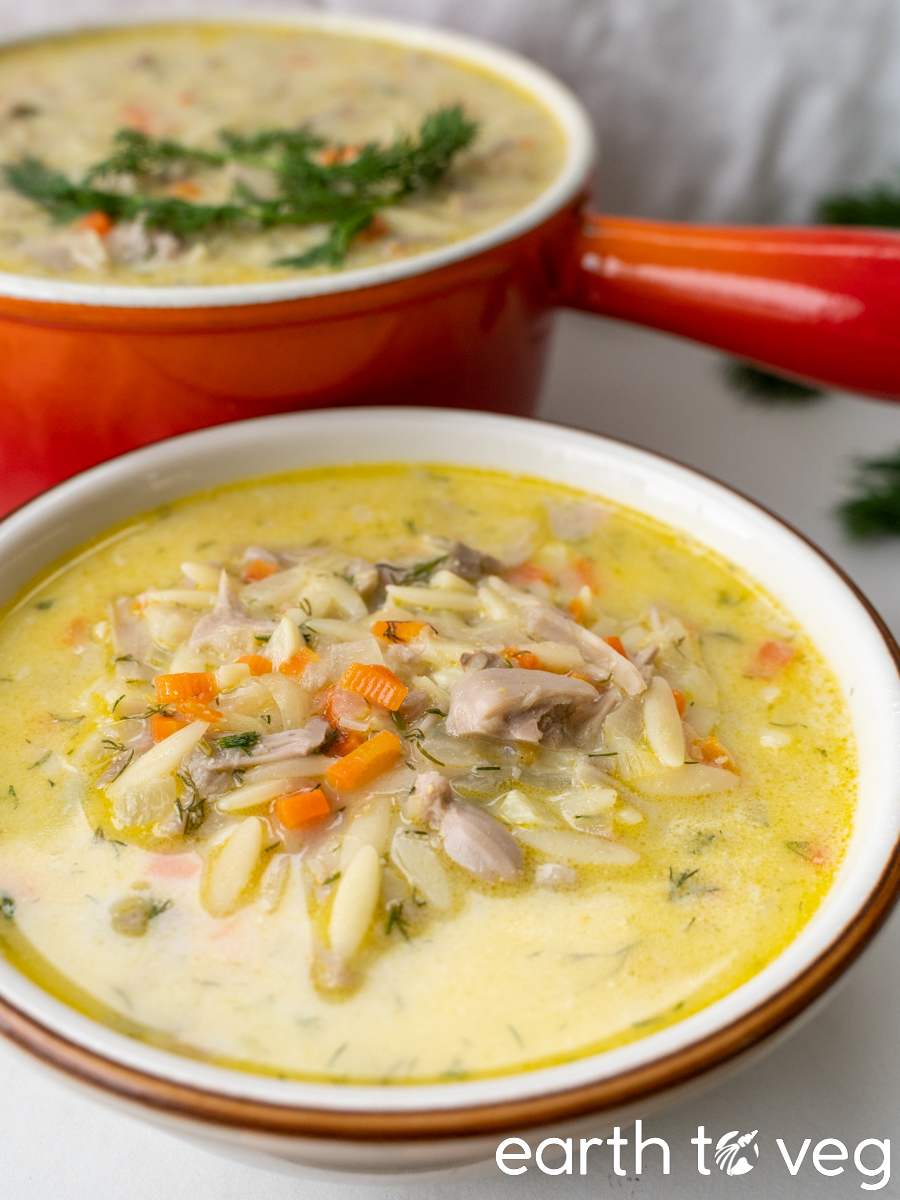 When Sephardic Jews were exiled from Spain in 1492 under the Alhambra Decree, many found homes in the Ottoman Empire, which back then included Turkey, South Italy, and Greece. The creamy, sour agristada was a hit throughout the Empire, and even today you can find different versions of this sauce in Spain, Turkey, South Italy, and of course Greece.
What You'll Need
Here are all the ingredients you'll want to have on hand for making vegan avgolemono.
Aromatics
🧅🥬🥕 We start off this recipe with a familiar trio: onions, celery, and carrots. These three ingredients sautéed together are known as mirepoix, probably the most well-known aromatic combo in European cooking.
PS: Mirepoix also forms the flavour base for Savoury Lentil Soup and Wild Rice Blend.
🧄 Of course, we have to add a healthy handful of garlic too. Greeks have been cooking with garlic since ancient times and just about every dish is made better by garlic.
🏺 For the broth, I use water and Better than Bouillon No Chicken Base because it mimics the chicken-y flavour of the original recipe. You can opt for another vegan chicken-flavoured seasoning, or any vegetable stock of your choice.
Rice or Pasta
🍚 White rice is an essential ingredient in Greek lemon rice soup. It bulks up the avgolemono and releases lots of starch to thicken it up. Some recipes recommend arborio as the rice of choice, because of how starchy it is. However, the most traditional is long-grain rice, which arborio certainly is not. Really though, don't stress about the rice, because any white rice works just fine here. It's going to be cooking for so long that any rice variety will release enough starch.
🌾 Orzo pasta is a less traditional, but popular option for making avgolemono. I personally love using orzo in this recipe because the finished result reminds me of chicken noodle soup!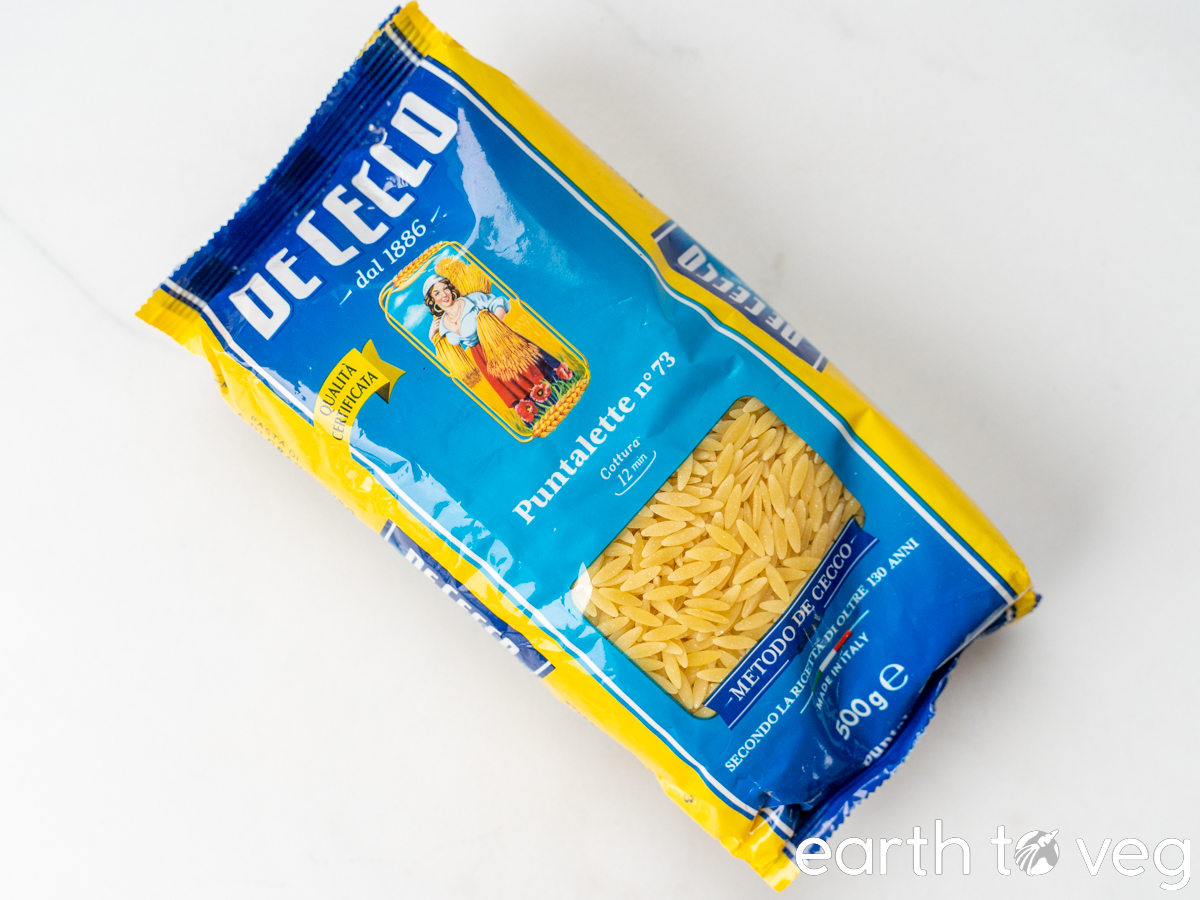 Note: Brown rice is not recommended. It doesn't soften enough to give avgolemono its classic texture. You'll have to at least double the cooking time, and even then I've found that it doesn't become quite as creamy as white rice.
Vegan Jackfruit "Meat"
🐤 Traditionally avgolemono is made with shredded chicken. To make this vegan, we'll be using jackfruit instead. Green jackfruit aka young jackfruit usually comes in cans, and you should drain and rinse the pieces before using. Once shredded into avgolemono, this stuff has a texture remarkably similar to that of shredded chicken.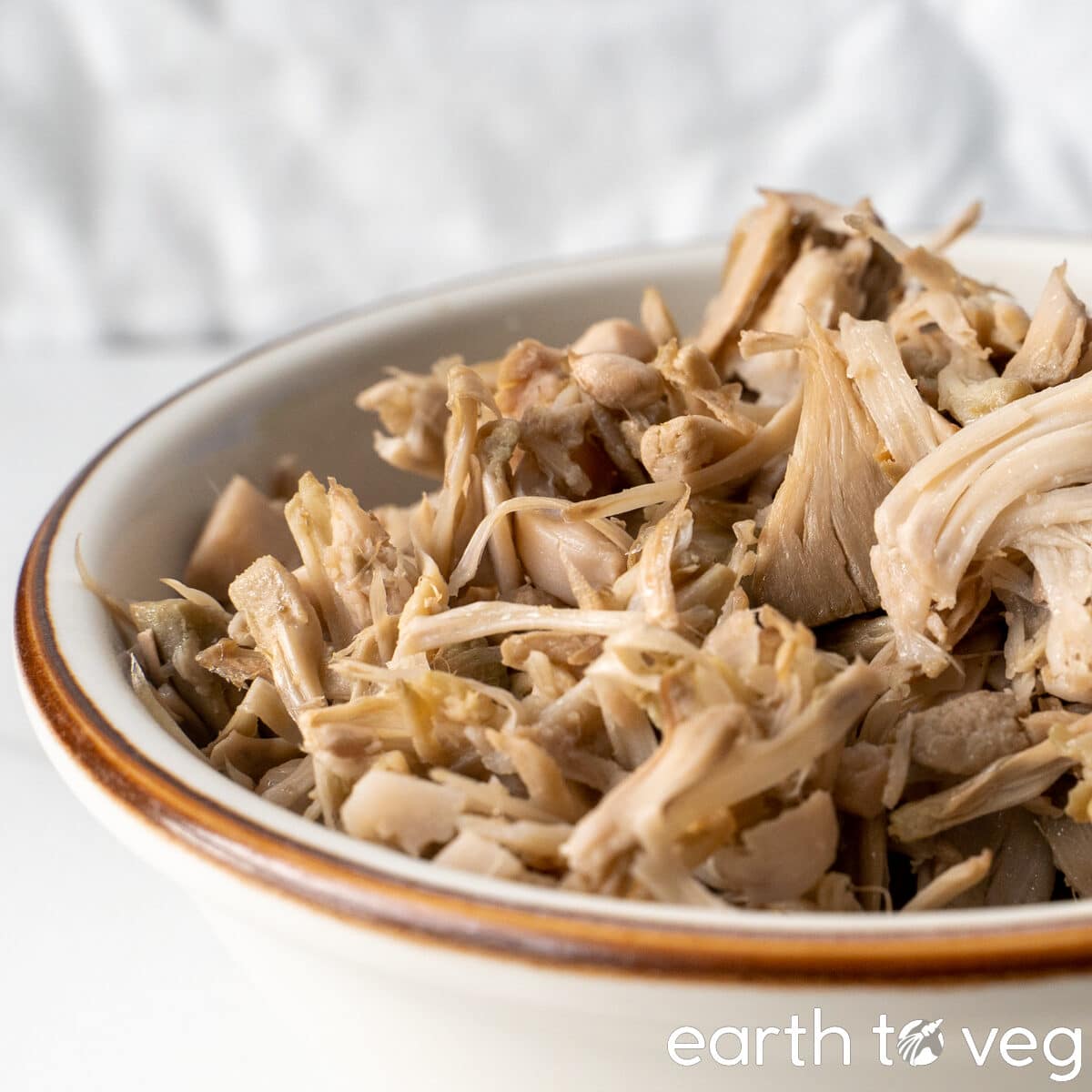 To be honest, I've been unsatisfied with a lot of jackfruit "meat" recipes because it just doesn't have the umami and proteinaceous flavour that you'd want from a chicken substitute, but I have to say that in this recipe it's perfect. The other flavours are more than savoury enough to satisfy, and the jackfruit is here more as a texture thing. But feel free to leave it out if you don't have it. It won't impact the taste.
How to Shred Jackfruit
If you've never worked with green jackfruit before, here I'll be sharing my favourite way to prep it for a meaty texture. IMO, this is the easiest, zero-waste way to shred jackfruit and it also leads to the most chicken-like result.
Canned jackfruit is often stored in a solution of salt and citric acid to maintain its firmness. So after opening the can, first you'll want to rinse and drain the jackfruit pieces. Most of the canned jackfruit pieces are wedge-shaped, as you can see in the diagram below.
Core: The point of each wedge is called the core. It has a different texture to the rest of the jackfruit. It's very firm and difficult to shred, so cut it off. Use a knife to slice it into thin strips.
Tendrils: Once you've cut those off, you're left with the stringy fibers, which are called tendrils. This is the meat-like part of the jackfruit. You can press down on them with a finger and see how easily they fan apart. No forks are required for shredding these tendrils. Just use your hands to tear them apart into shreds!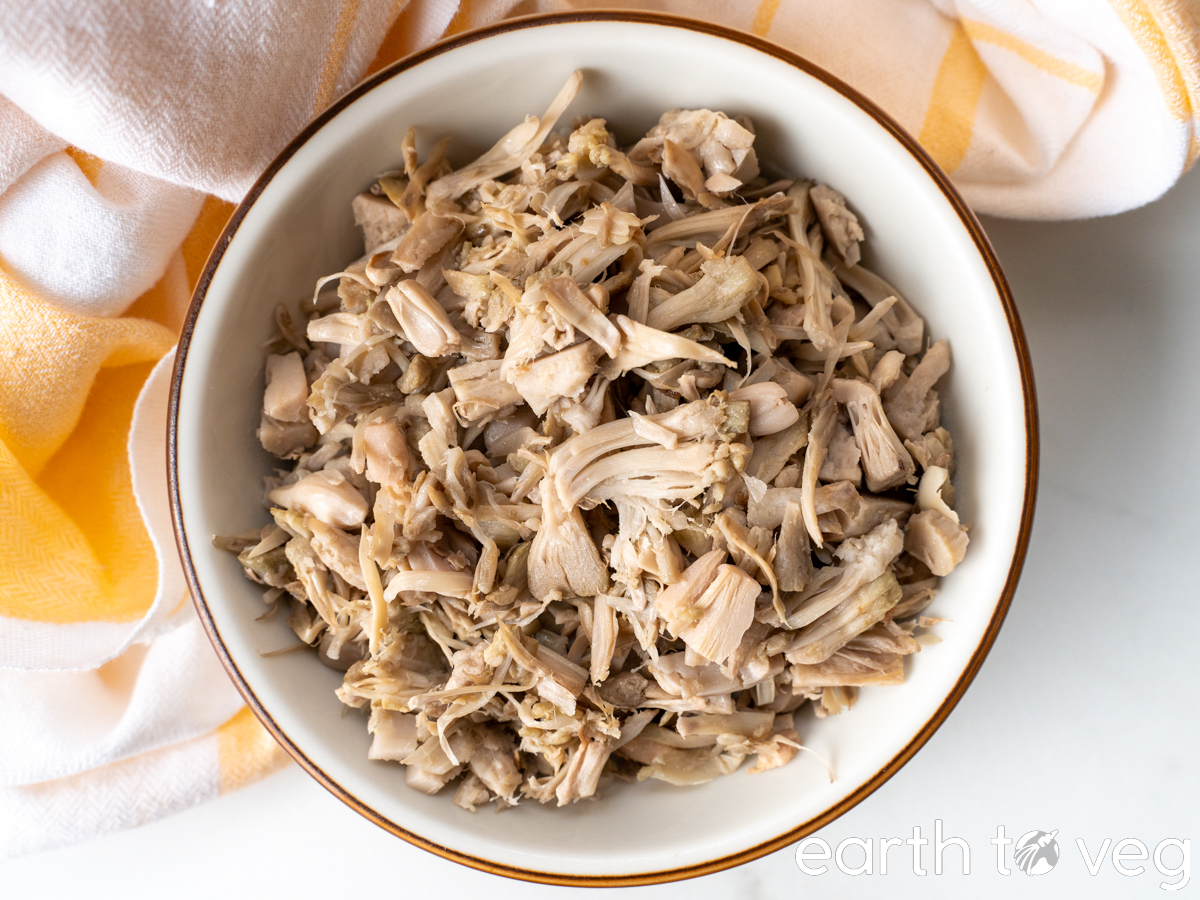 Seeds: Finally, you'll occasionally see these hollow little round things embedded in some of the jackfruit pieces. These are the beginnings of the jackfruit's seeds. As the jackfruit matures, they will grow into huge seeds that are edible on their own. In a can of young jackfruit you'll only find the beginnings of the seed. Like the core, these don't have a good shreddable texture, but you can use a knife to easily chop them into shred-like strips.
Vegan "Egg" Mixture
🥚 Traditional Greek avgolemono is thickened with eggs. To replace the egg with a plant-based alternative, we'll be using cashews blended with water. Some recipes use tahini as an egg replacement in vegan avgolemono, but tahini has too strong of a flavour and I want to stay true to the taste of the authentic recipe.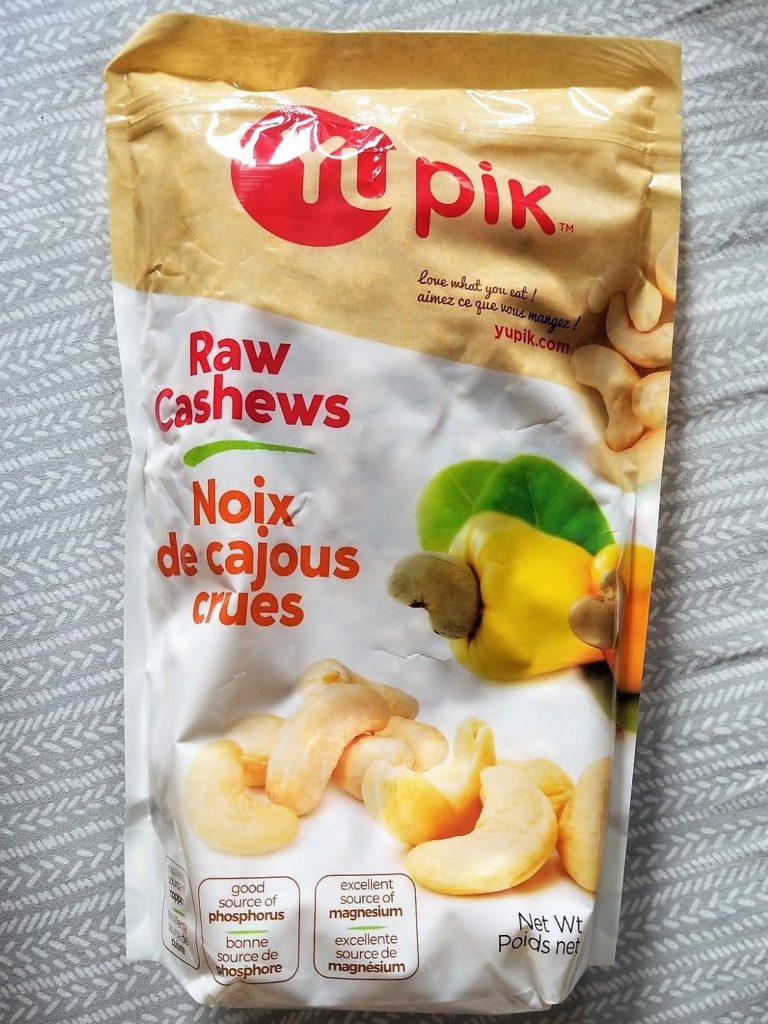 Cashews have a neutral flavour, but deliver plenty of fatty mouthfeel. They're just right for the velvety thickness that this soup deserves. If you don't have a blender or whole cashews on hand, you can sub out the whole cashews with almond butter or cashew butter. Just make sure to use an unflavoured variety. Another alternative to using whole cashews is to replace all of the egg mixture and half of the vegetable stock with cashew milk.
Seasoning
🧂 We'll also season the vegan avgolemono with a pinch of ground white pepper. Why white pepper? Simply to avoid any black specks in this pale, creamy soup! I also find that it has a more muted, earthy flavour that works really well with avgolemono. If you don't have white pepper, though, feel free to substitute with black pepper instead.
🍋 Lemon juice adds a bright note to Greek lemon rice soup. It should be squeezed in only at the end of cooking. Acidity prevents vegetables from softening, so if you add it at the beginning you'll be left with crunchy veggies in your soup. Ask me how I know 🙃
Fun fact: Although lemon is now the ubiquitous souring agent for avgolemono, lemons were rare in Europe until the late Middle Ages. Before that, cooks used verjuice (unripe grape juice) to achieve the sour flavour.
🌿 Finally, if you've got them on hand, stir in a handful of fresh dill or parsley (or both). And you're ready to serve. Kalí óreksi!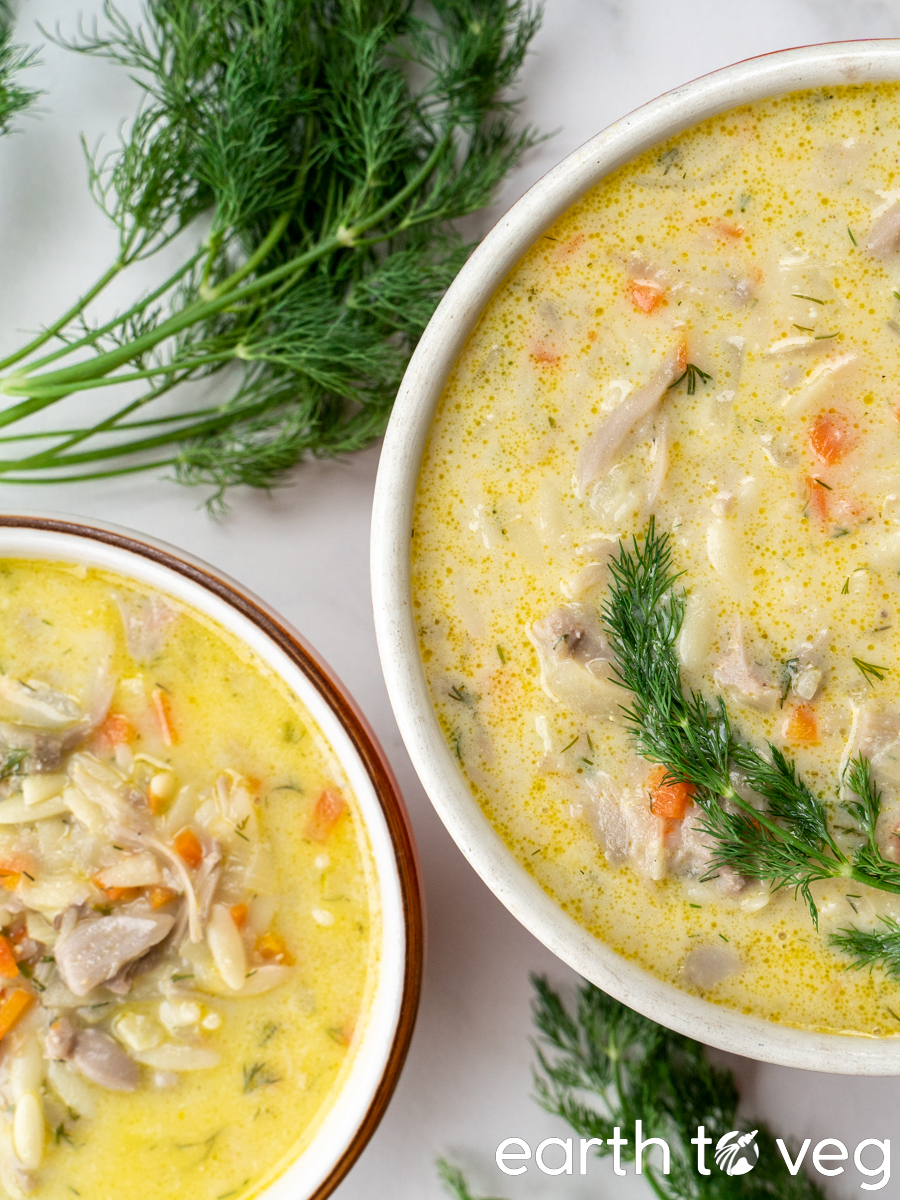 Make Ahead & Storage Tips
You can store vegan avgolemono soup in the fridge for up to five days after cooking. I haven't tried freezing it yet; I'm not sure if the cashew "egg" mixture might become grainy when thawed.
Diet Substitutions
If you're following a specific diet or need to be aware of allergies, here are a few ways you can modify this recipe:
Gluten-free: this recipe uses rice so it's naturally gluten-free. You can also use a gluten-free orzo pasta.
Oil-free: omit the oil and increase the cashews to 1/2 cup (75g) to compensate for the loss of fat.
WFPB: omit the oil and use brown rice instead of white rice.
Low carb: use a shirataki-based rice or orzo substitute, such as LIVIVA Rice Shaped Shirataki with Oat Fibre. The rest of the ingredients in Greek lemon rice soup, including green jackfruit, are suitable for a low-carb diet.
If you made this recipe with a successful substitution, please let me know! Post a comment describing what you did so I can add it to this section and help future readers. (Leave your name blank if you don't want to be credited.)
Recipe FAQs
How to pronounce avgolemono?
This Greek word has five syllables and looks intimidating, but it's pretty much just pronounced how it's spelled. The main difference is that the "g" is silent. The emphasis is on the middle syllable (avgolemono). Let's break it down:
avgo: pronounced avo, like the first part of avocado
lem: pronounced like the first syllable of lemon
ono: pronounced like oh no!
To hear it in action, here is a clip of a Greek chef saying it out loud.
Is avgolemono soup gluten free?
Yes, it is traditionally made with rice, making it naturally gluten-free.
What kind of rice is best for avgolemono?
Long-grain white rice is preferred, but any kind of white rice will be just fine.
More Cold Weather Soup Recipes
Recipe Card
Did you make this recipe? Please consider leaving a rating below to let me know how you liked it.
You can also take a picture and tag me on Instagram @earthtoveg, I will shout you out in my Stories!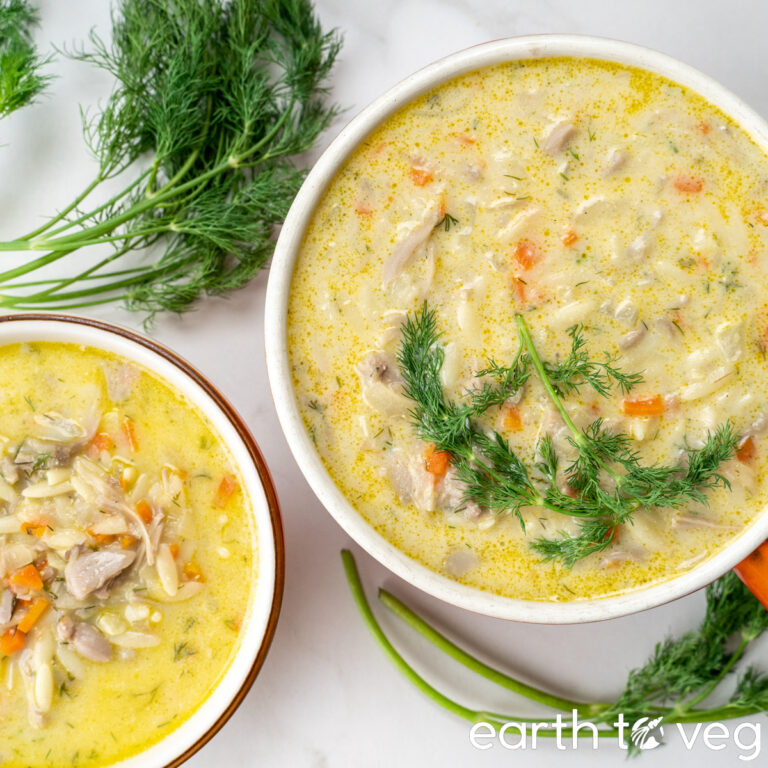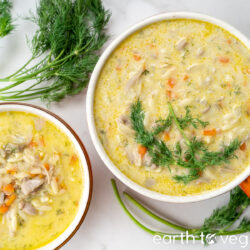 Greek Lemon Rice Soup (Vegan Avgolemono)
Vegan avgolemono, or Greek lemon rice soup, is a truly comforting concoction—no chicken or eggs required. Creamy, tangy avgolemono hits the spot on a cold day.
Print Recipe
Use Imperial/Metric buttons below to toggle between volume vs weight measurements. I recommend weighing out your ingredients for best results.
Equipment
Stock pot or Dutch oven

Blender

(*optional; see Note 1)
Ingredients
Soup Broth
2

tbsp

olive oil

1

white or yellow onion, diced

1

stalk

celery, finely diced

1

carrot, finely diced

½

head

garlic, minced

5 to 6

cups

water

2

tbsp

Better than Bouillon No Chicken Base

*can sub with vegan seasoning of your choice

½

cup

uncooked rice or orzo

1

14-oz can

green jackfruit (aka young jackfruit)

2

tbsp

fresh lemon juice

around half a lemon

fresh dill and parsley

to taste *optional
"Egg" Mixture
1

cup

water

⅓

cup

cashews

see Note 1

¼

tsp

ground white pepper

*can sub with ground black pepper
Instructions
In a stockpot or Dutch oven, sauté onions, celery, and carrots in olive oil on medium heat until softened. Add garlic and sauté just a few minutes more, not too long to avoid burning it.

Pour in the water and rice/orzo (no need to rinse it, we want the starch for this recipe). Stir in the Better than Bouillon paste.

Cover the pot and bring to a simmer, then turn heat down to medium-low to let it simmer for 20 minutes.

Meanwhile, blend together the "egg" mixture ingredients until smooth (see Note 1). Drain and shred the canned jackfruit.

Once the 20 minutes is up, stir the "egg" and jackfruit into the soup, and simmer for an additional 5 minutes.

Squeeze in the lemon juice. Taste for seasoning; add more salt as needed.

Top with dill and parsley, if desired. Serve hot.
Notes
If you don't have a blender or whole cashews on hand, you can sub out the whole cashews with natural almond or cashew butter. I've even used cashew milk instead, although it doesn't get quite as creamy as using whole cashews.
If you'd like, you can stir in some greens towards the end of cooking, such as spinach, kale, green cabbage. This recipe is a great one for using up leftover bits of veggies.
Nutrition
Calories:
381
kcal
|
Carbohydrates:
60
g
|
Protein:
6
g
|
Fat:
14
g
|
Saturated Fat:
2
g
|
Polyunsaturated Fat:
2
g
|
Monounsaturated Fat:
8
g
|
Sodium:
1554
mg
|
Potassium:
439
mg
|
Fiber:
4
g
|
Sugar:
5
g
|
Vitamin A:
4259
IU
|
Vitamin C:
11
mg
|
Calcium:
105
mg
|
Iron:
2
mg
SEND FOOD PICS 📸
Tag @earthtoveg or leave a comment below if you tried this recipe. It makes my day. 😊