This versatile lentil soup is a perfect clean-out-the-fridge meal. I've been making it for years, throwing in whatever happens to be at the bottom of my veggie bin. A great way to use up any leftover bits of fresh herbs also. It's WFPB-compliant (no oil!), high in protein and fiber. Throw it in the Instant Pot after work if you're pressed for time, or set-it-and-forget-it in your slow cooker in the morning. Although I love to serve it with a slice or two of hearty Soda Bread, the soup itself is gluten-free and perfectly tasty on its own. For other tasty ways to use up leftovers, check out my recipes for Dutch Hutspot or Curry Burritos.
Hey guys, I can't believe it's February already! Last month, I was settling into my co-op job and trying to get used to real "Adulthood." Now things have fallen into a kind of routine, although I'm still figuring a lot of things out. Even though I had a lot of fun cooking last term, most importantly I learned that making food takes a lot of time. To be honest, by the end of four months, I was almost a little burned out. So my New Year's resolution for this year is to meal prep more and spend less time in the kitchen.
Why This Recipe Works
When it comes to meal prep, my recipes follow three guiding principles:
Keeps well in the fridge (and, ideally, the freezer too)
Tasty (to curb my urges to eat out)
Low effort
I'm very happy to report that this lentil soup is all three!
Meal Prep Options
I also try to make my recipes versatile. This one is super flexible on the vegetables. You can add in whatever you have, like tomatoes, squash, kale, mushrooms, etc. It's great for dumping leftovers in!
The first day I brought my soup to work, I didn't even heat it up in the microwave and just ate it cold at my desk (didn't have access to a microwave back then, long story), and it was still tasty.
In fact, I had it for breakfast, lunch and dinner that day, and had four containers left to spare.
I think you can easily prep this for a week and eat it for lunch everyday without getting tired of it, but if you need more variety in your life, it keeps well in the freezer to enjoy later. I like to let it cool down to room temperature, then pour one or two servings into a ziploc bag and lay flat in the freezer until it freezes into a space-saving flat square. To defrost, you can thaw it in the fridge for about a day.
More Easy Lentil Soups
What You'll Need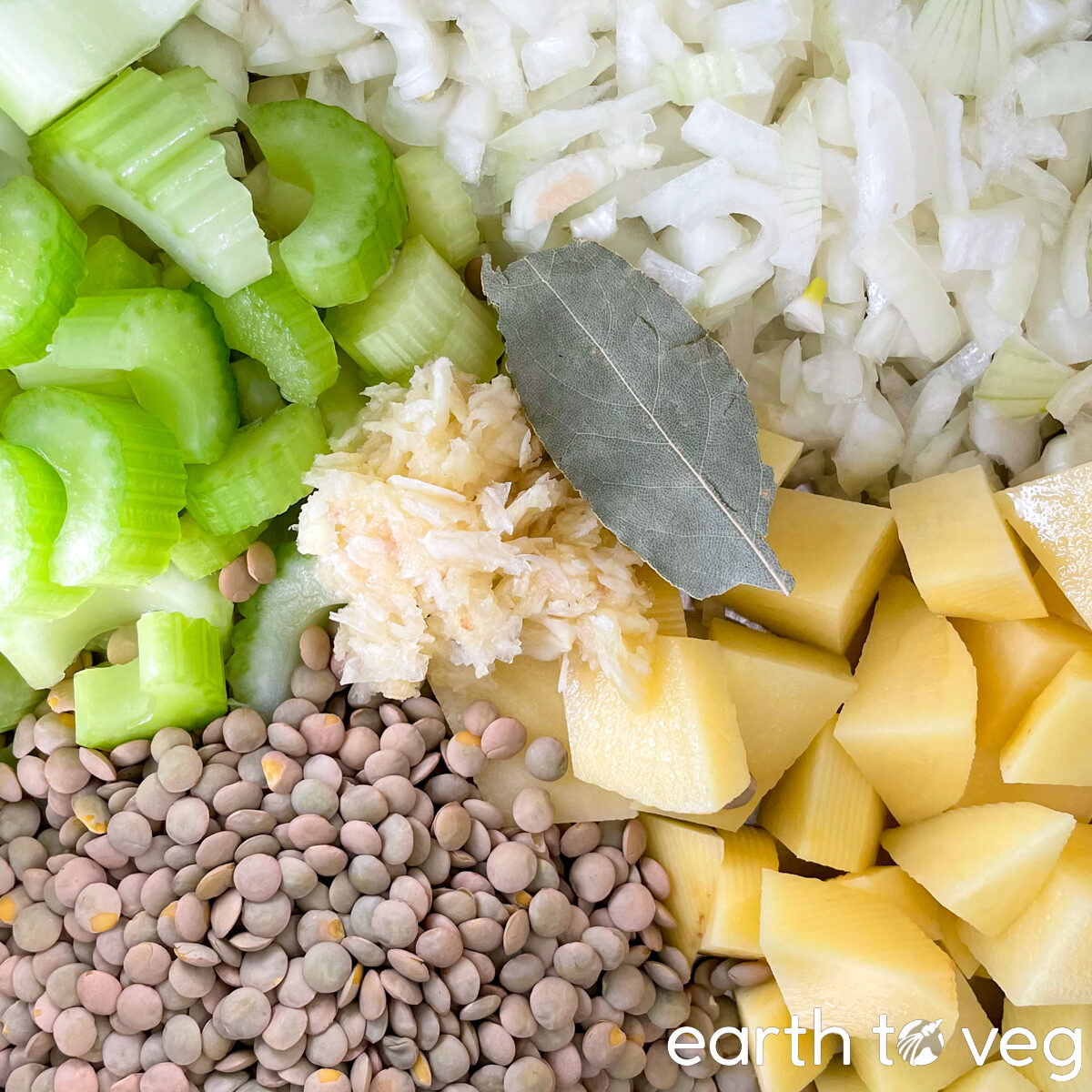 Onions, carrots, and celery together form the base for mirepoix, an aromatic French concoction that is renowned for the richness it brings to soups and stews. We are not making mirepoix for this recipe to save on time and cut down calories, but we are still relying on the classic trifecta of these three vegetables to create the comforting and familiar soup base.
Tip: If you are not following an oil-free diet, then I recommend sauteing the veggies first in 1 tbsp oil. Makes for a more full-flavoured experience. True mirepoix calls for a low, slow cook, but even a quick saute will bring out extra flavour.
Garlic, bay leaf, and vegetable stock adds additional boost of savoury flavour. Better than Bouillon Vegetable Base is a vegan bouillon paste which provides a quick alternative to using fresh stock.
Lentils add a double whammy of protein and fiber. Use dried green or brown lentils only. Black or red lentils cook too quickly and will soften to mush in an Instant Pot soup. (Unless of course you like mush, in which case, go ahead!)
Salt should be added to taste after cooking. If you are using Better than Bouillon, chances are it will be plenty salty enough without needing additional salt. However, if you're using another brand of bouillon, or fresh vegetable stock, the soup could be more or less salty.
Spinach is optional but highly recommended. Adding them towards the end of cooking ensures they retain their bright green colour. Perfectly cooked spinach has a beautiful silky texture.
Fresh herbs are also optional. But if you've got some herbs wilting away in your fridge, why not throw 'em in? So far, I've tried with rosemary, dill, thyme, all of which were pretty tasty. You can also use dried herbs, but they are usually much more potent than fresh herbs so start with 1/2 tbsp and go from there.
Crusty bread, while optional, makes this lentil soup a complete meal. Nothing more satisfying than soaking up hot soup with torn pieces of freshly-baked bread! (If you're pressed for time, try this no-yeast Irish soda bread. It comes together in just 45 minutes.)
Step-by-Step Process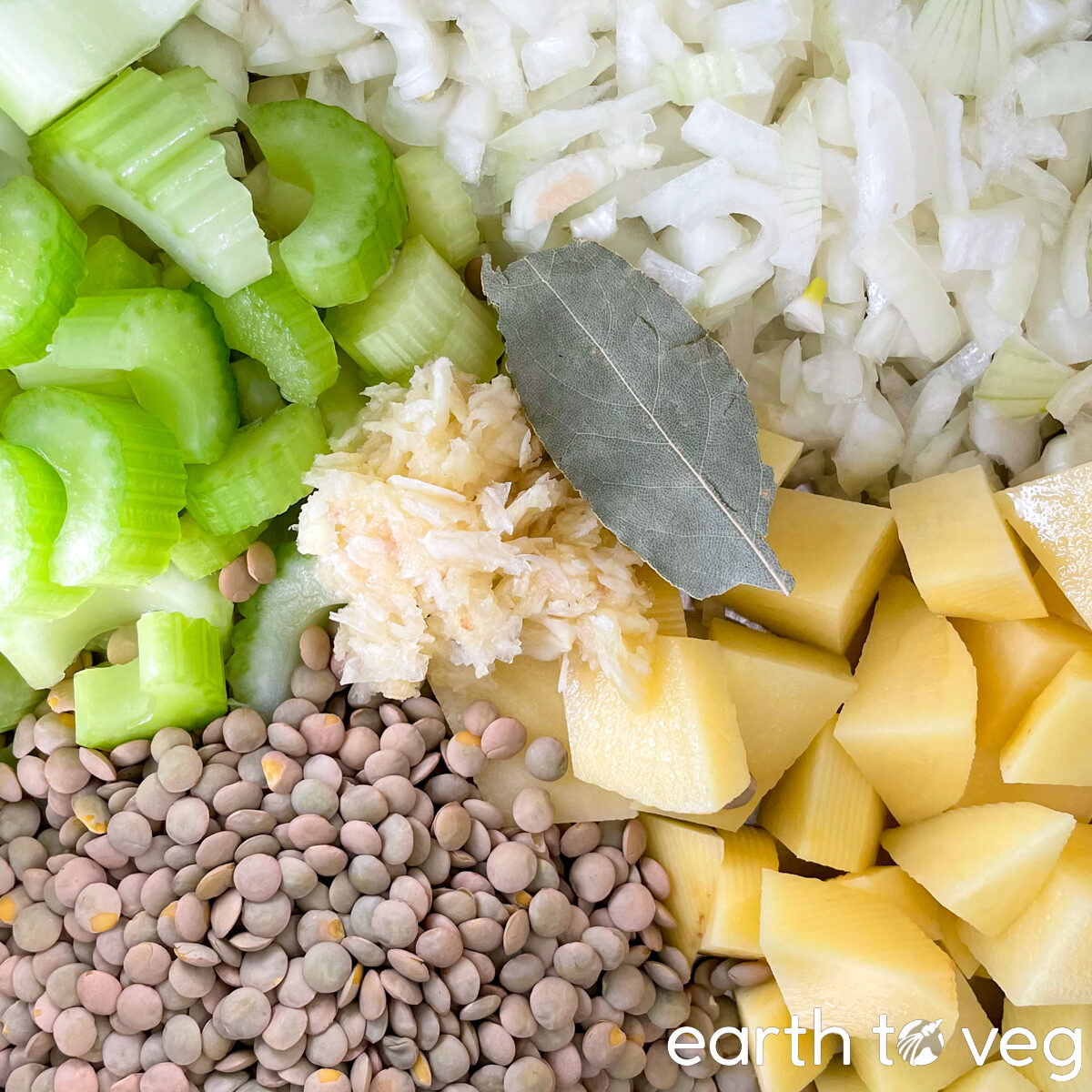 Step 1: Chop up all your veggies. The garlic should be minced or crushed as small as possible. The other veggies (onion, carrot, potato, celery) can be diced fine or chopped into larger pieces, depending on your personal preference.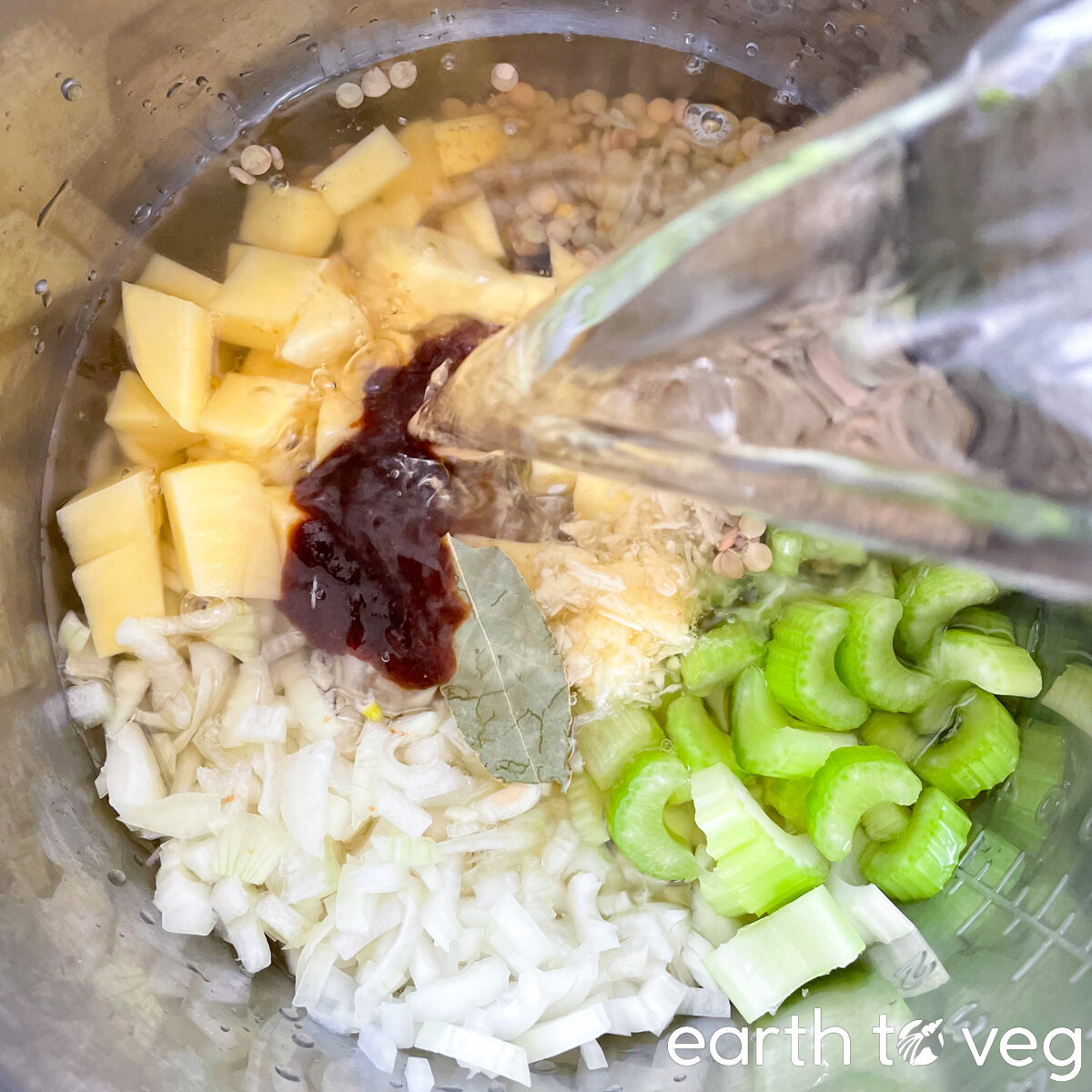 Step 2: Add all the ingredients to the cooking pot, except spinach and fresh herbs (if using). Optional: First sauté onion, carrot, and celery in oil until fragrant. (If you're making this soup in the Instant Pot, you can use the Sauté function.)
Step 3: The next step differs slightly, depending on whether you are using an Instant Pot or slow cooker.
For Instant Pot: Secure the lid onto the Instant Pot. Use the Pressure Cook setting on High Pressure for 10 minutes. Allow pressure to naturally release for 5 minutes, then manually release the remaining pressure.
For slow cooker: Put the lid on the slow cooker and leave it on High for 3 hours or Low for 6 hours.
Step 4: Open the lid (stand off to the side to avoid catching a face full of steam). Stir in the spinach and push it down into the hot soup.
Step 5: Meanwhile, if you're using any herbs, dice them up fine. Once the spinach is wilted, stir in the fresh herbs and serve.
FAQ
Can you overcook lentil soup?
Yes, it's definitely possible to overcook lentil soup. If you boil lentils for too long, they'll become mushy and lose their texture. As they shed their starch into the liquid, it will cause the soup to thicken. This recipe uses green lentils, which is more difficult to overcook than red lentils, but it's still possible to turn them mushy if cooked too long. That's why it's important to follow the recipe and cooking instructions carefully to ensure your lentil soup has the perfect texture.
Is lentil soup the healthiest soup?
Lentil soup is a healthy and nutritious soup option, but it's not necessarily the "healthiest" soup as there are many other nutritious soups out there. Lentil soup is a good source of plant-based protein, fiber, and essential nutrients such as iron and folate. It can also be low in calories and fat, depending on the recipe. However, the nutritional value of lentil soup can vary depending on the ingredients used and the method of preparation. This savoury lentil soup recipe is full of whole ingredients and nutrient-dense vegetables, with no processed ingredients, so it's definitely very healthy.
Do you have to soak lentils before making soup?
No, you don't have to soak lentils before making soup, There is some anecdotal evidence that soaking helps to improve their digestibility, but this is not backed by conclusive research. Soaking lentils will reduce the overall cooking time, but that's not necessary for this recipe, since you can either pressure cook it in the Instant Pot (which eliminates any time advantage from soaking) or slow cook it in a Crockpot, where the whole point is to leave it to cook overnight or over the course of a workday.
Which color lentil is healthiest?
In terms of nutritional value, there's no clear winner among lentil varieties. All lentils are healthy and provide a range of nutrients. Each type of lentil is a good source of plant-based protein, fiber, and essential nutrients. The best approach is to include a variety of lentils in your diet to ensure that you are getting a range of nutrients.
Does soaking lentils reduce gas?
There have been a few studies that found soaking lentils may reduce saponins, oligosaccharides, and phytic acids, which are compounds that cause bloating and gas in some individuals. But soaking is not effective for everyone. Some people don't get gas from lentils at all; some people don't find a difference between soaking and not soaking; but some people do notice they can digest lentils easier if they've been soaked. Personally, I don't notice any discomfort eating the green lentils that I've cooked using this recipe, whether they have been soaked or not.
Can you use Instant Pot pressure cooker for lentil soup?
Yes, you can use an Instant Pot to make lentil soup using the Pressure Cook setting. In fact, using an Instant Pot can make the process quicker and easier, and can help to infuse the flavors more deeply into the lentils.
Recipe Card
Did you make this recipe? Please consider leaving a rating below to let me know how you liked it.
You can also take a picture and tag me on Instagram @earthtoveg, I will shout you out in my Stories!
Instant Pot Green Lentil Soup (Vegan)
A tasty dump-and-go vegan lentil soup that's high in fiber and protein. It's perfect for meal prep and can be made in the Instant Pot or slow cooker.
Print Recipe
Equipment
Instant Pot or Crock-Pot

3-qt capacity or larger
Ingredients
1

small yellow onion

2

cloves

garlic, minced

½

cup

green lentils or brown lentils

1

carrot or potato

1

rib

celery

1

bay leaf

3

cups

vegetable stock

I used water + 2 tbsp Better than Bouillon Vegetable Base

salt

to taste; depending on your stock, you may not need any extra salt

2

cups

baby spinach

¼

cup

fresh herbs, such as parsley, dill, thyme, sage

*optional
Instructions
Dice the onion, carrot or potato, and celery. Finely mince or crush the garlic.

Add all the ingredients except spinach and herbs to an Instant Pot or slow cooker.

Slow cooker: leave on High for 3 hours or Low for 6 hours. During the last 15 minutes of cooking, stir in the spinach.

Instant Pot: use the Pressure Cook setting on High Pressure for 10 minutes. Allow pressure to naturally release for 5 minutes, then manually release the remaining pressure. Stir in the spinach, and cover for another 10 minutes.

Stir in fresh herbs if using. Ladle into bowls and enjoy hot.
Notes
The last time I made this, I sauteed the onions and garlic in 1 tbsp of sesame oil before adding the other ingredients. It adds a richer, more satisfying taste and texture to the soup. If you have time for this step and are not bothered with a slightly higher calorie count, I recommend adding some oil to make it more flavourful.
This recipe is super forgiving and easy to customize! For example, if you want a thicker stew-like meal, just reduce the water by a quarter. You can substitute the fresh herbs for dried (use half the amount since dried herbs are more concentrated in flavour). Add some red pepper flakes to make it spicy. The spinach can be swapped out for kale or swiss chard, or left out altogether.
Nutrition
Calories:
172
kcal
|
Carbohydrates:
33
g
|
Protein:
10
g
|
Fat:
1
g
|
Saturated Fat:
0.1
g
|
Polyunsaturated Fat:
0.3
g
|
Monounsaturated Fat:
0.1
g
|
Sodium:
1026
mg
|
Potassium:
681
mg
|
Fiber:
13
g
|
Sugar:
6
g
|
Vitamin A:
9190
IU
|
Vitamin C:
14
mg
|
Calcium:
75
mg
|
Iron:
3
mg
SEND FOOD PICS 📸
Tag @earthtoveg or leave a comment below if you tried this recipe. It makes my day. 😊