Too impatient to wait for Yeast Dough to rise? Try this quick Fennel Seed Soda Bread, a traditional loaf from Ireland that uses baking soda instead of yeast. You can make it while dinner is cooking and have freshly baked, ready-to-eat bread within an hour. This Whole Wheat Irish Soda Bread is perfect for soaking up a savoury broth like Lentil Soup or Borscht, or toasted with a pat of good butter.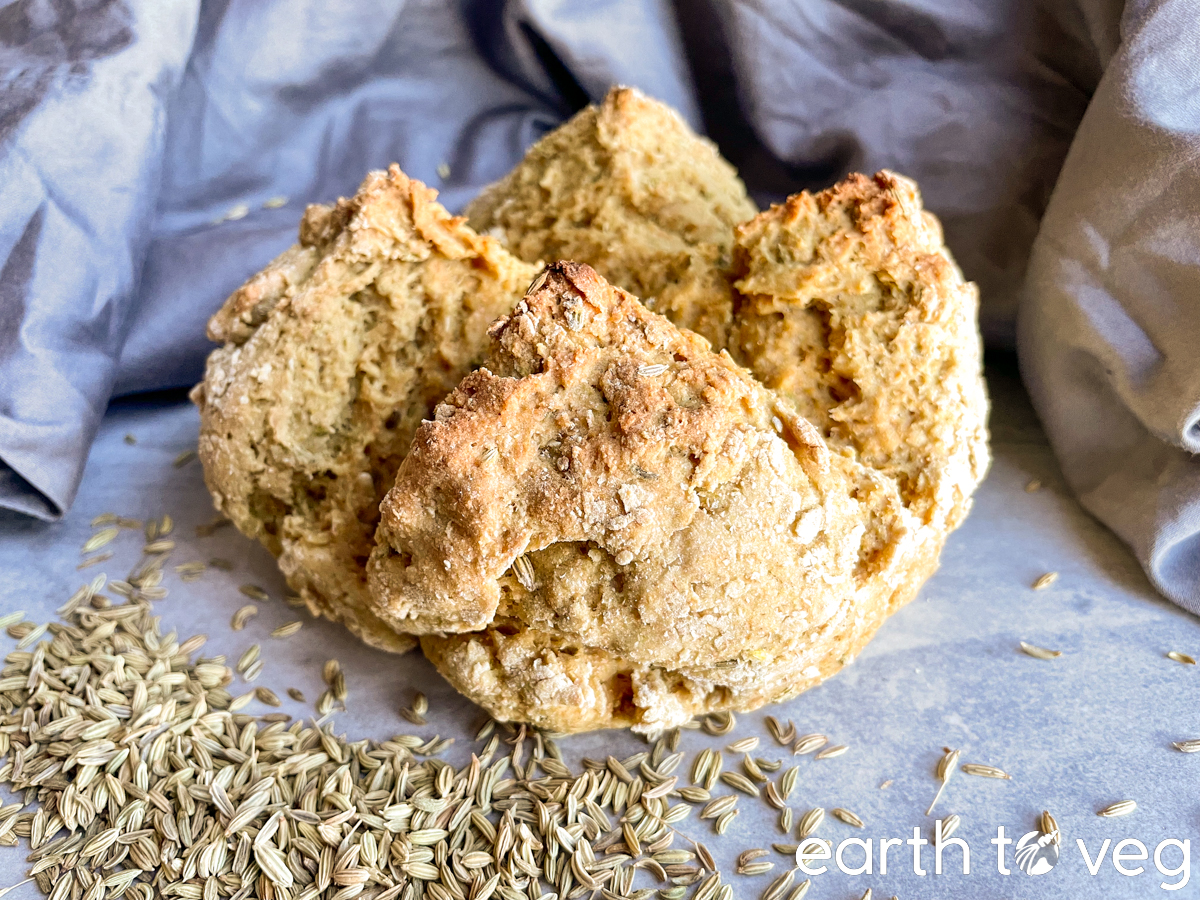 The Story of Irish Soda Bread
Did you know there's a whole website dedicated to this staple of the Irish diet back in the day? The Society for the Preservation of Irish Soda Bread "encourage[s] modern bakers to get in touch with their Irish roots and use the traditional ingredients/recipes" when baking.
It consists of a few pages of history with extensive lamentation of the current state of public perception re Irish soda bread, and all the things that should not be going into it. (Sugar, eggs, cream, chocolate chips are some of the big no-no's…) I admit I'm kinda impressed by how many variations people have come up with.
Irish soda bread has a denser texture and harder crust than you may be used to if you've eaten yeast-risen doughs. But its sturdiness makes it a great choice for dipping into soups of all kinds, bringing on hiking trips, or slathering with butter or jam.
I have no Irish roots of any kind, and I'm not sure how the Society would feel about my recipe since it doesn't stick with the traditional ingredient of dairy milk. But thank you Ireland for creating this fuss-free bread that relies only on the humble baking soda for its rise!
Easiest Bread Recipe
Irish soda bread got a shout-out recently. It was featured as the Signature Bake challenge on the 2019 season of the Great British Bake Off. All of the bakers were doing something fancy to impress Paul, but traditional Irish soda bread is very simple. This recipe is just the barest bones of a soda bread plus the addition of fennel seeds. You could try other spices and add-ins as well, but I have this huge bag of fennel that I'm trying to work into as many recipes as I can, and it turns out they work really well in bread.
Soda bread is a pretty easy recipe for beginner bread bakers. There's no need for kneading and it all comes together in one bowl. It's also a great recipe for impatient ones like me, because this bread rises with the power of baking soda rather than yeast. That means you don't have to wait around for the dough to rise before tossing it into the oven.
What You'll Need
It's amazing how inexpensive a simple loaf of homemade bread really is. And it beats grocery store bread for sure. This Irish soda bread is especially economic because it uses just 6 ingredients, 5 of which you can stock in your pantry:
Whole Wheat Flour: I find whole wheat flour easier to work with than white flour as it is less sticky. Another alternative that we can easily find here in Canada, which also produces great results, is durum atta flour. In Ireland, soda bread made with whole wheat flour is called brown bread.
Baking Soda: When mixed with acidic liquids (like the vinegared soy milk in this recipe), baking soda creates carbon dioxide bubbles in the dough which causes the dough to expand as it heats up. This makes it a chemical raising agent (unlike yeast, which is a biological raising agent).
Salt: Self-explanatory.
Fennel Seeds: The only optional ingredient in this list. You can leave it out entirely (it's not exactly a traditional ingredient), or experiment with other spices you like.
Milk: I love making my own Soy Milk from Scratch because it's not only cost-effective, but has a strong creamy flavour which I love. However, you can substitute any other milk. I've tried this recipe using canned coconut milk, almond milk, and NotMilk, and all worked well.
Vinegar: Reacts with the baking soda to create carbon dioxide gas, which bubbles up inside the dough and causes the bread to rise as it bakes. Any type of vinegar works, but white vinegar is the usual choice and also the most affordable. I can buy 4L jugs for $2 here.
Step-by-Step Process
Step 1: Start by mixing together all the dry ingredients (flour, baking soda, salt, and optional fennel seeds).
Step 2: Make a little well in the middle of the mixture where you're going to pour the liquids.
Step 3: Pour in the soy milk, then the vinegar. Notice how the milk will start to curdle right away!
Step 4: Give it a good mixing until the dough looks lumpy. There shouldn't be any overly-wet or overly-dry spots.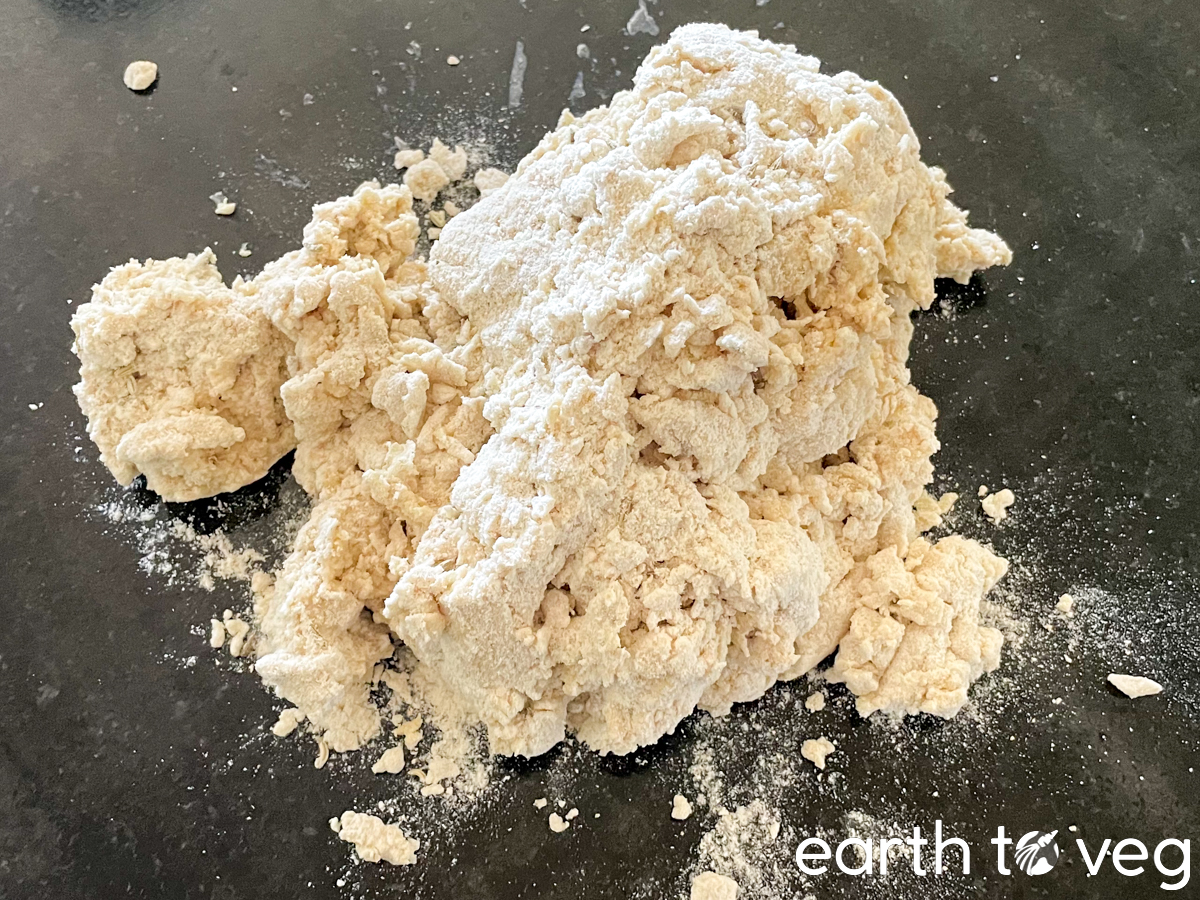 Step 5: Turn out the dough onto a floured surface, like a clean kitchen counter.
Step 6: Pat the dough into an elongated rectangular shape.
Step 7: Fold one end of the rectangle up over the other and press down to form a square-ish. Pat the dough gently on all sides to form it into a round boule.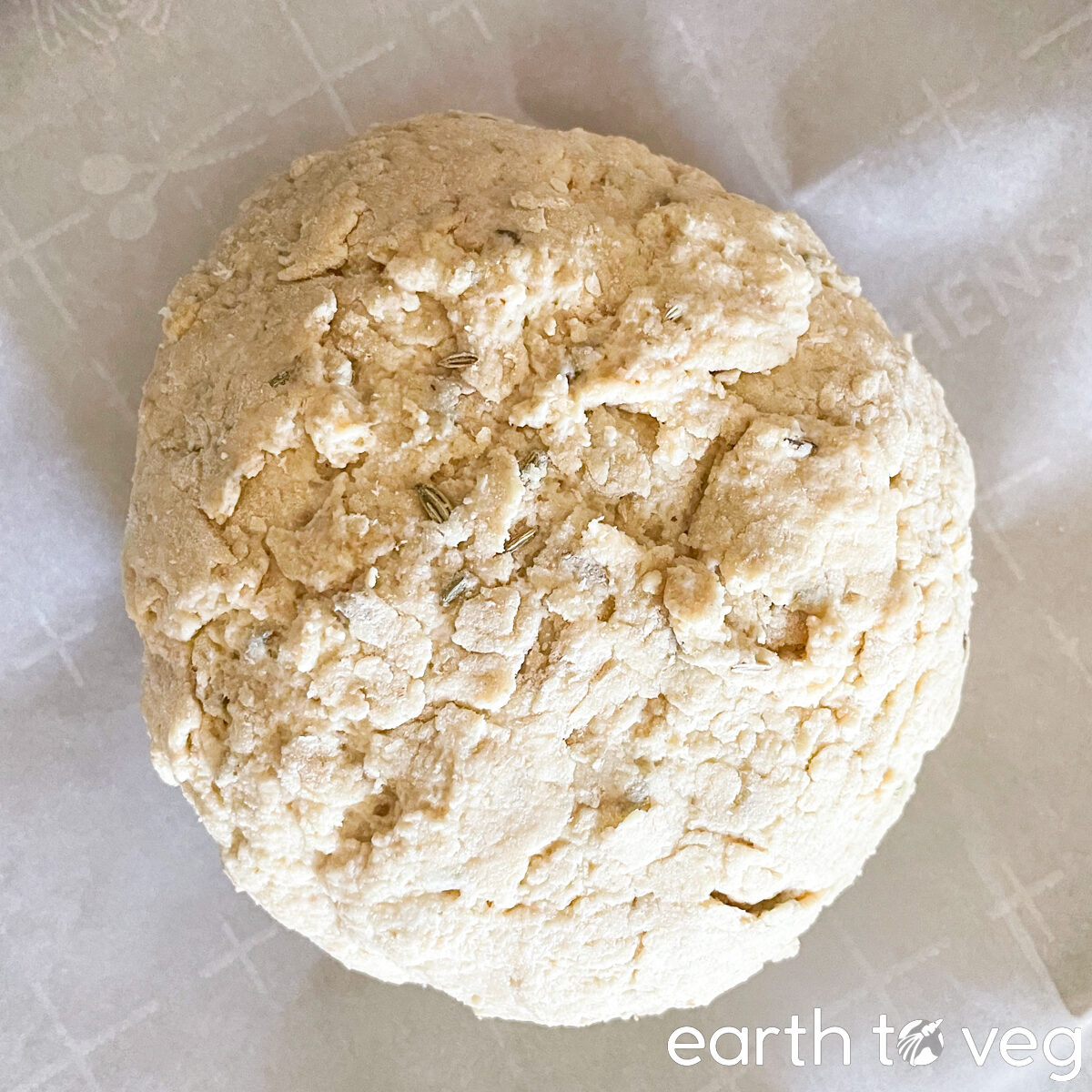 Step 8: Transfer over to a parchment paper lined baking sheet. (Boule means "ball" in French, referring to the round shape of this type of loaf.)
Step 9: It's traditional to slash a cross or X shape onto the top of the bread before baking. Make two deep cuts with your knife, it should reach 2/3 of the way down to the bottom of the loaf. (But make sure not to cut through completely!)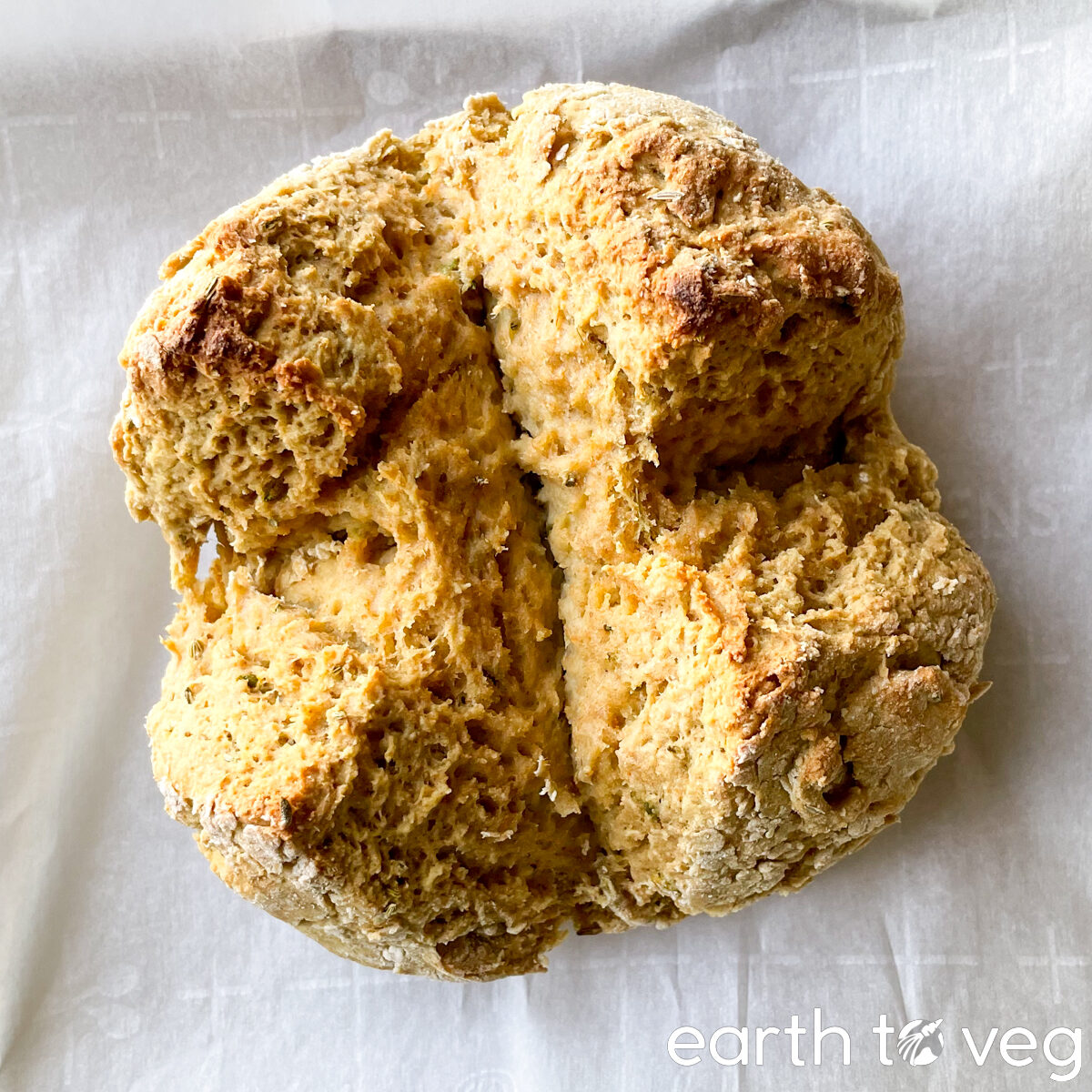 Step 10: Bake at 375 °F (190 °C) on the middle rack for 35–40 minutes. Unlike yeasted breads, you don't have to wait for soda bread to fully cool before devouring. In fact, it's best when it's hot out of the oven with butter melted on top.
What to Eat with Soda Bread
Here are some of my favourite ways to eat Irish soda bread:
Recipe Card
Did you make this recipe? Please consider leaving a rating below to let me know how you liked it.
You can also take a picture and tag me on Instagram @earthtoveg, I will shout you out in my Stories!
Whole Wheat Irish Soda Bread
Servings:
12
slices (1 boule)
This barebones Irish soda bread recipe is vegan-friendly and uses mostly pantry ingredients. Throw in some optional fennel seeds to add a pop of flavour.
Print Recipe
Use Imperial/Metric buttons below to toggle between volume vs weight measurements. I recommend weighing out your ingredients for best results.
Equipment
Medium mixing bowl

Fork

Oven
Ingredients
2

cups

whole wheat flour

260g

¾

tsp

baking soda

5g

½

tsp

table salt or 3/4 tsp kosher salt

3g

1

tbsp

whole fennel seeds

6g *optional

1

cup

Homemade Soy Milk

240g *can sub with any milk of your choice

1

tbsp

white vinegar or apple cider vinegar

15g
Instructions
In a medium bowl, combine flour, baking soda, salt, and fennel seeds with a fork.

Pour the vinegar and soy milk into the flour mixture. Mix thoroughly with fork. Don't overmix; the dough should be quite lumpy.

Turn dough out onto a clean working surface dusted with flour. Pat dough into a rough rectangular shape, then fold one side over the other to form a square. Pat into a round boule. (See step-by-step-process pictures.)

Bake at 375 °F, uncovered, for 35–40 minutes.

Break into the bread and serve while hot! Unlike yeast breads, you don't have to wait for soda bread to cool before eating.
Nutrition
Calories:
84
kcal
|
Carbohydrates:
16
g
|
Protein:
4
g
|
Fat:
1
g
|
Saturated Fat:
0.2
g
|
Polyunsaturated Fat:
1
g
|
Monounsaturated Fat:
0.2
g
|
Sodium:
212
mg
|
Potassium:
121
mg
|
Fiber:
3
g
|
Sugar:
0.3
g
|
Vitamin A:
3
IU
|
Vitamin C:
0.2
mg
|
Calcium:
19
mg
|
Iron:
1
mg
SEND FOOD PICS 📸
Tag @earthtoveg or leave a comment below if you tried this recipe. It makes my day. 😊