There's something undeniably comforting about grilled cheese. From the gooey melted cheese to the crispy, buttery bread, biting into an old-fashioned grilled cheese sandwich is just damn satisfying. Now, imagine taking that classic comfort food and adding tater tots in all their potatoey glory. That's the joy of Tater Tot Grilled Cheese*!
* Listen, I know this is technically a melt, but "tater tot melt" doesn't sound as appealing.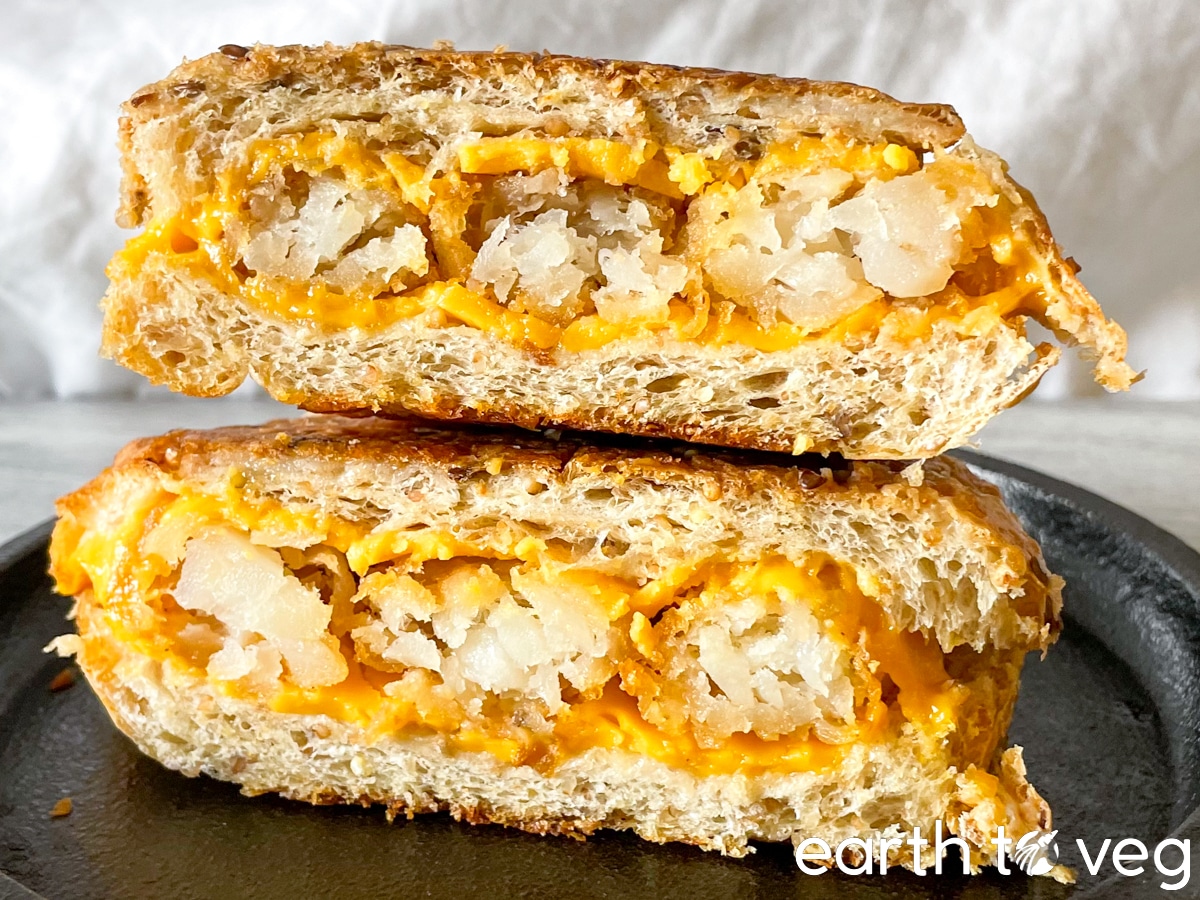 Fair Food at Home
What is the purpose of this recipe? Who asked for a tater tot grilled cheese to be brought into the world? I don't know the answer to those questions, but I do know this: I felt like a genius when I came up with this one.
I make grilled cheese pretty regularly, but more often than not I turn them into melts to use up odds and ends in my fridge. When I ended up with a bounty of leftover tater tots after a restaurant meal, I tossed some of them into my grilled cheese sandwich. SO GOOD! Not only do tater tots add an extra dimension of texture and flavor to the sandwich, but they also bring a sense of nostalgia. This classic side dish stirs up memories of school lunches and family dinners. After all, who doesn't love deep-fried potato??
This tater tot melt is quick, minimal, and delicious in an overpriced-fast-food-I-bought-at-the-festival kind of way. Except when you make it at home, it's actually pretty inexpensive.
It really does seem like something you'd see at the State Fair or your local food festival. Comfort food with a twist!
Grilled Cheese vs Melt
What is the difference between a grilled cheese and a melt? People on the internet tend to get militant about this controversial topic. If you're ever in the mood for a public shaming, simply post a sandwich on /r/grilledcheese that contains more than just butter, bread, and cheese.
Here's the distinction:
A grilled cheese has a strict definition of cheese melted between slices of bread.
A melt can refer to any sandwich as long as it contains melted cheese.
If your grilled cheese has anything, anything at all, beyond bread, cheese, and some sort of fatty spread—it's transcended the world of grilled cheese into melt territory.
Now you may think my choice to name this sandwich a "tater tot grilled cheese melt" is an invitation to chaos. My only defense is that I'm trying to please the SEO gods here. If someone out there is looking up "tater tot grilled cheese" chances are what they really mean instead is "tater tot melt."
That's all.
What You'll Need
Bread. Here's an opportunity to use up stale bread! Between the butter and the melted cheese, you won't even notice it's stale. You can use any sliced bread you like, although I'm partial to my homemade sandwich loaf. Another option is to use a Kaiser roll sliced in half, like I'm doing in the picture below.
Tater tots. This is a perfect way to revitalize leftover tater tots that you might have brought back after a restaurant meal. You can also use homemade or frozen tater tots; make sure to cook them before starting this recipe.
Cheese. Two slices of cheese is the perfect amount—not overwhelmingly cheesy and doesn't create a mess, but still nice and gooey and encases the tater tots perfectly. I made my tater tot sandwich with Parmela Creamery Plant-Based Sharp Cheddar. This stuff is sooo good; hands down the best vegan cheese brand I've ever tasted. (Not sponsored but I wish I was.) But any sliced cheese works here, so use whatever you have.
Butter. I prefer Earth Balance brand butter when making grilled cheese, love it for its nutty flavour. But some people swear by mayo, which is okay too. In a pinch you can even use margarine. The key is to butter the bread, not the pan, as this improves browning and reduces the risk of the butter burning.
Water. It's very important to add water, as steam is essential to melting the cheese (especially if using vegan cheese). Don't worry—if you use the amount specified in the recipe, you will not end up with soggy bread. It will all have evaporated by the end of cooking, leaving the outside of the grilled cheese nice and toasty.
More Comfort Food Recipes
Recipe Card
Did you make this recipe? Please consider leaving a rating below to let me know how you liked it.
You can also take a picture and tag me on Instagram @earthtoveg, I will shout you out in my Stories!
Tater Tot Grilled Cheese Melt
Ready for a twist on a classic comfort food? The tater tot grilled cheese melt combines crispy tater tots with the melty, gooey goodness of grilled cheese.
Print Recipe
Use Imperial/Metric buttons below to toggle between volume vs weight measurements. I recommend weighing out your ingredients for best results.
Ingredients
2

slices

Sandwich Bread

*can sub with a Kaiser roll sliced in half

1

tbsp

butter or mayo

9

tater tots

2

slices

vegan cheese

2

tbsp

water
Instructions
Preheat a small cast iron skillet on medium-low heat while you assemble the ingredients.

Butter one side of each slice of bread. Set one slice of bread butter-side-down on the skillet. Layer a slice of cheese on top, then arrange the tater tots over top, then layer with another slice of cheese, and finally cover with the second piece of buttered bread.

Splash 1 tbsp of water onto the skillet to create some steam (this is essential to melt the cheese). Cover with a lid.

Cook until the water has evaporated away, and the bottom slice of bread has been toasted to your liking (5 minutes for me).

Firmly press down on the sandwich with a spatula to somewhat flatten the tater tots. Carefully flip the sandwich over. Add another 1 tbsp of water and cover for another 4–5 minutes.

If you like a darker toast, you can flip and grill both sides again until they have reached your desired colour.
Nutrition
Calories:
510
kcal
|
Carbohydrates:
55
g
|
Protein:
8
g
|
Fat:
28
g
|
Saturated Fat:
7
g
|
Polyunsaturated Fat:
6
g
|
Monounsaturated Fat:
8
g
|
Trans Fat:
0.02
g
|
Sodium:
1100
mg
|
Potassium:
233
mg
|
Fiber:
4
g
|
Sugar:
3
g
|
Vitamin A:
540
IU
|
Vitamin C:
4
mg
|
Calcium:
169
mg
|
Iron:
3
mg
SEND FOOD PICS 📸
Tag @earthtoveg or leave a comment below if you tried this recipe. It makes my day. 😊