Serve a wholesome homemade Coconut Milk Pumpkin Pie for Thanksgiving. Made from scratch using canned pumpkin puree and coconut milk, this pumpkin pie filling is nice and simple. Vegan, dairy-free, no oil, no weird ingredients. Just pure pumpkin goodness!
History & Origins
Although pie originated in the Old World (it dates back to Ancient Greece), pumpkin pie has American roots. That's because pumpkins are native to North America.
When explorers brought pumpkins back to Europe in the 17th century, England produced the first variant of pumpkin pie. This pie used whole slices of pumpkin layered with apples, spices, and sugar; basically a regular apple pie with some pumpkin throw in.
In 1651, Francois Pierre la Varenne, a French chef, published a cookbook containing a recipe for "tourte of pumpkin" which involved a creamy pumpkin puree in a pastry shell:
Boile [pumpkin] with good milk, pass it through a straining pan very thick, and mix it with sugar, butter, a little salt and if you will, a few stamped almonds; let all be very thin. Put it in your sheet of paste; bake it. After it is baked, besprinkle it with sugar and serve.

Francois Pierre la Varenne, Le Vrai Cuisinier Francois (translated from the French)
But the familiar pumpkin pie we know today—with a thick, rich filling and plenty of spice—was first documented in a cookbook called American Cookery by Amelia Simmons. This was the first all-American cookbook, written in America by an American, and it included two "pompkin" recipes:
No. 1. One quart [pumpkin] stewed and strained, 3 pints cream, 9 beaten eggs, sugar, mace, nutmeg and ginger, laid into paste … and with a dough spur, cross and chequer it, and baked in dishes three quarters of an hour. No. 2. One quart of milk, 1 pint pompkin, 4 eggs, molasses, allspice and ginger in a crust, bake 1 hour.

Amelia Simmons, American Cookery
It is also believed that the Pilgrims were gifted pumpkins by the native Wampanoag tribe they encountered at Plymouth Colony. A crustless version of pumpkin pie, baked right in the hollowed out pumpkin shell, was served at the first Thanksgiving dinner in 1621.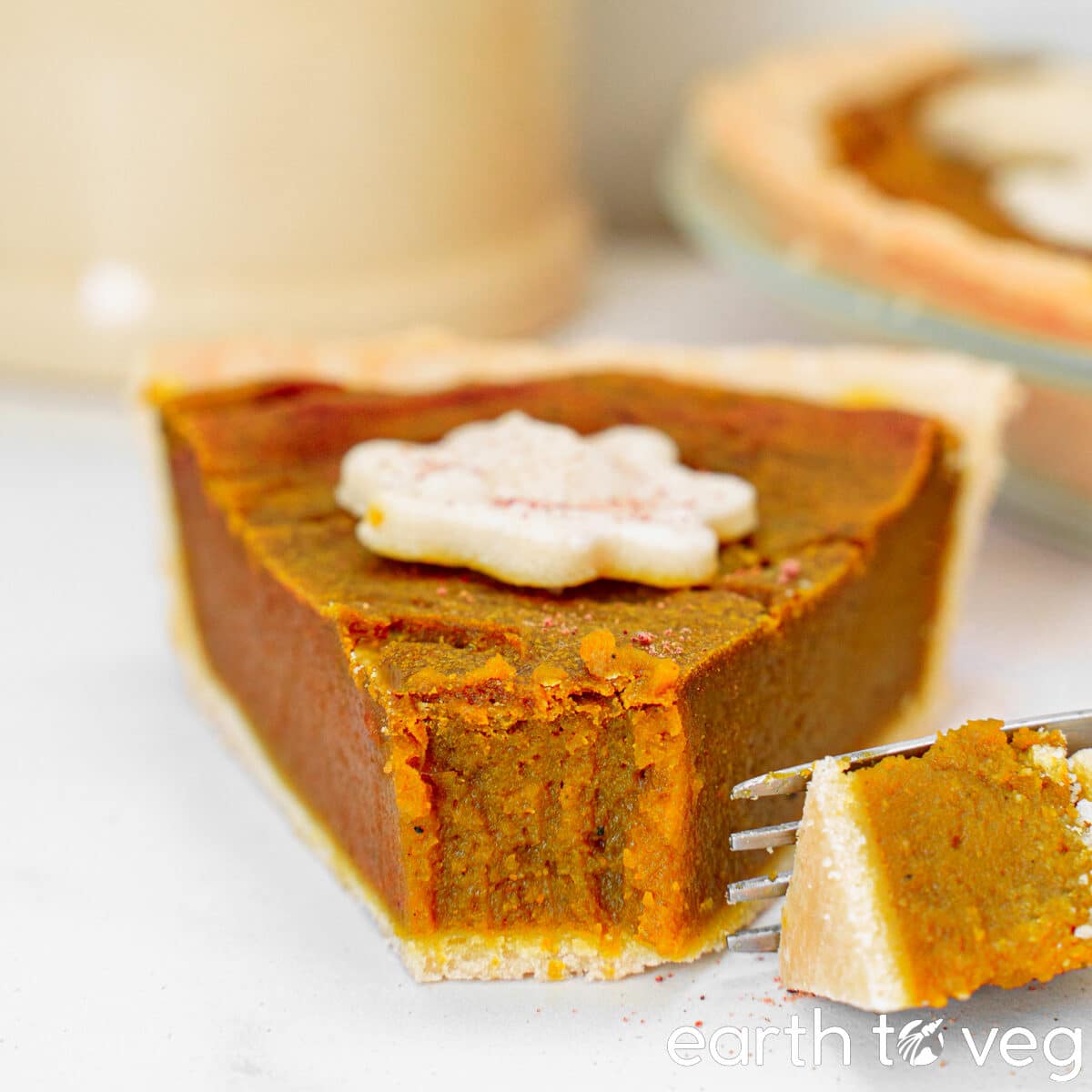 Step-by-Step Process
Here are the 6 steps to make this dairy-free coconut milk pumpkin pie:
Step 1: First, you'll need an unbaked pie crust. (No need to blind-bake for this recipe.) Use my Stand Mixer Pie Crust, or a storebought pie shell.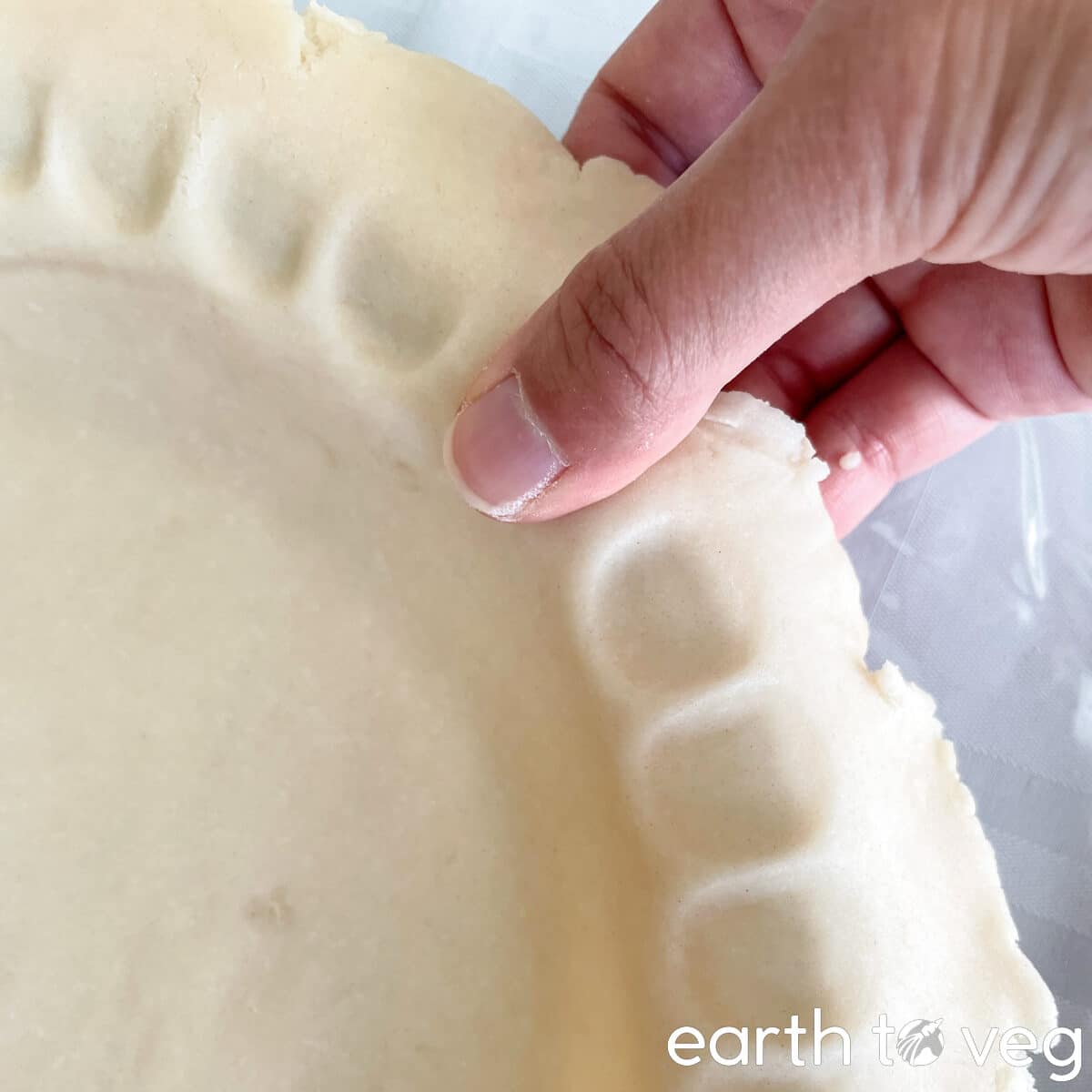 Step 2: If using homemade pie crust dough, roll it out over your pie pan and use a thumb or a fork to dimple the edges.
Note: If using storebought, make sure to read the ingredients carefully because many vegetarian pie crusts still contain dairy like milk or whey powder.
Step 3: Refrigerate the prepared pie crust while you work on the pie filling. Meanwhile, preheat your oven to 350 °F.
Step 4: Add pumpkin puree, sugar, coconut milk, cornstarch, pumpkin pie spice, and salt to a blender. Blend until super smooth.
Tip: The mixture is thick and prone to cavitation (forming air bubbles around the blender blades), so you might have to stop the blender and stir a few times to get it going again. If your blender comes with a tamper (eg. Vitamix), that will come in very handy.
Step 5: Pour the mixture it into the pie crust. Smooth out the filling with the back of a wooden spoon or spatula.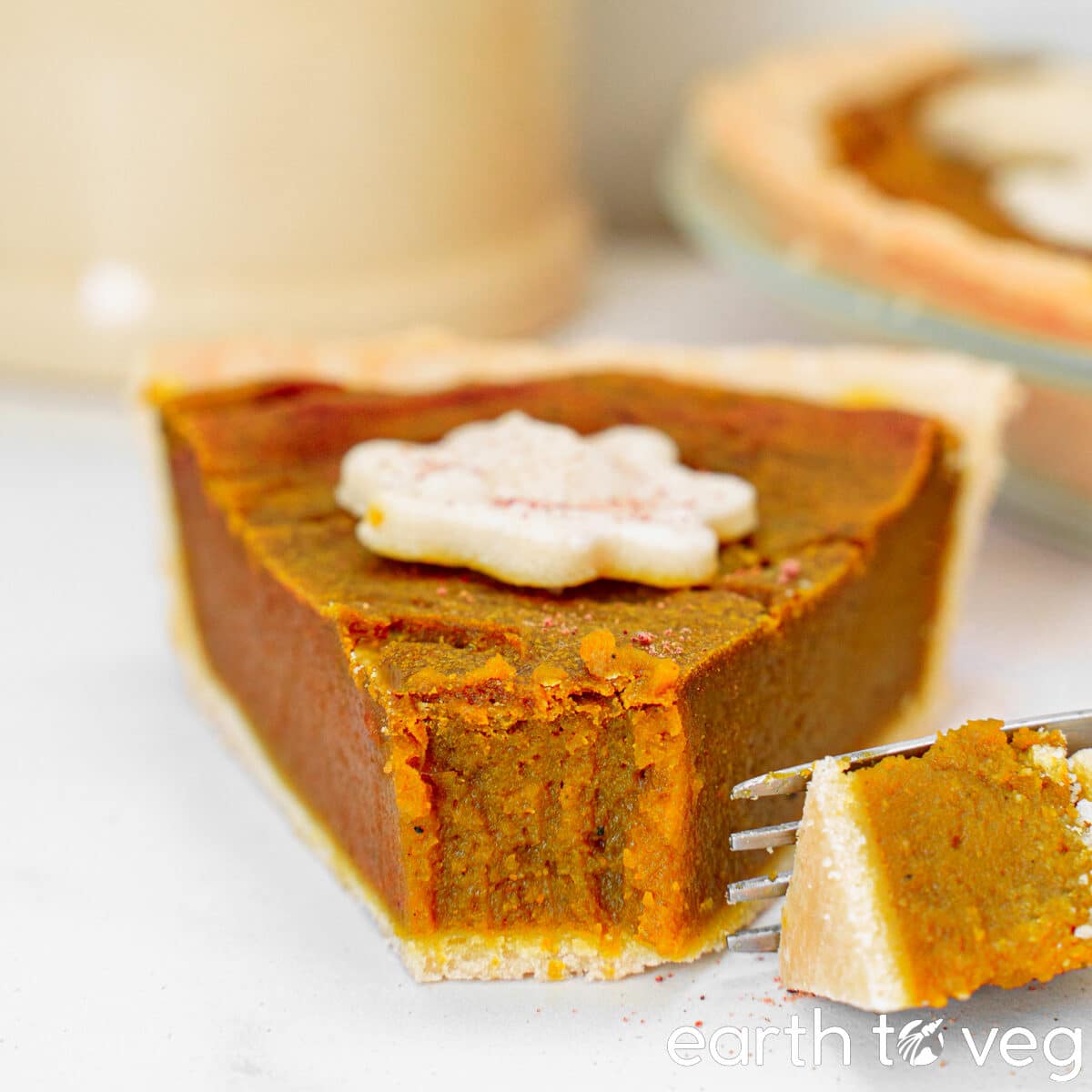 Step 6: Bake on the middle rack for 45 minutes. Turn off the oven and let the pie cool inside for 15 minutes before taking out it. Cool to room temperature on the counter, then chill fully in the refrigerator.
The recipe makes enough for a 9-inch pie, but the beauty of this egg-free pumpkin pie filling is that it's totally safe to eat unbaked. So if your pie pan is a little smaller, just fill it up and then eat the remaining bit of pie filling with a spoon! Or put it in oatmeal, or blend it into a smoothie, or add it to your next batch of bread… whatever you want, really. It's delicious.
Variations
Mini Crustless Pies: You can turn this recipe into single-serving crustless pumpkin pies! This is a super quick and easy alternative if you don't have a pie crust ready. If you've got some small ramekins or cocottes, you can fill them with the pie filling. (A brie baking dish would also do the job.) My ramekins are 3-inch diameter which are perfect for baking 6 mini pies. I baked them for 30 minutes, left in the oven to cool fully, then dusted them over with some powdered sugar.
Haupia Topping: In Hawaii, a popular dessert is topping slices of pie with Haupia Pudding. Usually, the pie in question is purple sweet potato pie, but it pairs beautifully with pumpkin pie too.
Other Topping Ideas: Sift a light layer of powdered sugar over the pie before slicing. Or, cover with Toasted Coconut Shreds. This also helps to hide any cracks in the pie filling!
Make Ahead & Storage Tips
Make Ahead: Pie filling can be made separately one day beforehand and stored in the refrigerator. The pie can also be fully assembled up to right before the baking stage, then frozen for up to three months. To bake, thaw in the fridge overnight (at least 10 hours) then bake as usual. You may need to add an additional 5–10 minutes of baking time.
Fridge: Vegan pumpkin pie should be kept in the fridge because coconut milk spoils at room temperature. Also, because pumpkin pie simply tastes better cold! It can be refrigerated for up to 5 days.
Freezer: Pumpkin pie freezes very well. I recommend slicing it before freezing so you only need to thaw a portion at a time. Defrost in the fridge overnight before eating. No reheating needed.
Recipe FAQs
Can I substitute cooked squash for canned pumpkin puree?
I don't recommend substituting cooked fresh squash or homemade pumpkin puree. Commercially canned pumpkin puree gives consistent results. Fresh squash varies in moisture and starch content, depending on the breed of squash, the age, its growing environment, and other factors. Your pie filling may turn out too dry and dense, or on the other end you could end up with a runny pie. If you would like to attempt this substitution, please proceed at your own risk.
How do I prevent my pie from cracking?
Pumpkin pies crack due to a variety of reasons: baking too long, oven was too hot, filling mixture was too dry, cooling down too fast, etc. The surface of the pie dries out and shrinks as it cools, leading to cracking. One safeguard against cracking is to let the pie cool in the oven. When the 45 minutes of baking is up, turn off the oven but don't take the pie out. Let it cool slowly in the oven, then leave it on the counter to reach room temperature, and finally put it in the fridge to chill fully. This usually prevents cracks in my experience. But if your pie still cracks? Well, coconut whipped cream, a dusting of Toasted Coconut, or some artfully-placed leftover pie crust cut-outs can cover all manner of sins.
More Thanksgiving Recipes
Recipe Card
Did you make this recipe? Please consider leaving a rating below to let me know how you liked it.
You can also take a picture and tag me on Instagram @earthtoveg, I will shout you out in my Stories!
Coconut Milk Pumpkin Pie
This silky smooth coconut milk pumpkin pie comes together in a blender and is dairy-free, soy-free, and vegan. Just pure pumpkin goodness.
Print Recipe
Use Imperial/Metric buttons below to toggle between volume vs weight measurements. I recommend weighing out your ingredients for best results.
Equipment
Blender

Oven

9-inch pie pan
Ingredients
1

recipe

Homemade Pie Crust

or you can use a storebought pie shell

½

can

pumpkin puree

½

cup

brown sugar

½

can

coconut milk

see Note 1

3

tbsp

cornstarch

2

tsp

pumpkin spice

*optional; see Note 2 for homemade recipe

½

tsp

table salt or 3/4 tsp kosher salt
Instructions
Preheat oven to 350 °F (180 °C).

Roll out the pie crust onto a 9-inch pie pan and set aside in the fridge while you prepare the filling.

Add pie filling ingredients (pumpkin puree, sugar, coconut milk, cornstarch, pumpkin spice, salt) to a blender.

Blend on high speed until smooth. The mixture is thick so you may have to stop the blender and stir it a few times to get it fully blended.

Bake 45 minutes at 350 °F (180 °C) on the middle rack. Turn off the oven and leave pie inside for an additional 15 minutes.

Let cool completely in the fridge before slicing.
Notes
Use a full-fat coconut milk, the type that comes in a can, not the ones used for drinking.
The following spice mix makes 2 tsp of pumpkin spice, just enough for this recipe. Adapted from Understanding Food by Amy Brown:

1 teaspoon ground cinnamon
1/2 tsp ground nutmeg
1/4 tsp ground cardamom
1/8 tsp ground allspice
1/8 tsp ground ginger
Nutrition
Calories:
306
kcal
|
Carbohydrates:
37
g
|
Protein:
3
g
|
Fat:
17
g
|
Saturated Fat:
8
g
|
Polyunsaturated Fat:
3
g
|
Monounsaturated Fat:
5
g
|
Trans Fat:
2
g
|
Sodium:
301
mg
|
Potassium:
229
mg
|
Fiber:
1
g
|
Sugar:
14
g
|
Vitamin A:
514
IU
|
Vitamin C:
5
mg
|
Calcium:
32
mg
|
Iron:
2
mg
SEND FOOD PICS 📸
Tag @earthtoveg or leave a comment below if you tried this recipe. It makes my day. 😊