This super simple Vegan Cauliflower Cheese Bake tastes like a lazy mac 'n' cheese, but with a fraction of the calories and carbs. Seriously, the cauliflower is so tender it will melt in your mouth. SO GOOD. This recipe was originally developed using regular dairy milk and cheddar cheese, and I've since adapted it to use soy milk and vegan cheeze. And guess what? It is as creamy, comforting, and delicious as ever.
What You'll Need
Cauliflower is the star of this creamy comfort meal. The key is to steam it so it becomes super tender, before putting in the oven. It will melt in your mouth, and really reminds me of eating mac 'n' cheese.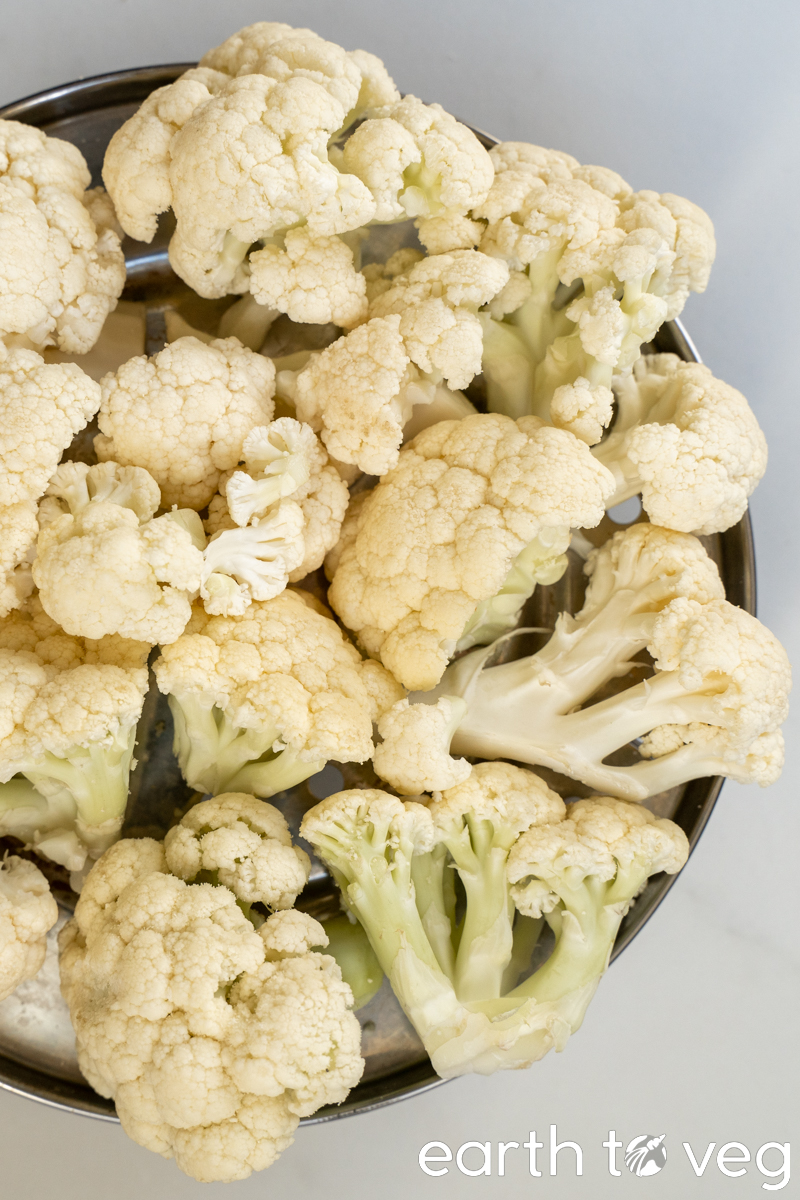 Vegan butter and all purpose flour are mixed together on low heat to create a roux which thickens the cheeze sauce. You can also use oil instead of butter in a pinch. For gluten-free, use tapioca starch, cornstarch, or rice flour instead of the all purpose flour.
I use soy milk for making the "cheeze sauce" but you can sub with any milk of your choice. For the love of all is holy please make sure to use an unflavoured variety. Vanilla-flavoured cheezy cauliflower? Straight to jail.
Shredded vegan cheeze can be found at most grocery stores these days. I've made this with Daiya and Violife brand cheddar-style shreds. I personally prefer Daiya but I know some people hate the smell lol. These vegan cheeses don't melt quite as readily as regular cheese, so don't worry if your sauce still has little cheese lumps when you pour it over the cauliflower. As you can see in the video demo, some lumps are fine as long as the sauce has thickened.
Finally, for optional toppings you can add some panko breadcrumbs or vegan grated parm.
Another optional ingredient (included in video below) is veggie soy roll which bulks up this casserole with some extra protein. The stuff tastes so much like ham but is vegan! You can also use diced okara sausage or another vegan sausage of your choice. Again, totally optional. I only add it if I have it on hand already.
Make Ahead & Storage Tips
This dish reheats wonderfully. To store, let cool to room temp after baking and cover before putting in the fridge. Reheat in the microwave or oven.
I haven't tried freezing this yet (it never lasts that long). Not sure if the sauce will stand up to freezing and defrosting properly, but let me know how it turns out if you try it.
Flavour Variations (Switch It Up!)
After posting this on Reddit, so many commenters had suggestions on how to go even further with the basic vegan cauliflower cheese recipe. Here are some great ideas:
"a dash of dried mustard and smoked paprika" – /u/drainage_holes
"garlic, a little Dijon, thyme, and a pinch of cayenne" – /u/kabneenan
"get a smoked cheese. I made something similar with a smoked cheddar, it was AMAZING!" – /u/cakeilikecake
"When you melt the butter, just saute some onion in there before you add the flour to really make the flavor out of this world. I do this with my Potatoes Au Gratin which is basically the same sauce." /u/thx1337
Mix in some sliced cremini mushrooms to bulk it up and add more veggies.
For even more savoury flavour, throw in a handful of bacon bits (most brands are vegan, but double check before you buy).
Diet Substitutions
If you're following a specific diet or need to be aware of allergies, here are a few ways you can modify this recipe:
To Make Keto
"We just leave out [the flour]." – /u/Shadopamine
"I use a mixture of melted cream cheese, sour cream, and a dash of mustard powder. Then I sprinkle a little grating of strong cheese on top for browning. It's a little more calorie dense, but very nice." – /u/AceBinliner
To Make Gluten-Free
"I use rice flour- brown or white, fine ground." – /u/swampjuicesheila
"If you are gluten free, you can use tapioca flour instead, and it works great. I use it all the time, in sauces, gravy, etc. You will need to experiment with the amount you use, but you will get the hang of it quickly." – /u/omg_pwnies
If you made this recipe with a successful substitution, please let me know! Post a comment describing what you did so I can add it to this section and help future readers. (Leave your name blank if you don't want to be credited.)
Recipe Card
Did you make this recipe? Please consider leaving a rating below to let me know how you liked it.
You can also take a picture and tag me on Instagram @earthtoveg, I will shout you out in my Stories!
Vegan Cauliflower Cheese Bake
This vegan cheesy cauliflower bake is healthier than it tastes. You won't have to feel guilty coming back for seconds! It's perfect as a main course or a side.
Print Recipe
Use Imperial/Metric buttons below to toggle between volume vs weight measurements. I recommend weighing out your ingredients for best results.
Ingredients
1

medium head cauliflower

2

tbsp

vegan butter or margarine

*can sub with

20

g oil

1

tbsp

flour

⅔

cup

Homemade Soy Milk

*can sub with milk of your choice

1

cup

shredded vegan cheese

Black pepper, panko breadcrumbs, and vegan parmesan

*optional
Instructions
Break cauliflower into florets. Steam until fork-tender (20 minutes on stove top, or 2 minutes in the Instant Pot on "Steam" function, quick release).

While you let the cauliflower cool, preheat oven to 375 °F (190 °C).

Whisk together butter and flour in a small saucepan on medium heat.

When thoroughly mixed into a smooth paste, add soy milk and turn heat down to low. Whisk frequently until slightly thickened.

Stir in two-thirds (

75

g) of the vegan cheese and turn off the heat. Stir until sauce is thick and gloopy (see Note 1).

When cauliflower is cool enough to handle, nestle the florets into a baking dish. Optional: you can also add half a cup of your favourite vegan sausage at this point.

Pour the cheesy sauce evenly over the cauliflower. Sprinkle remaining cheese (

40

g) on top.

Optional: top with black pepper, breadcrumbs, and/or vegan parm if you'd like.

Bake at 375 °F (190 °C) on the second-to-top oven rack for 25 minutes.
Notes
See video for example of the proper consistency of the sauce. It's okay if there are some lumpy bits of cheese still in the sauce; vegan cheeze is slower to melt so it's likely that your sauce will thicken before the cheeze is fully melted.
Nutrition
Calories:
187
kcal
|
Carbohydrates:
17
g
|
Protein:
5
g
|
Fat:
11
g
|
Saturated Fat:
4
g
|
Polyunsaturated Fat:
2
g
|
Monounsaturated Fat:
2
g
|
Trans Fat:
0.03
g
|
Sodium:
369
mg
|
Potassium:
482
mg
|
Fiber:
4
g
|
Sugar:
3
g
|
Vitamin A:
239
IU
|
Vitamin C:
67
mg
|
Calcium:
61
mg
|
Iron:
2
mg
SEND FOOD PICS 📸
Tag @earthtoveg or leave a comment below if you tried this recipe. It makes my day. 😊