These Vegan Slice and Bake Cookies are inspired by Pillsbury's classic cookie dough logs. They're the perfect prep-ahead cookie: simply pull them from your freezer whenever you want to bake up a fresh batch of cookies. A cross between a shortbread and sugar cookie, they make a beautiful dessert for any holiday potluck and are sturdy enough for cookie boxes too. Best of all, you can customize them with your own colours and flavours!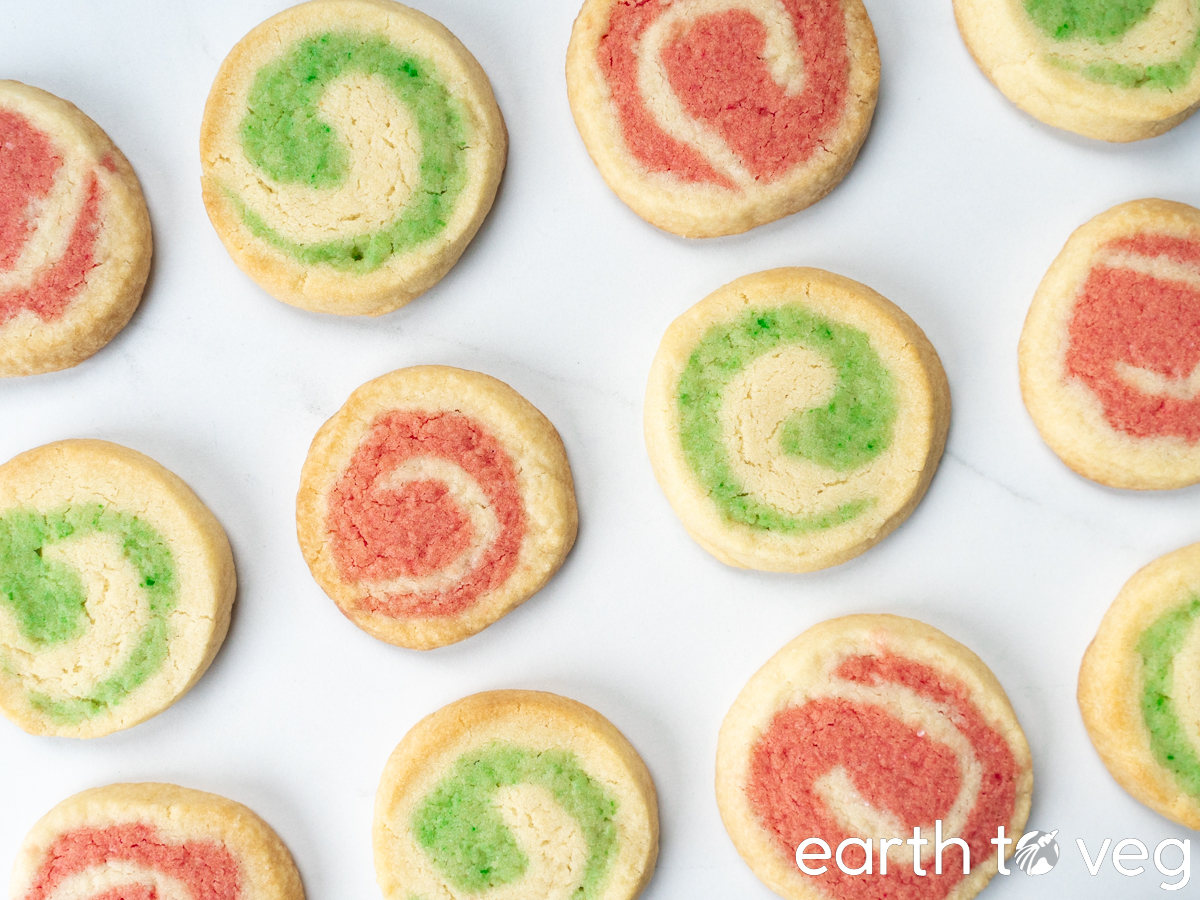 History
The cookie world is diverse. There are drop cookies, there are rolled cookies, piped cookies, pressed cookies… and then there are icebox cookies. Also known as refrigerator cookies.
Origin of the Icebox Cookie
Icebox cookies have been a mainstay across North America for nearly a century, but I first learned about them reading through the archives of the We Energies Cookie Book. A recipe for "Fig Ice Box Cookies" is listed in the very first issue printed in 1932.
So what are icebox cookies? This can refer to any cookie that needs to be chilled before baking. Mix together the dough, pack it into a log shape, then let it firm up in the fridge before slicing and baking. They quickly gained popularity after refrigerators became a common household appliance in the 1930's. Before that, these cookies had to be chilled in "ice boxes" which, as the name suggests, were insulated boxes filled with ice to keep food cold. Not unlike our modern coolers.
Starting with the 1941 edition of the We Energies Cookie Book, the ice box cookies were renamed "refrigerator cookies," perhaps signalling the mass changeover from using ice boxes to refrigerators in American households. I'm still sad about it, tbh. Ice box cookies sound so much more nostalgic!
Enter Pillsbury
Pillsbury entered the icebox cookie game with the introduction of commercial cookie dough tubes in 1957. They started off with plain cookie dough, but as time went on, they began adding colourful shapes to the dough which were revealed when sliced. Now there are dozens of slice and bake cookie patterns you can pick up for any holiday season.
I have a very specific childhood memory of baking Easter Bunny shape cookies with my parents when we first moved to Canada. I remember being so taken in by those cute designs. But although they were fun to eat, they aren't vegan because they contain eggs. I wanted to create a homemade version that you can feel good about eating because they contain absolutely no animal products.
Veganizing the Slice & Bake Cookie
I released the first iteration of this vegan icebox cookie recipe in 2019. Since then, I've tested them several times using different ingredients, and have rewritten the instructions to make them even more foolproof.
I'm happy to say, these taste even more buttery and rich than the storebought cookies, even though they're made with simple, affordable ingredients. Better yet, you can customize them to your heart's content. You can check out some customization ideas below to see how I used this recipe to make matcha cookies, rum cookies, "toy block" cookies, and more.
Another perk? These slice and bake cookies not only look adorable, but they can be stored in the freezer and baked right away whenever you need them. With the swirl pattern, they look like they take a lot of work, but actually are so easy to make! They're are also great to put in a cookie box for giving away.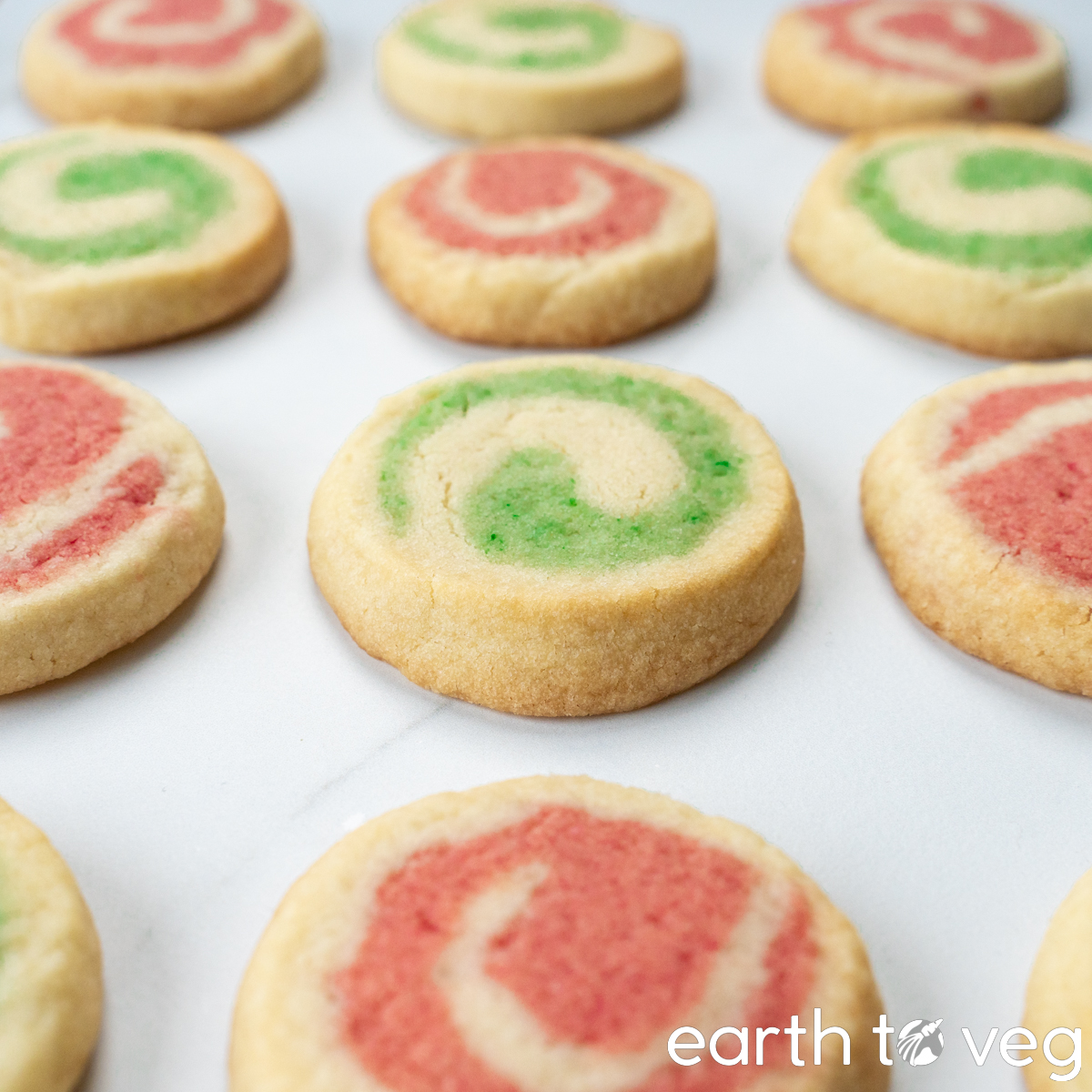 Shortbread vs Sugar Cookies
These cookies are a cross between "true" shortbread and a sugar cookie.
Traditional shortbread cookies consist of the three primary ingredients in a 1-2-3 ratio (by weight):
1 part sugar
2 parts butter
3 parts flour
The definition for sugar cookies is more loose. But they usually have, well, more sugar (and flour).
In comparison, this recipe uses the following ratios:
1 part sugar (130g)
1.75 part vegan butter (225g)
2.5 part flour (325g)
What You'll Need
Let's talk more about each of the ingredients that go into this recipe.
Sugar
You'll want to use powdered sugar (also known as confectioner's sugar or icing sugar) for the best results. Granulated sugar and even castor sugar are too coarse and will not dissolve fully into the butter, resulting in cookies with a cracked appearance. It doesn't affect the taste, though, so if you don't care too much about the aesthetics then you can use granulated sugar by all means.
If you have a blender, you can make DIY powdered sugar by blending regular granulated sugar until it turns into a fine powder.
I have also tried making these cookies with a zero-calorie sugar substitute (Truvia Sweet Complete Granulated All-Purpose Sweetener). The results were… weird. The first batch of cookies, baked for 15 minutes, looked perfectly normal, but tasted weirdly doughy and bland even though I used the same amount of sweetener (by weight) as I would for real sugar. I tried baking a second batch until they were browned, but although these weren't doughy anymore, they were more hard than crumbly. Anyway, what I'm saying is, the results were subpar and I wouldn't recommend substituting a sugar alternative in this recipe. Feel free to try it yourself and report back with your experience.
Vegan Butter or Margarine
If you're using a spreadable tub margarine, you can use it straight from the fridge. If you're using stick butter, let it soften slightly at room temperature to make it easier to cream. This cookie recipe works fantastic with all types of vegan butters and spreads. I use whatever is cheapest, usually one of the Becel plant-based spreads.
Note: many margarine brands contain dairy (usually milk powder or buttermilk powder). Check the ingredients label before you buy.
Flour
Pastry flour (also known as cake flour) or all purpose flour are the best choices for this recipe. Bread flour contains higher protein and is easier to overmix, resulting in tough cookies instead of tender ones.
Salt
This recipe uses a tiny pinch of salt. Go with table salt (or similarly fine salt) instead of kosher salt here.
If you're wondering why so many sweet recipes contain salt: a touch of salt brings out the other flavours. The difference is subtle, but if you were to taste two cookies side by side, with one containing salt and the other without, you would probably go for the one with a little salt in it.
Flavouring Extracts
Vanilla extract is the default in this recipe, since no one can hate on a plain vanilla cookie. You can play around with other flavours too. (Check out the Flavour Variations section for ideas.)
Rules of thumb:
If the flavouring is a liquid (eg. rum extract, peppermint extract): Don't use more than 2 tbsp, or else the liquid will cause your cookies to spread a lot.
If the flavouring is a powder (eg. cocoa powder, espresso powder, matcha): Don't use more than 3 tbsp, because the powder will dry your dough, causing it to become very stiff and you're more likely to overmix it.
Food Colouring
The bright swirl in the middle of these slice and bake cookies is created by good old food colouring. I use these food colouring vials which you can find in just about any Canadian grocery store.
Instead of an artificial food colouring, you can also use natural colourings such as ube extract, turmeric powder, but note that these will also impart a flavour in addition to their colour.
If you're not feeling swirls, you can also skip the food colouring entirely and make plain white cookies. These make great sugar cookies for post-bake decorating. Just let them cool down fully after baking, then pipe on decorations using vegan royal icing.
Step-by-Step Process
Step 1: Add your vegan butter/margarine and sugar to the bowl of your stand mixer. (You can also use a handheld electric mixer.)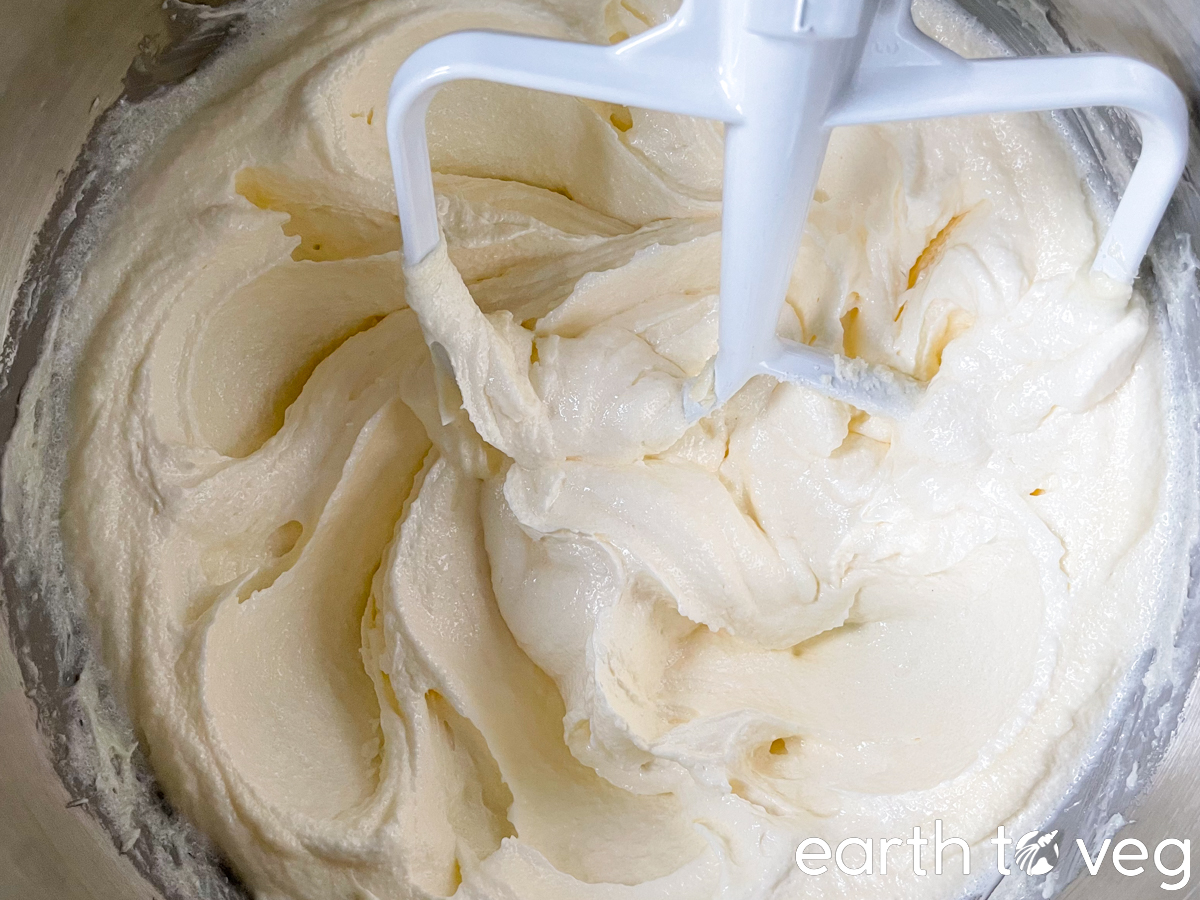 Step 2: Cream together on high speed for one minute. Scrape down the sides, then mix again for 30 seconds. The mixture should be pale and fluffy looking.
Step 3: Add flour, salt, and vanilla extract (or whatever flavouring extract you want). Mix together on low speed until everything is incorporated.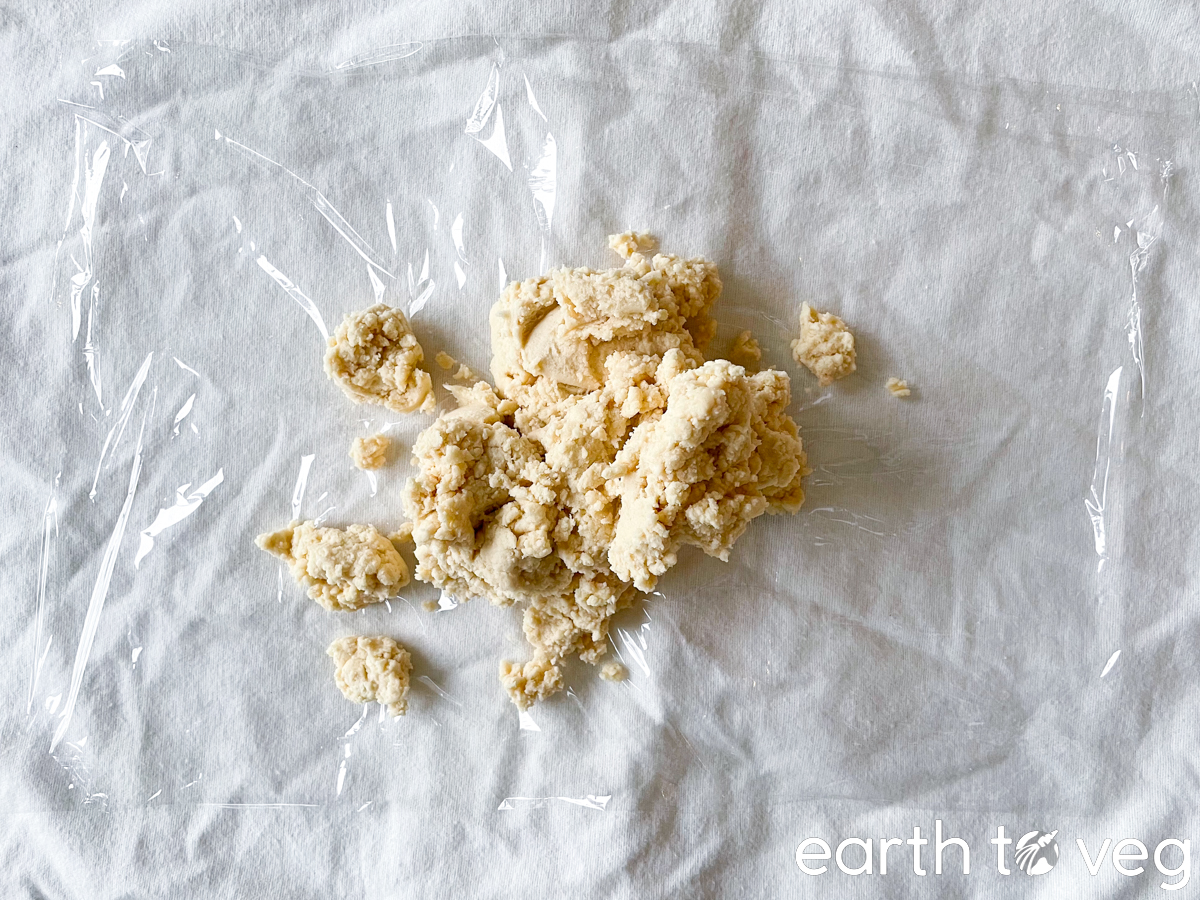 Step 4: Transfer roughly two-thirds of the cookie dough onto a piece of plastic wrap. (If you're using a scale, it should weigh around 400g.)
Step 5: Use a spoon or your fingers to pat the cookie dough evenly into flat rectangle. I busted out my tape measure to figure out the exact measurements (8×10 inches, if you're wondering), but there's definitely no need to be that precise lol. Any rectangular or even square shape will be fine. Your cookies might be a little bit smaller or larger than mine, and you might get more or less than 20 cookies exactly, but it's all good.
Step 6: Add food colouring to the remaining one-third of dough. Mix again until the colour has been thoroughly incorporated into the dough. (Or you can fold it in by hand using a rubber spatula.) Spread this coloured layer evenly onto the first layer of dough.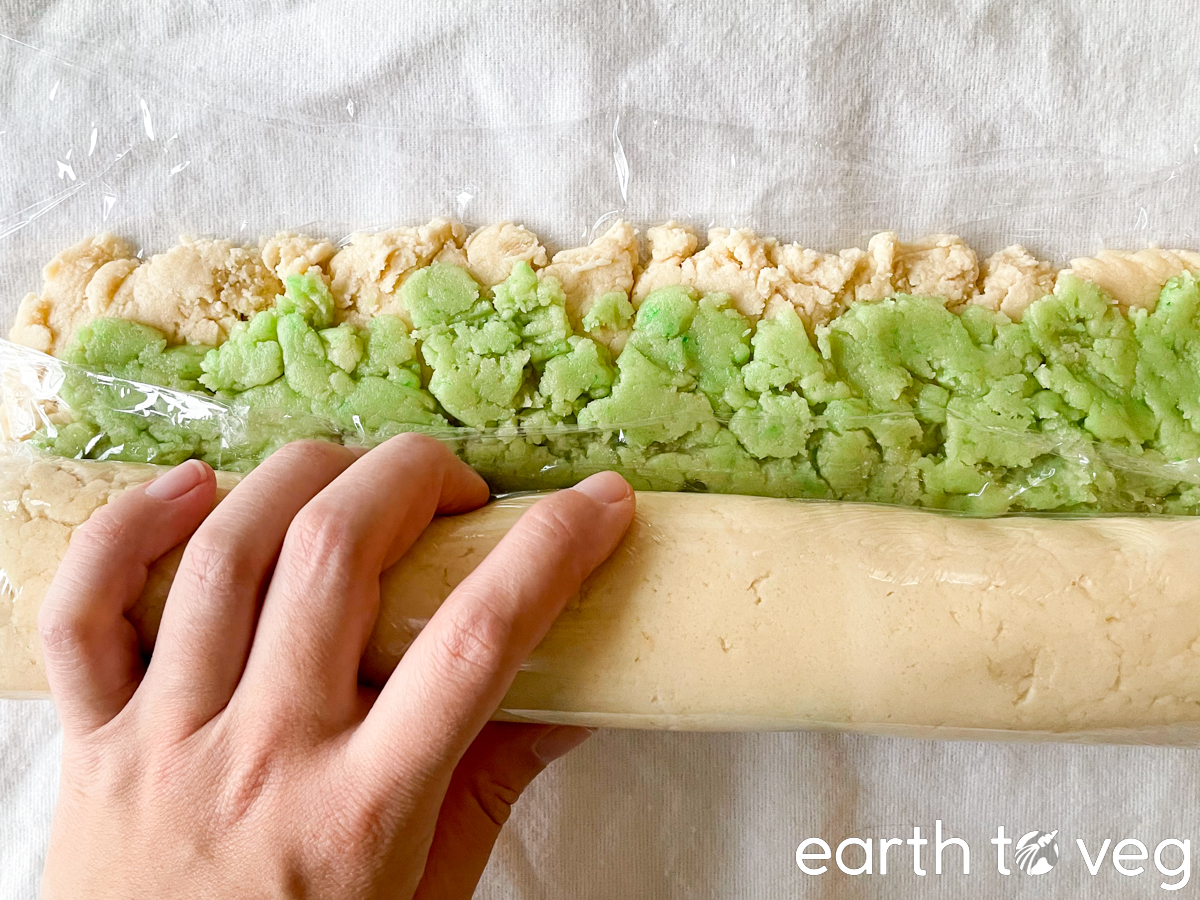 Step 7: Starting from one of the long edges of the rectangle, roll it up tightly into a log. You can use the plastic wrap to help roll without getting the dough stuck to your hands, but make sure not to actually roll up the plastic into the log.
Step 8: Now wrap the log with the plastic wrap and twist the two ends to secure it.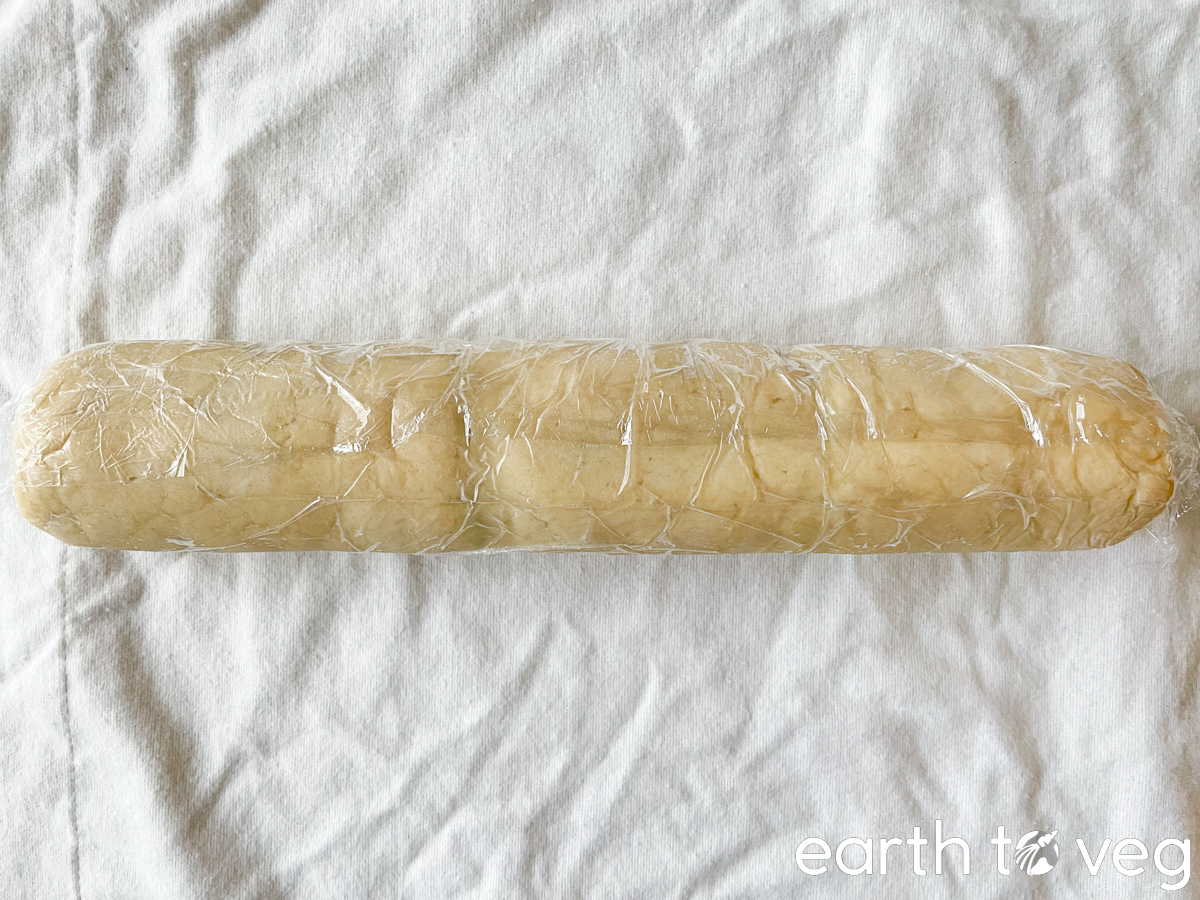 Step 9: Freeze until firm but not completely frozen. (Depending on freezer temperature and the type of butter, it could take anywhere between 1–4 hours.)
Step 10: Unwrap the cookie dough log and slice it into 1/2-inch cookies. If it crumbles under the knife, it's too frozen. Let it thaw for five minutes then try again. If your knife squishes the cookie flat, it's too soft, so put it back into the freezer for 10 minutes.
Step 11: Preheat your oven to 350 °F (175 °C) and arrange your cookies on a baking sheet lined with parchment paper. I've found that baking on aluminum foil or directly on the metal sheet will cause the bottoms to brown too quickly, so parchment paper is your best option. A silicon baking mat would likely work well too, but I don't have one so I haven't tried. Leave about a cookie's width of space between each cookie because they will spread while baking. If your oven takes a long time to preheat, I would stick the baking pan back into the fridge while you wait. These cookies are best baked from chilled.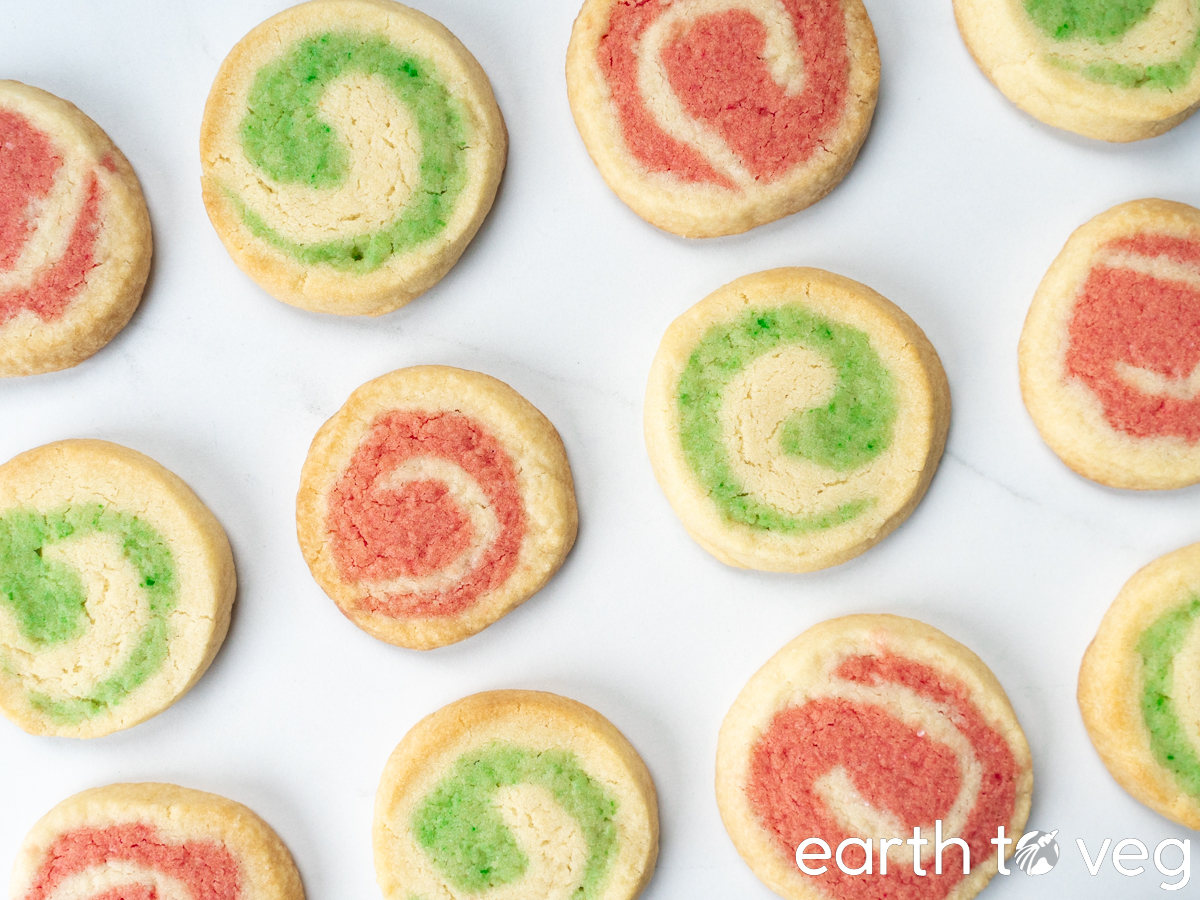 Step 12: Bake for 15–20 minutes. Go with the shorter 15 minute baking time if you want your cookies to be nice and pale with a little bit of softness in the center. Go with the longer 20 minutes for crispy cookies with browned edges. Note: I use a thermometer to make sure my oven temperature stays consistent. But we all know ovens can be finnicky, and your oven may run hotter or cooler than its stated temperature. So if you don't have an oven thermometer, take the 15–20 minutes as a guideline but check on them frequently towards the end of baking to ensure they're baked to your liking.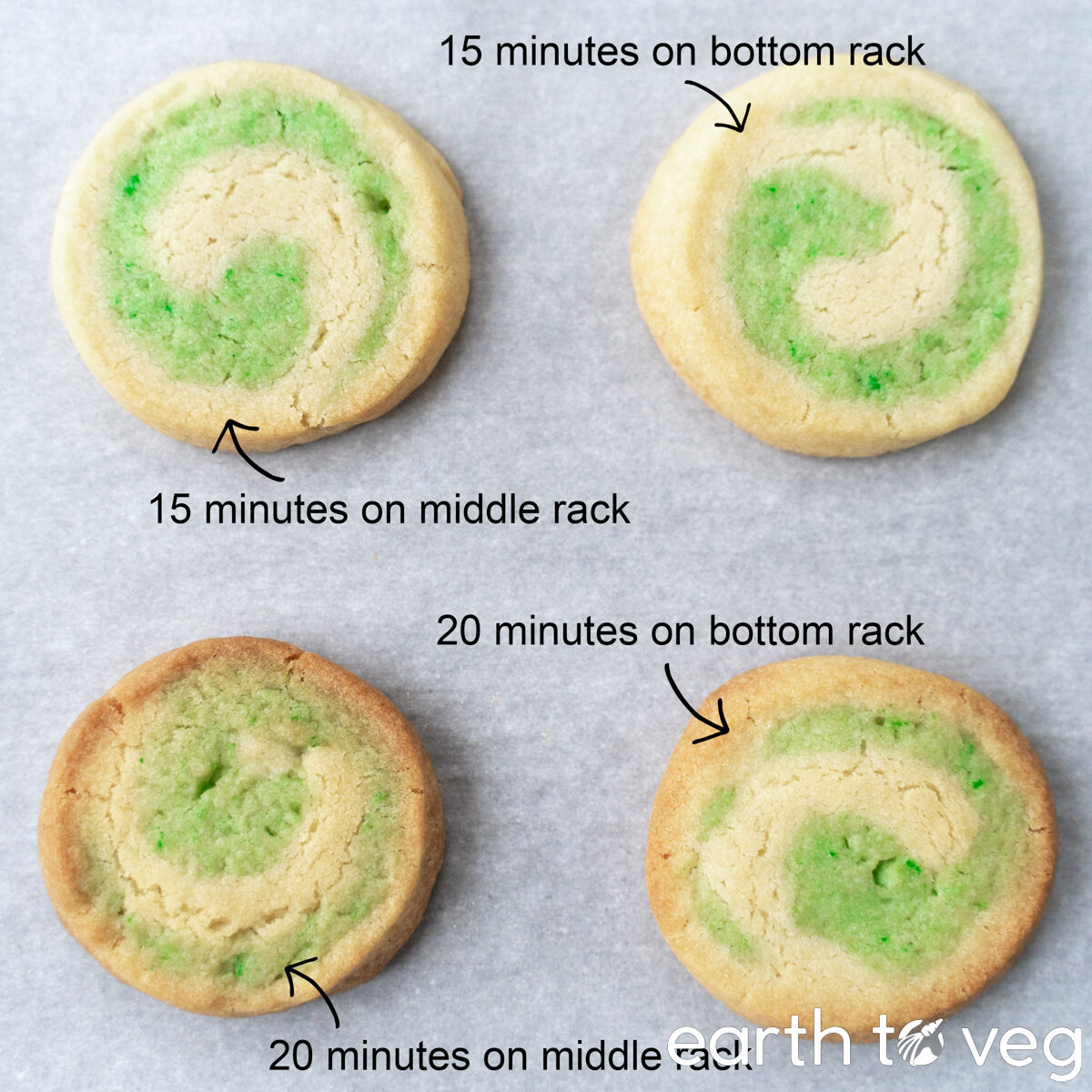 Once they're baked, let the cookies cool to room temperature on the baking sheet before eating or packing into gift boxes. They will be quite soft and delicate fresh out of the oven, but will firm up as they cool.
Make Ahead & Storage Tips
Theoretically, icebox cookie tubes can last pretty much forever as long as they're kept frozen. However, the taste of frozen food deteriorates over time. For fresh-tasting cookies, I recommend using up your frozen cookie dough logs within three months of making them. When you want to bake with them, let defrost slightly at room temperature (20–30 minutes) until you can slice the log without it crumbling.
Once baked, these cookies also last a long time at room temperature. They are made of stable ingredients so there's no need to refrigerate. Just keep them on your counter in a cookie jar or a container with a loose fitting lid. They taste best eaten within one week of baking, but I've stored them at room temp for three weeks with no issues.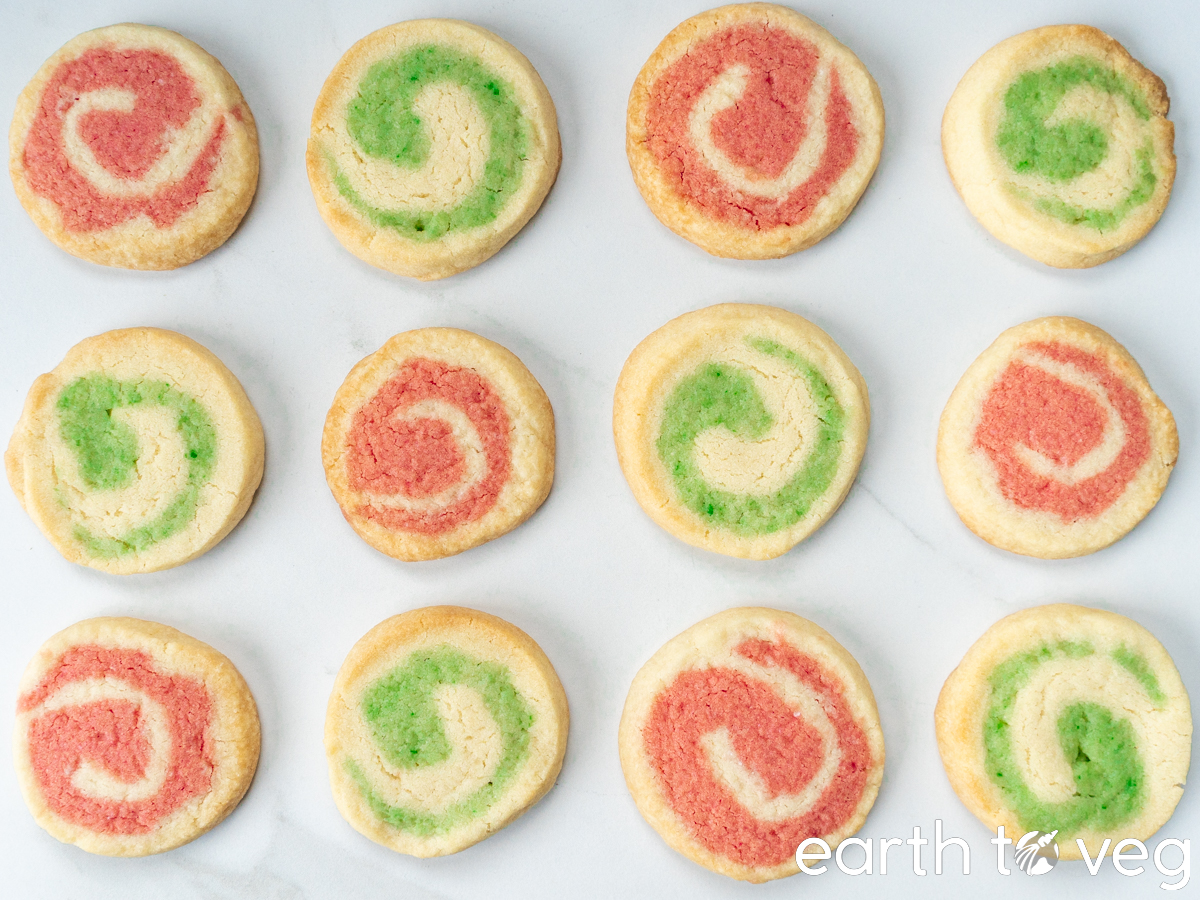 Flavour Variations
These are the combinations I've tried and had success with. Feel free to play around with your own flavouring extracts!
Brownie Swirl: In step 2, add 1 tsp of vanilla extract and 2 drops of red food colouring. In step 4, add 2 tbsp of cocoa powder.
Peppermint Swirl: In step 4, add 1 tbsp of peppermint extract and 5 drops of green food colouring. I love making these for the holidays; they remind me of eating candy canes.
Matcha Swirl: In step 4, add 1 tbsp of matcha powder and 3 drops of green food colouring. This one has to be my favourite, because I'm partial to all things matcha. 🙂
Rum Toy Block Cookies: These colourful cookies were inspired by Alina's icebox cookies on Season 5 of the Great Canadian Baking Show. They are made with 2 tbsp rum extract in the dough instead of vanilla extract. These are a bit of a departure from the simple swirl design, but they're not too hard to make. After mixing up the dough, divide it into 9 equal parts (75g each). Then colour 1 part pink, 2 parts orange, 1 part yellow, 2 parts green, 1 part blue, and 2 parts purple. Wrap each piece of dough in plastic wrap and chill until you can roll them into thin 10-inch long ropes. Then stack them together as shown below, wrap it up and chill again, then slice and bake!
If you made these vegan slice and bake cookies with a different flavour, I would love to hear about it in the comments!
Recipe Card
Vegan Slice & Bake Cookies
These vegan shortbread cookies are inspired by Pillsbury slice-and-bake cookies. Includes instructions for customizing with your own flavours!
Print Recipe
Use Imperial/Metric buttons below to toggle between volume vs weight measurements. I recommend weighing out your ingredients for best results.
Equipment
Electric mixer

(either a hand mixer or stand mixer works)
Ingredients
1

cup

vegan butter or margarine

1

cup

powdered sugar

2½

cups

pastry flour or all purpose flour

⅛

tsp

salt

1

tbsp

vanilla extract

or other flavouring *optional

few

drops

food colouring

*optional; see Note 1
Instructions
Cream margarine, sugar, and vanilla extract if using, with an electric mixer for one minute on high speed. Scrape down the sides and beat for another half minute. The mixture should look pale and fluffy.

Add flour and salt and mix on low speed, until just combined.

Transfer 2/3 of the cookie dough onto a piece of plastic wrap. (If you're using a scale, around 400g.) Spread it into a rectangular shape (8×10 inches if you're being exact).

To the remaining dough, add a few drops of food colouring (and flavouring extract of choice, if desired) and mix again until colour is even all the way through.

Add the coloured dough on top of the first rectangle of dough and spread evenly to completely cover the first layer. (See Step-by-Step pics for reference).

Roll the dough into a tight log, then wrap with the plastic wrap and twist the ends to close. Chill in the freezer, with the twisted ends tucked under the log, until firm (could be 1–4 hours depending on your freezer and the type of butter used).

The log should be quite firm but not completely frozen. Unwrap and slice into 1/2-inch thick cookies. (If your cookie gets squished by the knife, it's too soft; put it back into the freezer for another 10 minutes. If it crumbles when sliced, it's too frozen; leave it at room temperature for 5 minutes, then try again.)

Place on a lined baking sheet. These cookies do spread, so keep one cookie-width of space between each one.

Bake at 350 °F for 15 minutes (slightly soft in the center) to 20 minutes (totally crispy and crunchy).

Let cool fully on baking sheet. They will firm up as they cool.
Notes
See Flavour Variations section above for colour options and ideas. You can also leave out the food colouring entirely to make a plain cookie dough. It won't have a swirl pattern but will still taste just as delicious!
Nutrition
Calories:
148
kcal
|
Carbohydrates:
18
g
|
Protein:
2
g
|
Fat:
8
g
|
Saturated Fat:
2
g
|
Polyunsaturated Fat:
2
g
|
Monounsaturated Fat:
3
g
|
Trans Fat:
0.05
g
|
Sodium:
93
mg
|
Potassium:
63
mg
|
Fiber:
2
g
|
Sugar:
7
g
|
Vitamin A:
431
IU
|
Calcium:
6
mg
|
Iron:
1
mg
SEND FOOD PICS 📸
Tag @earthtoveg or leave a comment below if you tried this recipe. It makes my day. 😊