The beginnings of what we now know as gumbo was brought over to New Orleans by slaves from Africa over two centuries ago. It is now an icon of American Cajun and Creole cuisine.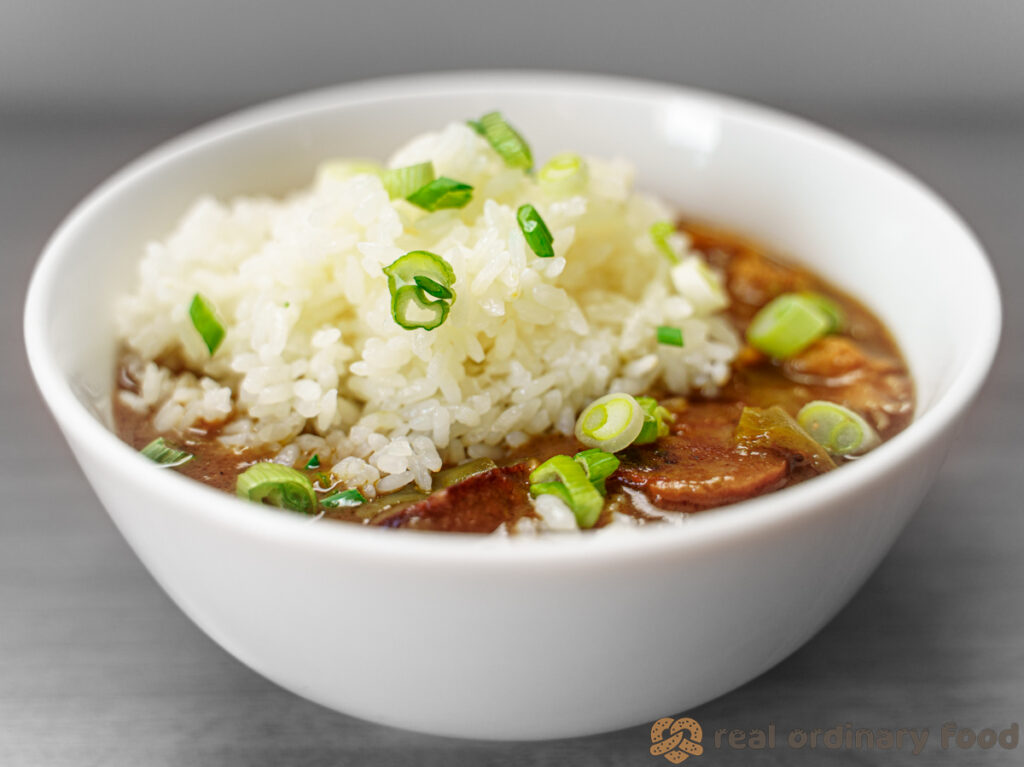 Gumbo, Take 2
So, the first time I made "gumbo" a year ago, it turns out it wasn't gumbo at all. Really tragic moment, especially considering I'd actually been to New Orleans and tasted local gumbo three years earlier, but it taught me a great lesson about researching recipes thoroughly before giving them a specific name.
After getting flamed by a brigade of Louisianans, I decided to look into how to make a proper vegan gumbo. Although traditional gumbo is inherently non-vegan, I think you can get pretty close with homemade vegan sausage with the right spices, a rich vegetable stock, and plenty of oil in the roux.
This vegan gumbo recipe was developed with help from Louisiana chef Isaac Toups' recipe for chicken and sausage gumbo, his video demonstration on Binging with Babish, and the helpful Redditors who roasted me when I posted my first "gumbo" picture. Let's say this is my attempt at redemption!
The most important things which you must have for a gumbo to be gumbo are:
"The Holy Trinity" (onion, bell pepper*, celery)
"The Pope" (garlic)
Dark roux (a delicious-smelling flour-fried-in-oil concoction)
Trust me, if you forget any of those things, people from New Orleans will find you and kill you, I'm saying this from experience.
*You can substitute the bell pepper with some hot pepper variety, jalapeno, habanero, etc. if you like more heat.
Roux, Okra, or Filé Powder?
Previously, I thought gumbo had to use either filé powder or okra, in addition to roux, as one of the thickening agents. But actually, the dark roux is enough all on its own. Although it's rare to see a gumbo without a roux these days, some old cookbooks don't bother with a roux at all if they use one of the other thickeners.
Historically speaking, okra is the OG thickener because the word "gumbo" itself comes from a West African word for okra. Filé powder, made from grinding up dried sassafras leaves, was a later addition. Sassafras is a tree that is native to North America, and is a mucilaginous vegetable like okra—both have sticky, starchy properties. The Choctaw nation introduced filé as a substitute thickener during months when okra was scarce.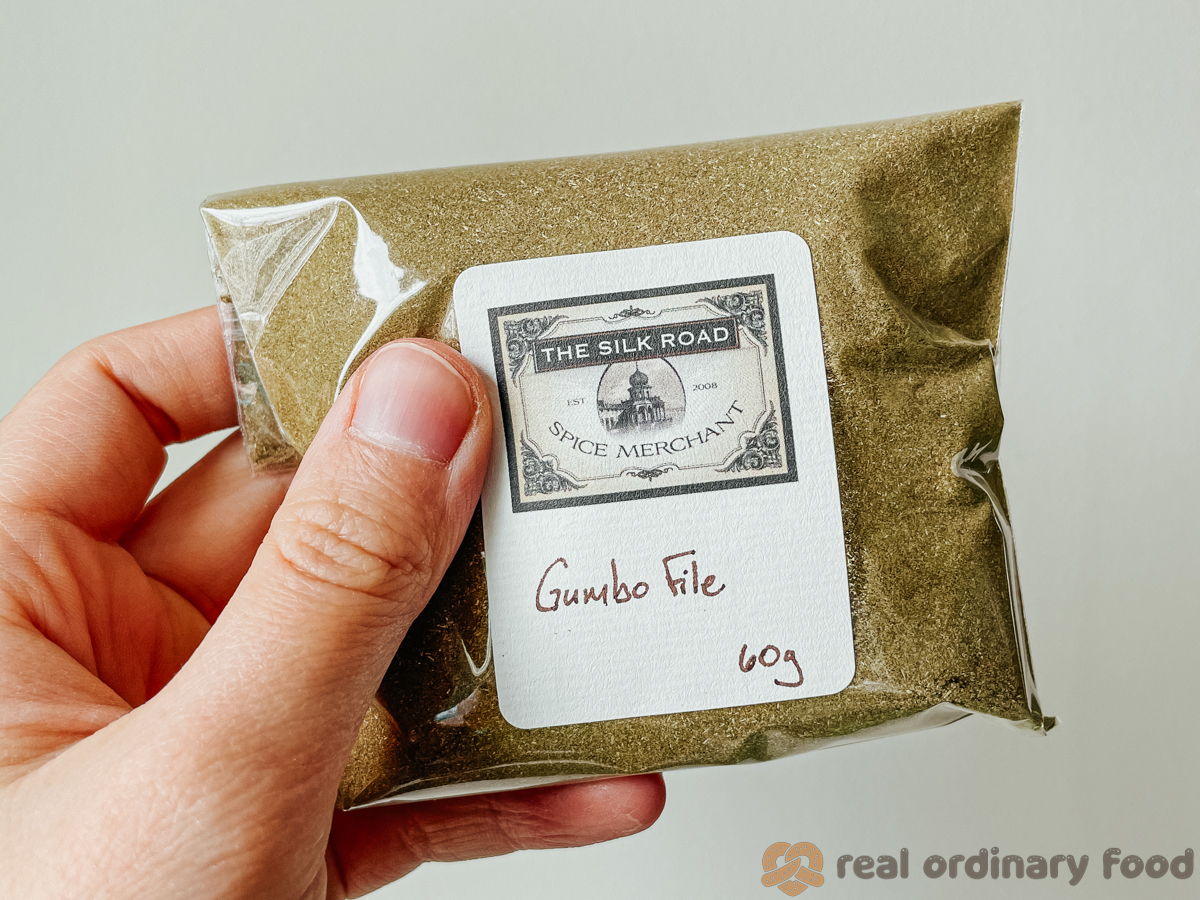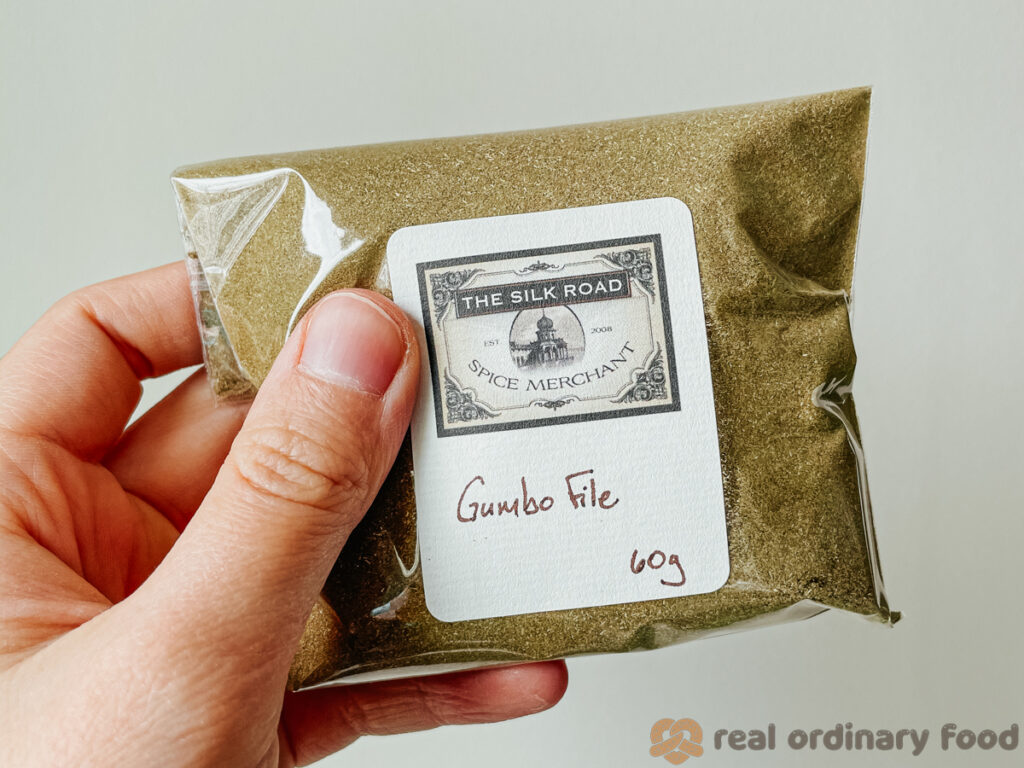 If you'd like, you can add okra or filé or even both to this recipe. Add a cupful of chopped okra in step 5 alongside the celery, bell pepper, and onion. Filé is usually served tableside, for diners to sprinkle into their individual bowls, so leave it to the end and then add to taste.
Personally, I love the extra bit of sliminess that okra brings to this dish, so try it if you can. On the other hand, I'm not a big fan of the flavour of filé. It smells a bit like something between thyme and sage, but more muted. I've heard people describe it as "earthy" which is pretty accurate. Add only a little bit at a time because the flavour can get quite strong suddenly.
Fun Facts About Gumbo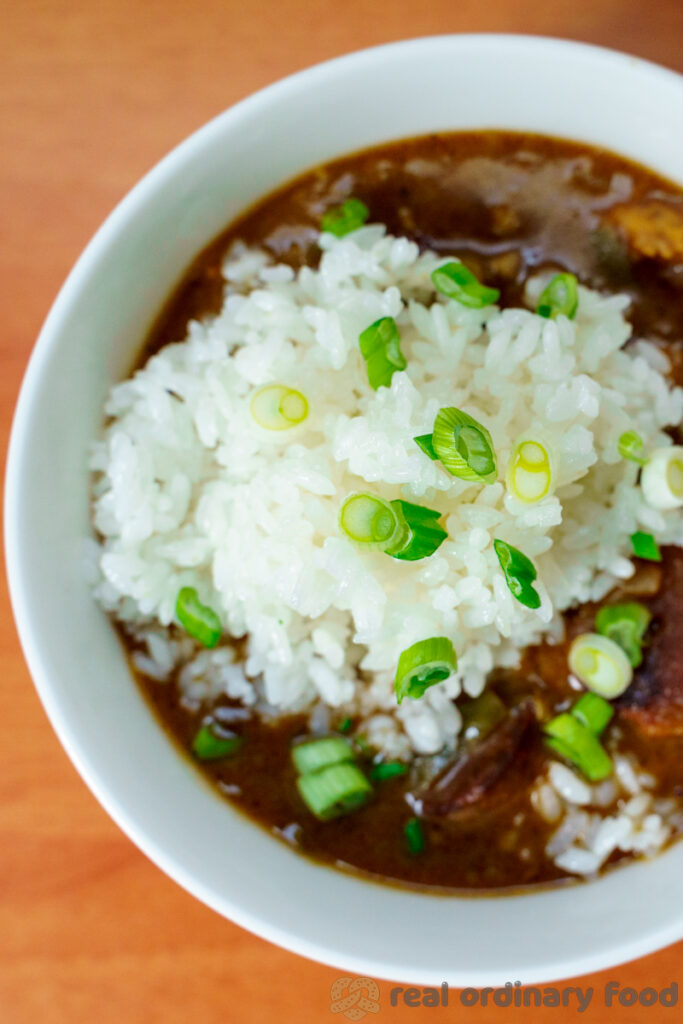 If you'd like to learn more about history and politics of gumbo, I recommend reading this interview for a start.
More Vegan Stew Recipes
Recipe Card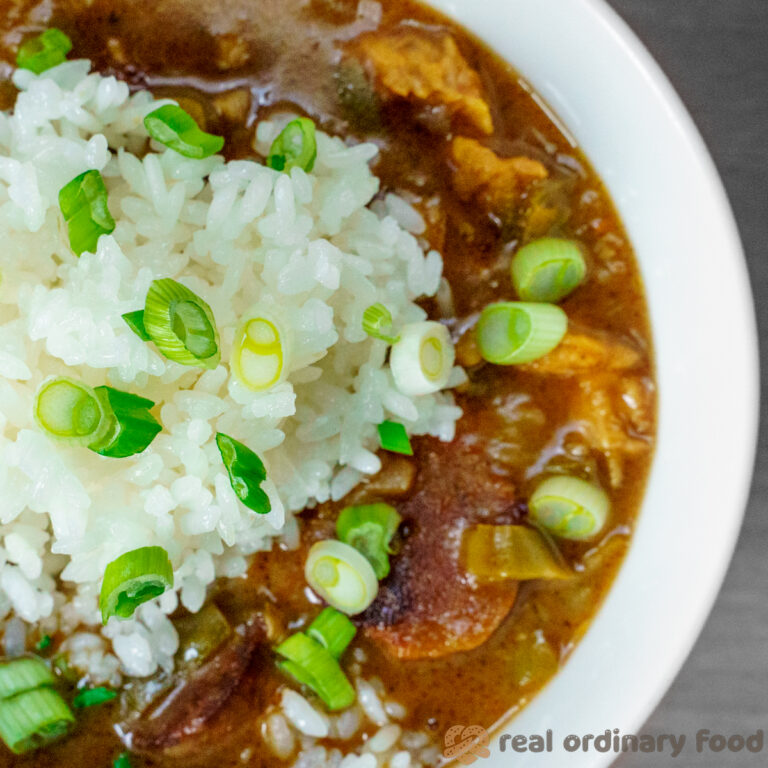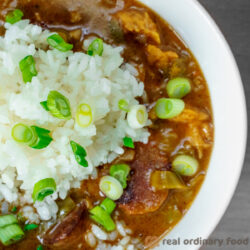 Proper Vegan Gumbo
This vegan gumbo is a meatless take on the classic Cajun dish, complete with chick'n and Andouille soysage. No beans or other stuff that never belongs in gumbo!
Print Recipe
Use Imperial/Metric buttons below to toggle between volume vs weight measurements. I recommend weighing out your ingredients for best results.
Equipment
Dutch oven

Wooden spoon or spatula
Ingredients
¼

cup

vegetable oil

50 g

¼

cup

all purpose flour

30 g

1

yellow onion

200 g

½

bell pepper

70 g

1

rib

celery

70 g

½

head

garlic

25 g

2

bay leaves

½

can

amber beer

170 g; see Note 1

½

tsp

poultry seasoning

*optional

½

tsp

cayenne pepper

see Note 2

½

tsp

ground black pepper

3

cups

vegetable stock

720 g; see Note 3

1

okara "Andouille" seitan sausage

see Note 4 for recipe; can sub with 1 storebought sausage

1

cup

chickwheat shreds

see Note 5 for recipe; can sub with 1 additional sausage

2

stalks

scallions

kosher salt

to taste; see Note 3

Cooked Rice

to serve *can also serve with potato salad
Instructions
Prep veggies: dice up the onion, bell pepper, celery, garlic, and scallions.

Add oil to a Dutch oven on medium-low heat (err on the lower side if you're nervous about burning your roux).

When oil is shimmering, sprinkle in the flour. It should sizzle when it hits the oil. Start stirring immediately with a spatula or wooden spoon.

As you cook the roux, it will darken in colour and look like it's "splitting" into a sandy texture. Keep stirring until the roux is a dark brown (see Note 6 for a reference photo).

Add the diced onion, bell pepper, and celery. More sizzling! After stirring for a minute or two, once the veggies have softened, add the garlic and bay leaves.

Give it another stir, then add the beer.

Once the pot starts to simmer, add the poultry seasoning, cayenne pepper, and black pepper. Pour in vegetable stock one cup at a time, stirring continuously and making sure to scrape the bottom to make sure nothing sticks.

When everything comes back to a simmer, turn the heat down very low to maintain it at a bare simmer. Cover and let cook for about 3 hours. The consistency shouldn't be thin but it shouldn't be too thick, definitely on the soupy side. You may leave it uncovered for the final 30 minutes if it's still too watery.

Turn off the heat. Slice the vegan sausage, shred the chickwheat, and stir them into the soup.

Taste for salt and add as needed (see Note 3).

Spoon into bowls, top with scallions, and serve with steamed rice or potato salad. Or both if you love your carbs.
Notes
If you're making this for vegans, make sure you use a vegan beer. I recommend the Waterloo Amber beer. Not only is it made by a brewery in my university town, it's also vegan-friendly.
You may adjust the cayenne pepper up or down depending on spice tolerance. I also suggest serving with some hot sauce (Tabasco or Crystal Hot Sauce are the most popular in New Orleans) at the table. This way, each person can season their gumbo to taste.
Depending on the vegetable stock you use, you may need to add additional salt. I used water + Better Than Bouillon® No Chicken Base so I didn't need to add any additional salt. If your vegetable stock contains no sodium at all, start by adding 1/2 tsp salt (3 g).
For the sausage: I use my Vegan Okara Sausage with homemade Andouille spice blend. You can prep these a day or two before. Please don't add the sausage until the very end of cooking; prolonged simmering will cause the sausage to become mushy and it will even start to fall apart into the broth.
For the chickwheat shreds: use this vegan chickwheat recipe. You can prep these a day or two before.
You want your roux to be around this shade or slightly darker before adding your veggies.
Nutrition
Calories:
572
kcal
|
Carbohydrates:
69
g
|
Protein:
26
g
|
Fat:
20
g
|
Saturated Fat:
4
g
|
Polyunsaturated Fat:
10
g
|
Monounsaturated Fat:
4
g
|
Trans Fat:
0.1
g
|
Sodium:
1370
mg
|
Potassium:
413
mg
|
Fiber:
5
g
|
Sugar:
7
g
|
Vitamin A:
1644
IU
|
Vitamin C:
40
mg
|
Calcium:
107
mg
|
Iron:
4
mg
SEND FOOD PICS 📸
Tag @earthtoveg or leave a comment below if you tried this recipe. It makes my day. 😊
Note the nutritional facts are calculated assuming 3/4 cup of cooked rice per serving.