Edit: this post was originally entitled "okra gumbo" since that's what Isa calls it in her recipe, but after getting flamed for misrepresenting gumbo I've changed it to "okra stew." Sorry NOLA.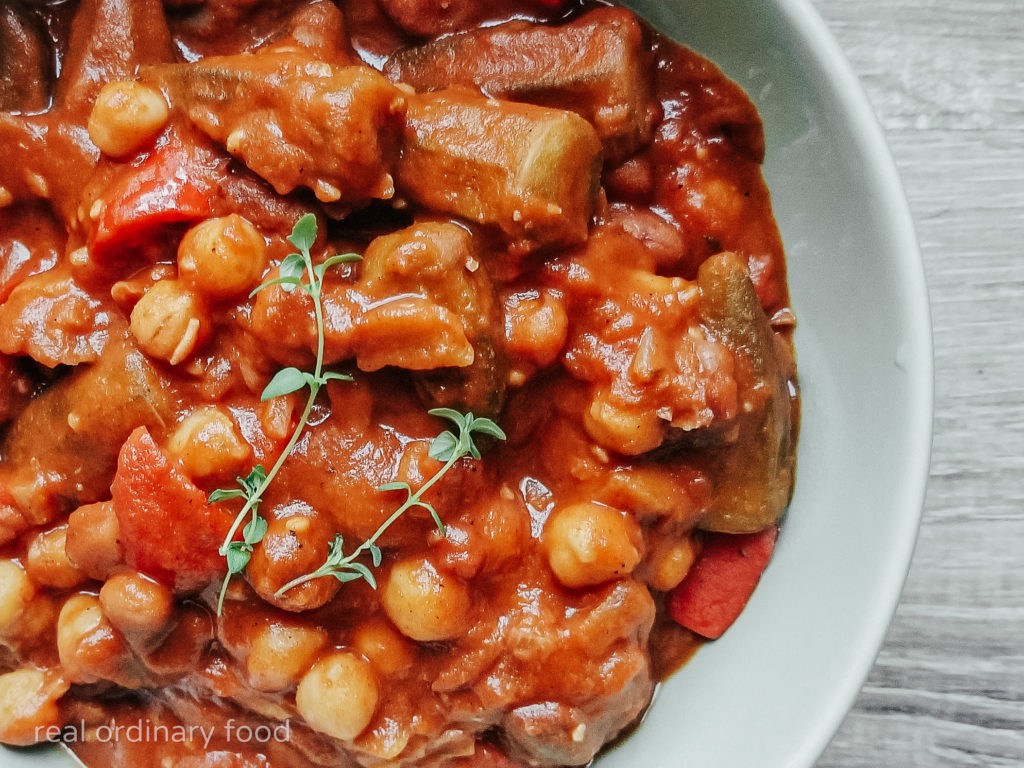 Since lockdown started, I've been minimizing my trips to the grocery store. I've been lucky to find many supermarkets that deliver in Waterloo, and one of my go-to's is Oma Fresh Foods. Every few months, when everything in the fridge is fully depleted, I place a big order and I always try something new. Last time, I bought a package of frozen okra. It's a great veggie to keep on hand in the freezer and throw into whatever soup or stew I'm making.
Now, okra isn't entirely new to me—in fact, living with my parents, I ate it often, because my mom and I both love its silky-slimy texture. However, there is one dish that often relies on okra, that I have always wanted to try: gumbo!
Anyway, you guys probably know that dark roux is the defining element of a gumbo dish and part of what gives it its thick, gooey character. But some recipes call for other thickeners too, usually either okra or filé powder. I'd like to try filé someday, but I haven't found it locally and it's always sold out online. Okra, by comparison, is more accessible here in Ontario. I got mine from Oma, but pre-COVID I've also seen it at Freshco and Loblaws, both fresh and frozen.
Vegan Okra Stew
Traditionally, gumbo contains meat or seafood, but I found an awesome recipe that's completely plant-based. (However, I've been told this recipe is so far from being true gumbo as to be an "abomination" so I will be referring to it henceforth as okra stew.) Surprise, surprise, it's from Isa Chandra Moskowitz of Post Punk Kitchen. Her recipes are all amazing, and this one is no exception.
Isa's recipe is for 6 servings, but I halved it because I'm cooking for one. I also used pinto beans instead of kidney beans, which worked just fine. Scroll down for my halved ingredient list, which I converted to grams for those of you who use a scale.
Adapting this Recipe for Pantry Ingredients
Although there are a few perishable veggies in here—the bell pepper and the fresh thyme—this recipe can be made without them. You can use a bit of dried thyme in place of fresh and omit the bell pepper entirely.
I served this okra stew over a yummy turmeric basmati rice. For a big meal, you'll want to use about half a cup of dried rice (100 g) per serving. I find it easier to cook up a big batch of rice at once and eat that throughout the week, rather than cooking several smaller portions every couple of days. Cuz, you know, I hate doing dishes.
Other things to note: make sure you use medium-low heat, leaning more towards low, just in case. You want your roux dark, not burned.
I've included my ingredient list below with all the halved amounts, which makes around 3 servings.
Ingredients
1 tbsp cooking oil (13 g)
2 tbsp flour (15 g)
1 small yellow onion, roughly chopped (150 g)
1 1⁄2 tsp minced garlic (3 cloves)
1⁄2 red bell pepper, roughly chopped (optional)
1/2 cup crushed tomatoes (I used San Marzano tomatoes from Costco)
1⁄2 tsp salt
1⁄2 tsp black pepper
2 bay leaves
1 tsp smoked paprika
4 sprigs fresh thyme (or 1 tsp dried)
1 1⁄2 cup water or vegetable stock
1 cup sliced frozen okra (150 g)
3⁄4 cooked pinto beans or kidney beans (150 g)
3⁄4 cooked chickpeas (150 g)
a few squeezes of fresh lemon juice, to taste
For the directions for this vegan okra gumbo stew, check out Isa's recipe here.