Stinky tofu (臭豆腐) is a notoriously smelly type of tofu with origins in 17th century China. Spicy, savoury Stinky Tofu Soup is the ideal gateway to introduce first-timers to this controversial ingredient. Simmered in an aromatic broth, the stinky tofu becomes less pungent and more palatable to those who might be unfamiliar with its unique flavour. It'll transport you straight to the bustling night markets of Taiwan!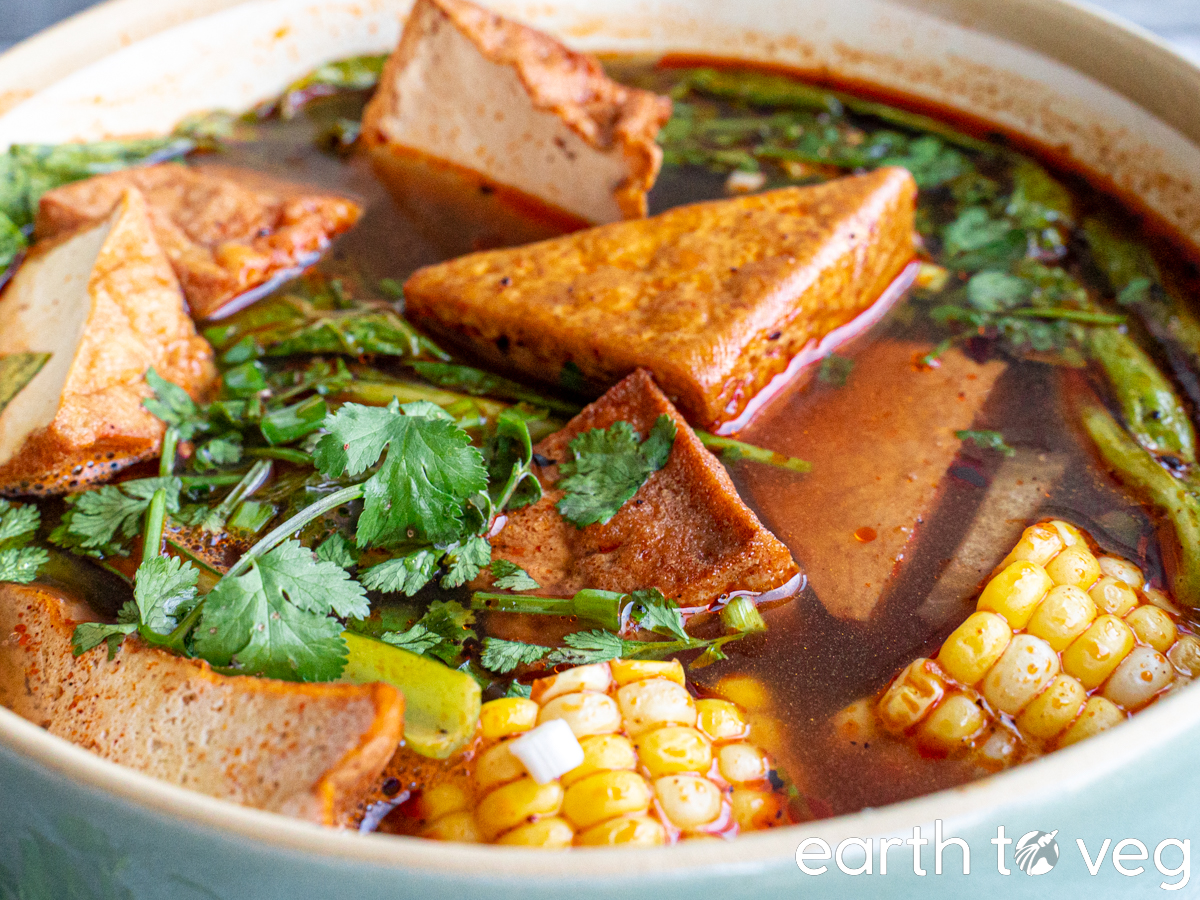 History & Origins
Fermented tofu was invented by accident. In the late 1600's, Wang Zhi He was an aspiring civil servant who had just failed the imperial examination—a test required for entry into the state bureaucracy. He made a career pivot and started selling tofu on the streets of Beijing. One day he was left with too much unsold tofu and decided to heavily salt it to keep from going bad. Then he promptly forgot about the tofu and only remembered after several months. To his surprise, the tofu tasted delicious—even though it smelled terrible!
This is the origin of what we now know as Beijing stinky tofu, or fermented bean curd. In fact, Wang Zhi He still lives on as the name of the most prolific fermented tofu brand you can buy today.
However, there's more than just one type of fermented tofu out there.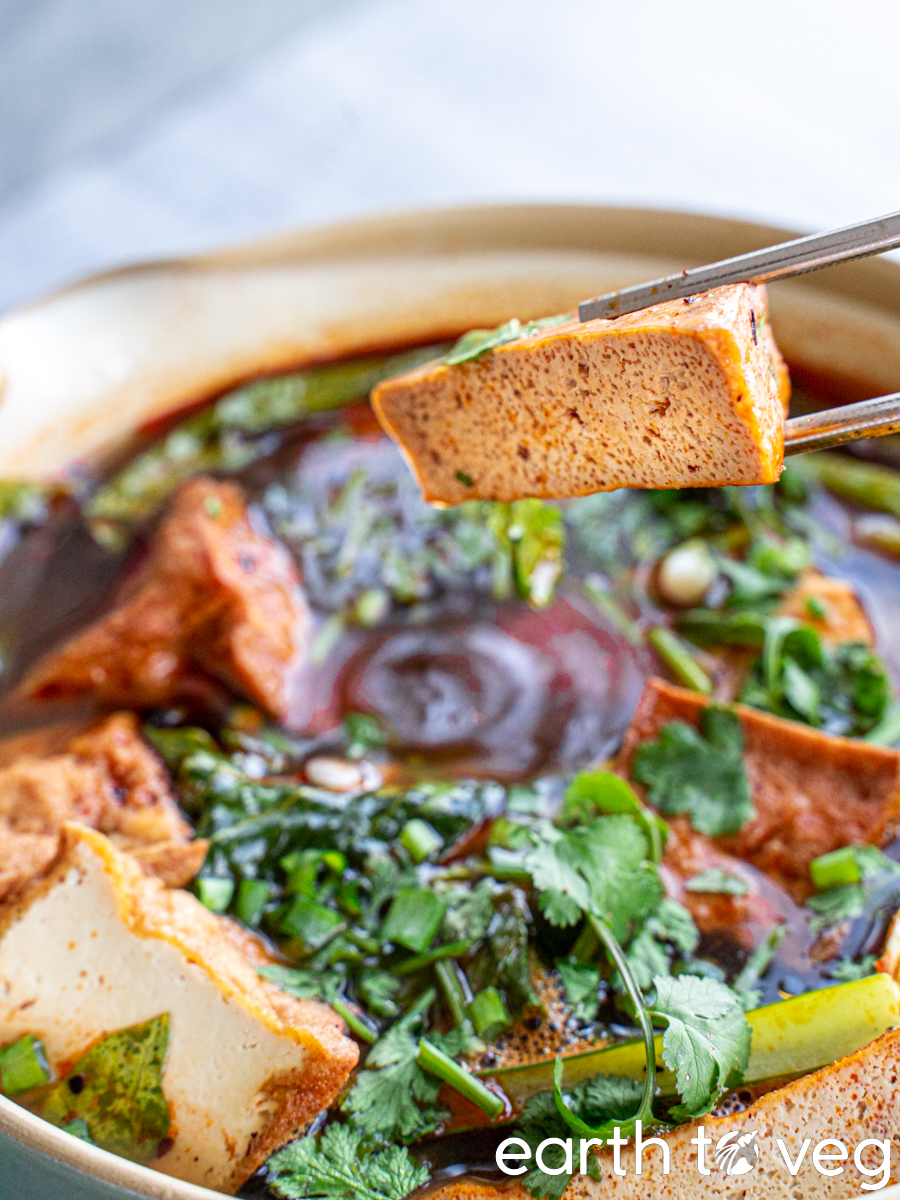 Types of Stinky Tofu
Beijing-style stinky tofu: Also known as furu, fuyu, chao, tofu cheese, or fermented bean curd. Very salty and slightly sour, but surprisingly doesn't smell nearly as strong as other types of stinky tofu. The texture is soft and spreadable, similar to Philadelphia cream cheese. This variety comes in small jars and is mainly used as a seasoning or condiment; for example, you can add it to stir fry dishes like Buddha's Delight to add some funk, or take small bites of it between sips of breakfast congee. You would never eat this type of tofu as the main dish on its own—that would be sodium overload!
Shaoxing-style stinky tofu: Also known as Zhejiang tofu, as Shaoxing is a city within China's Zhejiang province. This is the (in)famous stinky tofu you'll find at Taiwanese night markets. It's also what we will be using in today's recipe. Most commonly, you'll find this tofu deep-fried, but you can get non-fried versions as well (which smell even worse). The texture is soft and a little chewy, similar to regular fried tofu. It's a popular street food and is often paired with a dipping sauce for you to snack on.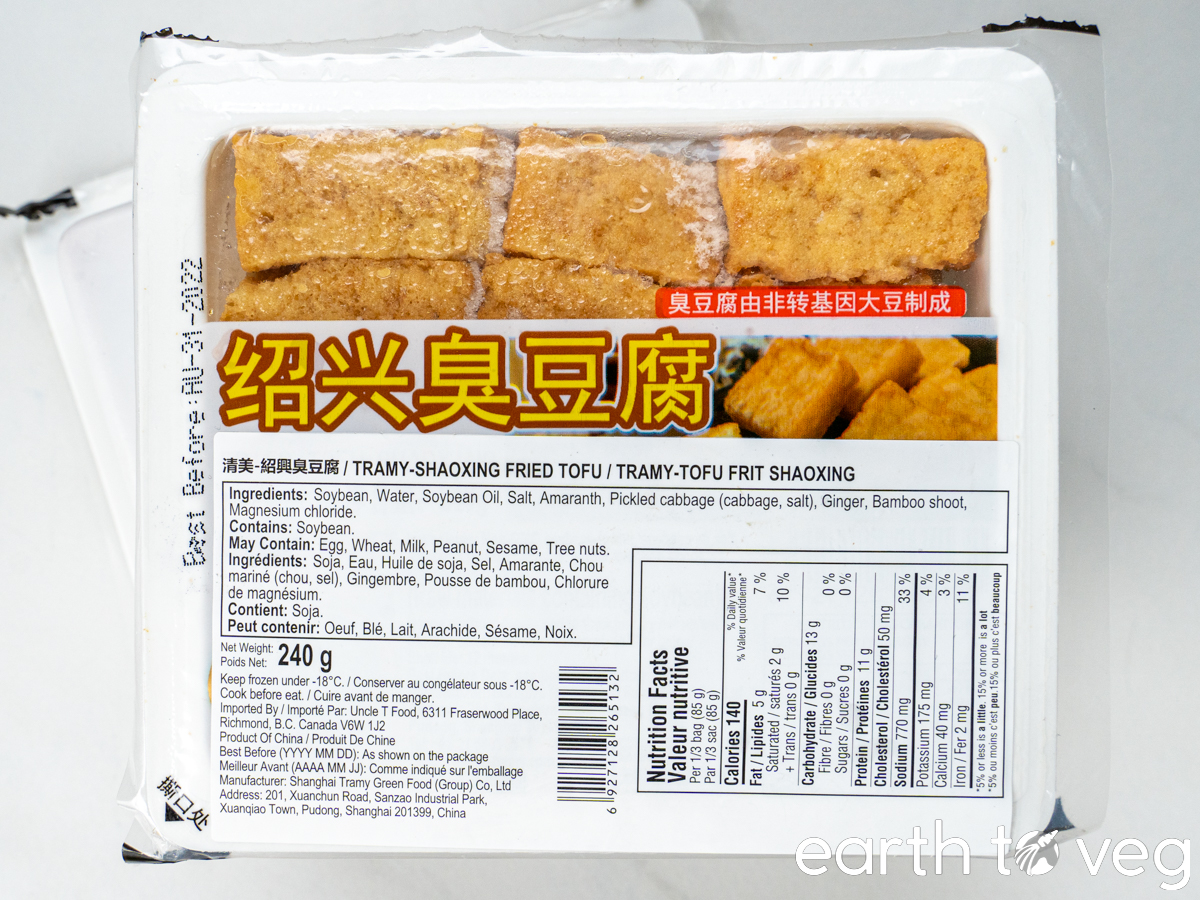 Hunan-style tofu: Also known as Changsha tofu (named after the capital city of Hunan province). It is characterized by its coal black exterior, which makes it even more intimidating than the other stinky tofus! Similar to Shaoxing tofu, it's usually fried and served with sauce. I admit, I haven't tried this type of stinky tofu yet, but it's on my bucket list.
Stewed Stinky Tofu
If you're not quite ready to handle the smell of stinky tofu straight up, then try this soup recipe first. This method of braising the tofu in a spicy broth cuts down on the strong odour without taking away its piquant umami taste.
I came up with this recipe one day when I was low on fridge ingredients and patience. I simply threw together some onions, leafy greens, and fried stinky tofu in a pot of soup, and it came out surprisingly good.
This became my go-to quick dinner for a while until I stumbled upon a "Taiwan Fermented Tofu" frozen soup product for sale. That inspired me to make the soup spicy and add some sweetcorn. Finally, I played around with the seasoning and aromatics several times… and voila, here's the final version of Stinky Tofu Soup. Less than half an hour to make and packed with flavour!
What You'll Need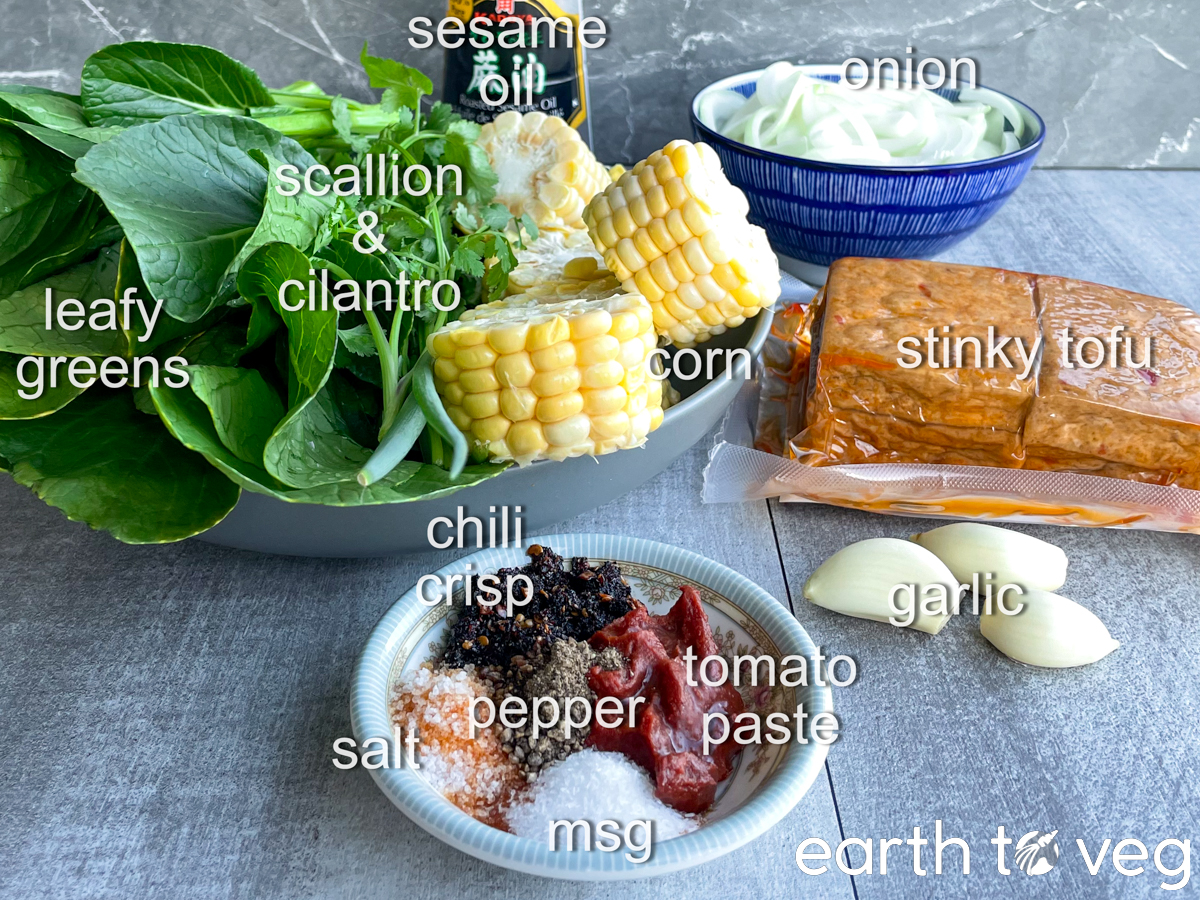 A few important notes on some of the ingredients used in this Stinky Tofu Soup recipe:
Chili oil: Substitute with a neutral cooking oil, if you don't want to make it spicy.
Tomato paste: Tomatoes naturally contain glutamic acid, the molecule responsible for umami flavour, which we want a lot of for this recipe.
Fried stinky tofu: I highly recommend using the fried version of stinky tofu, which is less smelly than other varieties. It is also better at absorbing the flavourful broth in this recipe. Fried stinky tofu has a golden fried exterior, just like regular fried tofu or tofu puffs (which are used in my Vietnamese Tomato Tofu recipe). Additionally, there are varieties of spicy stinky tofu which are packaged in chili oil, and those are very good for soup too. In Canada, you can find fried stinky tofu at T&T and other Asian supermarkets.
Chinese leafy greens: Bok choy, yu choy, mustard greens, tong hao are all good options. In a pinch, you can even use romaine lettuce.
Corn on the cob: Optional; I like the crunchy sweetness that it adds.
For a full list of ingredients and quantities, refer to the recipe card at the bottom of this post.
Step-by-Step Process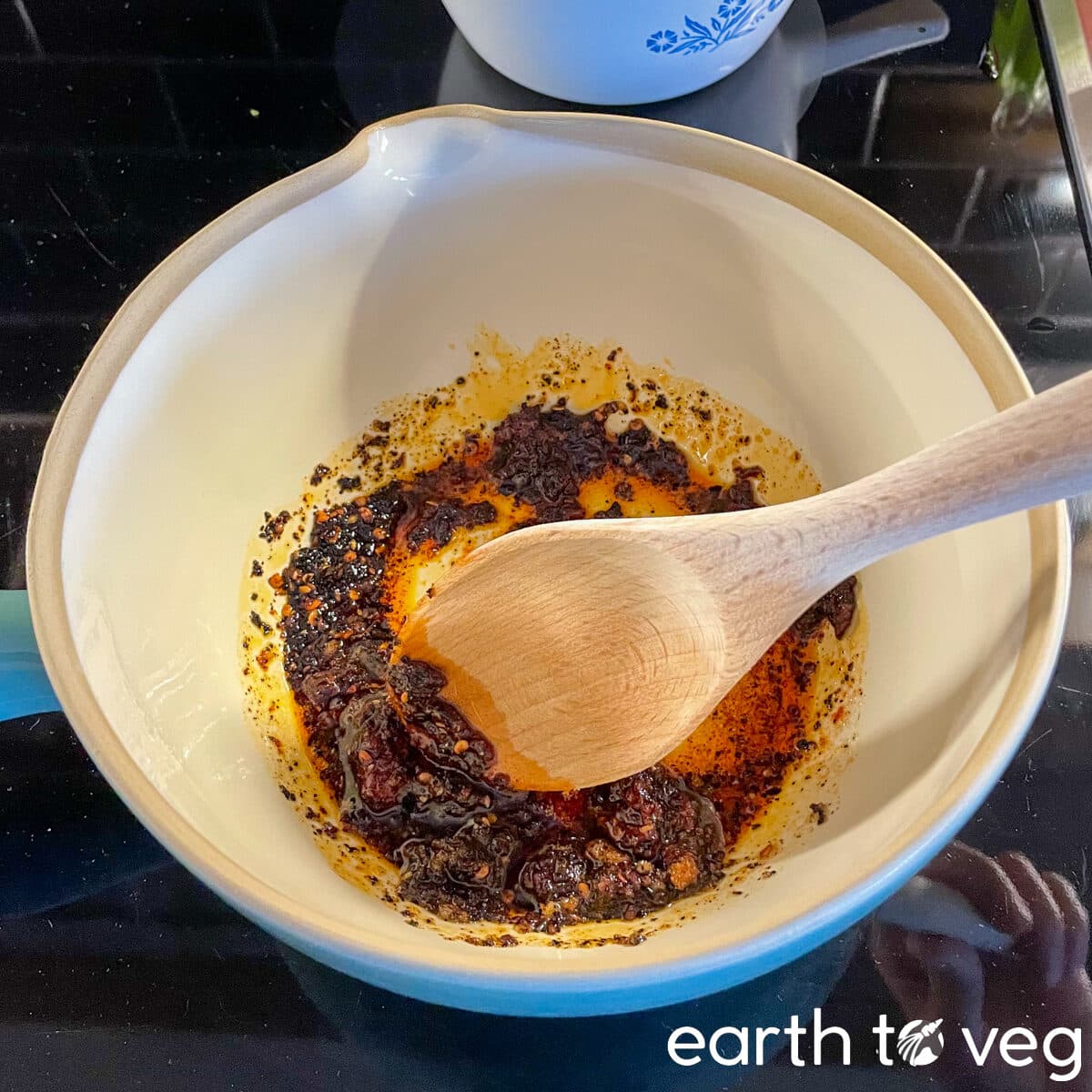 Step 1: Add chili oil to a stockpot or Dutch oven on medium heat. I'm using my mom's homemade chili crisp here.
Step 2: Sauté onion, tomato paste, and garlic until aromatic and onions are slightly softened, just a few minutes.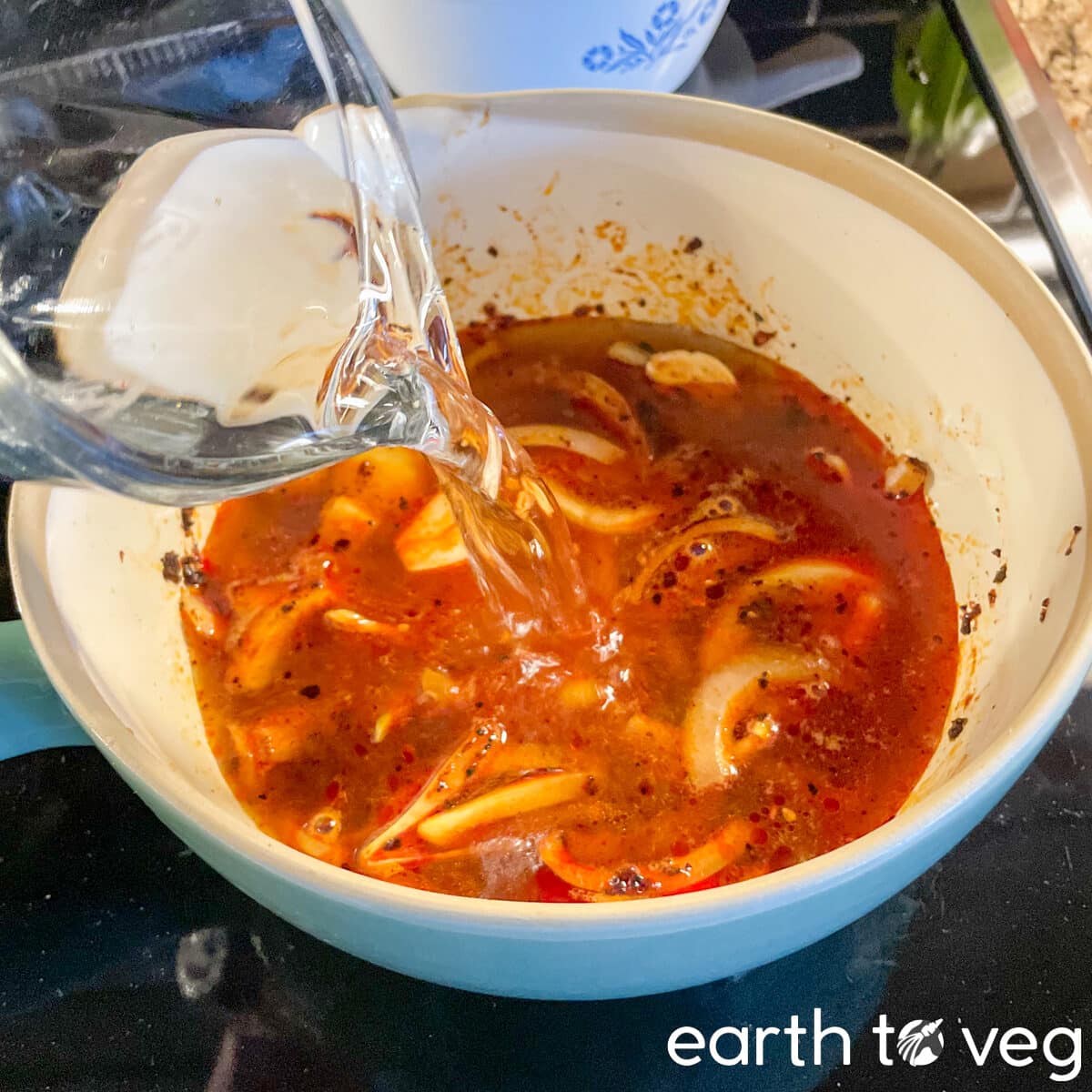 Step 3: Pour in the water, followed by sugar, black pepper, MSG, and salt. Cover and turn the heat up to high to bring to a boil.
Step 4: Stir in the stinky tofu, leafy greens, and corn. Simmer for 5 minutes or until vegetables are cooked to your liking.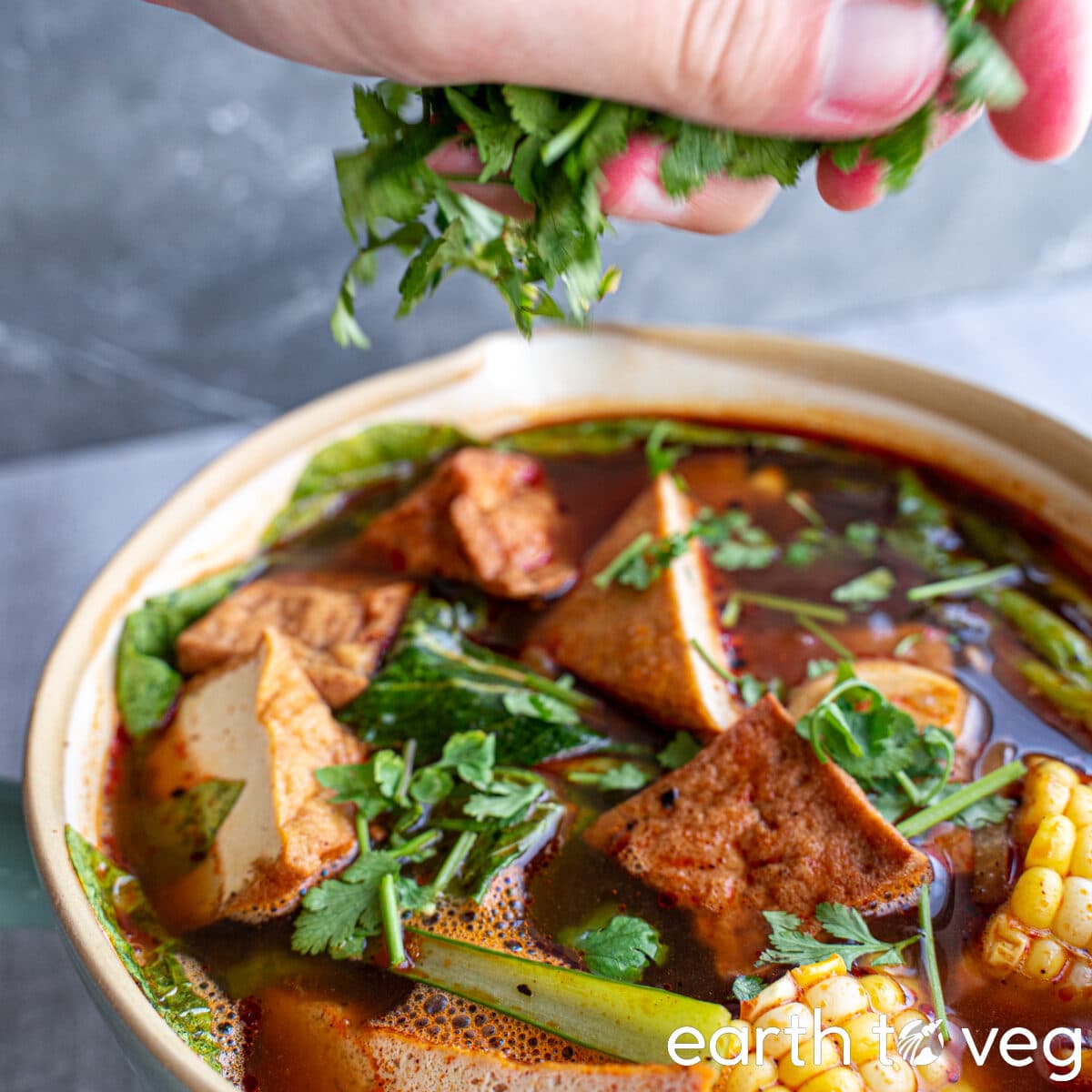 Step 5: Turn off the heat and keep covered for another 5 minutes. Then uncover and top with scallion, cilantro, and sesame oil just before serving.
Make Ahead & Storage Tips
Fridge: Stinky tofu soup can be stored in the fridge for up to seven days.
Reheating: The best way to reheat it is on the stove (unless you want your microwave to smell like gym socks for a couple days 😆).
Flavour Variations
Add 1 tsp shichimi togarashi
Top each bowl with a generous sprinkle of homemade furikake
Sprinkle in 1/2 tsp Chinese five spice powder
Add 1/2 tsp ground Sichuan pepper for a classic mala taste
Throw in some shiitake mushrooms or mushroom bouillon powder for extra savoury goodness
What to Serve with Stinky Tofu Soup
Pair stinky tofu soup with Sticky Rice or Soda Bread to soak up the flavours of the spicy broth. Serve it with a side of cold Japchae or Yubuchobap to break up the heat.
For a cool and creamy beverage to enjoy after this hot soup, try another Taiwanese night market favourite: Taro Bubble Tea.
Recipe Card
Did you make this recipe? Please consider leaving a rating below to let me know how you liked it.
You can also take a picture and tag me on Instagram @earthtoveg, I will shout you out in my Stories!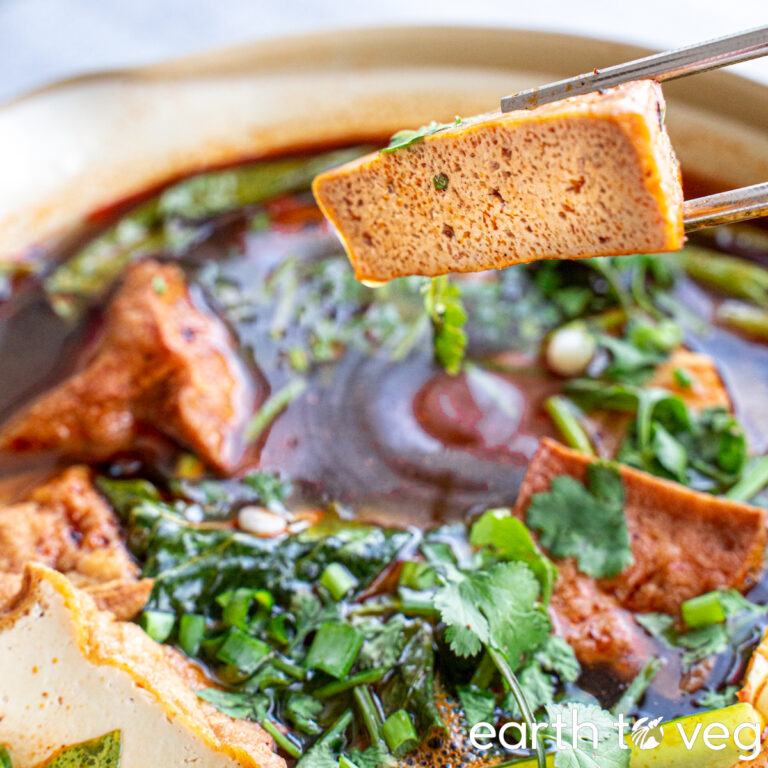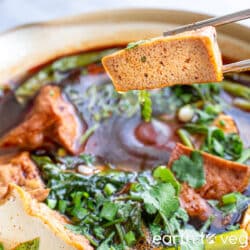 Spicy Stinky Tofu Soup
This stinky tofu recipe is the perfect introduction to the funky world of fermented tofu. Braised in a spicy broth, Taiwanese stinky tofu soup is a must-try.
Print Recipe
Use Imperial/Metric buttons below to toggle between volume vs weight measurements. I recommend weighing out your ingredients for best results.
Equipment
Large stockpot or Dutch oven

(with a lid)
Ingredients
2

tbsp

chili oil

1

small onion, sliced thin

1

tbsp

tomato paste

3

cloves

garlic, sliced thin

3

cups

water

1

tsp

sugar

½

tsp

black pepper

1

tsp

MSG

1

tsp

salt

8

oz

fried stinky tofu, sliced into bite-sized triangles

4

oz

leafy greens such as bok choy, yu choy, mustard greens

1

corn on the cob, sliced into 2-inch disks

*optional

1

scallion, diced

¼

cup

cilantro, roughly torn

1

tsp

sesame oil
Instructions
Add chili oil to a stockpot or Dutch oven on medium heat. Sauté onion, tomato paste, and garlic until aromatic, just a few minutes.

Add the water, sugar, black pepper, MSG, salt. Cover and bring to a boil.

Stir in the stinky tofu, leafy greens and corn and simmer for 5 minutes.

Turn off the heat and keep covered for another 5 minutes. Top with scallion, cilantro, and sesame oil just before serving.
Nutrition
Calories:
334
kcal
|
Carbohydrates:
24
g
|
Protein:
13
g
|
Fat:
23
g
|
Saturated Fat:
3
g
|
Polyunsaturated Fat:
4
g
|
Monounsaturated Fat:
14
g
|
Trans Fat:
0.01
g
|
Sodium:
1795
mg
|
Potassium:
720
mg
|
Fiber:
4
g
|
Sugar:
10
g
|
Vitamin A:
2138
IU
|
Vitamin C:
52
mg
|
Calcium:
145
mg
|
Iron:
3
mg
SEND FOOD PICS 📸
Tag @earthtoveg or leave a comment below if you tried this recipe. It makes my day. 😊