Furikake is the ultimate Japanese savoury seasoning. This crunchy rice seasoning is meant to be sprinkled over rice, but it's also used on soups, stir fries, and noodles. There are many types of furikake throughout Japan, but Nori Komi Furikake, a naturally vegan furikake made from sesame seeds and seaweed, is one of my favourites.
What's Great About Nori Komi Furikake
Nutritious Topping: The Japanese historically used furikake as a rice seasoning and nutrition supplement. Both nori and sesame seeds are rich in minerals and vitamins. Scatter some furikake over a bowl of Plain Rice, and it'll take the flavour from ordinary to exciting. Furikake is also great over noodles, soup, salad, or even roasted veggies.
Natural Umami: Nori, or dried seaweed, is an amazing natural source of umami. (In fact, MSG, which is responsible for the savoury flavours of beloved foods like Doritos and instant noodles, was first extracted from seaweed!) Seriously addictive.
Traditionally Vegan: Many furikake recipes use animal ingredients, such as katsuo fumi furikake (contains bonito flakes) or noritama furikake (contains egg). But since nori komi furikake is made with sesame seeds and nori seaweed, vegans and vegetarians can enjoy it too.
History & Origins
The first furikake was called Gohan no Tomo (translating to "friend of rice"), and it was made from nori, sesame seeds, and ground-up fish bones. A Japanese pharmacist invented the mixture in the 1920's to combat a nationwide issue with calcium deficiencies. Fish bones are high in calcium and this was a painless way to get calcium into the diet.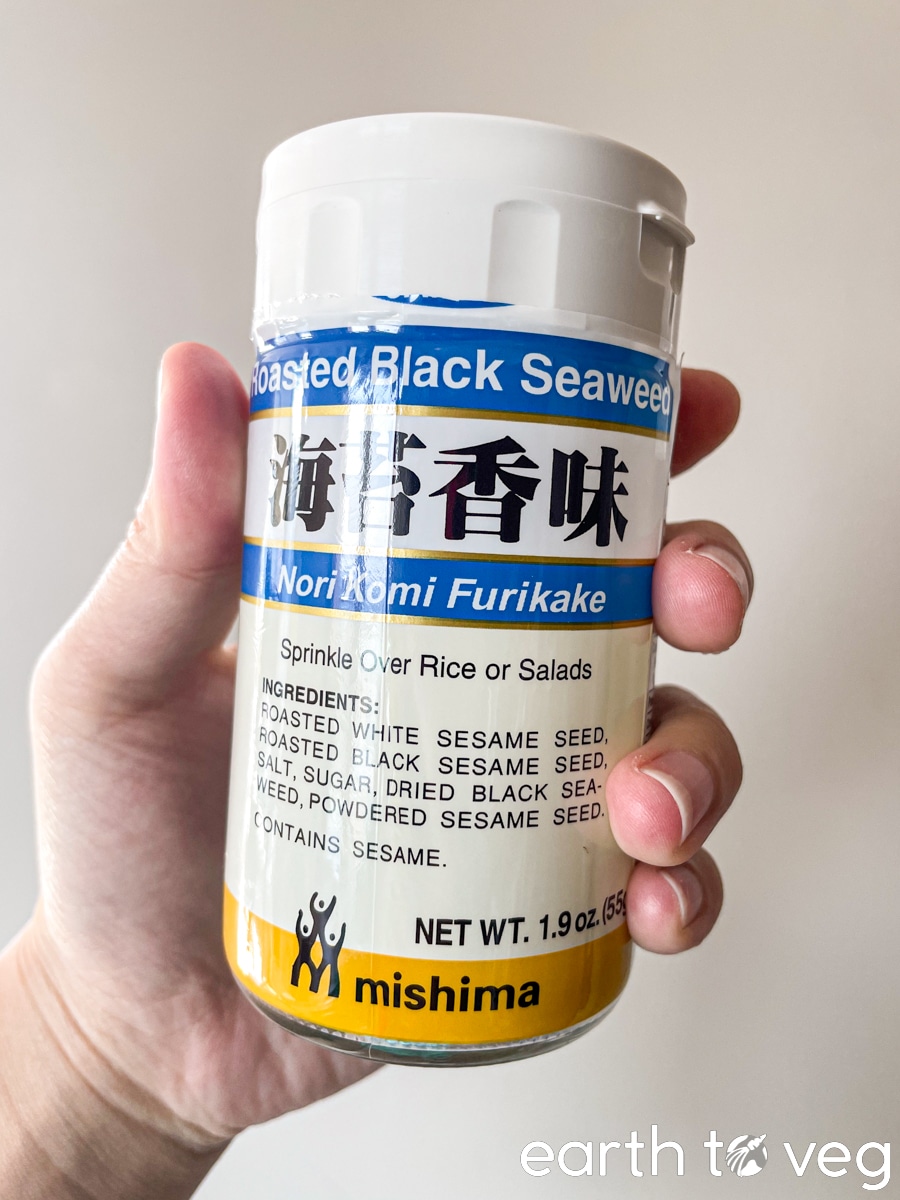 Later, other companies started coming up with other flavours and ingredient combinations, such as adding different types of fish, or omitting fish entirely to make Nori Komi Furikake.
In 1959, the National Furikake Association was created, which has since become the International Furikake Association. Furikake comes from a Japanese word meaning "to sprinkle" (over rice) 'cause that's what you do with it, duh! Nowadays furikake is pretty ubiquitous across Japan and you can even find it in many Asian grocery stores abroad, like T&T and H Mart, as well as online.
What You'll Need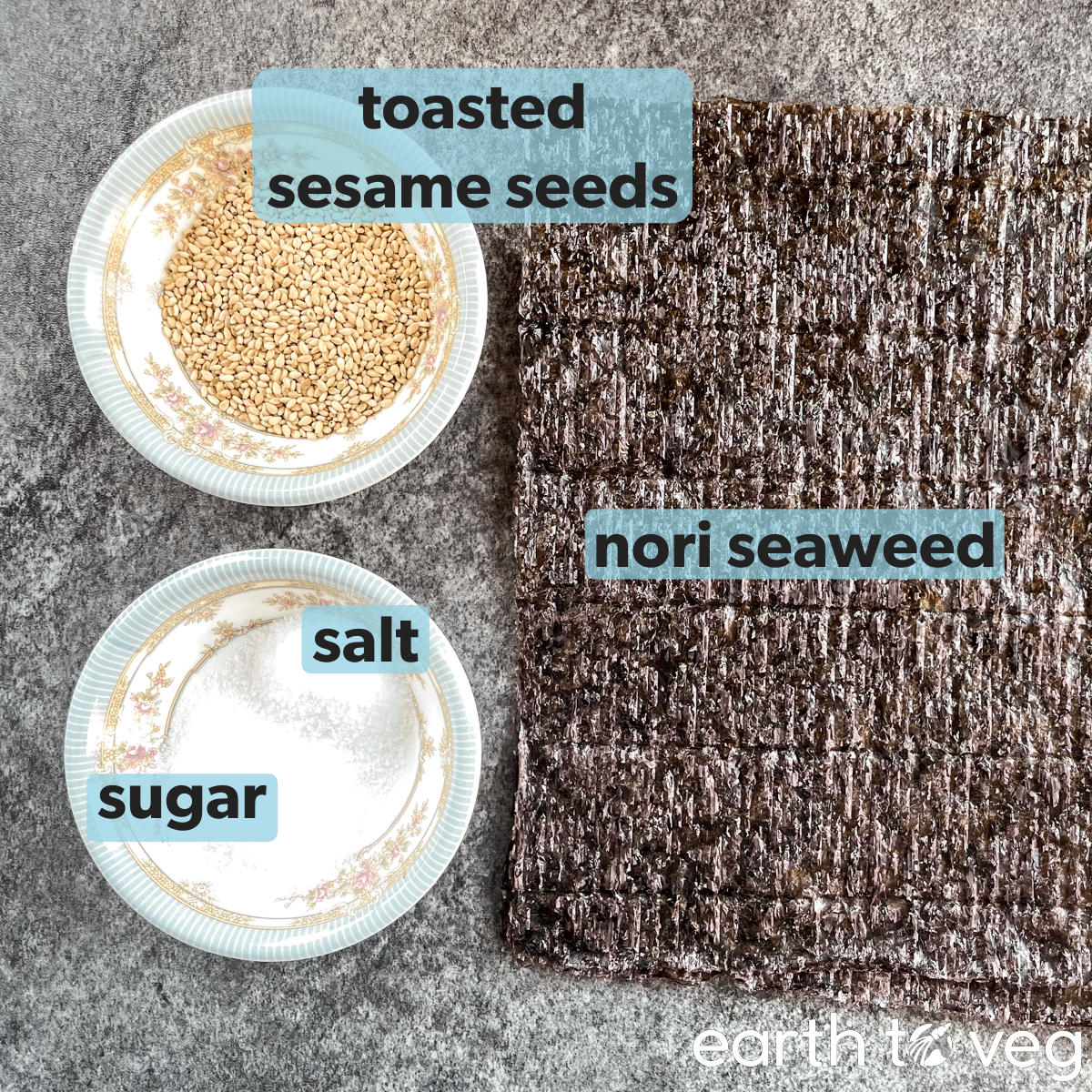 A few important notes on some of the ingredients used in this Vegan Furikake recipe:
Nori: Also known as Seaweed Laver, nori is a type of dried seaweed. You might also see it labelled Gim if shopping in a Korean store. Usually you can find them in sheets, which is what you'd use for stuff like sushi rolls or spam musubi, but you can buy pre-shredded nori too. Both nori sheets and pre-shredded nori will work for this recipe.
Toasted Sesame Seeds: Ideally, use a mix of black and white sesame seeds, but it's okay if you have only one colour. You can buy toasted sesame seeds which are ready to go, or use raw sesame seeds and toast them yourself. Easily toast sesame seeds by scattering raw sesame seeds in a skillet and setting it on the stove on medium heat, stirring until the seeds turn slightly brown and smell nutty. (It's the same process as Toasting Coconut Flakes.)
For a full list of ingredients and quantities, refer to the recipe card at the bottom of this post.
Step-by-Step Process

Step 1 (Optional): Partially grind the sesame seeds so you end up with a rough mix of whole sesame seeds and sesame powder.
Step 2: Skip this step if using pre-shredded nori. Use a pair of scissors to cut the nori into very thin, short strips.
Step 3: Mix together the sesame seeds and shredded nori with salt and sugar. Transfer to a spice jar. Always shake well before using.
Tip: Looking for ways to utilize your toasted sesame seeds? Put them to use in my Sesame Butter recipe.
Storage Tips
Furikake technically has an immortal shelf life, as none of the ingredients will become unsafe to eat, but sesame seeds will definitely turn rancid after a few months. That's why it's best to finish your furikake within a month or two (not a hard task if you eat a lot of rice like me). Or keep it in the fridge for longer storage.
Pantry: Store homemade vegan furikake in the pantry for up to two months. Keep it in a sealed container to prevent contact with moisture. If you live in a particularly humid area, I recommend throwing a silica packet into the container to keep the furikake nice and dry. (If you've ever bought furikake from the store, you'll notice it usually comes with a silica packet to act as a desiccant.)
Fridge: Refrigerate homemade nori komi furikake for up to 6 months in an airtight container.
How to Use Furikake
Sprinkle Nori Komi Furikake over…
Spicy Glass Noodles (coming soon)
Bok Choy Miso Soup (coming soon)
Recipe FAQs
What is Furikake made of?
Furikake ingredients typically include dried seaweed (nori), sesame seeds, dried fish flakes (katsuobushi or bonito), salt, and sometimes other types of dried fish like salmon or tuna. Furikake varieties vary widely, offering a range of savory, sweet, or spicy profiles. This versatile seasoning can be used beyond rice, adding depth to various dishes, and its composition can differ between brands and types.
What is Nori Komi Furikake?
Nori Komi Furikake is a Japanese rice seasoning blend that consists of dried seaweed flakes (nori) mixed with other ingredients such as sesame seeds, salt, and sugar. It's known for its intense umami flavor and is commonly used as a topping for rice. It adds a savory and slightly seafood-like taste along with a pleasant crunch from the sesame seeds. Nori Komi Furikake is a versatile condiment that enhances the taste of rice and other dishes. It's a beloved staple in Japanese cuisine.
What flavor is Nori Komi Furikake?
The nori seaweed in this furikake imparts a salty, ocean-like taste, without the need for any seafood. It's also packed with all-natural umami flavour. The toasted sesame seeds add a nutty, roasted crunch, and the salt and sugar balance it out. It makes the rice taste a bit similar to sushi rice you would get from a Japanese restaurant, but without the sour flavour.
How do you use Nori Komi Furikake?
Nori Komi Furikake is typically used as a seasoning for rice. To use it, simply sprinkle the furikake over a bowl of freshly cooked, hot rice. The amount you use can vary based on your personal preference. I like to use 2 tablespoons per cup of cooked rice. You can mix the furikake into the rice for even distribution of flavor or leave it on top for a contrasting texture. You can also use it as a topping over other dishes like noodles, salads, stir fries. Its versatility makes it a convenient way to add a burst of flavor to a variety of dishes.
Is Nori Komi Furikake vegetarian?
Any furikake labelled as "nori komi" is usually vegetarian, as it doesn't contain bonito flakes like most other types of furikake. However, it's always a good idea to double-check the ingredients list, or make your own furikake to ensure you're getting a vegetarian product.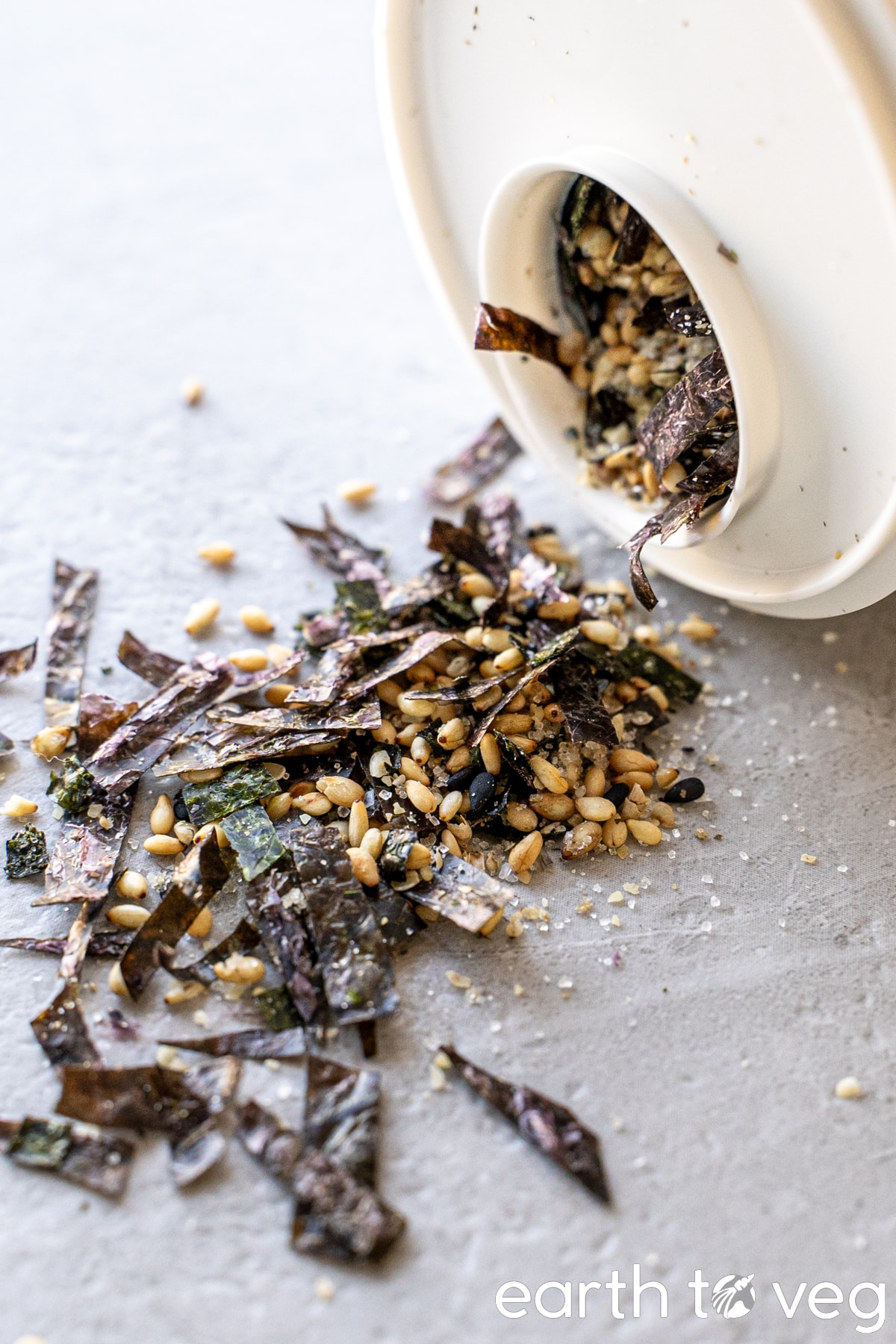 Recipe Card
Did you make this recipe? Please consider leaving a rating below to let me know how you liked it.
You can also take a picture and tag me on Instagram @earthtoveg, I will shout you out in my Stories!
Nori Komi Furikake
Nori komi furikake is among the simplest types of furikake, or Japanese rice seasoning. This vegan furikake is so umami, you won't want to eat rice without it.
Print Recipe
Use Imperial/Metric buttons below to toggle between volume vs weight measurements. I recommend weighing out your ingredients for best results.
Equipment
Mortar and pestle or spice grinder

(for crushing the sesame seeds *optional)
Ingredients
3

tbsp

toasted sesame seeds

2

sheets

nori

2

tsp

sugar

1

tsp

salt
Instructions
Optional: Partially grind the sesame seeds so you end up with a rough mix of whole sesame seeds and sesame powder.

Use a pair of scissors to cut the nori into very thin, short strips. (Skip if using pre-shredded nori.)

Mix together the sesame seeds and shredded nori with salt and sugar. Transfer to a spice jar. Always shake well before using.
Nutrition
Calories:
20
kcal
|
Carbohydrates:
2
g
|
Protein:
1
g
|
Fat:
1
g
|
Saturated Fat:
0.2
g
|
Polyunsaturated Fat:
1
g
|
Monounsaturated Fat:
1
g
|
Sodium:
259
mg
|
Potassium:
15
mg
|
Fiber:
0.3
g
|
Sugar:
1
g
|
Vitamin A:
35
IU
|
Vitamin C:
0.3
mg
|
Calcium:
28
mg
|
Iron:
0.4
mg
SEND FOOD PICS 📸
Tag @earthtoveg or leave a comment below if you tried this recipe. It makes my day. 😊