Before I went vegan, I absolutely loved eating seafood, especially sushi. Unfortunately, although faux meats are now plentiful in many supermarkets, the vegan fish industry has been slow to catch up. You'd be hard pressed to find vegan sashimi or nigiri in a big box grocery store.
Luckily, there are a couple of recipes out there for veggie sushi fish, and I happen to have a wonderful plant-based food store in my city that sells a huge selection of vegan meats and fish (Calgarians, check out Homey Food for all your vegan needs). I decided to put a few of the most promising options to the test and figure out which one is closest to the real thing. If you're craving sushi, I hope you find this guide helpful in finding a substitution that satisfies you!
Tomato Tuna Nigiri
High in umami and with an inner texture not unlike raw fish, tomato seems like a natural choice for replacing seafood. I was a big fan of the texture of this tomato sashimi recipe, although it was just a little on the soft side compared to real sashimi. While you won't fool anyone into thinking they're eating actual fish, it still makes for a really delicious piece of nigiri.
One small change: instead of 6 Roma tomatoes, I used one giant beefsteak tomato which worked out well. Since this recipe calls for hollowing out the tomato and discarding the soft insides, I added the discarded juice and seeds to a panzanella salad.
This recipe was also the least expensive out of all the ones I tested, since I can get tomatoes fairly cheaply here. So that's another point in its favour.
Watermelon Tuna Gunkan Maki
Gunkan-maki (軍艦巻) is a type of nigiri that consists of a minced topping instead of a single large strip on top of the rice. Gunkan means "warship," which refers to the shape of the roll, as you can see below.
I saw this recipe posted to the subtle asian cooking Facebook group and was so intrigued I had to give it a shot. I mean, watermelon is probably the last thing I'd consider when brainstorming a substitute for fish.
The preparation is more involved than the tomato tuna option above, but overall still simple to follow. (I saved the rind from the watermelon and used it to make tzmeroog rechel.) The most difficult part was wrapping up the watermelon into a presentable gunkan-maki shape because that nori sheet gets soggy real fast.
Although it didn't end up tasting like fish per se, I was still pleased with the results! The recipe writeup claims that "the difference is minuscule to actual tuna," which is not quite true—you definitely wouldn't mistake this for the real thing—but it's a delicious thing all on its own. Yes, there is a sweetness to it from the watermelon but it works well with the flavours of the other ingredients.
I liked the marinade for this one better than the tomato sashimi above (though don't get me wrong, that one was delicious too), and in fact you could combine the marinade from this recipe with the tomato slicing procedure in the recipe above if the idea of using watermelon grosses you out. Or you can even use watermelon rind, like I did below. The texture will be different, because the rind is firm and crunchy instead of soft and juicy, but the flavourful marinade still makes it a delicious topping for your sushi bowls.
VEGEFARM Vegan Unagi (Japanese Roasting Eel)
Unlike sashimi, unagi aka barbecued eel is cooked. It's a common topping for nigiri and also found on the popular unadon, which is a bowl of steamed rice topped with unagi.
This unagi is sold by VEGEFARM, a brand based out of Taiwan specializing in vegan and vegetarian mock meats. I purchased it from Homey Food, which carries many imported Taiwanese products.
First, the good: this veganized unagi is definitely tasty. It even flakes a bit, like a real fish fillet. The sauce is delicious too. And it packs a protein punch: 22 g protein for a 100 g serving (half the package)! Eating this is a very satisfying experience.
The not-as-good: the fish is slightly mushy. The taste and texture actually reminded me more of chicken than fish. Also, while the sauce is good, the fish itself did not have that intense fishy flavour that I associate with unagi. Finally, these were expensive (I don't remember the exact price but it was upwards of $10 for a 200 g package).
Overall, though, it comes somewhat close to the real unagi experience and I would buy it again. I used this in my easy sashimi poke bowl recipe, below, although it's pretty good on its own or over a bed of sushi rice.
I have a tip if you'd like to try this one yourself: take the cooking instructions on the package as a guideline only. A non-stick pan on the stovetop is easiest but you still need to add oil. Otherwise, it will stick like crazy. Use medium-low to medium heat and don't try to flip it if it's still sticking to the pan, or it'll fall apart. It took me about 5 minutes on each side.
VEGE 9 Vegan Sashimi (Tuna and Salmon)
This is also a Homey Food purchase. These salmon and tuna sashimi blocks are sold by the brand "Vege 9, Inc." another Taiwanese company. They come frozen, but to eat them you need to first thaw overnight in the refrigerator. The packaging says you should finish the sashimi within 2 days of thawing, although I kept one in the fridge for 5 days and it still tasted the same as the one that was eaten right away.
The packaging and presentation of these vegan sashimi is very similar to the "Sashimi No Tuna" and "Sashimi Zalmon" sold by Vegan Zeastar, which I've heard a lot of hype about but are not yet available in Canada. Once they start being sold here, I will do a comparison of these two brands. But I couldn't be happier with these ones!
I was blown away by this product. Out of everything I've tasted, this was the closest to real salmon or tuna sashimi in taste and texture. (My boyfriend was less enthused, but meh he's biased against vegan food in general. My mom was just as impressed as I was; she said it tasted super close to actual seafood.) I used them in both a vegan poke bowl (recipe below) and rolled up into maki.
The biggest issue with the two homemade recipes above (tomato and watermelon) is that they primarily use soy sauce and other strong seasonings to add umami and to mask the flavour of the original ingredient. Raw fish, of course, isn't saturated with soy sauce and has a more subtle taste. This product mimics that mild flavour—just a hint of salt and something fishy, but not heavily seasoned. The touch and feel of these sashimi blocks is pretty close too; the ingredients list contains konjac flour, locust bean gum, and carrageenan, which account for the firm yet squishy texture. It's bouncier compared to real sashimi but that's really not a problem.
And one more bonus, these are incredibly light on calories! Half a block of vegan sashimi, which is actually quite filling, will set you back less than 60 calories.
At $12.50 a pop, these hurt my wallet a lot more than the homemade sushi options. But you get what you pay for, and if you are craving a true sushi experience these will be your best bet.
Poke Bowl Recipe
Using the salmon and unagi blocks, plus some other fresh veggies, I whipped up this delicious all-vegan poke bowl. With plant-based alternatives to everything, it's so easy to go vegan these days!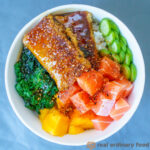 Vegan Sashimi Poke Bowl
Here's my quick and easy poke bowl recipe featuring vegan sashimi and vegan unagi. Bursting with realistic seafood flavours, this colourful bowl will satisfy all your sushi cravings.
Print Recipe
Ingredients
½

pack

vegan tuna or salmon sashimi, diced

½

pack

vegan unagi

see Note 1

1

cocktail cucumber, sliced thin

½

mango, cubed

3

cups

spinach

1

cup

cooked sushi rice

see Note 2 for cooking instructions
Instructions
Add sushi rice to a bowl, then top with the remaining ingredients.

Drizzle the unagi BBQ sauce over the bowl and dig in!
Nutrition
SEND FOOD PICS 📸
Tag @earthtoveg or leave a comment below if you tried this recipe. It makes my day. 😊
Recipe Notes
The unagi brand I used comes with enough barbeque sauce to season the entire poke bowl. If yours doesn't come with sauce, or it's not enough, add some extra soy sauce or teriyaki sauce to taste.
Use the table below to cook up your sushi rice. You should use either sushi rice (such as Nishiki and Sekka) or calrose rice (such as Botan or Kingo Musenmai). Cook your desired amount of rice as usual (I prefer to do mine in the Instant Pot). When it's done, uncover it and mix in the other ingredients (vinegar, sugar, salt) while the rice is still hot.
| | | |
| --- | --- | --- |
| Ingredient | Volume | Weight |
| Rice, dry | 1 cup | 200 g |
| Rice, cooked | 3 cups | 600 g |
| Rice vinegar | 1–2 tbsp | 15–30 g |
| Sugar | 1/2 tbsp | 6 g |
| Salt | 1/2 tsp | 3 g |
Using this table, you can prepare as much sushi rice as needed!
Nutrition, Cost, and Emissions Information
Calculation for vegan poke bowl recipe is as follows:
Conclusion
The clear winner out of this taste test were the Vege 9 sashimi blocks. While none of the vegan sushi tested could fool a fan of real sushi, the Vege 9 products came close. The vegan unagi also makes a decent substitute for fans of unagi donburi or unagi nigiri. However, the homemade tomato tuna and watermelon tuna recipes are much more affordable and accessible for everyday cooking. If you go in expecting a perfect sashimi facsimile, you'll be disappointed. If you appreciate them for what they are: creative, unique, and savoury spins on common fruits and vegetables, I'm sure they will make you a wonderful lunch or dinner!
Have you found other interesting vegan sushi or sashimi recipes, or have a product in your country that you want to brag about? Please let me know in the comments.