This bouncy Vegan Sashimi is made by marinating konjac (Japanese yam cake). Very versatile: slice it into strips to make nigiri sushi or maki rolls, or dice it up to add to a poke bowl, donburi, or gunkan maki. Lightly seasoned with a springy texture.
Why Konjac Sashimi?
Neutral taste: This vegan sashimi doesn't rely on carrots, tomatoes, watermelons, or other sushi alternatives. Here, we're using konjac to provide a clean slate that readily takes on the umami flavours of the marinade. And the marinade itself is only lightly seasoned because after all, fresh raw seafood doesn't have the strongest taste either. I didn't want to produce a recipe that smacks you in the face with sodium and spices—my aim here was to mimic the subtle yet savoury taste of real sashimi.
Versatile: Konjac sashimi is sturdy. You can slice it, dice it, roll it into whatever shape you want. Throw this sashimi onto nigiri, roll it into maki rolls or temaki (hand rolls), pack it into donburi and poke bowls, chop it up for gunkan maki. So many options!
What You'll Need
A few important notes on some of the ingredients used in this Vegan Sashimi recipe:
Konjac aka Konnyaku: Konjac is an Asian root vegetable with a springy, almost rubbery texture. In the West it's mostly seen as a diet food, because it's very low in calories and high in glucomannan, a type of fiber. (Yes, this is the stuff that shirataki noodles are made of.)
Konjac is not only sold in noodle form, though. You can also find it sold in blocks, which are usually labelled "yam cakes." You'll want to use the block form for this recipe. It has a naturally fishy flavour but boiling it will take away the smell. Konnyaku has basically no flavour of its own, but it absorbs flavourful marinades really well, which is why it's unbeatable for making vegan sashimi.
Soy Sauce: For the most authentic Japanese flavour, use a Japanese soy sauce like Kikkoman. But don't add too much! You don't want the sashimi to be drowning in salt. The soy sauce should add just a touch of umami without being overwhelming. This results in a neutral-tasting vegan sashimi, which can then be dipped in soy sauce and wasabi just like the real thing.
Roasted Nori (Yaki Nori): Optional, only if you want a subtle ocean flavour in the sashimi. Make sure you specifically buy yaki nori. I do not recommend substituting with kombu or regular nori; these tend to make the sashimi taste overly fishy.
Food Colouring: I think looks are part of the eating experience. That's where the food colouring comes in—while it doesn't impact the flavour of the sashimi, it'll dye your konjac to match the colour of the real thing. Biting into a big red juicy piece of vegan sashimi just sells the fact that you're eating sashimi instead of seasoned konnyaku.
For a full list of ingredients and quantities, refer to the recipe card at the bottom of this post.
Step-by-Step Process
Step 1: Bring a small pot of water to a boil on the stove. Slice konjac cake into 1/2-inch thick strips.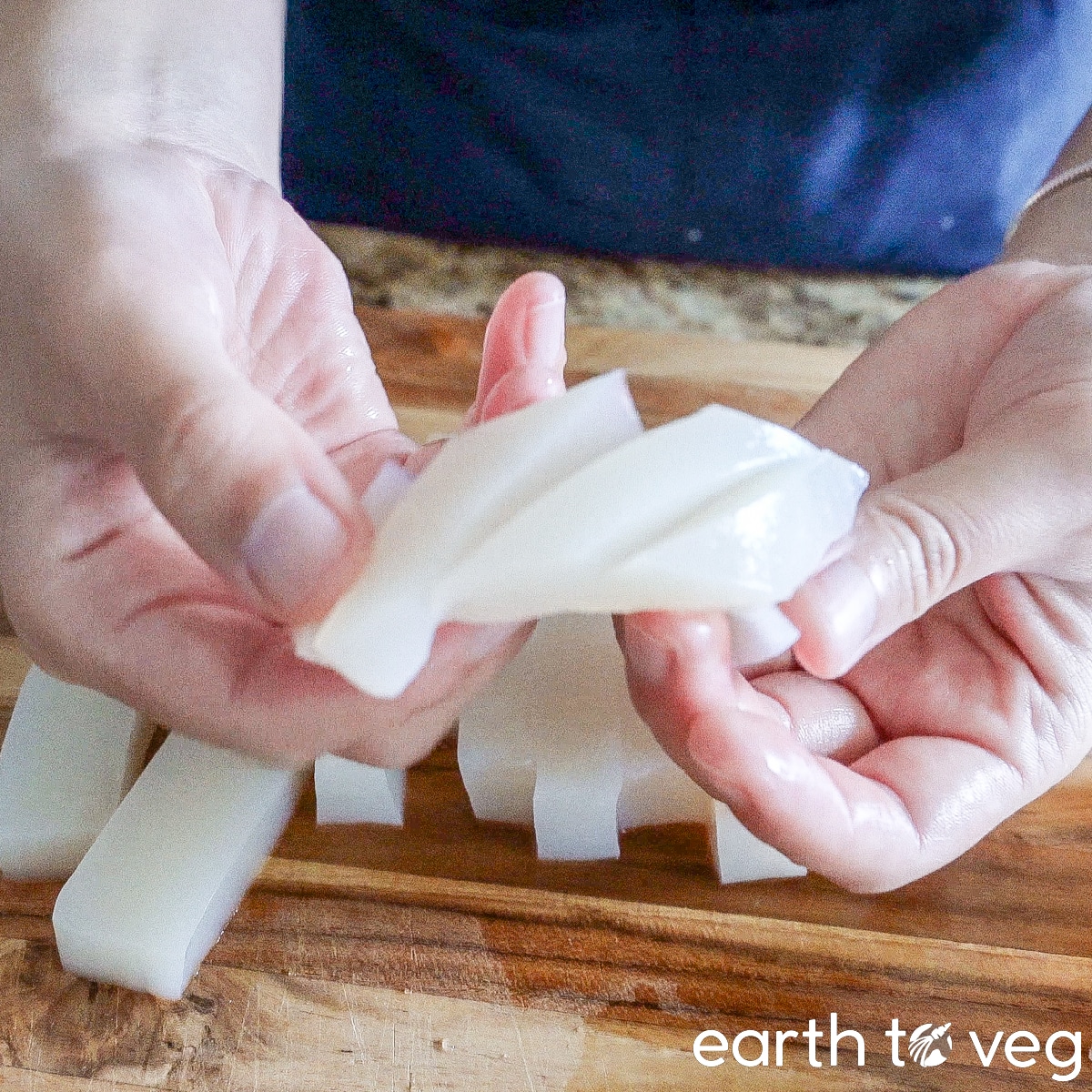 Step 2: Optionally, score each side of the konjac with a knife to help it better absorb the marinade.
Note: Konjac may have a "fishy" odour when you take it out of the package, but this is just the natural smell of unprocessed konjac root. Once you boil it, the smell disappears.
Step 3: Once the water is boiling vigorously, drop in the konjac pieces.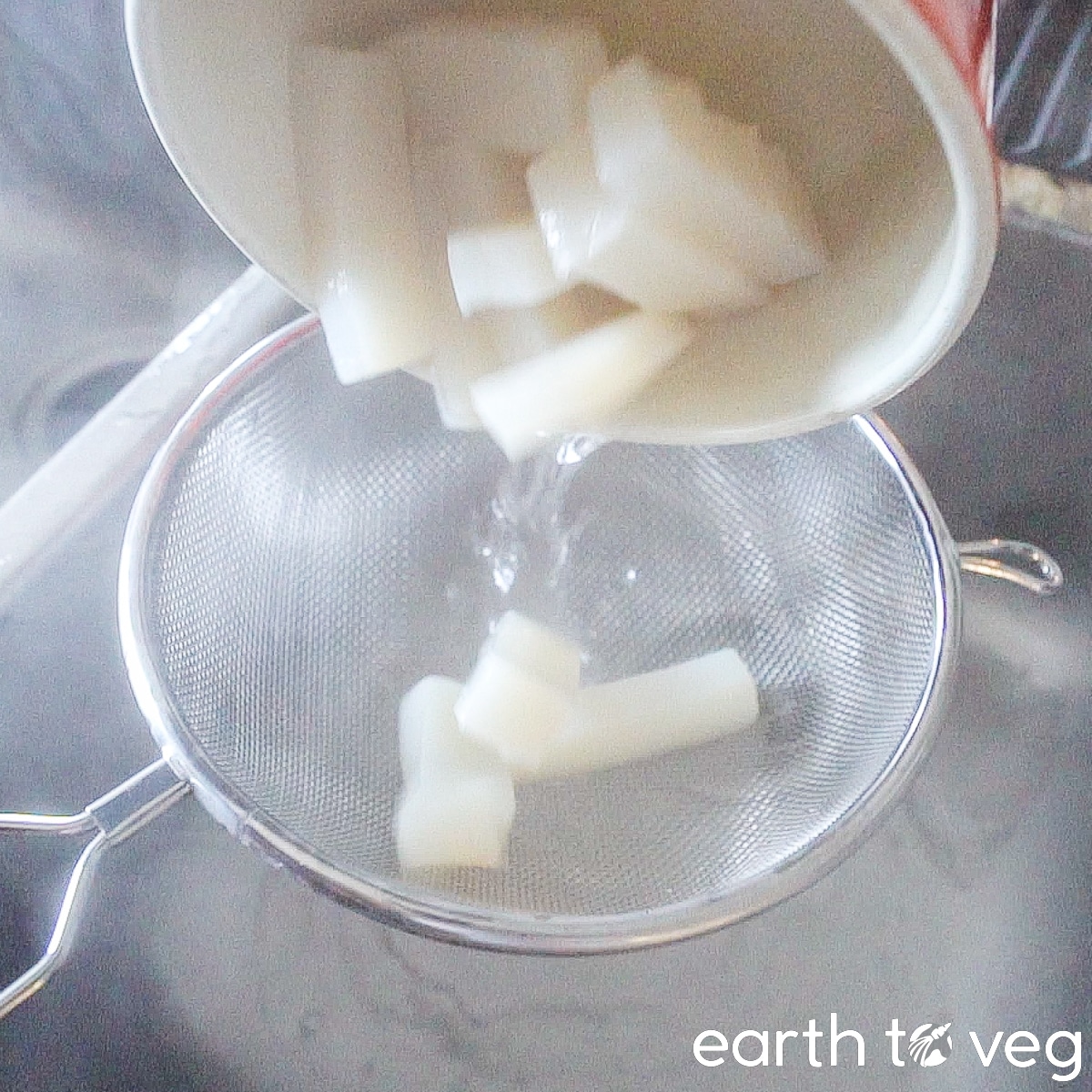 Step 4: Boil for 1 minute, then drain and rinse konjac with cold water.
Step 5: Mix together konjac, soy sauce, nori, sugar, and food colouring in a small ziploc bag, making sure to coat all the pieces.
Step 6: Marinate in the refrigerator for 16 to 36 hours. Rinse off the excess marinade and pat sashimi pieces dry before using.
Tip: Don't forget to rinse off the marinade afterwards, or else the food colouring will drip into your rice and end up colouring your rice red!
What to Make with Vegan Sashimi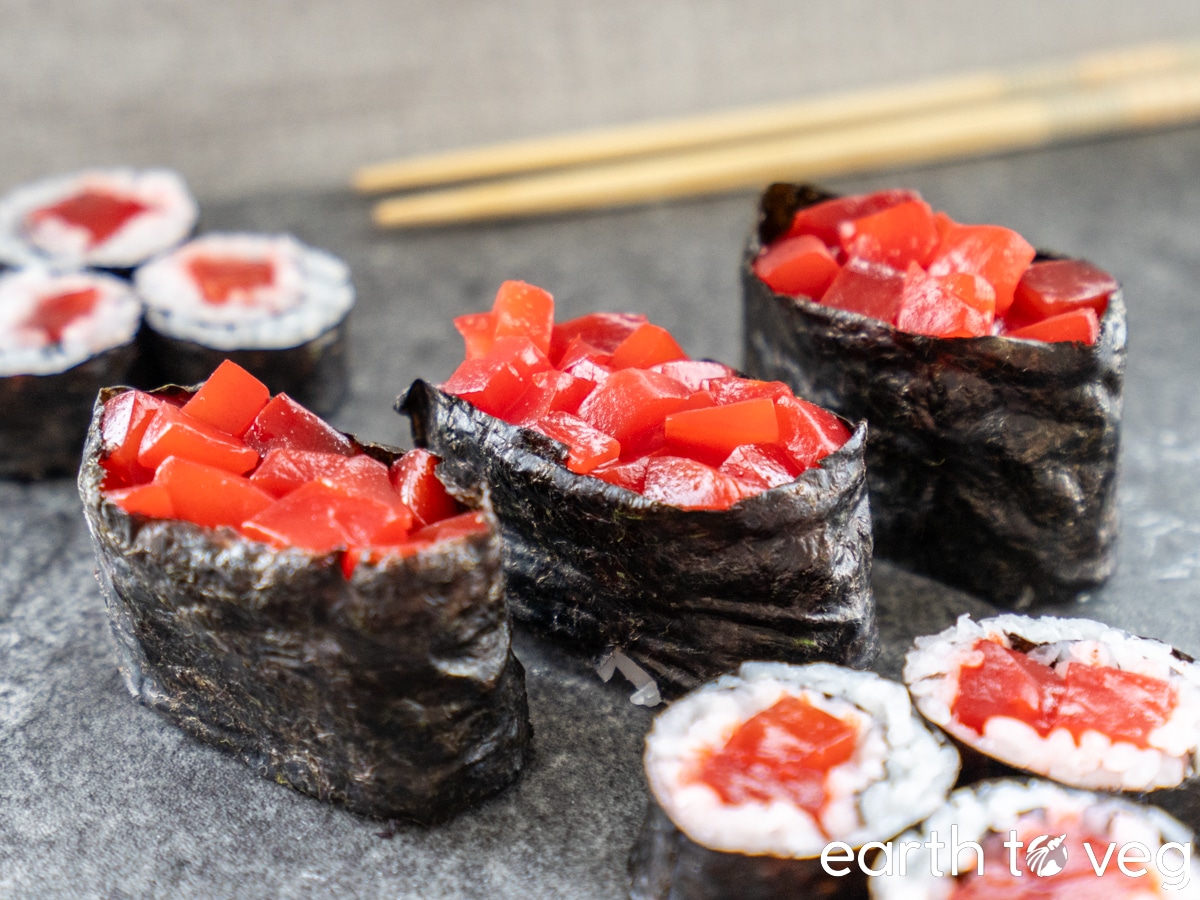 Looking for ideas on how to use the vegan sashimi you just made? Here's some inspiration:
Nigiri (hand-pressed sushi)
Maki (sushi rolls)
Temaki (hand rolls)
Gunkan maki (battleship sushi)
Poke bowls
Donburi
Make Ahead & Storage Tips
Make Ahead: You can marinate vegan sashimi a day in advance. Do not marinate the konjac for more than 36 hours or else it will get mushy and begin to fall apart.
Fridge: Rinse off excess marinade, pat dry, and store in an airtight container for up to 3 days.
Freezer: Freezing changes the texture of konjac. Once defrosted, it becomes spongy and loses its bouncy touch. For that reason, I do not recommend freezing konjac sashimi.
Recipe FAQs
What is vegan sashimi made out of?
Vegan sashimi can be made from several sources, including watermelon, tomato, konjac, and carrot. Typically the idea is to have something sweet and slightly savoury with a texture similar to raw fish. Konjac is a root vegetable also known as konnyaku, and its starchy, gelatinous texture makes it an excellent substitute for raw fish.
What is a vegan substitute for raw fish?
A popular vegan substitute for raw fish, incorporating konjac, is vegan "konjac sashimi." As mentioned earlier, konjac is a root vegetable that, when marinated with umami ingredients and sliced into the right shape, bears a striking resemblance to traditional fish slices used in sashimi. Konjac is a great alternative for those seeking a plant-based version of raw fish. Not only does it offer a similar appearance to traditional sashimi, but it also provides a tasty and cruelty-free option for vegans and those looking to reduce their consumption of animal products.
What is a vegan substitute for raw salmon?
There are several plant-based substitutes for raw salmon that can be used in sushi rolls or other dishes where the texture and appearance of raw fish are desired. Some common vegan alternatives for raw salmon include watermelon, beet, tofu, tempeh, and konjac. The important thing is to find a recipe that calls for steeping the raw ingredient in a flavourful marinade so that it takes on a savoury flavour that will satisfy any craving for real fish.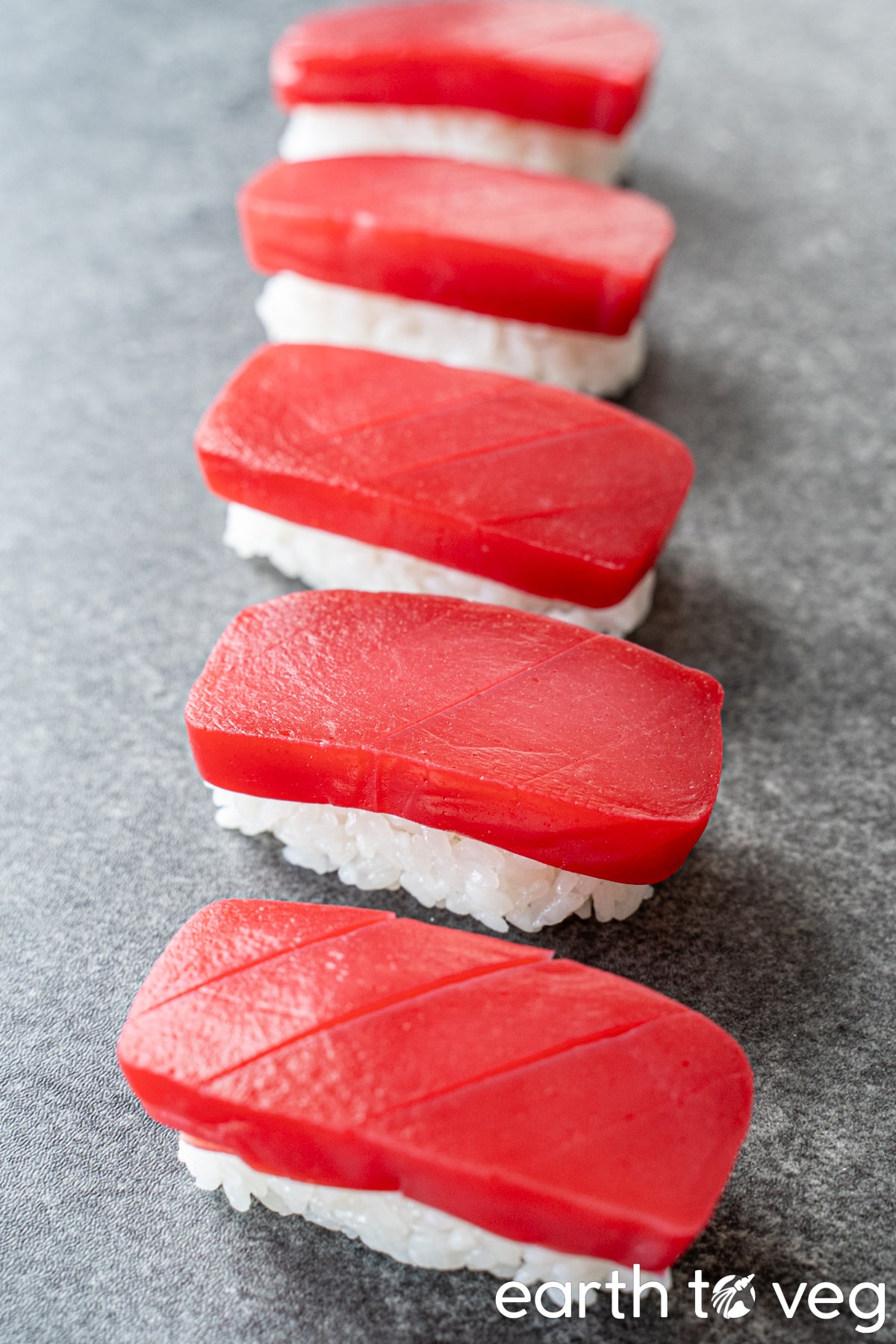 Recipe Card
Did you make this recipe? Please consider leaving a rating below to let me know how you liked it.
You can also take a picture and tag me on Instagram @earthtoveg, I will shout you out in my Stories!
Homemade Vegan Sashimi Recipe
This bouncy vegan sashimi is made by marinating konjac (Japanese yam cake). It's versatile: perfect for nigiri, sushi rolls, donburi, gunkan maki, and more.
Print Recipe
Use Imperial/Metric buttons below to toggle between volume vs weight measurements. I recommend weighing out your ingredients for best results.
Equipment
Small saucepan or stock pot

(for boiling the konjac)

Small resealable bag

(eg. Ziploc)
Ingredients
1

package

konjac aka konnyaku or yam cake

approx. 1/2 lb

1

tbsp

soy sauce

¼

sheet

nori

*optional

¼

tsp

sugar

*can sub with granulated sweetener

3 to 5

drops

red food colouring

10

drops

yellow food colouring

*optional; see Note 1
Instructions
Bring a small pot of water to a boil.

Meanwhile, slice konjac into 1/2-inch thick strips. Optional: lightly score both sides of the konjac with a knife to help it better soak up the marinade.

Once the water is bubbling vigorously, drop in the konjac pieces and boil for 1 minute, then drain and rinse with cold water.

Mix the rest of the ingredients together in a small ziploc bag: 1 tbsp soy sauce, 1/4 sheet nori, 1/4 tsp sugar, and 5 drops of red food colouring (plus 10 drops of yellow food colouring if desired).

Add the cooled konjac into the ziploc bag and mix well to coat all the pieces. Marinate in the refrigerator for at least 16 hours and no longer than 36 hours (see Note 2).

Rinse off excess marinade and pat the sashimi pieces dry before using.
Notes
Food Colouring: Add the yellow food colouring if making "salmon" sashimi, as salmon has a more orange-red colour. Omit yellow food colouring to make "tuna" sashimi as tuna has a deeper red colour.
Very important: do not marinate the konjac for more than 36 hours or else it will get mushy and begin to fall apart.
Nutrition
Calories:
7
kcal
|
Carbohydrates:
1
g
|
Protein:
1
g
|
Fat:
0.003
g
|
Polyunsaturated Fat:
0.001
g
|
Sodium:
105
mg
|
Potassium:
5
mg
|
Fiber:
0.02
g
|
Sugar:
0.2
g
|
Vitamin A:
13
IU
|
Vitamin C:
0.1
mg
|
Calcium:
1
mg
|
Iron:
0.05
mg
SEND FOOD PICS 📸
Tag @earthtoveg or leave a comment below if you tried this recipe. It makes my day. 😊