Most Thai curries are incomplete without a rich coconut milk base. But if you're avoiding coconut milk for health, allergy, or ethical reasons, Kaeng Pa or Jungle Curry is here to answer your prayers! Due to the much lower fat content, this traditional Thai curry different in both taste and consistency from the green or red curries most of us are used to. It is so thin as to resemble more of a soup than a thick curry sauce, but is a savoury, refreshing change of pace. You know that food-coma feeling you get after eating a big bowl of a rich curry? Yeah, that won't happen with this one. Pair with a light Thai Stuffed Bitter Melon Soup for a low-fat Thai feast!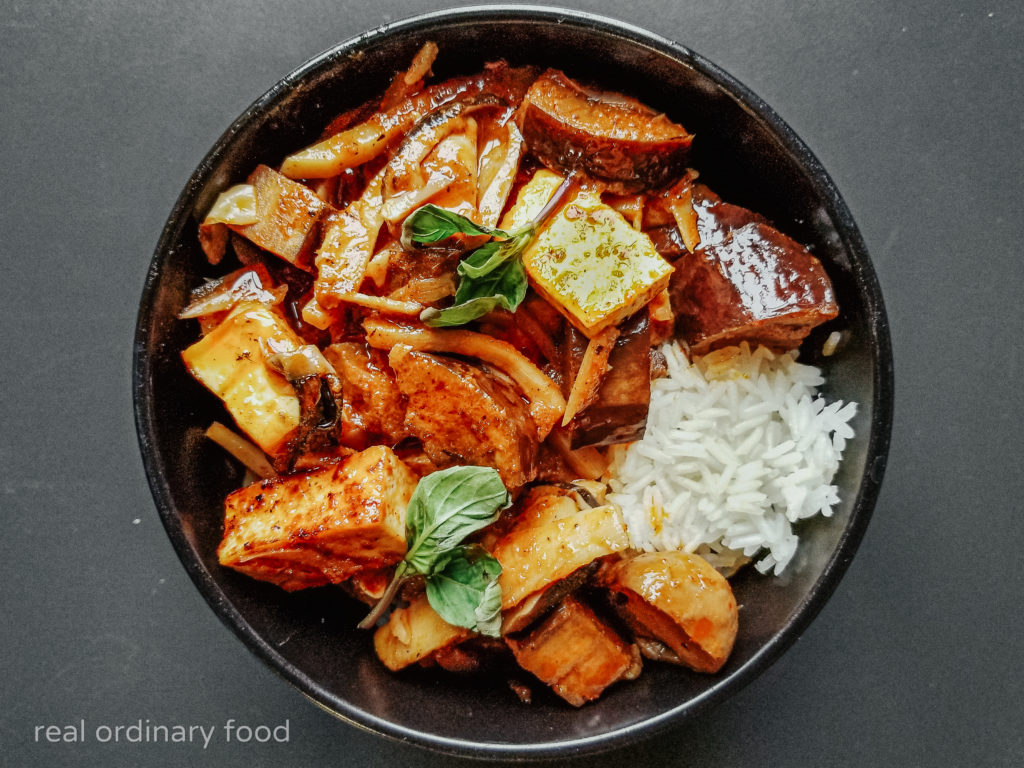 What You'll Need
Let's go over the most important ingredients you'll need to make a good Thai jungle curry.
Curry Paste
Red or green curry paste are the most commonly used varieties for kaeng pa. They're also the easiest to find (most grocery stores carry them now in the international or Asian aisle). I like the Aroy-D and Maesri brands, which are vegan. (Mae Ploy, another common brand, adds shrimp paste to their red and green curry pastes, so they would not be suitable for a plant-based diet.)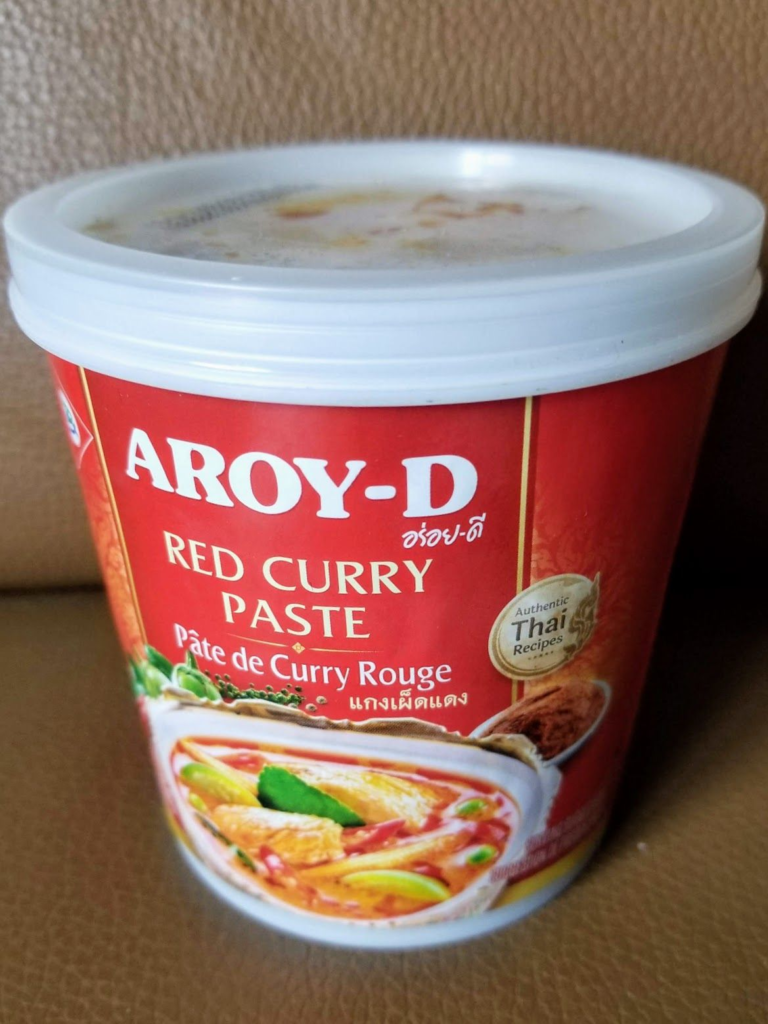 Side note: if you'd like to make a coconut milk based curry with your curry paste, try this Red Curry (Kaeng Phet) recipe.
Tofu or Seitan
This adds some hearty protein to the dish. If you're using tofu, don't skip the frying step; searing the tofu creates a deliciously chewy outer layer that contrasts beautifully with the soft inside.
Straw Mushrooms
These mushrooms are the default in a lot of Asian cuisines, including Thai; however, pretty much any variety of shrooms will work in their place.
Straw mushrooms are ubiquitous in Thailand the way button mushrooms are in North America, but they are very uncommon here. In fact, I hadn't heard of this mushroom variety until I started researching this recipe! If you're living outside of Asia, you may have to settle for canned straw mushrooms. I think you'll have luck at most Asian grocers, though; I was able to find this can in my tiny local supermarket.
I'm in love with pretty much every shape of mushroom, but I find these especially cute. They're so round and squishy!
I hope I'll be able to source fresh straw mushrooms someday, but for now here's my review of the canned ones: they taste very savoury (definitely more umami taste than button mushrooms) but a little fishy too, I think that comes from being canned. The mushroom caps hold a lot of water and spurt it out when bitten into, reminding me of a water balloon. Make sure to rinse well before using.
Bamboo Shoots
I like to use bamboo shoots that are preserved in chili oil because the chili oil adds an extra dimension of flavour to this jungle curry. They can be found in a jar such as the one I'm holding here or in a plastic vacuum pack. You can also use fresh bamboo shoots or plain canned shoots or omit them altogether if you're not a fan.
Wondering what to do with the leftover half jar of bamboo shoots? When I lived with my parents, we used to eat it for breakfast with our congee. Another option: add it to a Chinese hot and sour soup. I also love eating it right out of the jar, yes it's that good lol.
Other Vegetables You Can Use
The veggies you can add to this recipe are incredibly versatile. Eggplants and mushrooms are a staple and a classic, but you can leave out whatever veggies you don't like and add other ones you have on hand.
I already went over the mushrooms and bamboo shoots earlier. The eggplants I used were Chinese eggplants, the long and skinny ones, but again, you can use whatever you can find. Zucchini would be a great substitute (they have a somewhat similar texture after simmering), but if you're using zucchini, add them halfway through the cooking time to avoid turning them into mush.
Other vegetables that work well in this curry:
Baby corn (the canned kind)
Broccoli
Bell peppers
Carrots
Squash (kabocha is the most traditional but butternut, acorn, etc. is fine)
String beans
How to Turn This Recipe into a Noodle Soup Dish
One last thing: this curry is commonly eaten with Steamed Rice but it's easy to turn into a noodle dish.
When you're halfway through the simmering step (Step 4), add three extra cups of water and three servings of dry noodles. (For me, one serving for a main course is anywhere from 70g to 100g depending on how hungry I am that day.)
I used glass noodles aka Asian sweet potato noodles, but I think thin rice noodles or udon would work too (shorten the cooking time accordingly), or even long pastas like spaghetti or linguini.
Recipe Card
Did you make this recipe? Please consider leaving a rating below to let me know how you liked it.
You can also take a picture and tag me on Instagram @earthtoveg, I will shout you out in my Stories!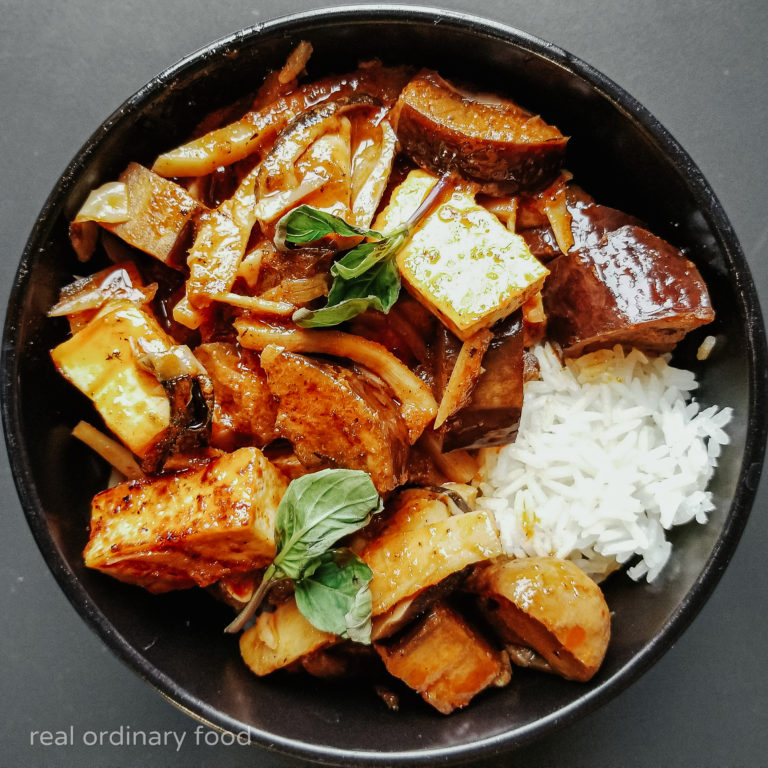 Vegan Jungle Curry (Kaeng Pa)
Want to make curry but don't have any coconut milk? Kaeng pa got your back. This is a Thai vegan jungle curry which is naturally coconut-free.
Print Recipe
Use Imperial/Metric buttons below to toggle between volume vs weight measurements. I recommend weighing out your ingredients for best results.
Ingredients
1½

tbsp

cooking oil

1

package

firm tofu or seitan

extra-firm tofu is fine too

2

tbsp

red curry paste or green curry paste

1

small

eggplant, sliced and quartered

½

cup

straw mushrooms, sliced

see Note 1

½

jar

bamboo shoots in oil

*optional

2

cups

water or vegetable stock

1

tbsp

vegan fish sauce

see Note 2

2

tsp

palm sugar

1

sprig

Thai basil leaves

3

cups

Cooked Jasmine Rice

for serving
Instructions
Heat wok or a similar pot to medium-high heat.

Pour in the oil and swirl to coat the bottom of the wok. Add tofu in a single layer and pan-fry for two minutes on each side, or until each piece is golden brown and lifts without sticking.

Add curry paste, eggplant, mushrooms, bamboo shoots, water, fish sauce, and sugar. Give everything a quick stir.

Cover and bring to a boil, then turn heat down to medium-low and simmer for at least half an hour, or until the vegetables have softened to your liking.

Remove from heat and stir in the Thai basil leaves. Spoon curry over jasmine rice or noodles and enjoy.
Notes
If you can't find straw mushrooms, any kind of mushroom will work in this vegan jungle curry. Slice into 1-inch pieces.
You can either make your own vegan fish sauce, or substitute with an equal amount of light soy sauce. (If you're not sure if your soy sauce is light or dark, it's light.)
This recipe is adapted from Rasa Malaysia and Healthy Thai Recipes.
Nutrition
Calories:
450
kcal
|
Carbohydrates:
65
g
|
Protein:
18
g
|
Fat:
13
g
|
Saturated Fat:
2
g
|
Polyunsaturated Fat:
5
g
|
Monounsaturated Fat:
6
g
|
Trans Fat:
0.02
g
|
Sodium:
437
mg
|
Potassium:
239
mg
|
Fiber:
5
g
|
Sugar:
6
g
|
Vitamin A:
2289
IU
|
Vitamin C:
3
mg
|
Calcium:
207
mg
|
Iron:
4
mg
SEND FOOD PICS 📸
Tag @earthtoveg or leave a comment below if you tried this recipe. It makes my day. 😊