Only 3 ingredients are needed for this unbelievably simple one-pot pesto pasta. The recipe as written is for a single serving, but it doubles and triples easily. It's perfect for a weeknight meal or quick meal prep. Can't tell you how many times I ate this during school terms when I had no time to cook. The best part is, you can use whatever pesto you want, so it never gets boring!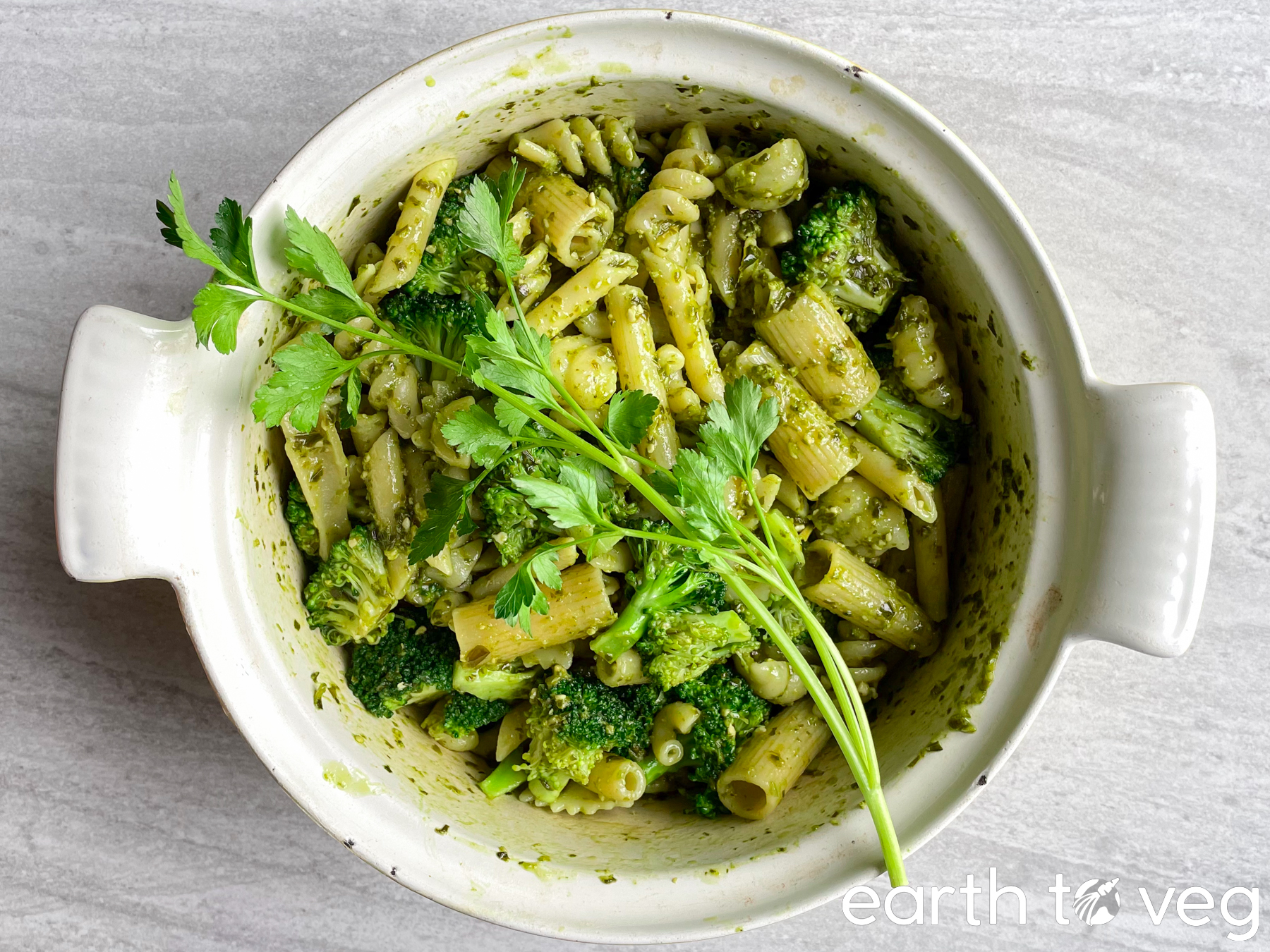 Perfect for Weeknight Dinners
I first cooked up this dish in mid-June of this year during the height of assignment and midterm stress. I was very grateful to find something tasty could be made for so little time and effort. Here's the entry from my food diary on this meal:
boil some pasta in a non-stick, throw in some pesto, add a touch more salt, boom you have cuisine
Yep, it's that simple. Obvs you don't have to use a non-stick skillet, but it's what I chose that day and makes cleanup quicker. Plus, boiling pasta in a shallow pan like a skillet distributes the pasta across a wider area and allows you to use less water. I didn't even have to drain mine. I waited until there was only a little liquid left, then turned off the heat and added the pesto directly to the pan. (The leftover pasta water mixes with the pesto to help the sauce cling to the rotini.) Voila, easy weeknight one-pot meal.
What You'll Need
This one-pot pasta recipe uses three basic pantry ingredients: dried pasta, water, and pesto. The variety of pasta can be anything: I've used everything from angel hair to rigatoni to bowtie pasta. The only varieties I would not recommend are very small pasta shapes, like orzo or tempestina.
I like to add some fresh veggies too—broccoli and spinach are great choices. I prep the veggies while bringing the pasta water to a boil.
Pesto already has a good amount of plant nutrients, usually in the form of herbs or another flavourful ingredient like sun-dried tomatoes, but if you add some veggies with the pesto, like I do with spinach in this recipe, you're set for a pretty healthy meal!
Pesto Ideas
You are more than welcome to use a storebought pesto for this recipe. However, vegans should note that most storebought brands contain dairy so make sure to check the ingredients before buying. Two vegan varieties that I like are Sunflower Kitchen Basil Pesto and Martelli's Arugula Pesto.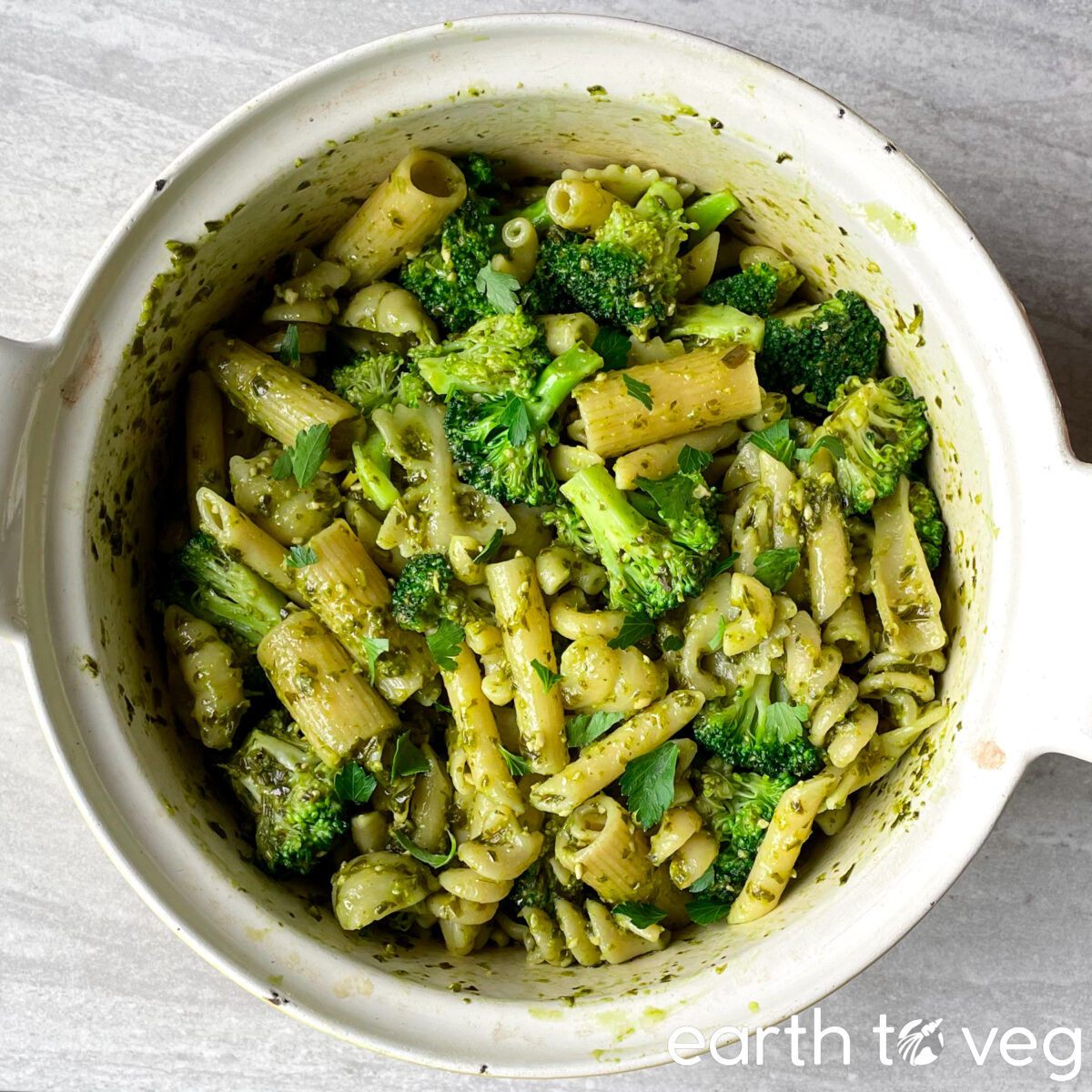 I love making pesto at home, personally, because there's endless variation, so the same pesto pasta never gets boring. Here's a couple of recipes I love that are easy to whip up:
Recipe Card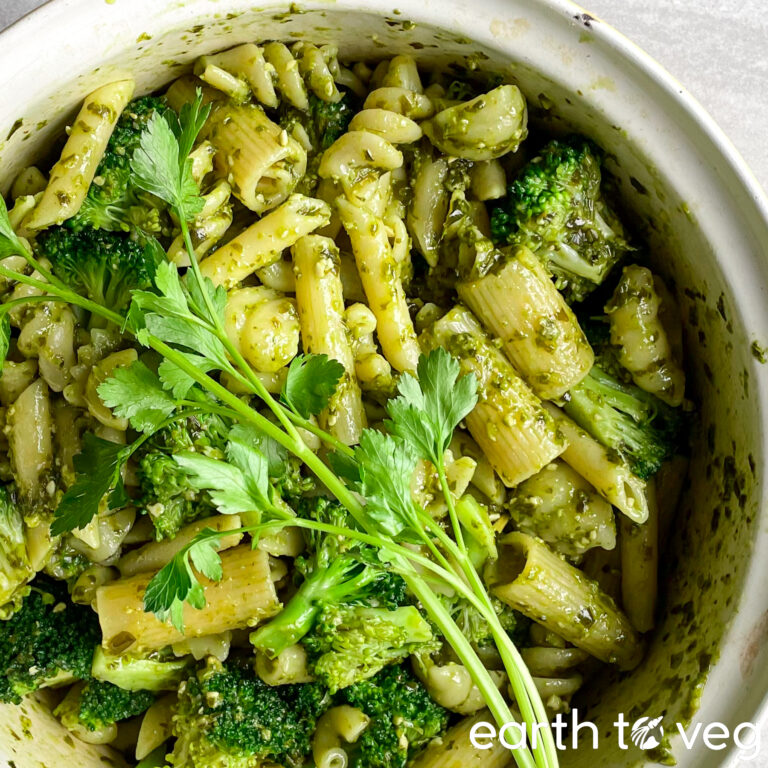 One Pot Vegan Pesto Pasta
Only 3 ingredients are needed for this one-pot pesto pasta. Doubles, triples, etc. easily! Perfect for a weeknight meal or quick meal prep.
Print Recipe
Ingredients
3

oz

dried pasta

85g

8

oz

water

225g; see Note 1

1

cup

baby spinach or broccoli florets

*optional

¼

cup

pesto

60g
Instructions
Add pasta and water to a pot. Cover and bring to a boil.

As soon as water begins to boil, turn heat down to low to prevent the water from boiling over. Set a stopwatch. Give the pot a stir every other minute to prevent pasta from sticking to the bottom, but otherwise keep the lid on.

At the 5-minute mark, mix in your spinach or broccoli if using.

Simmer for a further 5–10 minutes (depending on how done you like your pasta), then turn off the heat. Stir in the pesto and add salt to taste (see Note 2).
Nutrition
SEND FOOD PICS 📸
Tag @earthtoveg or leave a comment below if you tried this recipe. It makes my day. 😊
Recipe Notes
For one or two servings of pasta, use the ratio in the recipe above. If cooking more servings, reduce the water to be twice the amount of dried pasta by weight. For example, if you want to triple this recipe to make three servings of pasta, use 9oz dried pasta (255g) and 18oz water (510g).
I add 1/8 tsp of salt. You may need to add more or less depending on which pesto you are using. Keep in mind we are not draining the water from this pasta so you can't salt the pasta water as generously as you usually would.
Did you make this recipe? Please consider leaving a rating below to let me know how you liked it.
You can also take a picture and tag me on Instagram @earthtoveg, I will shout you out in my Stories!
Nutrition, Cost, and Emissions Information
One bowl of vegan pesto pasta costs $1.84, contains 570 cal and releases 312 gCO2e of carbon emissions into the atmosphere.
To reach the global Paris Agreement emissions target, it's recommended to limit daily carbon emissions from food to 3,050 kgCO2e/day per person.
Nutrition data is provided by Cronometer (click the link at the bottom of the nutrition label to learn more).
Feel free to contact me for sources on the cost and carbon emissions information presented here.
I am not a nutritionist and guidelines on this page are provided for informational purposes only.