Kalettes (also known as flower sprouts or kale sprouts) are a cross between kale and brussels sprouts. Brought to market since 2010, they're becoming more and more common in stores around the world. I tested five different ways to cook kalettes: boiling, pressure cooking, roasting, sautéing, and steaming. Read on for the most delicious way to prepare these vegetables.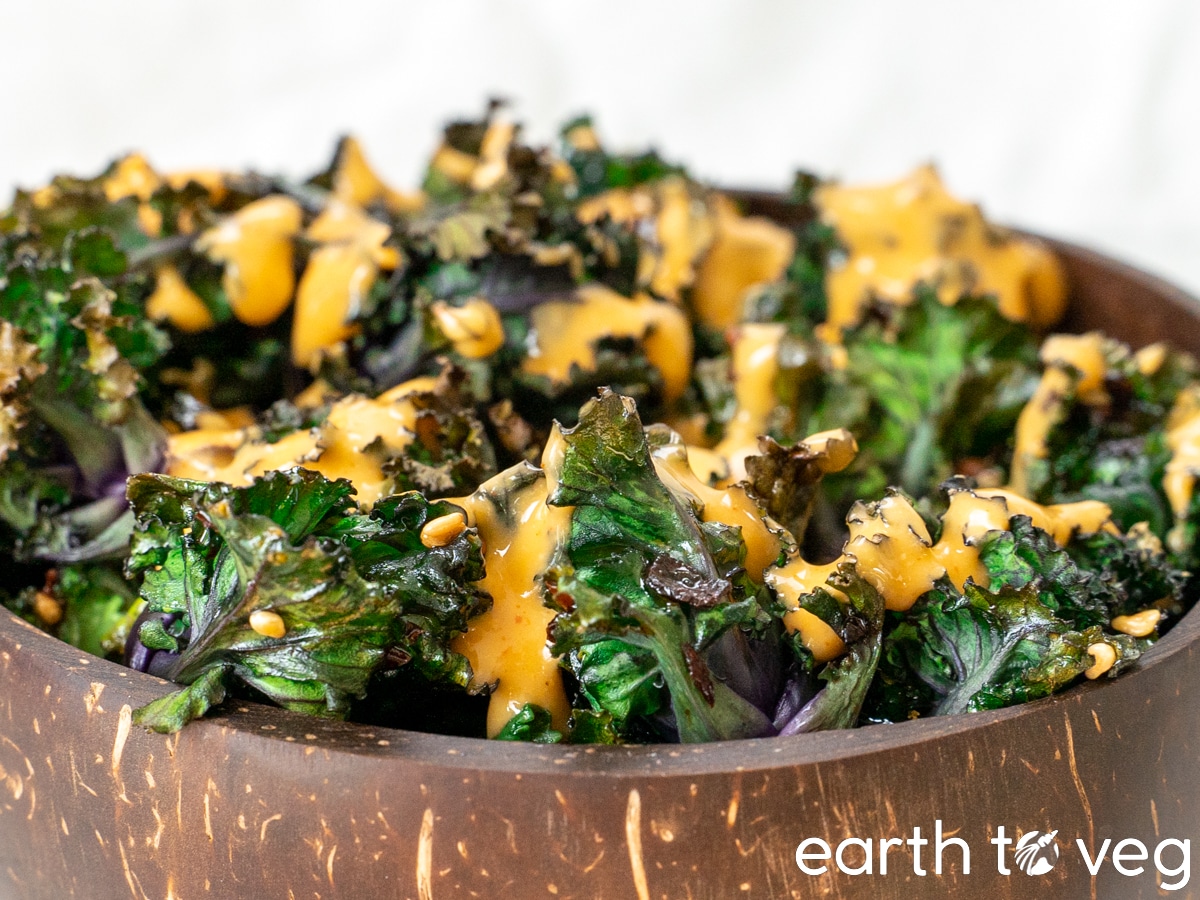 What are Kalettes?
Kalettes have the small size and cabbage-like shape of brussels sprouts, and the curly green-and-purple leaves of kale. Bred by Tozer Seeds in the UK as a hybrid between kale and brussels sprouts, they first appeared on store shelves in 2010.
Sold in Europe as "flower sprouts," the vegetables were renamed to "kalettes" when introduced to North America. In some stores, like Trader Joe's, you can also find them under the name "kale sprouts."
In the US kale is a very, very important product, more so than in the UK, which is why we decided to target America and give the vegetable a new name.

– David Rogers, Tozer Seeds UK sales director
Cooking Methods
I tested out different cooking methods for kalettes and wrote about the pros and cons of each. I'll update this list as I try new recipes.
Boiled
I haven't tried this method myself, personally. That's because my parents have, and they said it tasted horrible. In fact, I had to convince them to buy another bag from Costco and give kalettes a second try because that's how bad of a first impression the boiled kalettes made on them.
Verdict: I think the results could be similar to the Instant Pot or Steaming methods discussed below, as long as you give the kalettes a quick blanch only. However, steaming is easier and has less risk of overcooking. Overall, I don't recommend boiling kalettes.
Instant Pot (Pressure Cooked)
Using the Instant Pot to cook kalettes is just a slightly more hands-off method of steaming.
Method: Add 1 cup cold water to the inner pot. Set it to 0 min on Steam Function (High Pressure). Once the Instant Pot turns off, let the pressure naturally release for between 1 minutes (crunchy) to 3 minutes (tender). Release the rest of the steam and remove the kalettes for serving.
Verdict: The pressure cooked kalettes are slightly bitter and don't have much flavour besides that. But I love that they retain a vibrant blue-green colour. When mixed with a good salad dressing, they make a tasty and healthy snack.
Raw
Raw kalettes, while safe to eat, are unpalatable on their own. The central stalk is thick and tough, and the leaves have a bitter, almost astringent taste. However, Gina Nucci, director at a US kalette distributor, recommends using raw kalettes for salad. As a salad-hater, I'll have to take her word for it. 🥴
Verdict: Only good if chopped up into a salad.
Roasted (Baked)
Most recipes out there call for a higher oven temperature, upwards of 400 °F, for roasting kalettes. But I have gone through a few batches of kalettes and found I actually prefer a lower temperature at 350 °F. When testing the recipe at 400 °F and 450 °F, the thick stalk in the center of each kalette took too long to cook compared to the outer leaves. In fact, the package cooking instructions that come with my bag of kalettes says to roast them at 450 °F, but when I tried this, they ended up burnt-tasting.
Roasting at 350 °F allows the insides to cook to perfect tenderness just as the outer leaves turn crispy and brown.
Method: Toss the kalettes with oil and seasoning. 1/4 tsp of fine salt, or 1/2 tsp kosher salt, is enough for 1 lb of kalettes. Go in with your hands and really massage the oil and seasoning into the kalette leaves. Arrange the kalettes on a baking sheet spaced apart. Roast at 350 °F until the tips of the leaves look dark and crispy. See Recipe Card for detailed instructions.
This is important: don't overcrowd the pan, or they'll be closer to steamed than roasted. None of the kalettes should be touching each other. I think another reason people end up using higher temperatures may be because they are crowding the pan. If you give each kalette enough space, you don't have to cook as hot or as long.
Verdict: This is my favourite cooking method for kalettes so far. I also love that it's so easy to change up the flavour profile, depending on the spice mix you use. Some of the seasonings I've tried so far are adobo seasoning, shichimi togarashi + salt, and steak spice.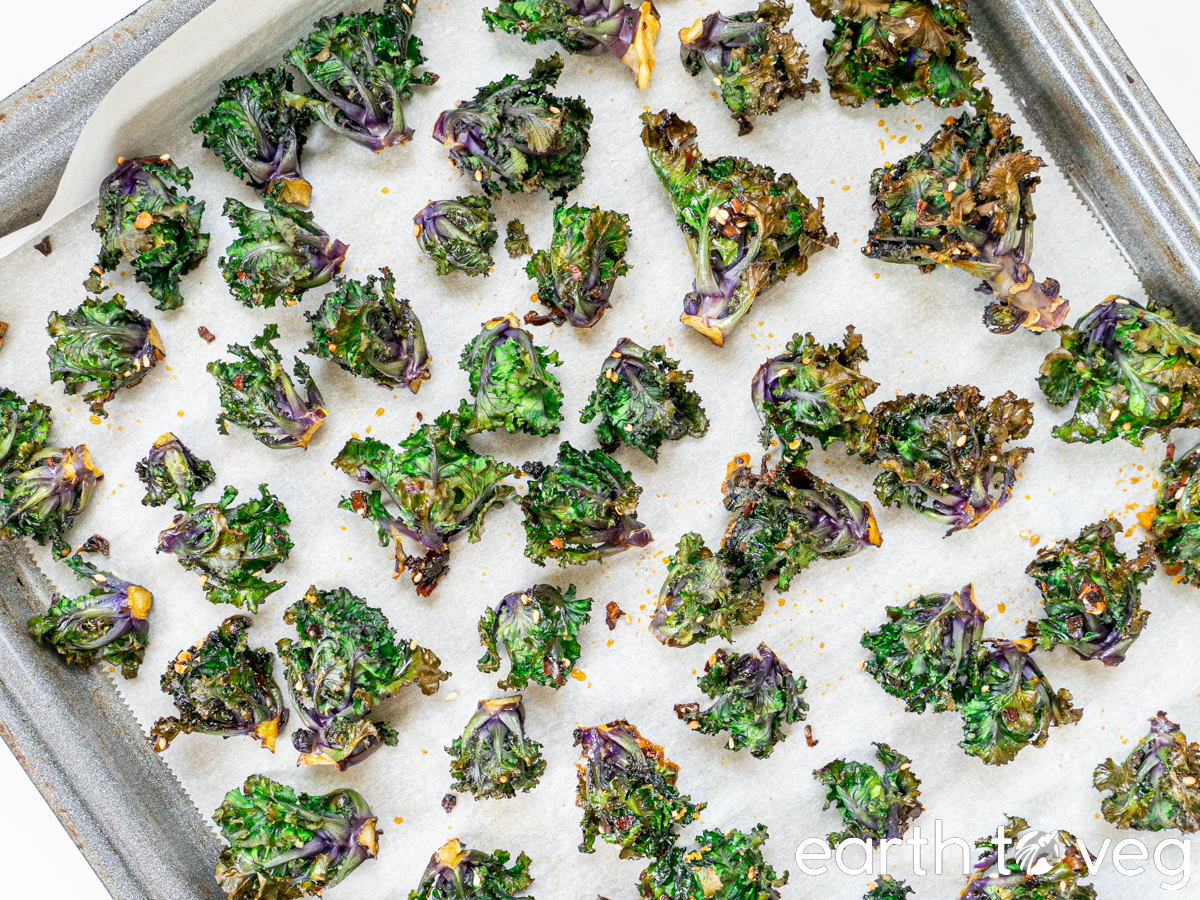 My parents recently got an air fryer so I'm hoping to try air fried kalettes next time I go back to visit. I'll update this post to let you know how roasting compares to air frying!
Sautéed
These kalettes are surprisingly tasty in a stir fry. I also like cooking them on their own in a little lemon and butter, à la the method I use for fiddleheads.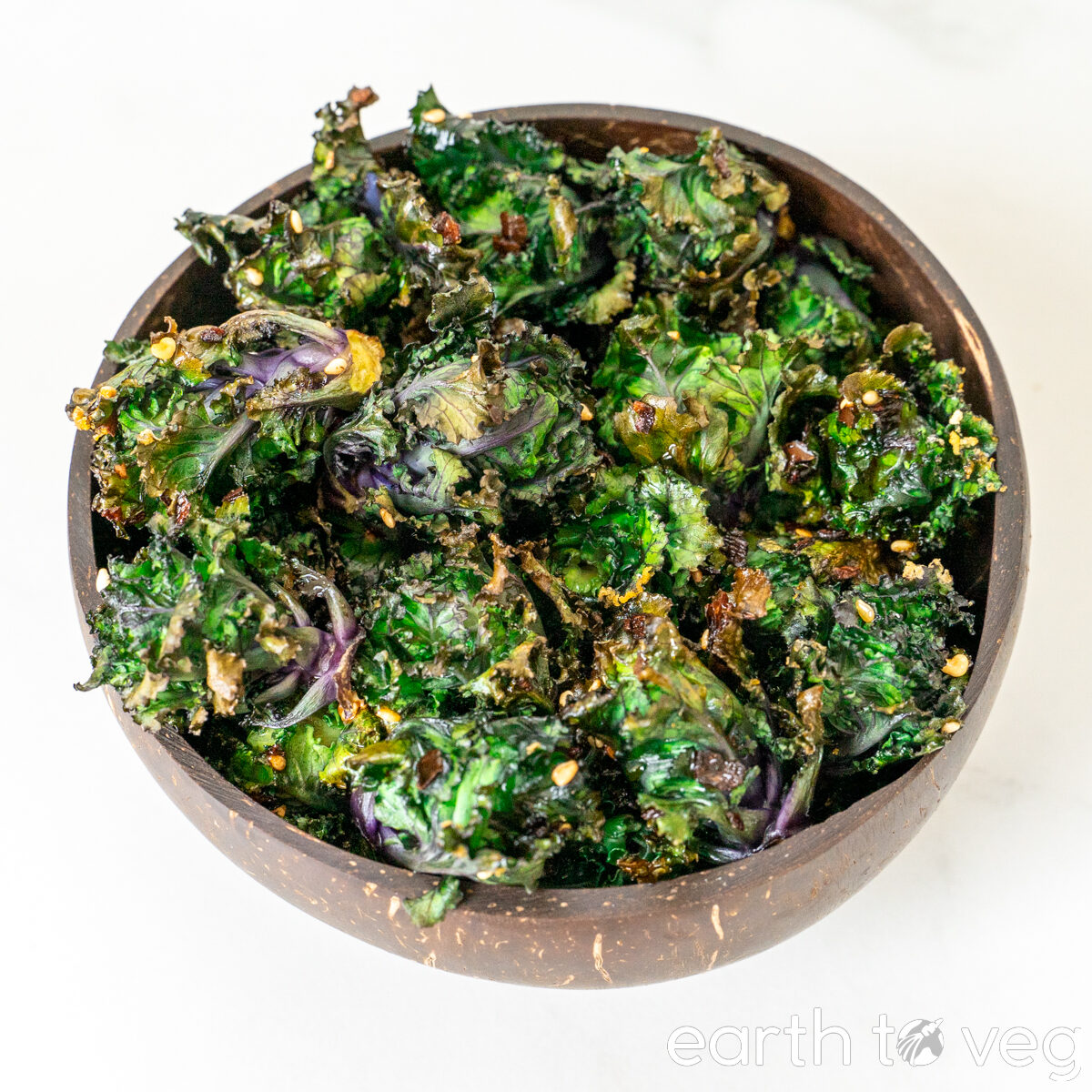 Method: Chop the larger kalettes in half (smaller ones can be sautéed whole). Add a pat of butter (or a glug of oil) to a saucepan on medium-high heat and drop in the kalettes. Sauté until kalettes are tender. Try not to move them too much in the pan to allow the leaves to get a nice char on the edges.
Verdict: Makes a tasty side dish. I achieved the best results when cooking a small amount of kalettes at once, ie. when all the kalettes were able to touch the pan. So my only complaint is that you have to sauté in batches. Not quite as efficient as roasting them in the oven.
Steamed
Stovetop steaming yields similar results to pressure cooking, so it's a good alternative for those who don't own an Instant Pot or similar appliance.
Method: Set the kalettes in a steaming rack on top of a trivet over boiling water. Cover and steam for 3 minutes (crunchy) to 5 minutes (tender).
Verdict: Same as Instant Pot method above. The Instant Pot is faster by a few minutes but no difference other than that.
What to Serve with Kalettes
Combine kalettes with one of the following entrées to make a complete dinner:
Roasted kalettes also make a great side to any soup or stew:
Finally, try substituting kalettes for broccoli in this one-pot pesto pasta. The crunch is sooo good.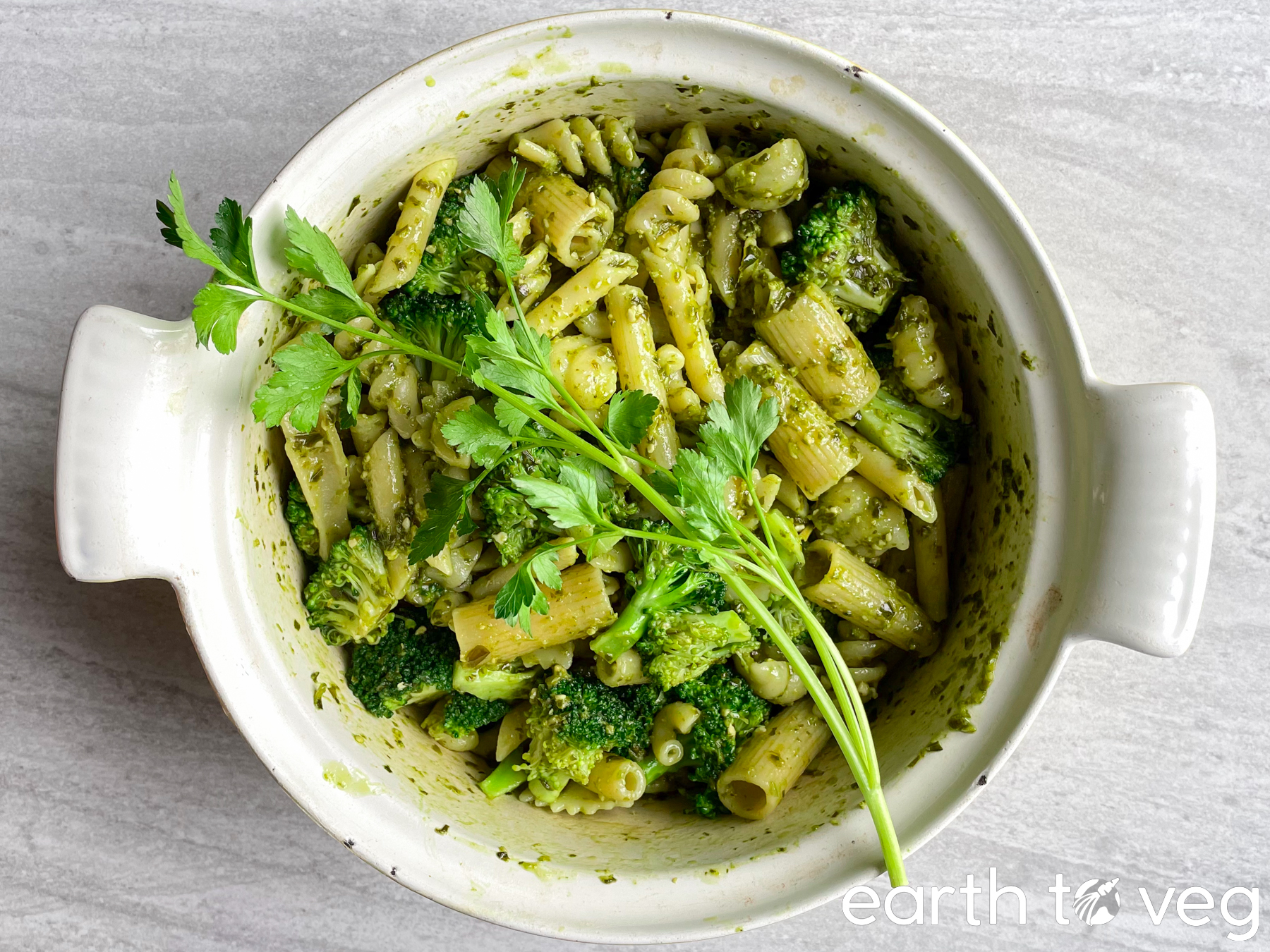 FAQ
Are kalettes GMO?
No, kalettes are not a GMO product. Per the breeder, Tozer Seeds: "Kalettes are a non-GMO vegetable developed through traditional hybridization and not genetic modification."
Should kalettes be washed before cooking?
The bags of kalettes that I buy here say to "wash before using." Even if your bag says it's pre-washed, I would still give them a good soak and rinse because the leafy layers of the kalettes make them conducive to trapping dirt and other residue.
What is the best way to cook kalettes?
If you plan to serve kalettes as their own dish, the tastiest and easiest method is to roast them. Depending on what you're using them for, sautéing and steaming are good choices as well.
Recipe Card
The Best Roasted Kalettes (Flower Sprouts)
Kalettes (kale sprouts, flower sprouts) are a cross between kale and brussels sprouts. Get the most out of the vegetable with this easy roasted kalette recipe.
Print Recipe
Ingredients
1

lb

kalettes, aka kale sprouts

454g

2

tbsp

cooking oil

25g

¼

tsp

salt

2g
Instructions
Wash the kalettes thoroughly and shake dry.

Toss with oil, salt, and other seasoning of choice. Go in with your hands and really massage the oil and seasoning into the kalette leaves.

Arrange kalettes on a baking sheet, spaced apart. Don't overcrowd the pan. Roast at 350 °F (see Note 1) for 12–14 minutes on the rack closest to the heating element.
Nutrition
Recipe Notes
I use a thermometer to verify my oven temperature. If you don't have an oven thermometer, you may have to adjust the cooking time depending on whether your oven runs colder or hotter.
Did you make this recipe? Please consider leaving a rating and comment below to let me know how it went.
You can also take a picture and tag me on Instagram @earthtoveg #earthtoveg, I will shout you out in my Stories!
Nutrition, Cost, and Emissions Information
One serving of roasted kalette costs $3.31, contains 226 cal and releases 309 gCO2e of carbon emissions into the atmosphere.
To reach the global Paris Agreement emissions target, it's recommended to limit daily carbon emissions from food to 3,050 kgCO2e/day per person.
Nutrition data is provided by Cronometer (click the link at the bottom of the nutrition label to learn more).
Feel free to contact me for sources on the cost and carbon emissions information presented here.
I am not a nutritionist and guidelines on this page are provided for informational purposes only.