October 3rd is the date of a festival called Leidens Ontzet in the Netherlands. Hosted in the city of Leiden, it commemorates a historical event from the 16th century. Eating hutspot is part of Leidens Ontzet tradition, so now is the perfect time to post this recipe. This one-pot stew of onions, carrots, and potatoes is enjoyed throughout the winter months in the Netherlands. Vegan hutspot is simple, straightforward comfort food that will warm you right up, no matter how cold it is outside.
History & Origins
According to one of my roommates from the Netherlands: "Think of any food, now boil it. That's Dutch food."
Based on that description, hutspot is the quintessential Dutch dish: boiled and mashed winter root vegetables.
I found out about hutspot when I bought a bag of parsnips from the farmer's market. In my search for a parsnip recipe, I stumbled upon this blog post about historical Dutch foods. I learned that hutspot, which now uses potato but was originally made with parsnips, has been a mainstay of Dutch cuisine for hundreds of years!
The well-established Dutch recipes compiled in the seventeenth-century cookbook De Verstandige Kock (The Sensible Cook) shows that stewing was by far the most common cooking method, at least in affluent middle-class households in the Netherlands … A hutspot or a one-pot stew acquired the status of a national dish by the mid-seventeenth century throughout the Netherlands; it was prepared with different ingredients, depending on one's level of wealth.

Kaoru Ueda and Sonny C. Wibisono, Dutch Oven and Bantenese Cooking Stove
Leidens Ontzet
In 1574, the Netherlands was in the middle of fighting its war of independence from the Spanish Empire. Leiden had been under siege by the Spanish for several months, and food was running low. Conditions were so bad that at one point, the burgemeester (mayor) of the city offered himself up for cannibalization: "Cut off my arm and feed it to your children."
The Dutch began working on a plan to destroy their own dikes in order to flood the countryside where the Spanish were camped. In early October, with the help of a storm, they were finally able to flood the camps. The Spanish soldiers thought they were under attack, freaked out, and fled in such a hurry that they left pots of food behind. The starving citizens of Leiden found half-cooked carrots, onions, and pastinaak (parsnip), and had a feast.
The liberation of Leiden on October 3rd is celebrated each year in a festival called Leidens Ontzet, and eating hutspot is a must.
These days, potatoes have replaced parsnip in most hutspot recipes. Back in 1574, potato was a newfangled crop introduced from the New World and relatively unknown in the Netherlands. But nowadays it's preferred over the more traditional parsnip. (Having tried both versions myself, I prefer the one made with potatoes too. 🥔)
Hutspot is a traditional stewy soup (or soupy stew), a Dutch variation on the kind made throughout Europe … Its origins are in fact Spanish, but you can see that it has a Dutch pedigree because the vegetables are mashed; stamppot, any combination of mashed vegetables, is the national dish.

Mark Bittman, Who Doesn't Love Boerenjongens?
A "Hotch Potch" of Ingredients
Another good thing about hutspot is how versatile it is. It falls under the broader category of stamppot or "mush pot" which refers to all dishes of boiled and mashed vegetables. Besides this basic vegan hutspot, other common varieties include:
Andijviestamppot (mashed endive or escarole)
Boerenkoolstamppot (cabbage or kale mashed into potatoes)
Zuurkoolstamppot (mashed sauerkraut with potatoes)
In short, hutspot can be as simple or as fancy as you like. Back in the day, including many different ingredients in your stamppot was a signal of wealth. But today, all kinds of stamppot are appreciated, even the humble hutspot of parsnip, carrot, and onion that once saved a Dutch city from starvation.
It is the ideal recipe for households from all strata of society. The affluence of the diners can be traced by the contents of the pot: (much) meat, fish, or poultry and (abundant) use of herbs and spices indicated a family of better standing than the owners of a pot filled with turnips, tubers, and bacon for flavor.

Merit Hondelink, Vijf eeuwen hutspot: een geschiedenis van de Nederlandse stamppot met wortelen (translated from the Dutch)
What You'll Need
Below are the grocery items for a basic vegan hutspot, sticking close to its Leiden roots. Feel free to dress it up with additional ingredients if you wish.
The main ingredients are carrots, onions, and potato (or parsnip, if you want to stick to the original version). The carrots used for hutspot in the Netherlands are called winterpeen ("winter carrots") but this doesn't seem to be commonly available outside Europe, so normal carrots will have to do. I prefer using potatoes over parsnips, but if you are using parsnip, try to look for small ones, as larger ones (like the one pictured here) might have a woody center. Still edible, just fibrous.
Some vegan butter is essential to give the hutspot vegetables a more full-bodied flavour. You can even double the amount of butter for a more luxurious taste!
It's common to add bits of smoked bacon to hutspot, so throw in some vegan ham or bacon if you have it. I'm using Hooray Bacon which has a nice smoky seasoning and also adds some more fat.
Finally, use a bay leaf, a good vegetable stock (or use vegan beef bouillon if you have it), and add salt and ground black pepper to taste at the end. To make this a one-pot recipe with no draining of water required, I use only 1 cup of vegetable stock. This allows the hutspot to reach a perfect consistency by the time it's done cooking, and you don't have to waste any of the flavourful stock.
Make Ahead & Storage Tips
Fridge: Hutspot keeps in the fridge for over five days in an airtight container. I like to store it right in the Dutch oven where I cooked it to make reheating leftovers easy. When I want to eat, I simply add a splash of water and put the whole Dutch oven back on the stove on low heat.
Freezer: I haven't tried freezing hutspot yet. Potatoes in stew generally don't defrost well, as they will take on a grainy, watery texture. But if you were successful in freezing it, let me know in a comment.
Flavour Variations
Here are some ways you can spice up the basic hutspot recipe with additional flavours. These additions are all quite common in Dutch cuisine:
Add chopped garlic to sauté together with the onion.
Add a pinch of nutmeg.
Serve with gravy and mustard.
Throw in some vegan beef chunks during the cooking. This variation is called hutspot met klapstuk (klapstuk means braised beef) or Leyden hutspot. It is still eaten in Leiden for the Leidens Ontzet festival on October 3rd of each year.
An Indo version (Dutch–Indonesian fusion cuisine) adds garlic, soy sauce, and sambal oelek to give hutspot an Asian flair.
If you made a change to this recipe and loved it, please let me know! Post a comment describing what you did so it can inspire future readers.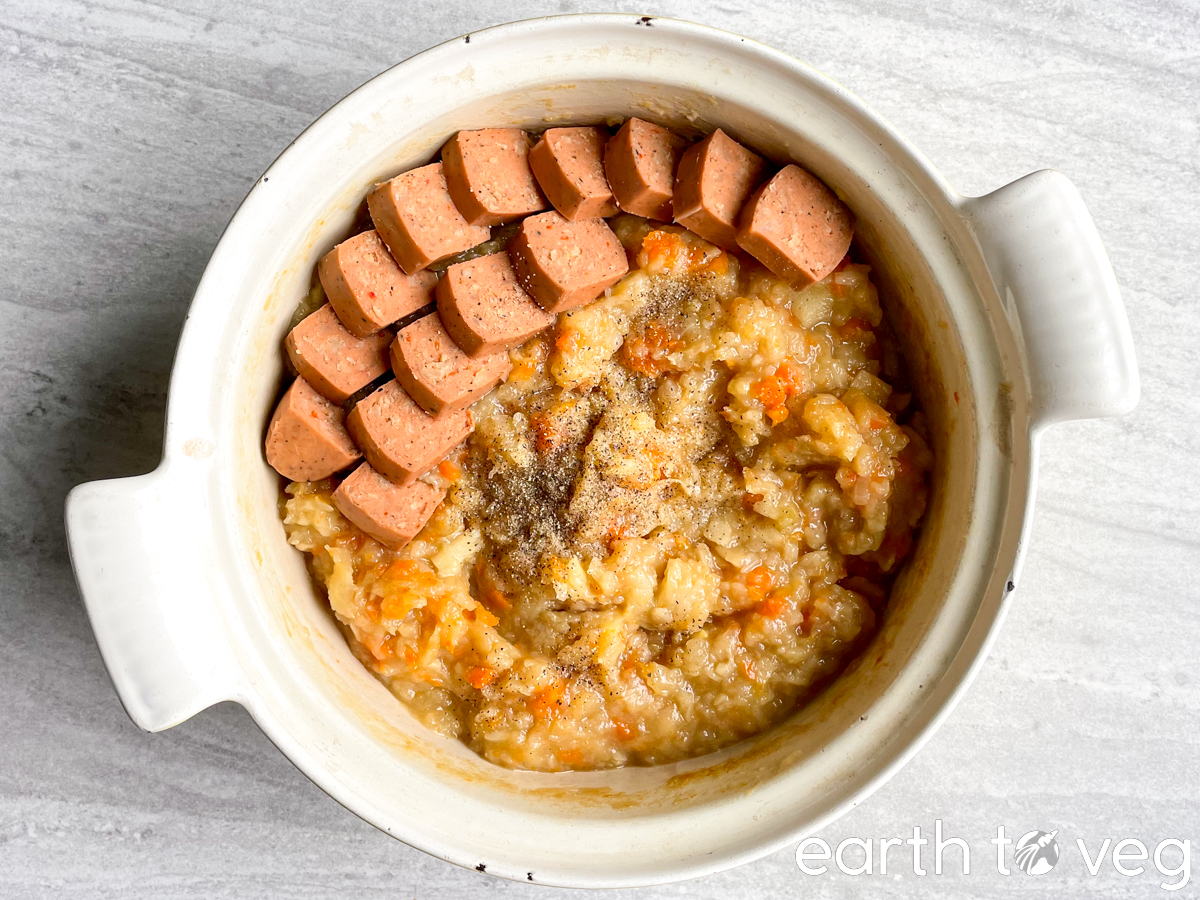 What to Serve with Hutspot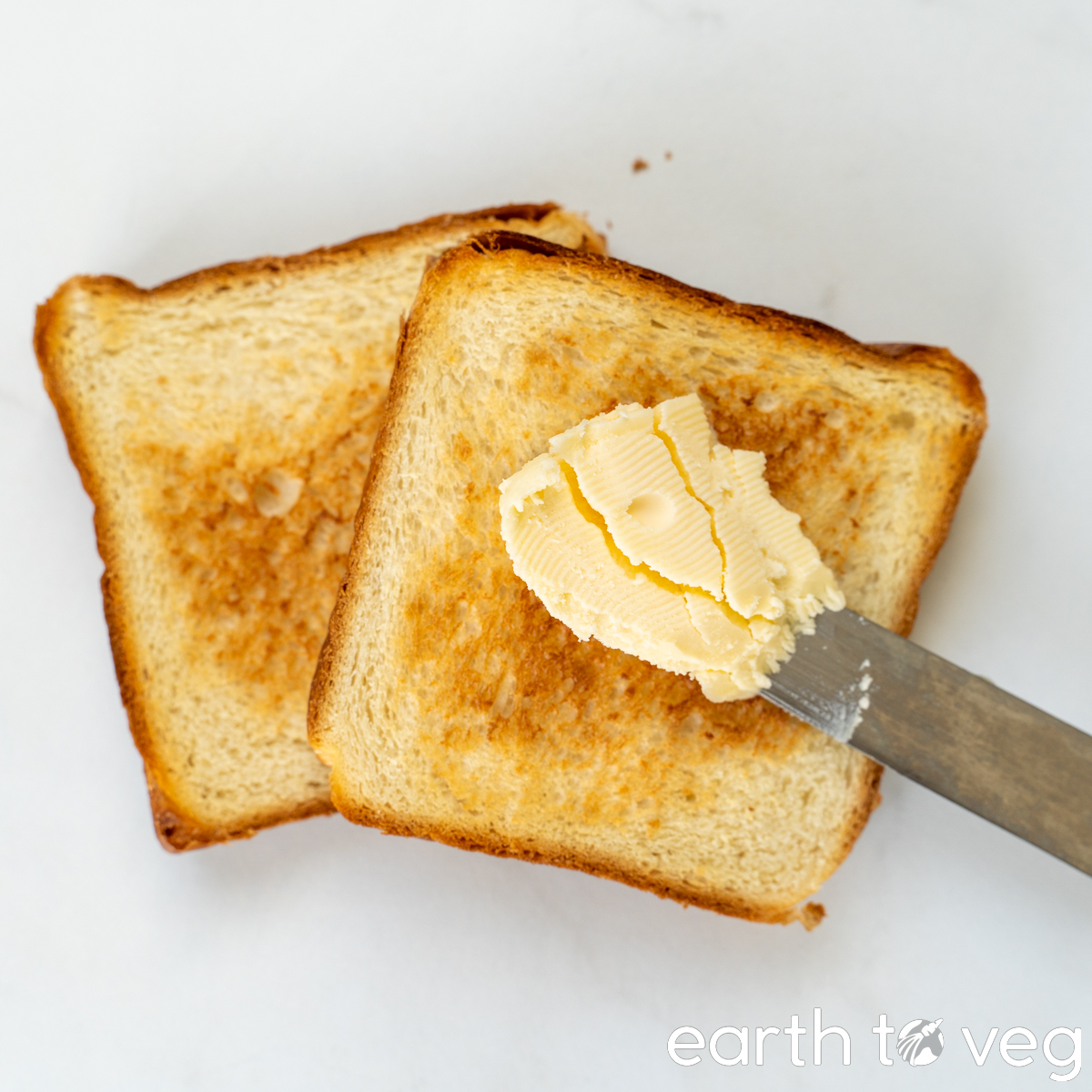 Recipe Card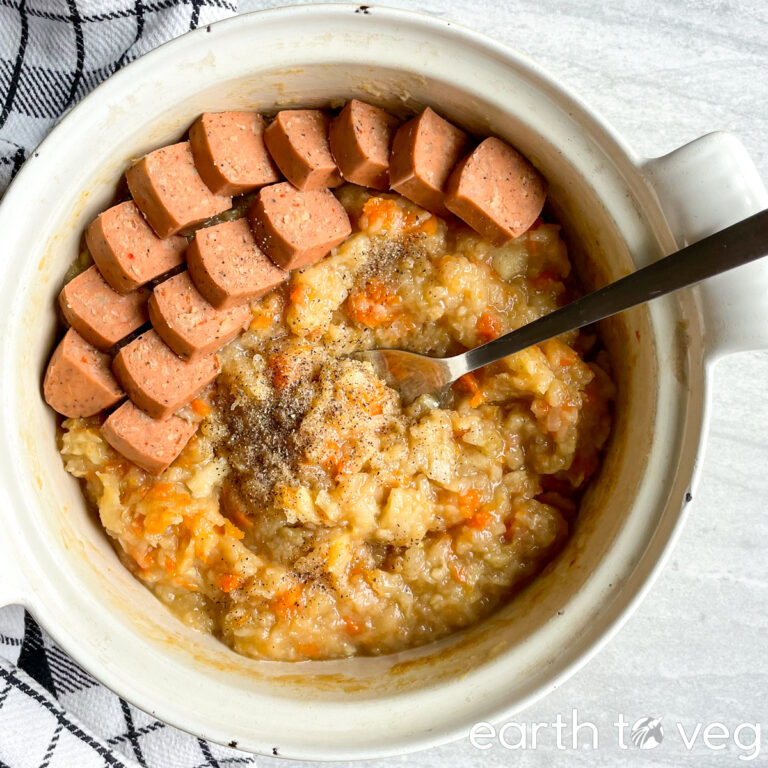 Vegan Hutspot (Dutch Root Vegetable Mash)
Vegan hutspot is classic Dutch winter cuisine. This simple stew of mashed carrots, onions, and potatoes will warm you up, no matter how cold it is outside.
Print Recipe
Ingredients
2

tbsp

vegan butter

30g

1

lb

potatoes or parsnips

450g

½

lb

carrots

230g

½

lb

onions

230g

½

cup

diced vegan ham or bacon

50g *optional

1

bay leaf

1

cup

vegetable stock

240g *can sub with vegan beef stock if you have it

salt and pepper

to taste
Instructions
Roughly chop the vegetables (potatoes, parsnips, carrots, onions).

Add all ingredients except salt and pepper, in order listed, to a Dutch oven. Set it on medium heat.

Once the stock comes to a boil, turn the heat down to medium-low. Simmer, covered, for 20 minutes.

Using a potato masher, mash the contents into a lumpy consistency. Continue to cook, uncovered, until the stew has thickened to your liking—around 10 minutes for me.
Nutrition
Did you make this recipe? Please consider leaving a rating and comment below to let me know how it went.
You can also take a picture and tag me on Instagram @earthtoveg #earthtoveg, I will shout you out in my Stories!
Nutrition, Cost, and Emissions Information
One bowl of vegan hutspot contains 247 cal and releases 393 gCO2e of carbon emissions into the atmosphere.
To reach the global Paris Agreement emissions target, it's recommended to limit daily carbon emissions from food to 3,050 kgCO2e/day per person.
Nutrition data is provided by Cronometer (click the link at the bottom of the nutrition label to learn more). Feel free to contact me for sources on the cost and carbon emissions information presented here. I am not a nutritionist and guidelines on this page are provided for informational purposes only.
More European Recipes