Mămăligă is a cornmeal mush (similar to polenta) that is the staple of Romanian cuisine. I mean, it's so famous it even got a shoutout in the opening chapter of Dracula, where the protagonist enjoys for breakfast "a sort of porridge of maize flour which they said was mamaliga."
The word mămăligă literally means "food of gold" and that is apt given both its colour and the important role it has played in Romanian foodways. It can be as runny or as thick as one likes. Just three ingredients are needed to make this indispensable recipe: cornmeal, salt, and water.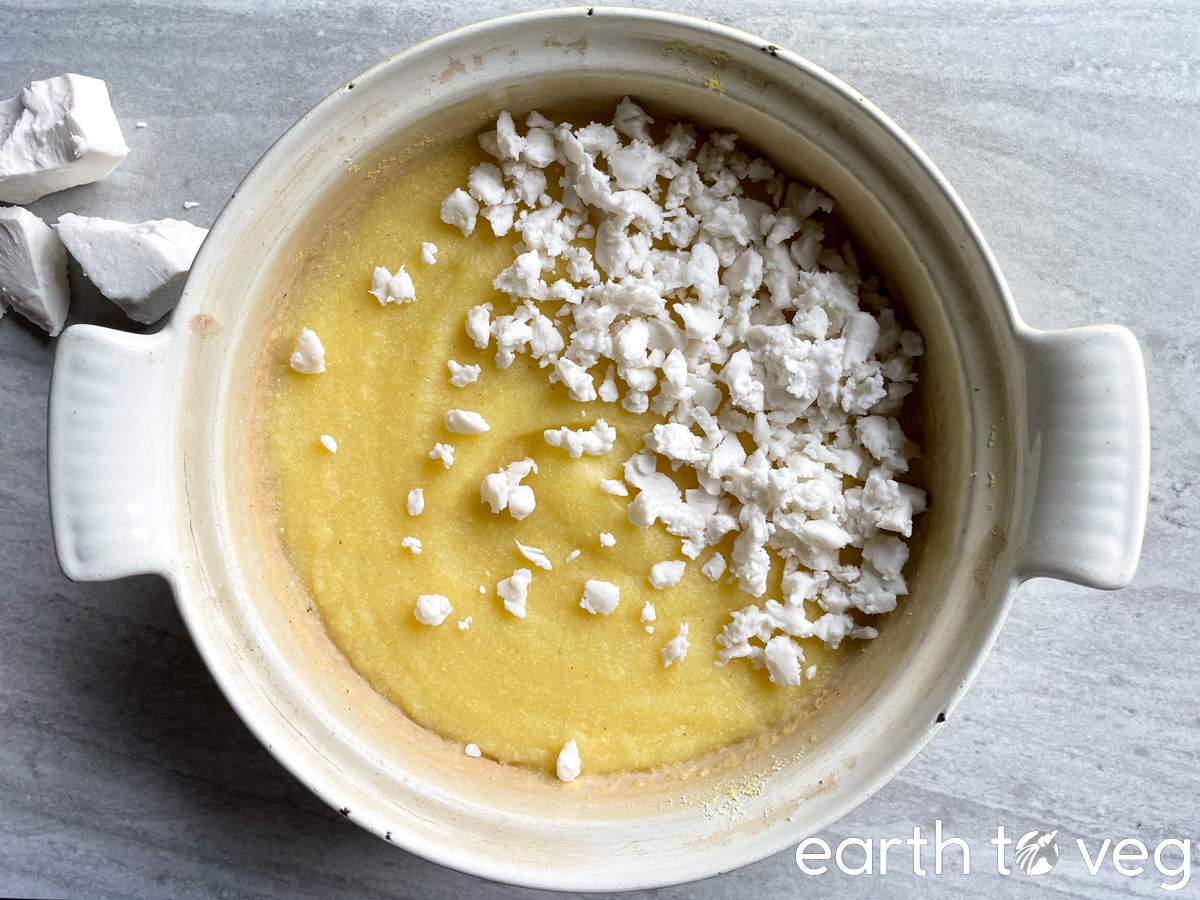 History & Origins
In Romanian cuisine, either bread or cornmeal serves as the main energy source at mealtimes. Mamaliga was historically more of a peasant dish compared to bread, since cornmeal was cheaper and more accessible than wheat flour. In rural villages, mamaliga was the daily meal while bread was seen as a special treat during holidays.
This story is similar to mamaliga's Italian cousin polenta, which was traditionally seen as food for the working class.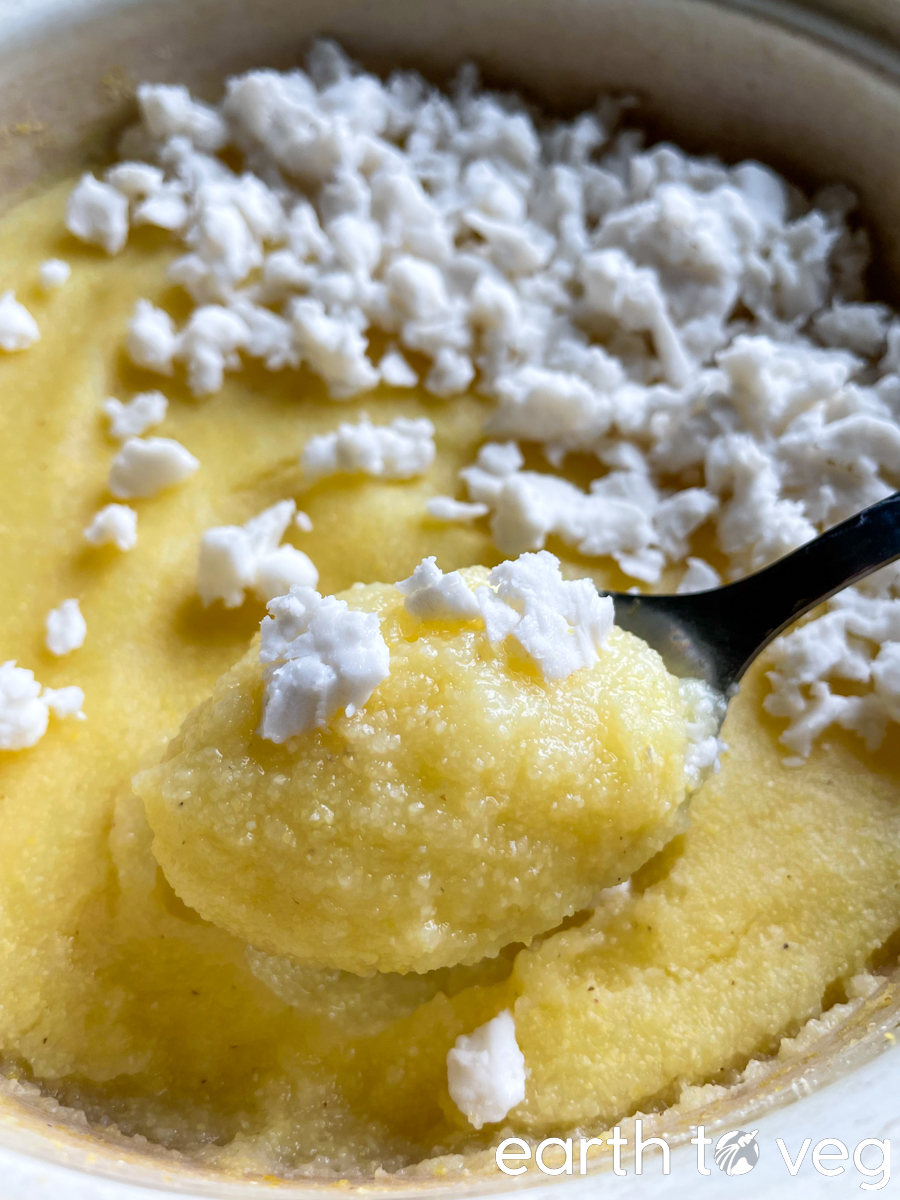 However, the history of cornmeal has a dark side as well. I remember learning in biology class about pellagra, a disease caused by niacin deficiency which was rampant among impoverished communities. The common feature of pellagra sufferers was a diet high in cornmeal, often because they couldn't afford to eat much else. Niacin, which is an essential vitamin, is found in corn but humans can't absorb it unless the corn is treated through nixtamalization. Europeans didn't know this when they brought corn back from its native home in Mexico. So even though cornmeal looked like a godsend for many poor peasants, it ended up malnourishing them.
More recently, cornmeal is enjoying a bit of a resurgence with more home cooks and restaurants taking an interest in it. I rarely cook mămăligă at home because Kevin doesn't like anything to do with cornmeal. So ironically, on those days when I do make cornmeal for myself, it actually seems like a treat!
Mămăligă vs Polenta vs Grits
Now you may be wondering, what's the difference between Romanian mămăligă and Italian polenta? Or American grits?
The main thing that differentiates mămăligă and polenta from grits is the colour of the cornmeal. Both mamaliga and polenta traditionally use coarse yellow cornmeal, while grits is made from white nixtamalized corn ("hominy") which has a finer grind. Therefore, mamaliga and polenta have a rougher texture—even a bit chewy if made very thick—while grits are extremely smooth and creamy.
But between mămăligă and polenta… well, frankly, there's not much difference. To the point where mamaliga is sometimes translated as "Romanian polenta." Both of these recipes are made with the same ingredients, cooked in the same way, and can be made soft and porridge-like, or hard and sliceable, depending on preference.
We do cook a lot of cornmeal. And this is something that the Ottoman Empire introduced to Eastern Europe, and obviously the South and the East of Romania was under the Ottoman Empire so we kind of have a lot of influences from there, from the South. Cornmeal is used in so many dishes from breakfast dishes to desserts. You have cornmeal with egg and cheese if you want to have it in the morning (mămăligă brânză). We have stuffed cornmeal dumplings that we can bake or we can fry or we can grill. What the shepherds do in the mountains, they make cornmeal dumpling and they mix it with cheese and put them on the grill … We have savoury cornmeal bread, with dill and cheese, but also we can serve it as a side dish, which we do so often because it goes well with everything, including with soups.

Irina Georgescu, Burnt Toast Podcast
Variations
The consistency of mămăligă can range from being thick enough to cut into slices, or soft like a watery porridge.
Hard mămăligă is typically made with a 3:1 ratio (by volume) of water to cornmeal. Meaning, for every 3 cups of water, mix in 1 cup of cornmeal.
Soft mămăligă uses 4 cups of water or even more.
Turta mămăligă is when you put mămăligă into the oven and bake it into a rustic cornbread. It uses a 3:1 ratio of water to cornmeal.
Bulz is a Romanian dish made with hard polenta, basically polenta balls stuffed with a cheese filling. It reminds me of Italian arancini, just made with cornmeal instead of rice.
What You'll Need
Just three ingredients are used to make Romanian mămăligă:
If you prefer a more runny, porridge-like mămăligă, add 4 cups of water. For a thicker consistency (especially if you want to be able to slice it), use 3 cups of water.
Step-by-Step Process
Place a Dutch oven or stockpot on the stove and pour in the water. Set the heat to high.
When the water is hot but not yet bubbling, slowly pour in the cornmeal 1/4 cup at a time, stirring it in before the next addition. Adding the cornmeal gradually ensures the mamaliga will be free of clumps.
Once the water begins to bubble, turn the heat down to medium-low and maintain it at a bare simmer. Stir in the salt.
Cover with a lid and let it cook, mixing frequently to prevent any cornmeal from sticking to the bottom. It's important to cook cornmeal low and slow, because at higher temperatures not only does the thick mush tend to fly out and splatter you in hot goo, but it's also more likely to stick and burn.
It will take around 20 minutes for the cornmeal to be fully cooked. The longer it cooks, the thicker it gets, and the more it sticks, so keep up the stirring. From there on, you can take it off the stove right away and serve as is, or you can continue cooking to thicken it up further, until it reaches the consistency you want.
Make Ahead & Storage Tips
Mămăligă can be kept in the fridge for up to seven days, or in the freezer for up to 3 months. It may thicken once chilled, but just reheat with a splash or water and it will loosen back up. Or you can make really thick mamaliga and let it cool, then slice into pieces for frying or grilling.
What to Serve with Mamaliga
The most popular method: mămăligă cu brânză or mamaliga with cheese.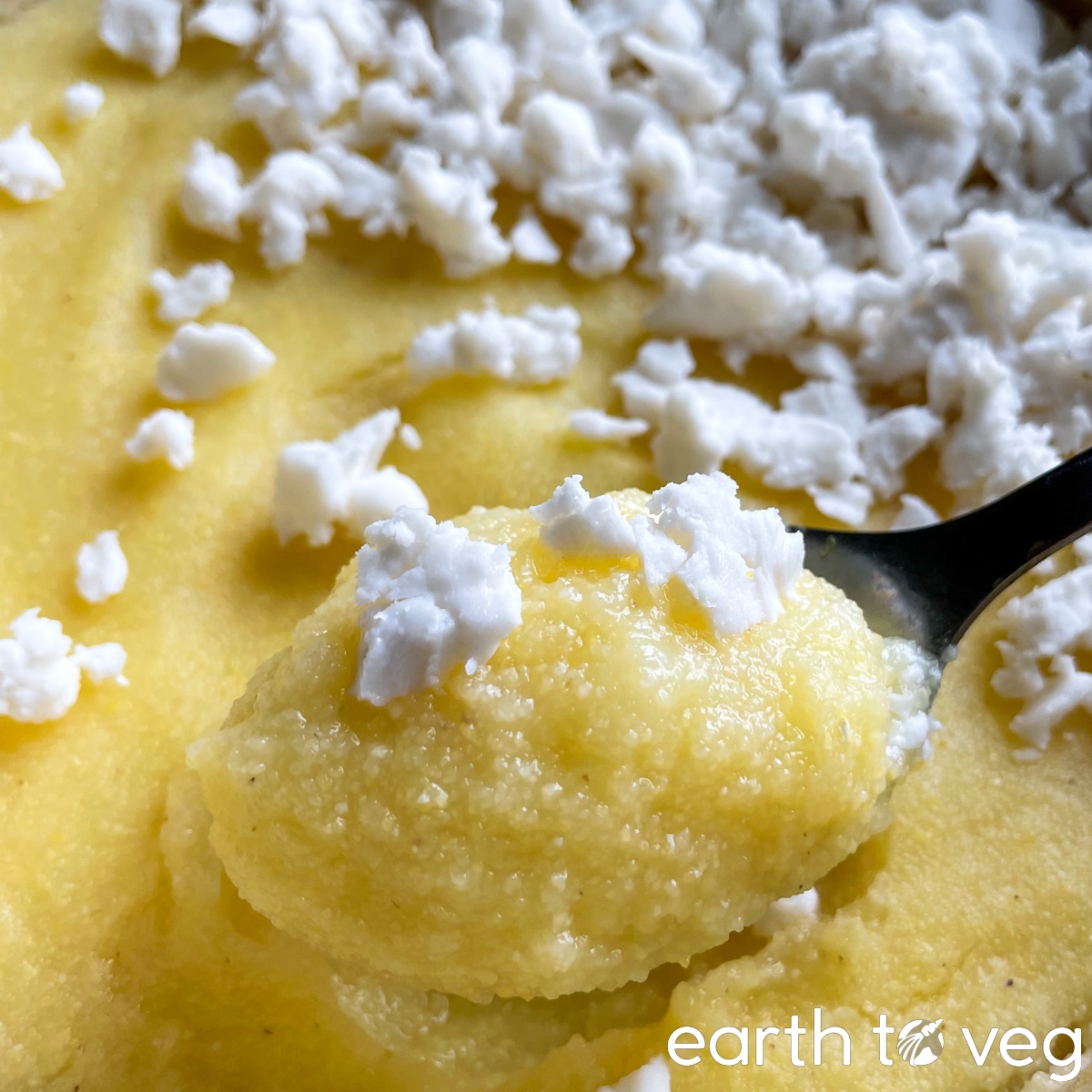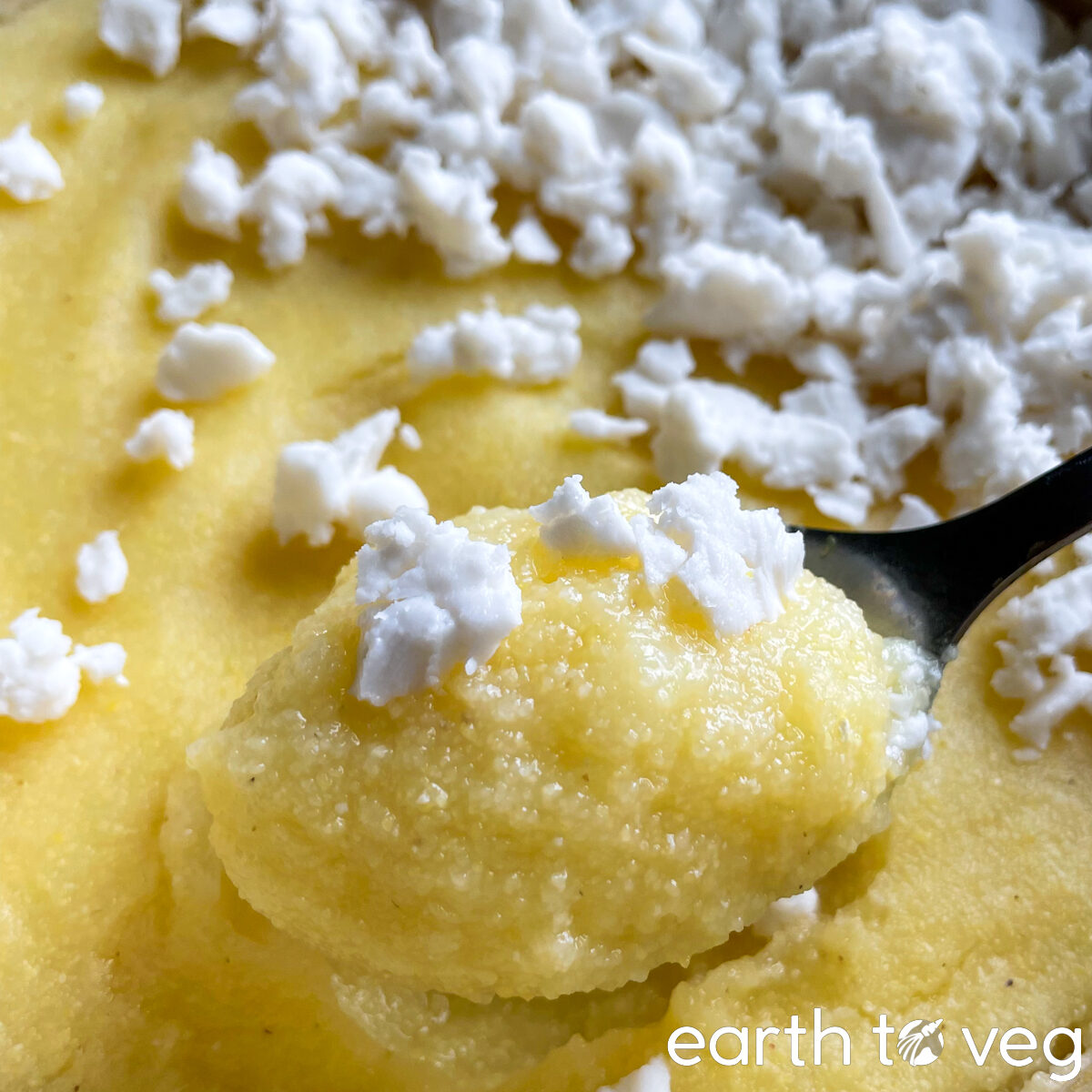 Romanians most often serve mamaliga with telemea, a cheese which is similar to feta. I used a vegan "feta-style" block from Farm Boy (a Canadian grocery store's in-house brand). The salty and "goaty" flavour of the cheese pairs really well with the creamy, mild cornmeal. Daiya also came out with a faux feta recently which is quite good when crumbled over mamaliga.
Other traditional pairings for mamaliga in Romanian cuisine:
Steamed sauerkraut
Yogurt
Sarmale (cabbage rolls)
Beans or vegetable soups
It is really a versatile side dish that works with any Romanian fare.
Recipe Card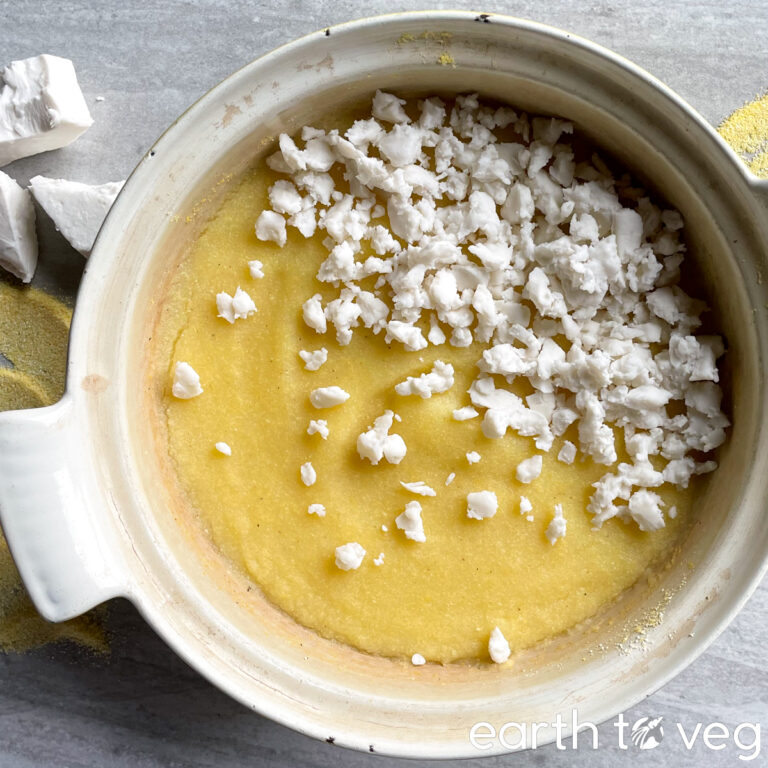 Romanian Mămăligă (Cornmeal Porridge)
Mamaliga is a traditional Romanian staple made from cornmeal, similar to Italian polenta. The recipe is easy to follow and yields a perfect texture every time.
Print Recipe
Ingredients
1

cup

cornmeal

160g

3

to 4 cups water

720–960g

1

tsp

table salt or 1½ tsp kosher salt

6g
Instructions
Bring water to just before it starts to simmer.

Pour in the cornmeal 1/4 cup at a time, stirring it in before each addition. This ensures the mamaliga will be free of clumps.

Once all the cornmeal has been stirred in, turn heat down to medium-low and cover with a lid. Simmer for 20 minutes, stirring frequently to prevent the bottom from sticking.
Nutrition
Did you make this recipe? Please consider leaving a rating and comment below to let me know how it went.
You can also take a picture and tag me on Instagram @earthtoveg #earthtoveg, I will shout you out in my Stories!
Nutrition, Cost, and Emissions Information
One full batch of this recipe will make 3–4 cups of Romanian polenta. Assuming you end up with 4 cups, each cup contains 145 cal and releases 139 gCO2e of carbon emissions into the atmosphere.
To reach the global Paris Agreement emissions target, it's recommended to limit daily carbon emissions from food to 3,050 kgCO2e/day per person.
Nutrition data is provided by Cronometer. Feel free to contact me for sources on the cost and carbon emissions information presented here. I am not a nutritionist and guidelines on this page are provided for informational purposes only.
More European Recipes