Guacamole, a chunky Mexican dip made with mashed avocados, is a must-have in any burrito or on any plate of nachos. It's also delicious on its own or spread thickly on toast for a super flavourful version of avocado toast.
Recipe Background
I have childhood memories of shopping with my family at the local Superstore. One day we saw these alligator-lookin' things hanging out in the produce section. My parents and I were very intrigued by this new fruit/vegetable so we bought a few to try. This was back in the dark ages before anyone ever dreamed of avocado toast* and I had eaten Mexican food maybe twice in my entire life. We were clueless, so we just sliced open the avocados and ate them straight up, no seasonings, no nothing…
We were hooked and life was never the same!
I like to think we were early adopters of avocado here in Canada. My mom and I are especially big fans. But through all these years, we've mostly stuck to our original eating method of simply scooping the flesh right out of the skins and eating them plain.
Sometimes, though, my mom experiments with using avocado in recipes. A few months ago she made a potato salad where she swapped out mayonnaise for mashed avocado, and it was insanely good. I gotta get the recipe from her and post it on this blog.
And then, of course, she whipped up the guacamole that I'm sharing with you today. Nothing beats a freshly made batch of guac! I have to admit I ate most of it on its own. It didn't even need tortilla chips, it was that good.
* Apparently avocado toast, as a deliberate dish, has been served in restaurants since at least the 1800's. But admit it, you never heard of such a thing until 2010. 😆
From my distant glimpses, I saw that she used a masher with a head shaped like a flower to crush the ripe, creamy avocados, then stirred in the juices from a salsa — a mixture of tomato and lime juices accented with salt, onion and jalapeno — along with a few tiny tomato cubes. It had the consistency of a fluffy icing and the richness of the fruit at its ripest.

Amanda Hesser, Taco Belle
You Say Avocado, I say Ahuacatl
I did some research into the history of the primary ingredient of guacamole, the avocado. It's got a pretty interesting etymology.
Our English name for avocado comes from the Spanish word for the fruit, aguacate, which in turn comes from the Nahuatl word āhuacatl. (Nahuatl is the language of the Aztecs, who discovered avocados in Mexico over 9,000 years ago).
There's a popular urban legend that āhuacatl was originally named for its resemblance to a certain NSFW body part. But in fact, it's the other way around, ie. āhuacatl was first used in reference to the avocado. Only later did Aztecs begin using it as a euphemism for said appendage because of the similarity in appearance.
If that wasn't bad enough, the poor avocado has another unfortunate name. It is also called the alligator pear because of its greenish leathery skin and pear shape. With all that naming baggage, it's no wonder that marketers in the 20th century began promoting the fruit using the more appealing name, "avocado."
One of the first Europeans to taste the avocado was Fernández de Oviedo, who noticed its external resemblance to a dessert pear, so ate it with cheese; but other Spaniards preferred to add sugar, or salt and pepper. They all praised it. The same applies to the first mention in English, in 1672, by W. Hughes, the royal physician, after a visit to Jamaica. He said that it was 'one of the most rare and pleasant fruits of the island. It nourisheth and strengtheneth the body.'

Alan Davidson and Tom Jaine, The Oxford Companion to Food
From Ahuacamolli to Guacamole
The honour of transforming avocados into guacamole lies with the Aztecs. They would pound ripe avocados into a puree using a large stone mortar and pestle called a molcajete. (The molcajete is still used today to make guacamole and other Mexican sauces, the traditional way.) The Aztecs called this avocado mixture āhuacamōlli.
When Spanish conquistadors encountered Aztec culture in Mexico in the 16th century, they brought back recipes for āhuacamōlli. The Spaniards began calling it guacamole instead, which stuck.
The one recipe that we may be sure of is the Aztec ahuaca-mulli, or avocado sauce, familiar to all of us today as guacamole. This combination of mashed avocados, with or without a few chopped tomatoes and onions, because the Aztecs used New World onions, and with perhaps some coriander leaves to replace New World coriander, Eryngium foetidum, is the pre-Columbian dish most easily accessible to us. Wrapped in a maize tortilla, preferably freshly made, or even on a tortilla chip, it might ever so distantly evoke the taste of Tenochtitlan.

Sophie Coe, America's First Cuisines
What You'll Need
Let's go over the basic ingredients for my mom's guacamole. Guacamole is one of those things where everyone prefers something a little different. Heck, some restaurants even offer custom tableside guacamole service for this exact reason. So use the ingredients here as a starting point, but don't be afraid to add or swap things to your liking. You can check out the Flavour Variations section for more ideas.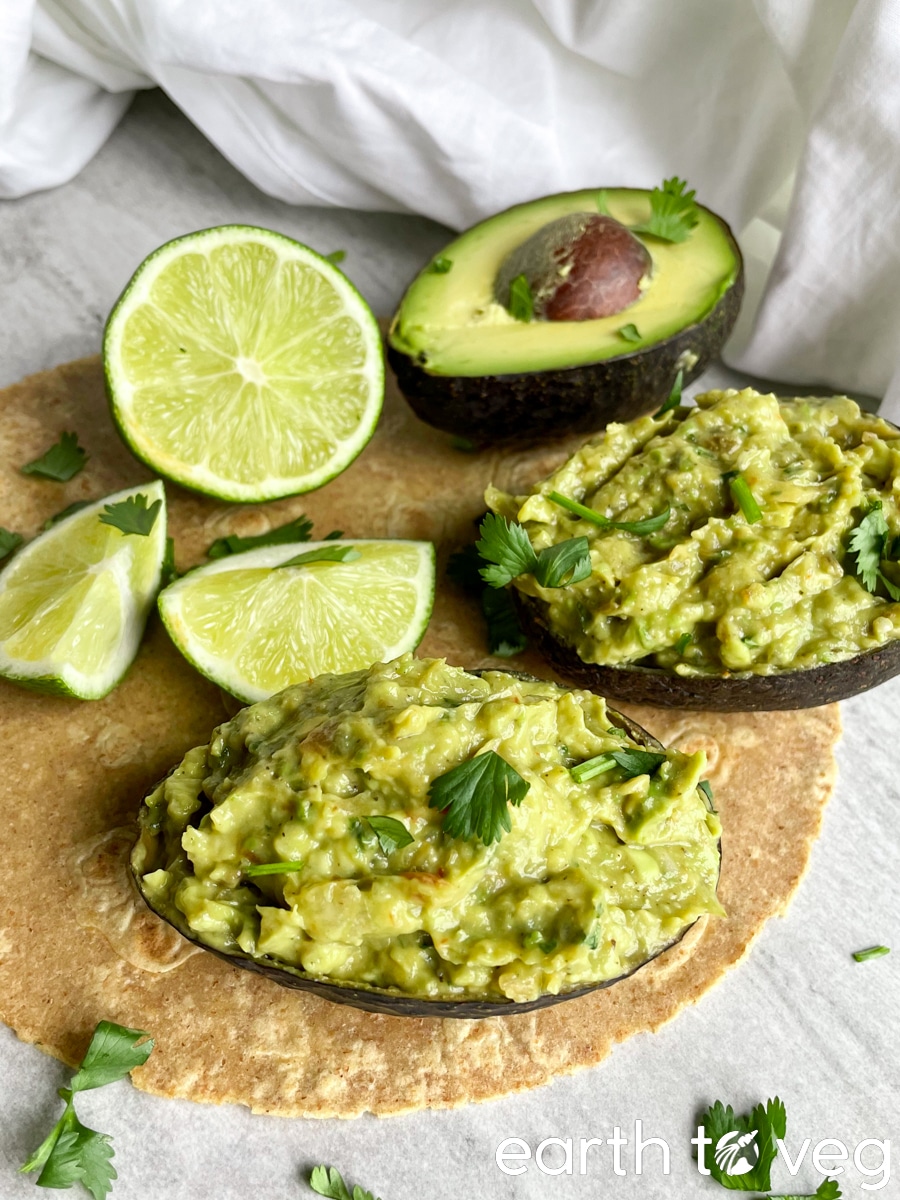 Avocado is the one ingredient that is essential, irreplaceable. I mean, it's just not guacamole without avocado.
My mom's allium of choice for making guac is the shallot. This is where her recipe diverges from more traditional versions. Red onions are a more typical choice, but having tried this recipe both ways, I gotta say I prefer shallots. They add that bright savoury-sweet taste without being overly pungent.
Chopped tomatoes add some acidity and umami (they're a natural source of MSG).
Throw in some minced garlic to intensify the flavours of the guacamole. Since this is a fairly simple dip, I recommend using fresh garlic.
The acidity of lime juice serves two functions in guacamole: 1) brings a tangy contrast to the mild, creamy avocado; 2) acts as a preservative that prevents the guacamole from turning brown too quickly. Very fresh guacamole, if eaten right away, traditionally doesn't require lime juice, but I like adding it for the flavour anyway. Again, fresh lime juice is best if you have it; you'll be able to taste the difference from the bottled stuff.
And finally, don't forget to add salt and pepper to taste!
Food Processor vs Hand
You can either mash guacamole by hand or blitz it up in a food processor. Traditionally, it's mashed using a large mortar and pestle known as molcajete, but I just use a fork + bowl.
Doing it by hand gives you more control over the texture, which is helpful if you like your guacamole chunky like me. But the food processor method is a real timesaver if you're making a larger batch.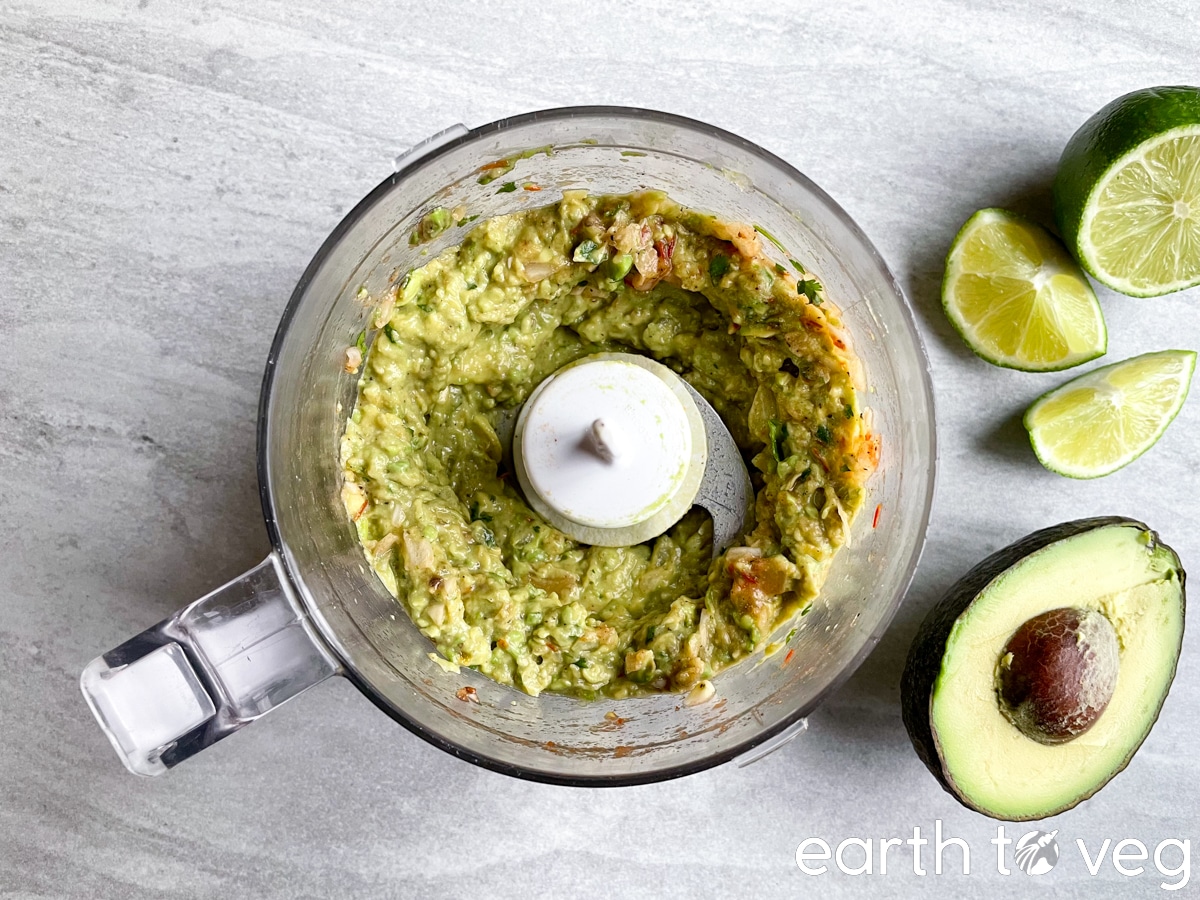 Make Ahead & Storage Tips
Store in the fridge in an airtight container. Guacamole is best eaten within a day (24 hours). Any longer, the avocado will start to turn brown.
If you must store it for longer than a day, I recommend doubling up on the lime juice as the acidity will help it last longer. Another trick is to mix in a spoonful or two of olive oil; the oil prevents oxidation and your guacamole will stay green for several days.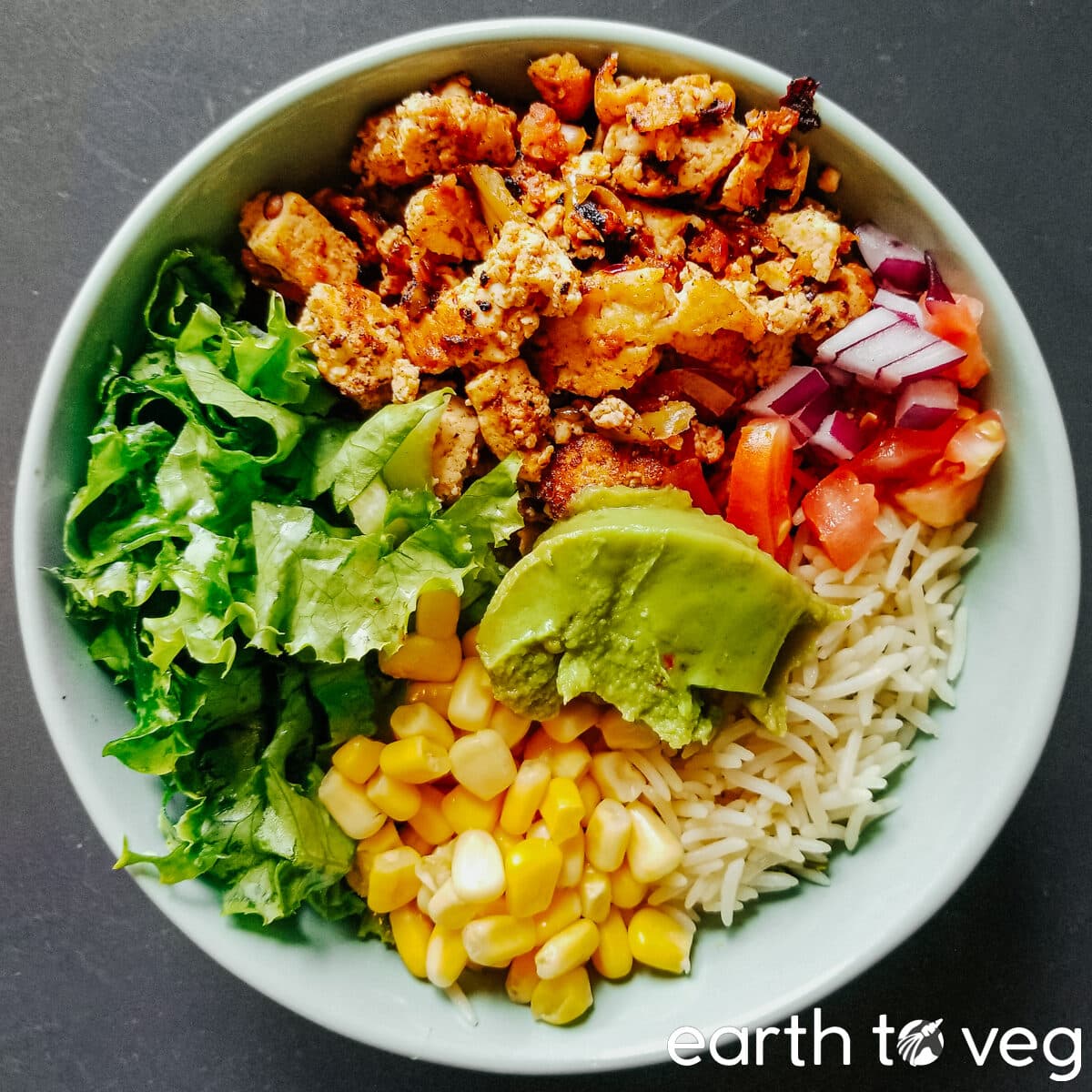 Flavour Variations
Here are some twists on my mom's basic guacamole recipe:
Make it spicy: add chopped jalapeño pepper, dried chili flakes, or tabasco sauce to taste. (These toppings also work really well on Frijoles de la Olla, aka Mexican pot beans… just sayin')
Substitute pico de gallo for the onion and tomato.
Substitute salsa for the tomato and lime juice.
Swap out tomato with tomatillo.
Add 2 tbsp of chopped cilantro.
Add 1/2 tsp of ground cumin.
I've even heard of restaurants adding fruits like orange and mango to their guacamole. I haven't gone this far yet but why not give it a try and let me know how it turns out?!
Recipe Card
Did you make this recipe? Please consider leaving a rating below to let me know how you liked it.
You can also take a picture and tag me on Instagram @earthtoveg, I will shout you out in my Stories!
Mom's Guacamole Recipe
Servings:
3
servings (1/2 cup each)
Fresh guacamole from scratch tastes so much better than the pre-packaged ones from the store. Put your ripe avocados to use in this addictive Mexican dip.
Print Recipe
Use Imperial/Metric buttons below to toggle between volume vs weight measurements. I recommend weighing out your ingredients for best results.
Ingredients
1

large avocado

150–200g

1

shallot

50g *can sub with quarter of a red onion

1

large Roma tomato

100g

2

cloves

garlic

10g

½

tsp

table salt or 3/4 tsp kosher salt

3g

juice of half a lime

20g

black pepper

to taste
Instructions
Manual Method
Mash up the avocado in a bowl (or a molcajete, if you have one).

Finely dice the shallot. Chop the tomato. Mince the garlic. Add these to the avocado and mix until well combined.

Season with salt, lemon juice, and black pepper to taste.
Food Processor Method
Roughly chop shallot, tomato, and garlic. Add to a small food processor and pulse until finely chopped.

Add the avocado and salt and pulse again until avocados are mashed to your preferred consistency.

Season with salt, lemon juice, and black pepper to taste.
Nutrition
Calories:
105
kcal
|
Carbohydrates:
10
g
|
Protein:
2
g
|
Fat:
7
g
|
Saturated Fat:
1
g
|
Polyunsaturated Fat:
1
g
|
Monounsaturated Fat:
5
g
|
Sodium:
396
mg
|
Potassium:
403
mg
|
Fiber:
4
g
|
Sugar:
3
g
|
Vitamin A:
357
IU
|
Vitamin C:
14
mg
|
Calcium:
24
mg
|
Iron:
1
mg
SEND FOOD PICS 📸
Tag @earthtoveg or leave a comment below if you tried this recipe. It makes my day. 😊