Until this summer, I had only cooked with white wine a handful of times. It just never occurred to me that I could buy wine at the store for purposes other than drinking. Then I found some recipes, including this dandelion risotto, that I wanted to try, and they called for white wine. I did some time researching the most versatile wines for cooking and two stood out: sauvignon blanc and pinot grigio.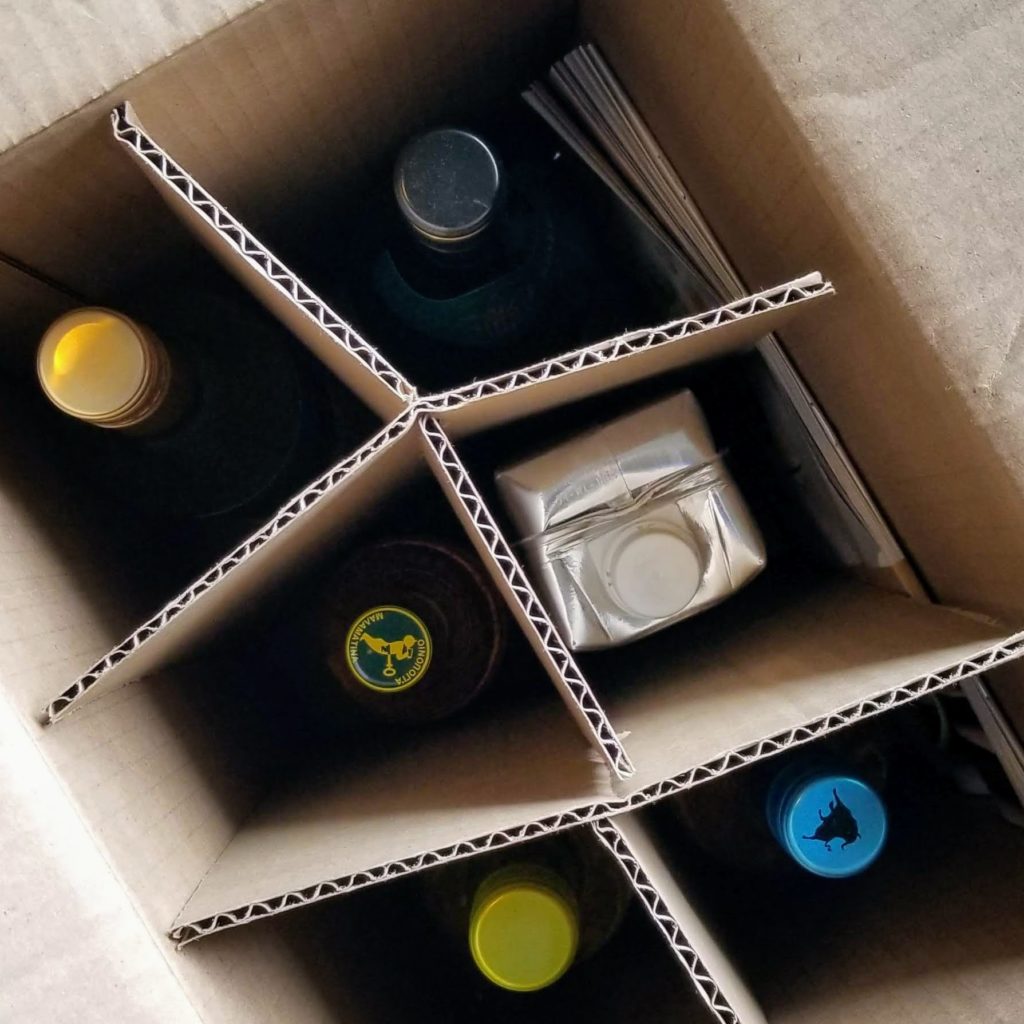 This was during May when COVID-19 was in full swing, so instead of browsing the local LCBO, I placed a pickup order. It took longer than I expected to arrive; I got the notification that it was ready for pickup almost a week later. Not to worry, I went down to the store right away and walked away with a big cardboard crate.
Retrospectively, I should've gotten some red wines and sherries as well, but I guess I'll get through all of this white wine first.
Skip the blah and go straight to the recipe:
Sauvignon Blanc White Wine
For the first ever homemade risotto of my life, I went with a bottle of Concha Y Toro Frontera Sauvignon Blanc. It's hilarious to me that this wine comes with its own Spotify playlist! (I listened to it so you don't have to—it's basic but features Ophelia by the Lumineers so I give it a passing grade.)
Since I've never made risotto before, so I have no idea how this wine affected the flavour of the dish. I'm planning on trying this recipe with other wines to see if I can taste a difference.
Green Risotto Recipe
This recipe for risotto with dandelion pesto comes from Kitchen Stories. I scaled down the ingredients to make just one serving for my dinner. The original recipe is vegetarian (actually, maybe not? Apparently Parmesan cheese isn't vegetarian), but all I did to make it vegan was to sub in some homemade cheese.
I also left out the pine nuts because 1) I don't have any 2) I hate 'em. I love nuts, so no idea why I can't stand this one variety in particular. I've been wracking my brain and I'm pretty sure they are the only nut (legume?) I have an issue with. If you're ok with pine nuts, feel free to add a handful to the pesto.
Ingredients
Note: this makes the full amount of dandelion pesto, 4 servings, but only one serving of risotto. So what do u do with all that leftover pesto? Check out some ideas at the bottom of the page.
Dandelion Pesto
big handful dandelion greens (100 g)
1/3 cup cashews, roasted (50 g)
2 cloves garlic
juice of 1 lime (2 tbsp or 30 g)
a bit less than 1/2 cup Parmesan cheese, grated (50 g) Nutritional yeast is a good substitute if vegan
4 tbsp olive oil (50 g)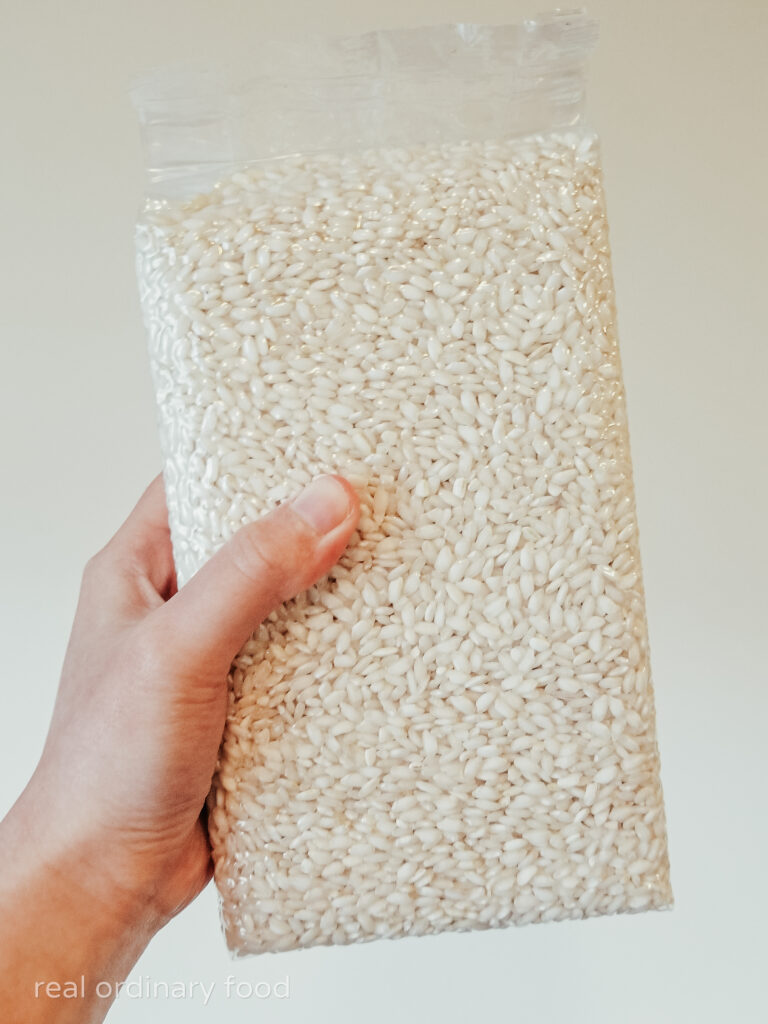 White Wine Risotto
1/2 onion, diced (130 g)
a bit less than 1/2 cup arborio rice or baldo rice (75 g)
1/4 cup white wine (60 mL)
2/3 cup vegetable stock (150 mL)
1 tbsp unsalted butter
pinch of kosher salt
black pepper to taste
Instructions
If you've cooked risotto before, you know what to do. Saute onions, saute rice, add wine, add stock gradually, stir in pesto. If you're unfamiliar, please check out the original recipe for the detailed instructions. Make sure to adjust for salt, since our vegetable stocks will vary in salt content.
I threw some cucumber slices down as a, idk, garnish? And a single wilty dandelion leaf. Bone Apple Tea!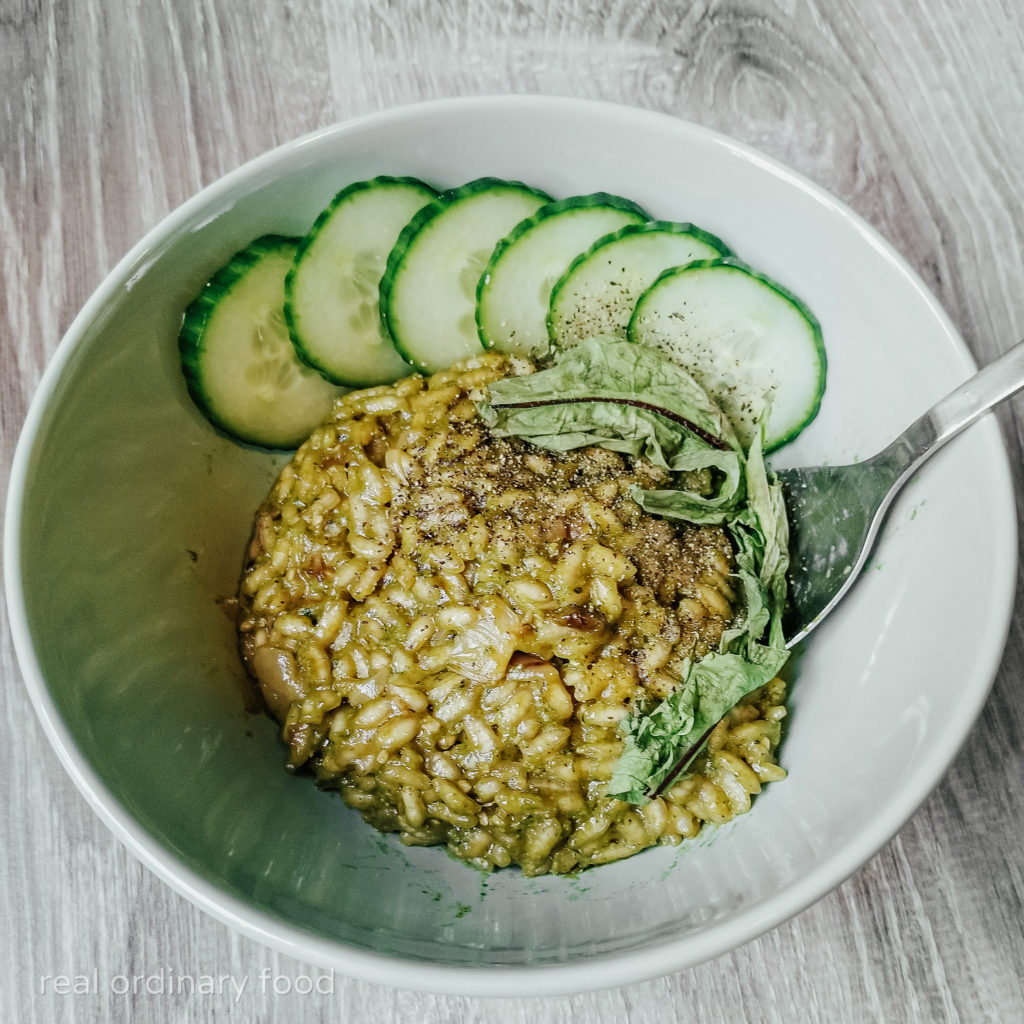 How Healthy is Risotto?
I am so mad at how high calorie pesto is. Look at how teensy this bowl is, and it's over 700 calories!! While cashews and dandelion greens aren't exactly bad for you, pesto is high in oil, so it's not an every-day dinner for me. But alas, it is worth it for the taste.
How to Use Up Homemade Pesto
Well, since the recipe makes enough pesto for four servings of risotto, I guess you could eat the same risotto four times. That is the most straightforward answer. But as you know, I don't like eating the same thing several meals in a row, so I used the rest of my dandelion pesto for different purposes.
What I found:
Because dandelion greens make this pesto bitter, it didn't work well by itself on toast.
Spread it on some toast and add cheese for a grilled cheese, and it's delicious.
Mixing it into freshly-cooked pasta makes for a quick one-pot pasta dish.
If you guys give this recipe a try, or made your own modifications, let me know how it went in the comments.