Cashews are great little bundles of energy, perfect for a snack at any time of day, and you can easily roast them at home. Since cashews are high in healthy fats, why use any additional oil? In this recipe, I'll share some tips for how to roast cashews without oil in an oven. I'll also show you a little hack for roasting cashews after the oven is turned off. They come out savoury and delicious every time.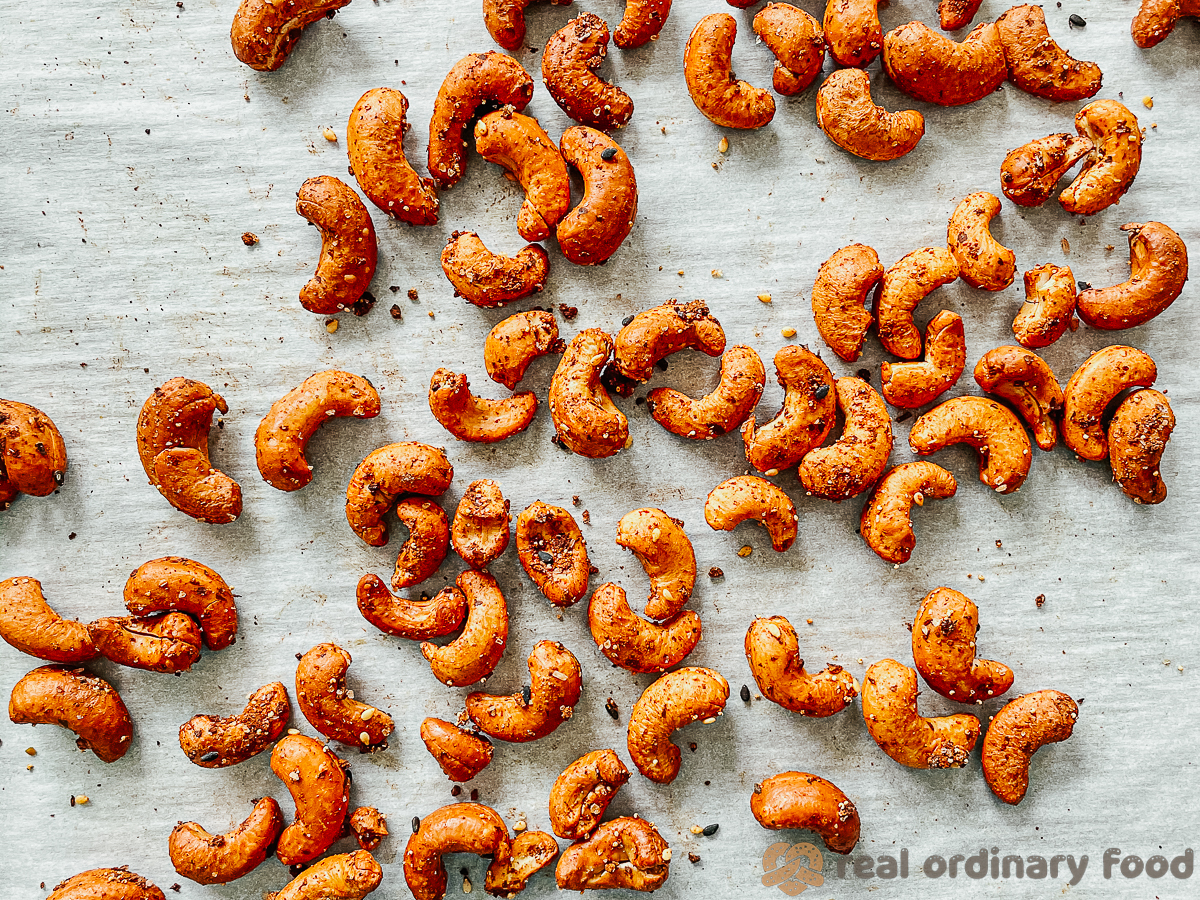 Where to Find "Raw" Cashews
Kevin and I love love love cashews—more than is healthy for our bank account, since nuts are pretty expensive. We once went through three kilos in a month… yeah.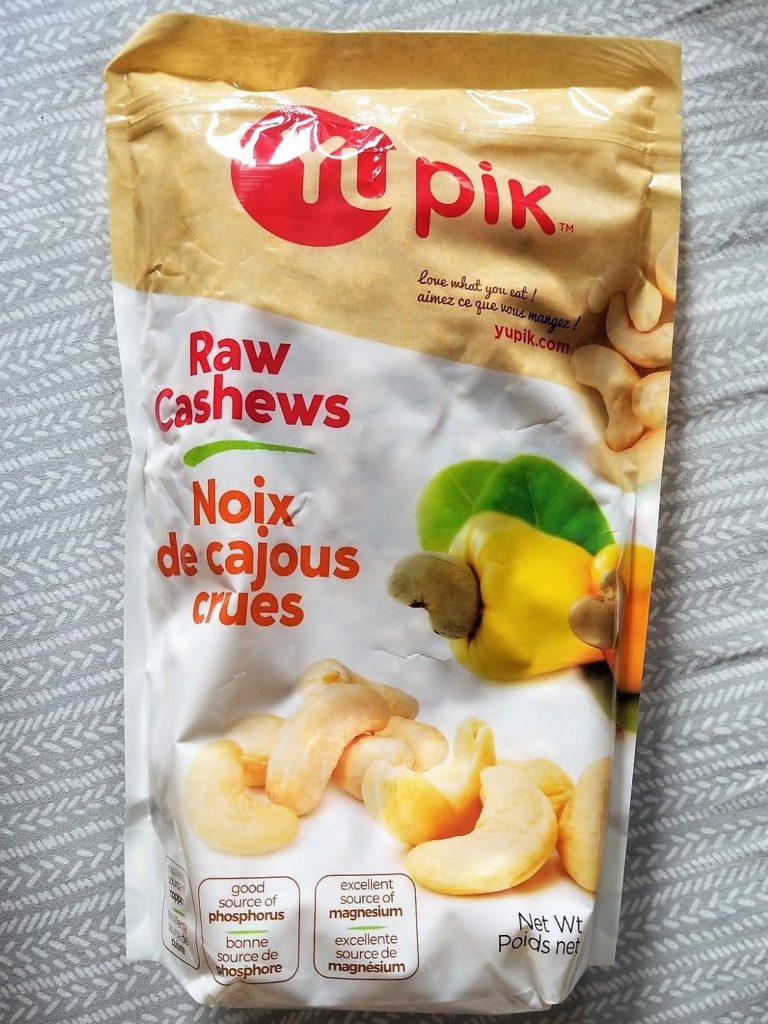 We used to buy Kirkland Signature roasted cashews from Costco, but the Yupik brand of raw cashews, also sold at Costco, is cheaper by weight than the roasted cashews. (Although, apparently, so-labelled "raw cashews" are actually slightly cooked because true raw cashews are poisonous!!) Whatever, they are, parboiled or steamed or whatever, you can definitely tell the difference between these and roasted cashews. They are a lighter colour, have less of that nice fragrant flavour and taste… well, pretty bland.
Raw cashews are more versatile—they can be used in a lot of vegan recipes for sauces, desserts, and for vegan cheese-making, where they are preferred over roasted nuts for their more neutral flavour profile, and they are also called for in many curry recipes to add richness.
I've stopped buying the pre-roasted ones now. "Raw" is the way to go! (Here's another savoury recipe involving raw cashews if you're looking for interesting ways to use up your bag.)
Oil or Water?
Most recipes call for a splash of oil to help salt and seasoning adhere to the cashews. However, nuts are already so high in fat there's no nutritional benefit to adding more oil. To roast cashews without oil, I found that adding a spoonful of water is just as effective for getting spices to stick, and the result is as yummy as always. They may stick a little if you are using aluminum foil or roasting directly on the pan, but just run a spatula under them and they lift easily. Parchment paper, though, is the easiest and the cleanest.
Seasoning Mix Suggestions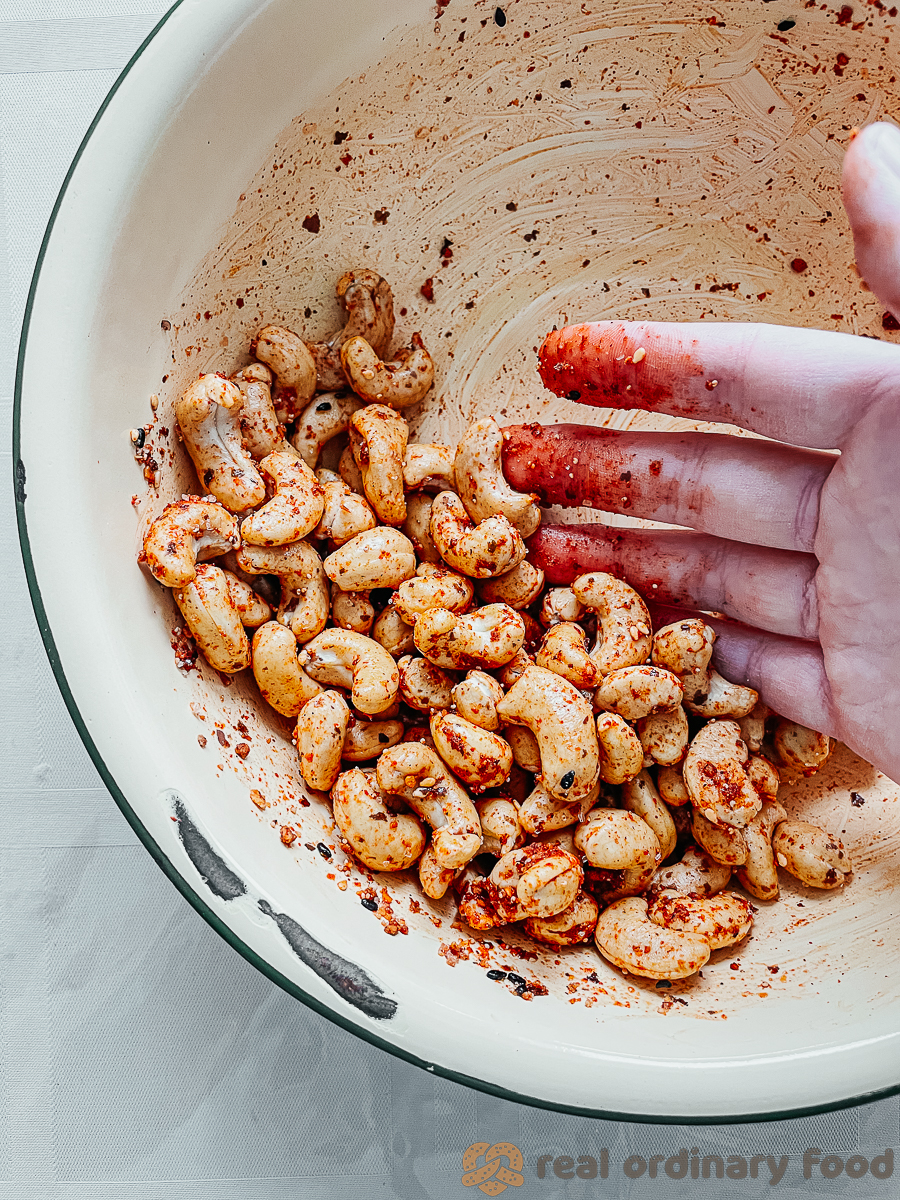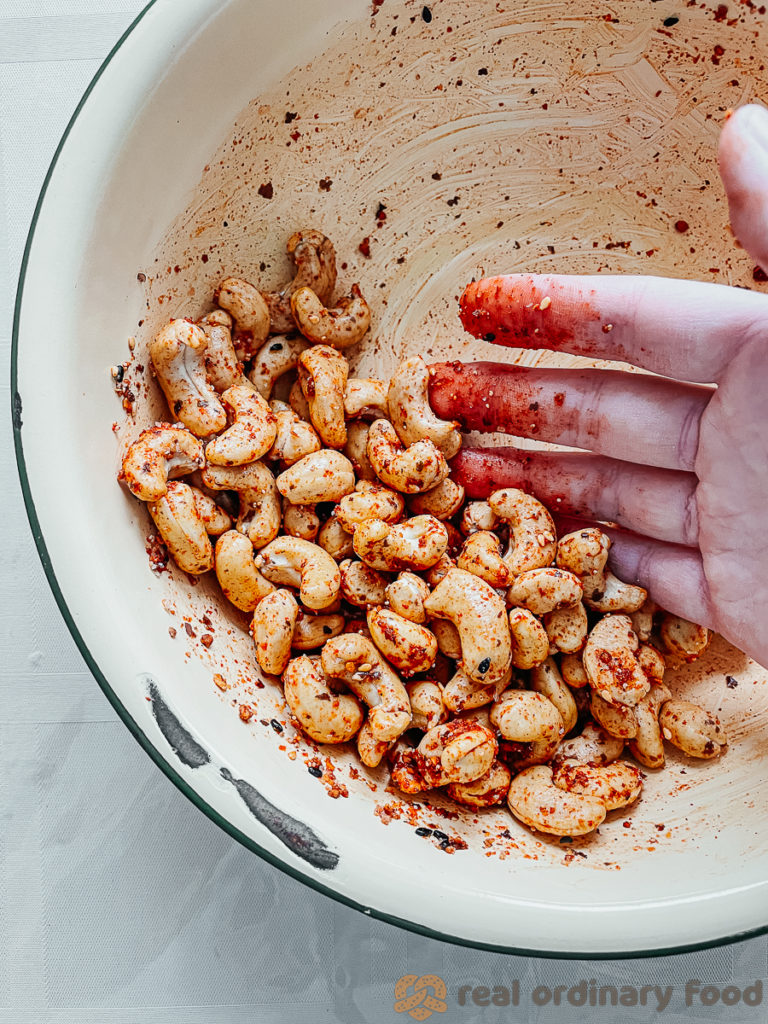 Oil-free roasted cashews taste pretty good just with plain old salt, but it's fun to make your own flavour combinations. I've tried the following spices:
1 tsp Goya adobo seasoning (omit salt because the adobo seasoning already contains salt)
2 tsp shichimi togarashi + 1/2 tsp salt
1/2 tsp smoked paprika + 1/2 tsp salt
1/2 tsp black pepper + 1/2 tsp salt
A Great Road Trip Snack!
On our recent day trip to Niagara Falls, a small container of roast cashews went a long way in keeping us full for a long, busy day of walking and driving.
The only thing I had to watch out for was that they were seriously addictive, and I had to limit how much I ate so I wouldn't be too full for dinner.
Residual Oven Heat Method
This is a method that can come in handy if you're baking something else at a higher heat (400 °F or above) and would like to take advantage of the residual heat trapped inside after turning the oven off. Basically, when you turn the oven off, immediately slide in your pan of prepped cashews. Let them sit in the cooling oven until they're toasted to your liking.
(Caveat: There's a lot of variability between ovens, and if yours cools off quickly then this method may not work for you. However, I've noticed that both the oven in my parents' home and my apartment retain heat for a good while after they've been turned off, provided the oven door is kept closed.)
I recently did a little experiment where I was baking something at 400 °F. After I took out the cooked food, I quickly slid in a tray of raw cashews, shut the door, and turned off the oven. After 30 minutes, I took them out and they were pretty much roasted perfectly! (At this point, according to my oven thermometer, the temperature in there was 250 °F.)
So if your oven also tends to stay hot for a while, give this a go. It may require some experimentation to see how long to keep yours in for.
Recipe Card
Oil-Free Roasted Cashews
You can easily make roasted cashews in your home oven. To roast cashews without oil, I use a little trick to keep them healthy but still flavourful.
Servings:
2
servings (1/2 cup each)
Ingredients
1

cup

"raw" cashews

150 g

1

tsp

spices and seasoning

optional; see Seasoning Mix Suggestions for ideas

1/2

tsp

fine salt or 1 tsp kosher salt

3 g

1–2

tsp

water
Instructions
Add cashews and oil, if using, to a bowl. Instead of water, you can also use 1 tsp of oil. Toss to coat.

Add spices to the bowl and toss again to coat the cashews evenly.

Roast in the oven at 350 °F for 10–12 minutes, shaking halfway to turn.
Recipe Notes
Be careful to check the cashews frequently towards the end of the baking time. I find that anything less than 350 °F and 10 minutes leaves a lingering raw taste, but anything past 12 minutes starts to taste burnt. And this is heavily dependent on your oven as well. You may want to start checking on them at 8 minutes to make sure you don't over-brown them, especially if your oven temperature is unreliable. (I used an oven thermometer to double-check that it was 350 °F.)
Nutrition and Cost Information
1 cup (2 servings) of oil-free roasted cashews (seasoned with salt and pepper) costs CAD$2.32 in ingredients and totals 833 cal.