This weekend, Kevin and I rented a car from Hertz to move out of our Toronto apartment. We decided to make the most of our rental fee with a day trip to Niagara Falls. It was so much fun! Spring semester at the university ended last week, and I'm loving and appreciating every moment of the rest of this summer before my co-op work term starts in the fall.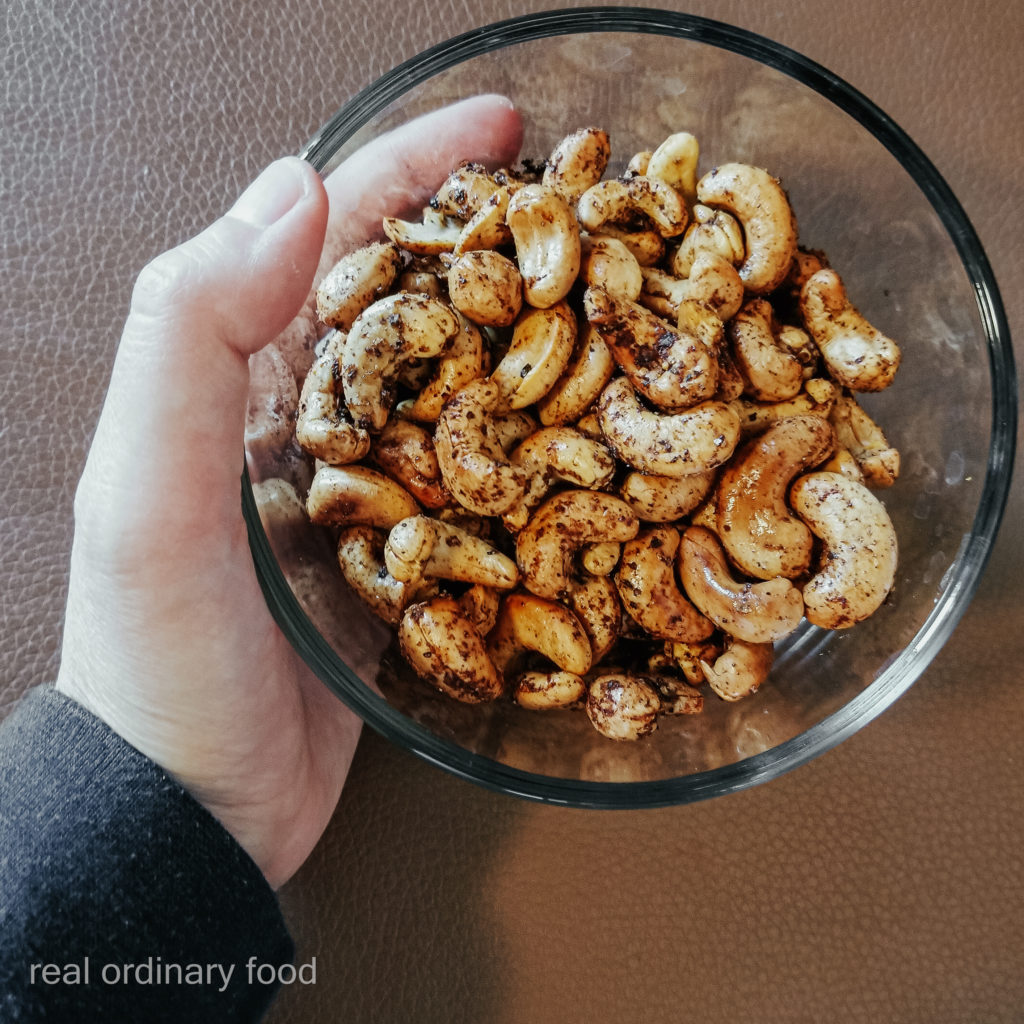 Our rental car was a Volkswagen Jetta. The local Hertz was a pleasure to deal with: friendly service, and they have a lot of promotions happening this month such as a discount on gas and waiving the young renters' fee. Having not driven in nearly two years, though, it felt weird to get back behind the wheel. My braking was soooo jerky and I kept forgetting the turn signal. But no worries, I got the hang of it and ended the weekend upholding my clean driving record.
Niagara Falls
There was a disturbing amount of tourists at Niagara Falls. Not like I can judge, since we were part of the throng, but we were expecting less people to be out and about. Navigating through the observation area while maintaining social distance was almost impossible. We stayed just long enough for Kevin to snap some nice pictures before dipping.
Now that I've experienced Niagara Falls in the summer, winter, and spring, I can say that summer is not the season to visit. There are so many more people and the sun is relentless. The mist from the falls makes the heat a bit more bearable, but once you're out of range you'll be wondering whether your clothes are damp from the mist or your sweat.
During our last visit in February, we were able to stay for much longer and had a better time. It felt like we had the view to ourselves. Just make sure to dress warm!
A note about the parking: the parking lot closest to the falls is also the most expensive—$20 for an hour!—so I wouldn't recommend it unless you're short on time, hate the heat, have mobility issues, or something. We ended up going here instead, it was $5 all-day when we parked but increased to $10 at 1 pm.
Antica Pizzeria & Ristorante
After touring the Canadian falls, we were hungry and tired but worst of all, thirsty. SO THIRSTY. We quickly picked Antica because it was close by, had good reviews, and offered the dine-in option. It turned out to be a decent choice for the food, but I was most relieved to be able to gulp down four glasses of ice-cold water.
We sat in their open-patio, which was quite nice! The shade from the umbrellas meant it wasn't too hot, but it was still nice and sunny. For once, I can present you some restaurant pics with bright lighting!
Baked Garlic Shrimp ($14.99)
We shared an appetizer of baked garlic shrimp ($14.99), very small but very delicious, followed by a pizza each.
Overall, the prices are a bit high for a pizza and pasta place, but for the upscale taste, convenient location, and nice dining environment, they make sense.
Meat Lover Pizza ($19.99)
Kevin got the Meat Lover pizza (are you surprised?). It consists of tomato sauce, mozzarella cheese, pepperoni, bacon, sausage and ham. He enjoyed it, and we both agree that the pizza here is delicious, definitely worth coming to!
The pizzas are a decent size but not too big. Kevin ate all of his, and I only had three slices left over to take home.
Pear & Goat Cheese Pizza ($19.99)
I had some trouble picking a pie because almost all of them contained meat of some kind, and I wasn't down for a plain ol' margherita or cheese pizza. Finally I went with Pear & Goat Cheese:
Mozzarella, provolone, gouda, goat cheese, garlic, oregano, red onion, sweet pear, prosciutto & drizzled with Honey.

Pear & Goat Cheese
Tragically! This pizza did contain meat—prosciutto—which I had missed when glancing at the ingredients. I ended up picking off the pieces and adding them to Kevin's plate (a meat lover could always use more meat, right?). Ohh those Italians and their bajillion fancy words for pork products.
I quite liked my pizza. Although I know that pear and cheese is a stellar combination (mmm… dreaming of pear grilled cheese now), I haven't tried it on pizza before. I'll take this over tomato-based 'zas any day.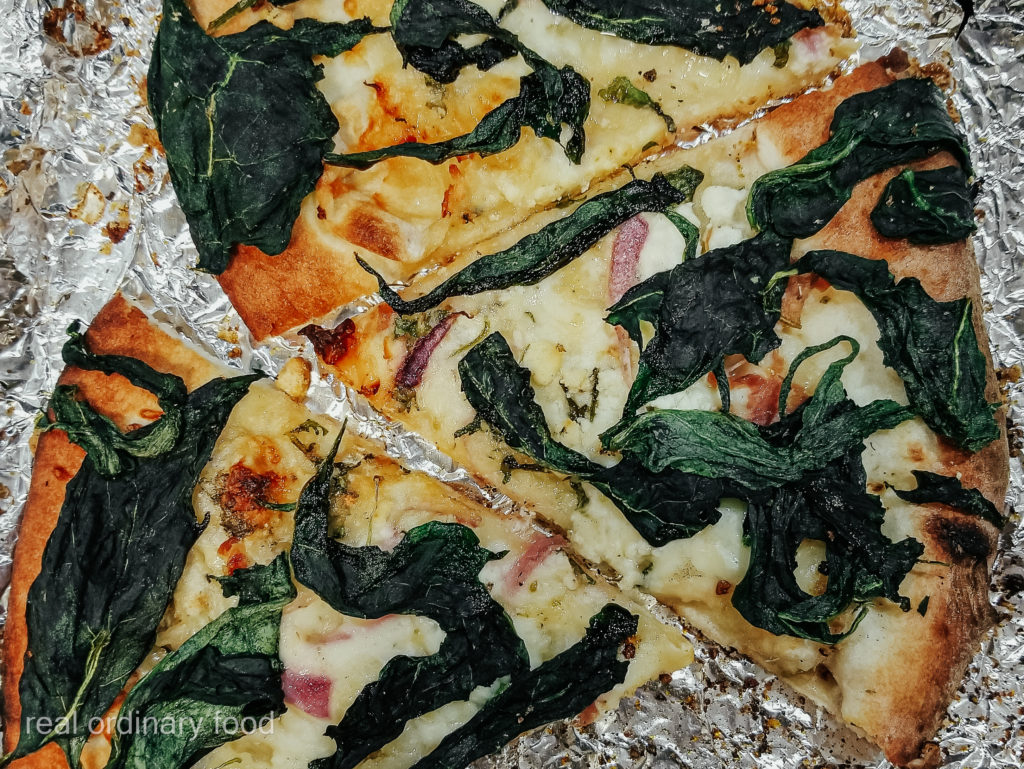 The leftovers, which I reheated in the oven the next day, were yummy too. I topped them with some baby spinach I had lying around, which worked well with the cheese!
The Perils of Patio Dining
Throughout the meal, we were harassed by bees, which did put a damper on the dining experience. Actually, they may have been wasps because they looked huge. Not sure the restaurant could've done anything about this, since we were outside, after all, but it rushed us to finish the meal quickly.
The critters especially went for Kevin, which is hilarious because there was nothing resembling plants on his plate. At one point, one landed on his chin and started crawling around his mouth!! We both watched in horror and tried to stay still for like a full minute. Meanwhile, my plate, topped with sweet onion and pear and drizzled with honey, wasn't bothered nearly as much. That's what leads me to think the bugs were wasps, not bees. What the fuck do wasps do, anyway? They don't pollinate and they're so much more aggressive. They're the worst.
As I was sitting there, I started wondering what a bee sting would feel. Neither of us have never been stung, and I'd love if it stays that way, but I can't help being curious about how bad it is, really. Also, every time I'm being threatened by bees I think of this Politico headline:
'Bees are good,' Obama says as children scream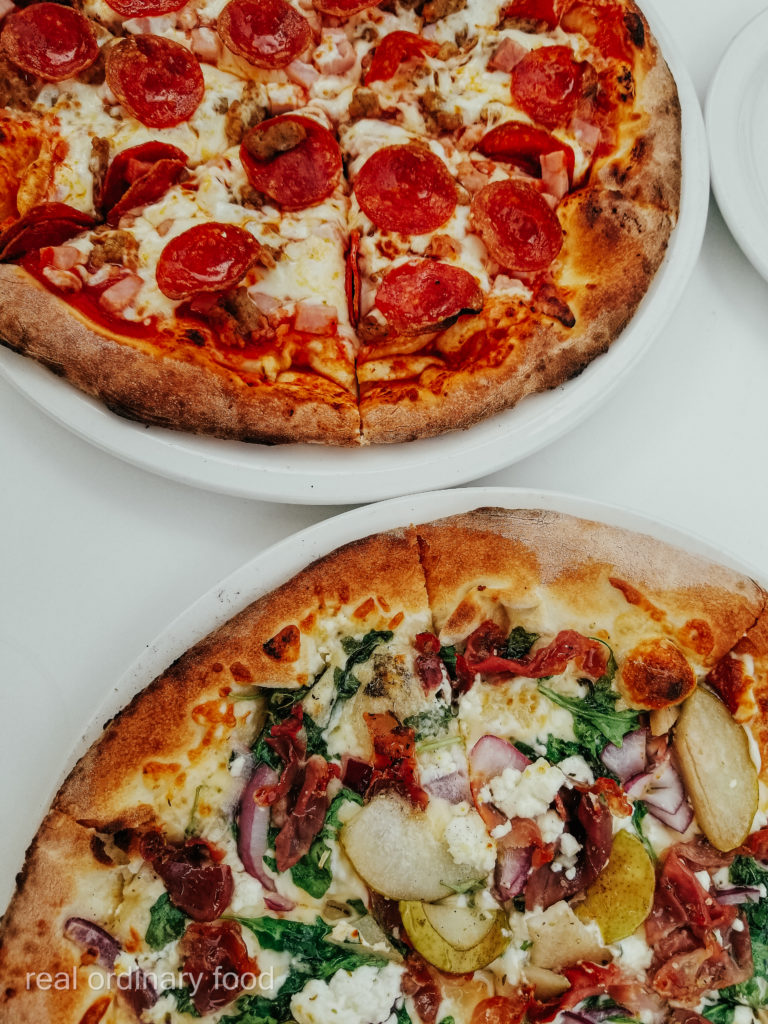 During summer camp one year when I was younger, a guy in our group got stung and he ended up being allergic, it was a whole thing. (He was fine in the end.) Which leads me to question, how would you even know to test for that allergy, actually? I've had allergy tests before, you know, those pin-prick things they do on your arm to check for irritation, but I don't remember being tested for bee venom.
Anyways, back from that tangent, my conclusion is that Antica is a solid lunch choice around the Niagara Falls tourist area. Their indoor dining room is open now as well so maybe go for that if you're scared of bees.
Niagara-On-The-Lake
The drive to NOTL from Niagara Falls in the summer is relaxing and pretty. On the way, we saw this giant barrel casually chilling next to the road. Amy and Captain Holt would love Niagara in the summer, that's all I'm thinking. What better sign do you need to know you're in wine country?
As we were driving, Kevin commented that the scenery was like that in Alberta: flat land with farms and crops in every direction. I thought something was missing, though. On our entire drive, we didn't spot a single hay bale! These things are ubiquitous in rural Alberta, but maybe Niagara focuses on plant crops and wineries more than raising cattle.
We both agreed, however, that the Niagara region reminds us a lot of the Okanagan Valley in BC. Similar weather, known for u-pick farms and wineries, next to a lake… see?
Dutchyn Farm Peaches
I've been dreaming about u-pick farms for like, multiple summers now, so I was happy to check this item off my list with a trip to Dutchyn Farm. We had missed berry-picking season, but August is prime time for peaches, and peaches are better, anyway!
The farm wasn't too crowded when we arrived close to 5 pm. Although they were selling plums, nectarines, and a bunch of other fruit, only peaches were available for u-pick. Most of the trees in the pick-your-own section of the orchard were bare, but there were three lanes full of juicy looking peaches, which was more than plenty for us.
We ended up picking about 15 peaches, which were sold at $1.25/lb—better than what you'd usually get at the store—and also picked up a 3 L basket of nectarines for $6.50.
The address and phone number for Dutchyn Farms in the Google Maps listing above is accurate, so give them a call or text when you're planning your visit. They host other events (weddings I think) at the farm, so I'd advise confirming ahead of time when they will be open for fruit picking.
Avondale Dairy Bar
I have a thing for ice cream shops run by real dairy farms…
D Dutchmen Dairy in rural BC is my holy grail for good ice cream. It's been over ten years since I've had their ice cream, when we stopped in the middle of a road trip to Kelowna, so this opinion may be outdated (although the Google reviews suggest the quality hasn't changed). The scoops were huge, ice cream so creamy, butterfat aftertaste so fresh! In fact, it was so rich that 10-year-old me couldn't finish the two scoops that I'd bought and had to let almost half go to waste. It was so sad!
Anyway, since then I've tried everything from artisan ice cream in Montreal to off-brand "ice milk" from the grocery store to artisanal gelato in Venice, and even cheese ice cream in Bologna, but nothing has really taken me back to that delicious first bite of Blueberries N Cream at D Dutchmen.
When I saw that Avondale Dairy Bar was a highly rated ice dessert shop perfectly situated on our way back from Niagara-on-the-Lake, of course I had to give it a try and see if it could compare. The flavours of the month were peach and key lime, and since I was on such a peach kick I decided to go for that one. I was also tempted by their plant-based options, for which there were a few, so I also bought a scoop of coconut chocolate chip vegan ice cream.
Plant-Based Options
The plant-based ice cream was really similar to ice cream. If I hadn't known it was plant-based, I wouldn't have been able to tell that it wasn't made from dairy.
However, once I tried the peach flavour, which was made from dairy cream (you can't really see it under the top scoop, but there's a little peeking out at the bottom), I could tell the difference immediately. The real ice cream was super rich and left a buttery taste on the tongue. I would say that the freshness of the dairy and the amount of cream used is definitely comparable to D Dutchmen.
This flavour, though, was disappointing. For maximum comparability, I should've tried a flavour similar to what I got at the BC dairy, like something with berries in it. I feel like the peach doesn't really work with the creaminess of the ice cream.