From gelato by the Rialto Bridge to a tiny Michelin-starred restaurant beside St Mark's Square, we had our fill of delicious food in Venice.
Sunday
We dropped off our luggage at our hotel in Murano, a little island about a five-minute's boat ride from Venice proper (and I totally recommend staying here instead of the main island, btw).
Lunch at Osteria al Duomo
Neither of us felt like venturing too far out for food that evening. Luckily, Osteria al Duomo was literally just a bridge away from the hotel, and it had good ratings on Google Maps.
Cuttlefish alla Veneziana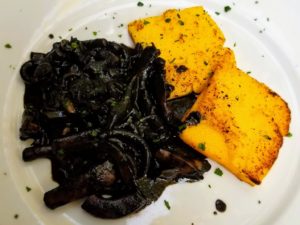 Funnily enough, despite the city's strong ties to water, Venice isn't renowned for its great seafood. That's not to say it isn't one of the key elements of Venetian cuisine—a lot of traditional meals are based around its lagoon species, like cuttlefish, clams, and shrimp. But they aren't as universally popular as, say, Japanese sashimi or Maine lobster. Many dishes, including the cuttlefish alla Veneziana I ordered, for example can be described as an "acquired taste."
So what is cuttlefish, or seppie, "in the Venetian style," exactly? It's a method of preparation where cuttlefish ink itself is used in the sauce, creating a jet-black mass that honestly does not look appetizing. And it stains your entire mouth black!
I'm not one to be grossed out by the colour—that's why I ordered it, really—but the sauce was not good at all. Very thin, not savoury, not flavourful—just kind of salty. And it left a not-too-pleasant aftertaste in my mouth. The polenta was decent—reminded me of arepas—but didn't pair well with the cuttlefish sauce.
Oh! and I forgot to mention one other issue that put a damper on the meal, at no fault of the restaurant. We chose to sit outside for some stupid reason, not having applied bug spray beforehand, and you can guess what happened!! It was Contraste all over again! We were eaten alive by mosquitoes, and both of us couldn't finish our meal fast enough before we hightailed it out of there. Pretty dumb of us to forget that Venice is basically built on a giant swamp, and of course there would be so many mosquitoes at this time of year. It's highly possible I could've enjoyed the food more, and spent more time finding something to like about it, were I not fending off mosquitoes for the whole thing.
Monday
We spent the morning strolling around Murano before heading to Venice proper for the rest of the day.
Lunch at Versus Meridianem
Probably the most memorable aspect of this restaurant is its setting. It's located on the tip of Murano, in a former glass factory (did you know our hotel also used to be a glass factory? Chances are, any old brick building you see in Murano was formerly a glass factory). The huge floor-to-ceiling windows give you a great view out onto the water. It's a nice spot to have a lunch while enjoying the sun and waves and watch boats zipping by, even though the food is not as exciting.
Spaghetti alla busara and pizza
I ordered the spaghetti alla busara ("with langoustines", a species similar to crayfish that is local to Veneto). It tasted like a regular tomato sauce that I could whip up at home, with chunks of seafood thrown in. It was pretty expensive (€16), but then again, the portion was huge and I could barely finish it.
Kevin ordered a pizza, I don't recall the name, but I do remember being in awe at how much meat was on the thing. Maybe it wasn't a classic Venetian dish, but I know he had a good time with all that meat.
Dinner at Il Ridotto
Il Ridotto was the second of our Michelin-star reservations planned for this trip.
Again, we opted for the tasting menu here, but to our disappointment, we both had to order the exact same things and there were no individualized accommodations allowed. Kevin would miss out if I were to ask for a meatless menu, so we both had to order the meat. (Luckily, this didn't turn out to be a big problem because Kevin was happy to eat up my servings if they had meat in them!)
Before we get to the courses, though, let me touch on the bread. This was possibly some of the hardest, crustiest bread we had encountered in all our travels. It was also dense, with a tight crumb, which I didn't mind because I like a substantial bread! But did the crust have to be so tough and unchewable??
It was paired with a nice extra virgin olive oil that, although smelling very nice, was super bitter. But I guess I have to be grateful that they actually provided a plate here to pour the olive oil in, unlike the restaurant that provided our first disastrous encounter with bread and olive oil in Milan.
We soon received an amuse bouche, and sadly I can't say much about it because I don't remember anything of the taste except tomato sauce. I want to say it was a quiche, or some kind of bread or possibly polenta?
LOL moving on!!
Scallop Noodles
I didn't know it was so popular to create noodles out of seafood. We ate a dish similar to this at Contraste. I wanna say that this one is also made out of raw scallops, but I don't remember. Anyway, it even tasted quite similar to the one at Contraste, and I enjoyed it a lot. The thickness of the "noodles" reminded me of udon, and the little bit of acidity brought on by some-kind-of-pickle-or-other paired perfectly with the fresh sea flavour of the dish.
Beef Tartare
Oof… now this one was not good. Two balls of raw ground beef. I have never eaten raw beef except in Japanese tataki (which is more rare than raw, anyway), and I was not prepared. The flavour of this thing is one of the reasons I find it so easy to avoid meat—fatty, strong, a little gamey—let's just say it was not at all subtle about being completely raw. Even Kevin couldn't eat much of it.
Aside from the meat itself, the other parts of the dish were fine. The truffle and parmigiano reggiano garnishes were delicious, and mmm, that slice of tomato with the fresh slice of basil, it was heaven! If we'd been served two balls of that tomato on its own, I wouldn't have minded.
It was a little awkward when the server came to take away our barely touched plates. But next thing we knew, the chef himself came out. He seemed very apologetic, and then let us know the next few dishes with meat and asked if we were okay with them. I really appreciate that he stopped by, since that meant diners' remarks are actually passed on to the kitchen, and it showed that at least our experience was acknowledged.
Roasted Red Pepper Risotto
Luckily, the next dish was absolutely delicious.
It looks kind of rustic, but oh man, at this point of our trip I had not yet tasted risotto this good. I had never heard of, let alone tasted, red pepper risotto with capers, but it's a winning combination! This may actually be my first time (knowingly) eating capers, as well. The tart, almost lemony note introduced by the capers worked so well with the hearty risotto. And the cheese, don't get me started on the cheese! The mozzarella di bufala was so fresh, tender, and juicy. I WANTED MORE!!!
Beef Tripe and Bean Stew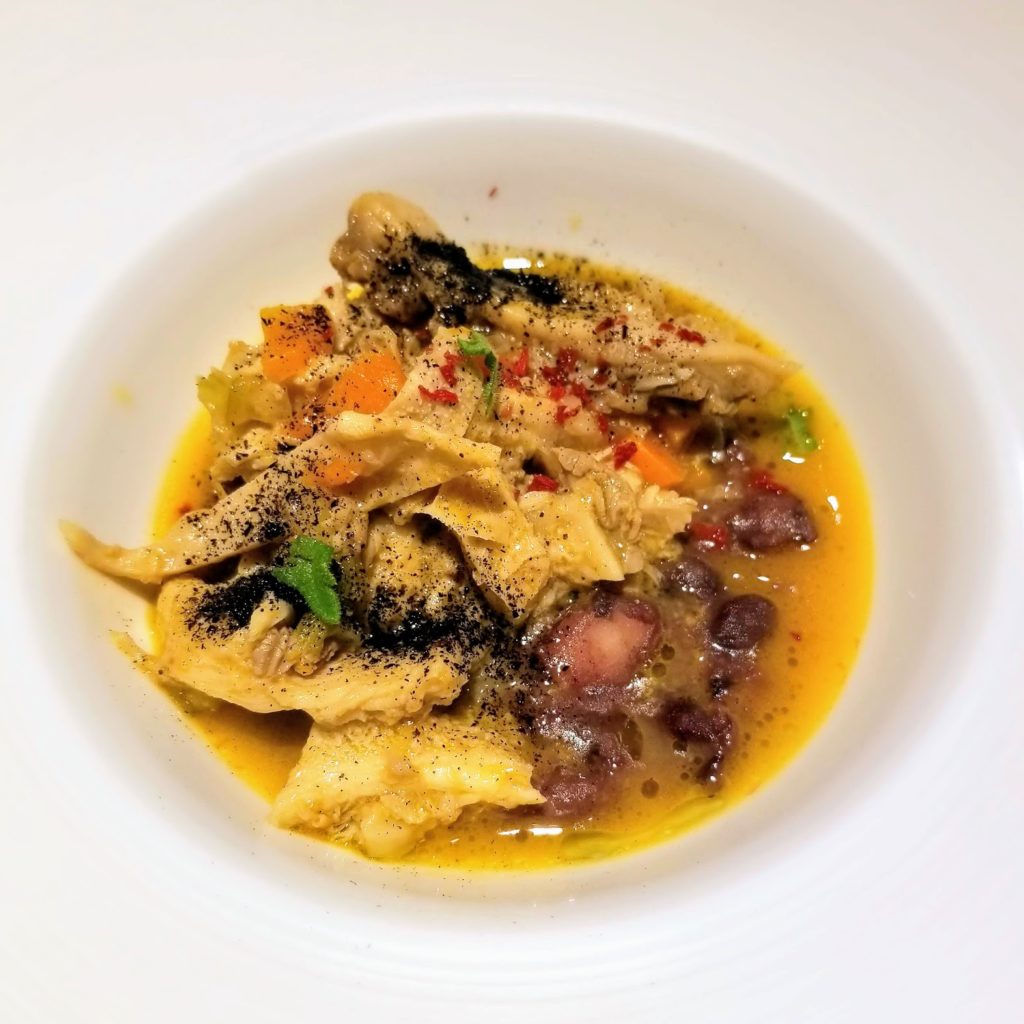 I rarely use this word because sometimes I'm not sure what it means, but I can 100% say the taste of this next dish is the definition of rustic. It was a hearty, warm stew with tripe and kidney beans. Kevin ate all the tripe and I ate all the beans, hehe. As someone who has rarely eaten tripe outside of pho (which is a really low standard, I know), I was surprised by how tender and lovely the tripe was. Still wasn't enough to make me take more than a bite, though.
Sausage and Pork Belly with Mashed Potatoes and Green Beans
Kevin loved this next dish, which is some sort of meat with pork belly, mashed potatoes, and a bundle of green beans. The only things I ate were the potatoes (delicious) and beans (not very flavourful).
I was quite surprised to see this food served in Venice of all places. Whenever I see green beans and mashed potatoes together on a plate, I think MIDWEST!
I don't remember much about this one, and neither does Kevin except that he said it was really good.
Saffron Ice Cream with Graham Cracker Crumbs and Chocolate Syrup
We were pretty stuffed at this point, so good thing there was only one course left on the menu: dessert.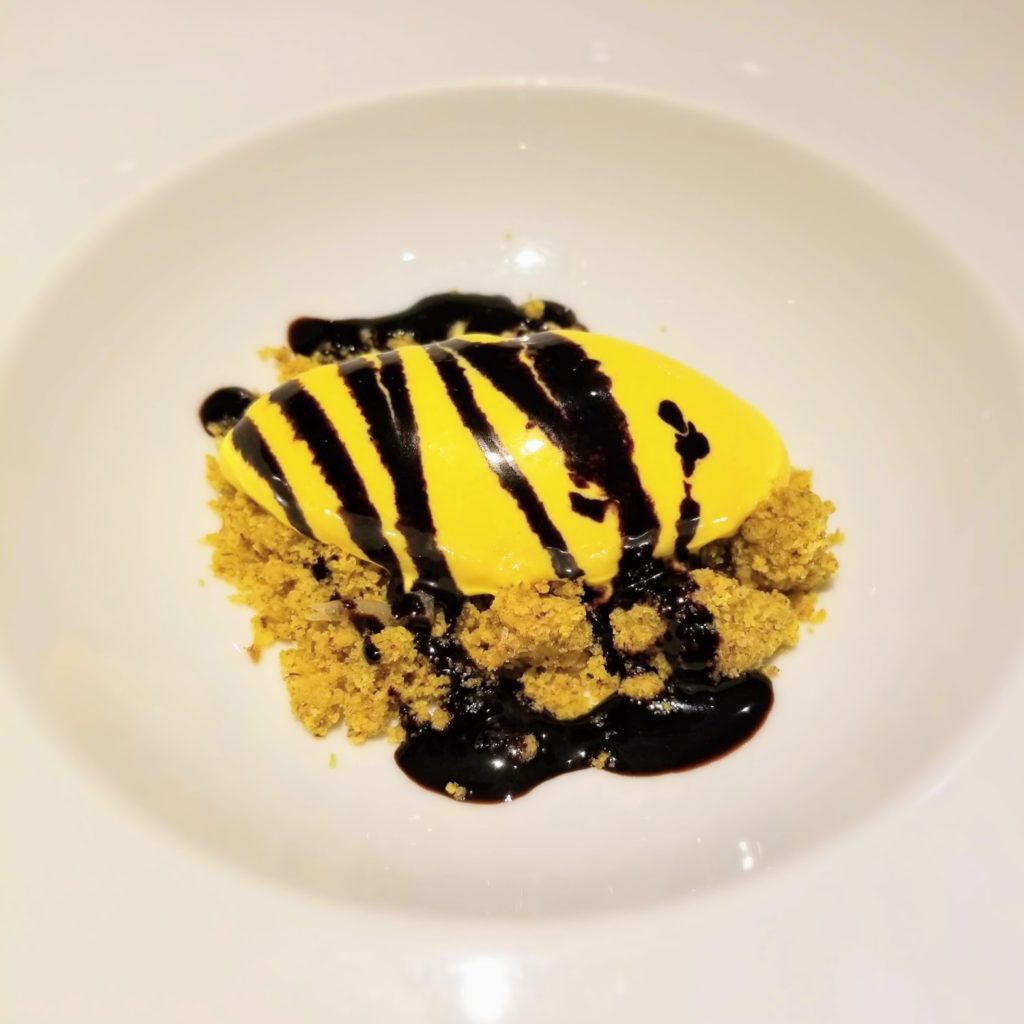 As soon as I took my first bite, I knew this was hands-down the best ice cream I'd had on this entire trip. And do you even know many cups of gelato we've eaten in the past few days?
I've never had saffron ice cream before, and I couldn't have even imagined what it would taste like. All my experiences with saffron have been as part of a savoury dish. But saffron in sweet treats has to be seriously underrated, because this ice cream blew my mind. The graham cracker crumbs under the ice cream were delicious as well. They paired so well together. I could've done without the chocolate sauce, tbh, because the saffron flavour was so beautiful and rich on its own.
Without a doubt, dessert was my favourite course of the evening.
I also have to say something about the service of this restaurant. There was only one server for our table the entire evening, but she was very professional and prompt, and did a great job. The chef was also quite involved; he personally served a few of the dishes. Although very upscale, the atmosphere is a little cozier and more casual than at Contraste, and I liked that.
Tuesday
Lots of walking today as we visited all the well-known attractions, from St Mark's Square to the Rialto Bridge.
Lunch at La Zucca
We stumbled into this tiny restaurant on a whim, not having done much research beforehand, because it was mid-day and we were hungry. But La Zucca turned out to be a stellar choice for a restaurant in the middle of touristy Venice.
First: the bread. Kevin and I both liked the selection here, which included tarallini (the little o-shaped crackers that are a popular snack from southern Italy), thick grissini (light, airy breadsticks), and underneath, a floury Italian loaf.
The crust on this bread was actually soft enough to eat without chewing my teeth off, so that's a bonus.
Pumpkin Flan
Moving onto the mains: zucca means "squash" in Italian, so of course, I ordered their signature "pumpkin flan" entree. I wasn't sure what to expect, since I've only ever considered flan to be sweet. It turns out their "flan" is more of a loaf, with the texture and consistency of pumpkin pie. This is then topped with shredded smoked cheese and pumpkin seeds, with a tangy brine.
It actually tastes better than you'd expect from that description, although I wouldn't order it again, since the loaf was a tad bland. If you are really into pumpkin, though, I think you would like to try this twist on what we usually think of as a sweet vegetable.
Lamb with Potato Wedges and Mustard Sauce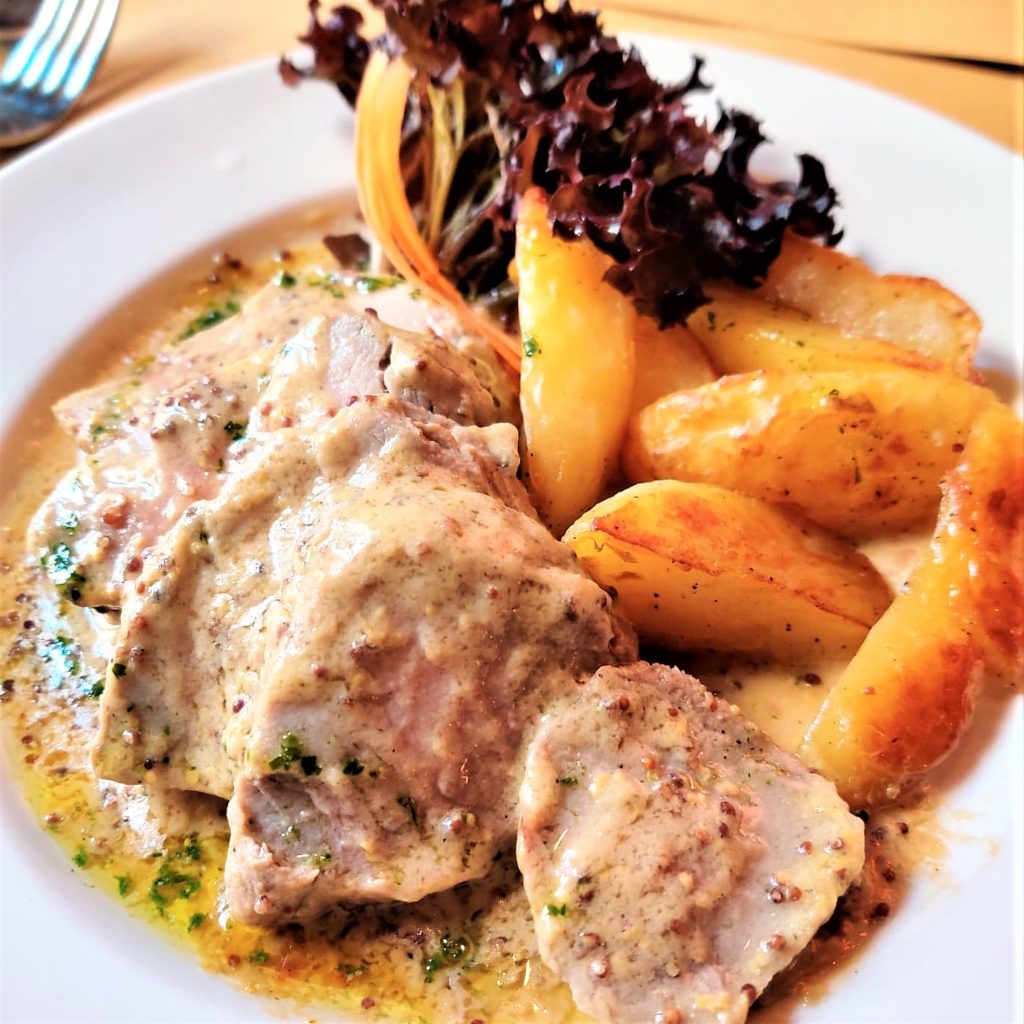 I didn't try Kevin's lamb entree, but boy did it smell inviting. He says it's one of his favourite dishes in Venice. The potatoes were roasted to this amazing golden, crispy texture I've never seen before. They looked almost… juicy? swimming in the mustard sauce. Mmm.
Tiramisu and Raspberry Semifreddo
For dessert, he ordered their tiramisu (what a surprise). It paid off, because he said this was probably his favourite tiramisu out of all the ones he's eaten on this trip! The presentation is definitely on the simpler side, but I think that only adds to how rich and decadent it looks.
While Kevin chose tiramisu, I went for their raspberry semifreddo. (I honestly can't remember if it was raspberry or strawberry flavoured, but I'm leaning towards raspberry.) Although the tartness of the fruit was wonderful, as was the hint of fresh mint, it wasn't my favourite dessert. Since I love mousse and I love ice cream, I figured I would love what is basically a frozen mousse, but the texture was closer to shaved ice than the soft, creamy mouthfeel I was expecting.
The service was quite fast, so a great experience all around at this restaurant. At €53.50, it's not too bad in terms of price either (especially for a spot next to the Grand Canal).
Gelato at Gelatoteca SuSo
Dessert Round 2, anyone?! It was on the way back to Murano that I started getting a craving for gelato. The day was really hot by then and something ice cold sounded perfect. Gelatoteca SuSo was on the way back, and even though it was pretty crowded, the line moved quickly.
I got two flavours in a cone. The bottom scoop was watermelon. I wasn't a big fan of this one, it was too fruity and artificial, almost like a 7-Eleven Slurpee? But the top scoop, Manet (chocolate and pistachio butter), omg, that's my shit. I could eat just that pistachio butter on its own all day, it was so creamy and nutty and sweet.
Wednesday
Today was a bit chiller as we rested our legs from yesterday. We stayed mostly on Murano.
Lunch, Take 2 at Osteria al Duomo
Remember the restaurant where we were massacred by mosquitoes? We decided to give them another try since neither of us had been in the right state of mind to enjoy our meal the last time around.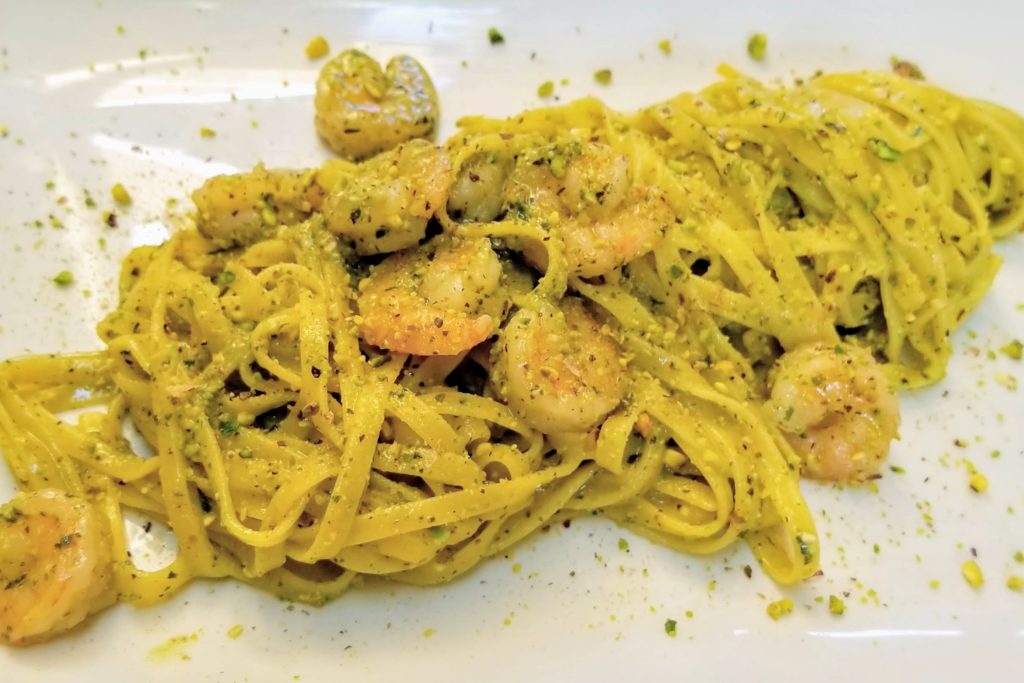 Sadly this time wasn't too great, either. I have to conclude that although the restaurant has a lengthy history, having been established in 1903 (that's earlier than Alberta became a province… omg), the food itself is average.
We made sure to shower in bug spray before we went, so mosquitoes weren't a problem. However, there was a weird odour near where we were sitting and it wasn't pleasant to smell right before a meal. Kevin's pizza was also served 5 minutes before my pasta, which is really weird and shouldn't
happen in a full service restaurant.
Shrimp tagliolini with pistachio pesto and Amanda pizza
The entrees were ok, but nothing too special. I ordered the shrimp tagliolini with pistachio pesto. I liked the subtle flavours and the shrimp were substantial, but it wasn't salted enough, and I would've like more of the pistachio to come through.
Kevin ordered the "Amanda" pizza, essentially Hawaiian pizza. Obviously not the most authentic choice but it smelled and looked pretty appetizing, with a generous amount of toppings, too.
Tiramisu, again
Dessert was, again, tiramisu, shared between the two of us. Not too much to say here, it was your standard tiramisu. Really delicious and a big portion especially given the price (€5).
The bill on today's lunch came to €35 total.
Thursday
For Thursday we decided to take a day trip to Burano, about a 20-minute boat ride from Venice proper, and holy shit if this isn't the prettiest little village ever. You can see some of the photos we took around the island in my "Italy Trip" blog post, but for this post I will only be talking about the food.
Dinner at Trattoria da Romano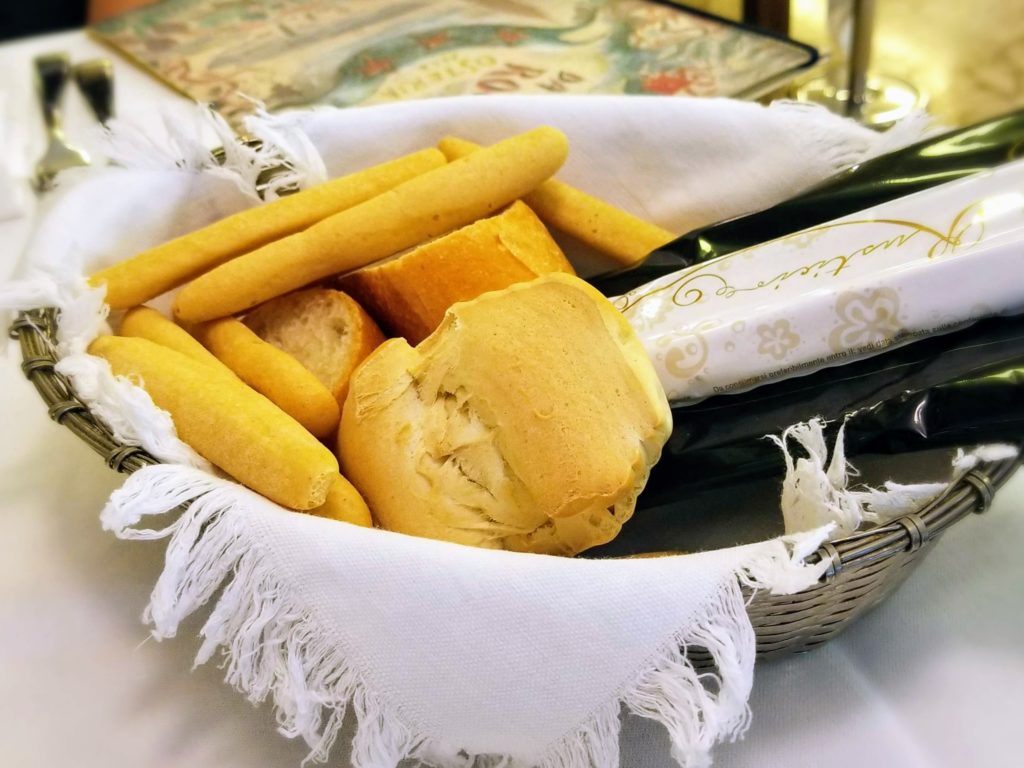 You may think that such a small island as Burano wouldn't have a lot of food options. There are actually several well-recognized establishments here.
The place we chose for dinner, Trattoria da Romano, has been praised by several celebrities, including Anthony Bourdain and Sylvester Stallone. We were surprised when we ended up being the only ones eating in the restaurant for our entire meal. Obviously, though, those famous people knew what they were doing, because the food here was mouthwatering. This place has the softest bread we've yet encountered in Italy—another bonus. I also loved the long, thin breadsticks.
Risotto da Romano
We shared the Risotto da Romano, the restaurant's signature dish, made with goby fish. It blew both our minds. I have never tasted a flavour more suited to risotto! I was afraid Kevin would find it fishy, but he loved it too. Sadly, it was also super expensive, at €21 per person.
Fried Shrimp and Vegetable Plate
We weren't completely full after licking our plates clean, so we ordered a platter of scampi fritti (fried shrimp) to share. Although delicious (dare I say I prefer this Italian seafood fry over tempura?), the portions were small for the price.
The fried polenta here was made with white cornmeal rather than the yellow cornmeal at Osteria al Duomo. Both of them tasted pretty similar. However, it paired with the rest of the scampi fritti a lot better than it paired with cuttlefish.
Overall, together with one bottle of water (€4) and a cover charge of €3.50 per person, this ended up being our most expensive non-prix fixe dinner in Italy, at €83. Yes, it's pricey, no doubt to price-gouge tourists, but I have yet to find another place that serves such flavourful risotto, so I would still recommend a visit. Will totally change your expectations of what risotto can be.
Friday
Saddest of sadness! Today is our last full day on Venice before we have to catch our flight tomorrow.
Lunch at Rossopomodoro Pizzeria
If you want a decent, inexpensive lunch in the middle of St Mark's Square, this is it.
The service was a bit lacking. It was friendly, but slow (and I don't mean that it was relaxed, in the typical Italian way, but rather that there didn't seem to be enough servers and we always had to wait for them to deal with two or three other issues before they got to us).
Neapolitan Tiellina
And the food was just ok. I wasn't too hungry, so we ordered a plate of fried Neapolitan snacks to share (tiellina). Those corndog-looking things are potato-stuffed croquettes (crocchè di patate), and the smaller balls are fried dough with seaweed (pasta cresciuta con alghe). The croquettes are super duper filling. You may think that, at €12, it's not too big, but I strongly recommend sharing with at least one other person unless you're crazy hungry because it's quite a lot of food. I liked the fried dough balls as well, they were way chewier than I expected and had a mild herby flavour. I would like to try making them at home.
Marinara Pizza
Kevin got a marinara pizza. It was really funny: I didn't take a picture, but picture a naked pizza, topped with only a thin layer of tomato marinara sauce and two whole cloves of roasted garlic in the centre. This guy loved it, though, so who am I to judge 🙂 I still can't get over how cheap pizza is in Italy, tbh. Kevin's pizza was only €7.50, and sure it didn't have a lot of toppings, but it was huge!
This was probably our cheapest meal in Venice, only €25.40 for everything.
Saturday
We got to ride the lagoons of Venice one last time as we embarked on an airport shuttle taking us to Venice Marco Polo Airport this morning.
Lunch on Air Canada Rouge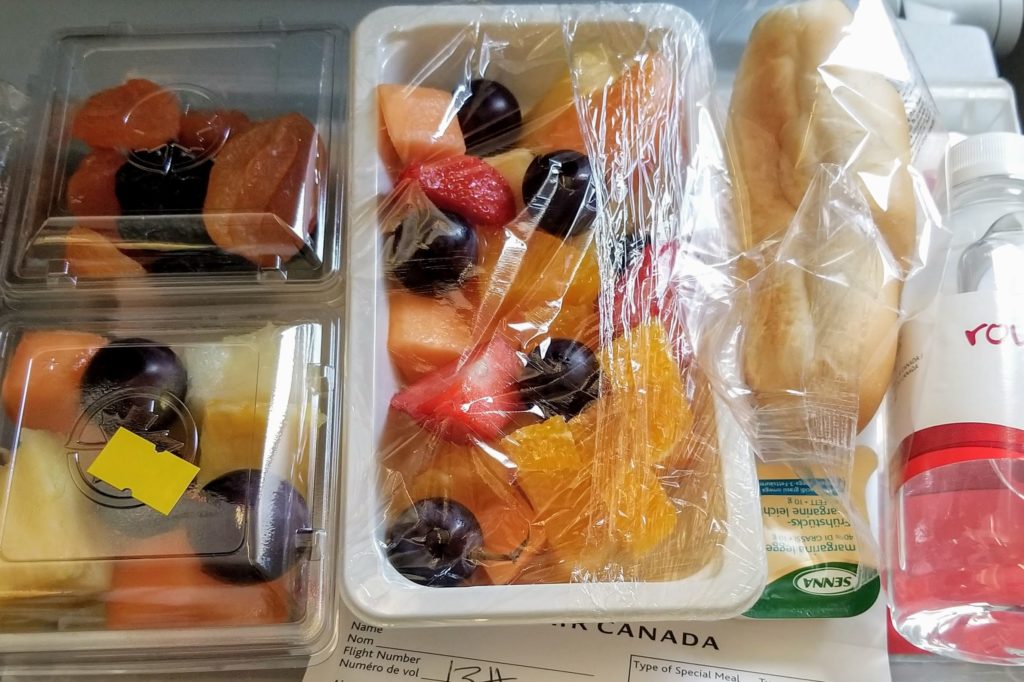 Ironically, we got better meals on the trip back, flying with the budget carrier Rouge than on the main Air Canada line that we flew in on.
The fruit plate I ordered was a lot more substantial this time around, and Kevin actually found his pasta meal palatable enough to finish. No picture of this, but we also got a hot savoury pie for the breakfast before landing!
Aaand that concludes everything we ate on vacation for the past two weeks (except for the snacks—look for an Italian junk food post that I'm working on releasing soon). Milan, Bologna, Venice—I loved the opportunity to try all your regional food. It's been amazing, Italy. Arrivederci!