The cosmopolitan nature of Milan is reflected through its varied food, from modern Italian tasting menus to Brazilian-Japanese fusion sushi.
Saturday
We flew in to Malpensa airport (which, tangentially, is probably the worst-maintained airport I've ever set foot in) at noon, and took the express train to our Airbnb, where we luxuriated in the powerful A/C of the unit and began brainstorming ideas for food in Milan.
Late Lunch at Osteria di Brera
A mere five minutes' walk from our Airbnb, Osteria di Brera was the perfect choice for our first meal in Italy. Even though it was past 4 pm when we arrived, several tables were still sitting around enjoying their food, which seemed to be a good sign.
We had no idea of what to expect from Italian dining customs, but I have to say, the most culture-shock part of this lunch came from the bread situation. After we placed our orders, our waiter brought forth a basket of bread and a jar of evoo. No plate, no bowl… we were really at a loss. It seemed that we were supposed to eat the bread with some oil, but how…? In the few North American restaurants that serve this combination, the olive oil is always brought over in a dish which you then dip bread into.
We speculated that one is either supposed to:
Pour olive oil directly over the piece of bread one is eating.
Drizzle the olive oil over the entire bread basket.
Both of these didn't seem to make a lot of sense, but I decided to try the first option. Total mess, dripped olive oil all over the tablecloth and my fingers. Bread tasted amazing though, the taste of the olives in the oil was very very strong.
After this experience, we googled the question, and never found a consensus. The likely answer is that the bread is not intended to be eaten on its own like an appetizer, but rather eaten with the main course. Never did figure out how to use the olive oil, though.
Mix di crudo (raw seafood plate)
I ordered a raw seafood platter, or mix di crudo, which cost about €35 (or roughly $50 CAD). There was SO MUCH FOOD. This is the only instance I can remember where I didn't finish a dish of raw fish, just because I was so stuffed. The shrimp was the best part of the meal, it was so tender and full of flavour, but not at all fishy. I didn't much like the cubed fish (served in the spoons as seen in the photo). They were mixed with some olive oil and herbs and I found that the richness of the oil overwhelmed the pure taste of the fish.
[EDIT: It's now two days later, and I haven't suffered any gastrointestinal issues at all. I have some concerns of food poisoning or indigestion every time I eat so much raw seafood, but in this case everything was perfectly fresh.]
Risotto with shrimp and molluscs
Kevin got the risotto with shrimp and mollusc (€18), since risotto is one of Milan's specialties. He liked the rice and shrimp but found the molluscs too briny. I thought the flavour was okay, but tbh, I've never really cared for risotto. The rice is kind of hard and chalky to me, and even though I like dairy-rich dishes like Alfredo, I don't enjoy the taste of milk in risotto.
(Hint: for a really good seafood-inspired risotto, go to Burano.)
The only issue (aside from the bread that we didn't know how to eat) was the frankly terrible service. There was a single waiter and a busboy, so I would understand the slow service if it was during peak hours, but we came at a very slow time with not too many other patrons, and still it took ages just for us to get our water.
I love the European custom of non-tipping. Instead, restaurants here charge a flat-rate coperto (cover charge) based on the number of people in your party, usually €2–3 per person. I like this system a LOT more, because having to decide how big of a tip your server deserves is awkward, and it's annoying when you get a bad server but still need to tip because it's the norm.
Shopping for Italian Junk Food at Eataly
After dinner, we walked over to Eataly. The last time I'd visited Italy, I loved the Eataly in Rome, so I told Kevin that this grocery store was absolutely worth a visit.
I'm trying to think of an analogous store in North America that readers can relate to, but tbh I don't think we have anything this high end and this big. Maybe a cross between a gourmet Costco and a not-completely-whole-foods Whole Foods?
I'll be going over the items we bought in detail in my Italian junk food post, coming soon!
Sunday
Lunch at Spontini Pizza
After walking around the city centre, visiting Galleria Vittorio Emanuele II, and a couple other attractions in the Duomo area, we stopped by Spontini, a local pizza chain, to grab a quick bite for lunch.
The inside of this particular Spontini location is interesting, in that there are no chairs. The counters are meant for eating while standing—not exactly a comfortable experience for long meals, but it works when you just want to wolf down a thick, greasy pizza slice and get on with your day.
Although the food tradition of Milan is not known for pizza, Spontini is a local institution, one of the oldest pizzerias around in the city. Unlike the thin-crusted, lightly-topped Neapolitan pizzas, the pies here are absolute units.
It's kinda funny to me because I've heard so much shit about how the thick-crusted, cheesy pizza loved by Americans is a greasy abomination, but meanwhile the one we ate here in Milan is fatter than any North American pizza I've ever seen!
"Spontini 1953"
We debated whether to order two individual slices or one large slice. In the end, sharing turned out to be the correct option because those pizza slices were MASSIVE. Sharing a single large slice (€6 each) was enough to fill us up for the next few hours.
We ordered the classic "Spontini 1953." This pizza consists of their standard pizza base of tomato sauce, cheese, and dried basil, with the additional topping of anchovies. Of course, Kevin stayed away from the anchovies as far as possible, and I ate them all up. My mouth puckered because they were so salty, but 10/10 would eat them again.
Kevin and I both concluded that while tasty, it was not our fave, being so thick and cheesy you couldn't eat more than a slice without feeling sick. However, I loved the crust. It was golden brown, drenched in oil, and reminded me of the taste of youtiao (Chinese fried long donuts).
Dinner at Dry
Since Kevin was still craving pizza (Spontini hadn't properly satisfied his craving), we made a reservation for dinner at Dry. This is an upscale pizzeria and cocktail bar close to our Airbnb.
Fiori di zucca and margherita con bufala pizzas
I ordered the Fiori di Zucca pizza (€12), with fior di latte cheese, lardo, zucchini flowers, scapece zucchini (fried and marinated slices of zucchini). Something got lost in translation here: lardo was written as lard on the English menu, so I wasn't expecting any pieces of meat on my pizza. When it arrived, however, there were bits and pieces of a bacon-like meat on top. Lardo turns out to be a thinly-sliced, very fatty cut of pork. I gave most of the pieces to Kevin, but I tried a couple as well. We both loved it! The meat is so thin, it melts in your mouth, but it is super rich and flavourful.
The rest of my pizza was wonderful too. I've never eaten zucchini flowers before (and honestly, I couldn't really taste them under the other flavours), so it was interesting to see what that was like.
Kevin went with a classic margherita con bufala (€9). He really enjoyed his as well. The crust at this location is very, very thin, a completely 180° from the Spontini crusts. The only thing left uneaten on my plate was the outer crust, which I've never been a fan of on any pizza. (Although they look substantial in the photo, they were very light—mostly puffed up with air!)
Sorbetto al limone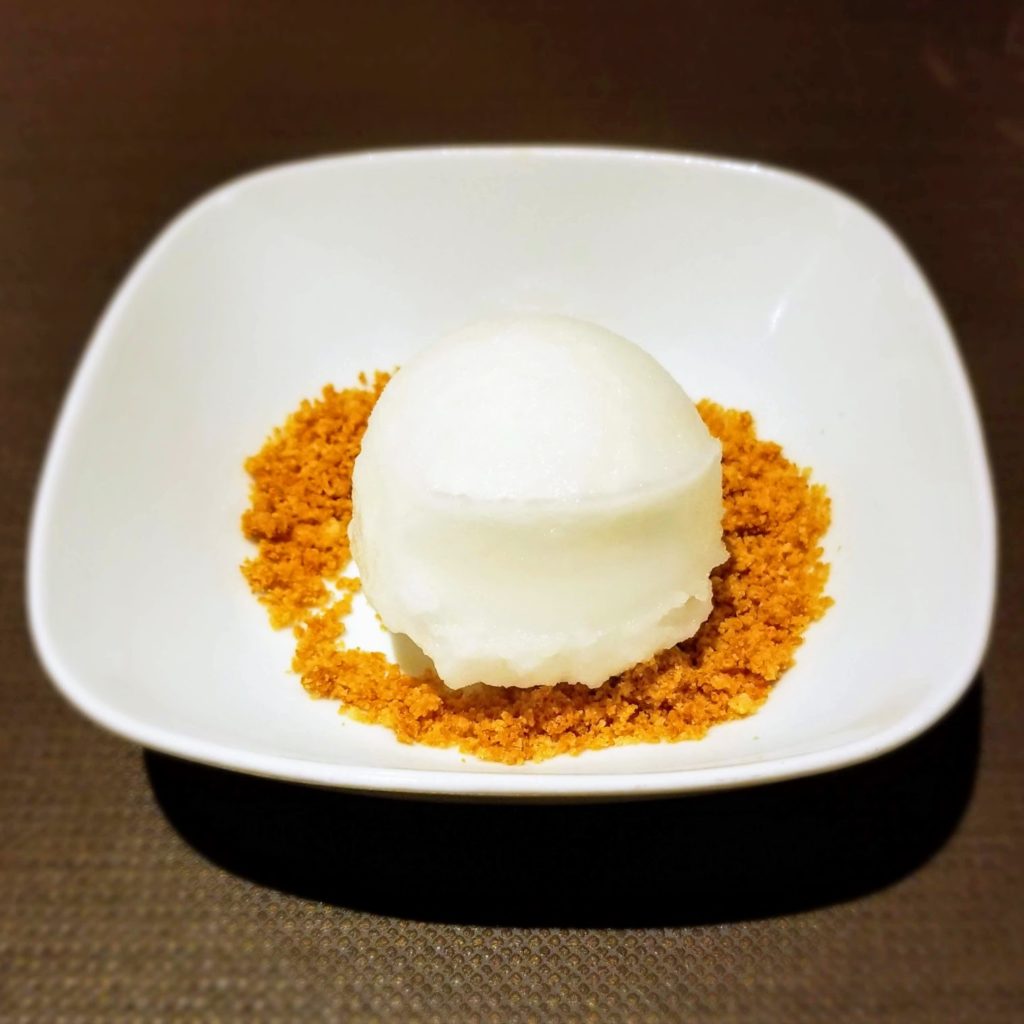 I ordered a sorbetto al limone for dessert, thinking it would be some kind of drink. But, no, it was just a sorbet. Kevin and I shared it, with Kevin eating most of the sorbet portion (very citrus-y and sour, just what he likes and what I don't) while I picked up the Graham cracker crumbs. The sorbet was just okay, we could've done without it, especially given how full we were after our pizzas.
Our food here came to €27.50 for a very filling dinner. Interesting to note, this place does not charge a coperto (cover fee), and it's on the cheaper side for water (€2 per bottle). Looking at the menu, the low prices surprised us, since Dry has a €€€ price level on Google Maps. No idea what they would consider low-price pizza then, because about $40 CAD for a respectable dinner with dessert sounds reasonable enough to me.
Monday
Lunch at Cantina della Vetra
We visited the Colonne di San Lorenzo and Basilica San Lorenzo Maggiore this afternoon and decided to find somewhere to eat nearby. The Cantina della Vetra was our closest restaurant, according to Google Maps, and it had good ratings, so we gave it a try.
We left with a very good impression. The menu at Cantina is fairly short, which makes ordering easy. It's also very detailed, with an extensive allergens list for each dish from gluten to celery, and a star beside the menu items in which some ingredients may be sourced from frozen (I only saw two dishes carrying this designation).
We shared a small bowl of potato chips (which were thin, crispy, and delicious), and a basket of complimentary bread (which were thick, tough, and hurt my teeth).
Risotto alla milanese
Kevin ordered the risotto alla milanese as per my suggestion. When in Milan, how could you not try this staple of Milan cuisine?
I still don't like risotto, but this is my favourite risotto I've tasted so far. The flavours of the saffron and milk are very intense. When it first hit my mouth, I was like, "nah, not feeling this," but as I chewed, I began to enjoy it more and more! I went back for several more bites, and it actually seemed to get better with each mouthful.
Whole wheat maltagliati pasta
I ordered a dish of whole wheat maltagliati (a wide, flat pasta) with pine nuts and some vegetables, slathered in pesto. It came in a teeny tiny serving, which was unexpected but good. We had a reservation to Contraste, the Michelin 1-star restaurant, later that evening, and I didn't want to be stuffed by the time dinner rolled around.
Again, the water here was very nice, but it was more expensive at €3 per bottle. Kevin and I are speculating that Milanese don't drink water from the tap and just buy bottled or filtered water, because the water at restaurants here is so much better than the water at our Airbnb (whereas in North America, all the water served at restaurants comes straight from the tap).
The service was also friendly. Like at Osteria di Brera, only one waiter staffed the entire front of house, but he provided much more attentive service than could be said for the former.
Dinner at Contraste
Neither of us have eaten at a Michelin restaurant before, so we were both really excited for this experience. It got off to an… interesting start, for sure.
As soon as we took our seats, we were beset by mosquitoes. Between sitting down and receiving our first course, we had seven mosquito bites! Obviously, it's totally understandable for there to be the occasional bug flying into the restaurant, and it's impossible for a restaurant to keep everything out. But seven times in something like ten minutes?! That's a serious disruption to the eating experience. Restaurants, especially at this level, are judged on the dining experience as well as the food itself, and Contraste didn't impress me here. At least invest in one of those plug-in mosquito repellents or something? Because letting your patrons suffer itchy mosquito bites throughout a long dinner service is not okay.
Kevin let one of the servers know about the issue early on, but he didn't seem to take it seriously. After a few more mosquito bites, I was going crazy and seriously considering up and leaving the restaurant. It seemed like every minute, Kevin was discovering a new bite somewhere on his body. I got another server's attention and asked to sit at another table. It was a long shot, but I didn't really know what else to do. Although she said no to the table change, this lady must've seen how close I was to losing it. She quickly took us out to the lobby and—get this—handed us a can of bug spray. So yeah, there we were, sitting in the reception of a Michelin-starred restaurant, spraying bug spray on ourselves so we could eat dinner in peace. #highlightofmytrip
On the bright side, the server who handled our mosquito problem was nice about it and checked up on us throughout the meal to see if we were still being bothered. (The mosquitoes did go away after putting on bug spray.) Anyway, I might come back later to do a more in-depth write-up about the food, but I think the mosquitoes are a more interesting story.
The tasting menu contained over nine dishes, but these are the only photos I took. The experience overall (disregarding the mosquito attack) was great, more reminiscent of viewing an art gallery than eating at a restaurant. Think of these photos as a little antipasto for a possible future review. 🙂
Tuesday
Lunch at Gino Sorbillo Pizzeria
Our lunch spot today was hard to find. Although it's located in a bustling shopping area near the centre of Milan, it was well-hidden by a bunch of construction scaffolding. Based on how massive the pizza looked (yes, even bigger than the ones at Dry), we ordered one to share between the two of us, especially since I wasn't all that hungry.
I feel bad, because I wanted to order the "Pizza Tarallo Napoletano" Sorbillo – Leopoldo, even though I had no idea what it was. I thought it sounded interesting and exciting. Kevin wasn't too sure about it, but he agreed since I didn't want to eat the margherita pizza he suggested.
Well, it turns out tarallo is a Southern Italian breadstick-type thing, sort of like a hard pretzel. The pizza was basically breadcrumbs, almonds and a piece of tarallo over a peppery cheese. Don't get me wrong, I liked it, but Kevin really didn't. He didn't enjoy the almonds, nor did he appreciate how much cheese there was.
It was a bit of a downer for the afternoon, especially since he had been hungry and I was excited to take him to a nice pizza place where he could enjoy himself.
Dinner at Temakinho
Temakinho is a chain of Italian restaraunts serving Brazilian-Japanese fusion. I've never heard of anyone combining those two cuisines, but it's a well-rated restaurant and we wanted to see what it was all about!
Temaki hand rolls
We each ordered a temaki, or hand roll, and a sushi roll. The Salmão Empanada temaki consisted of bread salmon salmon with lettuce, drizzled with teriyaki sauce and topped with almonds, rolled up with rice in a nori sheet. Kevin liked this one so much that we ordered another roll for takeaway. The Salmão Abacate temaki had more standard sushi ingredients, with raw salmon and avocado, and a touch of spicy mayo.
Sushi rolls
My Violeta roll was really unique. It was a vegan roll of yam tempura and other veggies, complete with vegan roe (it tasted a bit like sago pearls in a savoury marinade, very interesting). The purple rice comes from staining with beetroot.
Kevin's Salmão Mexicano roll (not pictured) was wrapped in a cornmeal layer instead of your typical sushi rice. It was filled with raw salmon, jalapeno peppers, flying fish roe, and some spicy mayo and cream cheese.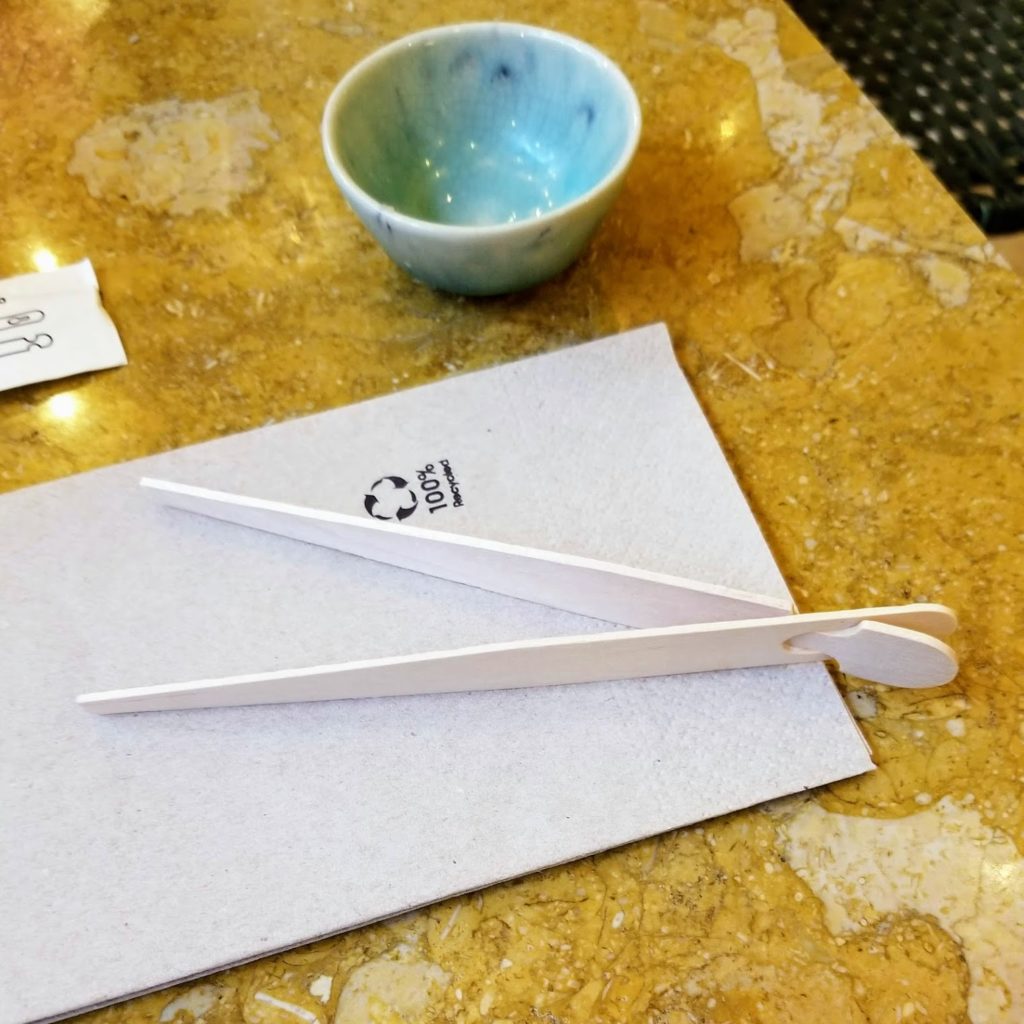 We enjoyed our meal at Temakinho, but the highlight of the restaurant has to be these chopsticks. It's an ingenious design of "training" chopsticks that we've never seen before. The beauty of these cursed objects is that you can't even use them like regular chopsticks. Regardless of whether you have mastered chopsticks or not, you must squeeze them together in your hand like tongs rather than the traditional way of eating with chopsticks. Kevin was extremely offended.
Wednesday
Lunch at Paper Moon
At noon after visting the Duomo, all the restaurants on our shortlist were either closed or way too packed. So, we went with this restaurant that's in the very touristy shopping area near the city centre. You can tell that it's a bit more geared towards tourists, with slightly higher prices for everything.
Margherita pizza and shrimp zucchini tagliolini
Kevin's margherita pizza was very flimsy and floppy, and he didn't like that it came pre-cut into slices. My tagliolini with shrimp and zucchini tasted very good, but those two pieces of shrimp you see in the photo? They were the only pieces in the whole dish, which is dumb for a dish that costs €17. The bread, however (which I didn't take a picture of), was pretty yummy! Included were these thin long breadsticks which were pretty good on their own.
Tiramisu
For dessert, we split the tiramisu, which was quite good. It's Kevin's favourite of all the ones we tried in Milan. The cocoa powder topping was very substantial on this one, achieving a bitter, chocolatey top layer that contrasts with the light, creamy bottom layers.
Our bill at Paper Moon came to €55, which is on the expensive side of our meals here.
Dinner at Osteria Brunello
Our last dinner in the city was at Osteria Brunello, a restaurant known for serving up quality traditional Milanese food. Overall it was a wonderful meal to wrap up our trip to Milan. The only thing that put on damper on the experience is the street hawkers and beggars harrassing the tables outside. We also sat outside, but luckily near the inside corner, so we were insulated by the other groups of patrons. It was still very awkward to watch them repeatedly approached by people on the street asking for money, selling cigarettes, offering photos with roses, etc… all while the waiter stood there and watched. I understand that it isn't exactly the restaurant's fault, and they can't ban people from the public sidewalk, but if you eat here I recommend sitting inside the restaurant.
We received a complimentary appetizer of watermelon gazpacho with soft cheese (I think a buttery gorgonzola or similar). The cheese was very strong, but it tasted good spread onto the bread (of course, bf was not a fan). The watermelon gazpacho was an interesting flavour, but I don't like gazpacho very much so I didn't really enjoy this.
This bread basket is my favourite of all the restaurants that have provided bread so far. I love the slices of multigrain bread, which had a softer crust than most Italian bread, making them actually edible without breaking my teeth off.
Parmigiana di melanzane ravioli
My parmigiana di melanzane (eggplant and parmesan cheese) ravioli was delicious! The smoked provola cheese stew that it sat in was creamy and rich, but not cloying. The candied tomato provided a citrus-y note, and the dried squash strips added some crunch. All in all, a lot of different tastes and textures going on here, but they manage to come together.
Cotoletta alla milanese
Kevin ordered what is ostensibly this restaurant's most famous dish, their award-winning cotoletta alla milanese. Cutlet in the Milanese style is a traditional food in Milan which turns out to be a big breaded veal. I tried a little bit and was kind of underwhelmed. It didn't taste like much. Just… meat and batter, which is what it is?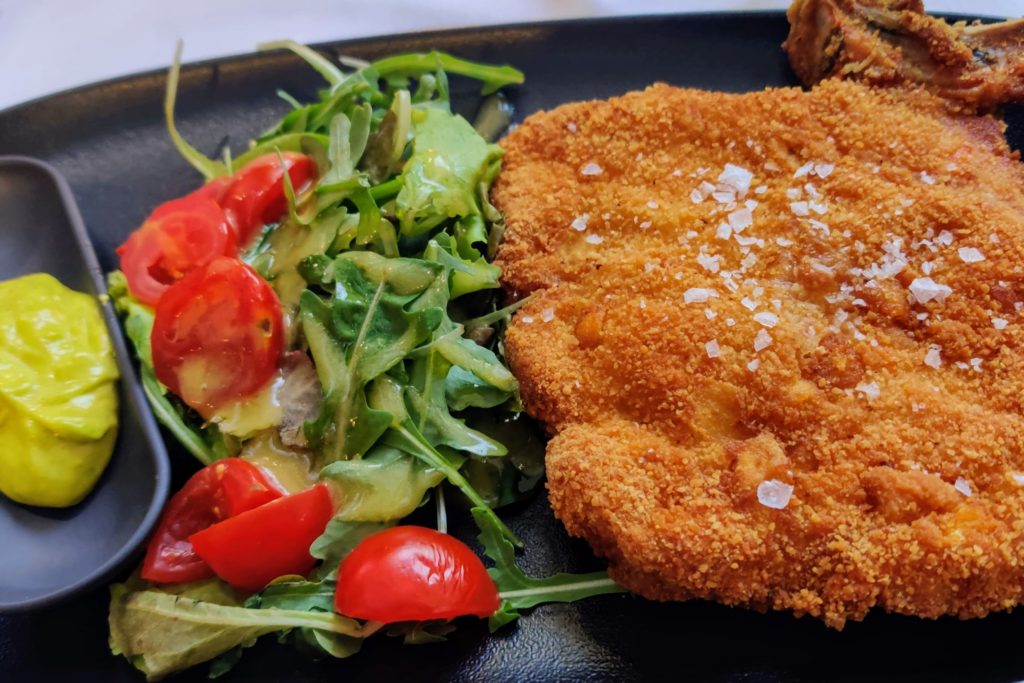 Tbh, the most interesting part of the dish was the side salad of arugula and the accompanying mayonnaise. This mayonnaise was infused with arugula! Kevin and I are both strong arugula-haters, so obviously we weren't big on it. But I think it's kind of neat to have tried "arugula-flavoured" mayo. I never even knew mayo could have different flavours before. It's like a cursed ice cream.
Kevin was a little disappointed as well. From the Spontini pizza to the underwhelming veal cutlet, maybe Milan cuisine just doesn't suit us perfectly.
Hong Kong pork cutlet is better. This one is basically just meat battered and fried. It didn't taste [savoury.] Wasn't that good, very bland. The arugula was very bad and the sauce [was also infused with it] for some reason.

Kevin
Fior di latte ice cream
For dessert, I ordered the fior di latte ice cream. I've always been intrigued by just how fior di latte would taste different from vanilla… I figured it would be like eating vanilla ice cream without the vanilla flavour. Well, I found out this evening that it is basically exactly what it sounds like: sweet ice cream with no distinct flavour, not even particularly milky. Not a real fan of this, even more boring than vanilla, will not be trying again.
Tiramisu, again
Kevin's tiramisu, on the other hand, was delicious. It tastes very different from the other tiramisus we've eaten so far. It was almost all mousse and cream, with no sponge layer, making it very light.
There were chocolate shavings in it. It wasn't very bitter or super chocolatey. It was non-traditional, but tasted good.

Kevin
Overall, a wonderful dinner to end our stay in Milan. One point I haven't touched upon yet is the service was very fast. So far, Italian servers move much slower than their North American counterparts, and while I'm sure for locals it's a good thing because it allows them time to talk without being rushed, we weren't used to such laidback service. The speed here more closely matched the kind of speed we were used to back home.
Wrap-Up
Thanks for reading the first part of my Italy food blog! We're leaving Milan on Thursday for Bologna, where we'll be spending three days. I am excited for Bolognese food. Emilia-Romagna (where Bologna is the capital) is renowned for its deliciously rich cuisine, and I hope we'll be able to experience it to the max. Check out the next leg of our journey here. Ciao!