Thai curry pastes were developed in the 13th century by royal cooks in the Sukhothai Kingdom, now part of modern-day Thailand. Chili, a key ingredient of kaeng phet (red curry), was introduced by the Portuguese in the 16th century, and the red chili peppers used in this dish in particular are the reason it's known as Thai Red Curry.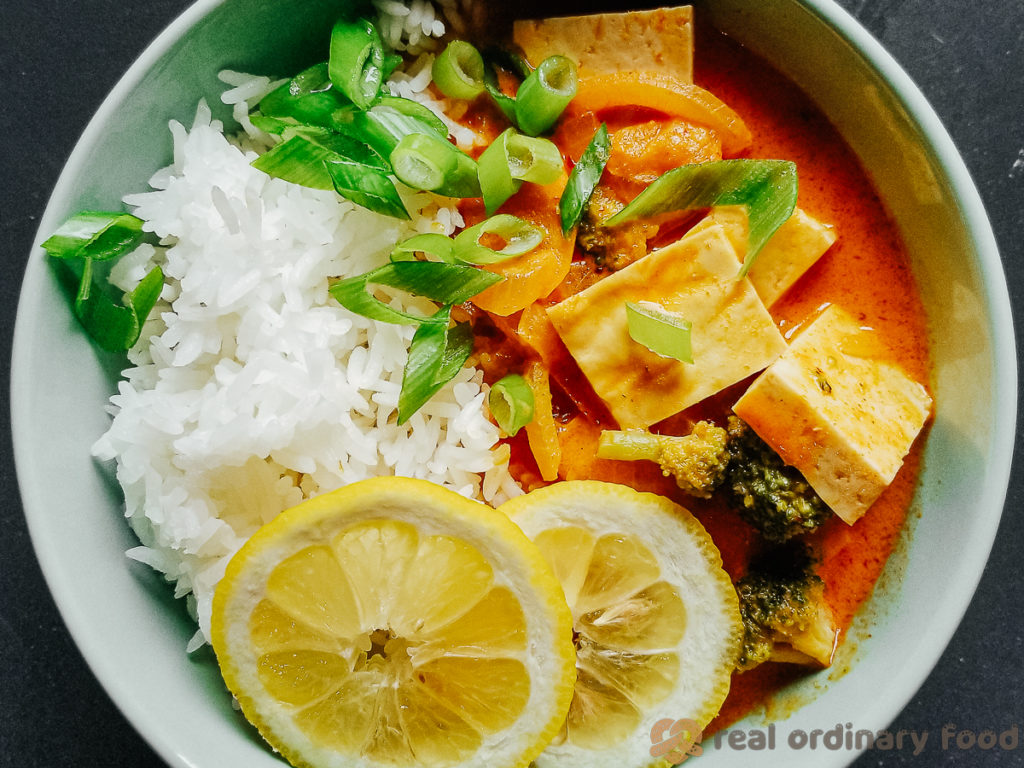 What You'll Need
Important notes on some of the ingredients used in this recipe: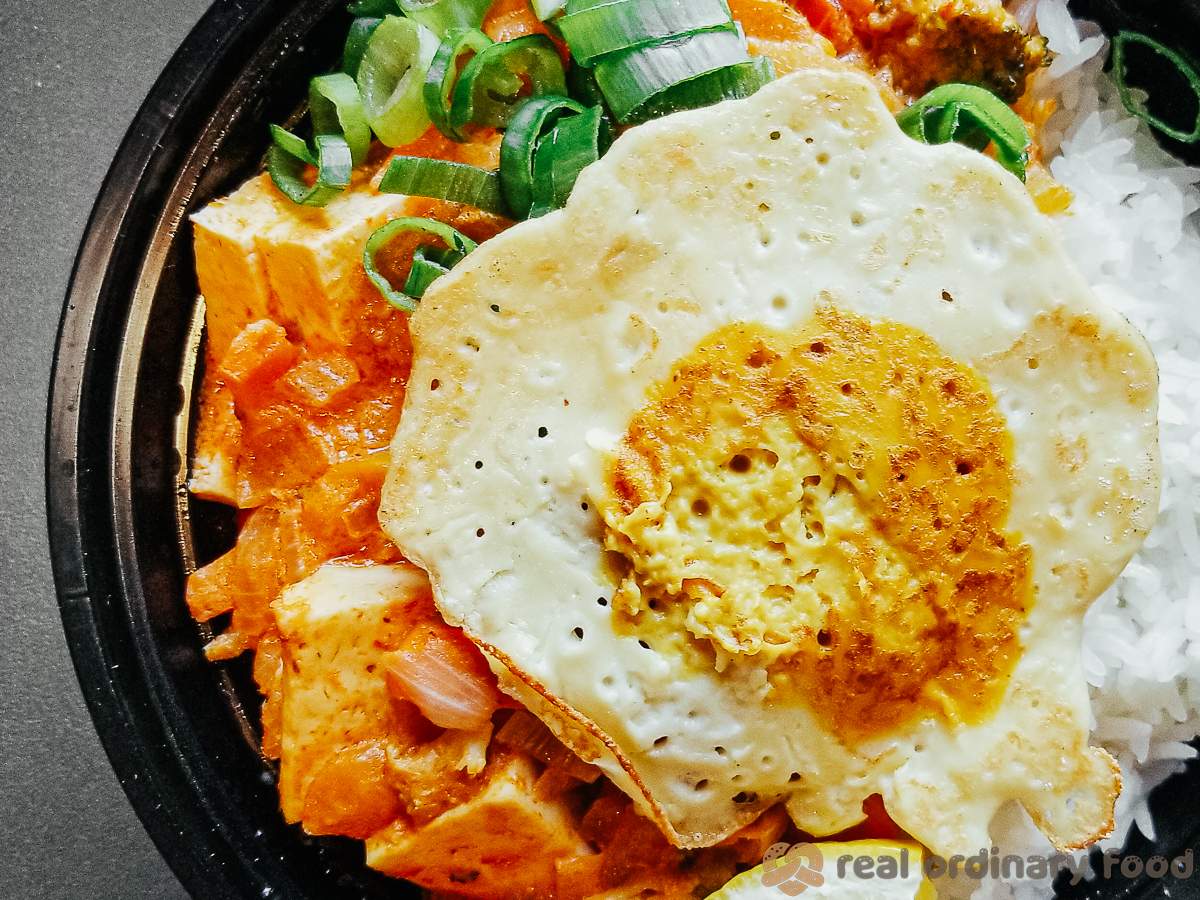 A good coconut milk is essential to Thai red curry. I repeat this in every recipe that uses coconut milk, but let me say it again: buy full-fat coconut milk!! There's no difference between "lite" or "low-fat" coconut milk and full-fat coconut milk except the amount of water used to dilute the coconut cream. So when you buy lite coconut milk (which here in Canada is usually the same price as full-fat), you're just paying for more water. If you're looking to cut down on calories, just use half full-fat and half water to achieve the same effect as lite coconut milk.
Fish sauce and sugar are traditional components of central Thai curries. They enhance the flavour of kaeng phet but aren't necessary. Once I made this recipe and completely forgot to add either of them. And hey, it still tasted pretty good!
For a full list of ingredients and quantities, refer to the recipe card at the bottom of this post.
Where to Find Thai Red Curry Paste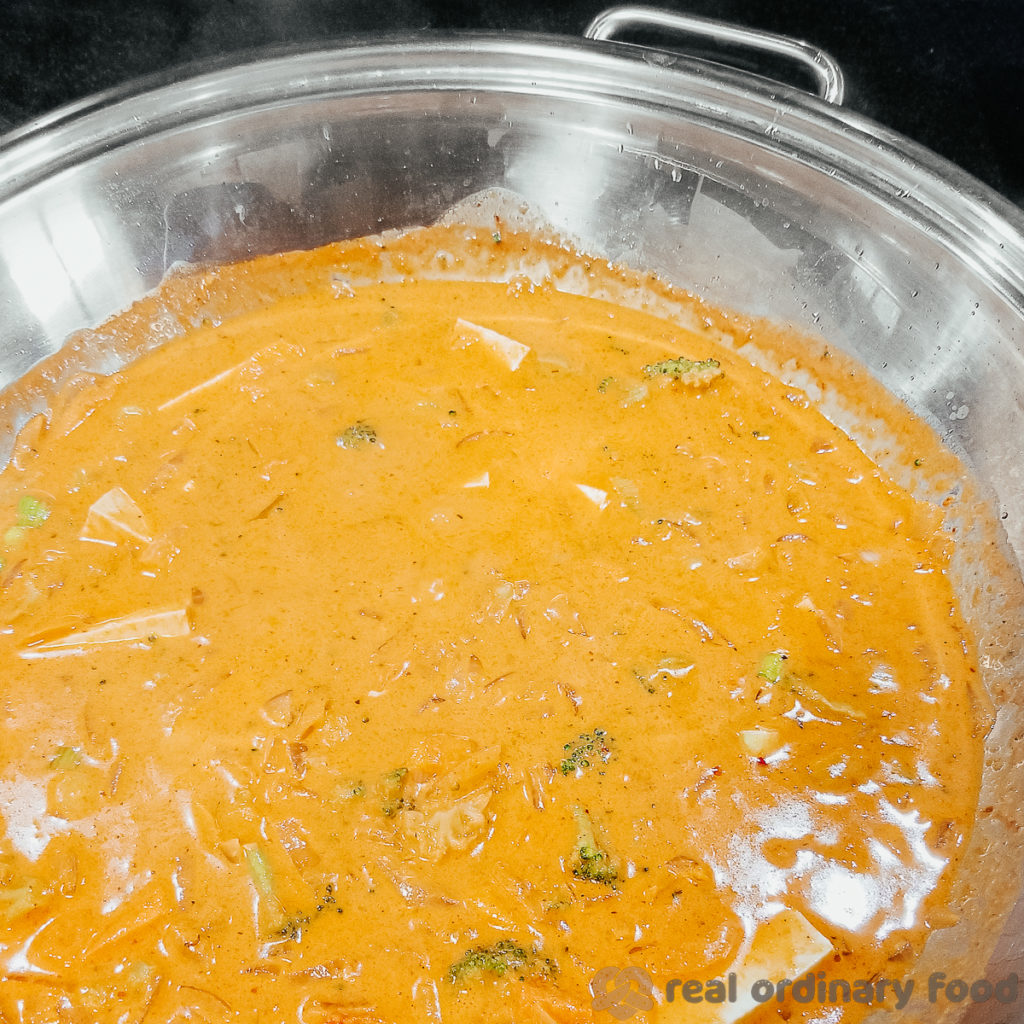 Traditionally, Thai curry paste was pounded together from fresh ingredients. However, nowadays it's much more convenient to use store-bought curry pastes instead of bringing out the ol' pestle and mortar every time.
The curry paste I'm using is made by the brand Aroy-D. They produce red, green, and yellow curry pastes among others. I haven't seen it at many mainstream grocery stores, but check out any shop in Chinatown and they will likely have at least one of those. (If you can't find red curry paste, one of the others will work for this recipe as well. The flavour will be different but just as tasty!)
In fact, this red curry was inspired by the recipe printed on the label of my Aroy-D curry paste container. You can see the original recipe below: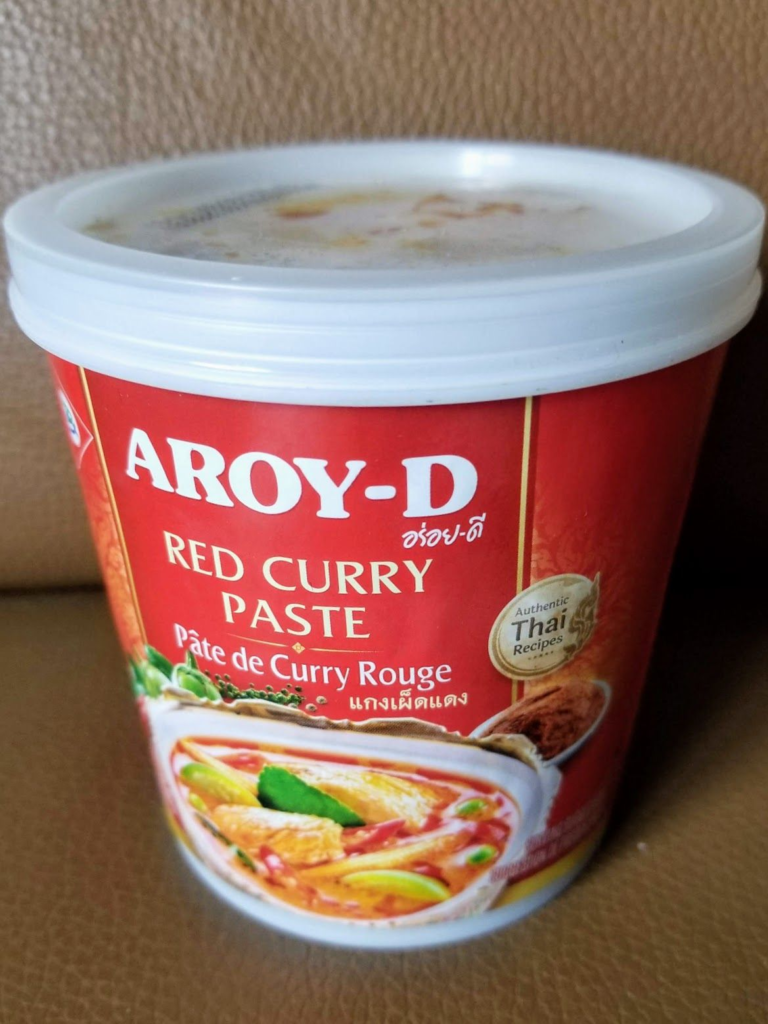 Another curry paste that you may find to be more widely available in Canada is the Thai Kitchen brand. I haven't personally tried this brand but I haven't heard many good things about it (weird taste, bland). So I would try to locate the Aroy-D brand if you can. Other highly-rated brands are Mae Ploy or Maesri, but I haven't been able to find those in stores, only on Amazon. I'm planning to order one of these once my Aroy-D runs out, just so I can let you know how it compares.
Kaeng Phet is Perfect for Meal Prep
After posting my Thai jungle curry recipe (which is coconut-free), I thought I may as well post a more well-known coconut milk-based curry. I make this one pretty often for weeknights because it's just so easy. There's just something about the creaminess and aroma of coconut milk that makes food taste so indulgent, even when the recipe itself is super simple.
I very very rarely meal prep and prefer to cook my meals fresh because most dishes just don't taste as good when reheated. But whenever I make this, I gladly make one or two extra servings because it tastes just fine the next day after a quick microwave. (Sometimes to switch things up I stuff it into a tortilla for a curry burrito instead of eating with rice.)
Meal prepped red curry may look thickened the next day due to the coconut milk solidifying. Plus, if you store it together with rice (as I do), the rice will absorb some of the curry. But once you heat it back up and mix everything together, it will taste just fine.
Recipe Cards
Did you make this recipe? Please consider leaving a rating below to let me know how you liked it.
You can also take a picture and tag me on Instagram @earthtoveg, I will shout you out in my Stories!
Thai Red Curry (Kaeng Phet, แกงเผ็ด)
This Thai curry recipe (kaeng phet) uses store-bought red curry paste. It makes a delicious vegan meal in less than 30 minutes with simple ingredients.
Print Recipe
Use Imperial/Metric buttons below to toggle between volume vs weight measurements. I recommend weighing out your ingredients for best results.
Ingredients
½

tbsp

cooking oil

1

yellow onion

3

tbsp

red curry paste

1

14-oz can

coconut milk

2

cups

any combination of bell pepper, broccoli, carrot, eggplant

see Note 1

1

package

firm or extra-firm tofu

2

tbsp

palm sugar or brown sugar

*optional

½

tbsp

vegan fish sauce

*can sub with soy sauce or omit altogether

6

cups

steamed rice

= 1½ cups per serving

fresh lemon or lime

for serving

Thai basil or sliced scallions

for serving
Instructions
Prep the veggies: dice the onion and chop the other vegetables into bite-sized pieces.

Pour oil into a wok or large skillet on medium heat.

Add diced onion and saute for at least five minutes or until soft and translucent.

Stir in the red curry paste and coconut milk. Saute for half a minute.

Add the vegetables and tofu. Give everything a mix, bring to a boil, then turn heat down to low and let simmer, covered, for 10 minutes.

Optional: mix in sugar and fish sauce.

Turn off heat and taste for salt. Serve over steamed rice, garnished with slices of lemon or lime and basil or scallion.
Notes
Bell pepper, broccoli, carrot, and eggplant are my favourite veggies to use in kaeng phet. Mushrooms are another good option. If you don't have all of these, no worries, just use what you have. I've even tried adding alfalfa sprouts into this curry. The result wasn't half bad!
Nutrition
Calories:
662
kcal
|
Carbohydrates:
83
g
|
Protein:
19
g
|
Fat:
29
g
|
Saturated Fat:
20
g
|
Polyunsaturated Fat:
4
g
|
Monounsaturated Fat:
4
g
|
Trans Fat:
0.01
g
|
Sodium:
148
mg
|
Potassium:
533
mg
|
Fiber:
4
g
|
Sugar:
8
g
|
Vitamin A:
2281
IU
|
Vitamin C:
50
mg
|
Calcium:
218
mg
|
Iron:
6
mg
SEND FOOD PICS 📸
Tag @earthtoveg or leave a comment below if you tried this recipe. It makes my day. 😊