Vegan Pandan Bread is soft and delicious, featuring the subtle flavours of pandan leaves balanced with rich coconut cream. This dairy-free pandan milk bread relies on Homemade Pandan Extract for its vibrant all-natural colours. Spread some Vegan Kaya on each slice for an indulgent breakfast!
Why You'll Love This Recipe
Dough is soft and easy to work with. The high fat content in this recipe, thanks to the combination of coconut cream and vegan butter, makes for a super soft and pliable dough. It doesn't stick to your hands either. Overall, it's an absolute joy to knead and shape.
Full of fresh pandan flavour. The pandan extract enhances the natural aroma of the bread itself.
Beautiful presentation. I mean, just look at that green swirl. It's so impressive visually, but the white and green swirl is actually very simple to achieve.
Make Ahead Tangzhong
If you haven't started using tangzhong in your baking yet, let me introduce you! You will love what it does for your bread. At least, if you are into baking pillowy soft bread like me (which I assume is the case if you are reading this recipe).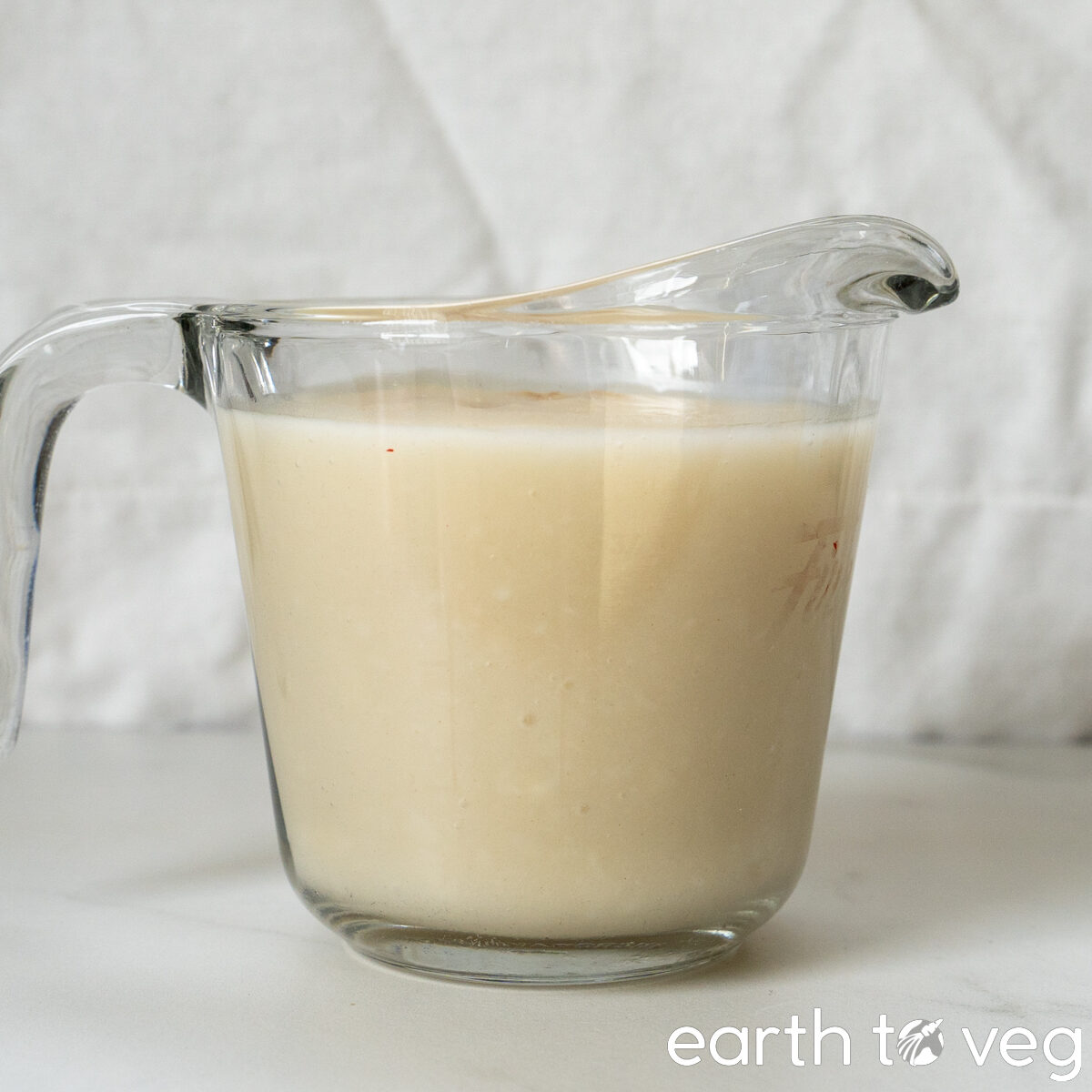 King Arthur Flour has a great article about tangzhong, which involves combining flour and liquid (water or milk) into a sort of roux. Through some chemical black magic, this simple floury paste makes your bread much softer! It's not much use if you like baking hard, crusty breads; it's meant for lovely soft buttery goods, and I suppose maybe that's why this is more well-known in Asian recipes. Think of any bread you'll find in an Asian bakery, and it was probably made with tangzhong.
I have made the roux with cow's milk, soy milk, and water, and find all of them pretty similar. I usually stick with water these days because it's simplest for cleanup.
Whenever I do a bread recipe that calls for roux, I make double or triple the amount. It's because I hate dirtying up a saucepan and whisk more often than I have to. For reference, one batch of tangzhong (made with 1/3 cup water + 2 tbsp flour) weighs about 100 g. I measure out the amount I need for the current recipe, then store the rest in the fridge. It lasts for at least five days in my experience. It also seems to freeze okay. I'll have to do a side-by-side test of fresh vs frozen tangzhong to see if freezing has any detrimental impacts, but I haven't noticed any so far.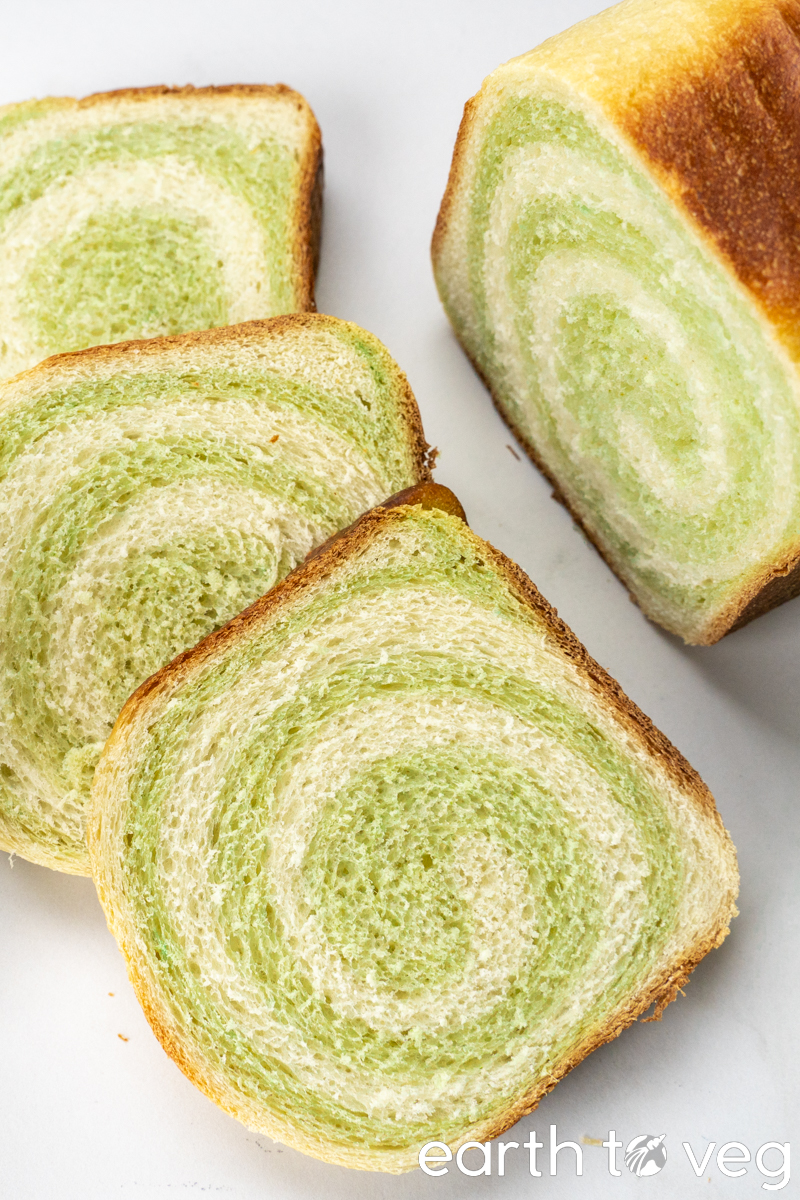 Homemade Pandan Extract
This bread uses all-natural pandan extract. If you've got access to fresh or frozen pandan leaves, you can make it yourself using this Pandan Extract recipe. (Note, this has to be done two days in advance to allow the pandan extract to concentrate. You'll see what I mean in the recipe.)
I've also experimented with using whole unstrained pandan juice instead of extract, as a shortcut version. As you can see below, although it gave the swirl a similarly bright green colour, the taste was not very good. The bread made with unstrained pandan had a distinct taste of wilted leaves. So always take the time to strain and rest your pandan juice for this recipe. It's worth it!
You could use storebought pandan extract in place of making your own pandan juice, but since I've never managed to find commercial pandan extract anywhere, I can't say how much to use. I would start with subbing 2 tsp of commercial pandan for the homemade pandan extract in this recipe.
Same goes for pandan powder. I would start with 1 tsp and adjust for colour intensity as desired.
Coconut Milk vs Coconut Cream
I prefer using coconut cream in this recipe because it provides the richest flavour. It also makes the dough super smooth and amazing to work with. (Coconut cream is also what I use to give my Japanese Milk Buns their pillowy softness and sumptuous taste.)
However, you can also use low-fat or regular coconut milk. Side rant: low-fat coconut milk is just coconut milk that has been diluted with more water, usually sold for the same price as regular. So I would go with regular, and if you want to lower the calories, replace half of the milk with water.
Note that the more water you use (ie. the lower the fat content of your coconut milk), the more sticky the dough is going to be.
Also, you may notice that in the video tutorial, the coconut milk I use looks lumpy. I was using a jar of coconut milk that I'd previously frozen then thawed. It may not look as nice but it comes out just fine when it's all mixed in!
For a full list of ingredients and quantities, refer to the recipe card at the bottom of this post.
Step-by-Step Process
Step 1: Start by making tangzhong. Set it aside to cool while you gather the other ingredients.
Step 2: Add yeast, sugar, flour, coconut cream, salt, and cooled tangzhong to a stand mixer bowl. (I used pandan juice to cook my tangzhong which is why it looks like green goo.)
Step 3: Mix it together very briefly using the dough hook of your stand mixer before removing one half of the dough to a separate container. Mix the pandan extract into the dough left in the bowl, and knead into a ball.
Step 4: Now knead the other reserved half of dough, but don't add any pandan extract. You'll end up with two balls, one green and one white. Place in separate containers, cover, and let rise until nearly doubled in size.
Step 5: Once risen, turn out the white dough onto your working surface.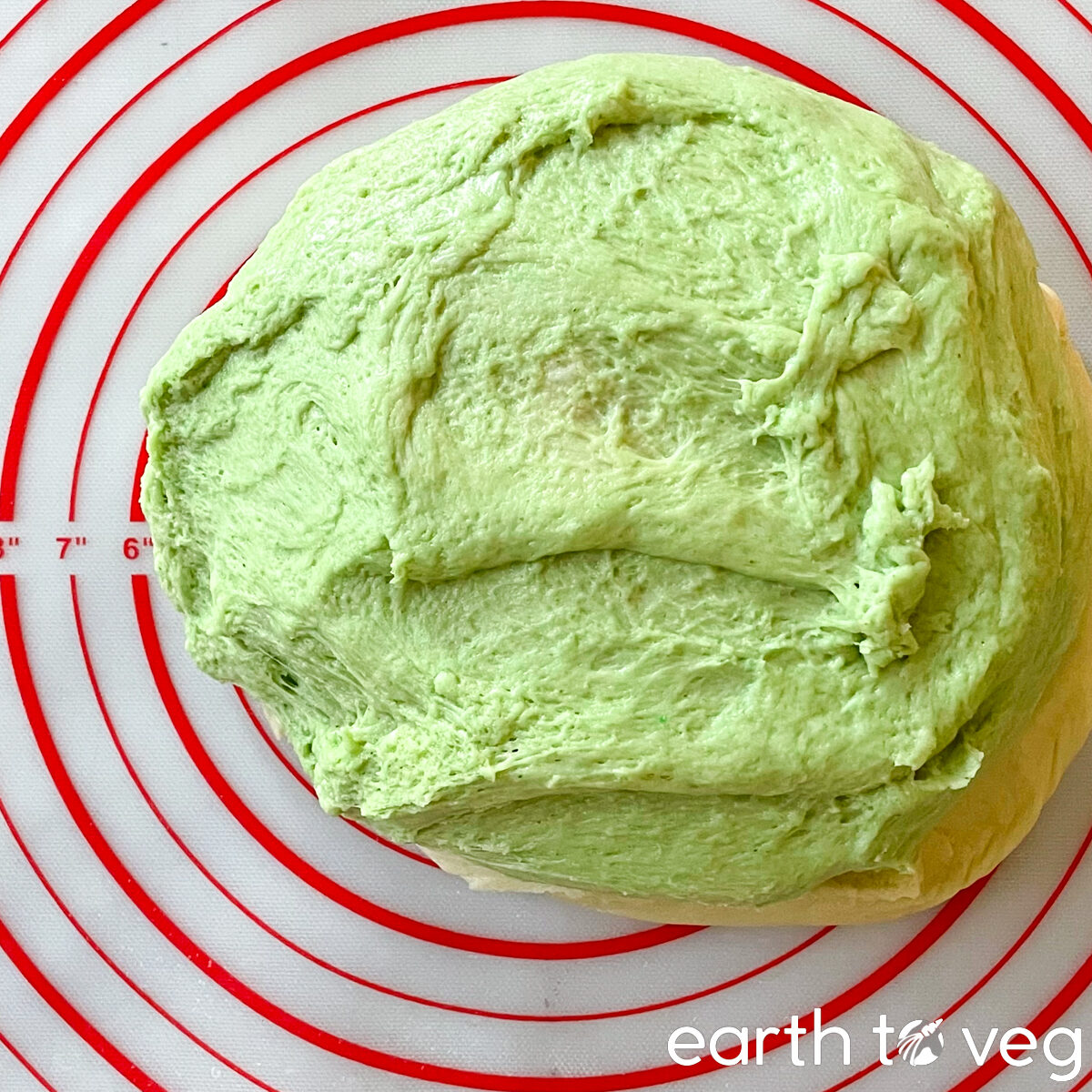 Step 6: Plop the green dough on top of it, stretching the edges to cover.
Step 7: Using a rolling pin, flatten the dough out into a long strip, around 1/2 inch thick.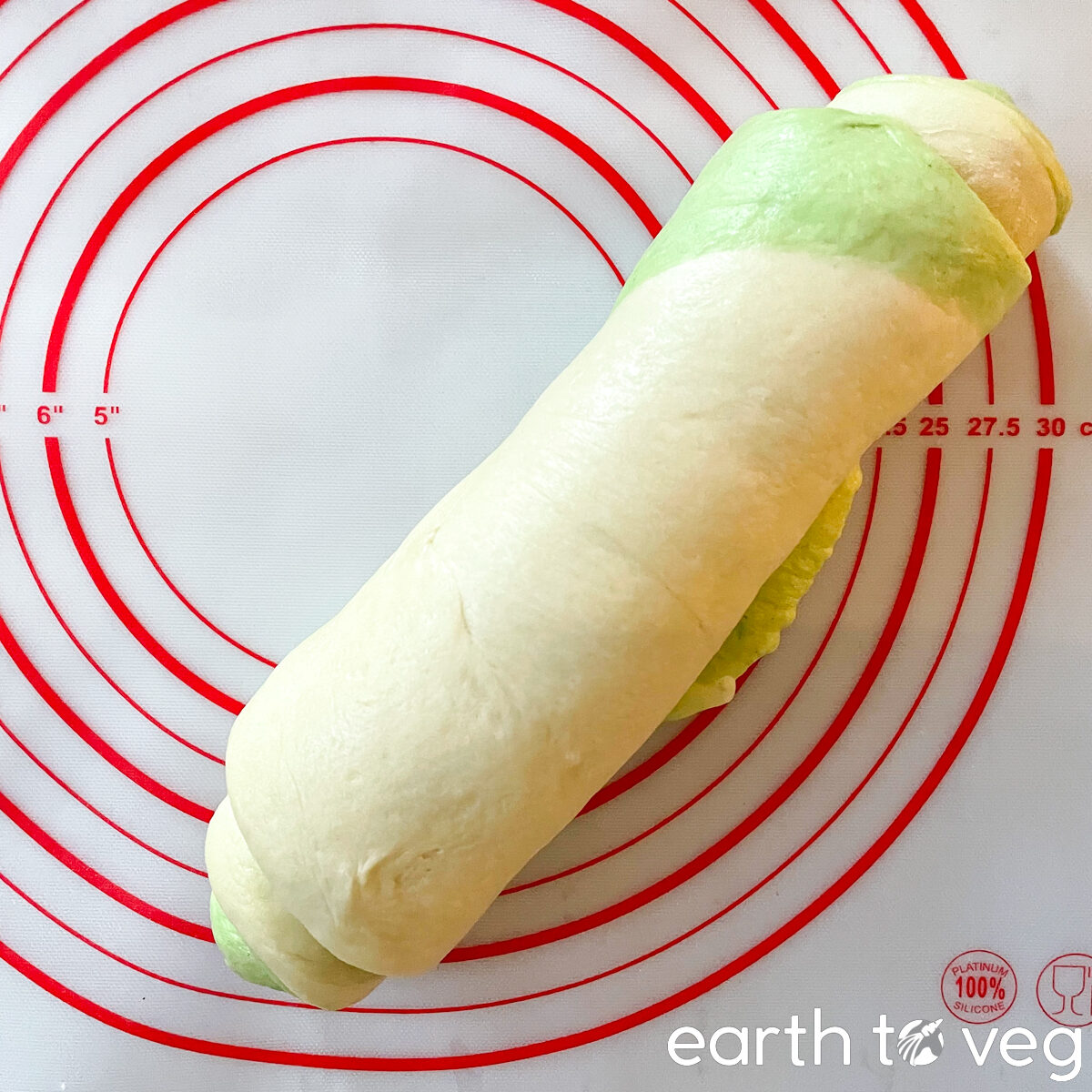 Step 8: Starting from one of the shorter ends, roll up the sheet of dough into a log.
Step 9: Place the log into a lined loaf pan, cover, and let rise again.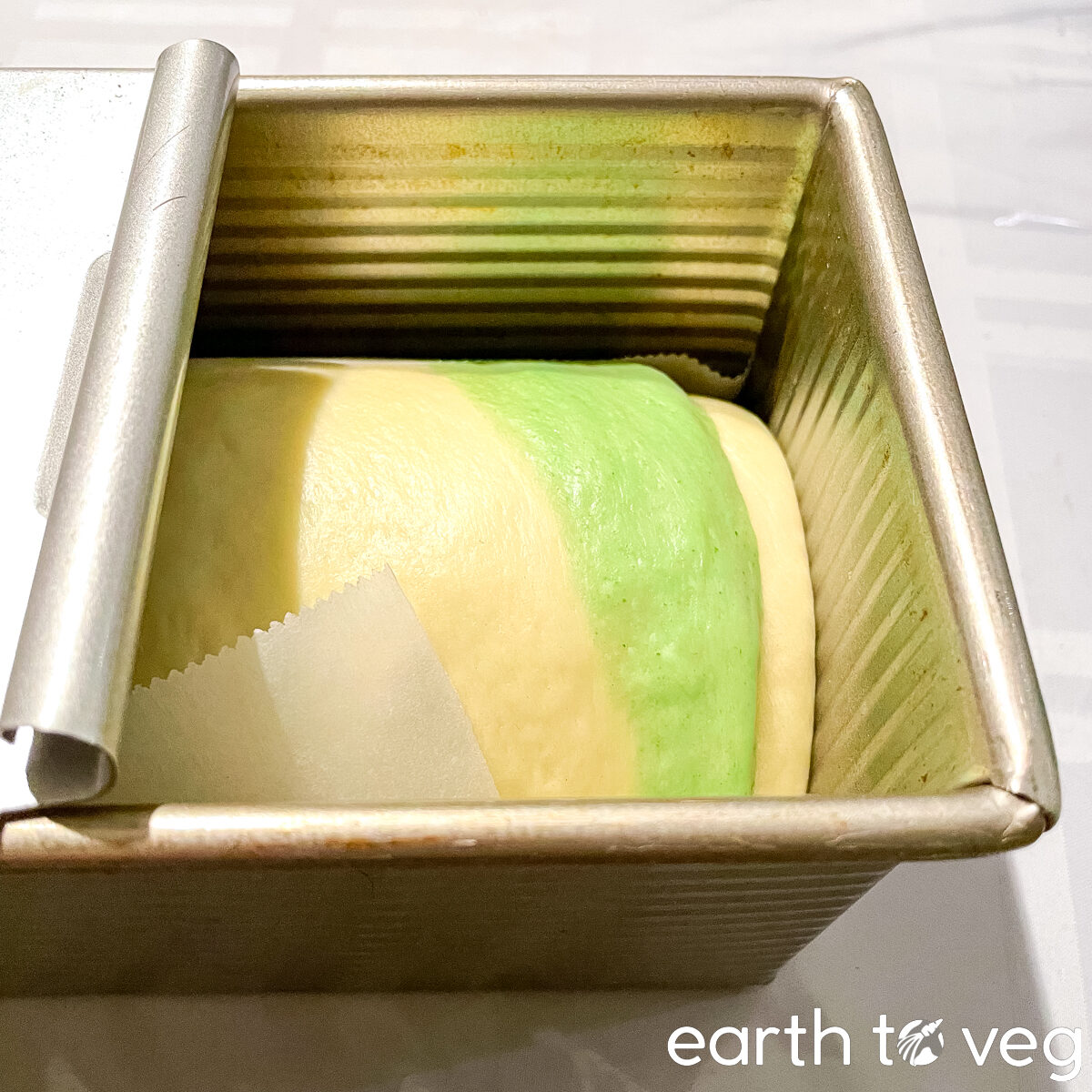 Step 10: When the dough is a little over 1 inch from the rim of the pan, preheat the oven.
Once oven is preheated, bake at 350 °F for 35 minutes. Let cool fully before enjoying your homemade pandan bread!
Recipe Card
Did you make this recipe? Please consider leaving a rating below to let me know how you liked it.
You can also take a picture and tag me on Instagram @earthtoveg, I will shout you out in my Stories!
Vegan Coconut Pandan Bread Swirl
This vegan pandan bread loaf has a super tender crumb thanks to tangzhong and coconut cream. The homemade pandan extract provides a soft fragrance.
Print Recipe
Use Imperial/Metric buttons below to toggle between volume vs weight measurements. I recommend weighing out your ingredients for best results.
Equipment
Stand mixer

(with paddle attachment and dough hook attachment)

2 medium bowls

1 loaf pan

((sized anywhere between 8×4 to 9×5))
Ingredients
Tangzhong (Water Roux)
½

cup

water

120g

2

tbsp

all purpose flour or bread flour

25g
Pandan Bread Dough
1

tsp

active dry yeast

3g, roughly 1/2 packet

¼

cup

granulated sugar

50g

2 ½

cups

bread flour aka hard flour

325g

¾

cup

coconut cream

180g, or just under half a can

1

tsp

fine salt

6g

2

tbsp

Homemade Pandan Extract

*can sub with 2 tsp storebought pandan extract
Instructions
Tangzhong
Add

1/2

cup water and

2

tbsp flour to a small saucepan. (See Note 1.) Set on medium-low heat and whisk together.

After a minute or two, the mixture will start thickening. Keep stirring constantly. When it's thick and gloopy, remove from heat and set aside to cool.
Bread
Once the tangzhong is cool enough to comfortably touch, add it to the bowl of a stand mixer along with

1

tsp yeast,

1/4

cup sugar,

2 ½

cups flour,

3/4

cup coconut cream, and

1

tsp salt.

Using the paddle attachment, mix on medium speed for no more than one minute, just to roughly incorporate the ingredients. (Do not let the dough start forming into a cohesive ball, or else it will be difficult to work in the pandan extract. At this stage, it should be a loose and sticky mess.)

Remove half of the mixture to a separate bowl (see Note 2). Switch to the dough hook attachment and knead the remaining mixture for 10 minutes, using the speed recommended for kneading dough. For KitchenAid this is Speed 2. Then transfer to a different bowl and cover.

Now put the other half of dough that we removed earlier back into the stand mixer bowl. Add the pandan extract to this dough and knead for 10 minutes.

Now you should have two dough balls, one white and one green. Keep both pieces of dough covered, in separate bowls, and leave them in a warm place to rise for 1–1½ hours.

Once the dough balls have nearly doubled in size, put the white dough on a clean working surface. Flatten it slightly into an oblong shape. Turn out the green dough on top of the white one, stretching the edges to completely cover the white dough on the bottom.

Using a rolling pin, roll the layered dough into a long flat strip, pressing down firmly to get rid of air bubbles.

Starting from one of the short ends, roll the dough up into a tight log.

Plop into a lined loaf pan. Cover and let rise again in a warm place, 45 minutes to 1 hour, until dough is 1 inch away from the top of the pan.

Bake at 350 °F for 35 minutes. (If your oven is on the cooler side, you might want to bake an extra 5 minutes to be safe. Or, if you have a food thermometer, the internal temperature of the bread should read at least 190 °F.)
Notes
If you made your own pandan extract following the method here where you pour off the top layer of pandan juice, you can use that discarded light-coloured juice for making the tangzhong. The light colour means that the final dough turns out white, so you can see the swirl pattern, but will give the bread an extra fragrant whiff of pandan.

The swirl part of this vegan pandan bread is optional. It makes for a fun visual, but if you choose to leave it, just skip Step 3 to keep the dough in one piece for a homogenous colour all through.
Nutrition
Calories:
129
kcal
|
Carbohydrates:
20
g
|
Protein:
3
g
|
Fat:
4
g
|
Saturated Fat:
4
g
|
Polyunsaturated Fat:
0.2
g
|
Monounsaturated Fat:
0.2
g
|
Sodium:
151
mg
|
Potassium:
70
mg
|
Fiber:
1
g
|
Sugar:
3
g
|
Vitamin A:
197
IU
|
Vitamin C:
2
mg
|
Calcium:
8
mg
|
Iron:
1
mg
SEND FOOD PICS 📸
Tag @earthtoveg or leave a comment below if you tried this recipe. It makes my day. 😊