Pandan Juice and Pandan Extract are used in many Asian recipes. Pandan is a plant that imparts a beautiful green colour and a bread-like fragrance which compliments both sweet and savoury dishes. Maybe you're unable to find pre-made extract where you live, or you want to make your own natural version free of any additives or colourings. Either way, you can follow this recipe for an easy way to make it from scratch using fresh or frozen whole pandan leaves. Instructions for both pandan juice and pandan extract follow.
What Pandan Tastes Like
Pandan is a plant native to Southeast Asia that has a distinctive smell, redolent of bread or pastries. The natural compound found in pandan that is responsible for this odour is called 2AP (2-Acetyl-1-pyrroline). The precise flavour of pandan is hard to pin down, but 2AP is also found in foods like jasmine rice, basmati rice, and bread, to give you an idea. Both the fragrance of pandan as well as its bright green colour are beloved in countries like Indonesia, Malaysia, the Phillippines, Sri Lanka, Thailand, and Vietnam.
Once leached of their life force, the [pandan] leaves are discarded, and what they leave behind is a flavor often described as floral, delicate yet pronounced and almost impossible to explain to those who've never tried it. In the West, it has been likened to vanilla but also hazelnut, grass, rose, citrus and pine, although it's unclear if it actually tastes like any of those ingredients or simply takes on such notes in proximity, chameleonic – or if it is technically a flavor at all, and not pure scent and evocation: of place; of other flavors, other times; of something inchoate and ghostly that disappears before it can be named.

– Ligaya Mishan, The Ethereal Taste of Flowers
By the way, although pandan juice tastes great in recipes, it's quite bitter and grassy-tasting on its own.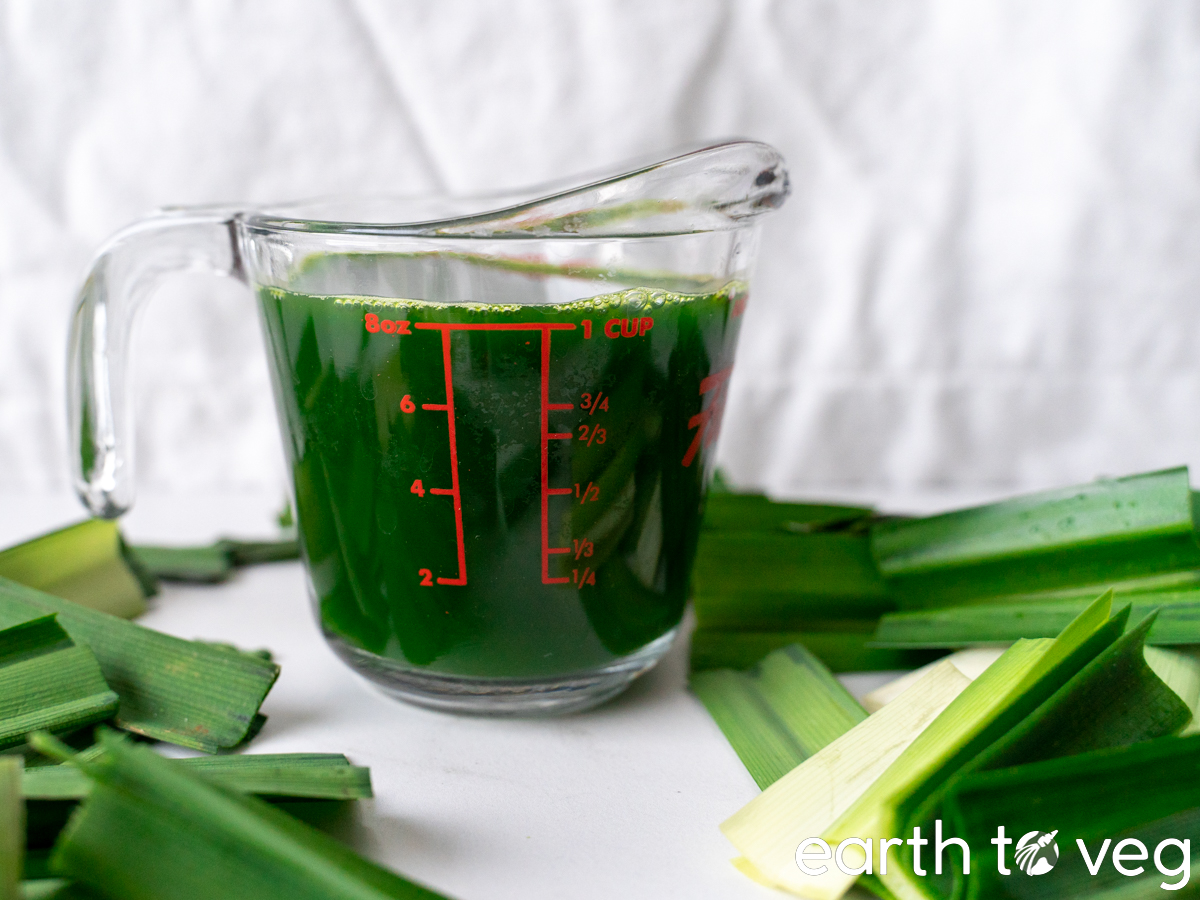 Uses for Pandan Juice
To start with, you can substitute pandan juice for water in any bread or cake. Pandan will give baked goods a nice light green hue and a slightly fragrant taste. Because it's quite subtle, its flavour works in just about every recipe because it won't steal the show from other ingredients.
I've used it to make adzuki bean buns, crazy cake, and a Coconut Swirl Bread Loaf. My mom has also used it to make a pandan cassava cake, a popular Southeast Asian dessert. Something about those flavours, pandan and cassava, work so well together.
And of course, who could forget about the notoriously difficult Honeycomb Cake which relies on pandan for its eye-catching colour?! This is one dessert I haven't attempted yet, although it is on my to-bake list.
Other uses for pandan extract:
Pandan sponge cake
Onde-onde
Buko pandan
Pandan coconut jelly
Cendol
Pichi-pichi pandan
Kue seri muka
Pandan rice
Pandan puto
What You'll Need
Besides water, you will only need one other ingredient for this recipe: pandan leaves.
Where to Find Whole Pandan Leaves
Pandan leaves can be purchased from many Asian supermarkets. I bought mine at T&T here in Canada. They are also ubiquitous in any Filipino grocery store.
You might have to do some close searching because it may be sold under a different name. Pandan goes by many, many other names, including:
Screwpine
Rampe
Annapurna
香蘭 (xiang lan)
Lá dứa
I found pandan labelled "La-Dua" in the refrigerated produce aisle at T&T Waterloo. (It only seems to be there some weeks. I guess the demand isn't high enough for them to ship in the fresh stuff every week.) In T&T Calgary, I found packages of frozen pandan leaves in the same freezer as other Filipino ingredients like cassava and ube.
Step-by-Step Process
Start with making Pandan Juice, then continue on to Pandan Extract if you need a more concentrated liquid.
Pandan Juice
Step 1: (If using frozen leaves, no need to defrost first.) Start by chopping off and discarding the base of the leaves which may be starting to yellow or wilt.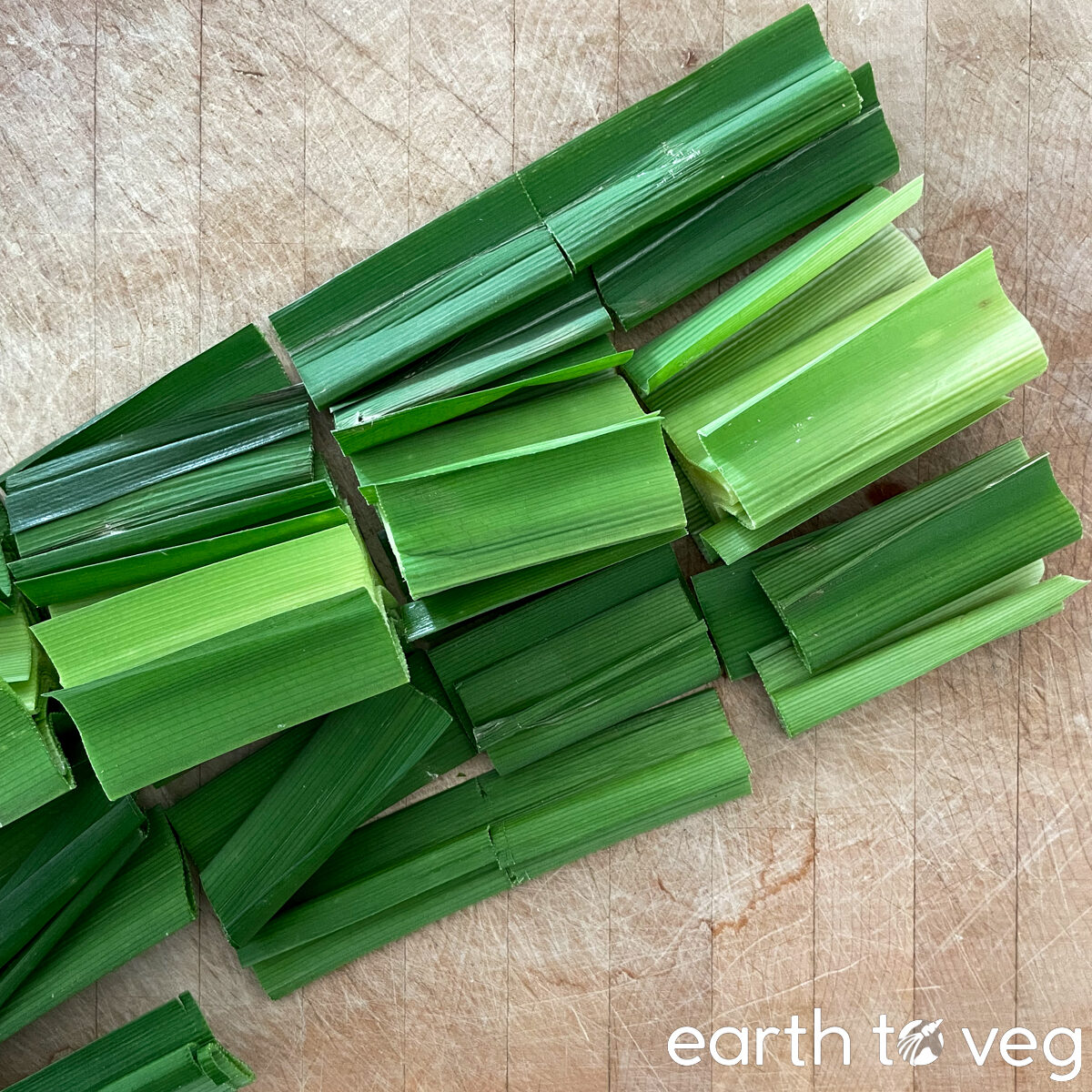 Step 2: Chop leaves into 2-inch segments or shorter. Pandan leaves can be tough on blenders as the fibers tend to wrap around the blade and impede the motor. The smaller the pieces, the easier it is for the blender to break them up.
Step 3: Toss the pandan leaves into a bowl of cold tap water and give them a good rinse. If you buy them frozen, they may come pre-rinsed and pre-sliced, but I still prefer to give them a quick rinse.
Step 4: Make sure to get under each layer of leaf to remove all the dirt. Btw, those pale areas of the leaf, usually found in the core, are good to use too. They still have pandan flavour, if not the vibrant colour.
Step 5: Add 1 cup of the chopped and rinsed pandan leaves into a blender. Pour over 1 cup of water.
Step 6: Blitz on high speed until smooth, then filter the liquid through a fine-mesh strainer or a nut milk bag.
Discard the pulp (or see the FAQ on some ideas for using it). Now you have pandan juice!
Pandan Extract
If you want pandan extract, cover the pandan juice and keep it in the fridge without moving it for 2 days (48 hours). Then, pour off the lighter-coloured top layer (you can discard it or use it in place of water when baking or watering your plants), leaving just the dark green sediment behind. This is your pandan extract. You'll end up with around 2 tbsp of pandan extract for every cup of pandan juice.
Pandan FAQs
What does pandan taste like?
Pandan is known more for its smell than its taste. If you've ever tried eating a whole pandan leaf, you'll know they taste very bitter, and stringy too. The experience is reminiscent of munching on grass. 0/10 would recommend. The fragrance of fresh pandan, on the other hand, has been likened to vanilla, jasmine rice, freshly baked bread, and even hazelnut.
Can I use unstrained pandan juice in recipes?
In general, I don't recommend it. I've experimented with adding pandan juice with pulp to waffles, to Pandan Coconut Bread, and to homemade Pandan Kaya (coconut jam). In all cases, the taste of the leaves came through in a subtle but noticeable way, reminding me of wet grass. It was actually fine for the kaya (now I usually make pandan kaya without straining out the leaves), but it was slightly unpleasant in the coconut bread and really not great in the waffles. Feel free to experiment with your own recipes, but I still strain all of the pandan juice I make.
Can you drink pandan juice?
It's very bitter and astringent by itself, so no, I don't recommend it. There is a similar pandan drink made by steeping whole pandan leaves in hot water, kind of like a pandan tea. This version is more palatable as it doesn't release so much bitterness into the drink, but is still used more as a medicinal health drink than an enjoyable one. If you're looking for an easy sweet pandan drink, give this Thai recipe a go.
What to do with the pandan pulp?
If you're wondering what to do with the pulp, you can mix it into your potting soil. I'm using it as a fertilizer for my herb plants! Something else I'm planning on trying next time is to put the pulp in one of those fine-mesh tea infusers and put it in the pot next time I make rice. It's common in SE Asia to cook whole pandan leaves together with rice to give the rice more of a fragrance. I don't see why it wouldn't work with pandan pulp (as long as the pulp itself doesn't actually make it into the food).
Make Ahead & Storage Tips
Keep homemade pandan juice covered, in the fridge, until ready to use. I recommend finishing pandan juice or pandan extract within two days (48 hours), or it will start acquiring the "off" taste of wilted veggies.
Recipe Card
Did you make this recipe? Please consider leaving a rating below to let me know how you liked it.
You can also take a picture and tag me on Instagram @earthtoveg, I will shout you out in my Stories!
How to Make Pandan Juice and Pandan Extract
Make pandan juice and pandan extract from scratch using fresh or frozen leaves! Pandan adds flavour to many Southeast Asian recipes.
Print Recipe
Use Imperial/Metric buttons below to toggle between volume vs weight measurements. I recommend weighing out your ingredients for best results.
Equipment
High speed blender

(such as Vitamix or Blendtec)

Nut milk bag

(or metal fine-mesh strainer)
Ingredients
1

cup

chopped pandan leaves

see Note 1

1

cup

water
Instructions
Unstrained Pandan Juice
Rinse each pandan leaf thoroughly. Pandan is a little like leek in that they can hide a lot of dirt in between the leaves, especially towards the stem near the bottom.

Add the rinsed leaves along with

1

cup water to a blender. Blend on high speed until very smooth. You may need to scrape down the sides a few times.

Pour the blended juice through a nut milk bag or fine-mesh strainer into a container. I find using a nut milk bag to be a little faster, plus it allows me to wring more juice out of the pandan pulp. But a metal strainer works too; just work in batches and press down on the pulp with the back of a spoon to extract as much juice as possible.

You can use this strained pandan juice to make recipes with higher water content, such as Onde-Onde, Buko Pandan, Cendol, Pandan Coconut Jelly, and Kuih Seri Muka, or use it to flavour rice. Depending on the recipe, you can also swap out part of the liquid in a recipe for pandan juice. If you want a more intense green colour, you should make pandan extract instead, instructions below.
Pandan Extract
Follow the instructions for Strained Pandan Juice. Leave the strained juice in the fridge for 48 hours, undisturbed, in an airtight jar.

After 48 hours, you'll notice the pandan juice has separated into a colour gradient: the bottom layer is a darker green due to the settling of the chlorophyll pigments in the juice. Pour off the pale liquid at the top and you are left with the darker concentrated stuff at the bottom, which is the extract (see Note 2).

1

cup of pandan juice yields roughly

2

tbsp of pandan extract through this method. You can use this pandan extract to add colour to baked goods, such as this Pandan Coconut Loaf.
Notes
1 cup (50g) of chopped pandan is roughly equivalent to 10 leaves, however, the sizes of individual leaves varies which is why I prefer a weight measurement. Pandan leaves should be chopped into segments no longer than 2 inches. The smaller the pieces, the easier they are for the blender to pulverize.

Because we are making pandan juice from pandan leaves with no artificial flavourings or colours, it will be hard to concentrate the product enough to match commercial pandan extract. You will need to use more of the homemade extract than storebought extract. As a rule of thumb, for every 1 tsp of storebought pandan extract called for in a recipe, use 1 tbsp of homemade pandan extract.
Nutrition
Calories:
10
kcal
|
Carbohydrates:
2
g
|
Protein:
1
g
|
Fat:
0.1
g
|
Sodium:
69
mg
|
Potassium:
156
mg
|
Fiber:
1
g
|
Vitamin A:
3150
IU
|
Vitamin C:
28
mg
|
Calcium:
46
mg
|
Iron:
1
mg
SEND FOOD PICS 📸
Tag @earthtoveg or leave a comment below if you tried this recipe. It makes my day. 😊