Stuffed Bitter Melon Soup is a traditional dish in many Southeast Asian cuisines and can be cooked using bitter melon or cucumber as the main ingredient. In this vegan rendition, Beyond or Impossible meat takes the place of pork stuffing. The stuffed melon is then simmered in a flavorful broth. Try this special recipe for your next Lunar New Year dinner!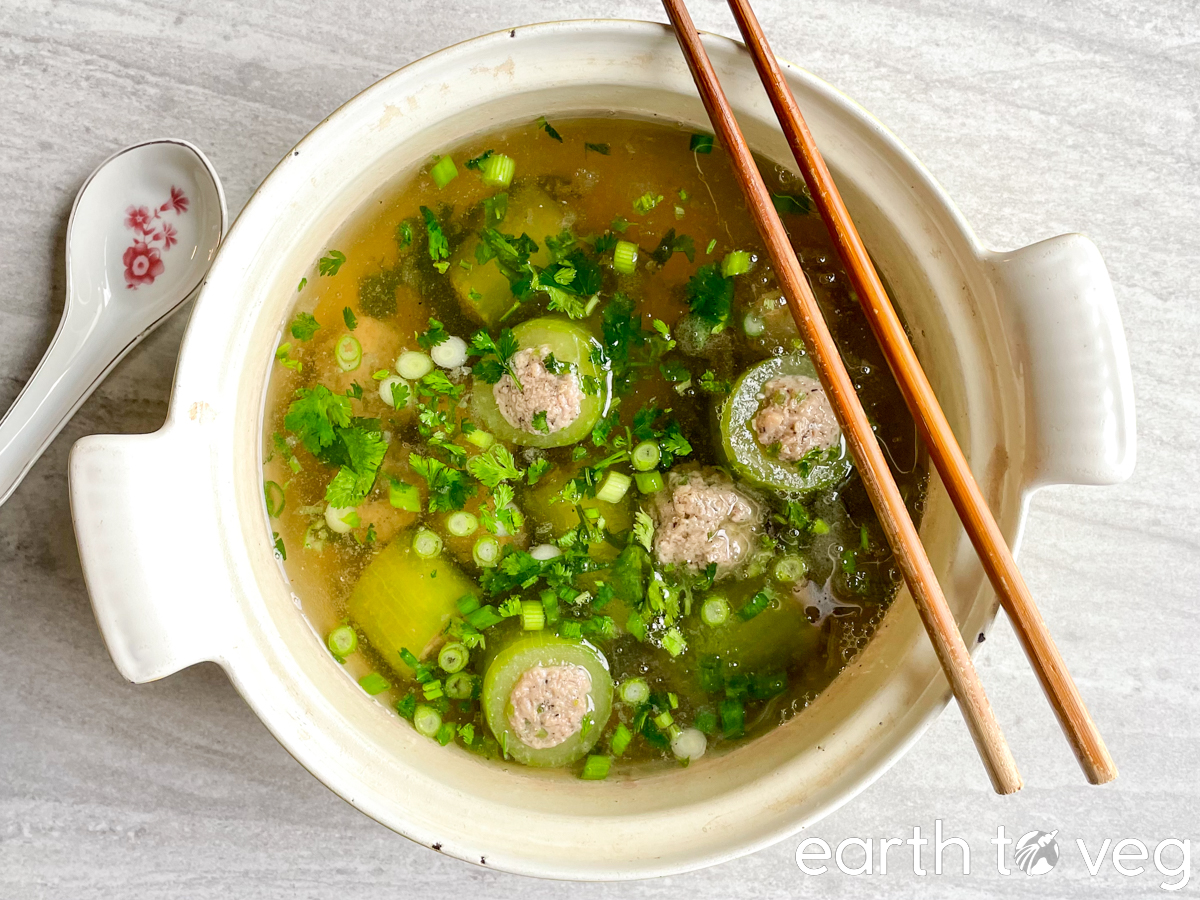 History & Origins
This savoury and refreshing soup is found in Cambodia, Laos, Thailand, and Vietnam.
The Thai name is แก้งจืดมะระยัดไส้ (kaeng jued mara yad sai) which translates to "stuffed bitter gourd soup."
The Vietnamese name is canh khổ qua, which translates to "hardship passed soup." During Tết, the Vietnamese New Year, people in South Vietnam traditionally eat canh khổ qua to symbolize the passing of hardship. The bitter taste of the gourd represents the hardships of the past year. Eating canh khổ qua during Tết is seen as a way of purging oneself of negative experiences and emotions, and starting the new year with a fresh perspective.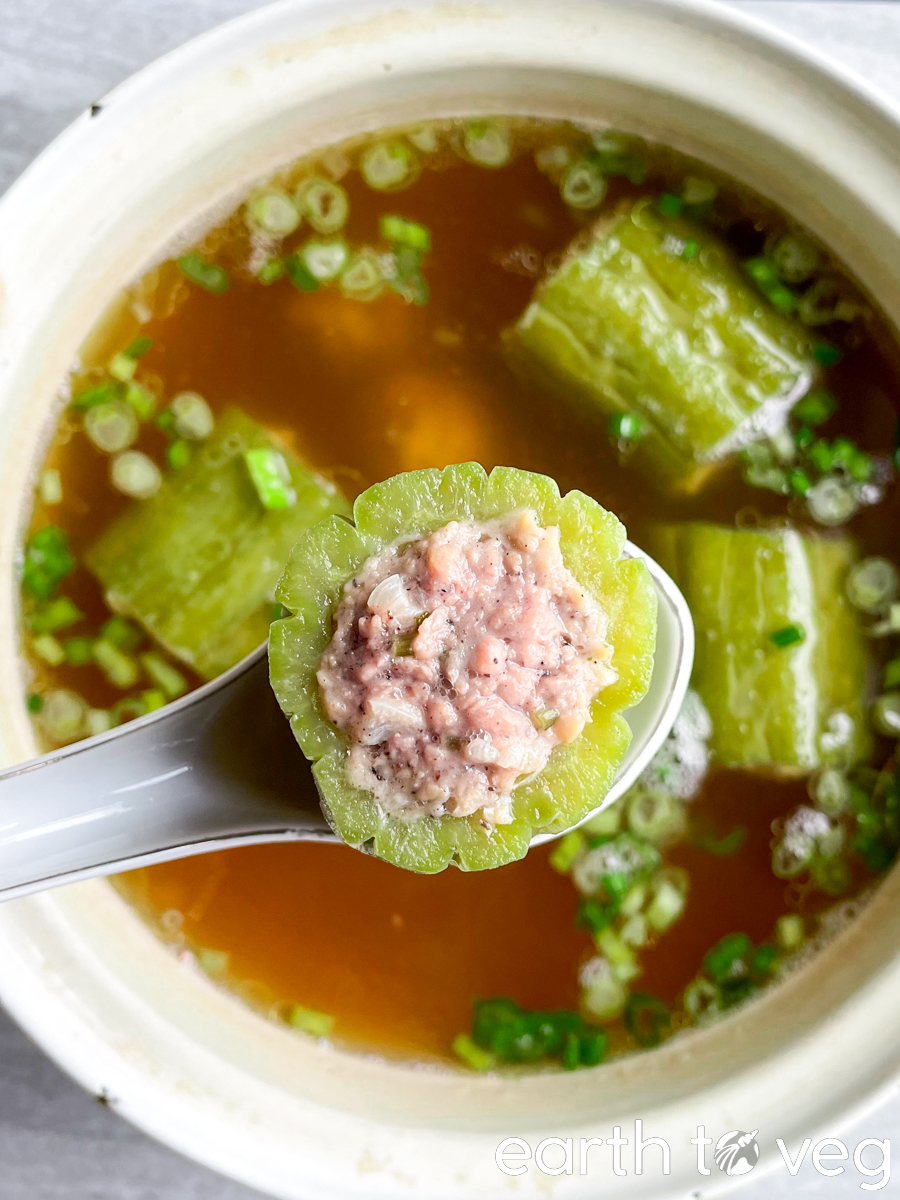 A secondary reason is for the health benefits, since bitter melon is believed to help detoxify and balance the "heat" in the body. I think Asian parents everywhere are united on the fact that the more bitter something tastes, the better it is for us. 😝🥒
Although bitter gourd is the most common choice of vegetable, you can also make stuffed cucumber soup for a milder alternative. In recent times it has become more common to use cucumber instead of bitter gourd. Stuffed cucumber soup has all the savoury-sweet goodness but with none of the bitterness. Also, they stay crisp for longer in the hot broth, giving the soup a better texture.
Stuffed Bitter Gourd Soup
Typically, the gourds are stuffed with pork or chicken, and sometimes even seafood. But thanks to the magic of vegan faux meats, this recipe can be made vegan.
This one is more of a Thai recipe; Vietnamese and Cambodian versions of the soup typically contain more ingredients in the filling, such as shiitake mushroom, wood ear mushroom, carrots, vermicelli noodles. Feel free to add some shredded veggies into your stuffing mixture, but don't overcomplicate it.
The only thing to remember is that a geng jeut is a soup, not a stew, and such an accumulation of ingredients must not result in a thick clutter.

David Thompson, Thai Food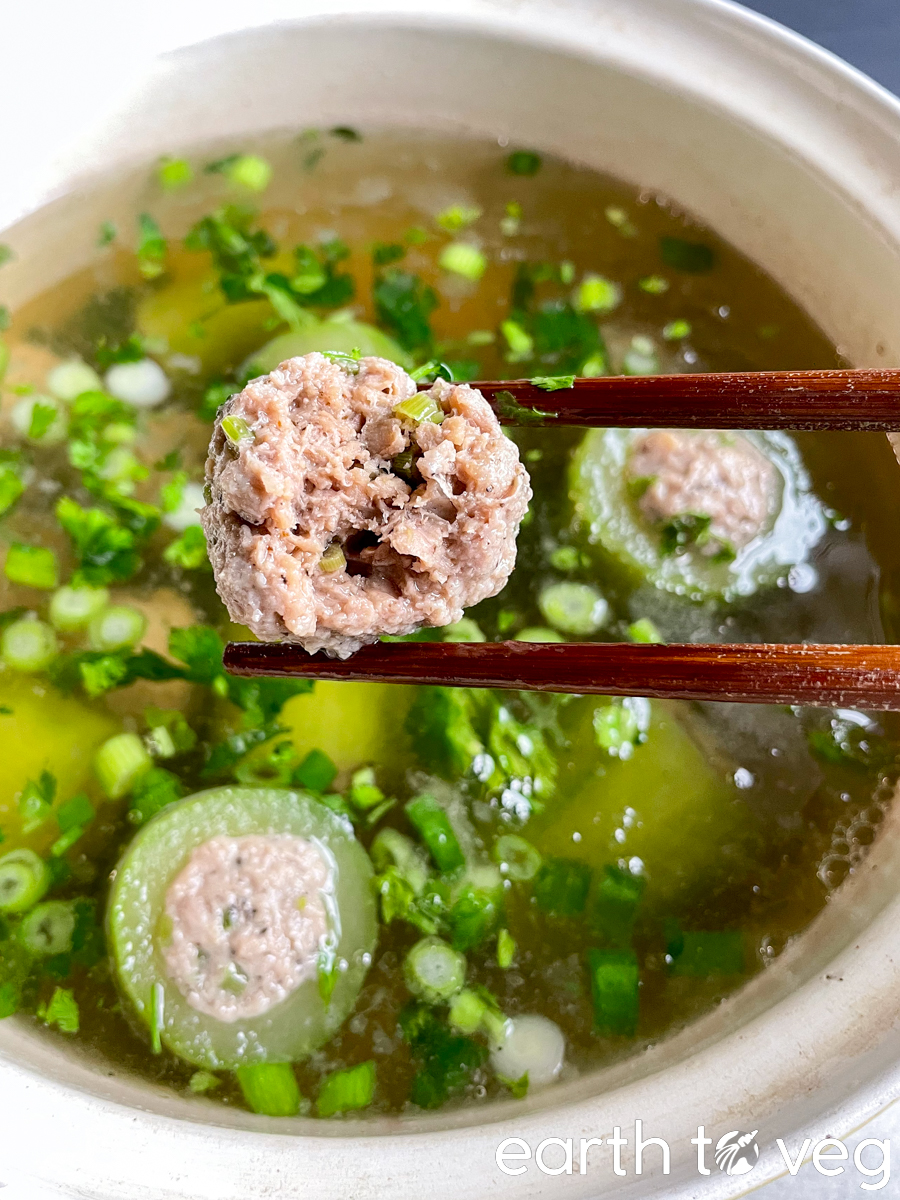 Try Kongnamul Guk or Stinky Tofu Soup for more unique Asian soup recipes.
What You'll Need
You need just 10 ingredients to put this stuffed bitter melon soup together: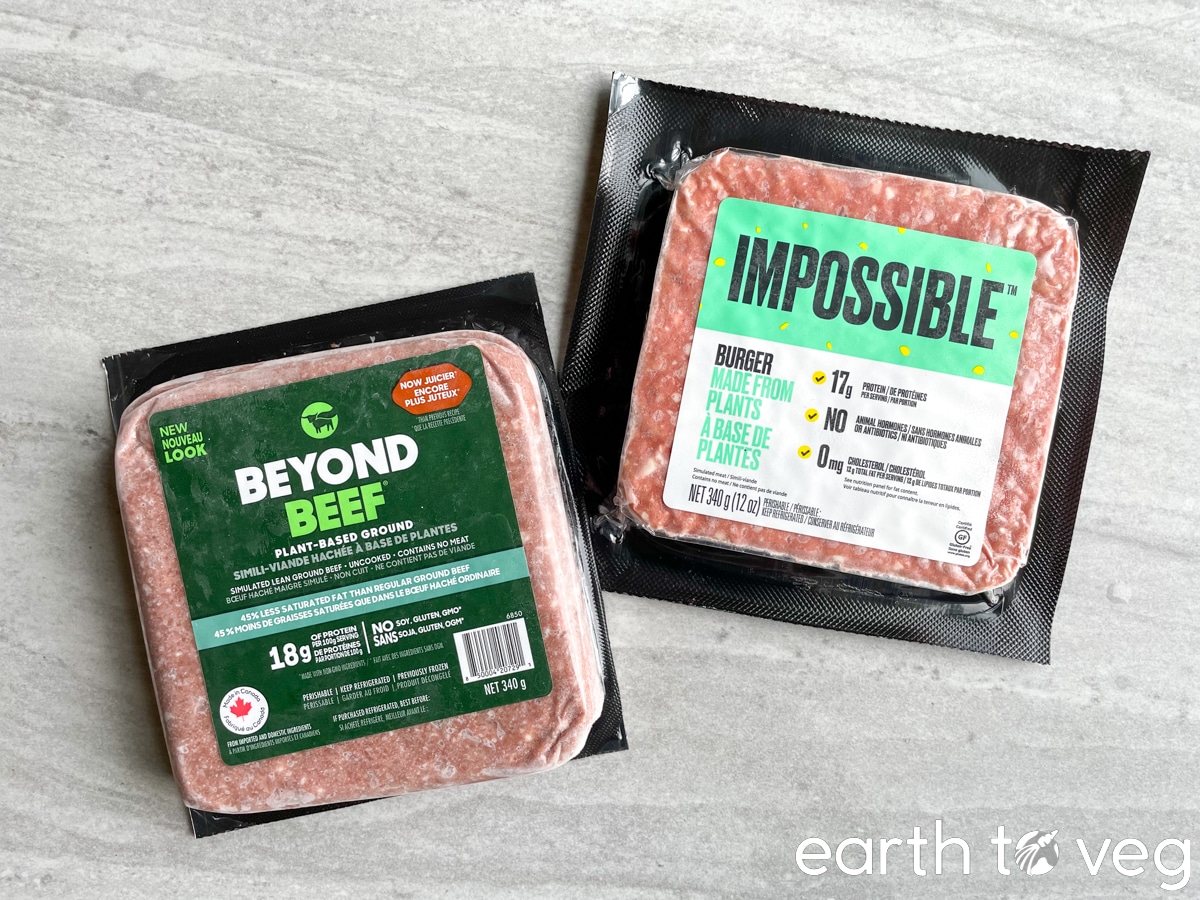 Beyond Beef or Impossible Beef
It is essential to use one of two specific brands for this soup: either Beyond Meat or Impossible Burger. They both sell their plant-based "meat" in a brick format, making it easy to weigh out the amount needed for the recipe. These two brands are the only vegan ground beef products that actually stay together without disintegrating into a boiling soup.
The Beyond meat has a more "beef burger" taste. Even while eating the Beyond meatballs in this soup, I was reminded of biting into a juicy hamburger. For that reason, if you had to pick one, I'd say Impossible takes the edge. But either one will work great for you.
Stuffing Seasoning
Next we are going to mix some seasoning into the meat. The spices and acceptable substitutes are:
Cilantro root: can substitute with double the amount of minced cilantro stems.
Garlic: can substitute with 1/4 tsp of granulated garlic or garlic powder.
White pepper: can substitute with equal amount of black pepper.
Cucumber vs Bitter Melon
While the soup is traditionally made with bitter melon, a popular and less polarizing alternative is cucumber.
The worst part about bitter melon is… bitterness. The flavour stands out pretty strongly in this soup. So if you've never tried bitter melon, or have traumatic childhood memories of it like me, I recommend using cucumber as that is a more palatable introduction to this tasty soup.
Although I've made canh khổ qua with both bitter melon and cucumber in the past, I prefer the cucumber if I'm being honest.
Herbs and Seasoning
Try to find these súp chay stock cubes in your local Asian grocery store. There's also a similar powdered soup stock sold online. (Chay means "vegetarian" in Vietnamese.) They are vegan and add so much umami flavour to the broth. They're probably not the healthiest option, but… they taste damn good. If you want, you can also use any homemade or storebought vegetable stock. Just add some extra sugar and msg.
Add a splash (no more than 1 tbsp) of vegan fish sauce or soy sauce to the broth. A little bit enhances the flavour, but too much will throw it off.
Also, add salt to taste. The amount to add depends on how salty your stock is. For example, the commercial súp chay cubes that I used contained plenty of sodium, so I didn't need to add any extra.
Finally, fresh chopped scallions and cilantro bring this soup to the next level!
Step-by-Step Process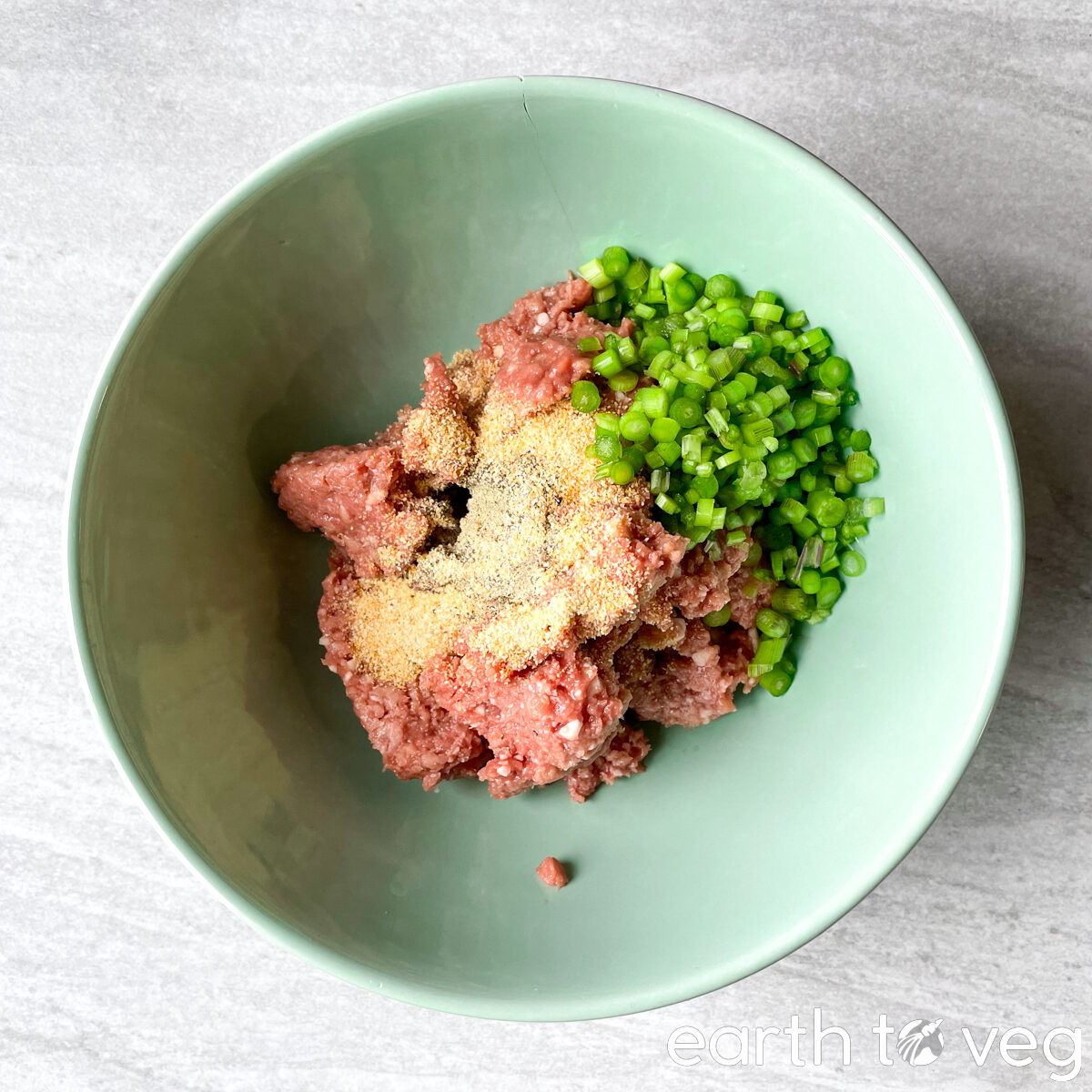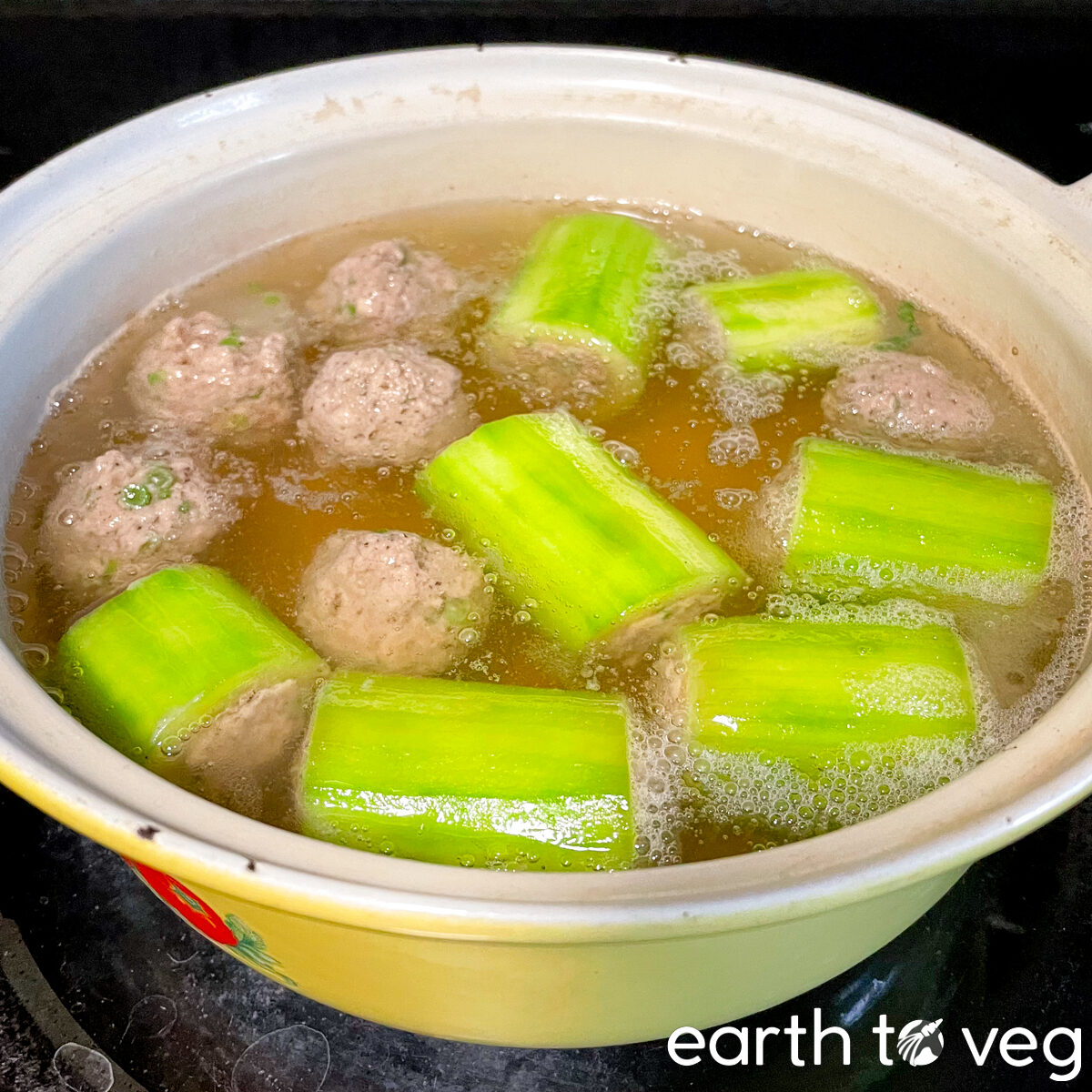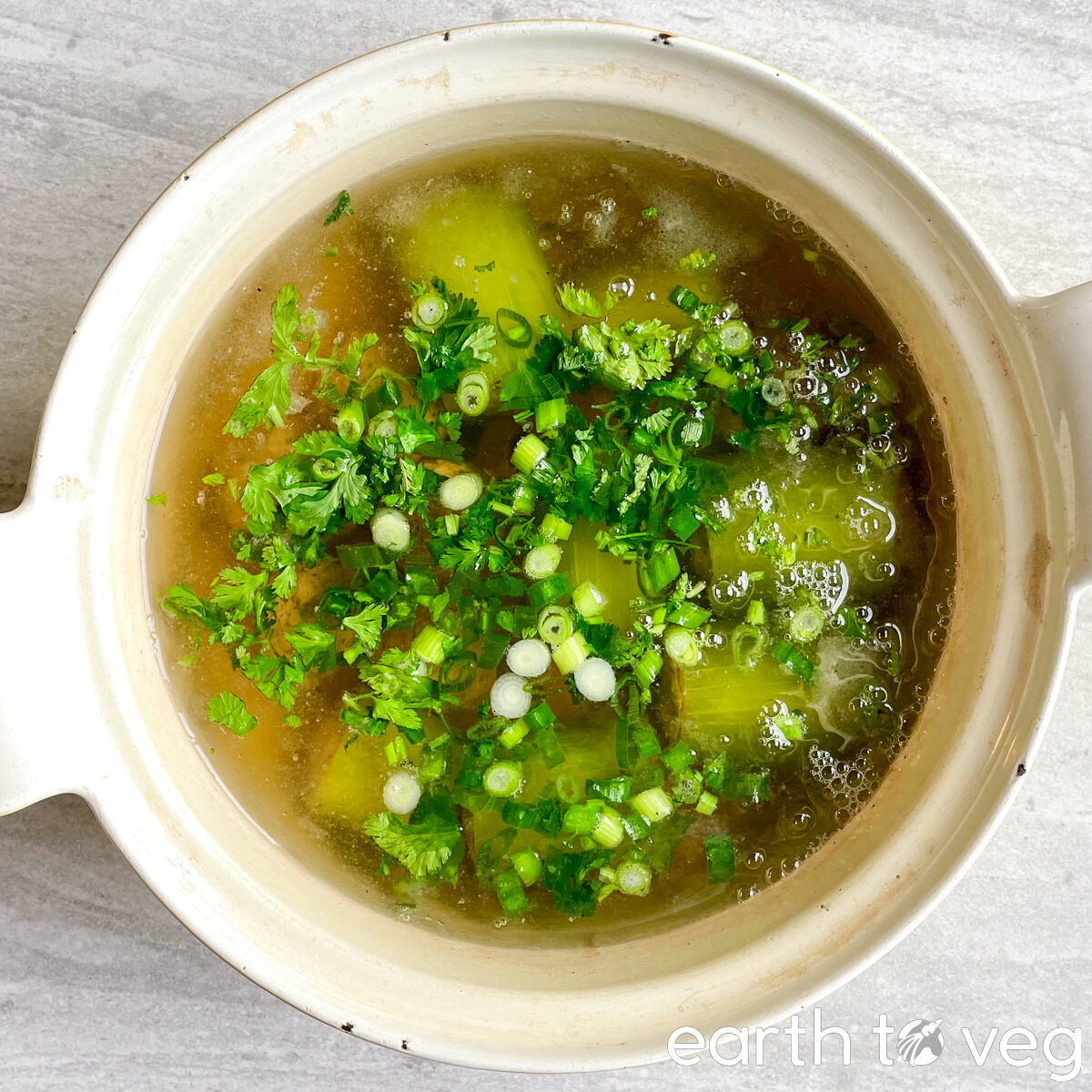 Make Ahead & Storage Tips
Store in the fridge for up to five days. When reheating, it's best to take out the stuffed gourds first, then bring the stock back to a boil over the stove, and drop in the gourds at the end just to warm through. Otherwise, the melon pieces will get overly soft.
Variations
Steam the stuffed bitter melon pieces instead of boiling them, to serve as a side dish.
For Lao style, add chopped onions to the filling mixture and drop a few chili peppers into the soup.
For Vietnamese style, mix a small amount of cooked glass noodles (aka cellophane noodles) into the filling.
More Thai Recipes
Recipe Card
Did you make this recipe? Please consider leaving a rating below to let me know how you liked it.
You can also take a picture and tag me on Instagram @earthtoveg, I will shout you out in my Stories!
Vegan Stuffed Bitter Melon Soup
Servings:
4
side servings
This unusual stuffed bitter melon soup from Thailand and Vietnam is traditionally eaten during the New Year. (Or make stuffed cucumber soup for a milder version.)
Print Recipe
Use Imperial/Metric buttons below to toggle between volume vs weight measurements. I recommend weighing out your ingredients for best results.
Ingredients
6

oz

Beyond Beef or Impossible Beef

1

tbsp

mashed cilantro root

*can sub with 2 tbsp minced cilantro stems

2

cloves

garlic, minced

½

tsp

ground white pepper

*can sub with black pepper

1

large bitter melon or English cucumber, peeled

1

qt

water

1

Vietnamese soup stock cube

see Note 1

1

tbsp

vegan fish sauce or soy sauce

2

tbsp

chopped scallions

for serving

2

tbsp

chopped cilantro

for serving

salt

to taste
Instructions
Slice cucumber or bitter melon into 2-inch long pieces and core them (using a small knife) to remove the seeds. If using bitter melon, blanch the pieces in boiling water for 5 minutes, then drain and soak in salted water while you prepare the other ingredients. This reduces the bitterness.

Mix together the Beyond or Impossible ground meat, cilantro root, garlic, and white pepper.

Pack the mixture tightly into each hollowed cucumber/melon. Any leftover filling can be shaped into meatballs and dropped into the soup.

Bring water, stock cube, and vegan fish sauce to a boil, then drop in the stuffed melons. Turn heat down to low and simmer for 15 minutes.

Taste for salt, adding as needed. Top with scallions and cilantro and serve.
Notes
I used one Vietnamese vegetarian (súp chay) stock cube. If you are using water or homemade vegetable stock, you may want to add some sugar and msg, especially if you are using bitter melon, as they help to offset the bitter flavour.
Nutrition
Calories:
103
kcal
|
Carbohydrates:
11
g
|
Protein:
8
g
|
Fat:
3
g
|
Saturated Fat:
1
g
|
Polyunsaturated Fat:
1
g
|
Monounsaturated Fat:
1
g
|
Cholesterol:
2
mg
|
Sodium:
639
mg
|
Potassium:
466
mg
|
Fiber:
5
g
|
Sugar:
1
g
|
Vitamin A:
529
IU
|
Vitamin C:
87
mg
|
Calcium:
92
mg
|
Iron:
2
mg
SEND FOOD PICS 📸
Tag @earthtoveg or leave a comment below if you tried this recipe. It makes my day. 😊