Armenian rechel (preserved fruit) has roots in the Arabic murabba, which was popularized across Western and Central Asia by the Ottoman Empire. This version is a traditional variety made from watermelon rinds. A perfect zero-waste way to use up those leftover melon rinds.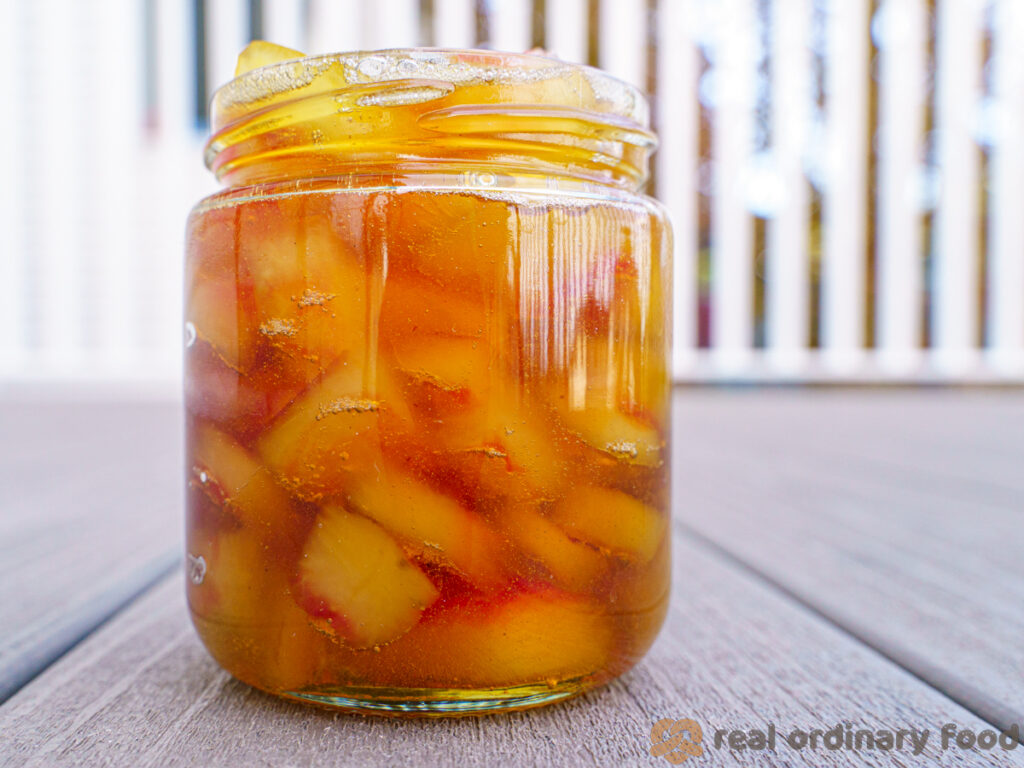 What Does Watermelon Rind Taste Like?
These watermelon rind preserves were super tasty! The rind itself is slightly sour from the vinegar and orange juice, but the main flavour is sweet. Because of the long simmering time, the naturally crunchy rind becomes a little bit chewy, almost like a gummy.
Because the rind itself is so neutral, it doesn't have any watermelon flavour. Even though I left a little bit of flesh on the rind (mostly to give it a pretty colour), I couldn't taste the watermelon at all. If anything, it has an almost citrusy flavour from the orange juice.
Uses
Tzmeroog rechel tastes pretty good anywhere you would usually use a fruit preserve:
Spoon a few pieces of rind along with a drizzle of the sugary syrup onto a piece of bread, pancake, or waffle… or even French toast
Mix a generous spoonful or two into fruit salad
It makes for a delectable topping on a jar of overnight oats
Spoon it straight out of the jar! (I'm guilty of doing this more than once… it's good stuff okay?)
And what about the syrup? If you have finished all the watermelon pieces and still have some syrup left, you can use them to:
Please note that the syrup has a slightly acidic profile, so keep that in mind when using it to sweeten things.
What is Rechel (Murabba)?
Rechel or murabba (մուրաբա) is a category of Armenian sweets which are made by canning various fruits in sweet-sour syrup. Basically the Armenian word for preserves.
Besides watermelon rind preserves (ձմերուկ, tzmeroog), other varieties include:
Apricot (ծիրան, dzerani)
Green walnut (կանաչ ընկույզը, kanach ynkuyz)
Pumpkin (դդում, tutum)
Rose petal (վարդ, vardi)
Quince (սերկլիլ, serklil)
I've even seen a recipe for eggplant rechel!
According to an Armenian woman in this article, some traditional recipes for murabba call for addition of lye. I think the purpose of this is to do something similar to adding pickling lime, which preserves the crispness of a canned product. However, lye is difficult to get a hold of these days and it can be dangerous if handled improperly, so I left it out. The beauty of using watermelon rinds for this recipe is how hard they are to overcook—even after an hour of simmering, they still had a bit of crunch to them! So unlike more delicate fruit, watermelon rind holds up to cooking really well. I loved the texture of this tzmeroog murabba, even without the addition of lye.
Murabba in Other Countries
Murabba is not only an Armenian food! In fact, the original word comes from the Arabic muraba (مربى), which means "jam." Unlike the Western conception of jams, however, murabba almost always contains whole pieces of fruit. It's a well-known product in many Eurasian countries, such as India, Azerbaijan, Iran, Georgia. It's also similar to the Eastern European varenye (варенье), the Bulgarian slatko (сладко), and the Romanian dulceaţă.
However, different nations have different preferences in the kinds of fruits they prefer. Preparation methods also vary from country to country.
For example, in India, mango and bael are popular, while in Georgia, you can expect to find peach murabba, and carrot murabba is common in Persian cuisine.
This watermelon rind variety is cooked in a typical Armenian style. It's not limited to Armenia, although it is one of the favourites in the country.
Recipe Card
Armenian Watermelon Rind Preserves
Servings:
24
tbsp (15 g each)
Reduce food waste by saving watermelon rinds to use in this delectable Armenian watermelon preserves recipe (known as tzmeroog rechel or tzmeroog murabba).
Print Recipe
Use Imperial/Metric buttons below to toggle between volume vs weight measurements. I recommend weighing out your ingredients for best results.
Ingredients
2

cups

cubed watermelon rind

260 g; see Note 1

⅛

tsp

fine salt or 1/4 tsp kosher salt

1 g

¾

cups

water

180 g

¾

cups

white vinegar or apple cider vinegar

180 g

½

cup

orange juice

120 g; can substitute with water + 1 tbsp lemon juice

1

cup

sugar

200 g
Instructions
Add watermelon rind, salt, water, and vinegar to a small pot and bring to a boil. Turn heat down to low, cover, and simmer for an hour.

Rinse rind thoroughly with cold water and drain. When cool enough to handle, give them a squeeze to press out excess water.

Add orange juice and sugar to the saucepan and return to high heat. When the mixture comes to a boil, stir in the rind.

Cook, stirring frequently, until the mixture begins darkening to a golden colour, as if it's starting to turn into caramel (see Note 2). Remove from heat and let cool slightly, then ladle into a glass jar.

At this point, you can either can it to preserve it for longer, or just store it in the fridge, where it will be good for a month.
Nutrition
SEND FOOD PICS 📸
Tag @earthtoveg or leave a comment below if you tried this recipe. It makes my day. 😊
Recipe Notes
Make sure to peel and slice the watermelon rinds into no larger than 1-inch pieces. You can leave a little sliver of pink flesh on the rind if you'd like.
Make sure you remove it from heat before the colour gets too dark. You don't want the syrup to actually turn into full-on caramel because then it'll solidify when cooled!
Did you make this recipe? Please consider leaving a rating below to let me know how you liked it.
You can also take a picture and tag me on Instagram @earthtoveg, I will shout you out in my Stories!
Nutrition, Cost, and Emissions Information
Each tbsp serving of watermelon rind preserves (including syrup) is 38 cal, costs $0.03, and releases 27 gCO2e of carbon emissions into the atmosphere.
Calculation for full recipe as written (24 servings):
Feel free to contact me for sources on the nutritional and carbon emissions information presented here. Note that I am not a nutritionist and guidelines on this page are provided for informational purposes only.