ORIGINS: I grew up eating my mom's fanqie chaodan (番茄炒蛋), "tomato scrambled eggs," a typical dish of Chinese home cooking. This vegan version made with tofu comes pretty close to the look and taste of the real thing, no animal products required.
Vegan Tomato "Egg" Stir Fry (番茄炒豆腐)
This vegan version of a simple Chinese comfort food, fanqie chaodan (番茄炒蛋), uses eggy crumbled tofu and kala namak for a rich, saucy tomato stir fry dish.
Servings:
3
side servings
Ingredients
1/4

cup

cooking oil

50 g

1

lb

tomatoes, chopped

450 g; can sub with canned diced tomatoes

1

package

tofu

350–450 g; see Note 1

1

tbsp

shaoxing wine

15 g; can sub with mirin, sake, or dry sherry

1/4

tsp

fine salt or 1/2 tsp kosher salt

2 g

1/4

tsp

ground black pepper

1/4

tsp

turmeric

see Note 2

1

tsp

kala namak aka black salt

*optional

1

tsp

sugar

*optional; see Step 6

2

scallions

diced
Instructions
Pat tofu dry.

Add oil to a wok on high heat. Crumble tofu into the oil (be careful of splatters) and saute until around half of the tofu crumbles have turned golden brown.

Add the tomatoes, followed by shaoxing wine, salt, pepper, turmeric, and kala namak. Turn heat down to medium-low and cover with the lid half ajar.

Check on the food and give it a stir every five minutes or so, to dislodge any bits stuck to the bottom of the wok. Simmer until the tomatoes are broken down and the sauce is thick enough for your liking (15 minutes for me). If the wok starts to dry out before the tomatoes are soft enough, add more water, 1/4 cup at a time.

Turn off the heat. Taste a spoonful to check for seasoning. If it's too acidic for your liking, add the sugar.

Stir in the scallions and serve.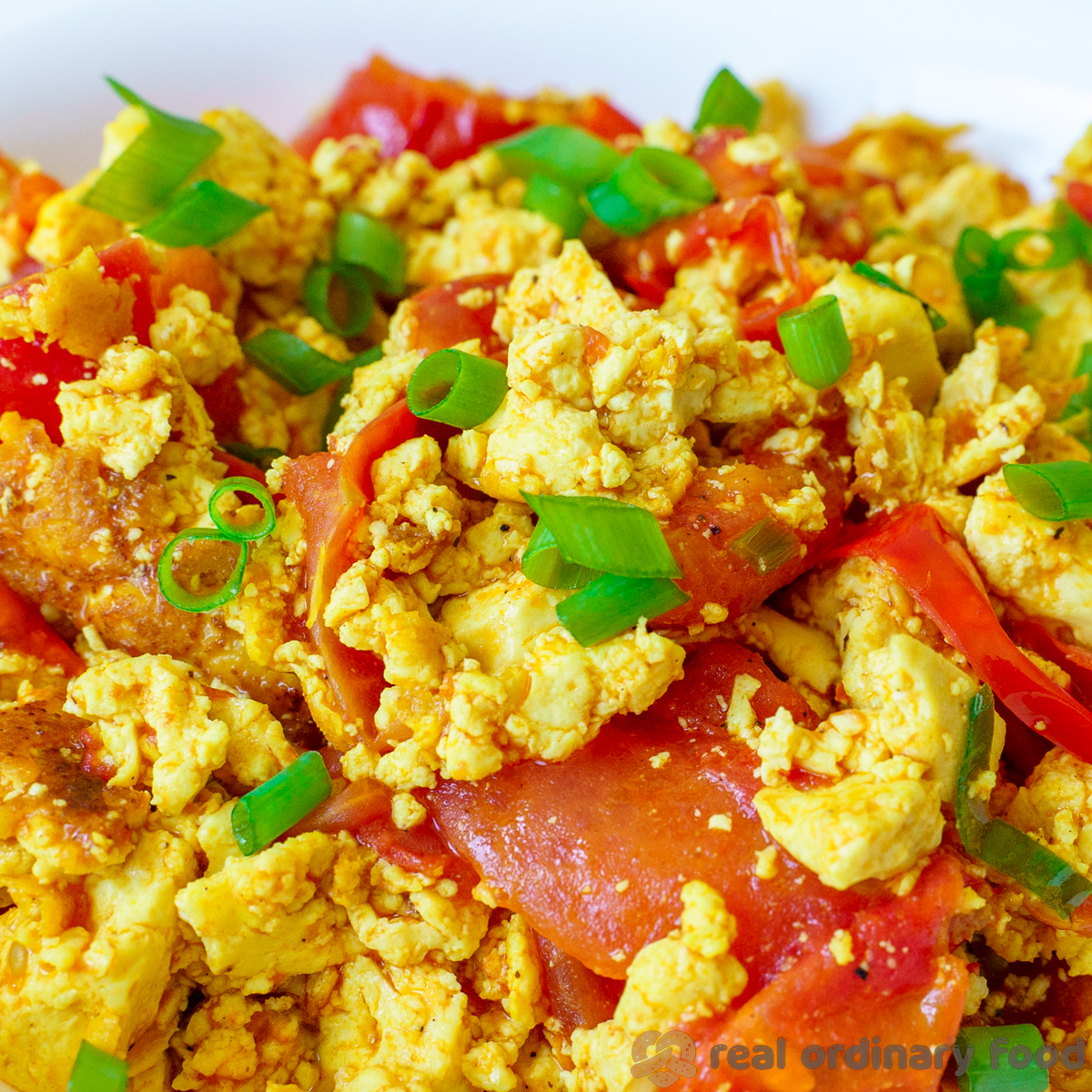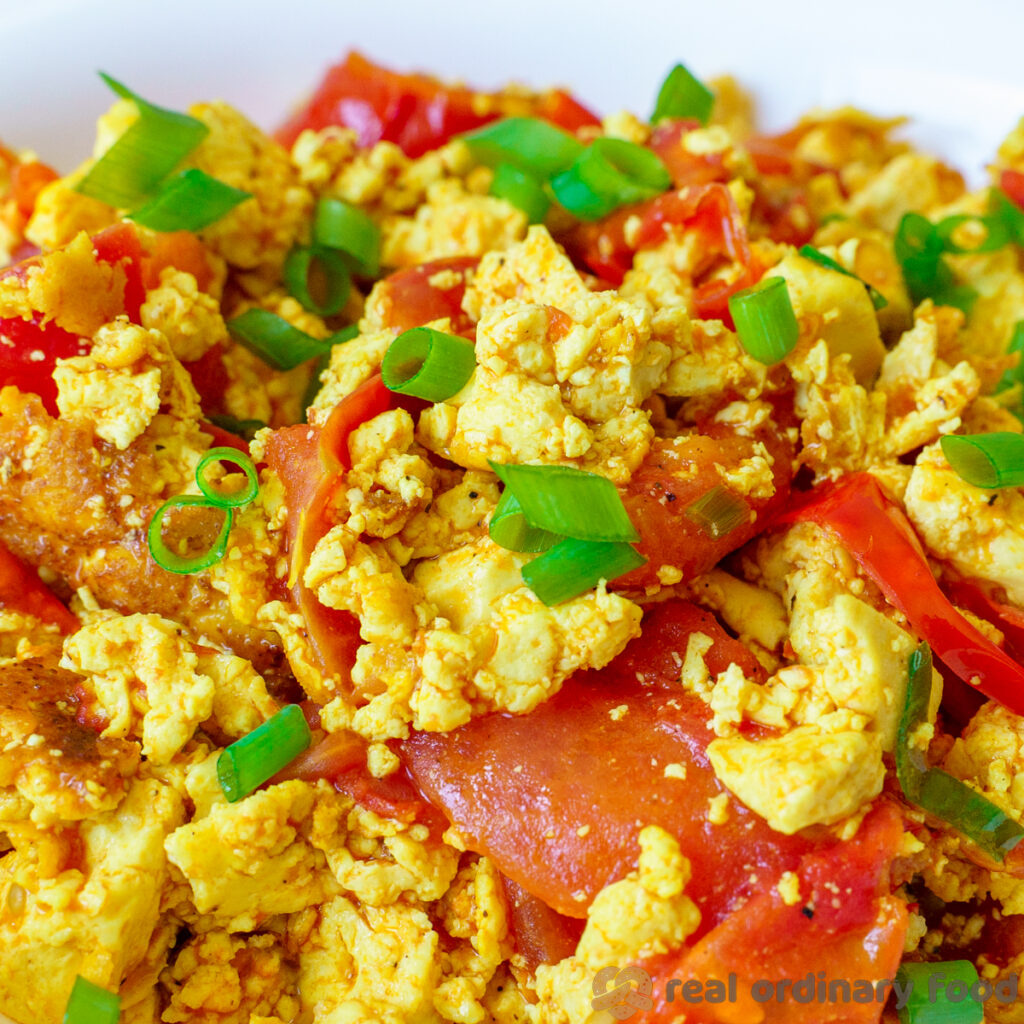 Recipe Notes
Any kind of tofu that's medium or firmer will work for this recipe, but go with extra-firm if you're worried about oil splattering. I used the Superior Natural brand of extra-firm tofu from Costco and patted it dry before using. This reduced the splatter a lot.
Turmeric is here to add that eggy colour. Please do not add more than 1/4 tsp or it will impact the taste of the final dish.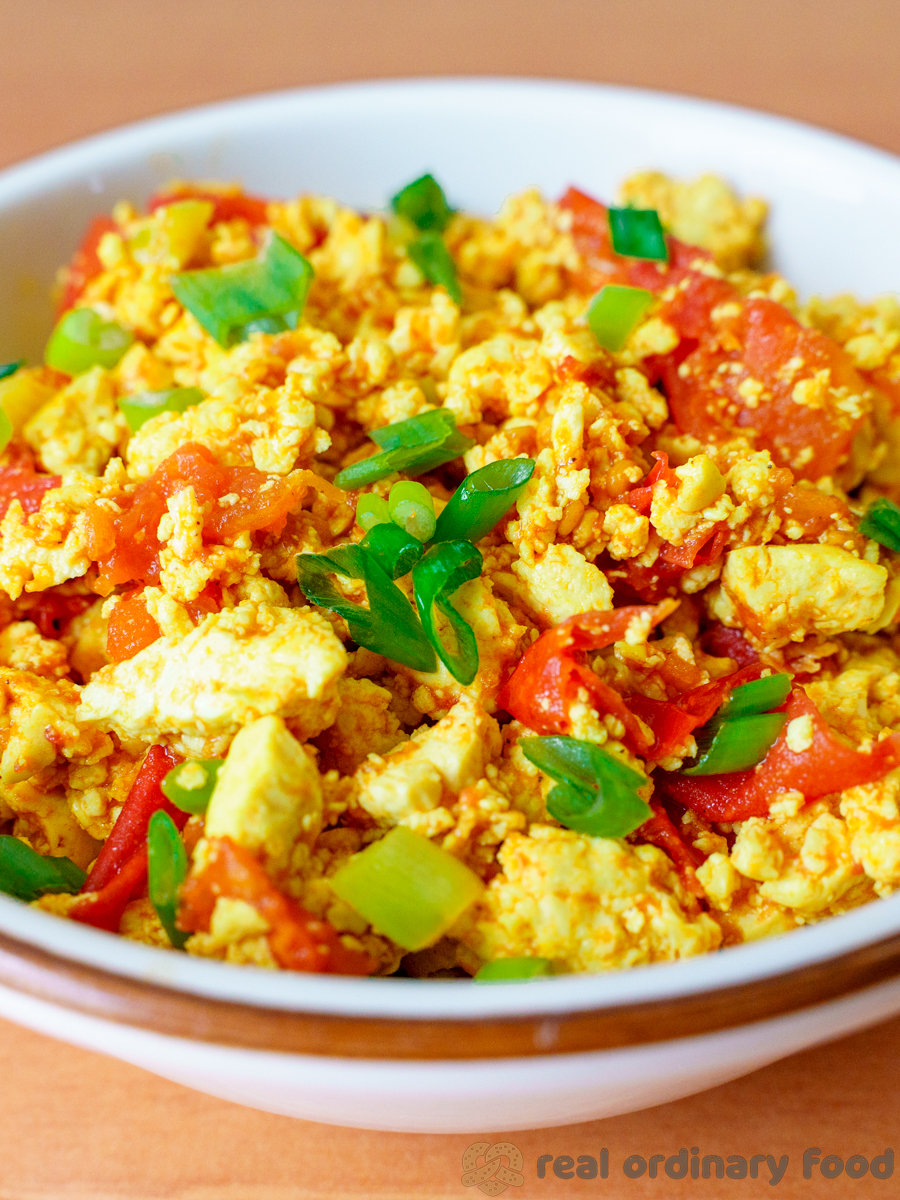 History
Although fanqie chaodan is pretty ubiquitous in Chinese households, tomatoes have a pretty recent history in China.
(Btw, my boyfriend insists on calling it fanqie jidan aka "tomato egg" which is another name for this dish.)
When they were introduced in the 1600s, Chinese people saw them as an "inedible" foreign curiosity. In fact, the tomato has two Chinese names, both of which refer to the its outsider status:
番茄 (fanqie) = literally translates to "foreign eggplant"
西红柿 (xihongshi) = means "red western persimmon"
Cooking eggs together with tomatoes only began in the early 1900s as the Western influence on food made its way into Chinese cities. It started as a restaurant dish that has evolved into a popular home-style recipe. So I guess you could say fanqie chaodan is a great example of fusion food!
More Vegan Scramble Recipes
Nutrition, Cost, and Emissions Information
Each side of vegan fanqie chaodan is 268 cal, costs $0.78, and releases 577 gCO2e of carbon emissions into the atmosphere.
Calculation for full recipe as written (3 servings):
Feel free to contact me for sources on the nutritional and carbon emissions information presented here. Note that I am not a nutritionist and guidelines on this page are provided for informational purposes only.