This 1-pan method is the easiest way to make Vegan Japchae, a delightful Korean glass noodle stir-fry bursting with flavor. Chewy glass noodles, vibrant stir-fried vegetables, a sweet and savoury soy sauce… what could be better? Perfect as a main dish or a side (banchan), can be eaten hot or cold. And if you can't get enough of Korean noodles, check out this recipe for Jajangmyeon too.
History & Origins
Japchae is thought to have been created in the 17th century during Korea's Joseon Dynasty. The earliest written recipe for japchae is found in a 1670 cookbook called Eumsikdimibang.
Although it's common to see beef, chicken, and even fish cakes in japchae, meat is not at all a necessary component. In Korean, jap means "mixed" and chae means "vegetables." So japchae literally means "mixed vegetables." The earliest versions of japchae were in fact vegetarian; they didn't contain meat at all.
Did you know: Sweet potato noodles are now the defining ingredient of japchae, but they are also a relatively recent addition to the dish. Chinese immigrants to Korea introduced them in the 1900's (another Chinese-Korean innovation, just like Jajangmyeon).
Japchae is one of the most well-known Korean dishes, and it's beloved both in and outside the country. You can even buy instant noodle versions. But this one-pan method of cooking japchae is pretty fast too!
At restaurants, you will usually see japchae only available as a side dish, or banchan. But it can also be eaten on its own as a meal. This recipe makes 1 serving of japchae if eating as a main course, or 4 servings for banchan.
What You'll Need
There are three components to this vegan japchae dish: sweet potato noodles (aka glass noodles), vegetables, and sauce.
Noodles
Sweet potato noodle, a Chinese ingredient introduced to Korea, has been heartily embraced by Korean cuisine and is essential to a bowl of japchae. As you can tell from the name, these noodles are made from sweet potato starch. They are called fentiao in Chinese and dangmyeon in Korean.
Sweet potato noodles belong to the broader family of glass noodles, whose name comes from the fact that they become translucent once cooked. Glass noodles can be made from mung bean starch, tapioca starch, and more. However, each type of noodle has a different texture and mouthfeel so please specifically use sweet potato noodles if you can find them.
If your store offers different widths of noodle, choose the thinnest variety. (The thicker flat ones are used for long-simmered soups and broths, such as Hot Pot).
Vegetables
We're using two types of fungus in vegan japchae: Dried Shiitake Mushrooms add savoury flavour, and Dried Wood Ear Mushrooms have an bouncy, crunchy texture. Both need to be soaked before cooking. If you don't have one, double up on the other.
Carrots used for japchae should be sliced thinly. (This type of cut is the "julienne" or "matchstick.")
Spinach—no need to cut if you're using baby spinach. However, if using mature spinach, give it a rough chop to help it cook down quicker.
Yellow Onion, sliced thin just like the carrots, adds additional flavour.
Scallions should be sliced into segments, 2–3 inches long.
Japchae Sauce
The ingredients for the japchae seasoned sauce are:
Soy Sauce. Korean cuisine uses two types of soy sauce: "regular" soy sauce known as ganjang, and one specifically for soups, guk-ganjang. The all-purpose ganjang is easy to find online and is best suited for this recipe. You can also use a generic soy sauce (Chinese light soy sauce or Japanese dark soy sauce).
Rice Wine or Mirin adds a slight sweetness. Sub with a pinch of sugar if you don't have it.
Garlic (can sub with garlic powder in a pinch)
Ground Black Pepper
Water, just enough to cook the glass noodles before evaporating away.
For a full list of ingredients and quantities, refer to the recipe card at the bottom of this post.
Diet Substitutions
If you're following a specific diet or need to be aware of allergies, here are a few ways you can modify this recipe:
Gluten-Free: Good brands of Korean soy sauce (ganjang), such as the one I'm currently using, are usually gluten-free. If you can't find gluten-free soy sauce in your area, you can substitute tamari or coconut aminos.
Low Carb: Swap the sweet potato noodles with shirataki noodles (which are confusingly sometimes called yam noodles, but these are not made with the sweet potato type of yam. They are instead made with konjac yam, an Asian root vegetable that has nearly no carbs or calories). Check out my Vegan Sashimi recipe for another way to use konjac.
If you made this recipe with a successful substitution, please let me know! Post a comment describing what you did so I can add it to this section and help future readers.
Step-by-Step Process
The usual way of preparing japchae is quite arduous, as it calls for cooking each vegetable one-by-one before combining them with the noodles at the end. But my method cuts down on the cooking significantly. The most time-consuming part of this recipe is soaking the noodles and mushrooms. 🙂
Step 1: Soak the dangmyeon noodles, shiitake mushrooms, and wood ear mushrooms in cold water for at least 4 hours or overnight. Meanwhile, wash and chop the vegetables.
Step 2: Squeeze excess water from the mushrooms and slice into strips. Reserve 1 cup of soaking water and mix it with soy sauce, rice wine, garlic, black pepper to make japchae sauce.
Dried sweet potato noodles take anywhere from 10 minutes (using hot water) to 4 hours (using cold water) to soak. The texture of the noodles is best when soaked with cold water—super bouncy and chewy. However, if you are in a rush, you can use the quick soak method: Boil the shiitake and wood ear mushrooms for 10 minutes, then pour the boiling hot water over the noodles and let them soak while you proceed with the other ingredients.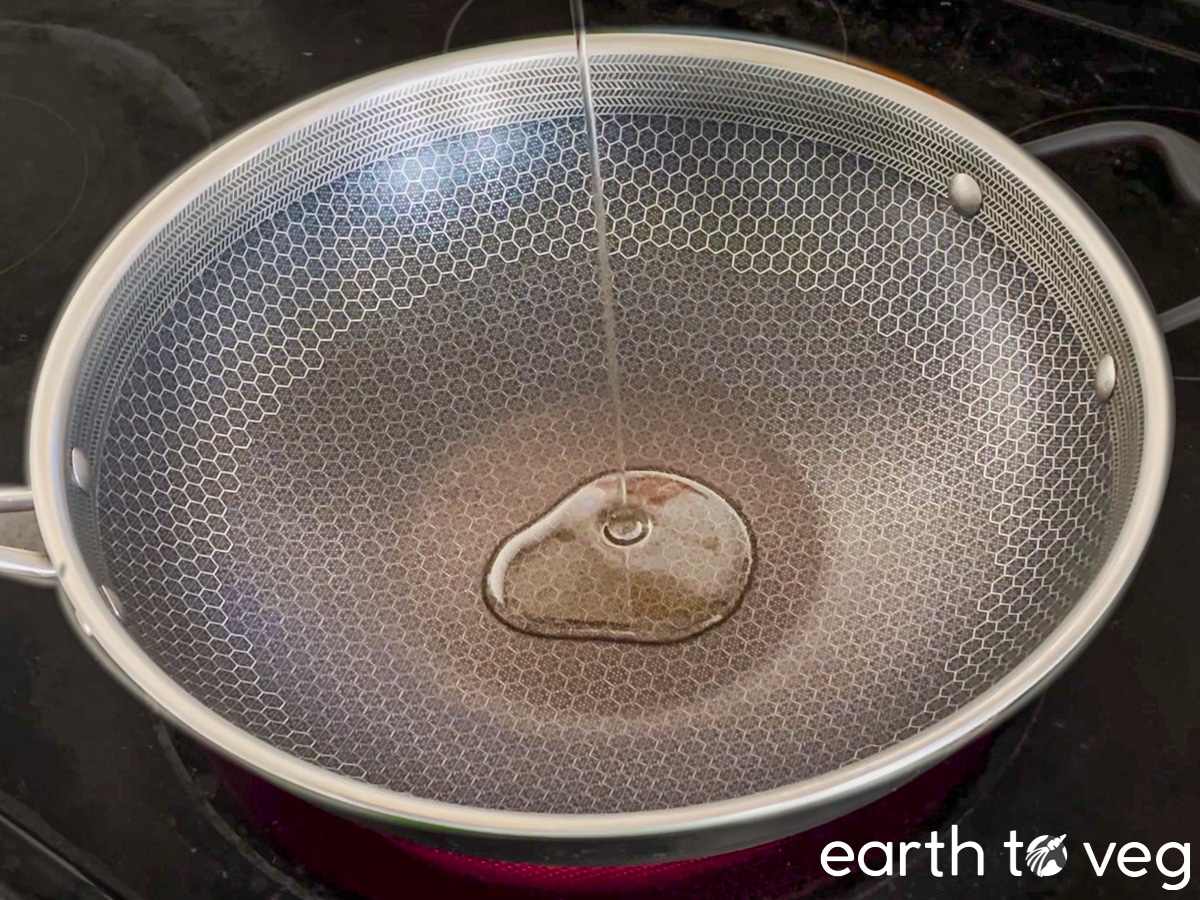 Step 3: Take a wok or a skillet with high sides, and set on high heat. Pour in the oil.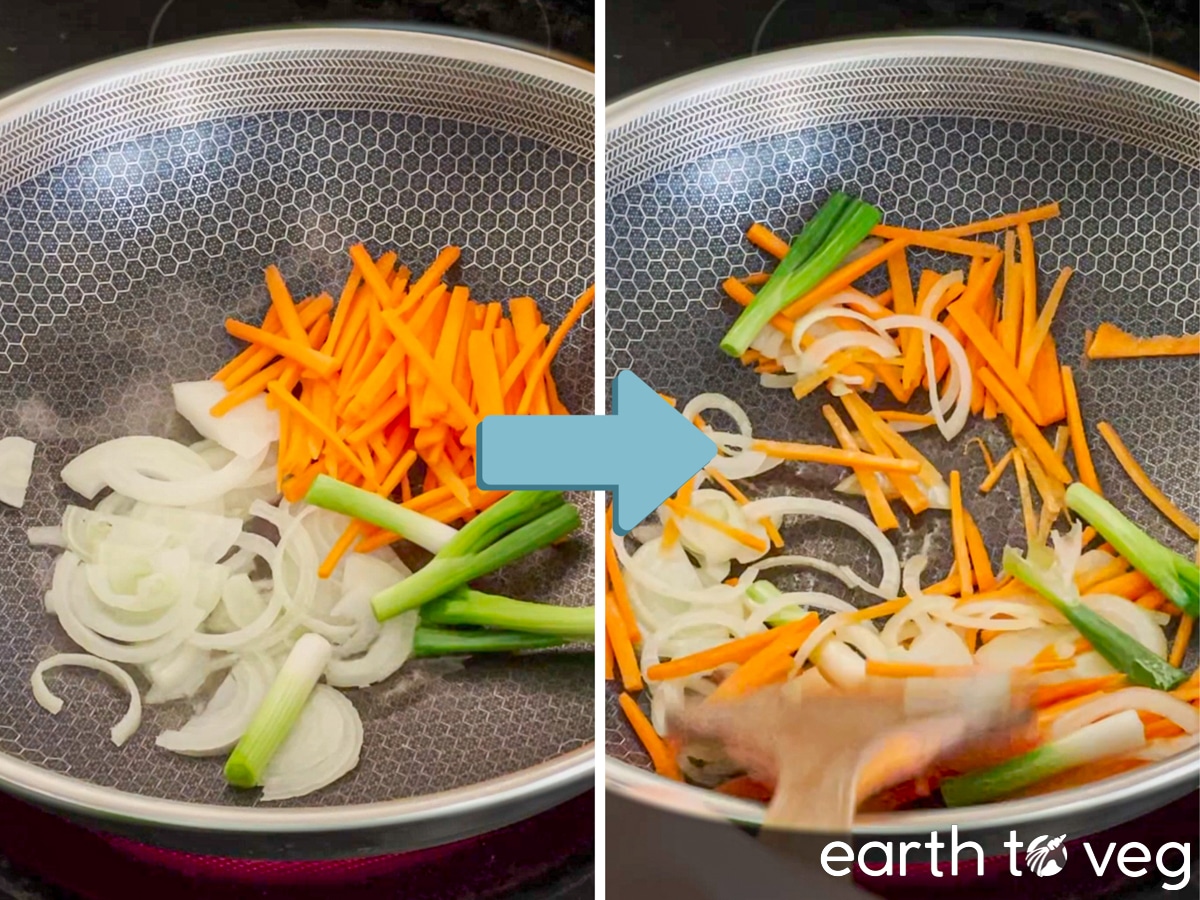 Step 4: Sauté onion, scallion, and carrots briefly—no more than 30 seconds—until aromatic.
Step 5: Add the sweet potato noodles, mushrooms, and spinach.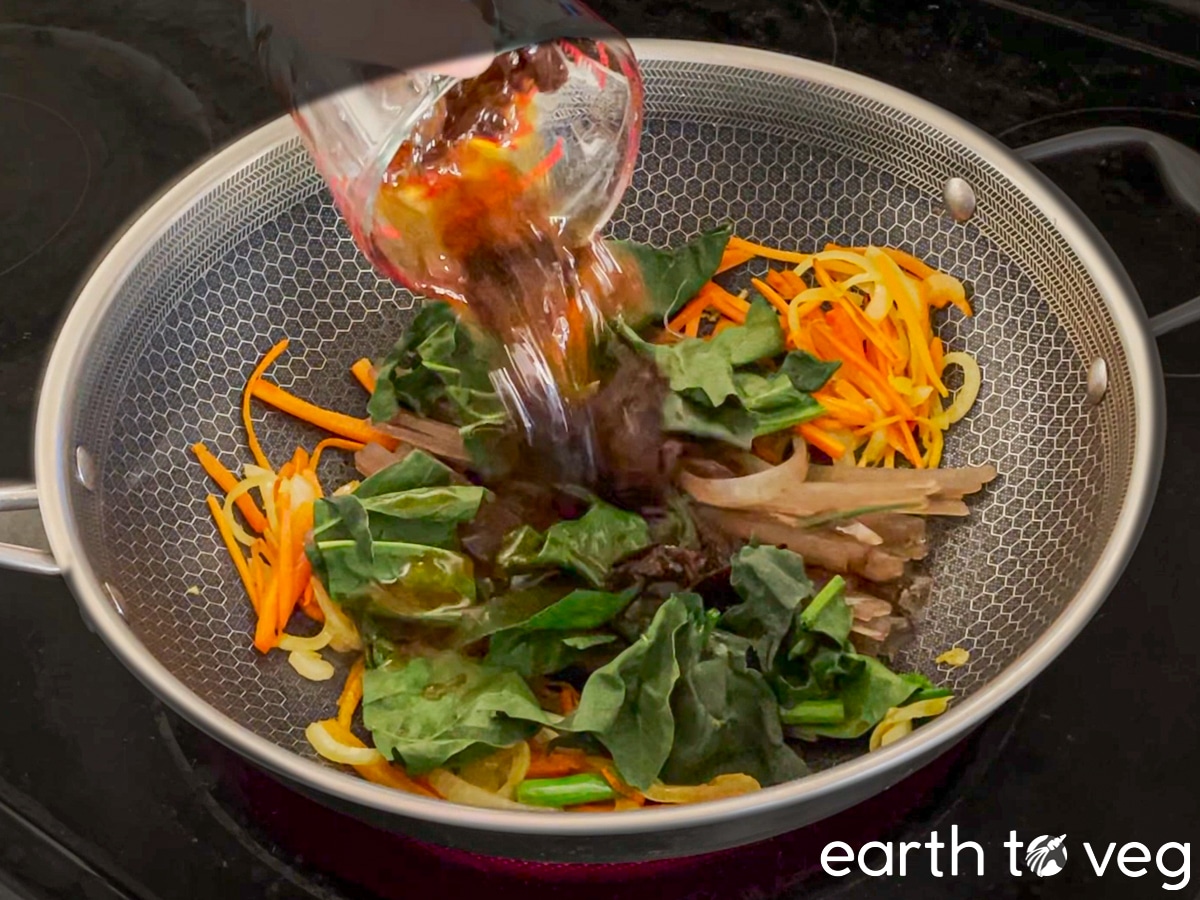 Step 6: Pour over the sauce mixture. Cover and let it come to a simmer.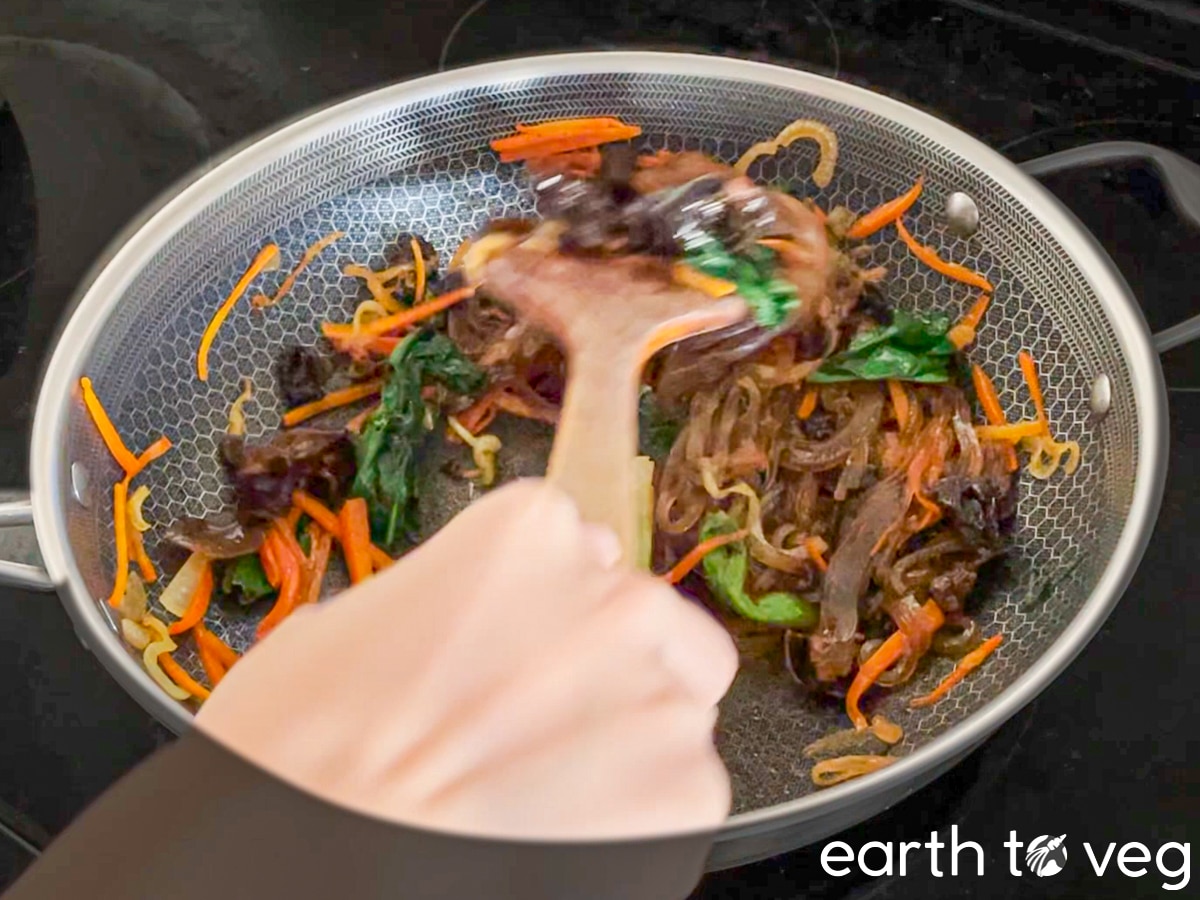 Step 7: When the liquid begins to boil, remove the lid and cook, stirring frequently, until most of the liquid has evaporated. Then turn off the stove.
Step 8: The sweet potato noodles will be fully cooked from their short time in the wok. Divide into bowls and sprinkle with sesame seeds and sesame oil.
Make Ahead & Storage Tips
Store vegan japchae in the fridge for up to five days.
Japchae can be served hot or cold, so it's ideal for meal prepping, especially if you have to bring a lunch somewhere without a microwave.
Recipe FAQs
Is japchae vegetarian or non vegetarian?
Japchae can be either vegetarian or non-vegetarian, depending on the ingredients used in the recipe. Japchae means "mixed vegetable" in Korean and the earliest versions of japchae eaten in the 17th century were vegetarian and did not contain meat at all. However, in non-vegetarian versions of Japchae, proteins like beef, chicken, or pork may be included.
Are glass noodles vegan?
All glass noodles, also known as cellophane noodles, are vegan-friendly. The noodles themselves are made from starches such as mung bean starch, potato starch, or sweet potato starch, without any animal products. It's always a good idea to check the ingredients list on the specific package you are purchasing, as different brands may have variations or additional ingredients. But as long as you are buying dried glass noodles, they should be suitable for a vegan diet.
What is a good substitute for japchae noodles?
If you're looking for a substitute for the sweet potato noodles that are traditionally used in japchae, there are a few options you can consider:
Mung bean noodles (mung bean thread): These noodles are typically thinner than sweet potato noodles, so they don't have the exact same texture. Nevertheless, they work well in japchae and provide a pleasant chewiness.
Shirataki noodles (konjac noodles): A great option for those on a low-carb or low-calorie diet, these noodles are a lot chewier than sweet potato noodles, almost to the point of being rubbery. But when paired with the japchae stir fry sauce and accompanying vegetables, they absorb the flavours will definitely satisfy your noodle craving.
Rice vermicelli: These are thin, translucent noodles made from rice flour. They are a little more delicate than starch-based noodles, and don't have the same springy texture, but they are still a tasty alternative.
Are japchae noodles healthy?
Korean japchae is a fairly healthy dish. The glass noodles used in japchae are low in calories and fat. The main nutritional value of Japchae, however, comes from the accompanying vegetables like spinach, carrots, bell peppers, and mushrooms. These vegetables contribute essential vitamins, minerals, and fiber. Japchae is usually stir-fried, and uses minimal oil.
More Vegan Korean Recipes
Recipe Card
Did you make this recipe? Please consider leaving a rating below to let me know how you liked it.
You can also take a picture and tag me on Instagram @earthtoveg, I will shout you out in my Stories!
1-Pan Vegan Japchae
Japchae is a Korean stir-fried dish featuring bouncy sweet potato noodles, sliced carrots, plenty of scallion, all lightly coated in a sweet and savoury sauce.
Print Recipe
Use Imperial/Metric buttons below to toggle between volume vs weight measurements. I recommend weighing out your ingredients for best results.
Equipment
Wok or skillet with high sides

(with a lid)
Ingredients
3

oz

glass noodles, soaked in cold water for 4 hours

see Note 1

5

dried shiitake mushrooms, soaked 4 hours

¼

cup

dried wood ear mushrooms, soaked 4 hours

1

tbsp

oil

1

scallion

½

carrot

½

yellow onion

1

cup

spinach
Sauce
2

tbsp

soy sauce

1

tbsp

rice wine or mirin

2

cloves

garlic or 1/4 tsp garlic powder

½

tsp

black pepper

1

cup

mushroom-soaking water
Toppings
½

tsp

sesame seeds

1

tsp

sesame oil
Instructions
Drain the soaked noodles and mushrooms. Squeeze excess water out of the mushrooms and slice them into strips. Reserve 1 cup of the mushroom-soaking water for the japchae sauce.

Prepare the vegetables: Chop the scallions into 2-inch pieces. Slice the carrots (julienne) into matchsticks. Slice onions thinly. If you're using baby spinach, no need to cut them further; if using large spinach leaves, chop them into smaller pieces.

Add 1 tbsp oil to a wok on high heat. Sauté the onion, scallion, and carrot briefly (around 30 seconds to 1 minute) until aromatic.

Meanwhile, mix together the japchae sauce ingredients.

Into the wok, add the sliced mushrooms, spinach, and drained noodles. Pour over the sauce mixture and give it a quick mix. Ensure that most of the noodles are covered by the sauce mixture.

Cover the wok and let it come to a simmer. Then remove the lid and cook, stirring frequently, until most of the liquid has evaporated.

Divide into bowls and sprinkle with sesame seeds and sesame oil. Japchae can be served hot or cold.
Notes
Dried sweet potato noodles take anywhere from 10 minutes (using hot water) to 4 hours (using cold water) to soak. The texture of the noodles is best when soaked with cold water—super bouncy and chewy. However, if you are in a rush, you can use the following quick soak method:

Boil the shiitake and wood ear mushrooms for 10 minutes.
Remove from heat. Set mushrooms aside to cool before slicing.
Pour the boiling hot mushroom water over the noodles and let them soak while you proceed with the other ingredients.
Nutrition
Calories:
595
kcal
|
Carbohydrates:
104
g
|
Protein:
7
g
|
Fat:
18
g
|
Saturated Fat:
2
g
|
Polyunsaturated Fat:
6
g
|
Monounsaturated Fat:
10
g
|
Trans Fat:
0.1
g
|
Sodium:
1879
mg
|
Potassium:
739
mg
|
Fiber:
6
g
|
Sugar:
11
g
|
Vitamin A:
11294
IU
|
Vitamin C:
23
mg
|
Calcium:
142
mg
|
Iron:
6
mg
SEND FOOD PICS 📸
Tag @earthtoveg or leave a comment below if you tried this recipe. It makes my day. 😊