Chal Bap is a special rice dish served for Daeboreum (the Korean full moon festival). That doesn't mean it can't be eaten for casual everyday meals, though. It's a simple dish to make, with just five ingredients, and is an easy way to switch up your usual bowl of rice with something a little more interesting.
A Celebration Dish
Chal bap is commonly eaten in Korea on birthdays and for Jeongwol Daeboreum. Daeboreum lands on the 15th day of the lunar calendar, which is also the first full moon of the lunar new year. Many Asian countries have their own way of celebrating this important day (for example, China with its Lantern Festival, or Thailand's Māgha Pūjā Day).
Like in other cultures, the full moon festival is somewhat overshadowed by the Lunar New Year. But some of Daeboreum's food traditions still survive, for example eating sticky rice is a must!
History & Origins
These days, crows are considered bad luck, but the holiday of Daeboreum was actually started to honour a crow who saved a king's life.
According to a centuries-old legend, the medieval Korean King Soji ordered a messenger to follow an unusual crow they had spotted. The crow led him to an old man who handed him a letter, which read: "If you open it two people shall die, and if you do not open it, one person shall die."
The messenger took the letter to the king, who said, "One person dying is better than two." The king's divination official, however, said, "Two people refer to subjects. but one person refers to the king." The king accepted the interpretation and opened the envelope, to find a message that read, "Shoot the zither case." When the king returned to the palace, he shot the zither case, which killed the queen and a meditating monk inside the case, who were involved in an affair.

– The National Folk Museum of Korea
Ever since then, in gratitude for the crow's actions, the day was called Crow Memorial Day (now known as Daeboreum) and "a ritual offering of chalbap (glutinous rice) at the altar was held in its honor."
Yaksik vs Ogokbap vs Chalbap
A similar dish called ogok-bap ("five-grain rice"), featuring sticky rice, adzuki beans, black beans, sorghum, and millet is also eaten for Daeboreum.
Then there's yaksik or yakbap, yet another Daeboreum rice dish. It's even more similar to chal bap. It consists of sticky rice, chestnuts, jujubes, and pine nuts. But unlike chal bap and ogok bap, yaksik is flavoured with a sweet-and-salty sauce made with sesame oil, sugar, and soy sauce.
It's pretty interesting that there are so many similar yet distinct sticky rice recipes eaten for the same holiday.
The origin of the Daeboreum custom of eating yakbap, dark sweetened rice, can be found in the chapter on King Soji in Samguk Yusa (Memorabilia of the Three Kingdoms). In 486, 104th year of the reign of King Soji of SiIla, a magpie saved the king from trouble and in gratitude a rite to the magpie was held with an offering of black rice. This became a custom that was followed throughout Silla and also in the Goryeo and Joseon dynasties. In the Goryeo period, black rice was replaced with sweetened rice made with honey, dates, and chestnuts, but from some unknown time this was subsequently replaced with five-grain rice. The ingredients of sweetened rice being hard for ordinary people to obtain, it is likely that five-grain rice was used instead so that the rite could be observed by anyone who wished to do so.

– Sŏ‑sŏk Yun, Festive Occasions: The Customs in Korea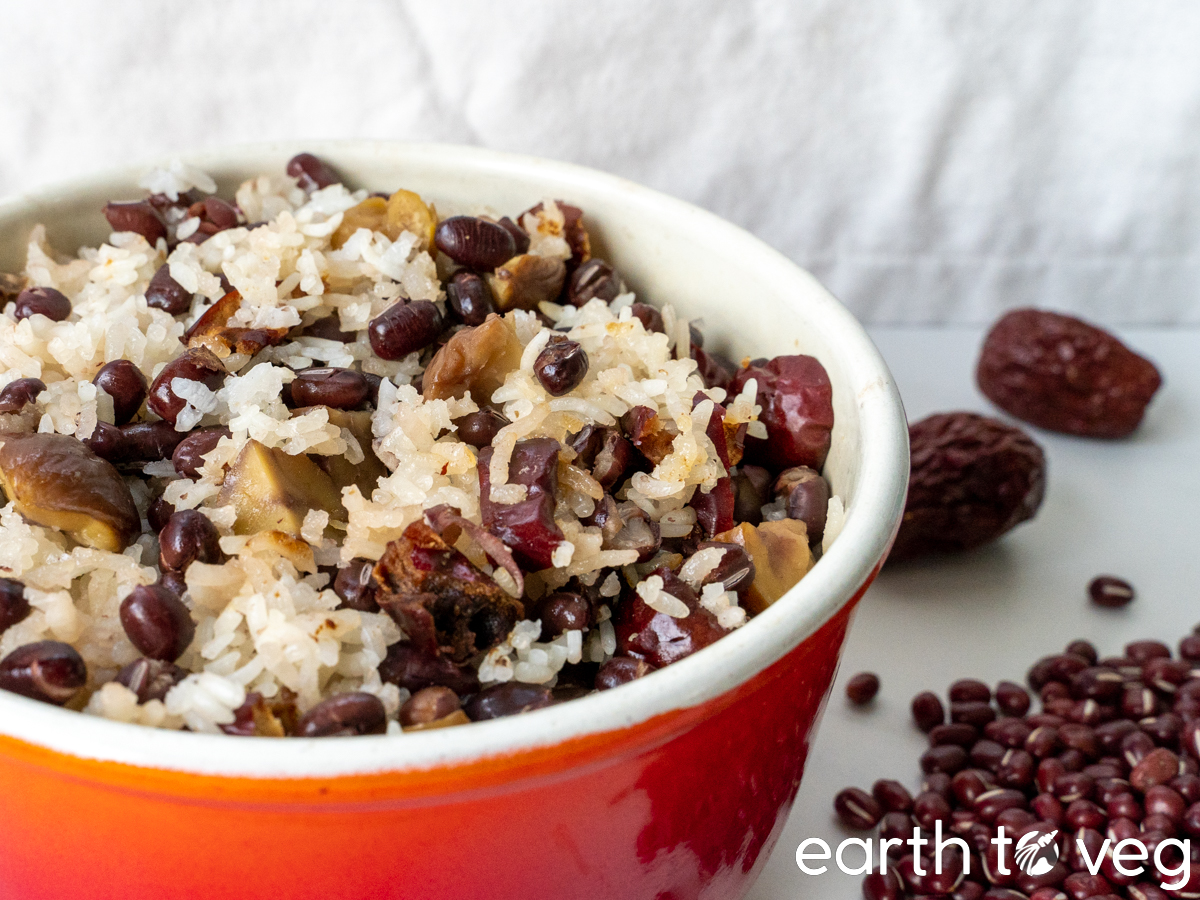 What You'll Need
The main ingredients for chal bap are a 1:2 ratio of adzuki beans and sticky rice. Did you know: sticky rice and adzuki beans have the same density when dry (a 1-cup measure of either ingredient weighs 210 g). So this ratio applies whether you are using volume or weight measurements! Korean sticky rice (chapssal) is a short-grain variety of rice, but you can use any kind of sticky rice here. I like the results with Thai long-grain sticky rice too. Btw, sticky rice = sweet rice = glutinous rice. It goes by a lot of different names, but they all work for this recipe.
Other essential ingredients are chestnuts and jujubes (also known as Chinese dates or red dates. Not the Medjool or Deglet Noor dates you use to make date bars or peanut butter stuffed dates. Jujube dates have a bright red skin and are used in traditional East Asian recipes). You can find these at any Asian supermarket. I like to use the pre-cooked and peeled chestnuts. Frozen ones work well too, just defrost them first.
7 is one of the luckiest numbers in Korea, so I decided to use seven jujubes for this recipe. I originally used seven chestnuts as well. In later experiments, I doubled the amount of chestnuts because I think it tastes better with more.
Finally, to balance the sweetness added by the chestnuts and jujubes, we add some salt. This is one of those recipes where the combination of sweet and salty really works.
Optional Ingredients
There are a few other ingredients I've seen added to chal bap as well. These are less common, but feel free to add them to make an even heartier rice:
Pine nuts
Purple rice (forbidden rice)
Kabocha squash
Black beans
Step-by-Step Process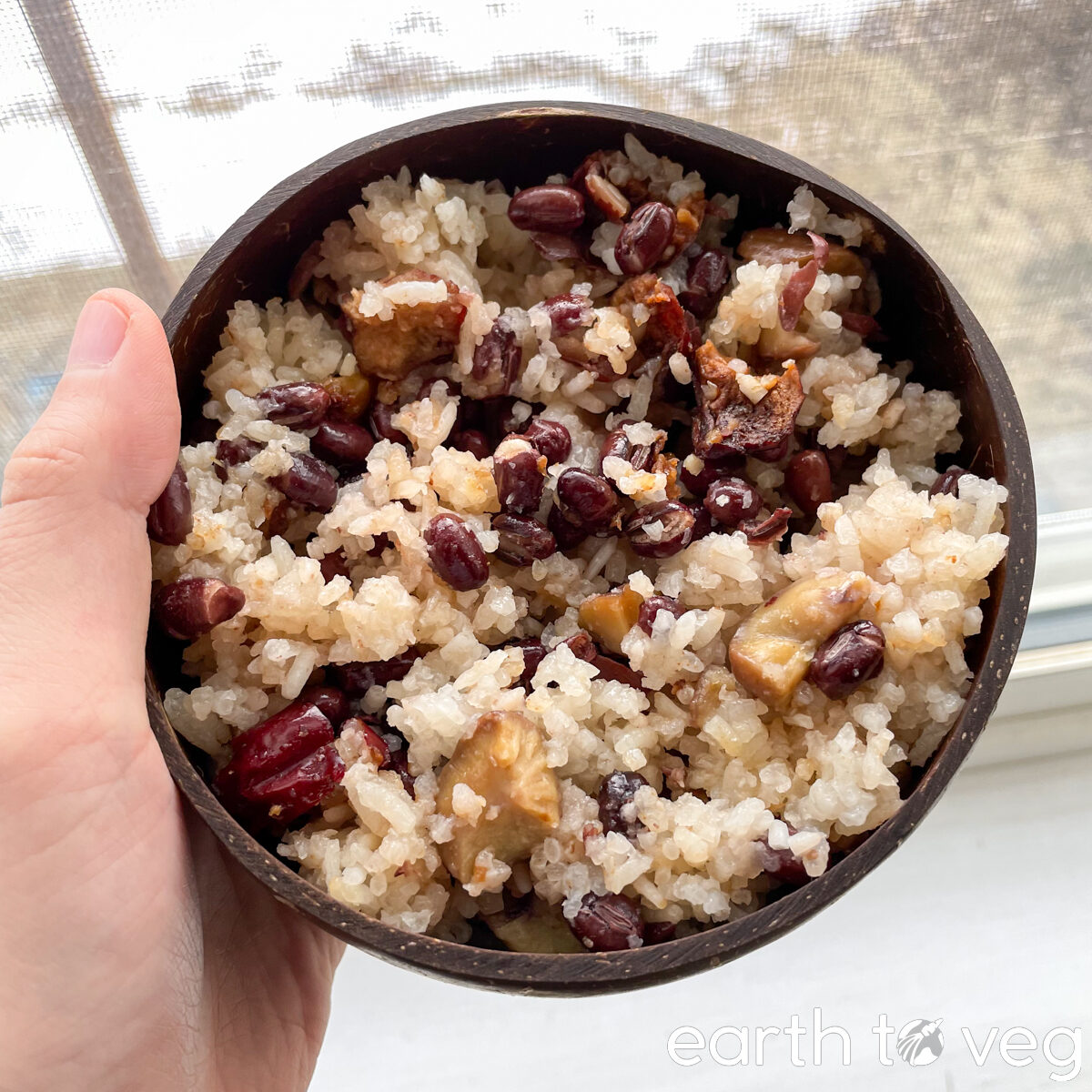 This chal bap recipe starts with cooking the adzuki beans on their own. I've tried various ways to cook the beans and rice simultaneously, but I haven't been happy with the results. The rice became overly soft and mushy, while the beans were still on the firm side. I tried soaking the beans overnight, but even that didn't help much. In the end, I think the texture is best if you cook the beans separately first.
While the beans are cooking, you can rinse your rice. You do this by running cold water over the rice, then swirling your hand through it. Pour off as much of the starch-laden water as you can (being careful not to pour out any rice grains), then repeat with fresh water. The water will look white and cloudy for the first wash, then turn clearer and clearer. Three washes is enough to get rid of most of the excess starch. After three washes, cover with more cold water and let the rice soak while you prep the other ingredients.
Cut the chestnuts into small pieces.
Cut the jujubes in half to take out the pit. Then cut each jujube into small pieces as well.
Once the beans are cooked (they should be cooked but still firm and intact), drain the cooking water. Drain the rice soaking water as well. Mix all of the ingredients. I've tested this recipe on the stove (using a Dutch oven) and in an Instant Pot, so here are instructions for both:
For the Instant Pot, it's very simple. The Rice function on your Instant Pot cooks chal bap perfectly. So just press the Rice button and let it do its thing.
For the stovetop, keep the rice covered with a lid and set it on medium heat for about 10 minutes. This brings the water to a strong boil without scorching the bottom. Then turn it down to low heat for another 10 minutes, then turn off the stove but leave the pot where it is, allowing the residual heat to cook it for another 15 minutes.
Fool-proof chal bap every time!
Make Ahead & Storage Tips
Chal bap reheats well. Like other rice dishes, it's best to keep it in the fridge and finish it within three days of cooking. If you'd like to store it for longer, freezing is also a great option.
In fact, I've recently found out that cooked-and-cooled rice contains fewer digestible calories than freshly cooked rice (due to a lil thing called resistant starch), so I actively plan for "leftover" rice now.
What to Serve with Chal Bap
A traditional Korean meal is incomplete without a rice (bap), a soup (guk), and a stew (jjigae).
So here's are three vegan guk and jjigae recipes to make along with your chal bap: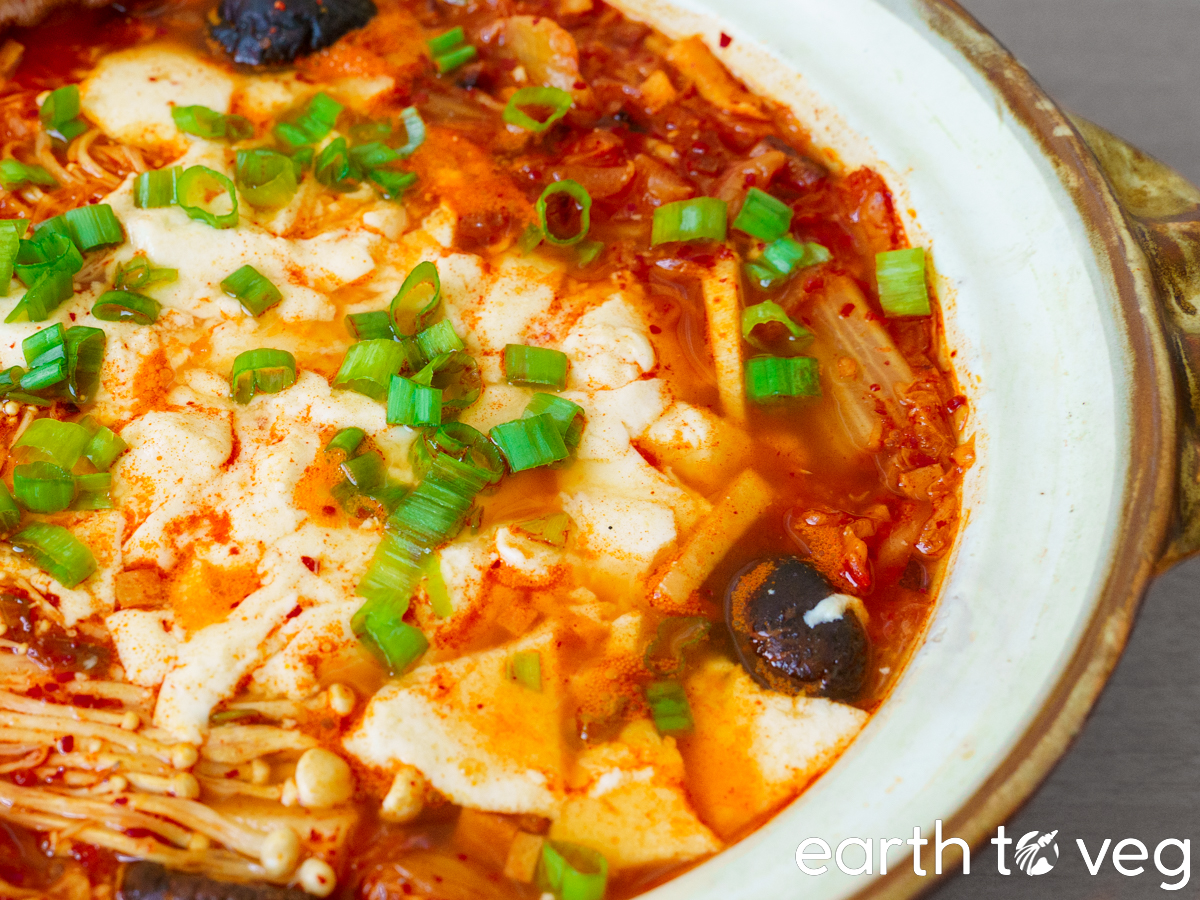 Recipe Card
Did you make this recipe? Please consider leaving a rating below to let me know how you liked it.
You can also take a picture and tag me on Instagram @earthtoveg, I will shout you out in my Stories!
Chal Bap Sticky Rice (Instant Pot or Stovetop)
Jeongwol Daeboreum (Korean full moon festival) is next week. Let's learn about chal bap, a glutinous rice and beans dish traditionally eaten on this holiday.
Print Recipe
Use Imperial/Metric buttons below to toggle between volume vs weight measurements. I recommend weighing out your ingredients for best results.
Ingredients
1

lb

cooked adzuki beans

see Note 1 if using dried beans

2

cups

uncooked sticky rice

15

peeled chestnuts

7

dried jujubes aka Chinese dates

1

tsp

fine salt or 1½ tsp kosher salt

2

cups

water
Instructions
Rinse the sticky rice at least three times to get rid of excess starch. Cover with cold water and let soak while preparing remaining ingredients.

Slice chestnuts into quarters.

Cut the jujubes open to remove the pits, then slice into quarters.

Mix together all the ingredients (beans, rice, chestnuts, jujubes, 1 tsp salt, and 2 cups water) in an Instant Pot or stock pot.

Instant Pot instructions: Secure the lid and turn vent to closed position. Press the Rice function. When the Instant Pot finishes cooking, allow pressure to naturally release for 10 minutes before releasing the remaining pressure.

Stovetop instructions: Cover the pot with a lid, then set on medium heat for 10 minutes. Reduce heat to low for another 10 minutes, then turn off the heat but leave it on the stove for a further 15 minutes before serving.
Notes
According to my beans conversion calculator, 1 lb of cooked adzuki beans ≈ 1 cup (200g) dried beans. You can cook dried adzuki beans on the stovetop (cover them with an inch of water and boil for 45 minutes) or the Instant Pot (use the Pressure Cook or Manual function on High Pressure for 30 minutes with 2 cups of water).
Nutrition
Calories:
355
kcal
|
Carbohydrates:
76
g
|
Protein:
9
g
|
Fat:
1
g
|
Saturated Fat:
0.1
g
|
Polyunsaturated Fat:
0.2
g
|
Monounsaturated Fat:
0.2
g
|
Sodium:
403
mg
|
Potassium:
304
mg
|
Fiber:
5
g
|
Sugar:
2
g
|
Vitamin A:
5
IU
|
Vitamin C:
7
mg
|
Calcium:
37
mg
|
Iron:
2
mg
SEND FOOD PICS 📸
Tag @earthtoveg or leave a comment below if you tried this recipe. It makes my day. 😊