The search for a delicious and healthy dessert or breakfast option stops here with homemade banana chocolate chia pudding. Made from nutritious chia seeds, mashed bananas, cocoa powder, and a touch of maple syrup, this creamy and decadent pudding is the perfect way to indulge your sweet tooth without sacrificing your health goals. Plus, it's easy to make and can be prepped overnight for a grab-and-go meal. With rich chocolatey flavor and plenty of fiber and protein, this banana chocolate chia pudding has become a new favorite in my meal rotation. Make it part of yours as well!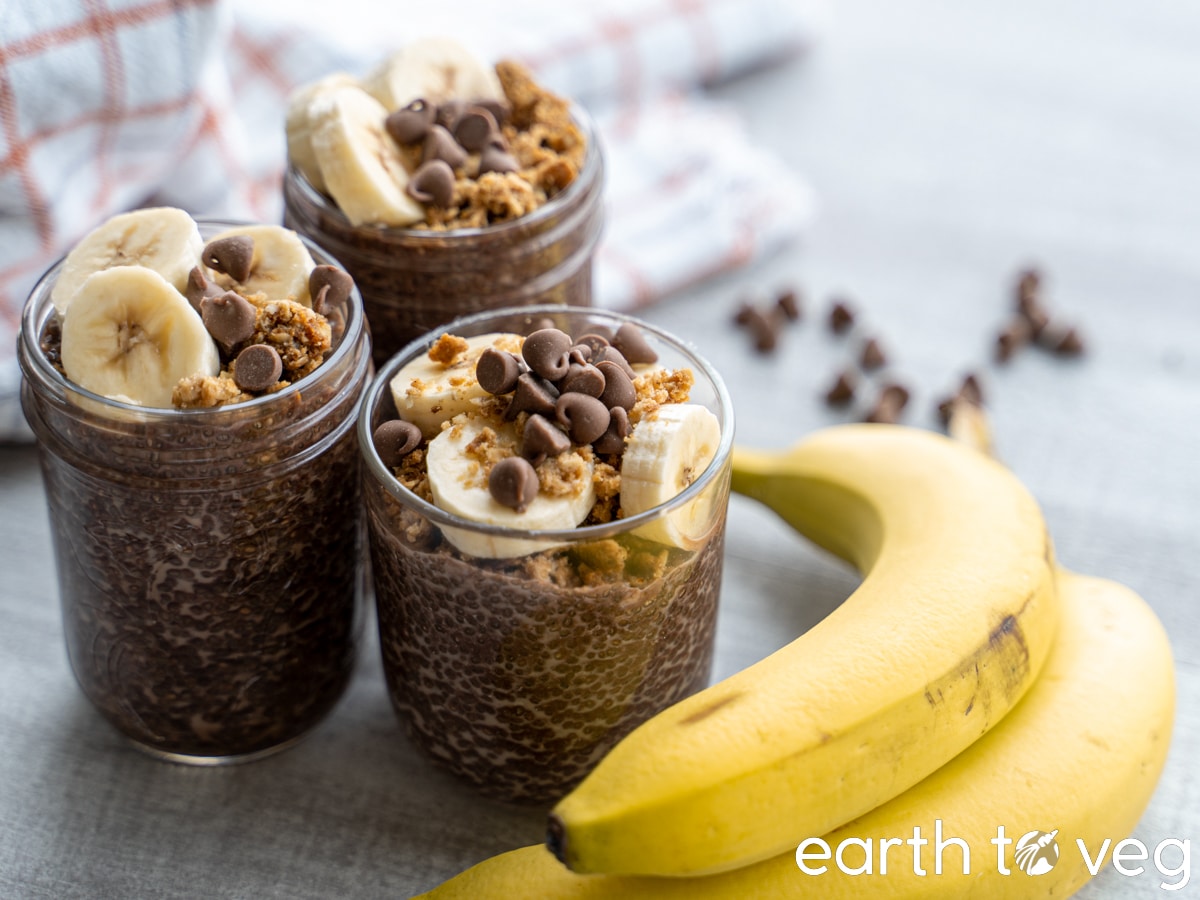 Origins
The chia seed is small but mighty. In just 1 measly tablespoon, you can find:
Fiber (4g)
Protein (2g)
Omega-3 fatty acids (2g)
Calcium (80mg)
Antioxidants galore!
Most of the world only discovered this superfood in the last few decades, but in Central and South America, where the chia seed is native, people have recognized its importance for millennia. The word "chia" comes from the Nahuatl word chian, which means oily or greasy, referring to the fat content of the seeds which made it a valuable nutrition source.
One traditional Mesoamerican recipe is chia fresca, where chia seeds are mixed with water or juice to create a refreshing beverage. Other drinks that use chia are atole and pinole, both from Mexico.
Our modern chia pudding was likely inspired by some of these early culinary feats!
What Makes the Best Banana Chocolate Chia Pudding
When it comes to the humble chia pudding, math matters. Too much chia seed with not enough liquid? Your seeds won't be fully hydrated and you're left with a dry and unsatisfying mush. Too little chia? A soupy mess. Too much cocoa powder? Bitter. Not enough cocoa? You'll miss the rich chocolatey taste.
I had to run my own experiments to decide for myself what the best. After testing the recipe dozens of times with varying ingredient ratios, I found what I think is the perfect combination. This chia seed pudding is:
Single serving (makes enough for one light meal or large snack)
Sweet but not overwhelmingly so (best for a healthy breakfast)
Big banana flavour (surely that's why you're searching for chocolate banana chia pudding?)
Chocolatey as hell (between the cocoa powder and chocolate chips, we're doubling up on the chocolate here)
Made right in the mason jar (less dirty dishes is always a good thing)
Most importantly: THICK (no one likes a soupy pudding!)
What You'll Need
Let's take a look at the ingredients for this chocolate chia pudding. You'll only need 6 ingredients to make it:
Chia seeds — Because of their high fiber content, chia seeds become gelatinous when hydrated and are able to absorb up to 12 times their weight in liquid! That makes them ideal for thickening up recipes like this chocolate banana pudding. They are also documented to promote a feeling of fullness, which is perfect for satisfying your morning hunger.
Cocoa powder — I prefer Dutch processed cocoa as it has a stronger cocoa flavour, but natural cocoa works a treat too.
Banana — Use the smallest banana you got, that's enough for this recipe.
Maple syrup — Just a tiny amount to bring it to the right sweetness. You won't taste much maple flavour in the final product. You can use any other sweetener you'd like: I've made this pudding with granulated stevia, pekmez, brown sugar… you name it.
Milk — I use homemade soy milk, but you can use your favourite milk here. Chocolate milk would go over fantastically here.
Chocolate chips — Personally I like sweetened chocolate chips for a little extra hint of decadence, but I've also made this with semisweet "baking chocolate" chips. Cacao nibs are another good option. Or even try a chopped-up chocolate bar.
Step-by-Step Process
I recommend making this recipe in a half-pint mason jar (8 ounces or 1 cup capacity). It's just the right size to hold the pudding. You can assemble the ingredients right in the jar to minimize cleanup.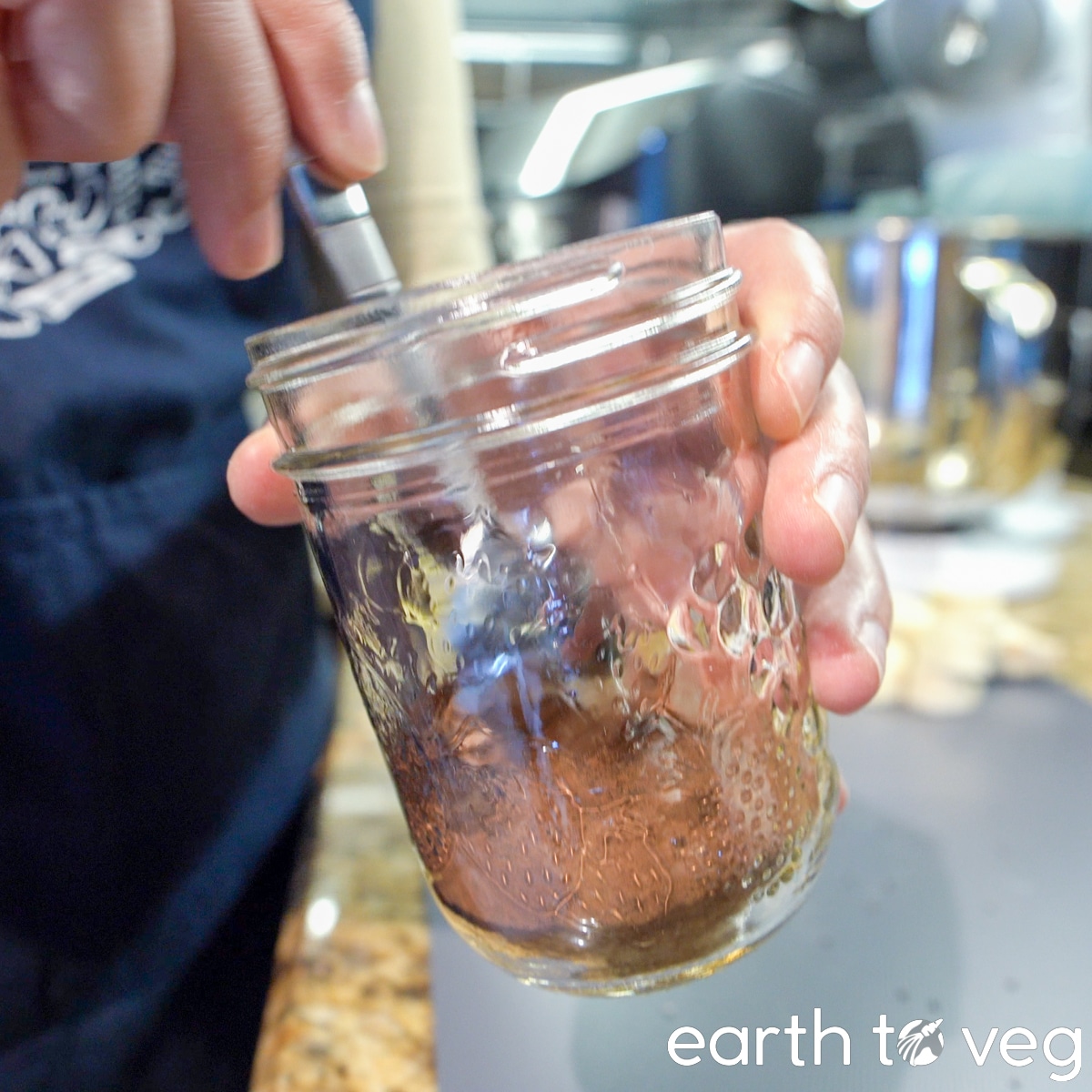 Step 1: Mix together the chia seeds and cocoa powder. It's important to mix really well to eliminate any lumps in the cocoa. Once you add the wet ingredients, those lumps become so difficult to get out.
Step 2: Add in half of your banana. Mash it right in the jar by squishing it against the bottom and sides of the glass (the riper the banana, the easier this is). A rough mash is fine; no need to get it super smooth.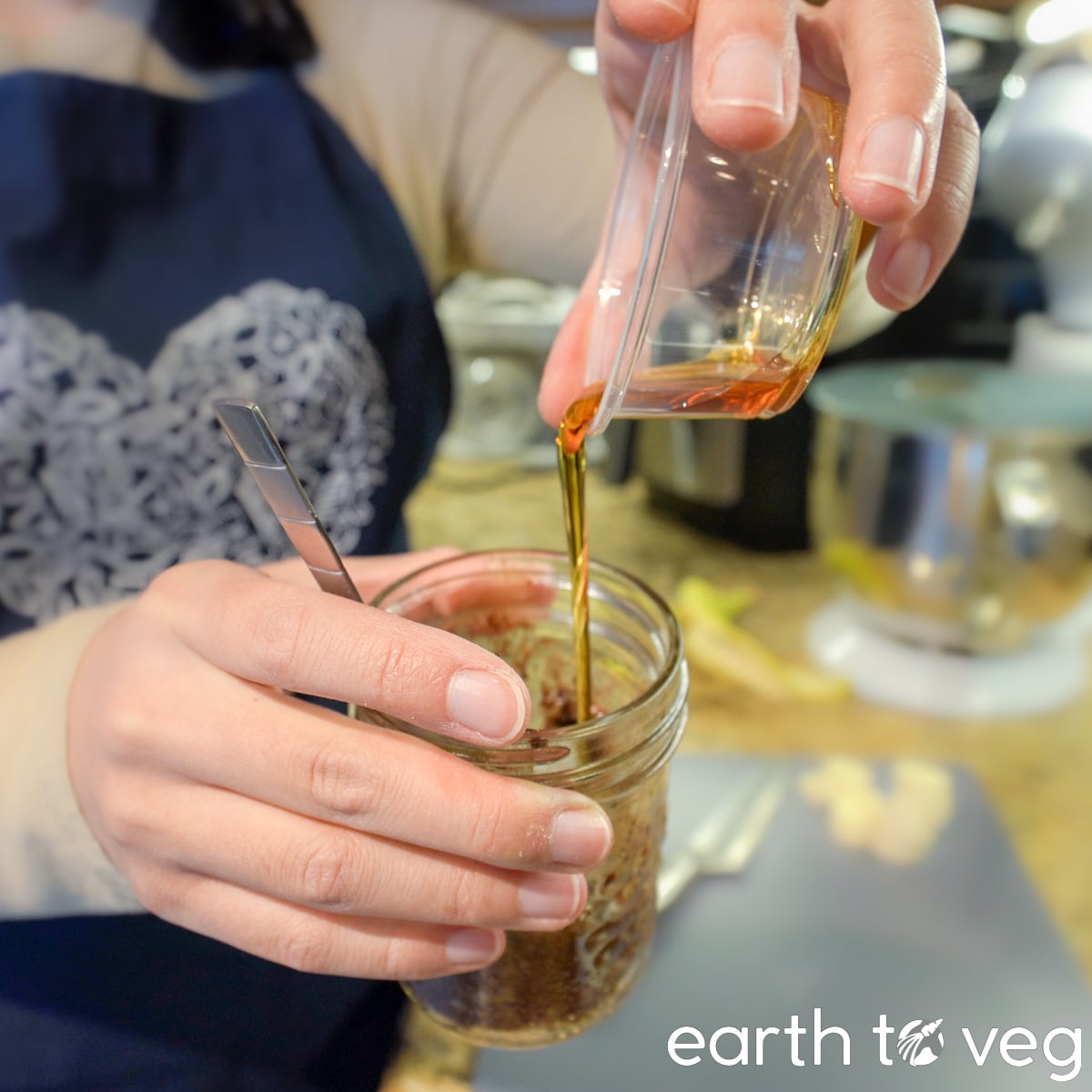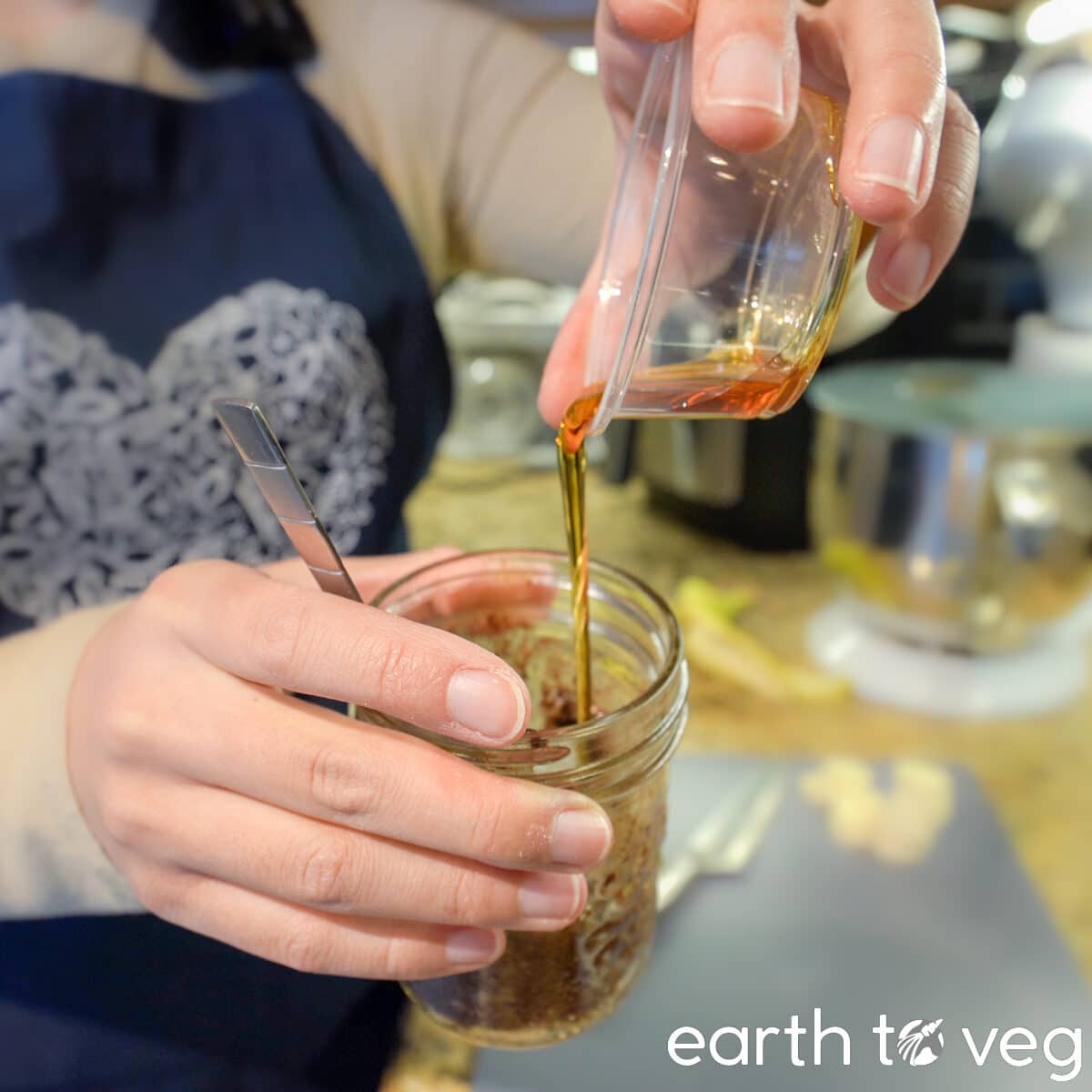 Step 3: Next, add the maple syrup and stir to combine everything in the jar.
Step 4: Pour in milk and stir to make sure everything is distributed evenly and there are no clumps stuck on the bottom of the jar.
Step 5: Refrigerate for at least four hours, or—if meal prepping—up to two days. The chia seeds will hydrate and swell, thickening the chia pudding into a firm gel.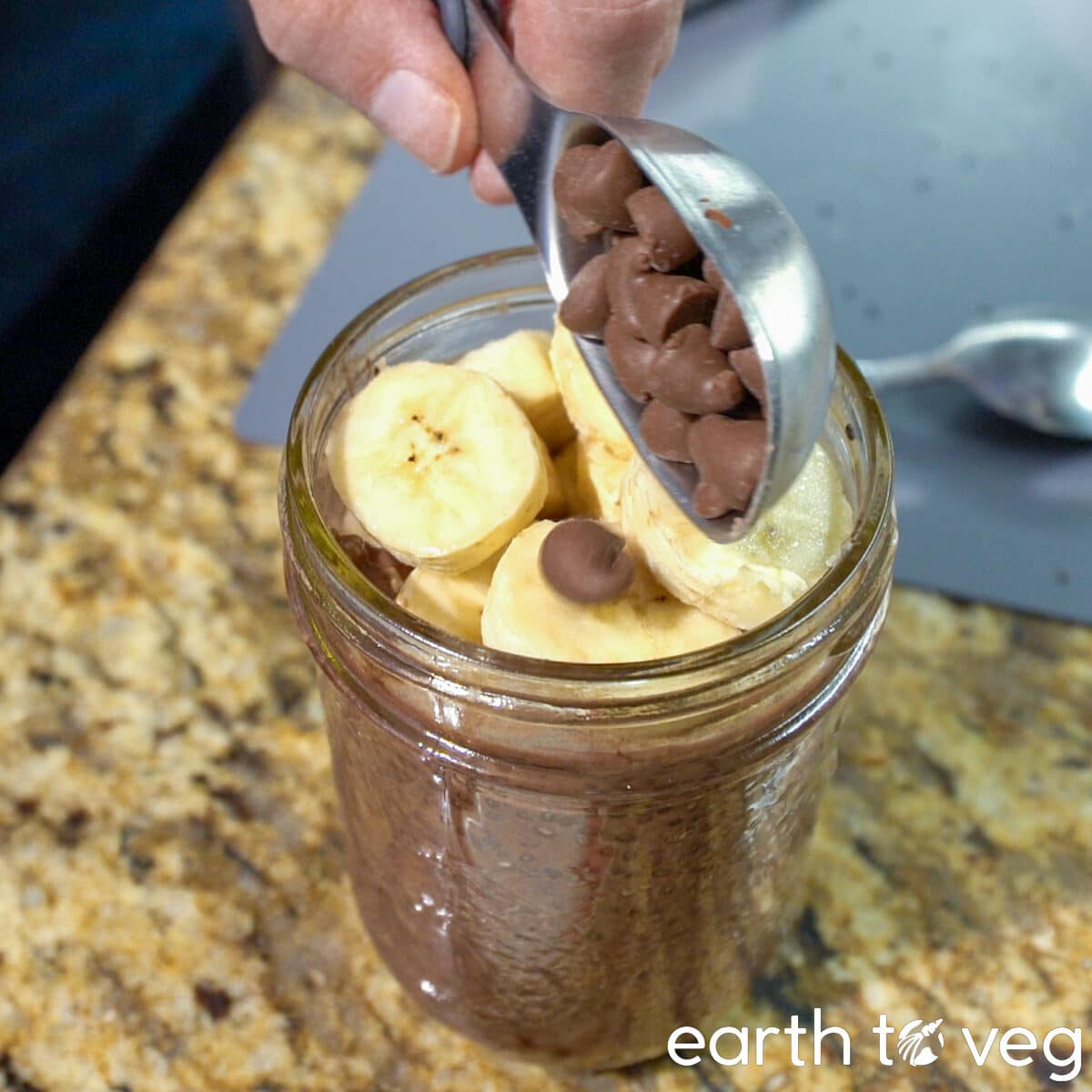 Step 6: When ready to eat, take the remaining half of your banana and cut it into slices. Top with banana slices and chocolate chips… and enjoy!
Make Ahead & Storage Tips
This chocolate banana chia pudding is safe to keep in the fridge for five days, but is best consumed within two days. Any longer than that, and I find the banana flavour isn't so fresh anymore.
Flavour Variations
For the ultimate wake-me-up breakfast, mix 1 tsp of instant coffee or espresso powder into each jar.
If you're more into maple than banana, replace the mashed banana with 1/2 tbsp of maple syrup. Top off the pudding with maple cream instead of sliced bananas.
Toppings
Here are some creative ideas for topping your banana chocolate chia pudding and making each breakfast a unique one. (I recommend adding the toppings right before eating so they don't have a chance to get soggy.)
Granola or trail mix
Crumbled bits of stale chocolate chip cookies
Coconut flakes
Maple cream
Chopped roasted nuts
Your favourite cereal
Pumpkin seeds
If you have a tasty flavour variation or topping for chia pudding, please let me know! Post a comment so I can add your idea to this post and help future readers.
Recipe Card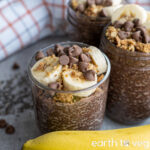 Banana Chocolate Chia Pudding
This supercharged banana chocolate chia pudding is packed with protein and fibre, is easy to make, and can be prepped overnight for a quick grab-and-go meal.
Print Recipe
Ingredients
2

tbsp

chia seeds

½

tbsp

cocoa powder

1

small banana

½

tbsp

maple syrup

*can sub with sweetener of your choice

½

cup

Homemade Soy Milk

*can sub with any milk of your choice

1

tbsp

chocolate chips or cacao nibs
Instructions
In a mason jar, add

2

tbsp chia seeds and

1/2

tbsp cocoa powder. Mix until there are no lumps to be seen.

Roughly mash half of the banana into the jar. Add

1/2

tbsp maple syrup and mix well with the chia seeds and cocoa powder.

Pour in

1/2

cup of soy milk. Stir until everything is well combined, with nothing stuck at the bottom of the jar.

Cover the jar with a lid or plastic wrap. Refrigerate for at least four hours, or up to two days.

When ready to eat, top with remaining banana slices and chocolate chips (see Toppings for more ideas).
Nutrition
Calories:
300
kcal
|
Carbohydrates:
42
g
|
Protein:
9
g
|
Fat:
13
g
|
Saturated Fat:
3
g
|
Polyunsaturated Fat:
6
g
|
Monounsaturated Fat:
2
g
|
Trans Fat:
0.04
g
|
Cholesterol:
1
mg
|
Sodium:
51
mg
|
Potassium:
637
mg
|
Fiber:
11
g
|
Sugar:
20
g
|
Vitamin A:
315
IU
|
Vitamin C:
7
mg
|
Calcium:
300
mg
|
Iron:
3
mg
Did you make this recipe? Please consider leaving a rating and comment below to let me know how it went.
You can also take a picture and tag me on Instagram @earthtoveg #earthtoveg, I will shout you out in my Stories!