The Full English Breakfast, aka Fry Up, is Britain's most iconic breakfast. This is your guide to cooking an authentic Vegan Fry Up, loaded with sausage, eggs, mushrooms, beans, and more. Rich, hearty, but not overly greasy. It's plant-based breakfast done right!
What You'll Need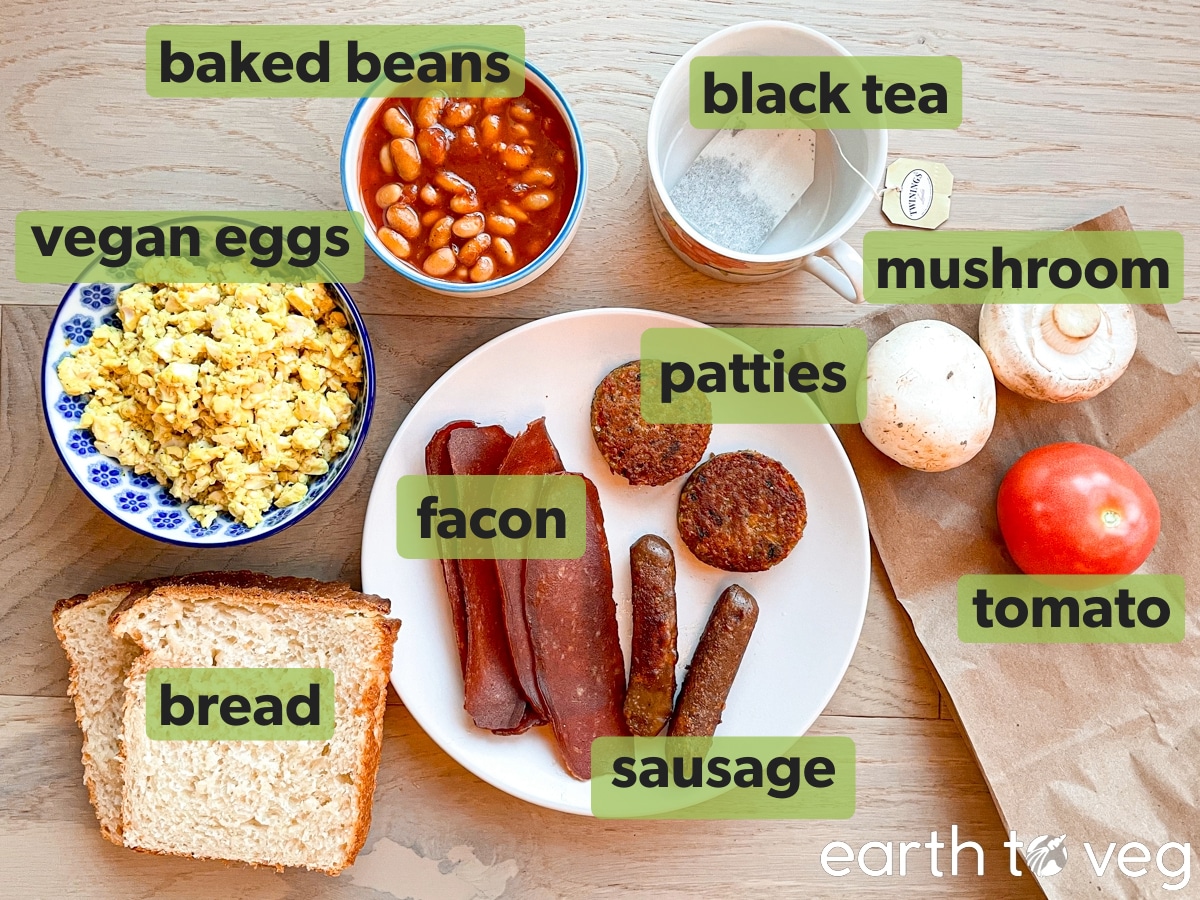 A few important notes on some of the ingredients used in this Vegan Full English Breakfast recipe:
Vegan Butter: Butter, not oil, is the way to go here.
Button Mushrooms: The most common mushrooms in a fry up are button mushrooms, sautéed or roasted, and lightly seasoned with salt and pepper. They're nice and meaty but still provide a lighter contrast to the hearty mock meats further down the list.
Tomato: Just like mushrooms, tomatoes are critical to balance the richness of the rest of the breakfast. A stewed tomato is a good choice, but I like to simply slice the tomato in half and broil it with a tiny pat of butter, then finish with a sprinkle of black pepper—a quick and delicious approach.
Baked Beans: If you've spent any amount of time in the UK, you know that baked beans are the cornerstone of a British breakfast. A can of Heinz baked beans is the traditional choice, and it's both vegetarian and vegan. But feel free to make your own homemade version, too. Just remember, British baked beans are very different from American baked beans.
Toast or Fried Bread: You can use plain old toast, but for the ultimate vegan fry up, try fried bread instead. I prefer to use my Homemade Sandwich Bread here. A thick slice of bread drenched in butter and toasted until golden, what's better than that?! Just one or two slices are enough to satisfy your craving.
Did you know: Other variants of the Full English, such as the Full Irish or the Ulster Fry, use different breads such as soda bread or potato farls. Check out the Regional Variations below for more info on the different versions within Britain and Ireland.
Vegan Breakfast Patties, Bacon, and Sausage: To replicate the classic greasy spoon breakfast, we need all the mock meats. Bacon and sausage are essential parts of a fry up. I love the flavour of Beyond Breakfast Sausages, but I also like Yves Breakfast Links for a cheaper option. Or make your own Vegan Sausages with gluten flour. For bacon, I've tried Lightlife Smart Bacon but wasn't very impressed; I recommend their Tempeh Bacon instead. Blood sausage is also a popular addition to the traditional fry up, but for a vegan option I'd opt for vegetarian breakfast patties. You can use Beyond Breakfast Sausage Patties or the healthier Big Mountain Breakfast Bites.
Scrambled Tofu or Just Egg: Eggs in a Full English Breakfast come in all variations. I usually do a Simple Tofu Scramble, but occasionally splurge on Just Egg. Or you can opt for a sunny side up vegan egg (I like the PPK Fried Tofu Egg recipe).
Ketchup or Brown Sauce: Couple your vegan fry up with some ketchup or HP sauce at the table so you can drizzle it over your breakfast, as needed.
For a full list of ingredients and quantities, refer to the recipe card at the bottom of this post.
Tip from the Kitchen: Full English breakfast comes in massive portions, so make sure you have a big plate ready. Or serve it right in the skillet for a more rustic presentation.
Regional Variations
Full Irish: The traditional breakfast of Ireland is similar to the Full English, but is served with some kind of potato bread (boxty, potato farls, or fadge are all good options).
Full Scottish: Scotland's version of the fry up includes black and white puddings, square sausage, and sometimes haggis. It's also common to find tattie scones (potato scones) on your plate.
Welsh Breakfast: A full Welsh breakfast is basically the same as an English breakfast, with the unique Welsh addition of laverbread. Laver is a type of seaweed that grows on Wales' coasts, which is then cooked into a soft purée to make laverbread.
Ulster Fry: Ulster is a region in the north of Ireland. The Ulster Fry substitutes fried bread for soda farls (which is Soda Bread cut into quarters and fried in a skillet) or potato farls. It also includes vegetable roll which is a traditional Northern Irish sausage.
Make Ahead & Storage Tips
Traditional English breakfast should be eaten hot and fresh. However, you can prepare most of the elements in advance, like the beans, mushrooms, and tofu eggs. Store them separately in the fridge for up to three days. When it's breakfast time, you just need to heat them up in a skillet together to make a quick and tasty breakfast.
What to Serve with a Full English Breakfast
Tea is the classic beverage to have with a Full English Breakfast. Most prefer a strong black tea to cut through the rich and meaty meal. Tea is very ingrained in British culture and many see it as a daily ritual, so it's the no-brainer choice to accompany any fry up.
Ever heard of the English breakfast tea? This tea blend was supposedly created as a strong tea to balance out the heavy flavours of a traditional British breakfast!
Recipe FAQs
What should be included in a full English breakfast?
The 6 core ingredients in a traditional English breakfast are baked beans, toast or fried bread, sausage, bacon, mushroom, and egg. However, it's also common to see add-on's like tomatoes, breakfast patties, black puddings, potatoes, hash browns, and an accompanying condiment like ketchup or HP sauce.
How many calories in a vegetarian full English breakfast?
Full English breakfast is generally served in big quantities, so expect a hefty plate. One large plate of my vegetarian full English breakfast recipe clocks in at 883 calories.
What can you put on a fry up?
A British fry up can be enhanced with various condiments. Classic choices include ketchup or brown sauce (such as HP sauce), which provide a tangy flavor to cut through the greasy foods. Some people also like some extra ground black pepper and hot sauce at the table to help themselves. But ultimately, what you put on a fry-up is up to you, after all, it's your breakfast! No judgement!
More British and Irish Recipes
Recipe Card
Did you make this recipe? Please consider leaving a rating below to let me know how you liked it.
You can also take a picture and tag me on Instagram @earthtoveg, I will shout you out in my Stories!
Ultimate Vegan Fry Up (Full English Breakfast)
Servings:
1
massive serving
Plant-based full English breakfast done right! This is your guide to cooking an authentic vegan fry up: it's full of sausage, eggs, mushrooms, beans, and more.
Print Recipe
Use Imperial/Metric buttons below to toggle between volume vs weight measurements. I recommend weighing out your ingredients for best results.
Instructions
First, if using homemade baked beans and eggs, make these first and have them ready to go before you start the rest of the recipe. You can also prepare them a day ahead of time and store in the fridge until you're ready to assemble the dish.

Slice the tomato in half and sprinkle with salt and pepper. Put a little bit of butter on each slice and slide them under the broiler until they're hot and steaming and soft, but still hold their shape. Set aside.

Melt vegan butter in a large skillet on medium-high heat. Add the breakfast patties, sausages, and bacon and fry, turning occasionally, until browned on all sides.

Meanwhile, chop the button mushrooms into quarters.

Make some space in the middle of the pan and throw down a slice of bread. Beside it, add the chopped mushrooms. Turn down the heat and gently sauté the mushrooms until they are cooked. Flip the bread halfway through so that both sides are golden brown.

Transfer all ingredients to a large plate and serve with some ketchup or HP sauce on the side.
Nutrition
Calories:
883
kcal
|
Carbohydrates:
76
g
|
Protein:
68
g
|
Fat:
34
g
|
Saturated Fat:
7
g
|
Polyunsaturated Fat:
13
g
|
Monounsaturated Fat:
12
g
|
Trans Fat:
0.1
g
|
Cholesterol:
13
mg
|
Sodium:
2636
mg
|
Potassium:
1641
mg
|
Fiber:
19
g
|
Sugar:
12
g
|
Vitamin A:
1980
IU
|
Vitamin C:
22
mg
|
Calcium:
355
mg
|
Iron:
32
mg
SEND FOOD PICS 📸
Tag @earthtoveg or leave a comment below if you tried this recipe. It makes my day. 😊