Three ingredients, all fruit and vegetables, no added sugar. And it's got a secret ingredient: zucchini. But don't worry, you won't taste it at all in this Fruity Zucchini Smoothie. Icy cold and refreshing, it's an easy way to get your veggies in without even turning on the stove.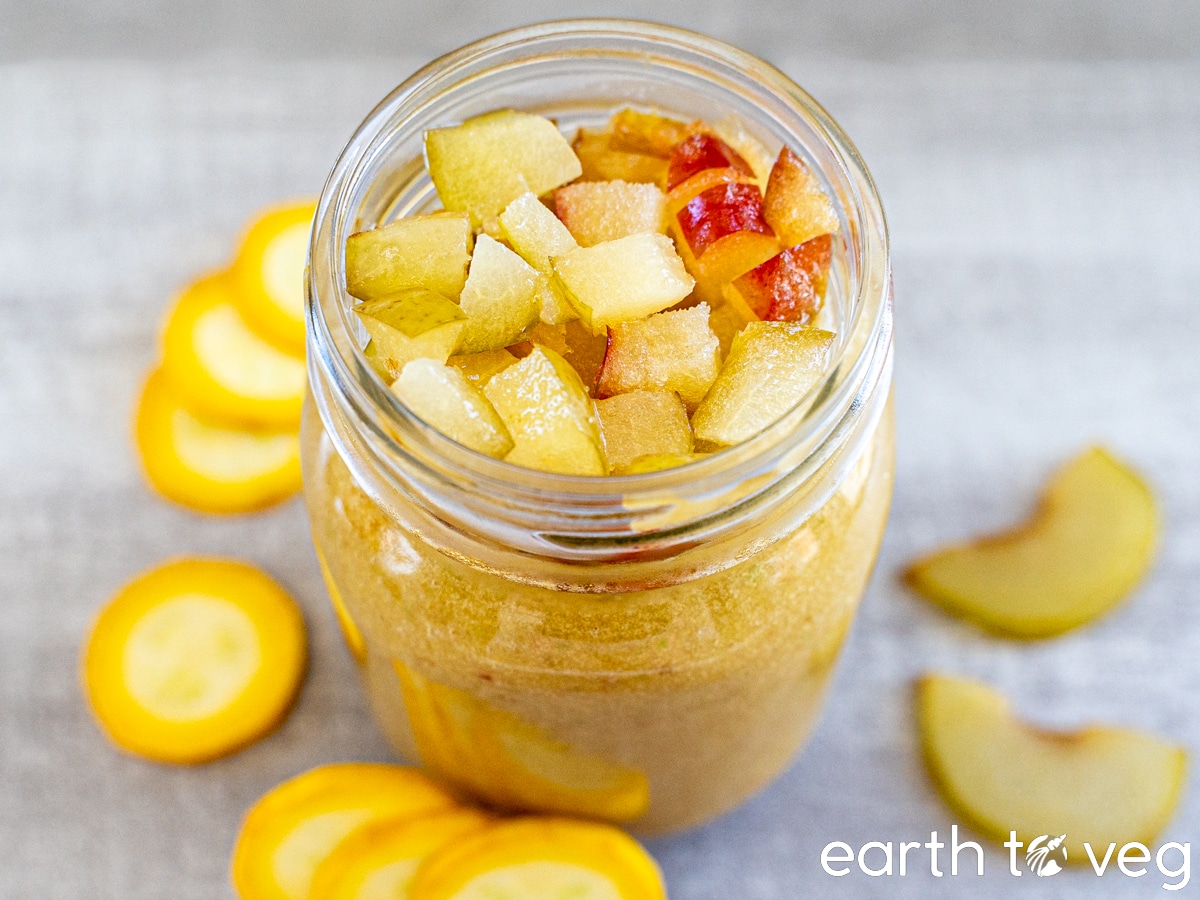 And for my Southern Hemisphere friends, hopefully it's not too cold where you're living right now to enjoy a vegan peach smoothie or two. Heck even if it is cold outside, you can still enjoy an icy cool smoothie, that's the magic of indoor heating right.
Ingredients + Substitutions
You need just a few ingredients to make this quick and healthy peach smoothie:
Frozen fruit: I have used a combination of mango, plums, peaches, bananas, and apples in this recipe. Pretty much all fruit works well, but keep in mind that frozen berries (like blueberries and raspberries) are not very sweet. You'll want to add some sweetener if you're using berries, or just throw in a sweeter fruit like a banana.
Zucchini: I know what you're thinking, why the heck is this girl putting vegetables into her drinks like some kind of hippie? But that zucchini just disappears into the smoothie, I promise you won't taste it at all. (Before you ask, yes, it did pass the boyfriend taste test. Kevin, who normally hates zucchinis, had no idea he was drinking pureed zukes.) And it's a great way to diversify your veggie intake too.
Water: Either regular filtered water or coconut water both work great.
Note: The exact ratios for each ingredient doesn't matter. More fruit here, less zucchini there, won't hurt. Just make sure you use about an equal mix of liquid and fruit, otherwise the blender might have trouble blending everything (due to cavitation).
Flavour Variations
Substitute the apple for Mango for a tropical vibe.
Use Coconut Water in place of water for a sweeter taste.
Replace water with Soy Yogurt for a thicker, tangy smoothie (perfect for smoothie bowls).
Another way to turn this into a thick and creamy base for smoothie bowls is to blend in 1/2 cup of Silken Tofu.
Step-by-Step Process
Step 1: Throw all the ingredients into a blender (with frozen items on top).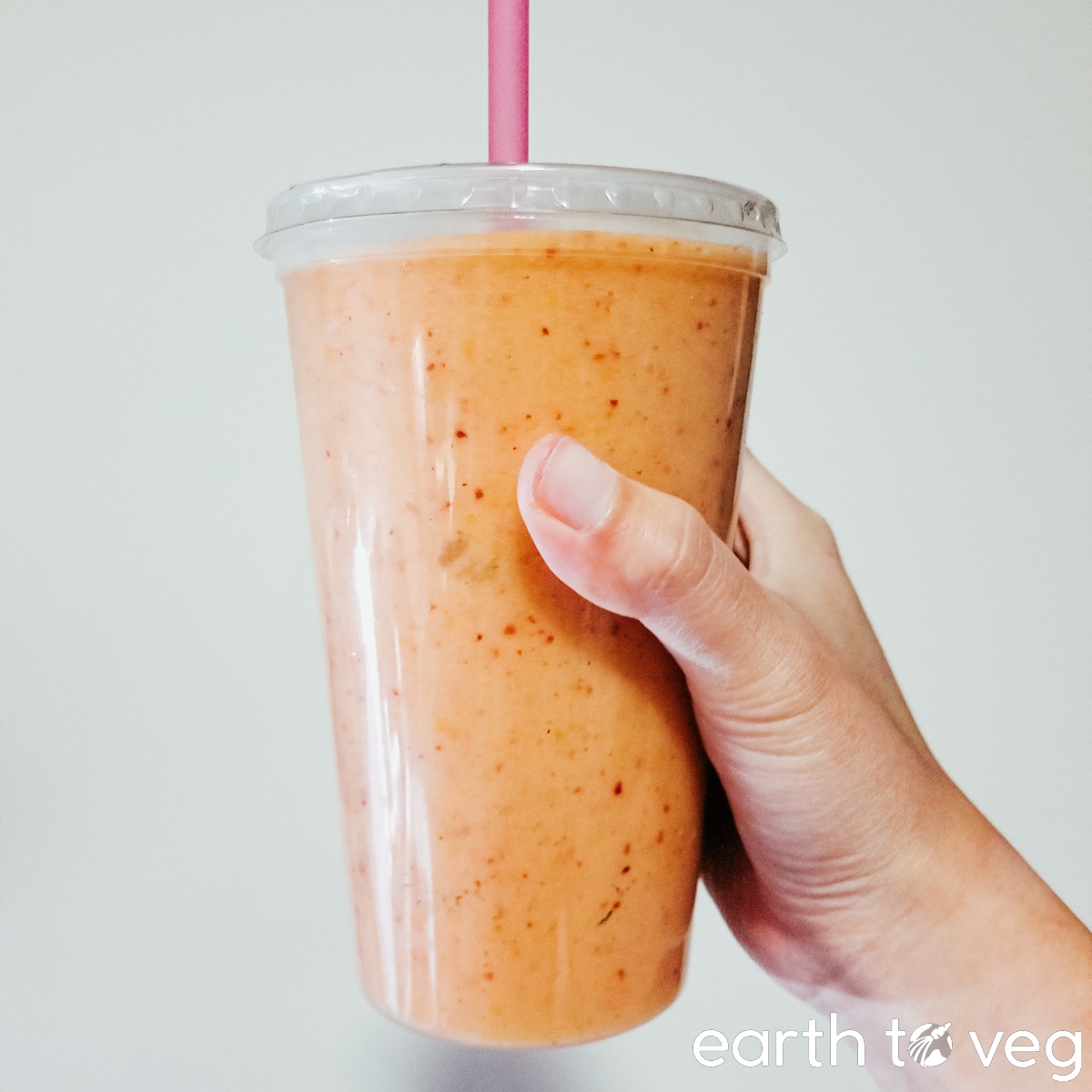 Step 2: Blend on high speed for about a minute. Some blenders come with a pre-set Smoothie mode, so you can use that too.
Blender Recommendations
Vitamix and Blendtec are the gold standard of home blenders, so you can't go wrong with either of those. I've tested this zucchini smoothie in my Vitamix and my parents' Blendtec, and the performance feels the same.
For one serving of this recipe, the Vitamix Personal Cup (20oz) and Blendtec Twister Jar (37oz) are the ideal size.
If you're doubling this recipe or tripling it, size up to the regular blender jar.
Make Ahead & Storage
I do not recommend making this smoothie ahead of time! For best results, drink it immediately after blending. Over time, the ingredients in the smoothie will oxidize and the zucchini starts to give a noticeable vegetal flavour to the drink.
Recipe FAQs
What are the best vegetables to put in a smoothie?
Spinach, carrots, and zucchini are some of the best vegetables for blending into your smoothie. Spinach blends easily into smoothies. It's packed with nutrients, while its mild flavor pairs well with various fruits. Carrots add a natural sweetness and vibrant color to your smoothies. They are rich in beta-carotene, which is a source of vitamin A. Zucchini is a mild-tasting, low-calorie vegetable that blends well into smoothies, adding a creamy texture without any difference to taste.
Are smoothies with vegetables healthy?
Smoothies with vegetables can be a healthy choice, as they provide an easy and convenient way to incorporate more nutrient-rich vegetables into your diet. Smoothies that contain vegetables are nutrient-dense; higher in fiber which keeps you full for longer; and importantly are very versatile and customizable. You can experiment with different vegetable and fruit combinations to create a well-balanced and flavorful smoothie.
Can fruit and vegetables be blended together in the same smoothie?
Absolutely! Blending fruits and vegetables together in the same smoothie is a fantastic way to maximize your nutrient intake and create a well-rounded and nutritious beverage. Combining fruits and vegetables allows you to benefit from a wide range of vitamins, minerals, antioxidants, and fiber in a single serving.
Can you put raw vegetables in a smoothie?
Yes, you can definitely put raw vegetables in a smoothie, such as baby spinach or zucchini. In fact, using raw vegetables in smoothies is a popular and convenient way to incorporate them into your diet while retaining their nutritional value. Raw vegetables offer a range of health benefits, including vitamins, minerals, fiber, and antioxidants, some of which are lost during the cooking process.
More Smoothie Recipes
Recipe Card
Did you make this recipe? Please consider leaving a rating below to let me know how you liked it.
You can also take a picture and tag me on Instagram @earthtoveg, I will shout you out in my Stories!
Fruity Zucchini Smoothie
Throw zucchini into your smoothie to add extra creaminess and some hidden veggie goodness. You won't taste it at all in this sweet and fruity snack shake.
Print Recipe
Use Imperial/Metric buttons below to toggle between volume vs weight measurements. I recommend weighing out your ingredients for best results.
Ingredients
1

cup

frozen fruit

mango, plums, peaches, bananas, apples… any and all fruit!

1

cup

zucchini

½

cup

coconut water

*can sub with regular filtered water
Instructions
Throw all the ingredients into a blender (with frozen items on top).

Blend on high speed for 30–45 seconds. Some blenders come with a pre-set Smoothie mode, so you can use that too.
Nutrition
Calories:
112
kcal
|
Carbohydrates:
25
g
|
Protein:
3
g
|
Fat:
1
g
|
Saturated Fat:
0.3
g
|
Polyunsaturated Fat:
0.2
g
|
Monounsaturated Fat:
0.2
g
|
Sodium:
136
mg
|
Potassium:
849
mg
|
Fiber:
5
g
|
Sugar:
21
g
|
Vitamin A:
758
IU
|
Vitamin C:
39
mg
|
Calcium:
57
mg
|
Iron:
1
mg
SEND FOOD PICS 📸
Tag @earthtoveg or leave a comment below if you tried this recipe. It makes my day. 😊