Both the frosting and batter for this Blender Chocolate Cake are made in, you guessed it, the blender. Make the chocolate frosting first, then you don't even have to rinse out the jar to blend the cake batter. No need for multiple bowls or extensive mixing—just blend, pour, bake, and devour.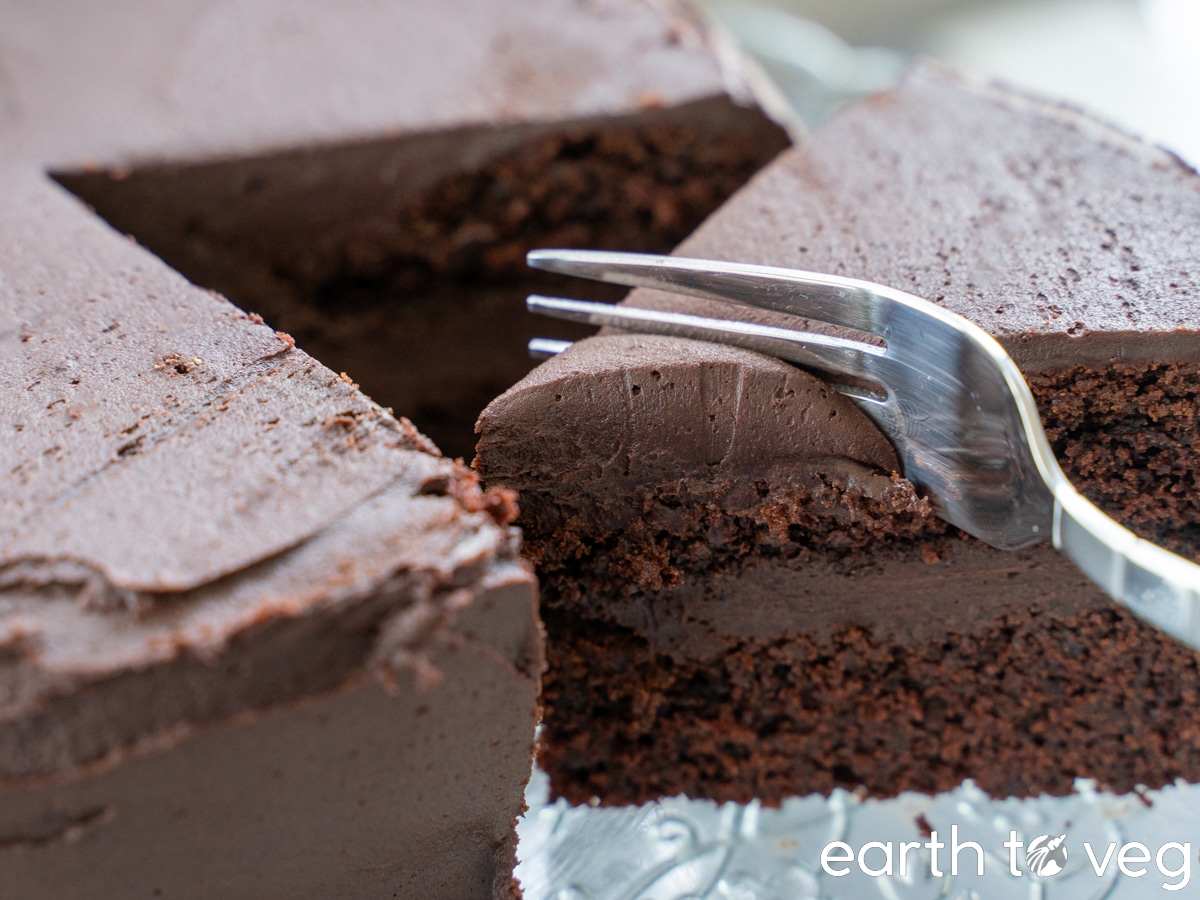 Why This Recipe Works
Moist and tender: This cake has a high moisture content, which guarantees that the taste is super rich. The ingredients are thoroughly combined with the power of the blender, lending to a consistent texture and satisfying bite with every slice.
Effortless: The beauty of this blender chocolate cake recipe lies in its simplicity. Both the frosting and cake batter are made in the blender. Make the frosting first, and then use the same jar to blend the cake batter—no washing required in-between!
Foolproof mixing: It's easy to over-mix cake batter in a blender, but I upped the liquid content to minimize gluten development, so the cake won't be tough or chewy at all. Instead, it's lovely and moist without being too dense.
History & Origins
During college, one of my go-to desserts to make was "Chocolate Crazy Cake." It's a cheap, eggless cake invented in the 1930's that takes economical ingredients like water and vegetable oil, and turns them into a moist and tasty delight. There's conflicting theories on whether it came about during the Great Depression, or during WWII. But either way, it was a creative way for middle-class families to get around the strict food budgets and rationing of the period.
This blender cake is inspired by crazy cake. It uses slightly fancier (but still budget-friendly) ingredients to give an even richer flavour. It's a chocolate lover's dream. Better yet, it's made in the blender.
If you've ever mixed crazy cake by hand, you may have ended up with little pockets of unmixed flour in the baked cake. It's very easy for this to happen unless you are very diligent, or use an electric mixer. With a blender cake, this is far less likely to happen. And you don't even need a mixer—just your regular old smoothie blender will do. (You'll want a fairly powerful blender that can handle thick blends. At least a Ninja, but Blendtec is also good, though I personally use a Vitamix because I like that it comes with a tamper.)
Ingredients + Substitutions
Frosting:
Cake Batter: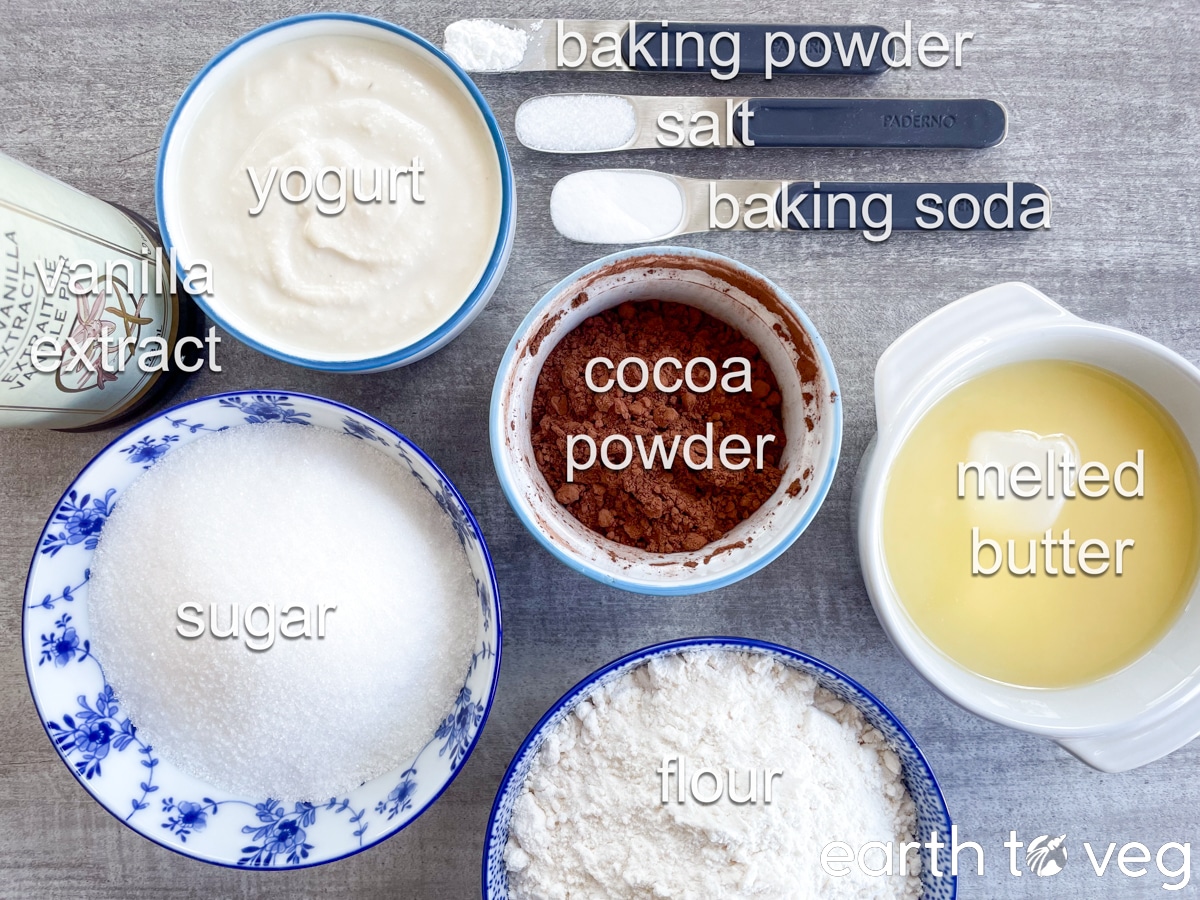 A few important notes on some of the ingredients used in this blender chocolate cake:
Yogurt: I use my homemade Vegan Cashew Soygurt. I've also had success with storebought brands like Silk, Maison Riviera, YoSo, etc. If you don't have yogurt, you can substitute an equal amount of applesauce or another fruit puree. If your yogurt is on the thicker side, substitute up to half of it with milk (I use Soy Milk) to make blending easier.
Sugar: For the frosting, icing sugar (also known as confectioner's sugar or powdered sugar) is an absolute must. Regular granulated sugar will give your icing a horrible gritty texture. For the cake batter, either brown sugar and white sugar will work, though keep in mind brown sugar is moister so you may need to bake your cake a bit longer for it to cook through. I don't recommend replacing the sugar with a zero-cal alternative; the cake will come out with a gritty, chalky texture. I haven't tested this recipe with maple syrup or agave syrup; if you do, I suspect you'll want to reduce the amount of yogurt to keep the batter from being too runny.
Margarine or vegan butter: For the frosting, make sure to use a high quality vegan butter like Earth Balance or Country Crock. I made it once using Becel margarine and it was pretty awful—the margarine flavour was strong and off-putting. Also, margarine is typically much softer than vegan butter so it won't give you the right texture for frosting. For the cake batter, though, it's a totally different story. Just use a cheap-o margarine, you won't taste much difference in the baked cake.
For a full list of ingredients and quantities, refer to the recipe card at the bottom of this post.
Flavour Variations
Substitute 1 tbsp of the cocoa powder with 1 tbsp of espresso powder for a slight coffee flavour. It also enhances the chocolatey taste of the cake.
Make Vegan Cream Cheese Frosting instead of chocolate frosting, for a result that's similar to red velvet cake.
Mix 1/2 cup chocolate chips into the cake batter to add a bit of texture and extra chocolatey flavour.
Throw in 1/2 cup of chopped nuts (walnuts, pecans, macadamia nuts all work well).
Step-by-Step Process
Step 1: Put all the frosting ingredients into a blender. Start the blender at the lowest setting, then ramp up to medium-high speed. Blend until smooth.
Step 2: Scrape out the frosting into an airtight container. Set aside while you gather the cake ingredients. Preheat the oven to 350 °F (175 °C).
Note: Depending on your blender, you may need to stop and scrape down the sides a couple times to make sure all the ingredients are incorporated. The frosting might look a little thin right after blending; don't worry. It will firm up to a nice spreadable texture by the time the cake is baked and cooled.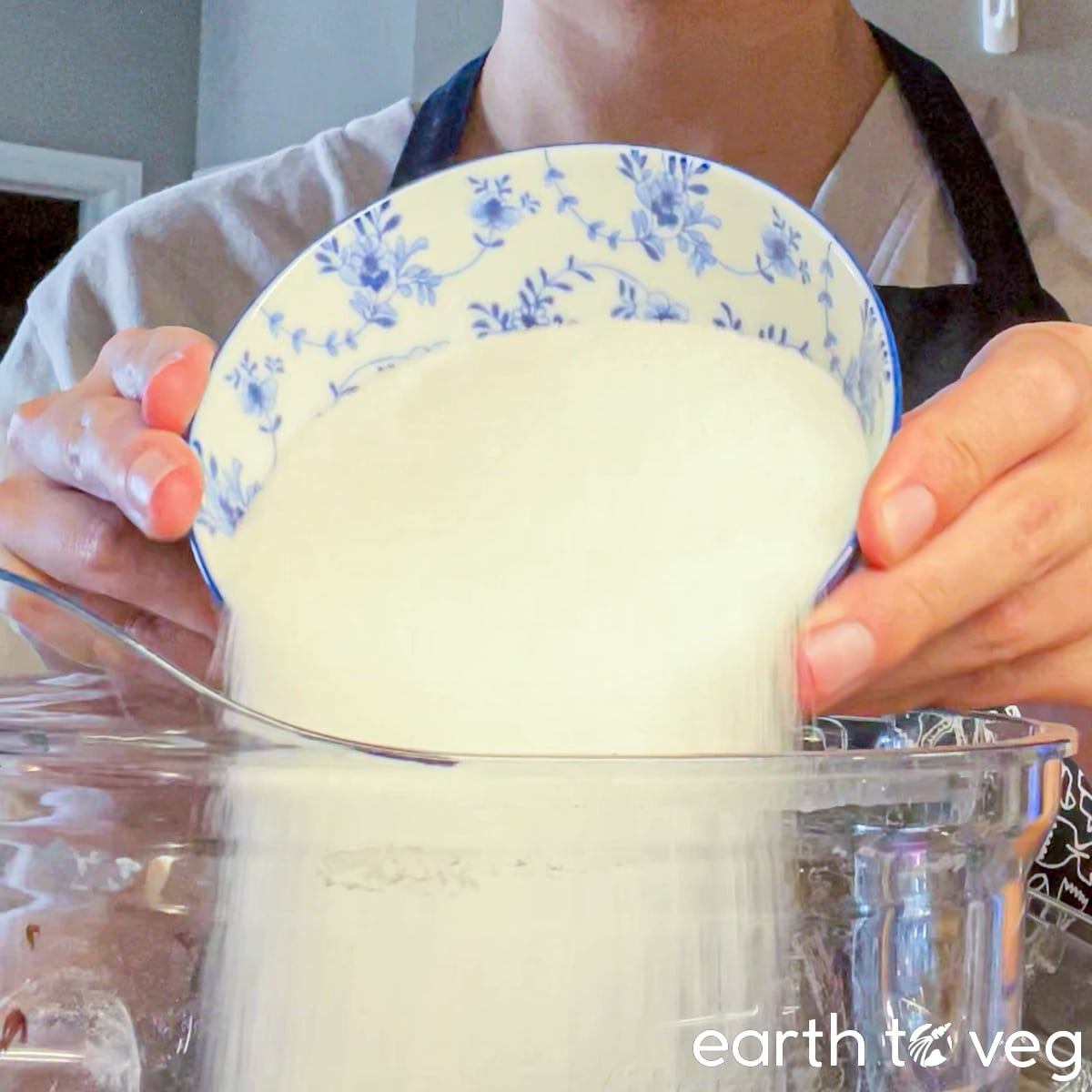 Step 3: Add all the cake ingredients (yogurt, flour, cocoa powder, sugar, salt, baking soda, baking powder, margarine, vanilla extract) to the same blender.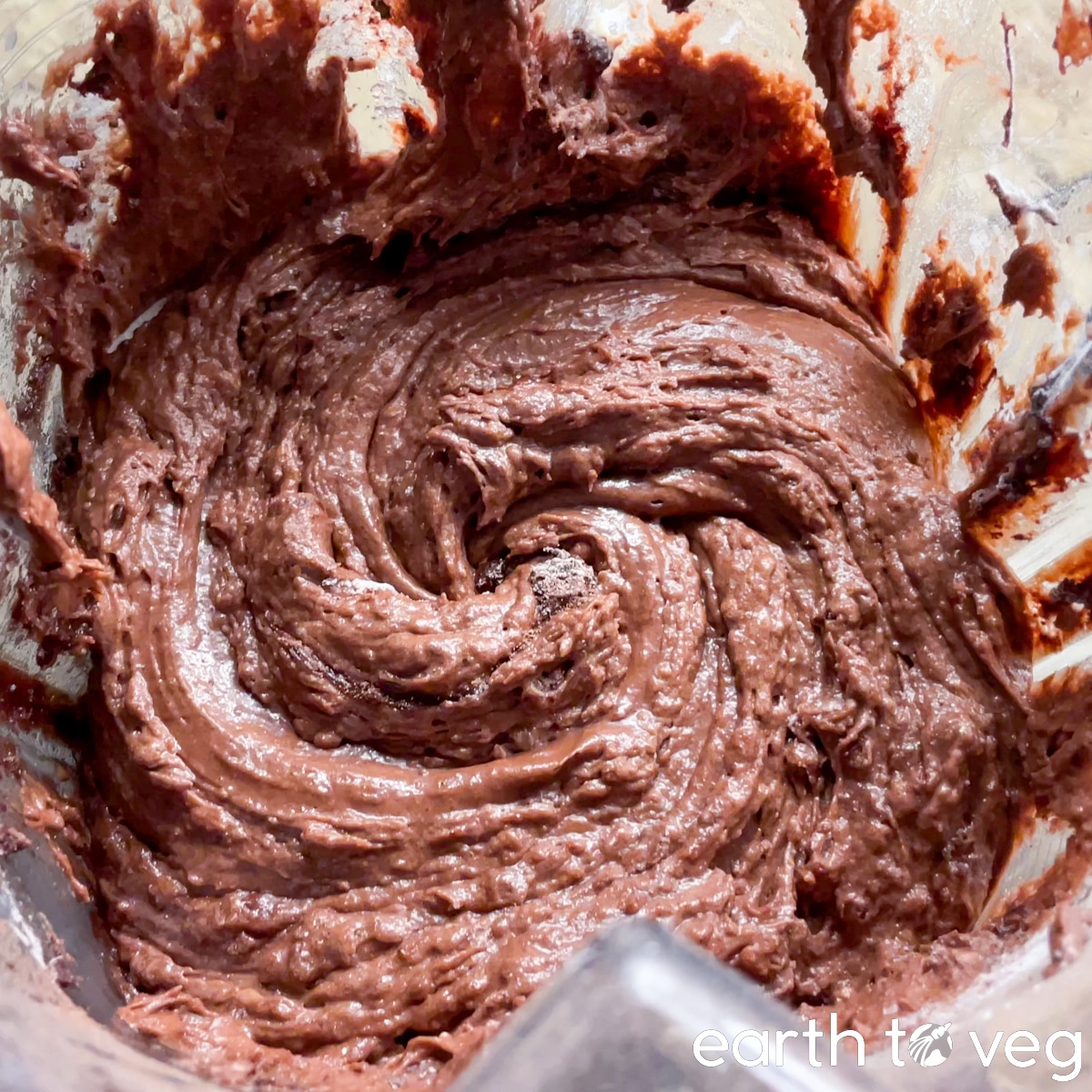 Step 4: Blend until smooth (a few small lumps are okay). Again, you may have to scrape down the sides halfway through to incorporate all the ingredients.
Step 5: Pour batter into a parchment paper-lined baking pan. Bake until a toothpick comes out clean, or a thermometer inserted into the center of the cake reaches 210 °F (100 °C). Let stand 15 minutes, then carefully turn it out onto a cooling rack.
Step 6: Once fully cooled, frost the cake and slice. (It's important to let the cake cool completely before frosting, or else the frosting will start to melt and slide right off.) Optional: Cut the cake in half and frost the middle to create a layered cake.
Tip: If your frosting is a bit too soft (depending on the butter you use, it could get slightly melted during blending), put it in the fridge to firm up while the cake cools. But make sure not to leave it in the fridge for too long or it will be too solid to spread smoothly.
Make Ahead & Storage Tips
You can make either the cake or frosting separately 1–2 days apart, then assemble it later. However, the assembled cake also keeps well in the fridge for up to a week. Just make sure to keep it tightly wrapped to prevent it from drying out.
Recipe FAQs
Can I use a blender instead of a mixer to make a cake?
Yes, you can make the cake batter using a blender. Blenders can mix the batter ingredients quickly and efficiently before transferring the mixture to a baking pan for baking in the oven. But the powerful blades of a blender can easily over-mix conventional cake batter, leading to a dense and gummy cake. For that reason, make sure to use a recipe that is specially formulated for the blender.
Can you make a cake in a Ninja blender?
You can certainly use a Ninja blender to assist in mixing the cake batter. This can help achieve a smooth and well-mixed batter quickly and efficiently. Just remember, when making a blender cake, it's important to follow a recipe that is specifically designed for mixing in the blender.
Can I use a blender to mix butter and sugar?
You sure can use a blender to cream butter and sugar. For example, my Chocolate Frosting recipe is made entirely in a blender. Simply put butter, powdered sugar, and the other frosting ingredients into the blender and blend until it's smooth and creamy.
More Unique Blender Recipes
Recipe Card
Did you make this recipe? Please consider leaving a rating below to let me know how you liked it.
You can also take a picture and tag me on Instagram @earthtoveg, I will shout you out in my Stories!
Chocolate Blender Cake
This chocolate cake is made completely in the blender. Blend the frosting first, then the batter. No need for multiple bowls. Just blend, pour, and bake.
Print Recipe
Use Imperial/Metric buttons below to toggle between volume vs weight measurements. I recommend weighing out your ingredients for best results.
Equipment
1 7- or 8-inch round cake pan

(lined with parchment paper)
Ingredients
Blender Chocolate Frosting
4 to 5

tbsp

milk of your choice

I use Homemade Soy Milk

1

tsp

vanilla extract

⅛

tsp

salt

*omit if using salted butter

2

cups

powdered sugar

aka confectioners' sugar or icing sugar

⅔

cup

cocoa powder

½

cup

butter, softened

I use Earth Balance Buttery Sticks
Blender Chocolate Cake
1

cup

yogurt

I use Homemade Cashew Soy Yogurt; see Note 1

1½

cups

all-purpose flour

¼

cup

unsweetened cocoa powder

see Note 2

1

cup

sugar

½

tsp

table salt or 3/4 tsp kosher salt

1

tsp

baking soda

½

tsp

baking powder

½

cup

margarine, melted

I use Becel Plant-Based Brick

2

tsp

vanilla extract
Instructions
Frosting
I recommend making the frosting first, so you can reuse the blender again when you make the cake batter.

Place all the frosting ingredients into the blender, in the order listed.

Secure the lid and turn on the blender, gradually increasing the speed to the highest speed.

Blend for 30–45 seconds, using the tamper to push the ingredients into the blades.

Cover the frosting with plastic wrap and put it in the fridge to firm up while you bake the cake.
Cake
Preheat the oven to 350 °F (175 °C).

To the same blender that you made the frosting, add the cake ingredients in the order listed.

Blend on medium speed for 10 seconds. Stop the blender, scrape down the sides, then blend again for an additional 5 seconds.

Pour batter into a baking pan lined with parchment paper (see Note 3).

Bake in preheated oven for 45–50 minutes, or until a thermometer inserted into the center of the cake reaches 210 °F (100 °C).

Let the cake cool completely before frosting, otherwise the frosting will slide right off.
Notes
In place of the yogurt, you can use the following substitutions:
For a richer taste, roughly chop up a 3.5oz (100g) semi-sweet chocolate bar and mix it into the batter.
Nutrition
Calories:
536
kcal
|
Carbohydrates:
82
g
|
Protein:
6
g
|
Fat:
23
g
|
Saturated Fat:
6
g
|
Polyunsaturated Fat:
6
g
|
Monounsaturated Fat:
10
g
|
Trans Fat:
2
g
|
Cholesterol:
4
mg
|
Sodium:
593
mg
|
Potassium:
253
mg
|
Fiber:
5
g
|
Sugar:
57
g
|
Vitamin A:
569
IU
|
Vitamin C:
0.2
mg
|
Calcium:
71
mg
|
Iron:
3
mg
SEND FOOD PICS 📸
Tag @earthtoveg or leave a comment below if you tried this recipe. It makes my day. 😊